Well, an entire year has come and gone and my sweet little Bean is not so little anymore! Welcome to Bean's One year old update!
In a year with plenty of things to remember these baby updates have helped me remember the things that REALLY matter (at least to me!)
The Life and Growth of Baby Bean
I know that there are few people out there that honestly care about these baby updates and I totally get that but this mama needs the help of documentation or I promise, I won't remember any of it!

So whether you are here for the 9-12 month routine, must-haves, or just baby pictures I totally get it!
If your new to Baby Bean's story you can easily catch up with our other updates here
One Year Old Updated Routine
I thank every day that Bean has been a go with the flow kid from the start! We definitely have a routine and we stick to it as close as we can but if we are half-hour behind for lunch or I'm not paying attention to the time and suddenly it's 20 mins past naptime she honestly is cool with it.
6:30/7:00 wake and snuggle
8:00 nurse and breakfast
9:00 playtime – sometimes art or sensory play
10:00/10:30 AM nap
11:30 wake
12:00 nurse and lunch
12:30 playtime
1:30 outside if nice enough
2:30 reading and calm play – this really pertains more to her sissy but she kinda comes and goes during this time
3:00 PM nap
4:30 wake and snack
5:00 playtime
6:00 nurse and dinner
6:30 family TV and playtime
8:00 bedtime routine
8:30 bedtime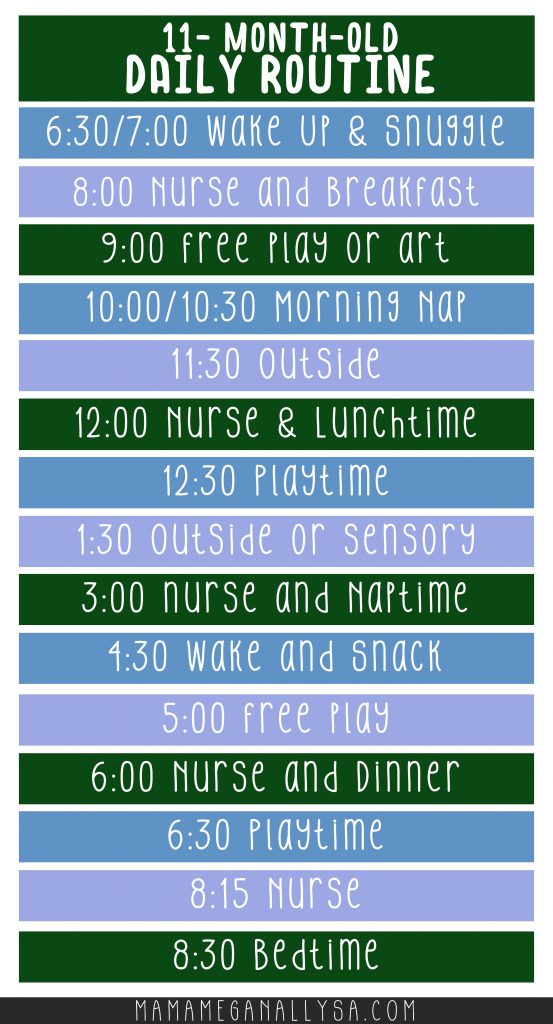 9-12 Month Milestones – Growth
At 12 months old we are still in the 9-12 month clothes and I don't see us switching for a bit still.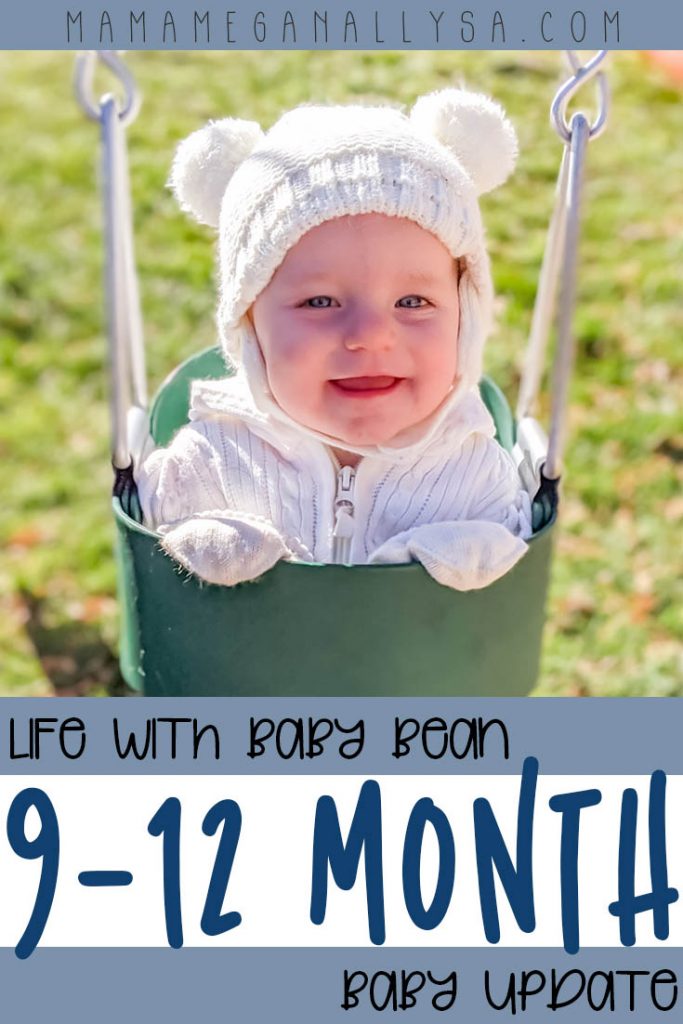 At 9 months
-She is cruising along all the furniture and easily transfers from one thing to the next.
-We find her just standing around. Not holding on to anything. she is too stable for her own good in my opinion, but that's just a mama who doesn't want her baby growing so fast!
-She will walk for a few steps if you hold her hands and is even "thinking" about her first independent steps…(I say in utter defeat as I don't really NEED another early walker…)
At 10 months
– is undeniably walking. WHY?!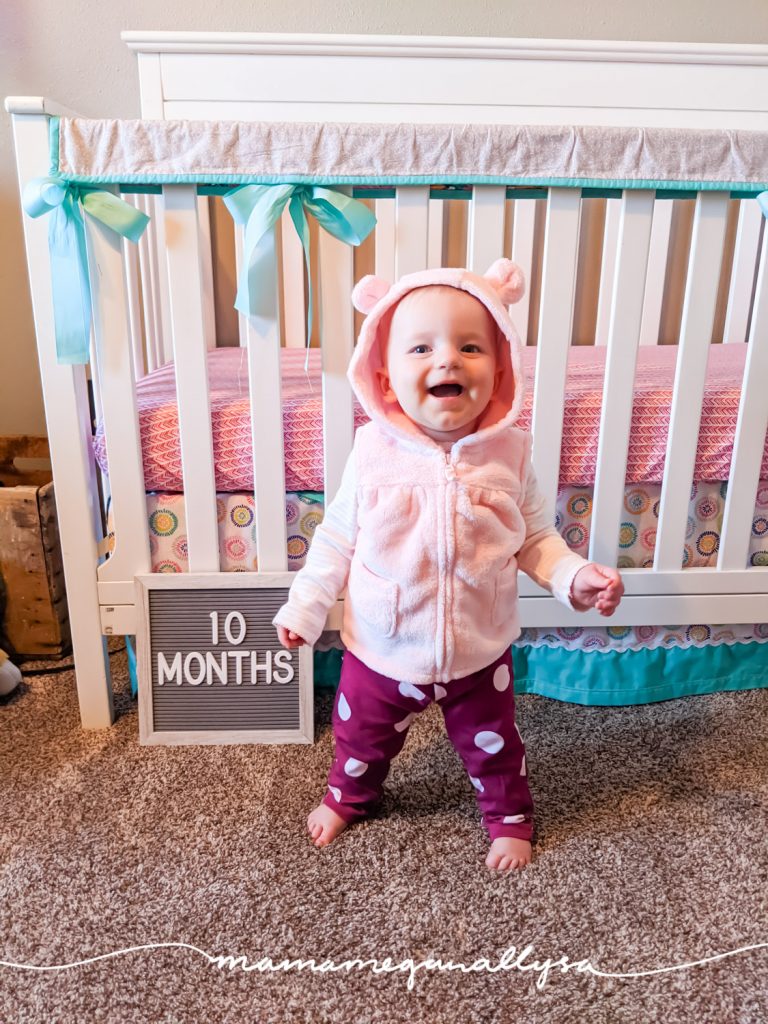 At 11 months
– Learned how to climb up the Learning Tower and LOVES it up there.
– She always has a book nearby and will just sit and read books all by herself
– Still not a huge fan of snow, but loves to be outside
– She has entered the tornado stage and dumping things out left and right as well as toting things off to be lost in other rooms…so thats fun.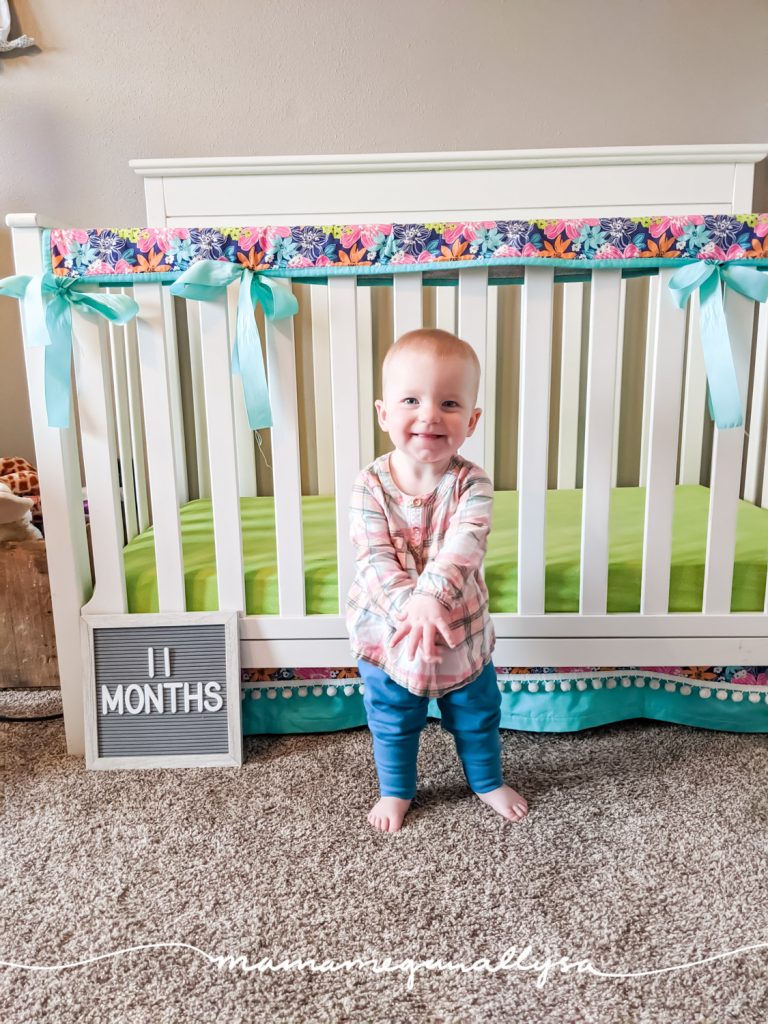 At 12 months
– She loves to put shoes on. Usually her own but not always.
– Loves to be up in the learning tower while you cook dinner and she all out demands to nibble on ingredients.
– Will just walk over to you and wrap her arms around your legs to give you a hug. <3
Bean Loves – 6-9 Month Must Haves
This post contains some affiliate links. As an Amazon Associate, I earn from qualifying purchases. I may receive a small commission from if you follow and decide to purchase. There would be no additional cost to you!
Little People Zoo – This is discontinued now, and that so sad because I LOVE the variety of animals and the girls both love the mat that makes the animal noises. That said I think Bean's favorite part was just toting around the animals so any little people figures would probably work. I linked it so you can see it but, I recommend looking for it second hand, that's how we got ours!
Galt pop-up toy – she got this for Christmas and she can't operate it herself yet but oh boy does she love it anyway and the giggles she gives when you make it pop up are the best!
Swinging – We jumped straight to a bucket seat and she has had no problems!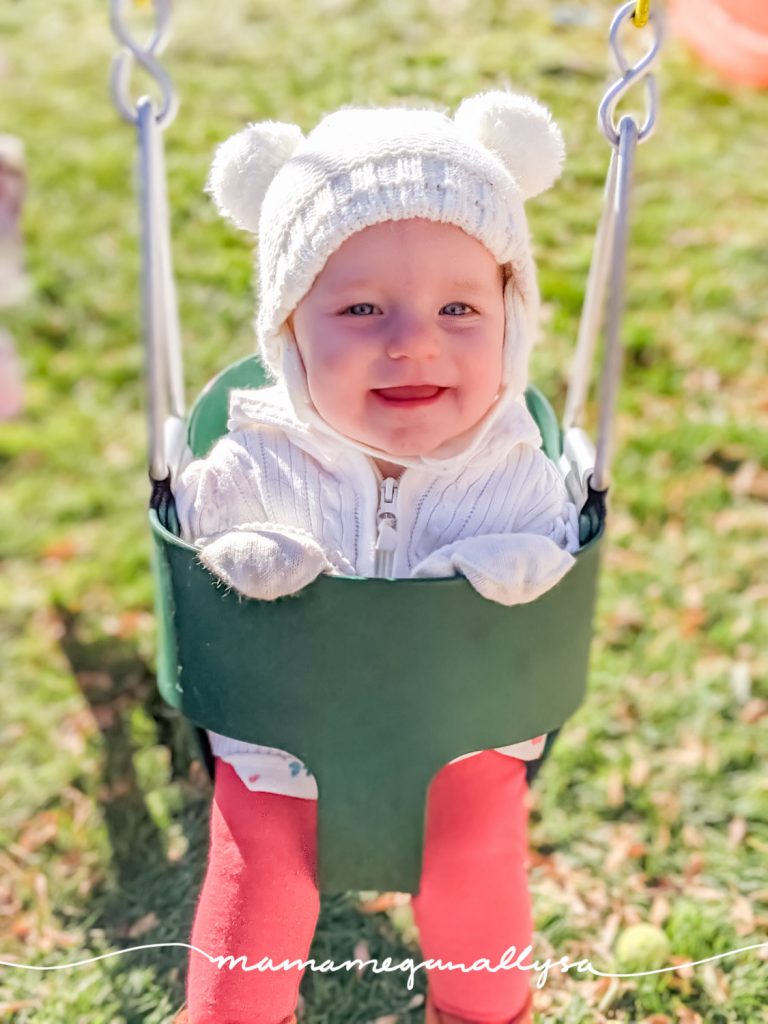 Teethers – She popped like 5 teeth over the last couple of months so we have been using all the teethers! Silicone straws, Fisher-Price taco Tuesday toys, and Zoli bunny all get lots of action
Bibs Pacifiers – these are spendy…we have been making do with 2 of them because of it. But something about these she just holds on to better/doesn't knock them out of her mouth as easily…
Bathtime – She adores the bath and comes running when she hears the tap running. She not too picky when it comes to bath toys but some of my personal favorites are the play Yookidoo Bath faucet and a turkey baster (ours is actually a Hape Squeeze and Squirt- but I cannot find the link on Amazon. Twisty Droppers would do the same thing they are just smaller)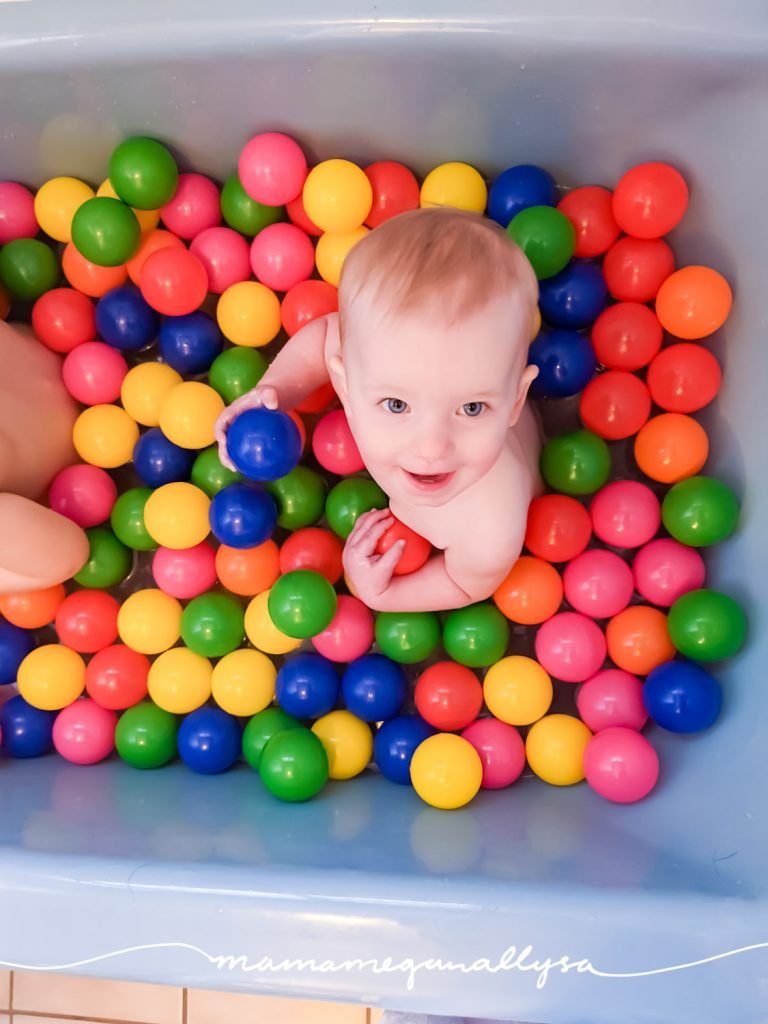 Learning Tower – So here's a hill I will die on. You NEED a learning tower. These are such a saving grace for young toddlers when you're trying to make dinner. And they will continue to be used for YEARS when baking cookies or letting them play in the sink or teaching them how to use a knife, seriously LOVE them. We had to add a back gate because Bean keeps falling off ours…(an IKEA-hack with an open back) if you want to start using them early look for one a baby cant fall through or wait until they get a little older and have a few more options!
Books – She's super into any of the "That's not my…" books from Usborne, and any book with slides or flaps. She also seems to like Moo Baa Lalala and Mommies are Amazing and Daddies are Awesome
Waterbottles – She needs to be a part of Waterbottles Anonymous. Any water bottle she can get her hands on she will drain. We like the kids Eddy Camelbak and weighted straw cups
Mom Loves
Keekaroo Highchair – I still love this chair! It will grow with her for years to come and prevent the problem that we are having with bitty right now where she's getting too tall for her booster but too short for normal chairs. The Keekaroo is also easy to clean and looks nice and slides right up to the table! All things that make it a must-have in my books!
Bumpkins Silicone divided plate – These babies are chunky and take up space BUT they work better than any other suction plate I have tried and while yes she can still pull them up it takes effort and we can usually stop her before its a bigger mess.
If you want to know more about my Baby Lead Weaning must-haves I have a whole post dedicated just to that!
Zip-Up Sleep Sacks – I love these as an extra layer of warmth as the girl's room get chilly at night
Evenflo wagon – this baby is SO nice to push even when it's loaded down with both girls. Easy to maneuver and plenty of room for them both! 100% recommend over a double stroller.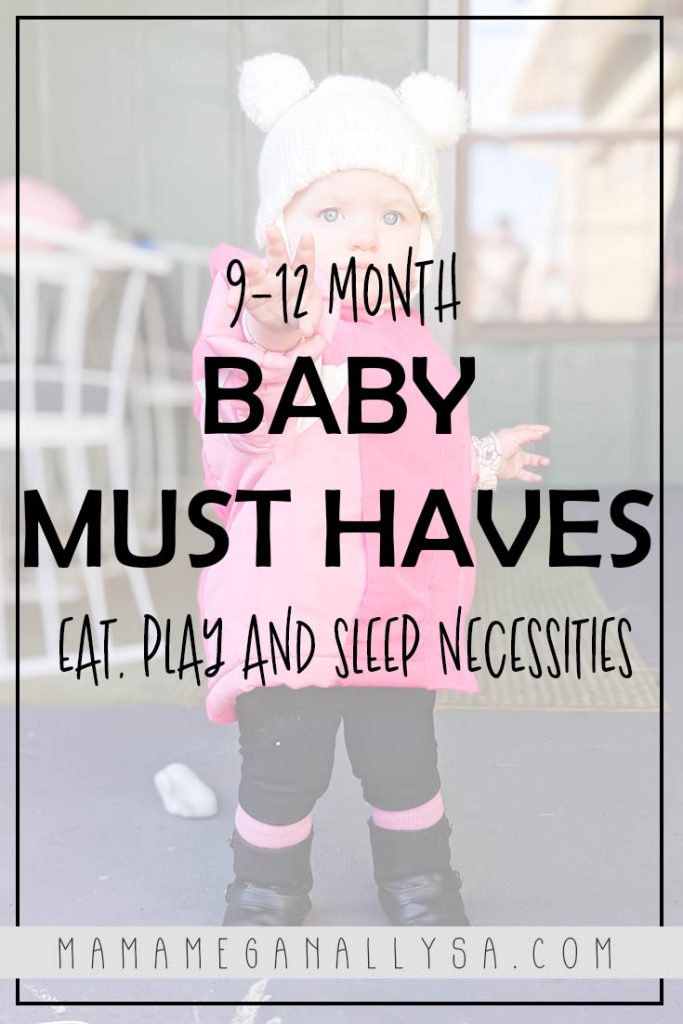 If you have any questions about the products from our one year old update please leave them down below or message me on Instagram I would be happy to give you more details!
9-12 Month Milestones – Sleeping
We still aren't sleeping through the night.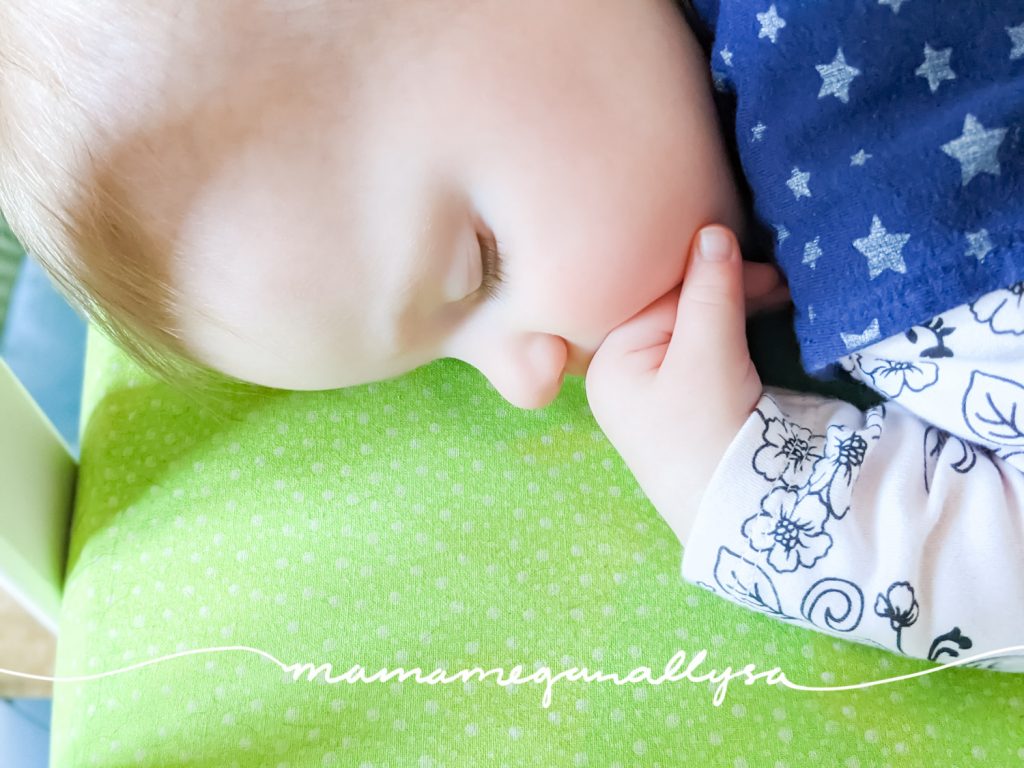 We finally got past the 8-month sleep regression or at least most of it and are sorta back to her normal. She is up at least 2 times, most nights 3 times a night, and on a bad night, she will be up every hour. The predawn hours are the hardest with her.
In a good-news bad-news kind of situation, she is super easy to resettle if she nurses. If not it's a MUCH longer commitment. With that said it should be obvious that we have not night weaned and I think it's adding to the night wakings…

Bean naps every morning at 10:30 to 11:30 and then every afternoon from 3:00-4:30
9-12 Month Milestones – Personality
She is the most loving cuddly little lady and I adore that! Especially after the fact that Bitty never wanted to cuddle.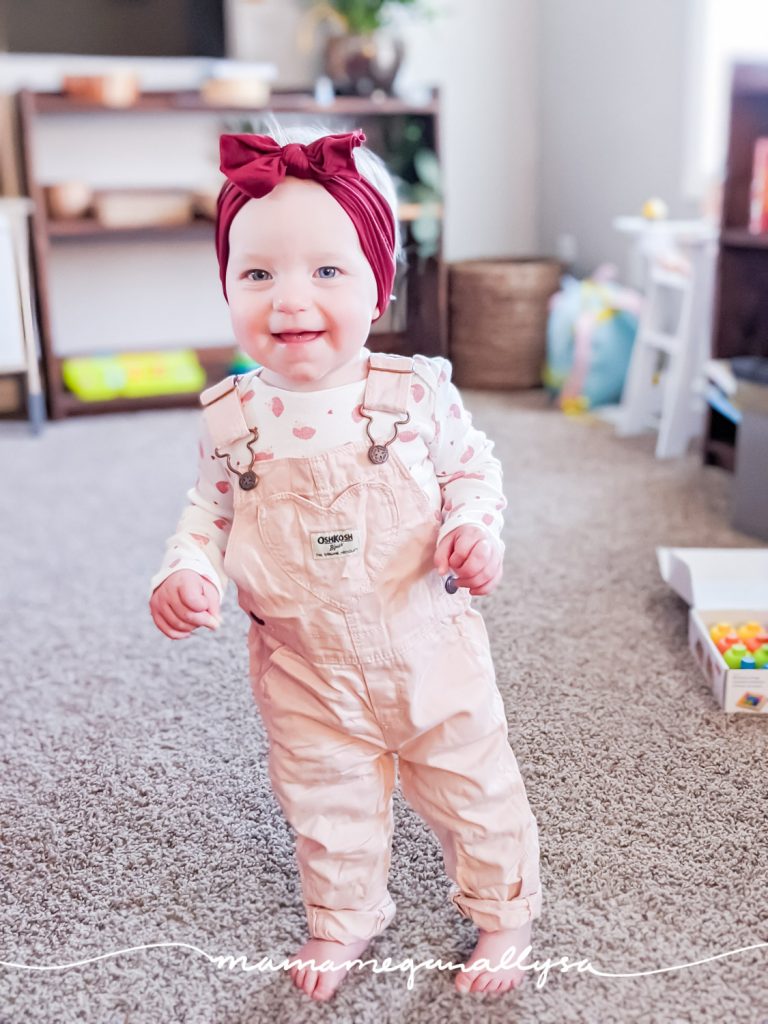 She will walk up to you basically unannounced and wrap her arms around your legs to give you a hug. I mean how adorable is that?!

She signs "milk" for basically everything. She DID know "all done" and "more" but it's like pulling teeth to get her to do them anymore. But boy does she have "milk" down pat.
Not a ton of language developments yet. She has Ma and some general babbling but she just isn't too "talkative" these days.
She mews at cats and growls at basically all other animals. Especially Hollie. ( our dog)
She has a temper like none other. You make her mad and boy you won't ever hear the end of it. Literally, she will lay on the floor and just continue to cry and pitch a fit. I think forever. She has never self soothed one of these tantrums away, I have had to intervene at some point. The worst part is her favorite way to pitch a fit is to throw herself backward. Usually with force and without any concern of walls or furniture or anything that might be behind her. So ya. That's been a fun development.

9-12 Month Milestones – Eating
She absolutely thrived on Baby Led Weaning. She adores it and I do too!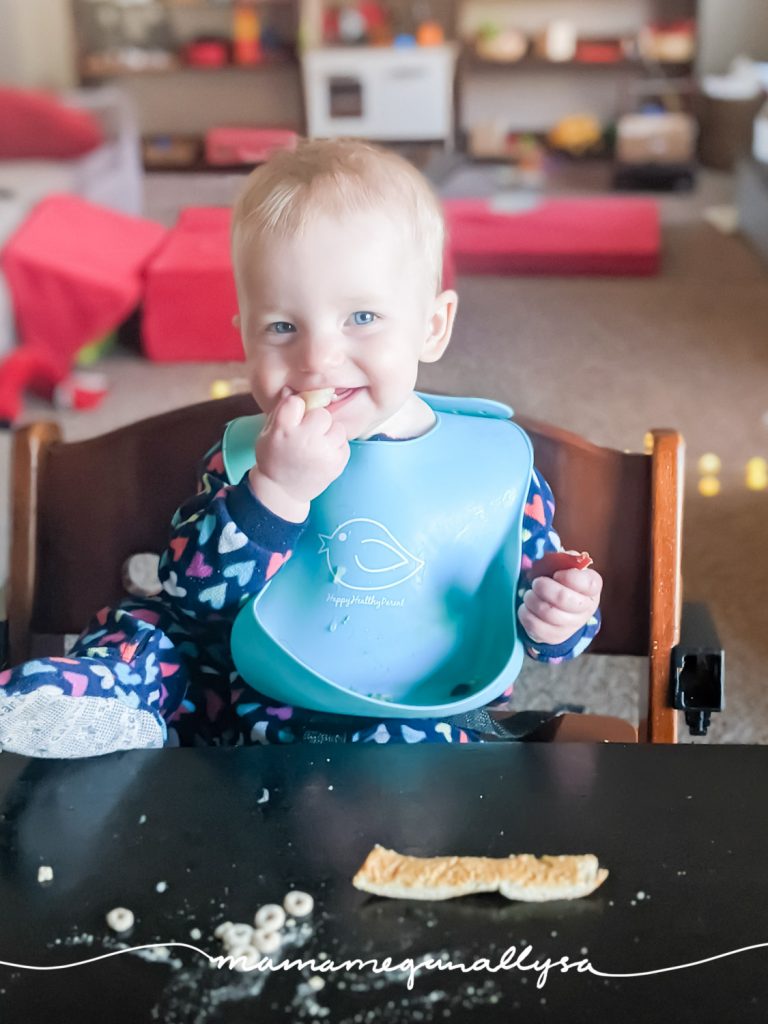 Her favorite foods pears, bananas, blueberries, and green grapes, but I don't think she has turned her nose up at any fruit. She also really likes cheese, peppers, cucumbers, noodles, and so many more.
We joke that her favorite thing to do is eat and that saying she likes something doesn't really mean much because she likes all food.

She has already developed a bit of a sweet tooth like her mam so we are actively brushing her teeth as best as we can!
9-12 Month Milestones – Firsts
First Thanksgiving – She tried all the basics, but homemade mac and cheese were her favorite.
First Steps – She was testing the waters for weeks at 9 months old and literally the day before she turned 10 months I could deny it no longer. She was walking.
First Christmas – She wasn't SUPER into it but she did sort of open a couple of presents and definitely enjoyed all the chaos and cookies.
First Birthday – She was far more interested in opening presents this time around and way more interested than Bitty was for her first birthday. We had a Twinkle Twinkle little star themed party for just us and my parents and it was honestly a really nice day. She wanted a fork for her smash cake and adored the balloons way more than any of her presents! Lol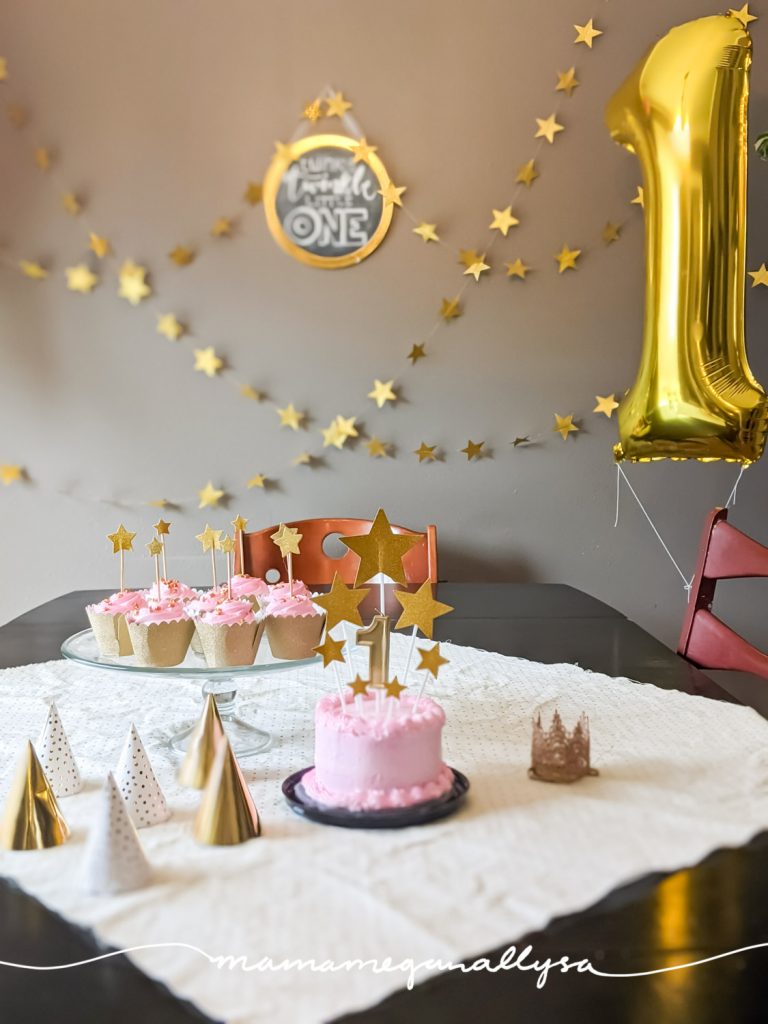 9-12 Months of My Sweet Bean
I knew this last three months would fly by between the holidays and the fact that she is now more and more like a toddler and keeping me on my toes, these months just disappeared…and here we are at her one year old update.

I tried so hard to really soak in the last of my baby days with her, I feel so cheated that both my babies started walking so early it just seems to make them seem so much more grown-up so much earlier…
She became such a confident walker and actively seeks out what she wants to play with as well as following her sissy all over the house.
Looking Back and Looking Forward
I remember as a kid having to do reports on what happened the year I was born…safe to say Bean will have plenty to pick from…
She was the light of our life this year helping long days stuck at home to pass just a little bit faster and always filling our days with smiles.

I won't say that I want to go back or even for time to freeze but oh how I have enjoyed Bean's baby days and oh how I fear her toddler years…she's got a strong personality and that is such a good thing later in life but oh how you are gonna give your mama a run for her money over these next few months…


Our one year old update will be our last formal update, from here you will just have to follow along on Instagram and gleam little details from other posts!
OTHER POSTS YOU MAY LIKE