I hope everyone is doing alright. And if not, I hope that a 0-3 month baby bean update full of adorable baby pictures helps! As of writing this, we will have been Sheltering at Home for 2 months and honestly, it's not like we went anywhere much of her first month so really we just haven't been much of anywhere for her whole life…lol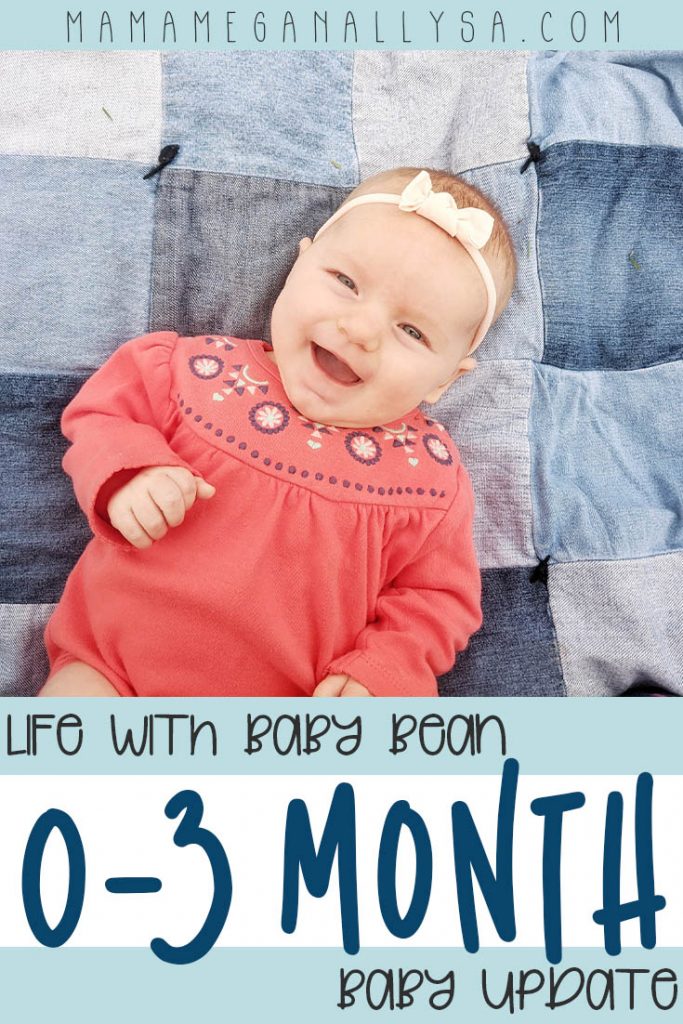 The age-old story of the baby book. The first baby gets a super detailed and fully filled in book. The second baby gets one started and mama makes it about half-way through and then simply does not have the time or energy to devote to it… I am determined to make it all the way through Bean's book.
Making Note of Bean's Growth
Bean is 14lbs and is 25 inches at 3 months. She was an 83% baby as a newborn and at her 2-month checkup, she was down to the 70%, which is perfectly normal but has me super interested to see if there will be a growth spurt before we go back in June at 4 months!
Beanie Baby isn't a fan of tummy time. Hasn't been from the very get-go. When she was a tiny newborn she did a lot of modified tummy time on our chests. Now when she does tummy time she goes hard for a couple of minutes and then is totally over it. She is lifting her head all the way and turning a little side to side now as well. So great neck strength, just not a lot of stamina.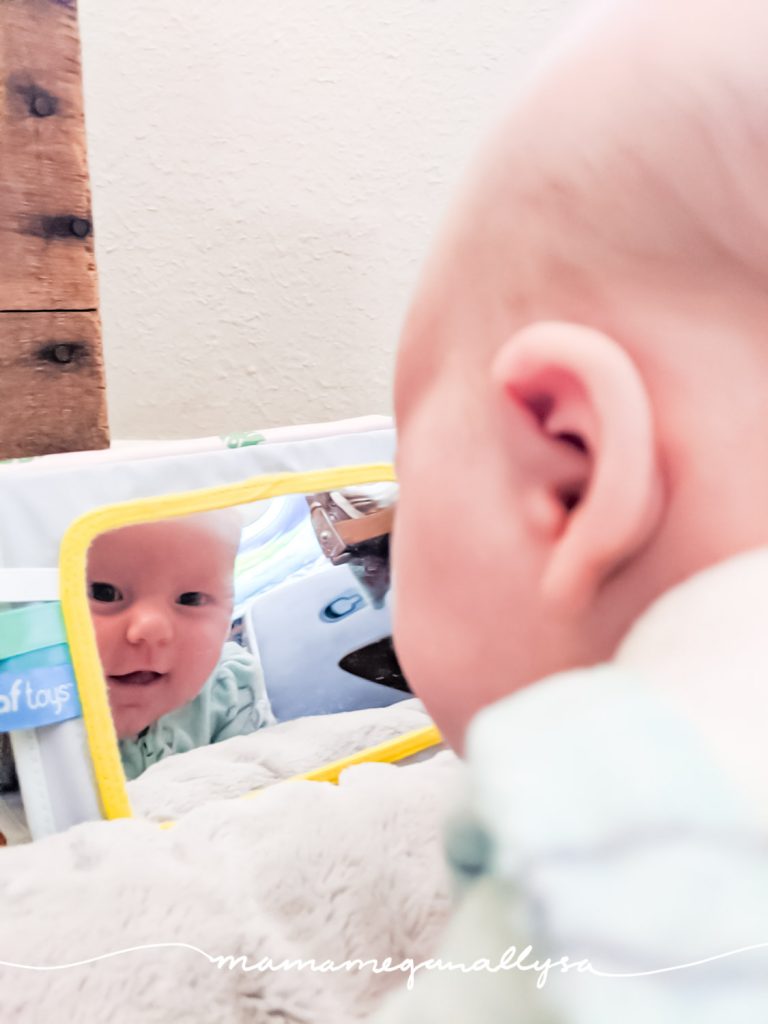 She has discovered her hands and may turn into a finger sucker if she keeps her current obsession up. She is also inadvertently grabbing onto things. So hands? Check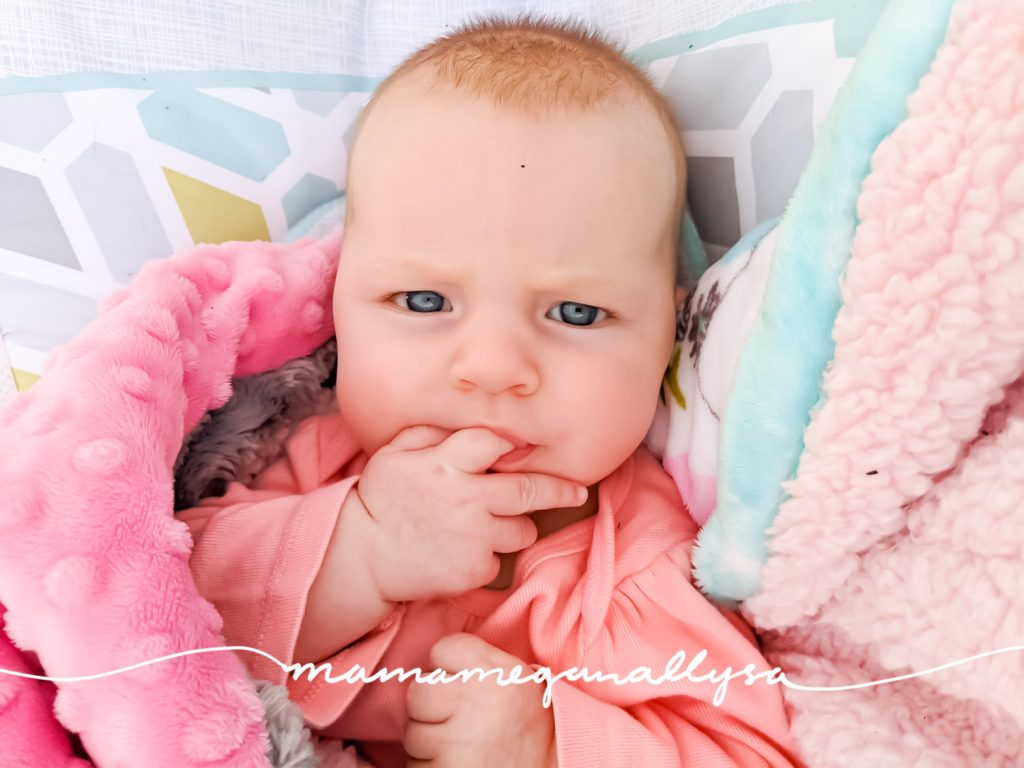 Bean's Personality is Starting to Develop
She is a happy little baby and is easy to smile and I LOVE that.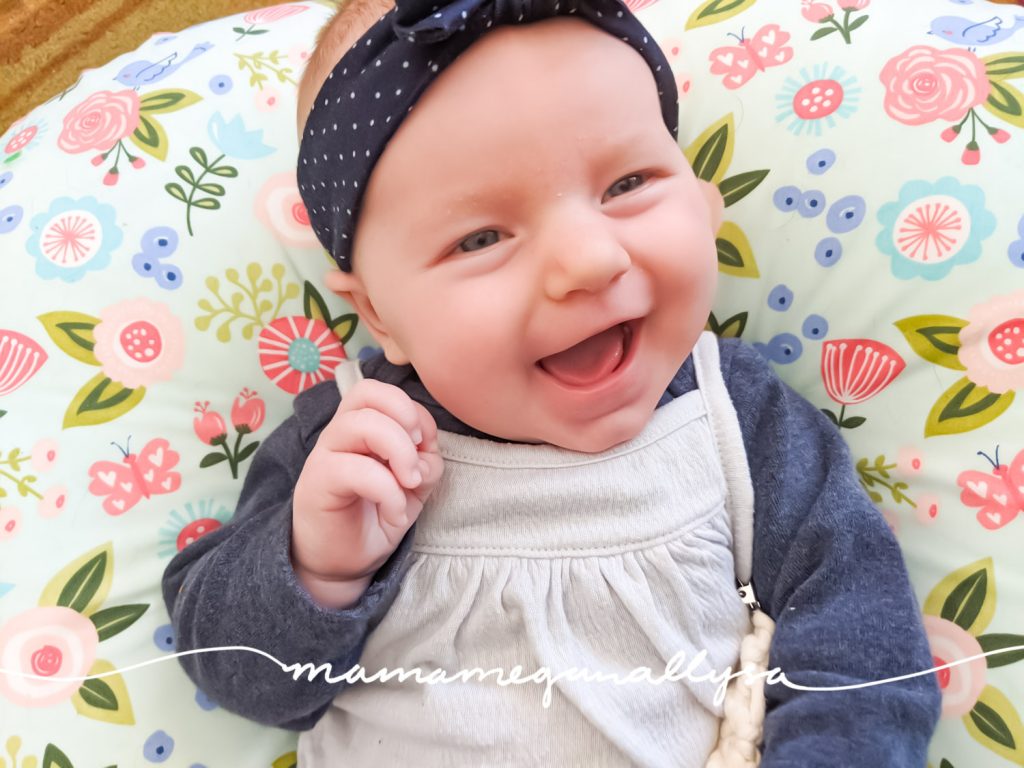 We are also just days away from her first giggle. I'm sure of it. We've heard a couple of little things that "might" have been giggles but as soon as we hear them she won't do it again and we can't be sure if it was just a strange coo. Also, can I just say I adore baby coos? I sit and talk to her so much just to try and get a coo out of her.

Bean may be our dramatic kid, which is terrifying because Bitty is currently quite the drama queen and if Beanie Baby is worse we are in for it… When she gets upset, she gets REAL upset with us and if she gets overtired you better be ready to hear about it. That said she is a content baby 80% of the time.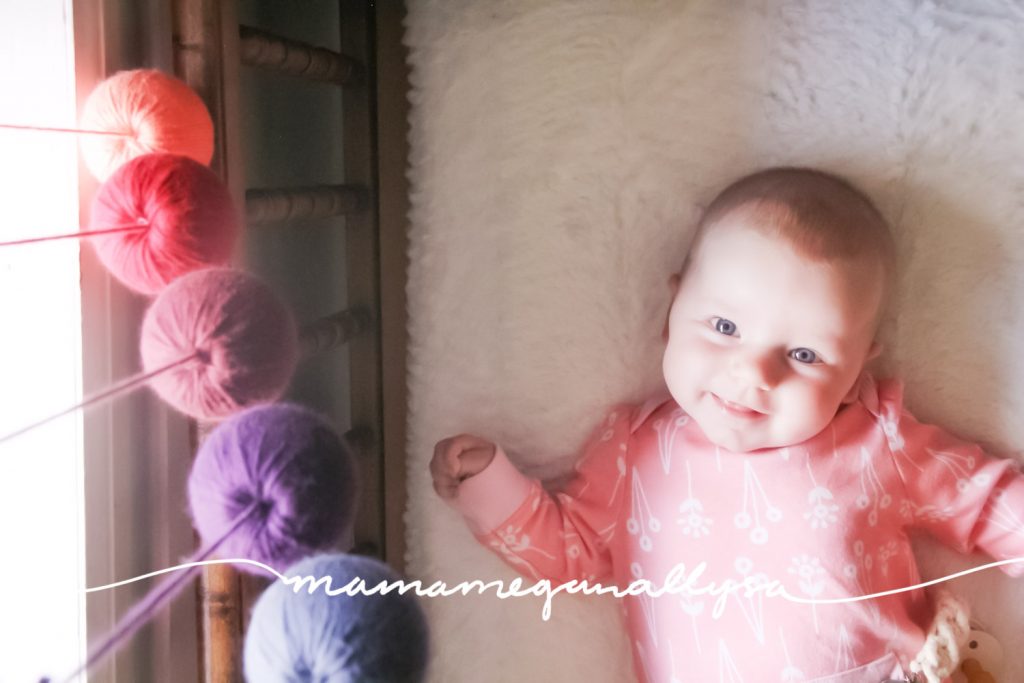 Sleep changes over the months
Everyone knock on wood for me.
Bean is a great sleeper at night! She goes to bed around 9:30 and often sleeps through until 4:30 without a peep. This is so drastically different than Bitty that we are still waiting for the other shoe to drop and for things go south on us. That said the dreaded 4-month sleep regressions is right around the corner so…fingers crossed everyone!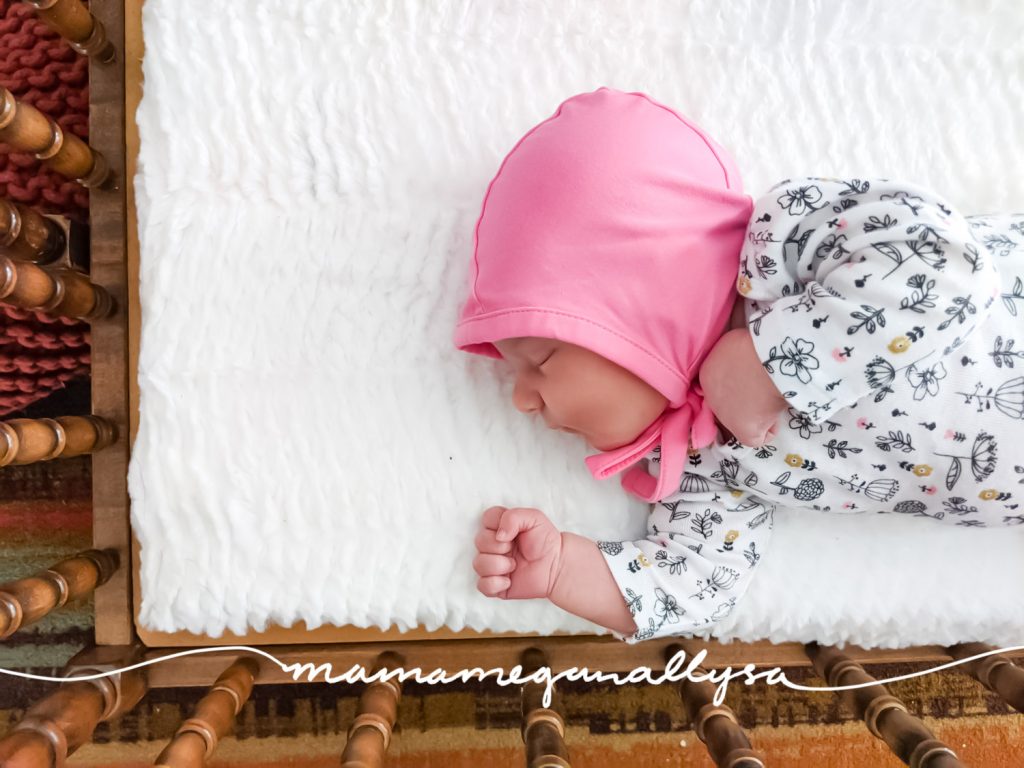 We are using a paci, but trying to only use it to help her get settled. We then try and remove it or not replace it when it falls out. The hope is that she won't be as dependent on it to sleep as Bitty was.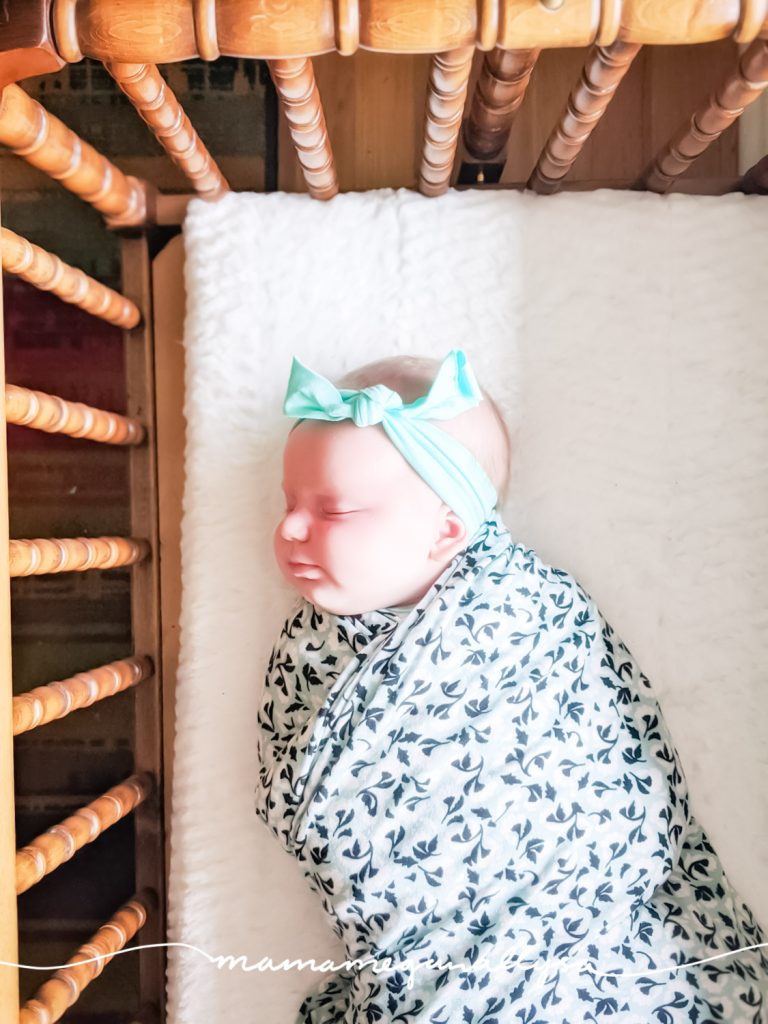 She is still fully swaddled at night and during the day I would say 1 or 2 naps are swaddled.
Speaking of naps, as of right now her naps are still all over the place, but because we don't go anywhere (thanks quarantine) I'm not too worried if naps are scattered or unpredictable. We will have to get there at some point but for now, I'm trying to be more lax about it than I was with sissy.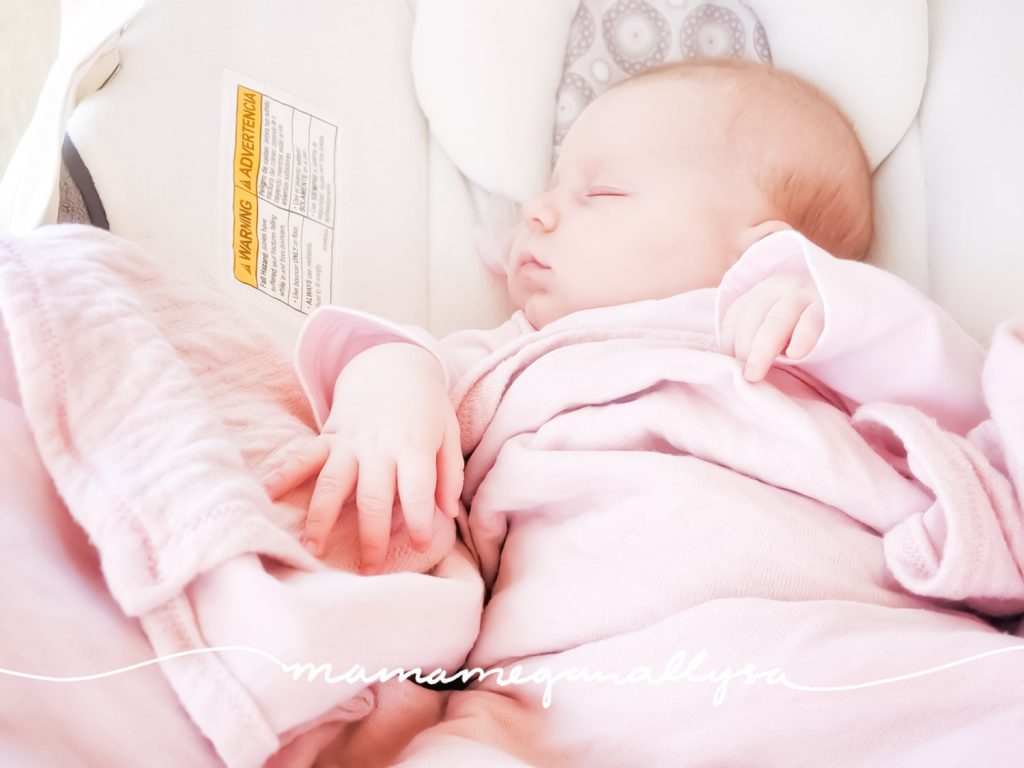 Eating Habits
I am exclusively breastfeeding Beanie Baby and she likes to eat every three and a half hours or so during the day. When she was a brand new babe she only had an interest in eating from one side, but I have recently started offering both sides to see if she is still hungry and about 50% of the time she will eat. So that's our routine. So far she is fine to eat out where the noise and chaos is but we will have to see if that remains…
Bean's Most Loved from 0-3 Months
Her favorite toys are a tie between the Taco and Avocado dangle toys by her play mat and her turtle toy on her bouncer. She will sit/lay and 'talk' to these toys for such a long time.
Bibs pacifiers are her favorites for sure and I really like them because they are so simple and classic looking. What I don't like is the cost of them…so we keep an eye on them because we can't afford to be replacing them all the time!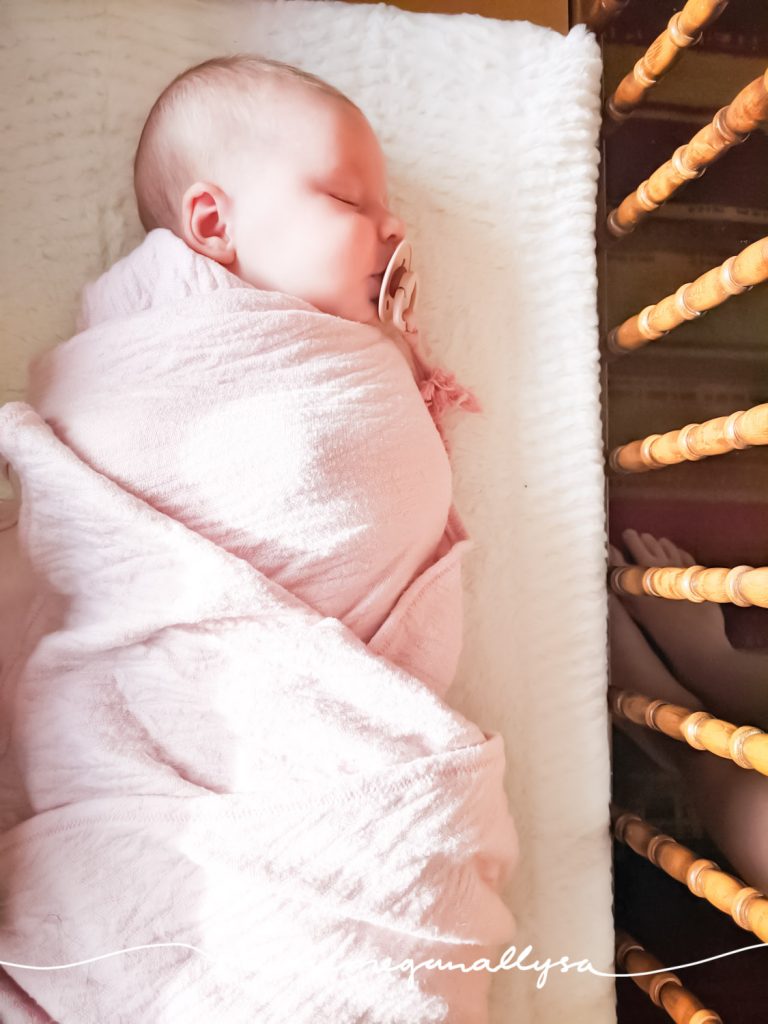 That first stretch in the morning after she gets out of her swaddle. I'm sorry but if you don't say "oh big stretch" while your baby does this your doing it wrong. lol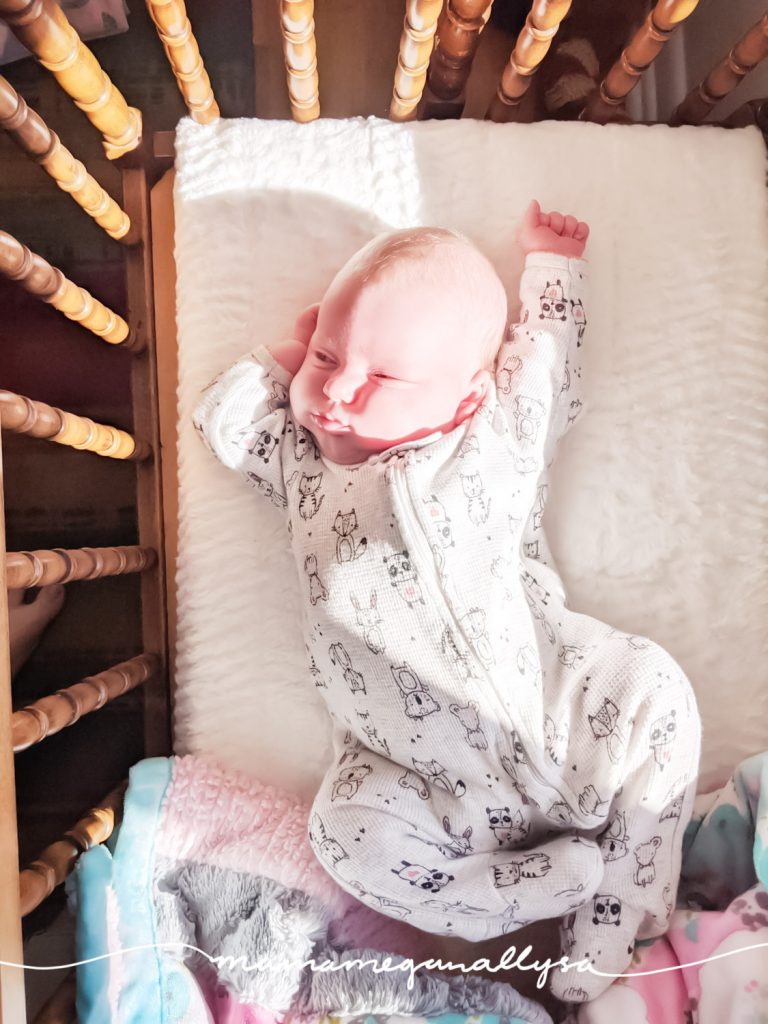 Bath time playtime with Bitty is always a good time for us! She loves the warm water and it does wonders for distracting them both from bad moods!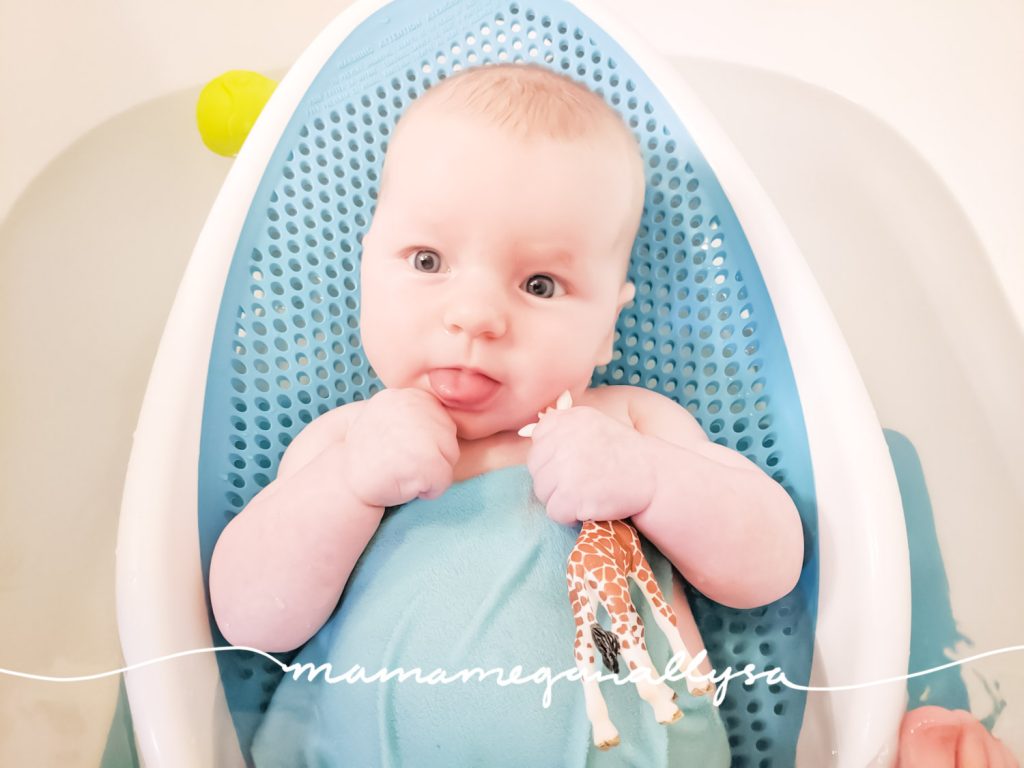 0-3 Month – Baby Bean's Firsts
Obviously her 0-3 firsts are going to be her biggest list of first, because well you know she wasn't here before then! I'm not going to count the first bath and first blowout, those feel a little too routine and no fun to document.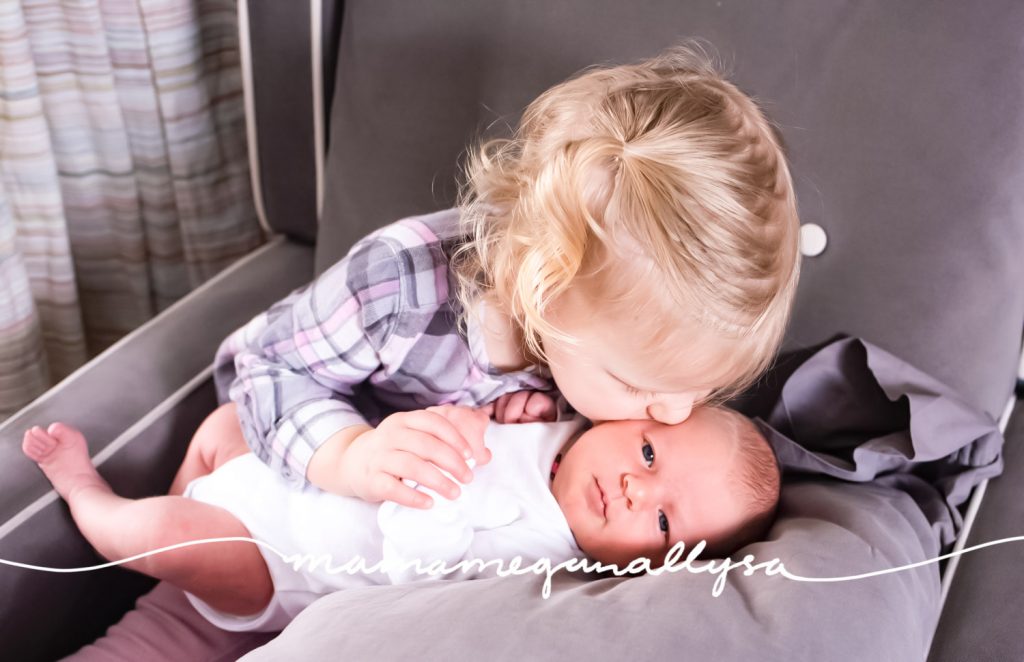 First photoshoot – We took professional newborn pictures when she was a week old and then some DIY ones when she was 3 weeks old.
First pandemic – I would be remised if I didn't note that we are currently living through a worldwide pandemic and have been social distancing/quarantined for 9 weeks now. We have managed a couple of quick outdoor adventures, a few car rides for the sake of doing something different, and walks around our neighborhood. Honestly, she probably prefers this kind of lifestyle instead of being schlepped around according to sissy's schedule. Were kind of forced to live by Bean's terms.
First Easter – We celebrated Easter at home. Just you, Bitty, Daddy, and me. It was a chill day with videogames for daddy, new toys for sissy, and lots of snuggles for you and plenty of chocolate for me.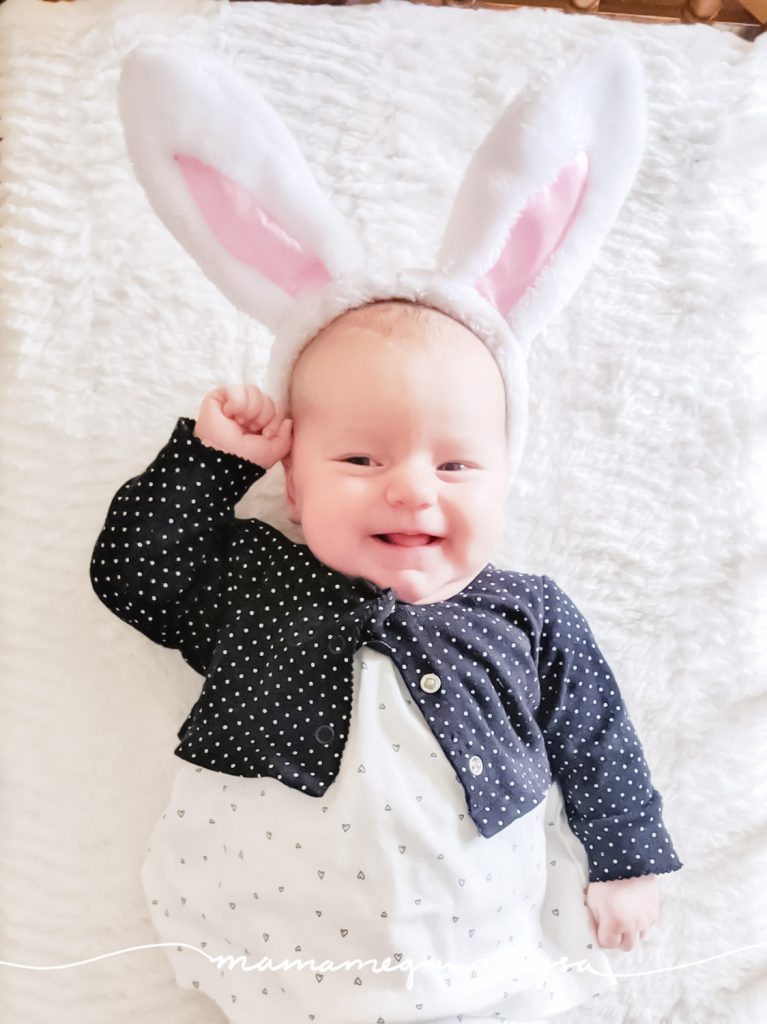 Mama Musings
Postpartum has gone relatively smoothly for me and that's saying something because if ever there was a time for my anxiety to go through the roof it would be during a postpartum pandemic.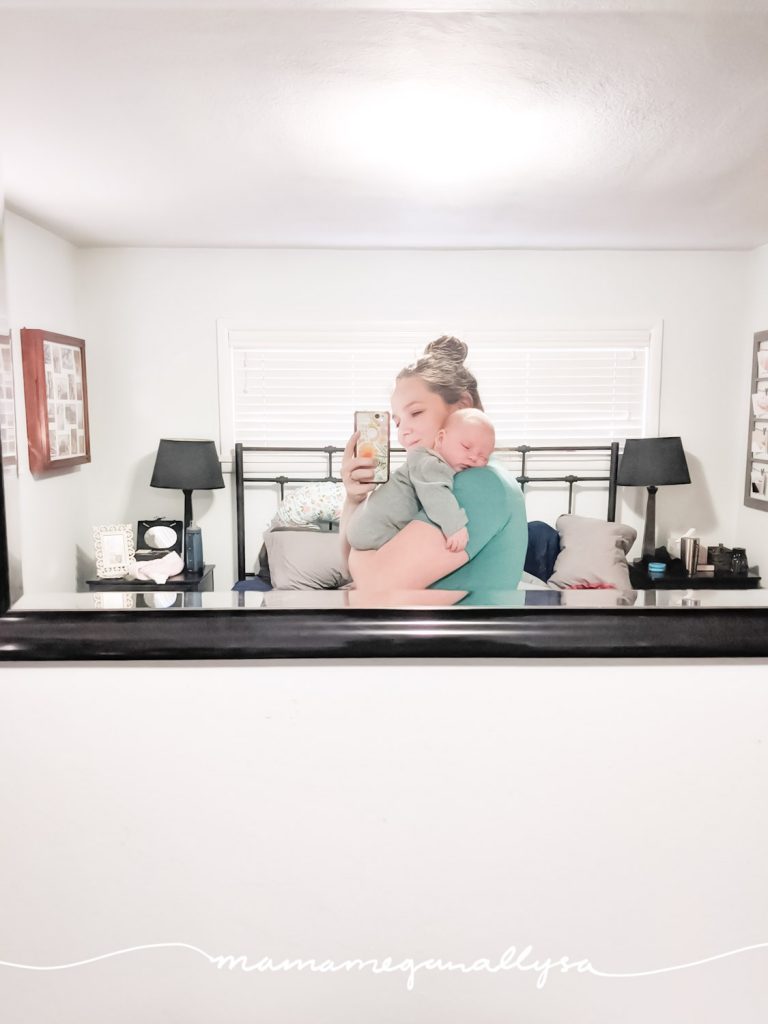 I think my weight has mostly stabilized and I have some work to do as far as getting back on a better eating cycle but again I have to say. Postpartum Pandemic. I am picking my battles and my food habits aren't one of them.
Sadly, I think my hair loss has started…I always lose hair but the amount that I am getting during a shower can be explained no other way.
0-3 months of Beanie Baby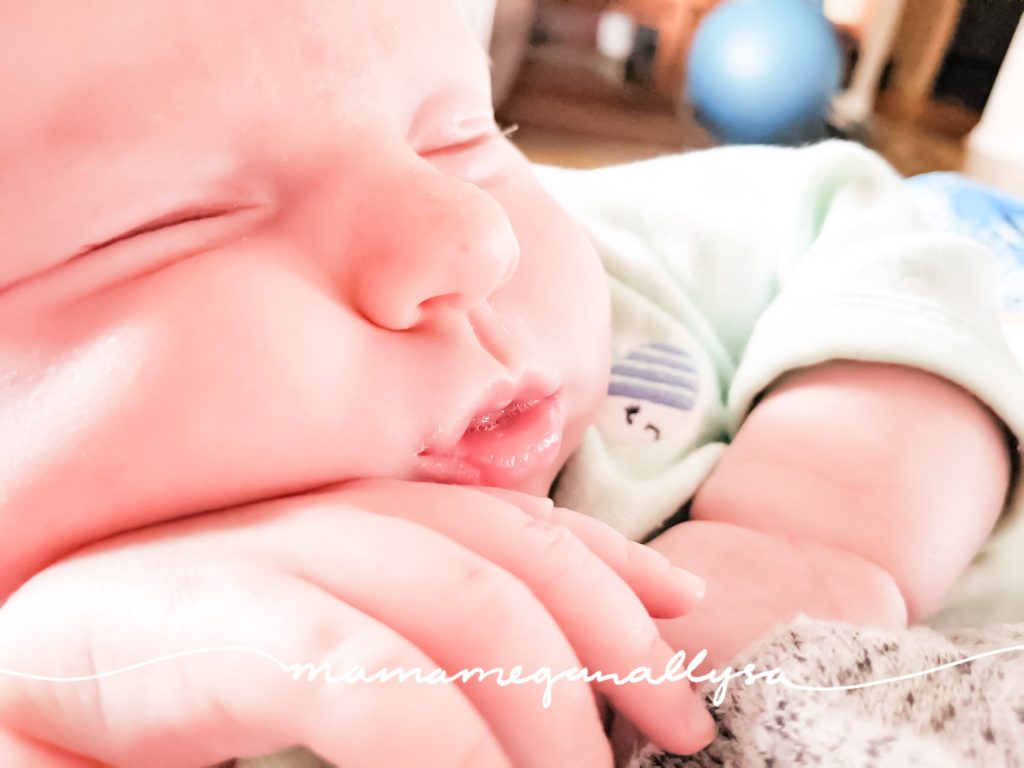 I swear time went by faster for Bean than it did for Bitty. I cannot believe we are already in 3-6 clothes and working on rolling over. Why can't you stay my little baby a little bit longer?!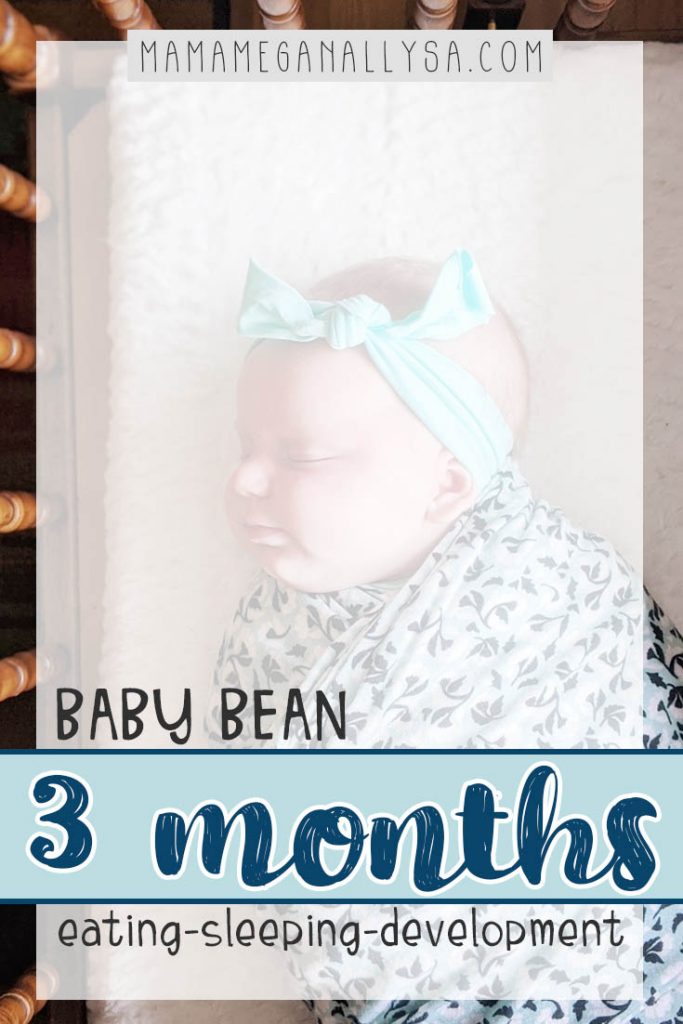 If you want to see more pictures of Bean and keep up to date with her growth make sure and follow my Instagram where I share a TON of this adorable little face.
Other Posts you may like