We were in need of a fresh sensory bin filler but I didn't want to have to run to the store for anything. So that left us with some kinetic sand, some birdseed, and some old white rice. All recently used or just not very inspiring. Then it hit me. Take that uninspired white rice and go for a classic sensory bin filler that we just hadn't gotten around to. Rainbow Rice!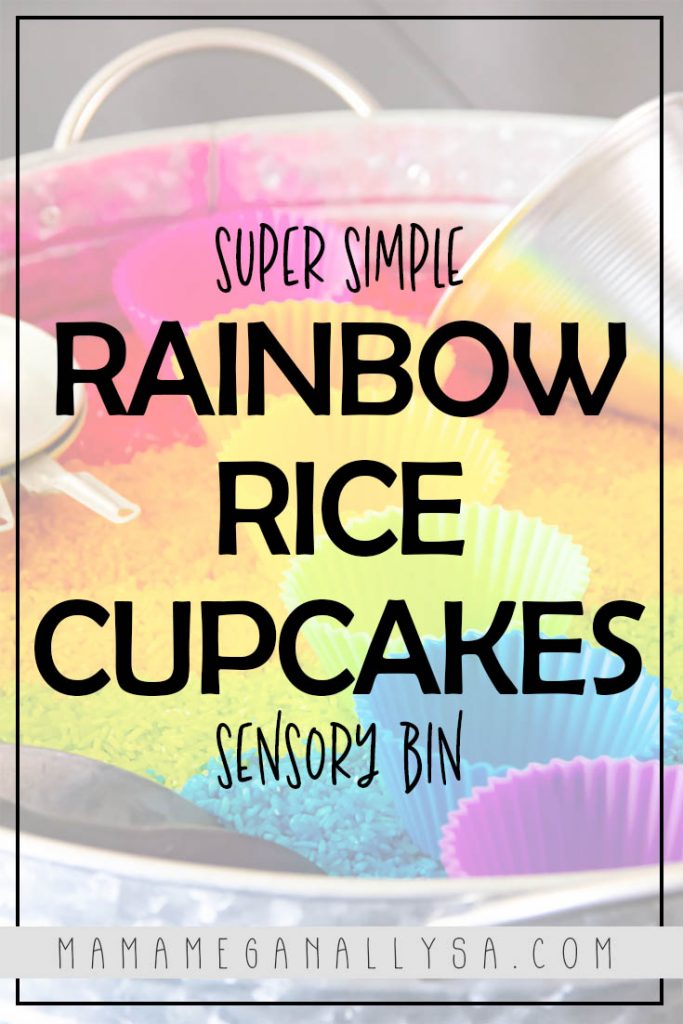 Keeping it Simple with our Rainbow Rice Cupcake Sensory Bin
This post contains some affiliate links. As an Amazon Associate, I earn from qualifying purchases. I may receive a small commission from if you follow and decide to purchase. There would be no additional cost to you!
Rainbow Rice Cupcakes Sensory Bin Supplies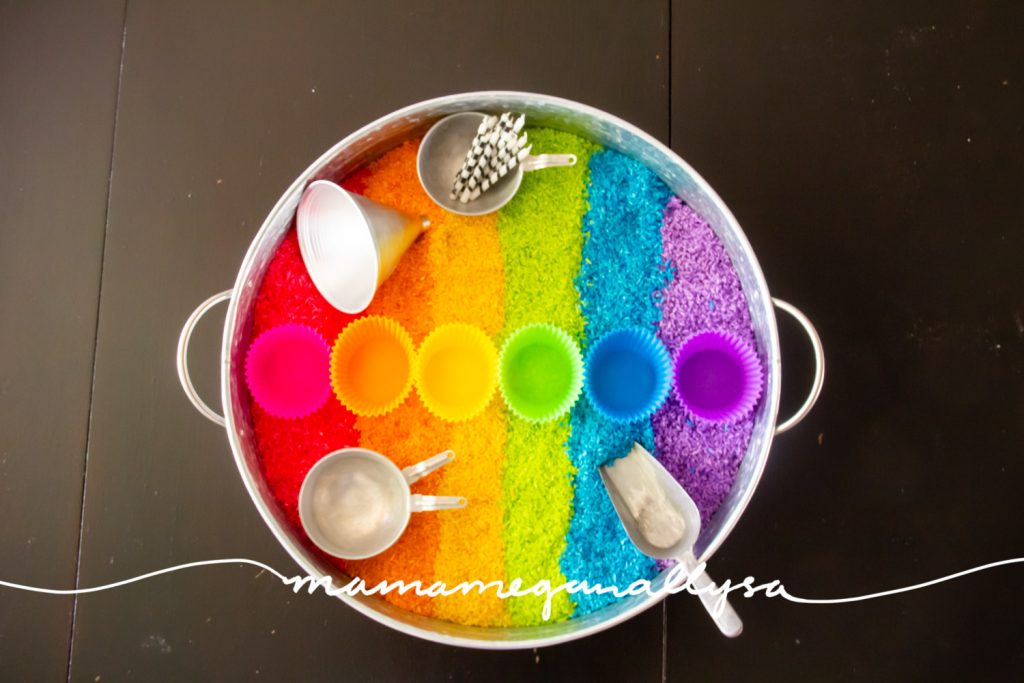 Rainbow Rice Filler
You don't have to dig very far into the sensory bin world to hear about rainbow rice. It is SO simple to make and you can customize what colors you want to suit your needs! The white rice takes the color super easily and it's super cheap to make.
Just some plain white rice, some food coloring, and some white vinegar is all you need to make Rainbow Rice. Add these ingredients to a container of some kind give it a real good shake and then spread it out to dry for a few hours. And TADA, you have some vibrant rainbow rice that will last essentially forever.
Quick tip. If you use gel coloring your color will be more intense right away, but make sure you really get it shook up or you may be left with some gel clumps!
Rainbow Rice Cupcake Sensory Bin Tools
I knew from the second that I had the idea to make the rainbow rice that I wanted to add in some of our rainbow silicone cupcake liners. This child LOVES baking. And in almost any sensory bin I have presented her with she ends up making "cake" at some point. So I decided that I wanted to just embrace that and make a cupcake sensory bin!
Our tools are super simple this time, just the cupcake liners, a scoop, and some little pans for variety. Although she did end up adding a knife and a stir stick…because that what she adds to everything.
What cupcake is complete without some candles?! This also adds some fun invitations to count as well! I would love to add some number candles to our supplies as well, if you know of some that are smaller than the classic big numbers let me know!
I did add one extra tool. A funnel. Yes I know you don't use funnels to make cupcakes but this rice is one of the best fillers to use with funnels and I thought it would be fun so there.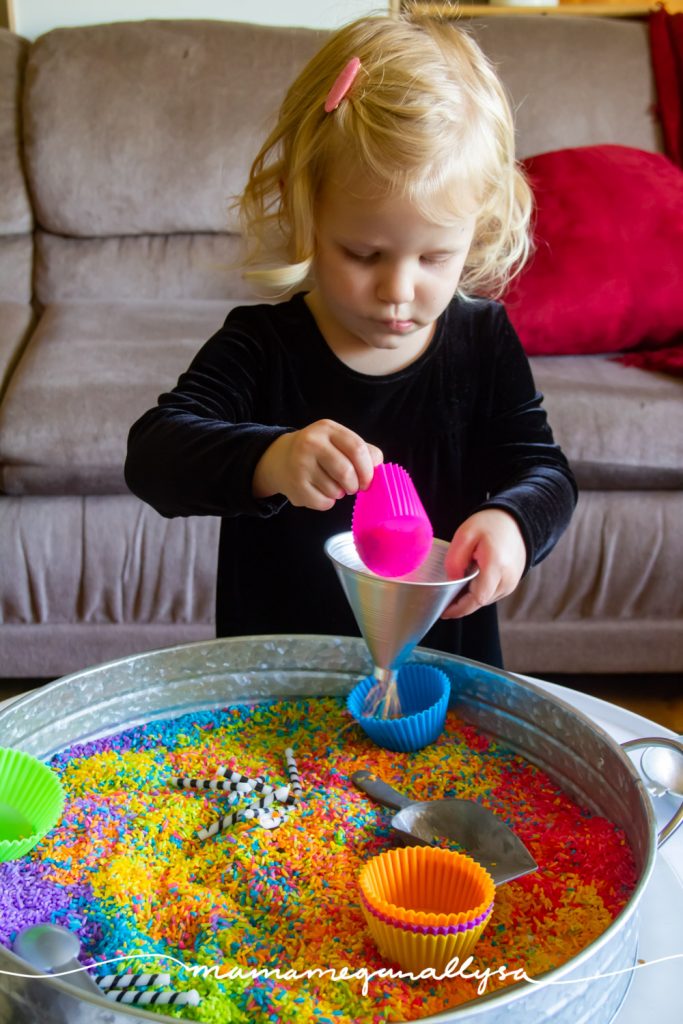 Cupcake Sensory Bins are Great for the Little Bakers in your House!
Back to Sensory Bin Basics
Over the winter we lost almost all our sensory bin fillers and a lot of our other sensory supplies to a furry little friend.
We had a mouse (mice…I don't really know) move into the dresser that I use for storage. I did everything I could think of do get rid of it and yet after every round of sanitization and disposal of contaminated supplies, he was back.
In the end I moved everything we had left out of the dresser and left the dresser in a state of unassembled. I haven't seen any sign of a return and I don't know if that's because it's warming up now and the mouse has no interest in our garage or if its because the dresser is no longer a cozy home. Either way by the end of the winter the only sensory bin filler we had left was half of our white rice and the kinetic sand.
We made the best of what we had left by rainbowifing our rice and we honestly love it. Also if you want more ideas on some other classic fillers you can check out the post I did covering just that as well as some other basic sensory bin information!
Share your Rainbow Rice Sensory Bins with Me!
There is something about the bright colors of rainbow rice that just makes you happy. I can't explain it but it has been a hit around here and I'll put up with the mess for the smiles and independent play that if provides!
Tag me on Instagram and share your rainbow rice bins. I would love to see what your rainbow looks like!
Other Posts you may like