Spring seems like the ideal time to do a birdseed sensory bin. Not only is it a great filler, but we can also do an extension of the activity by using the seed to feed the birds and talk about baby birds, nests, and eggs! Love when themes work together so well!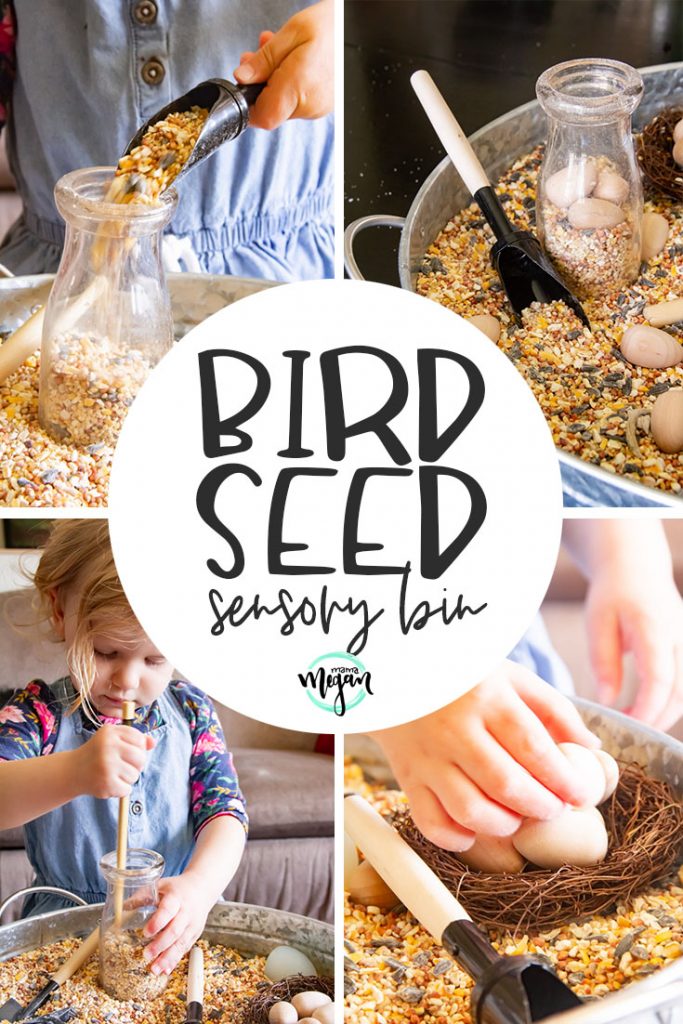 It has been a hot minute since the last sensory bin post! I honestly had to look up the last posted bin and it was all the way back in November with fall loose parts! Don't worry we have still been doing sensory play. Life just got busy with the holidays, and then baby Bean and I just never got around to sharing them!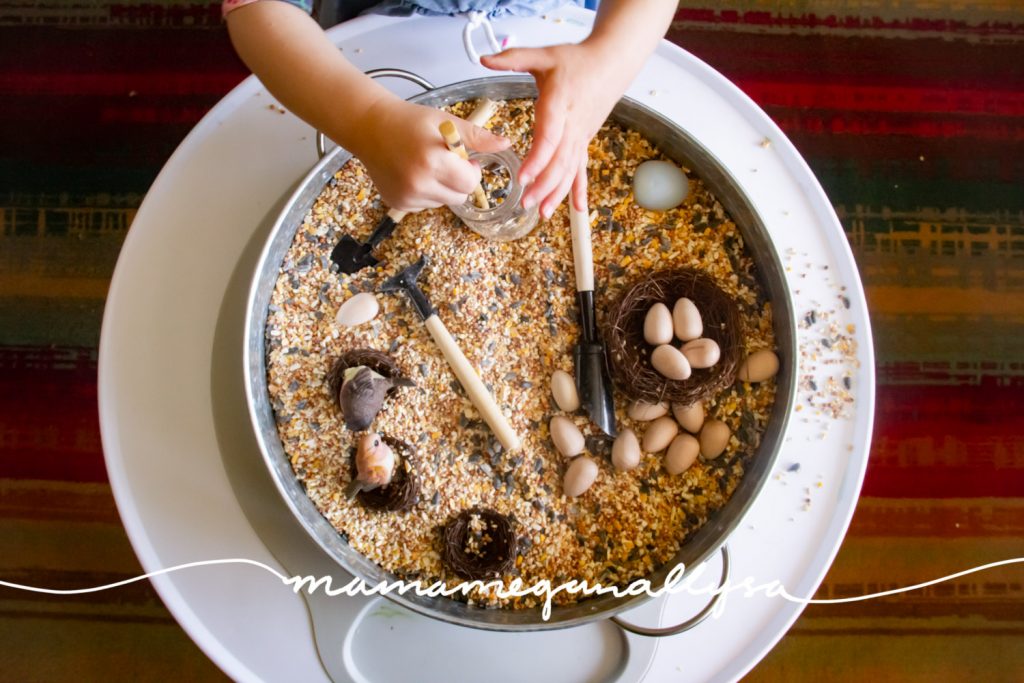 This post contains some affiliate links. As an Amazon Associate, I earn from qualifying purchases. I may receive a small commission from if you follow and decide to purchase. There would be no additional cost to you!
Birdseed Sensory Bin Supplies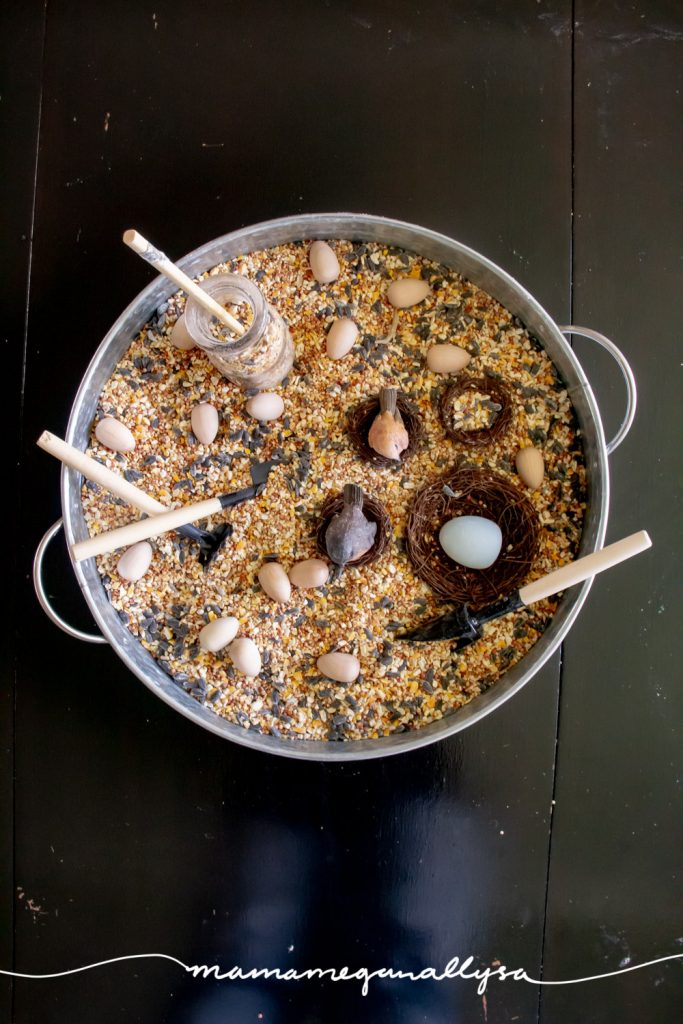 Birdseed Sensory Bin Filler
The birdseed I picked up has a mix of lots of different seeds. We have loved the way it feels to run your hands through the seeds, and she found it very interesting that the birdseed left dust on her hands.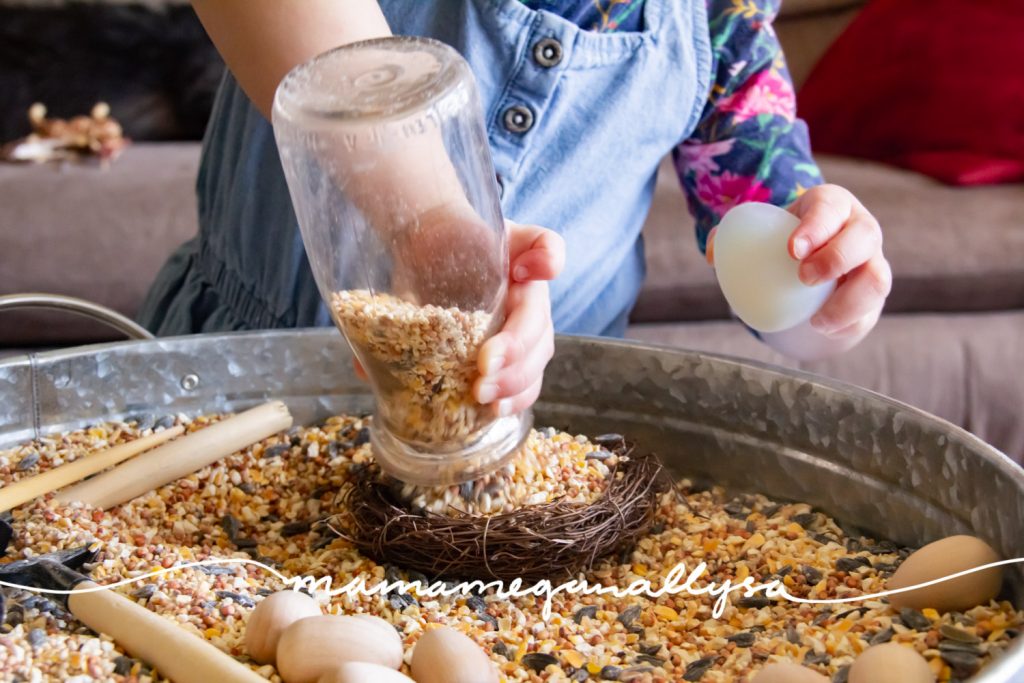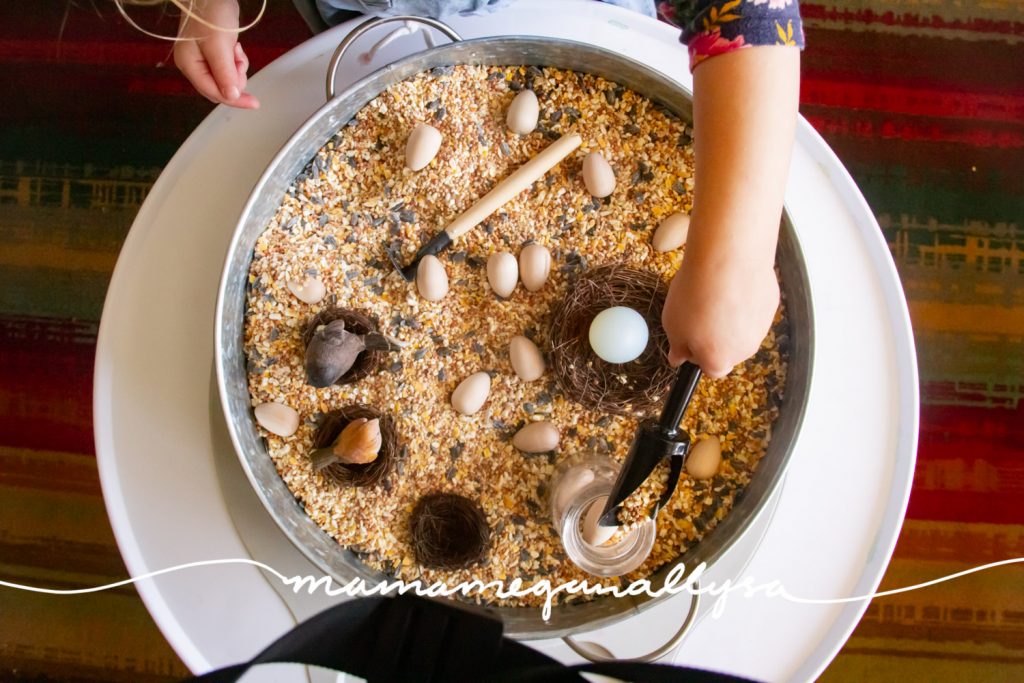 Birdseed Sensory Bin Tools
I have been trying to follow the child and present more simple sensory bins. 90% of the time she could care less about the theme or the little toys. All she wants are the scoops, a container, and a stir stick.
For my birdseed sensory bin, I did just that
I gave her a milk bottle and scoop, a little rake, and a stir stick. Simple. She then added a second shovel.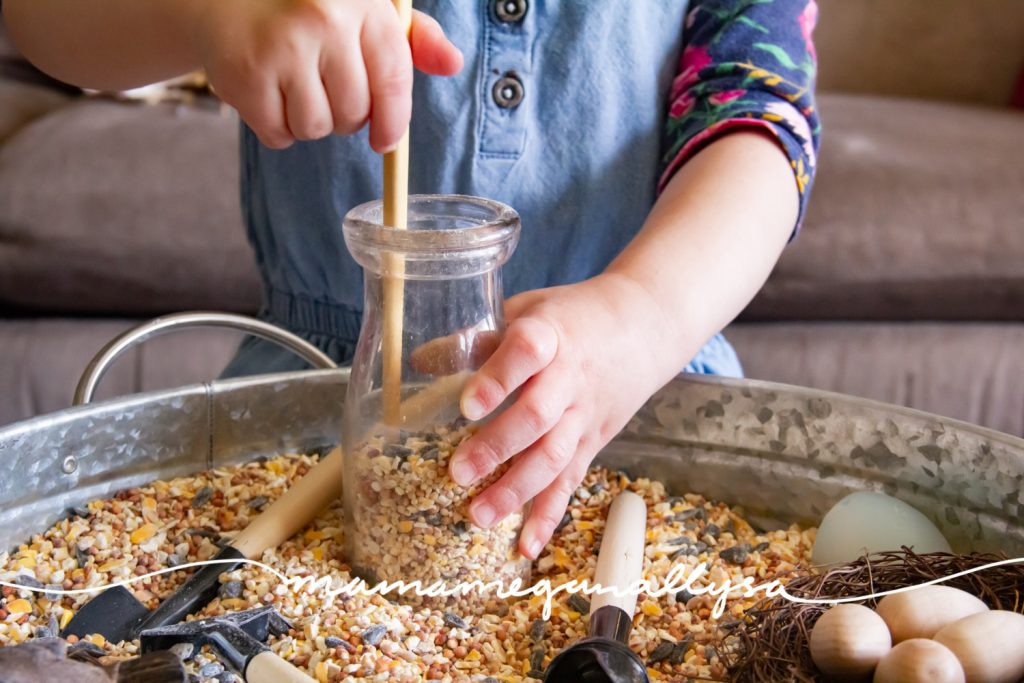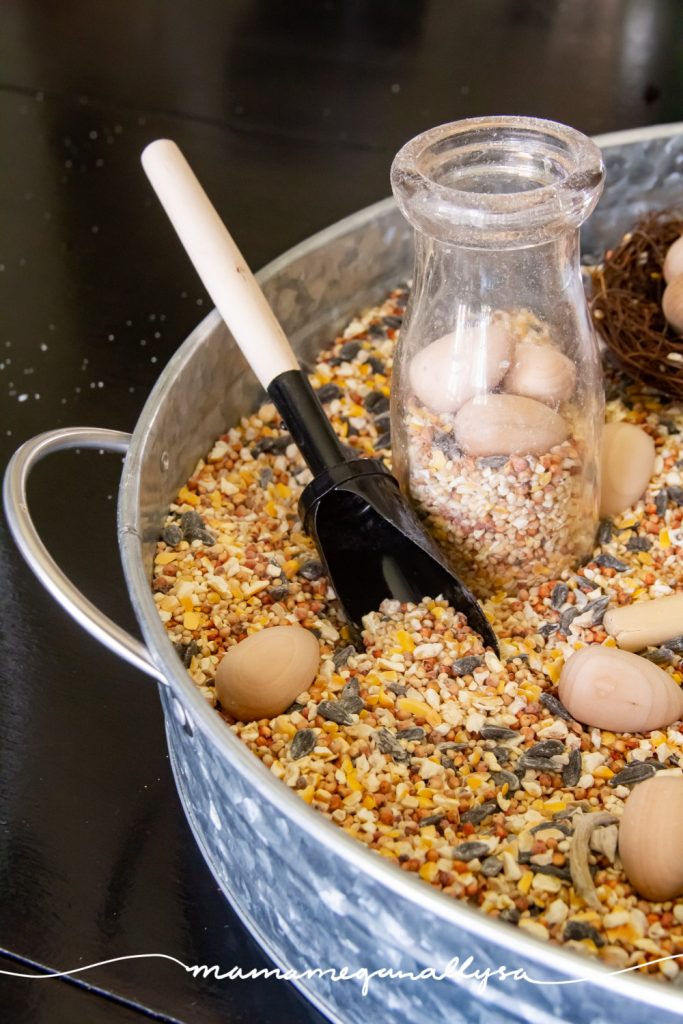 Birdseed Sensory Bin Toys
I added a couple of handfuls of some small wooden eggs, as well as her larger stone egg. These are the loose parts toys for this bin and got much more use than the bird figures in this setup.
She has liked adding the smaller eggs to the milk bottle and then she discovered that the large egg makes a nice clink as well as makes little cap on top of the bottle.
Our birds are from a fairy garden, but you could use any kind of bird you want. I know that there are some toob sets available if your little one is super into identifying different kinds of birds!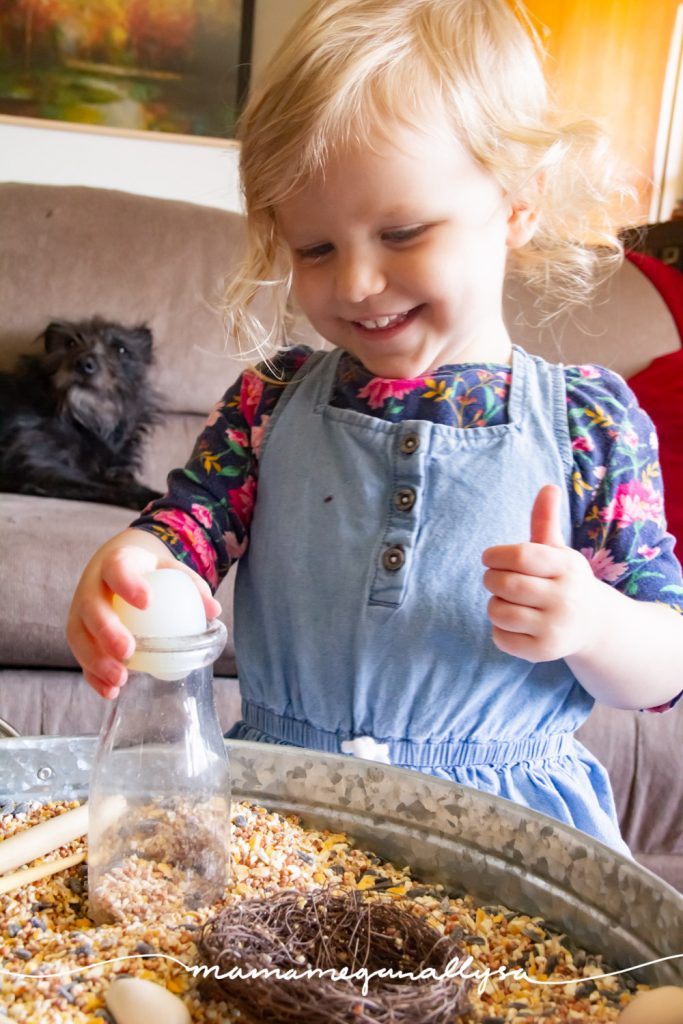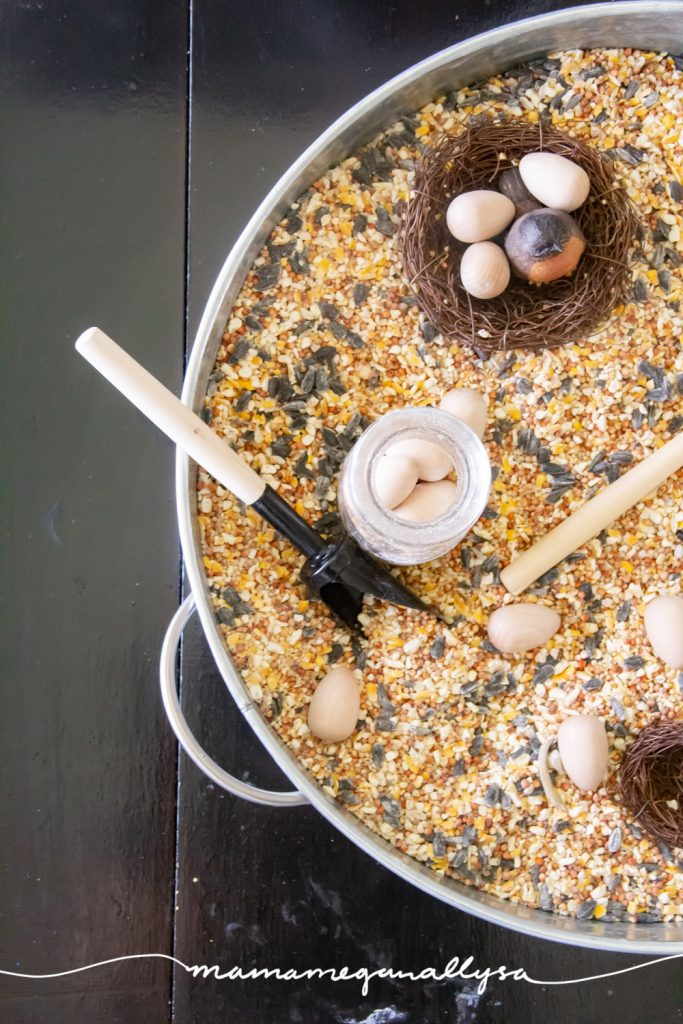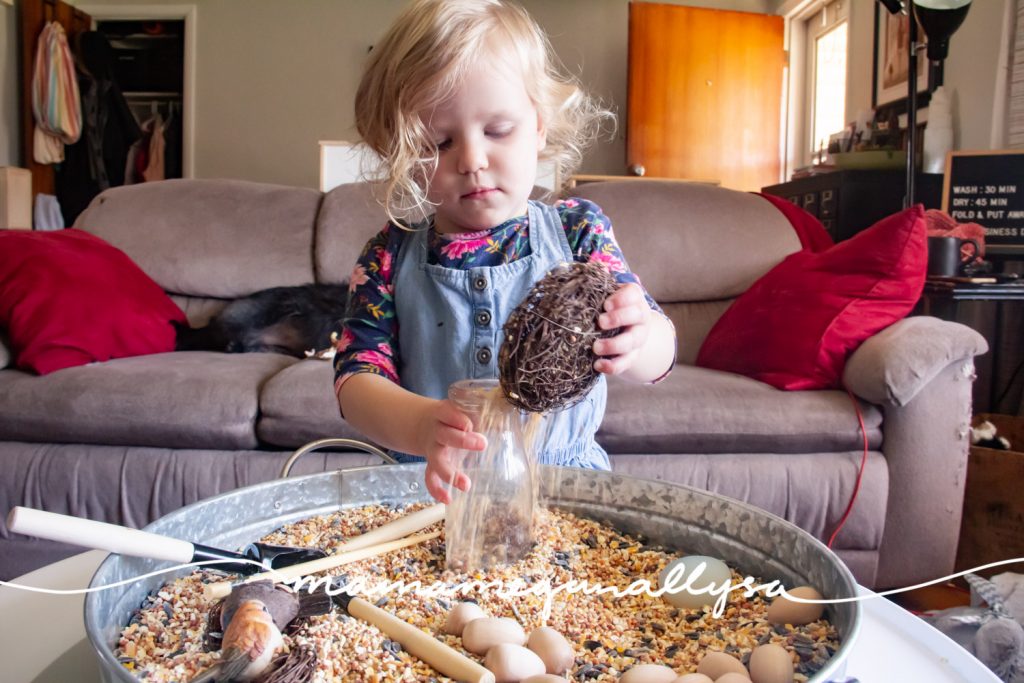 Sensory Play the Responsible way
I know that some people are hesitant to use food as sensory bases right now with the way that some grocery stores are having supply problems. I think a birdseed sensory bin is a nice alternative. You still get the fun of the filler without any guilt that you took the last back of rice off the shelf. Then when your done playing you can reuse the seed and feed your backyard birds!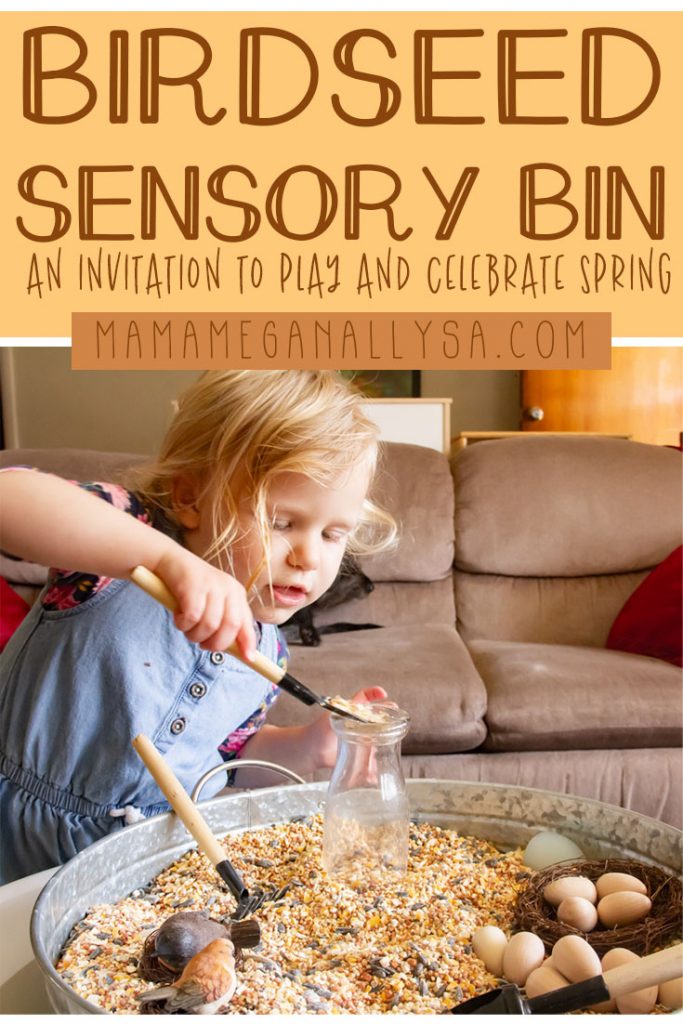 Share your Birdseed Sensory Bins with me!
We are still social distancing right now and thank god for sensory play is all I can say! I have been relying on it a lot in the last few weeks. If you haven't tried it yet, well I don't know what you're waiting for because it is a great way to get some independent play and a quiet moment to yourself!
Tag me on Instagram and share your birdseed sensory bins! I would love to see what you pull together. I think a fun addition would be a real birdfeeder you can hang up after your done!
Other posts you may like