For our May tot school, I hope that we can spend as much time outside as possible. Goodness knows we need the fresh air! We are going to learn about life in the Desert, Gardening and Insects and springtime, and sprinkle in a little magic as well! Then we will also have our monthly focuses of the letters MNO, the color purple, and diamonds.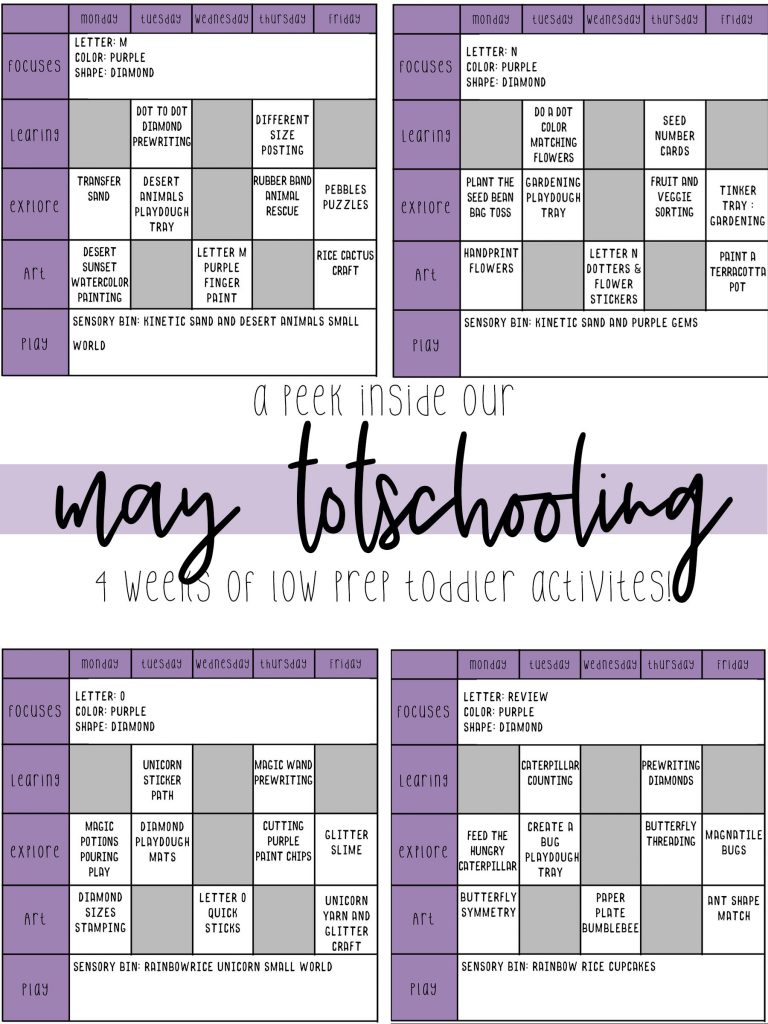 With social distancing and the shutdown of schools, so many people are finding themselves at home with little ones that need distractions. I hope that I can share just a few ideas to make the time pass just a little!
Download my Free May Tot School Plans Below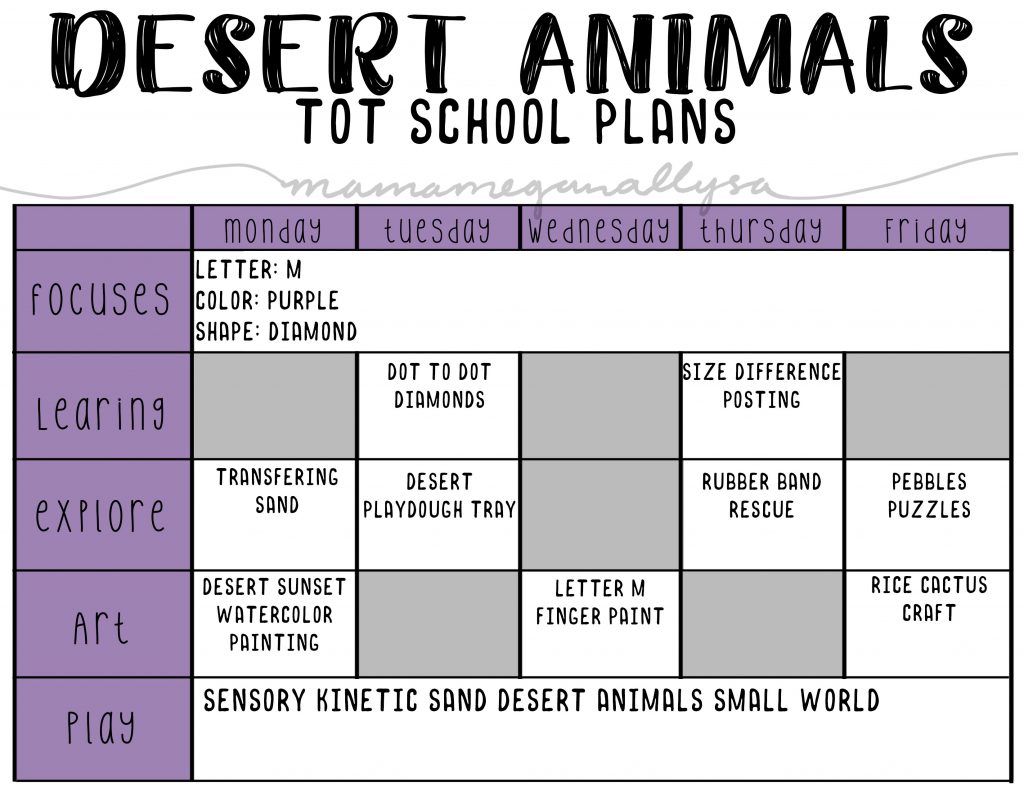 Color of the month : Purple
MONDAY – Transferring has lost a little of the magic it once had with Bitty, but it offers good life skills to practice. For transferring sand I will pull our funnels to add a little extra interest. We will do a watercolor painting in sunset colors and then glue on a silhouette of a desert scene
TUESDAY – The dot to dot diamond will use some dot stickers to create the corners of the diamond. Bitty will then practice drawing straight lines from one dot to the next.
WEDNESDAY – We will use our letter M coloring sheet and some purple paint. I will try and have her practice keeping the paint inside the letter shape.
THURSDAY – Posting has also lost a lot of the magic around here, so I am trying to think of ways to reinvent it. I will provide her with two different sized balls and encourage her to talk about the size and posting them in the correct hole. ( I will be using a cardboard box from the recycling for this) For the rubber band rescue, I will take some of her desert animal figures and wrap them in rubber bands. Bitty will then have to "rescue" the animal by unwrapping the rubber band.
FRIDAY –We will get out her edx pebbles and do a couple of the puzzles with them. For the Rice Cactus, I will cut a cactus shape out of green paper and then provide her with some glue and some of our old sensory bin rice to glue the "spines" on the cactus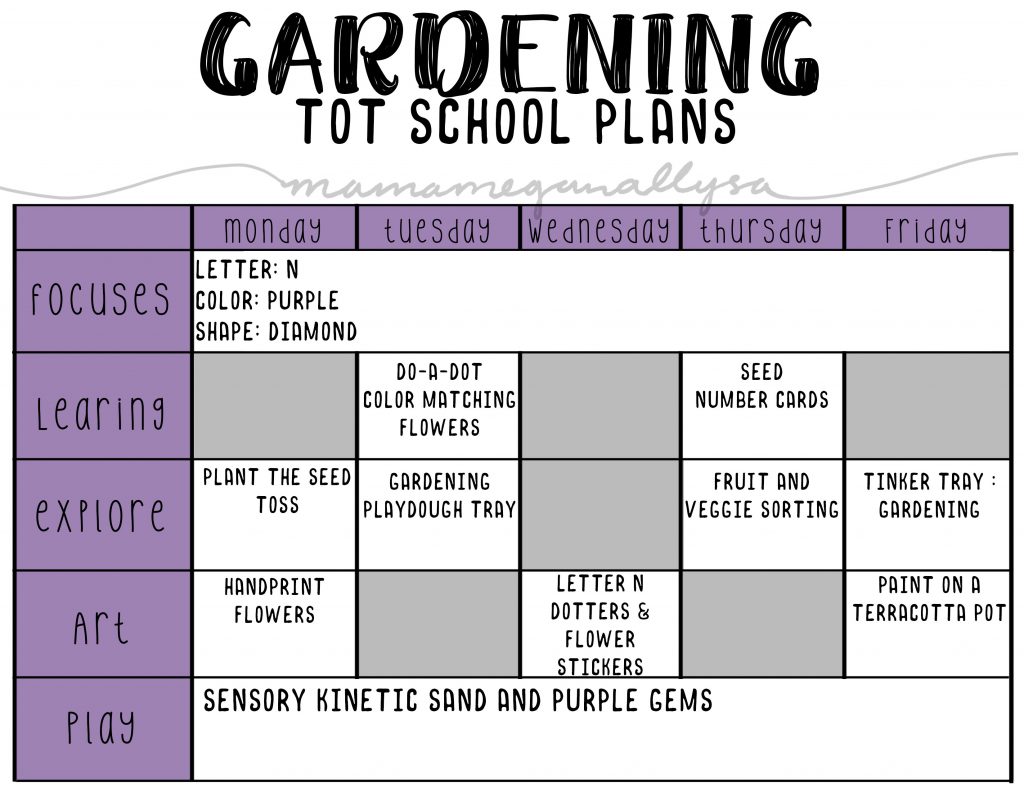 Letters of the Month : MNO
MONDAY – For the Plant the Seed toss, I will set up an empty pot and have Bitty toss a beanbag into the pot. Simple, but her underhand could use some work!
If you've been around for a while you know that Bitty LOVES to do handprint art. I try and have at least one handprint or footprint art a month. Usually more. So we will be doing a little handprint flower garden this month.
TUESDAY – for the do-a-dot flower match I will take a large sheet of paper and draw a bunch of simple flowers in few different colors. Then Bitty will use her Do-a-dot markers to dot the center of each flower in the matching color.
WEDNESDAY – using our letter N coloring sheet I will place dots in the letter and then Bitty will place stickers on those dots.
THURSDAY – using my DIY number cards and we will practice placing some seeds in the tens frames and counting the seeds. I am hoping to pick up some large seeds like pumpkin, but sunflower may be all I can get my hands on. I have an old food category sorting file folder game from my nanny days that I want to pull the fruit and veggies out of and see if Bitty can sort them. This will probably need a lot of guidance from me, but it's a great opportunity to talk and teach about different foods!
FRIDAY – I will pick up a smaller terracotta pot and let Bitty paint it however she wants. Simple as that.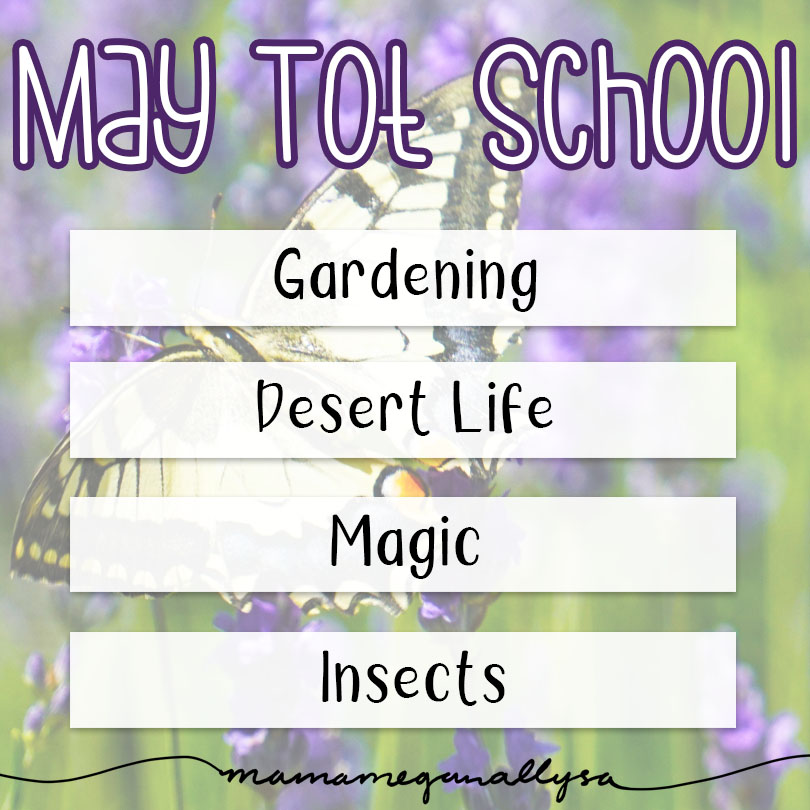 Download our May Tot School Plans so you can follow along too!
I try and include some thematic crafts, easy early learning activities, plenty of sensory play, and invitations to explore in my May Tot School Plans. I have found that simply having a plan each day keeps the day flowing and keeps my toddler from driving me up the walls. No promises that it will keep them off the walls…lol You can download my plans below and jump right into all the fun with very little prep work needed on your part!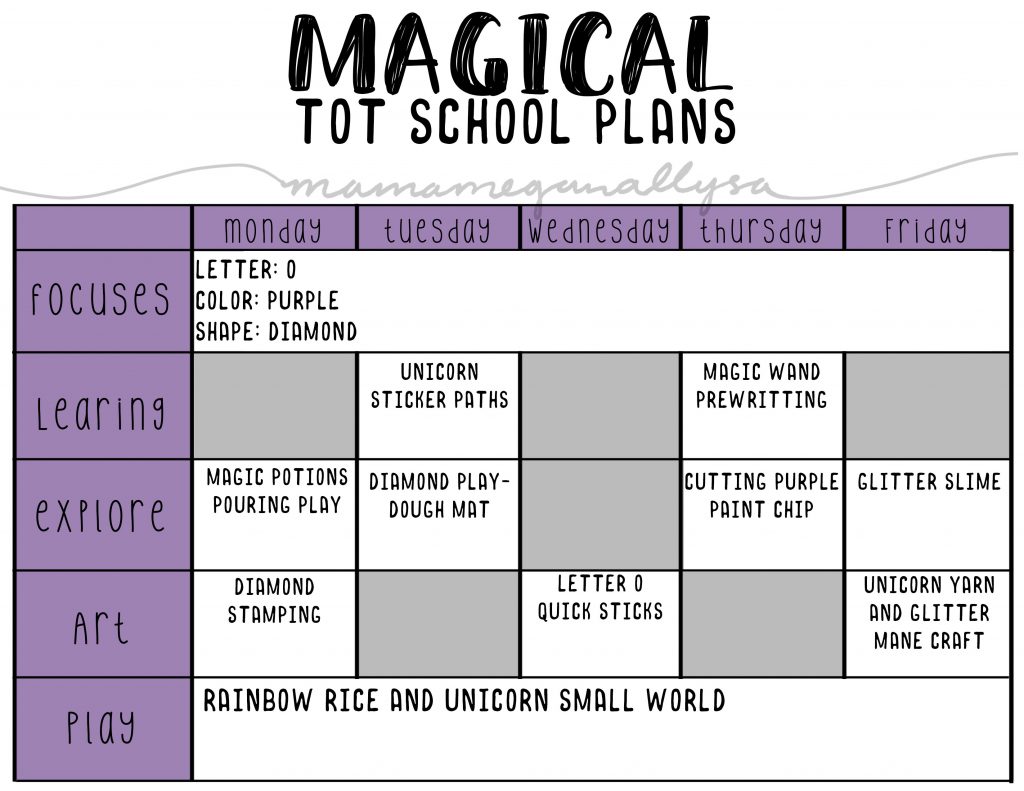 MONDAY – For the Magic Potions pouring play I will make some blue and some red water and we mix it together to magically make purple. I will also include some purple water beads and maybe biodegradable glitter. For the Diamond stamping, I will create some stampers out of cardboard in a small and large size for stamping with purple paint.
TUESDAY – The unicorn sticker path will use some simple unicorn stickers and she will place them along a dotted line.
WEDNESDAY – Using our Letter O coloring sheet we will draw with our quick sticks trying to stay inside the lines.
THURSDAY – For magic wand prewriting I will have her add the "magic sparkles" all-around a wand. We will continue to cut our way through the rainbow with our purple paint chip this month.
FRIDAY – For the Unicorn Yarn Mane I will use the printable available here and Bitty will cut up some rainbow yarn to glue on the mane. We will then add some glitter to make it extra magical!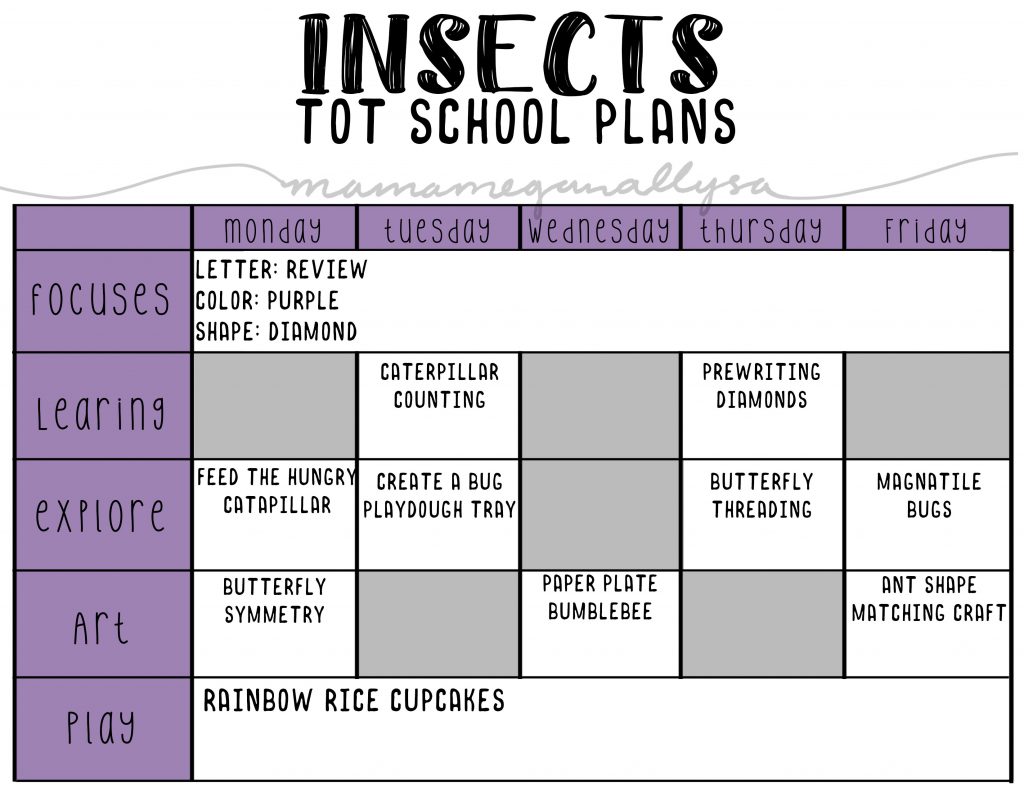 May Shape of the month : Diamond
MONDAY – I will have a row of little cups lined up to make a Caterpillar and we will feed it with our felt balls using the Eric Carl's The Very Hungry Caterpillar as a guide for what to feed it. Each cup will be for one type of food. Symmetry painting was a big hit when we did it in February. For the Butterfly painting, we will just use a butterfly shape, add paint to one side fold in half squish and peel apart to reveal the art!
TUESDAY – For the caterpillar counting I will have a sheet drawn out with different lengths if caterpillars. Bitty will use some pompoms to fill in each caterpillar.
WEDNESDAY – When we make our paper plate bumblebee we will be painting a plate yellow, but we will be gluing our stripes on instead of painting them.
THURSDAY – Using a diamond coloring sheet we will practice the strait lines needed for diamonds. We will be following the tutorial at todderatplay for the butterfly threading activity.
FRIDAY – I will provide her with some simple shapes cut out of felt and we will build bugs on the felt board. A similar activity will be the Ant shape match. The outline of the simple shapes to create an ant will be printed on a sheet of paper. She will have to add glue and find the shape that matches to build the ant.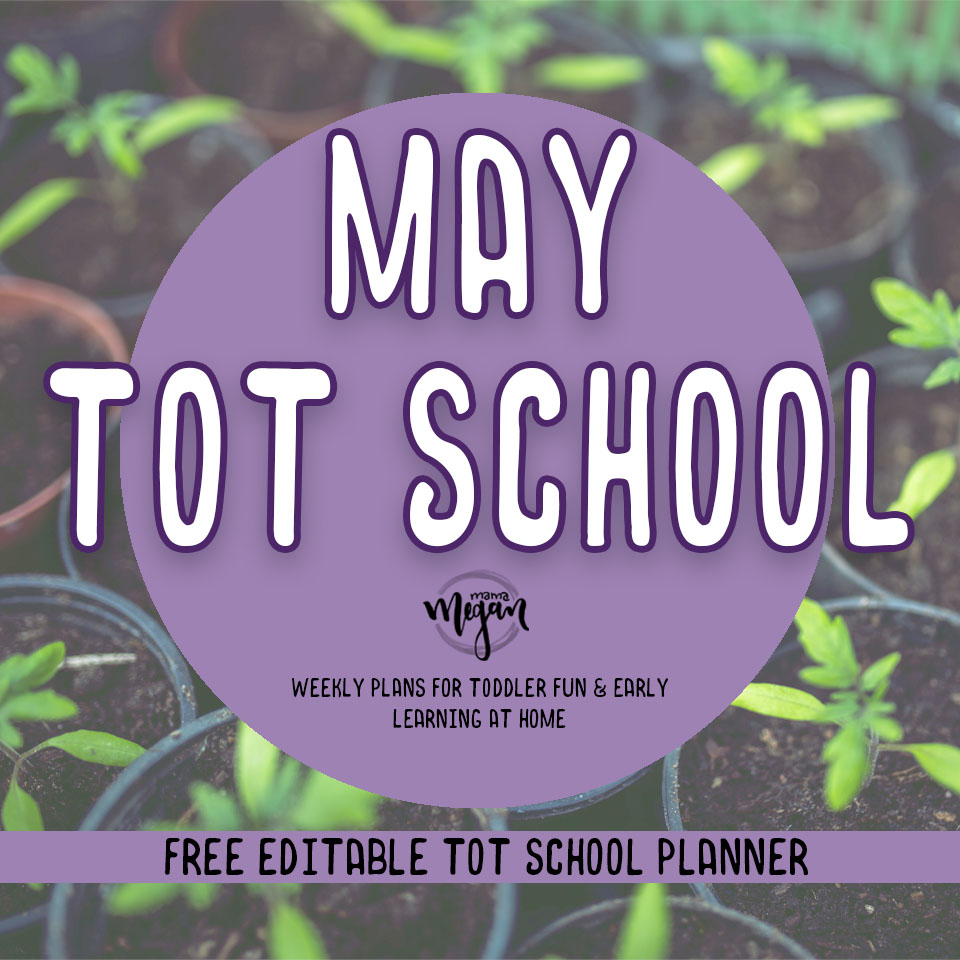 Safer at home means lots more activities… and lots more play
Finding ourselves at home more due to the "safer at home" social distancing has meant that I need to have activities on hand and ready to go more. I can't rely on Storytime or errands to keep us busy.
I plan my tot school with two activities a day. And when we were out and about this was all we needed. Now I'm having to get a bit more creative and pull a few more ideas. So while my May tot school plans still only have two activities the reality is that we are doing 3-5 preplanned activities a day right now. Let me know if you would like to see what our quarantine schedule is looking like!
I always try and encourage her to play independently as much as possible, so even with our 3-5 tot school activities, she is still free playing 80% of the day. And I want to remind you all that play is learning. They don't have to be doing sit down lessons to learn. In fact, toddlers learn better when they don't even realize they are learning!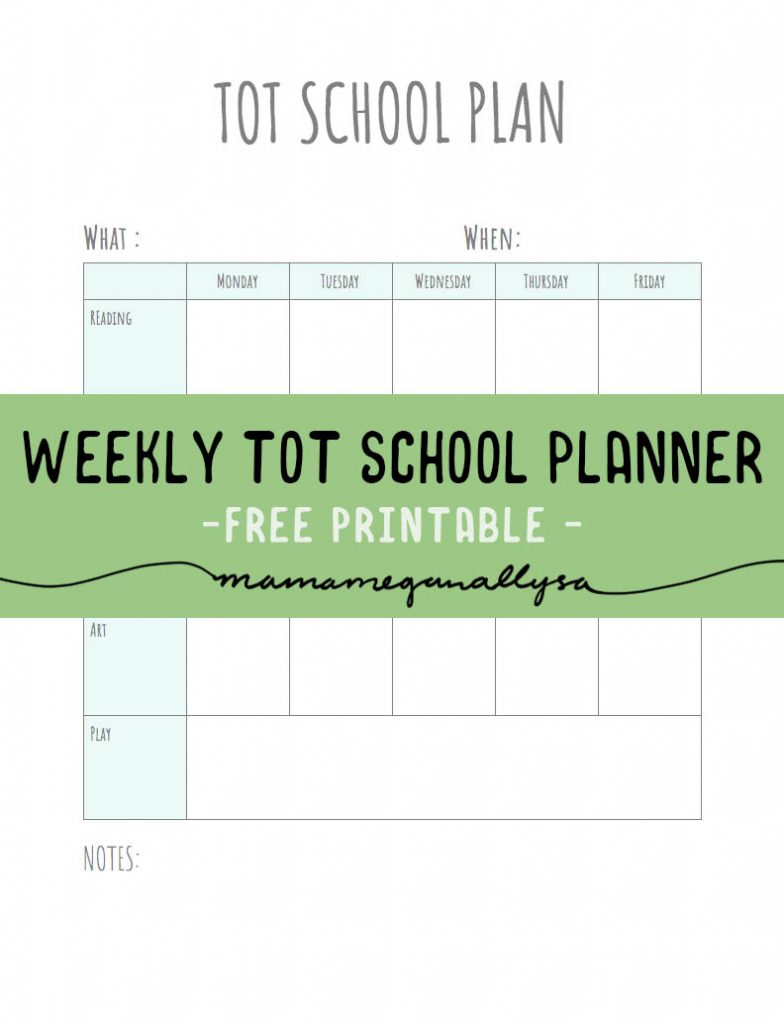 Free Editable Tot School Planner!
If you love the idea of tot school but my May tot school plans just aren't the right fit for your toddler then fret not! I have the perfect solution for you. My free editable tot school planner is available for you to customize for you and your toddler's early learning adventure! Just enter your email down below and a link will be sent to you with my blank planner for you plan out your week with!
Make sure to follow me on Instagram for peeks at our daily life and our May tot school activities in action!
Other posts you may like