A simple water bead sensory play is everything that we needed this week! After coming home from vacation we needed a fresh sensory bin and we needed it quick and easy!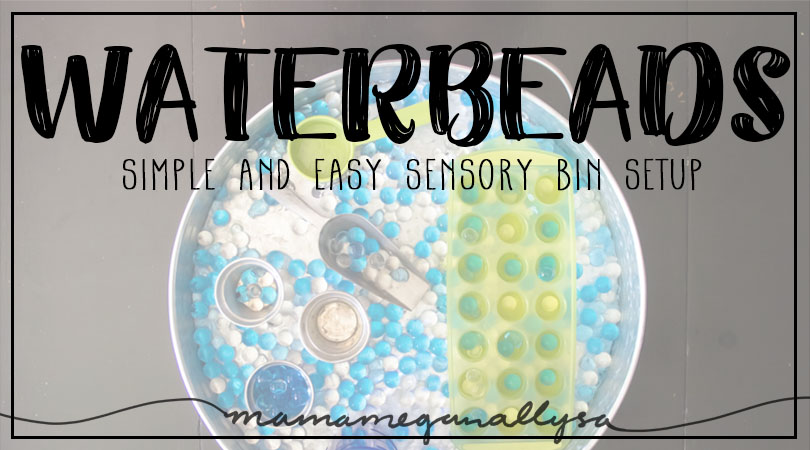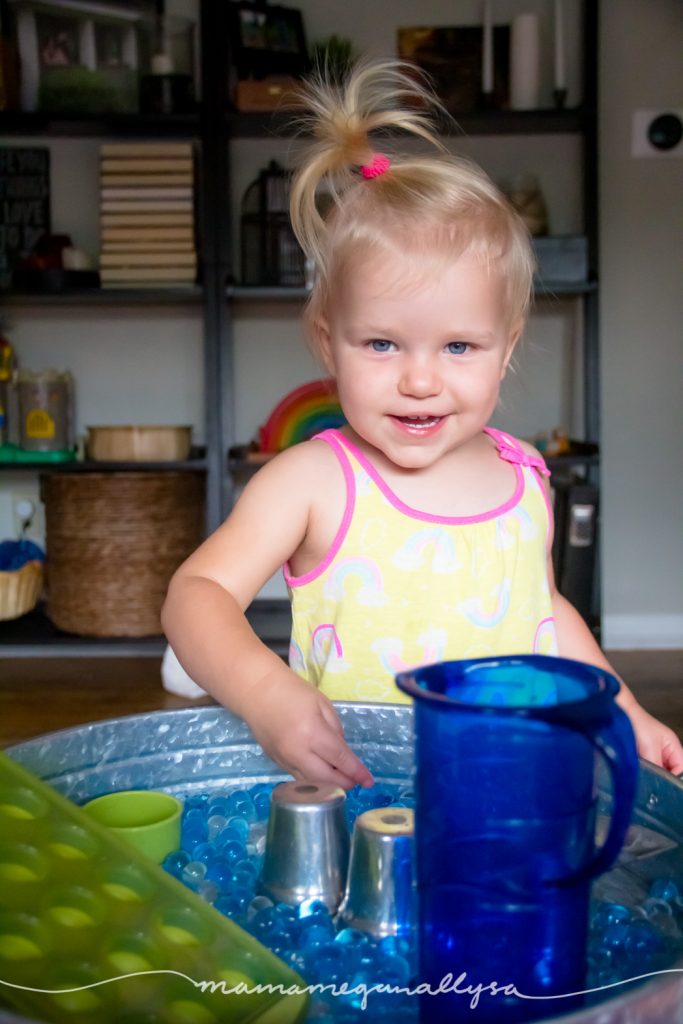 Water bead sensory play supplies
Water beads
Icecube tray
Tall Measuring cup
Small measuring cup
Metal scoop
Metal cups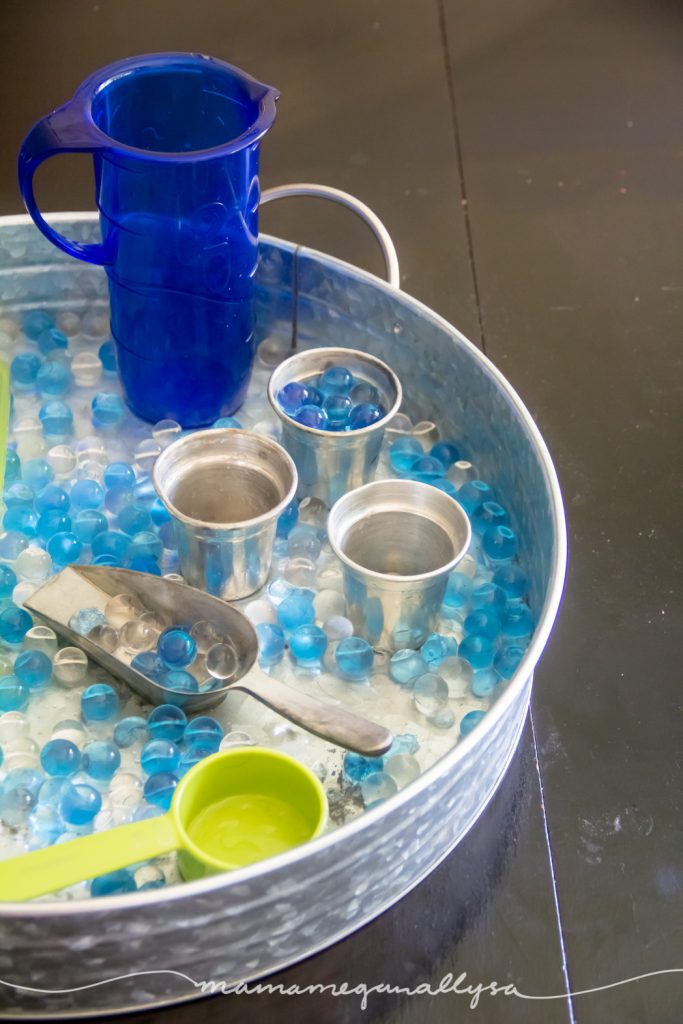 Water bead disclaimer
Water beads can be a trigger for a lot of people. They tend to bounce all around the room if dropped. They are slippery and thus easy to drop. They are also easy to break. So if you're like me and hope to reuse your sensory supplies this one will never be quite the same the second time around. Not to mention that they are a choking hazard. (So if your little is still putting lots in their mouth I would hold off on this activity or do so with direct supervision)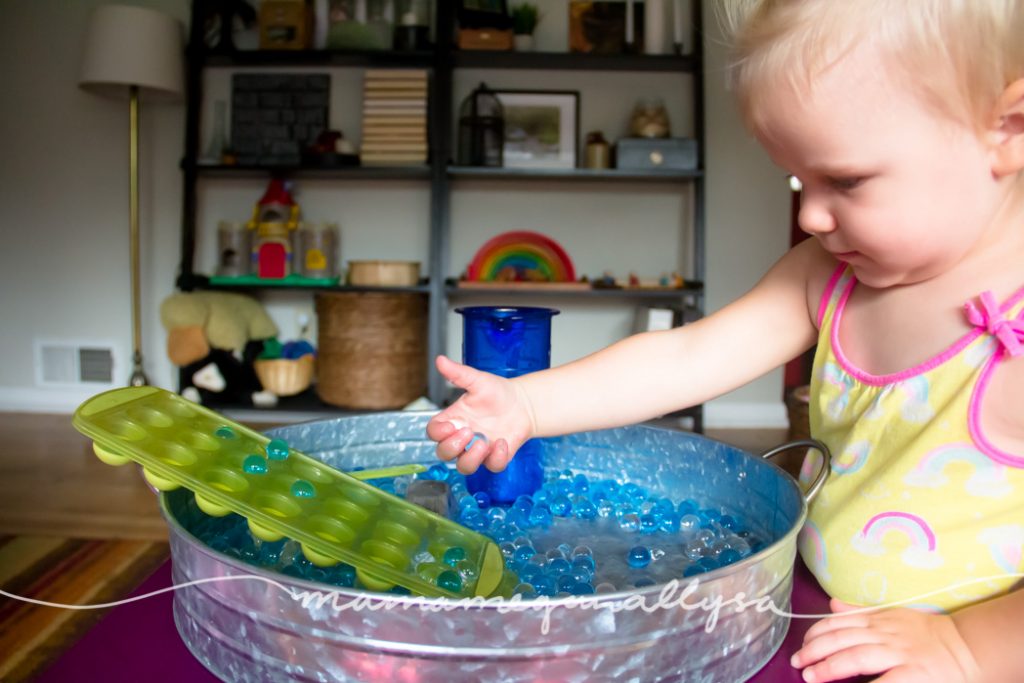 Quick and Easy Water bead sensory play
I knew I didn't have a lot of time to get really creative with our set up this week and honestly I don't think she minds all. The scoop and the metal cups are all she really wants anyway!
After letting the water beads soak overnight We just went out to our sensory dresser and I let her pick out a measuring cup. From there I added the little metal cups the scoop and the ice cube tray. I knew that without any kind of direction provided for the play I did want to provide multiple ways to play with the water beads.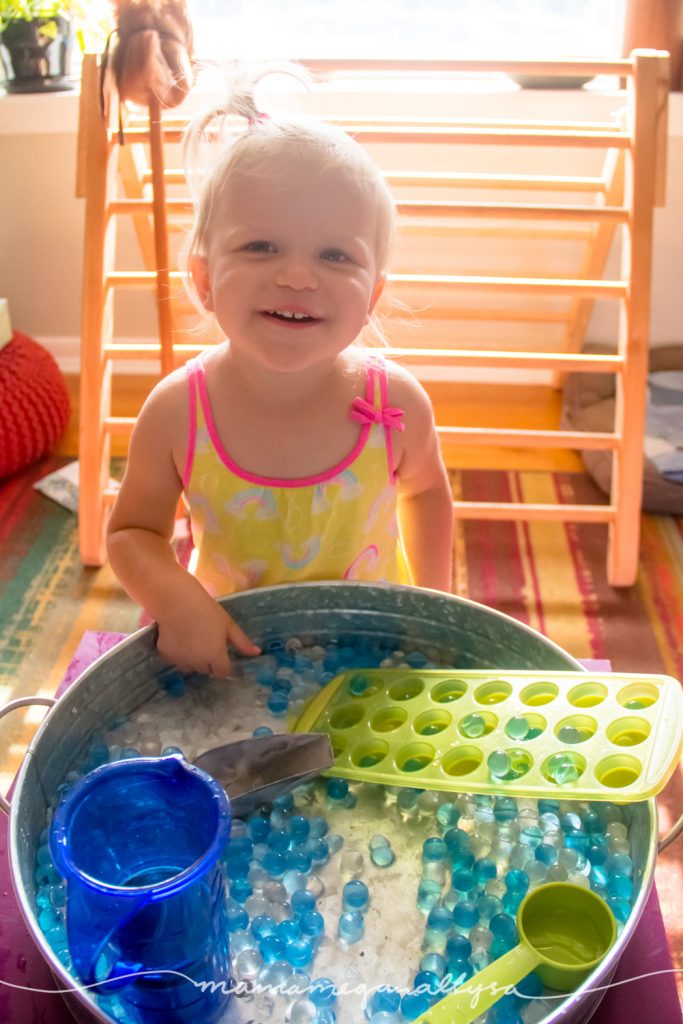 Sensory learning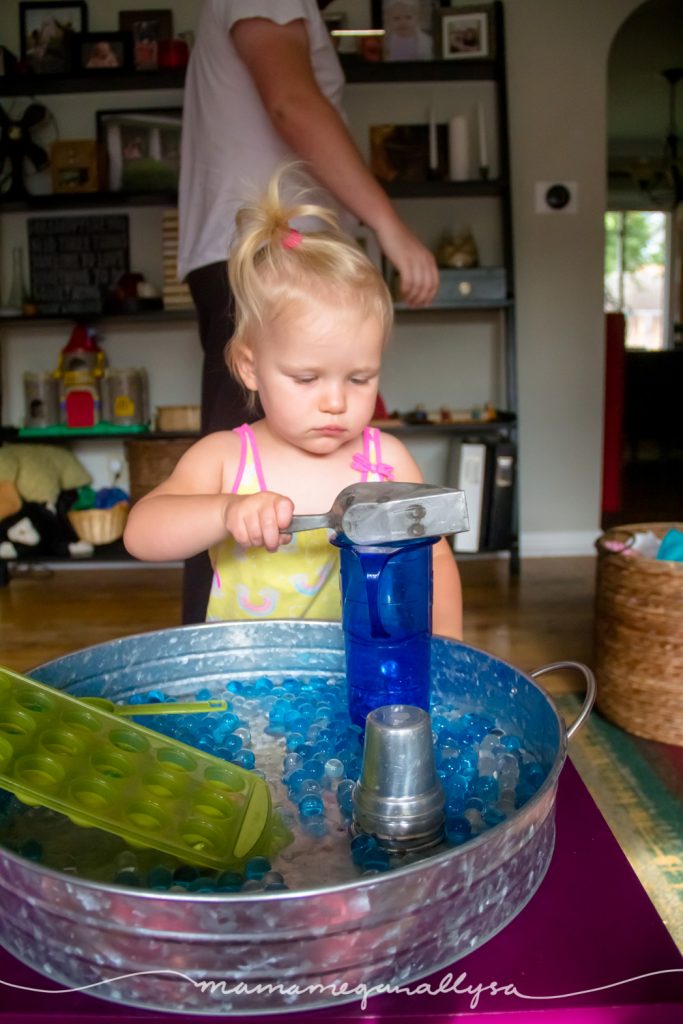 She is still learning how to work that scoop and that has lead to our fair share of water beads bouncing all over the floor but we are getting there.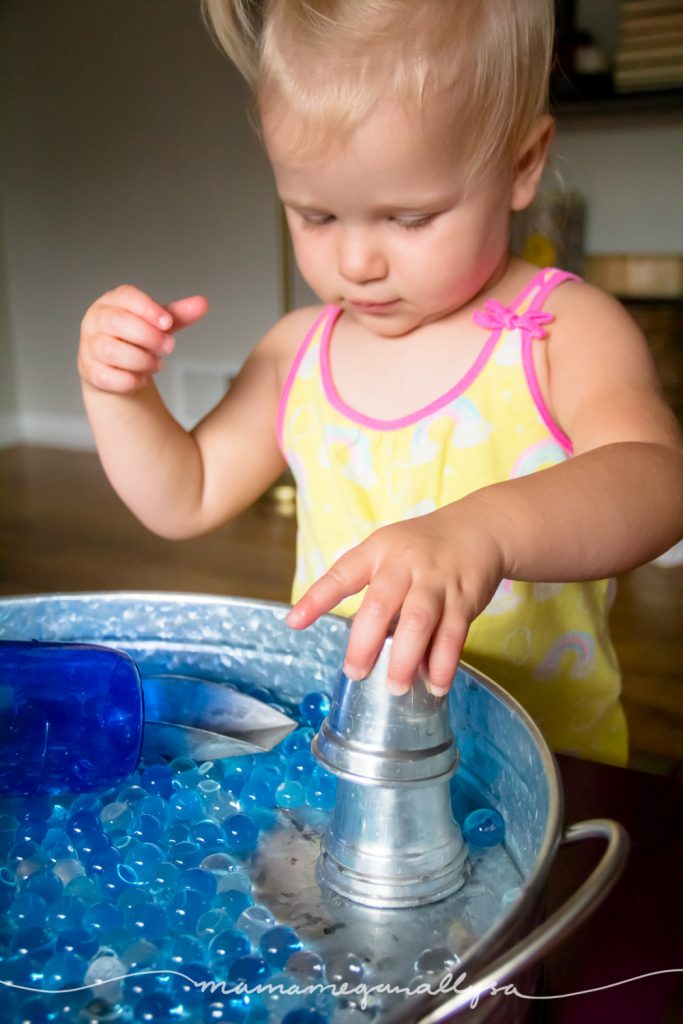 She is also very interested in the different sounds that everything makes when she hits the scoop on them or clangs them on the tray. So bonus sensory input!
Our biggest hurdle at the moment is her using her gentle hands…she has discovered that she has enough fine motor control to pick up a single bead and then proceeds to divide it into pieces… While I appreciate that this is also sensory learning all the broken water beads drive me up the wall and I just don't want her doing it on purpose. I know that it is going to happen just by playing with them but I don't want to encourage it.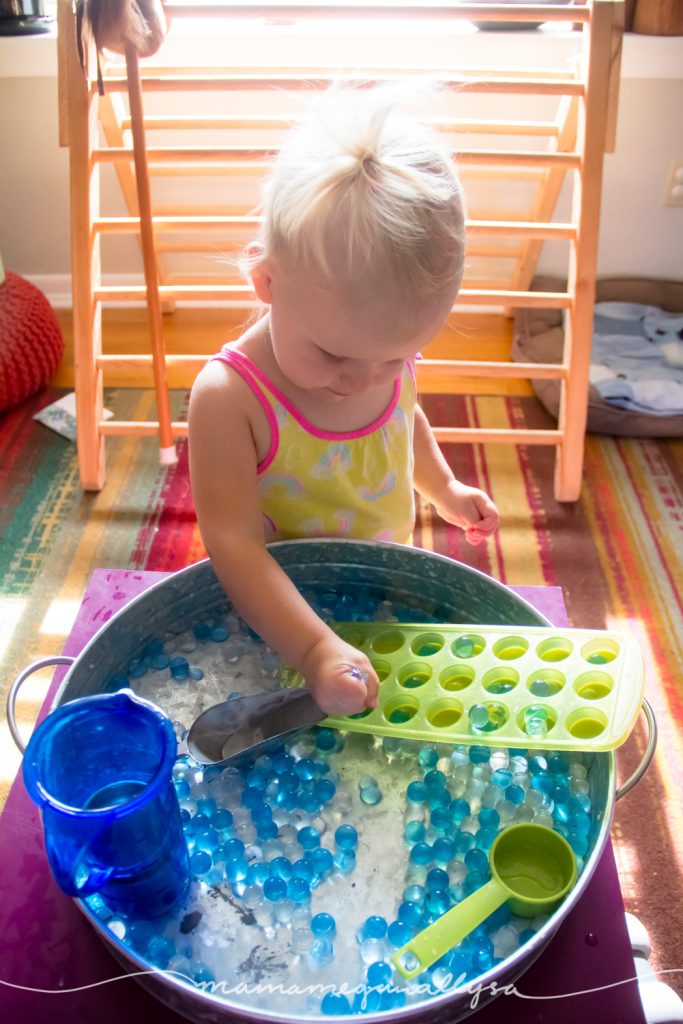 Share your Water bead sensory play with me!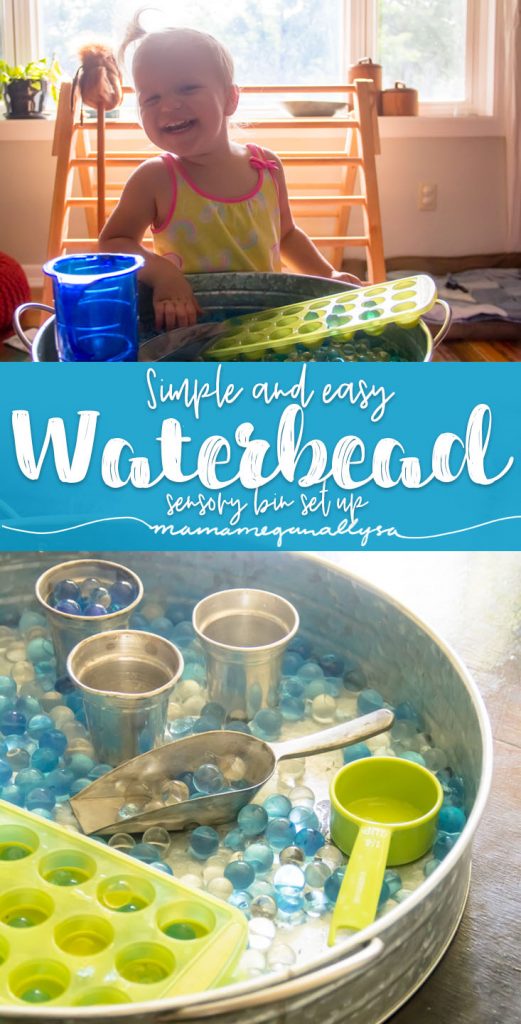 Water beads have become a bit controversial but I would love to see what you have used them for if you have ever done some water bead sensory play! Please tag me @mamamegan_allysa on Instagram so I can see!
Other posts you may like