I can deny it no longer. My toddler is a preschooler and my baby is a toddler and our playroom toy rotation has had to grow and change with them!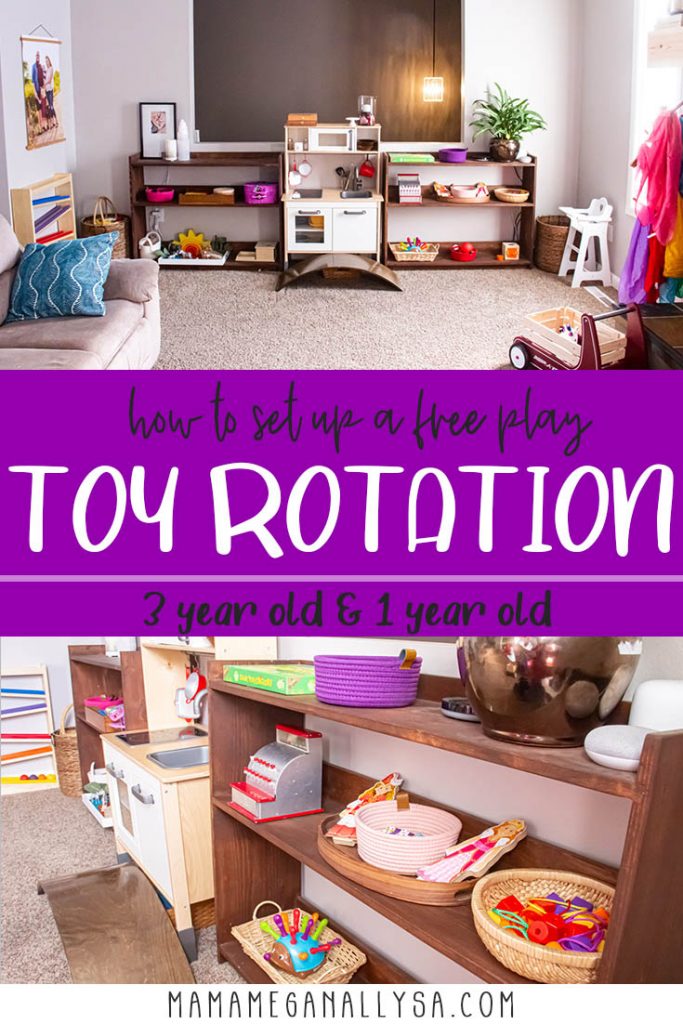 Playroom Toy Rotation for Two
Bitty is 3.5 and Bean is 1 year old exactly, but she has been walking for two months so I'm pretty sure that qualifies her for toddlerdom…
It has been an interesting challenge as Bean has aged and become more interested in toys that are out on the shelf. While there are always items specifically for her, more often than not they both end up playing with everything unless it's something that Bean is absolutely not allowed to use.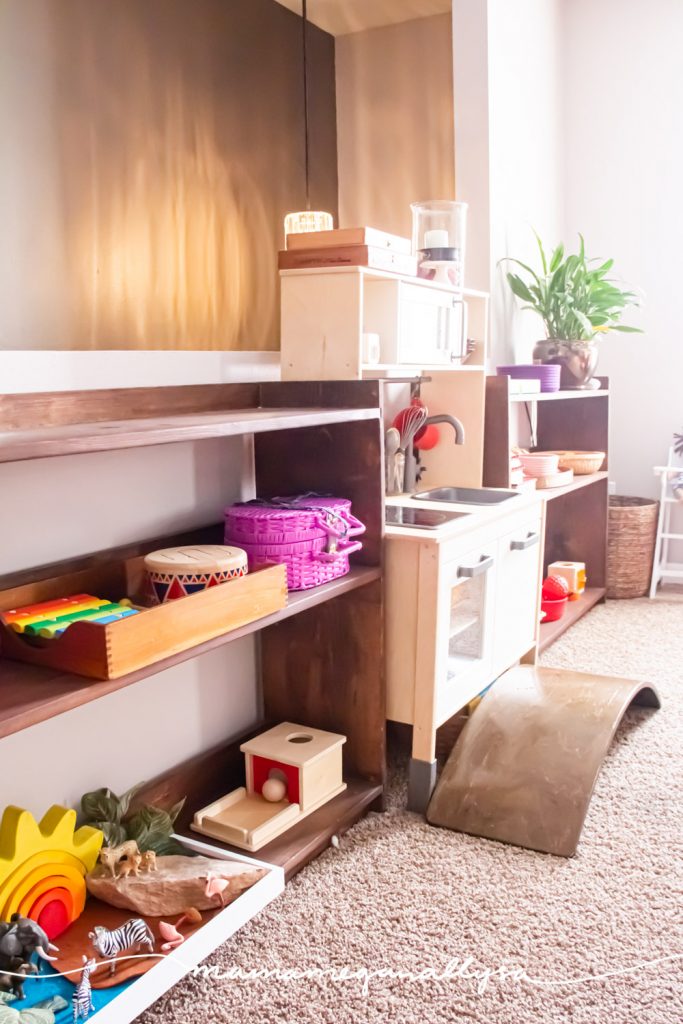 Living room Playrooms are the Way To Go in my Opinion!
Our playroom is our main living room and the heart of the main floor. I make it a point to have the room feel like more than just a playroom, so it's a mix of kid aesthetic and adult decor.
We have the toy shelves and play kitchen along one wall of the room on either side of the shelves. I keep larger baskets for building blocks and baby dolls.
I have a large mirror mounted on the hearth that Miss Bean loves to look at herself in, it also serves the same purpose for the 3-year-old and on either side of that we have the play silks and the book shelf.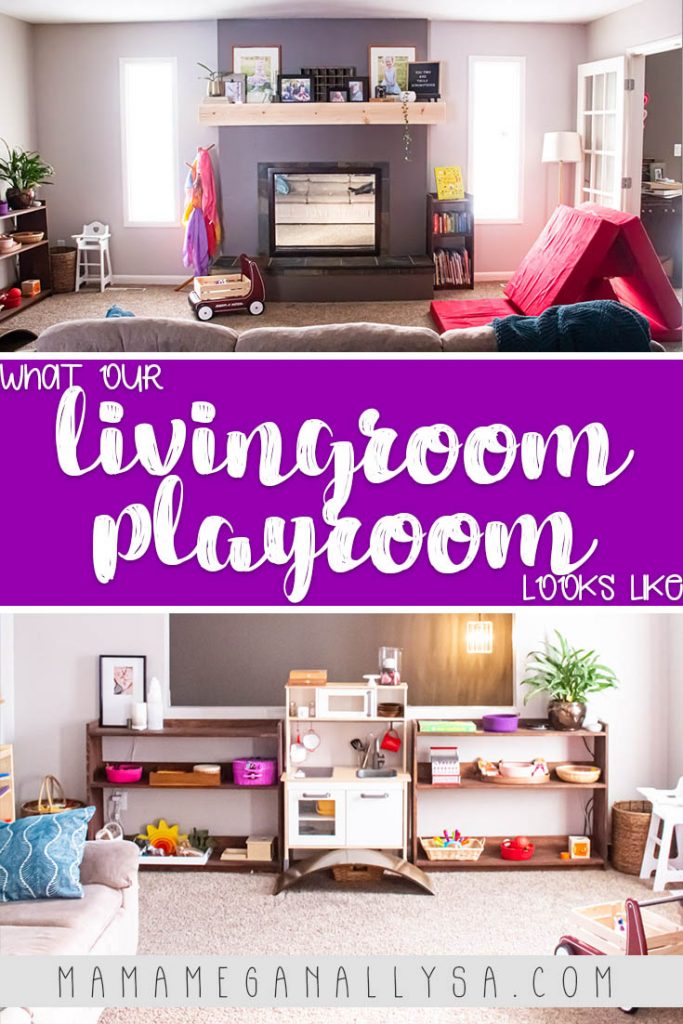 Then the gross motor toys just sorta move around the room as they see fit. They do tend to stay more on the far side of the room to allow for more floor space in front of the toy shelves.
Keeping the playroom in the main portion of the house instead of shoved into a bedroom or hidden away in the basement keeps the mess under control as you can't forget about or just close the door. It also means it's more convenient with little ones in the house. You can leave them to play in the living room and go let the dog out or pop something in the microwave without being too far from the action.
I will say that other than the fact that I am "living" in our living room for a major part of the day it doesn't much resemble a traditional living room anymore. One whole wall is dedicated to toys and books, we have gross motor toys scattered around the floor, and there is no TV in the room. The mantel, general decor, and furniture are the only things that are really "adult"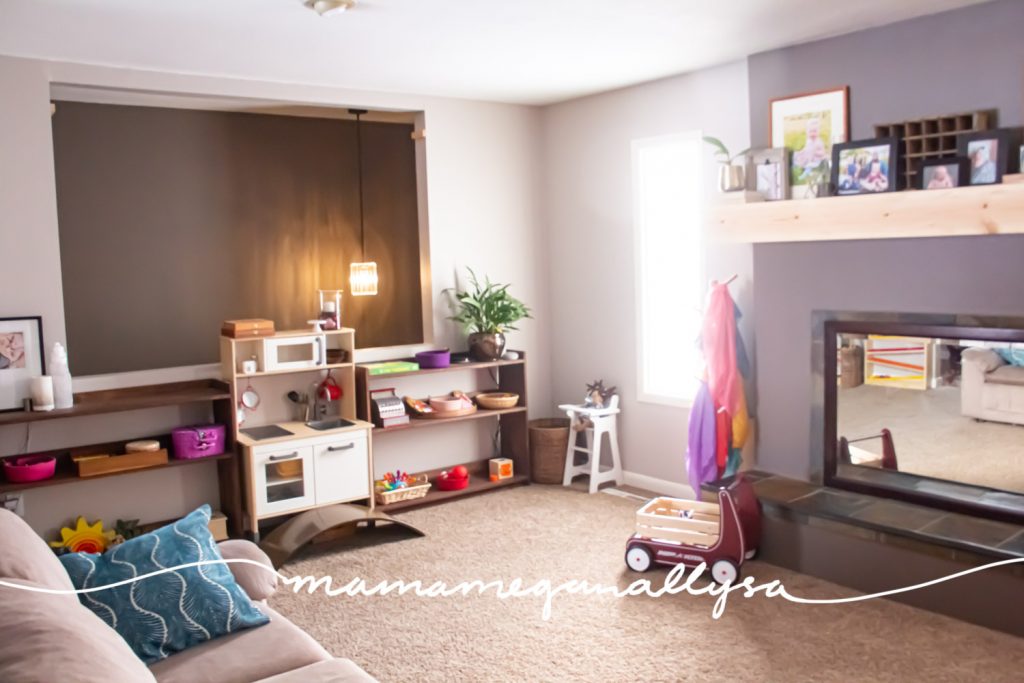 This post contains some affiliate links. As an Amazon Associate, I earn from qualifying purchases. I may receive a small commission from if you follow and decide to purchase. There would be no additional cost to you!
What Playroom Toy Rotation would be Complete without Some Gross Motor Options?!
As I said above Bean started walking at 10 months so gross motor is a big deal around here right now.

Currently, we have the push wagon which incidentally didn't get used a whole lot before she was stable enough to walk without it…but I foresee it getting plenty of use in the future. Our wobble board (not this exact brand as I can't find ours, but very similar) that we have set up as a step stool of sorts in front of the play kitchen and Bean is up on that thing ALL the time, more because she wants to play in the kitchen but still, getting lots of use these days
Our Pikler triangle has been downstairs for the last couple of months due to the holidays, but I am thinking of bringing it back up to offer her some more climbing practice. I think she could do to work on her confidence and body awareness as she keeps stumbling on steps.
Then there is the holy grail of trendy kids' gross motor toys. The nugget couch. I believe they are still accepting backorders to be shipped out in April!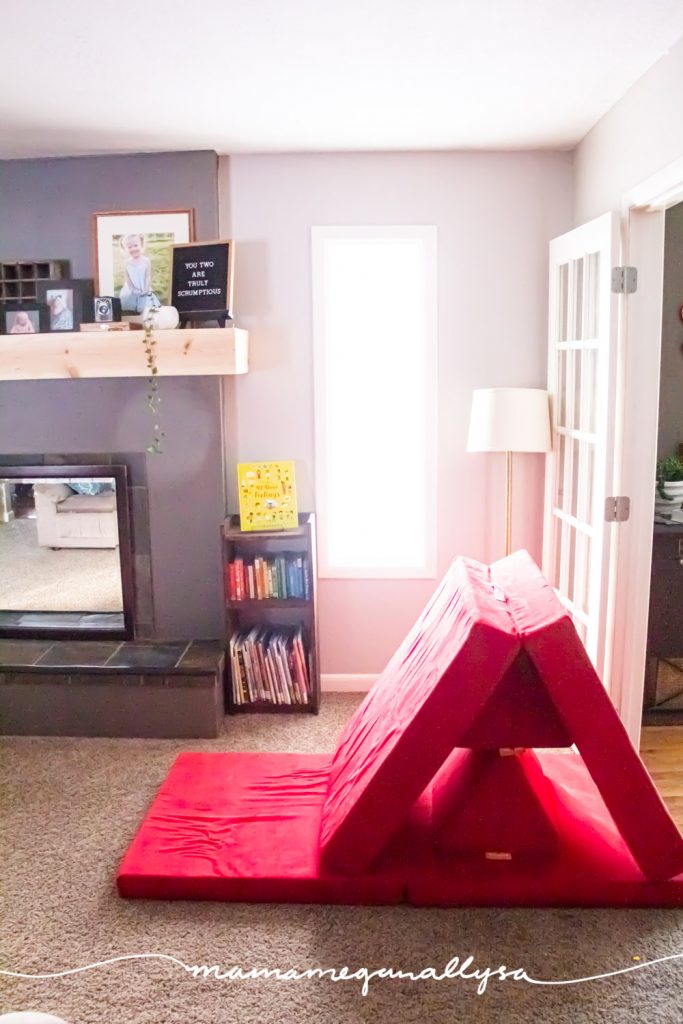 Our current favorite configuration is set up like a slide, both girls like to slide down it, and while Bean needs supervision to do it Bitty just randomly crawls up it and slides down.
We love this thing and will undoubtedly be getting another at some point. The girls are on it every day in some way. They are not currently rearranging it much on their own, but Bitty will ask for her favorite setups and I have found a few good ideas on Pinterest for when I need inspiration for set-ups!
Playroom Toy Rotation system for a three-and-a-half-year-old and a one-year-old
I custom rotate the girl's toys every two weeks. I have about 16 things out at a time, not including the gross motor toys, stuffed animals, and books.
Things that rarely rotate out are…
Building toys – they rotate every other month or so between magnatiles, wooden blocks, and Lego Duplos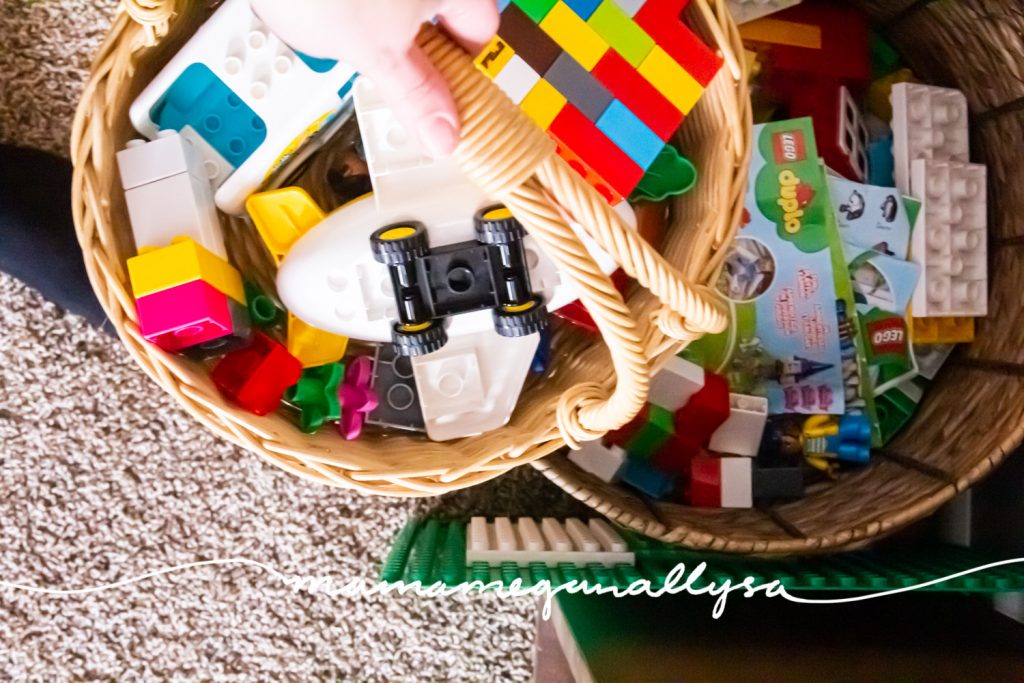 Babydolls – occasionally I will put a particular doll on display with a specific accessory like a baby doll feeding set or diaper changing set
Play kitchen – I do like to seasonally decorate or set up thematic play using the play kitchen but the basics are always there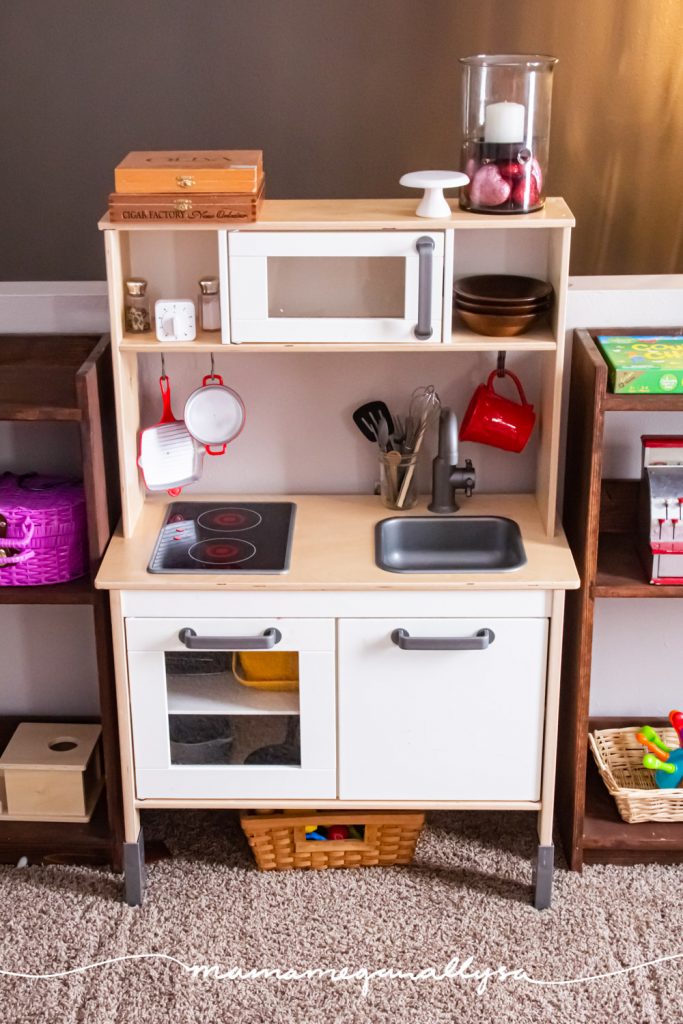 Play Silks – These recently moved from a basket to a coat rack and I am not sure if I love it or not…super convenient but not very organized.
For our playroom toy rotations, i try to always include a fine motor toy, some kind of musical instrument, a puzzle and a loose parts invitation of some kind. We almost always have some small world play and some dramatic play. New additions now that we have more space on our shelves are a sit-down game and some kind of art/creativity toy.
Bean has 2 or 3 toys that are specifically there for her as well as her discovery basket. I have lots of examples of different discovery baskets that I make for Bean on my Instagram if you want to see more ideas!
From there I will fill in with just some random toys that haven't been used in a while.
You Might Want to Consider Custom Shelves for your Playroom Toy Rotations
Sure you can use just about any shelf as a toy shelf, but if you want something more interesting than a cube shelf you are going to either be waiting ages for the right piece to show up on the marketplace, pay bank or both…
We ended up DIY our shelves because I wanted something that would accommodate taller toys, as well as feeling open and I will be honest I don't LOVE them. I would like the shelves to be deeper as most of our trays hang over the edge. I also feel like they are just missing a little personality… but I can't quite figure out what I want to do to them.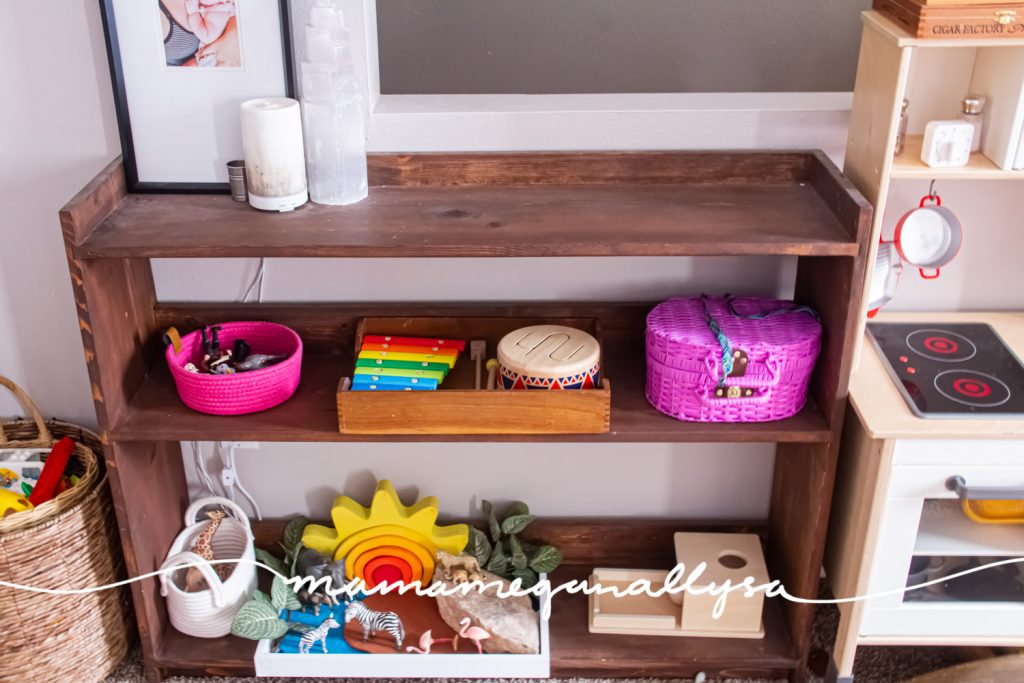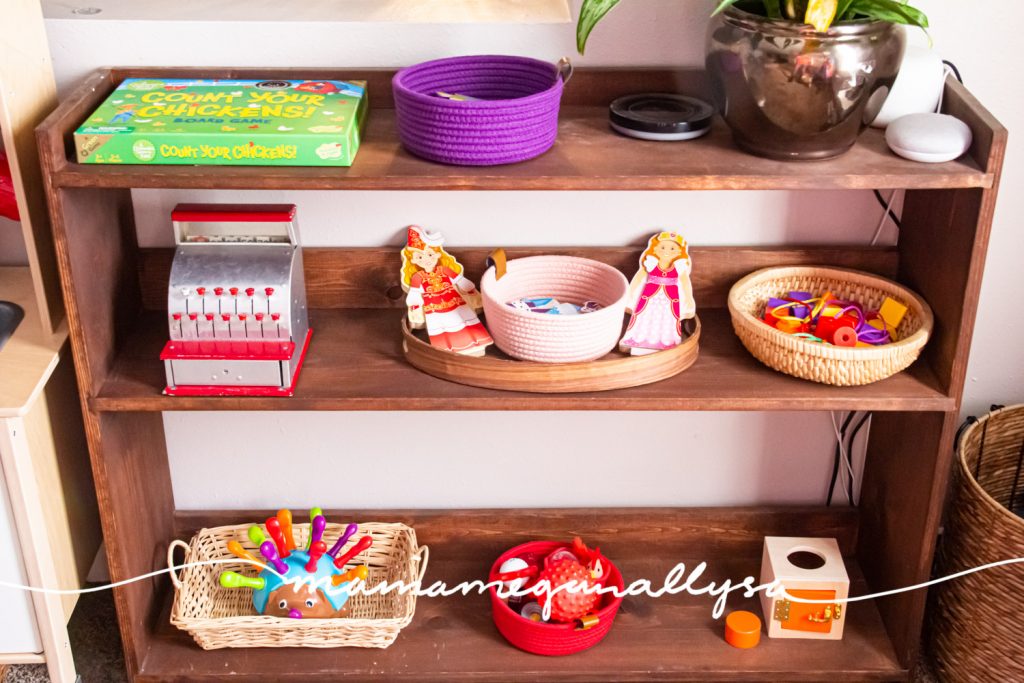 We ALWAYS have books on hand
We did also build a smaller matching shelf for books in the living room, we keep a selection of our board books, our large format books, and then our library books on this shelf. I also tend to display a book of the week on the top. Usually, something seasonal or topical based on what we are learning in homeschool. We are having lots of big emotions lately and the Usborne Book of Feelings is a perfect one to help Bitty learn how to process those.
How I present our toys on our shelves
I display almost all our toys in low-walled baskets and trays and most are from thrift stores. That said my newest additions are the stunning Maple and Lark Promise rope baskets that are just the perfect size for playroom toy rotations and come in so many beautiful colors!
I am an affiliate of Maple and Lark so if you are interested in some baskets of your own I would greatly appreciate it if you would use my link and help out my own basket addiction! They also have a great selection of toys, acrylic storage jars, and a line of exclusive toys as well!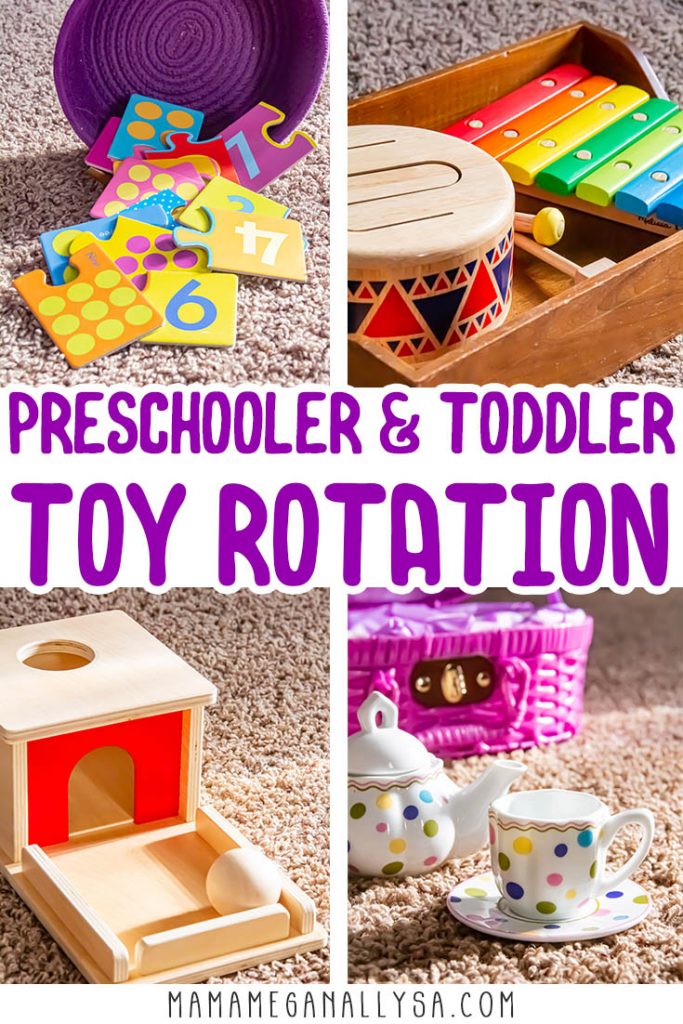 Take a detailed look at our playroom toy rotation for a three-and-a-half-year-old and a one-year-old
Wooden Ball Run – isn't this just beautiful?! My Dad built this for Bean for Christmas and I love it. She isn't as drawn to it as I thought she would be but she does occasionally go to it. I obviously can't link this one, but I will find a couple of other options that we were considering before she received ours. A larger one and a smaller one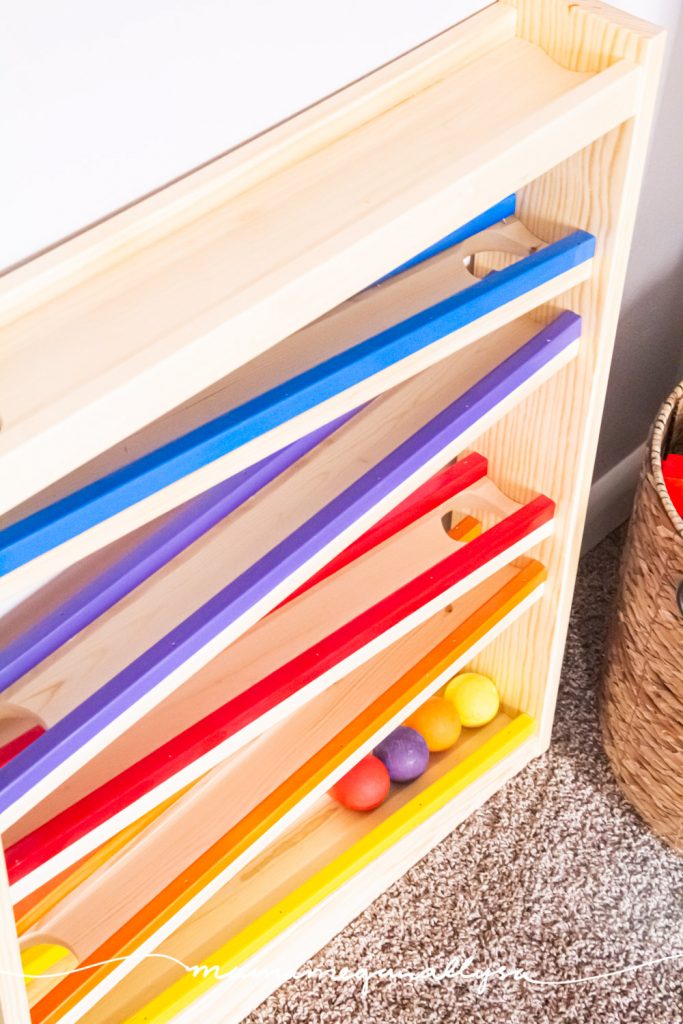 Frozen 2 figures – We are still solidly into Frozen over here, but I can say I wish they made sets like this for the other princesses because I think Bitty would love a Rapunzel set, and she is currently very interested in Cinderella. If you know of any sets of little figures from some of the other movies let me know!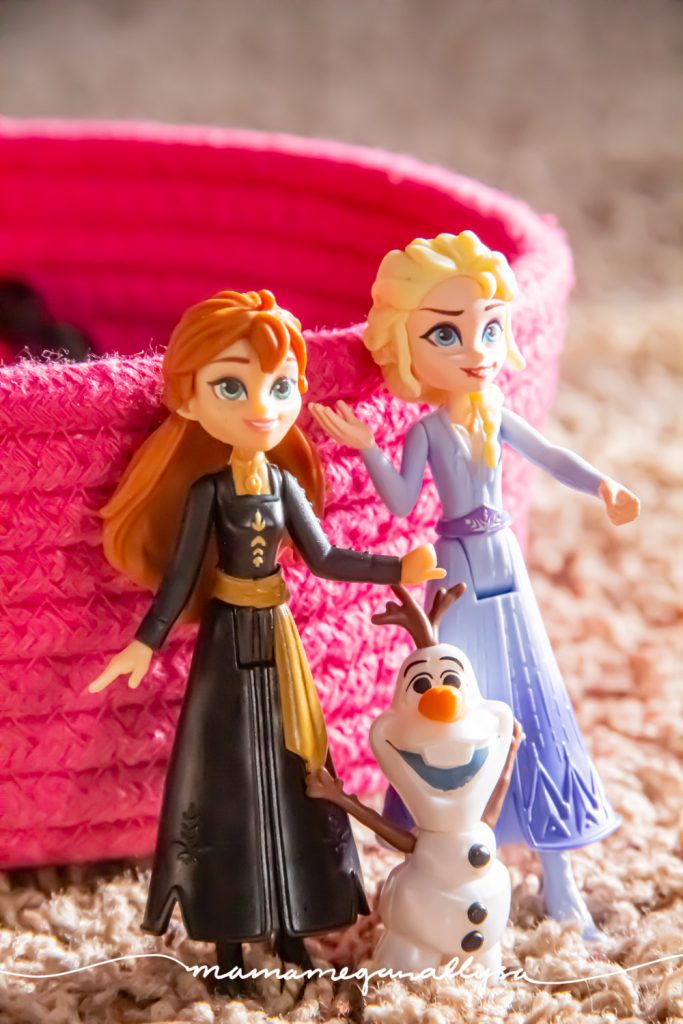 Musical Instruments – Bean received this wooden drum for her birthday earlier this month and it's just so pretty to listen to! I added the xylophone as another option so they could both have an instrument to use together!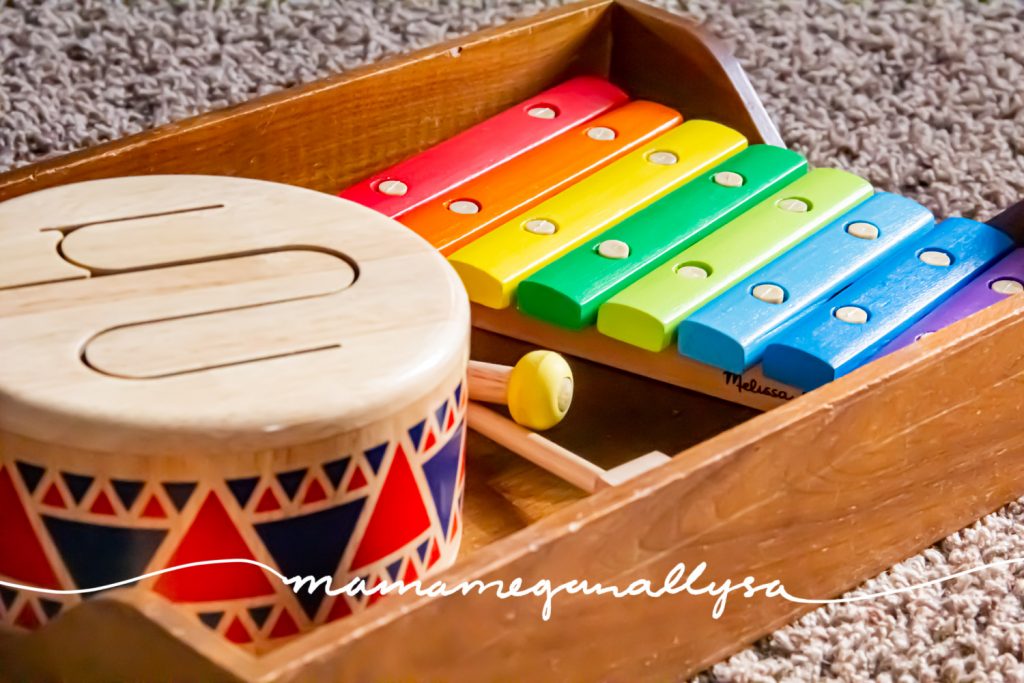 Tea Party Set – this is Bitty's pride and joy right now. She totes this all over the house and asks for tea parties all the time. It's a propper "china" set and will break so she knows that she needs to play with it up at the table or while Bean is napping. Our particular set is currently unavailable, but there lots of other cute sets!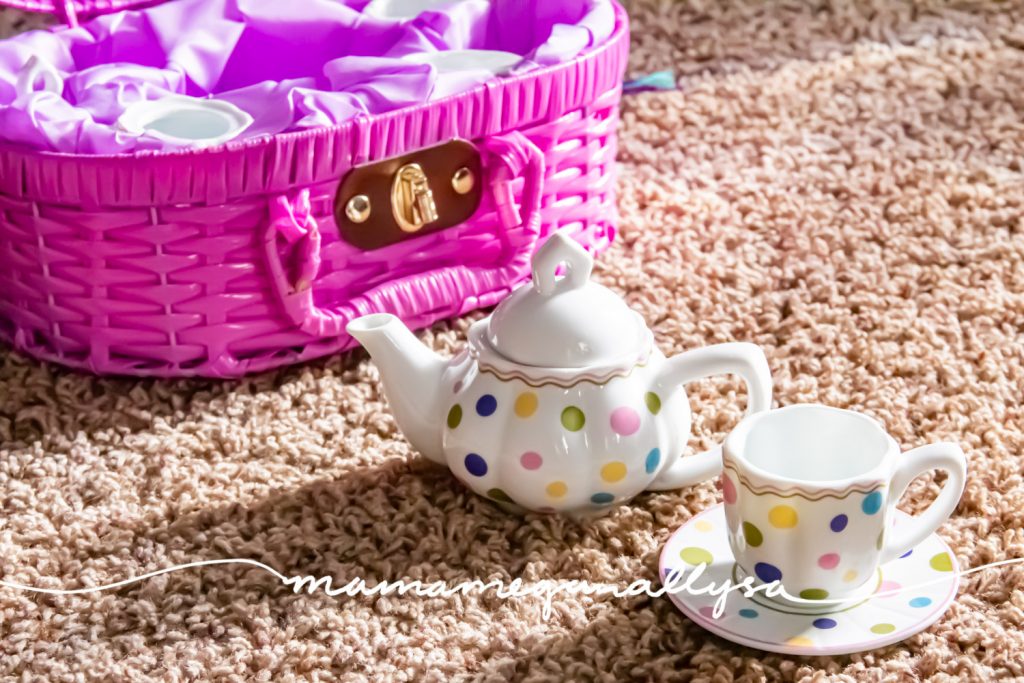 Object Permanence Box – A Montisorri classic for babies and young toddlers, she took right to it, but does not seek it out on her own much. I will continue to offer it in our playroom toy rotations for a few more months and see if her interest level picks up with it.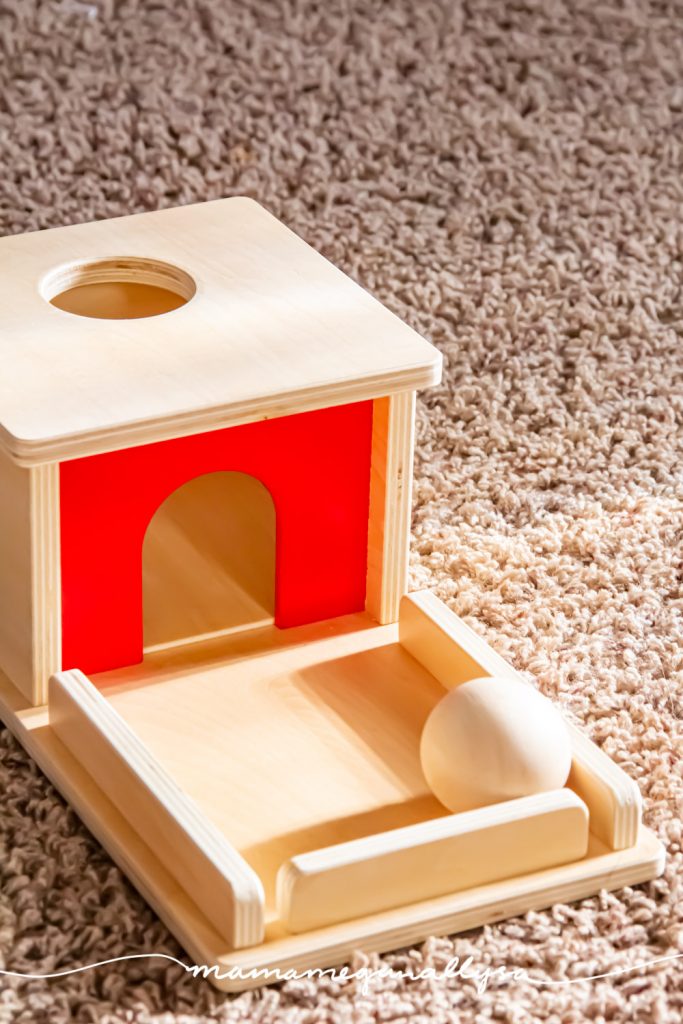 Count your Chickens – I LOVE a good board game and I am so excited that Bitty is reaching the age where she seems to love them too! This is a great cooperative counting game.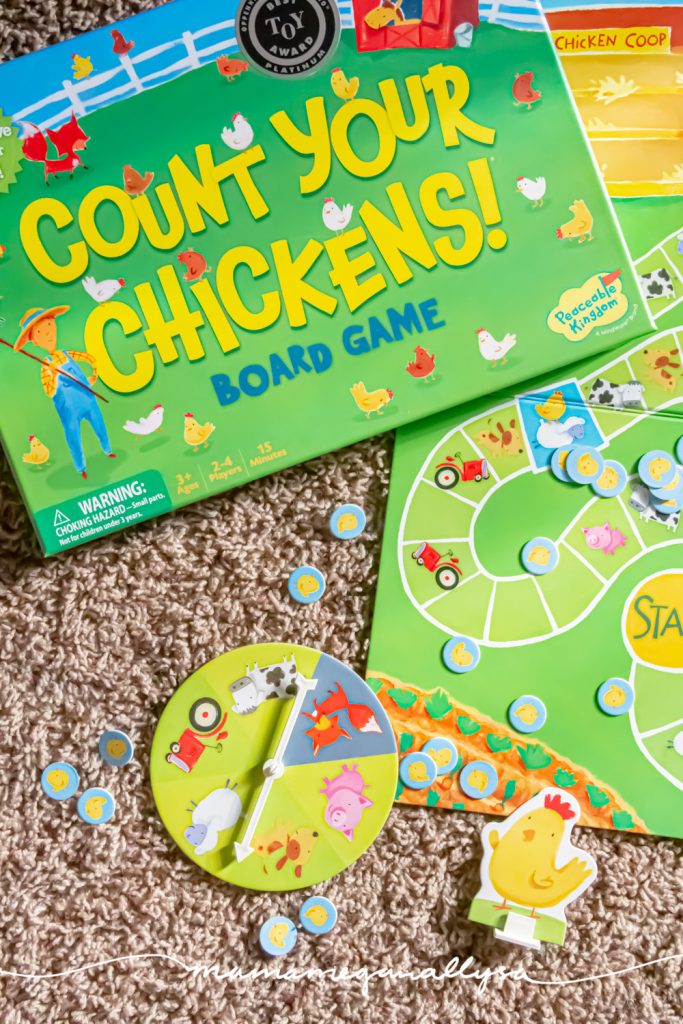 Number Puzzles – Bitty is not a puzzle kid. Try as I might she just isn't drawn to them. I continue to offer them, but she will only do them if I suggest and then walk her through the whole thing.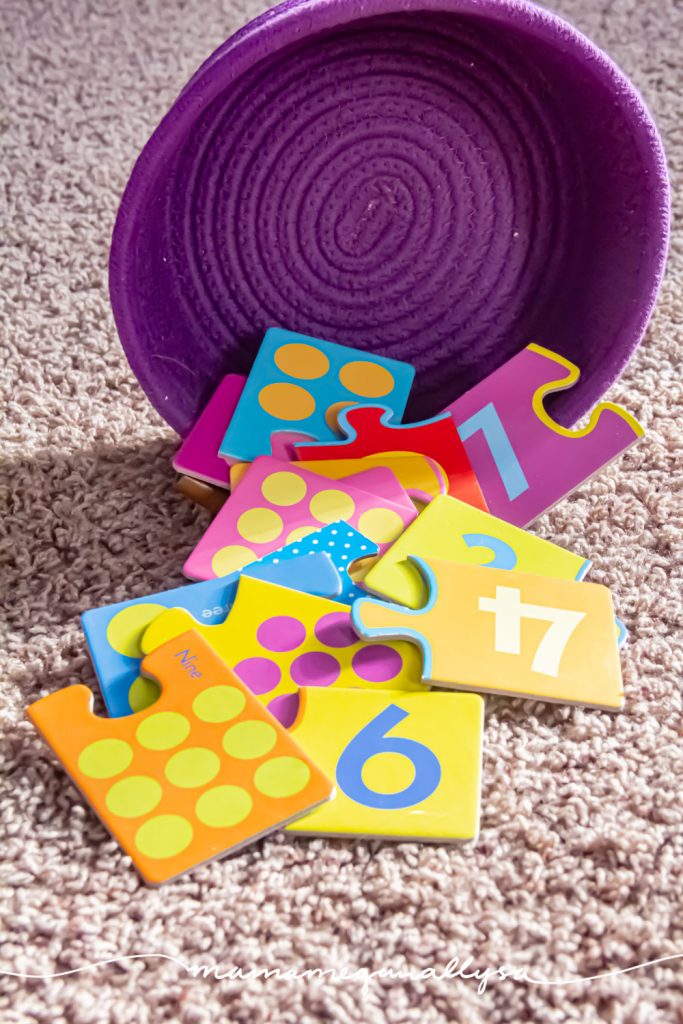 Vintage Cash Register – This little gem of a toy I found at a local flea market and I just love it. All the buttons still work, the drawer works great and it even dings when you pull the drawer out all the way.
I added a Maple and Lark acrylic jar filled with my DIY wooden loose parts (be on the lookout for that post soon!) to use as money in the cash register. These jars are great! Thick acrylic with a screw top, that Bitty can do but Bean cant. It looks pretty and it's functional organization. There are few things that speak to my heart more than that. <3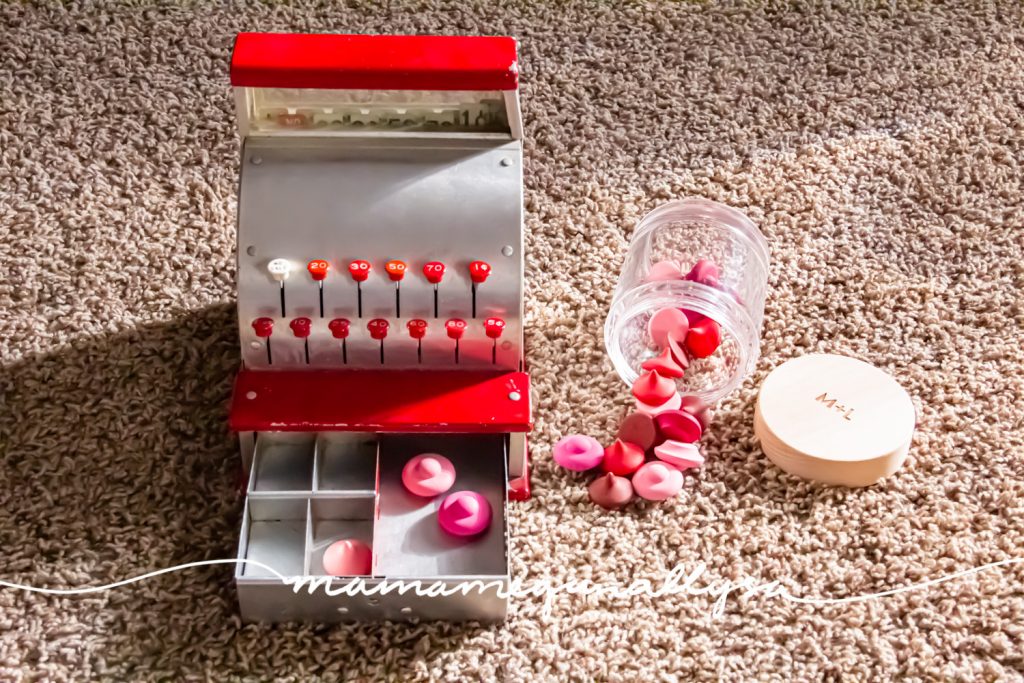 Dress Up Dolls – I always forget how much she loves these dolls! I pulled out our two princesses and a selection of dresses. This is the first time that I have noticed her purposely mixing and matching the pieces to create her own outfits instead of just matching the pieces that go together.
Lacing Beads – I pulled out all the spheres and ovals as the last time we had these out they were the pieces that Bean wouldn't keep out of her mouth. So I removed the temptation this time. I think she could still get some of the pieces in her mouth but she's been much better this time and hasn't tried.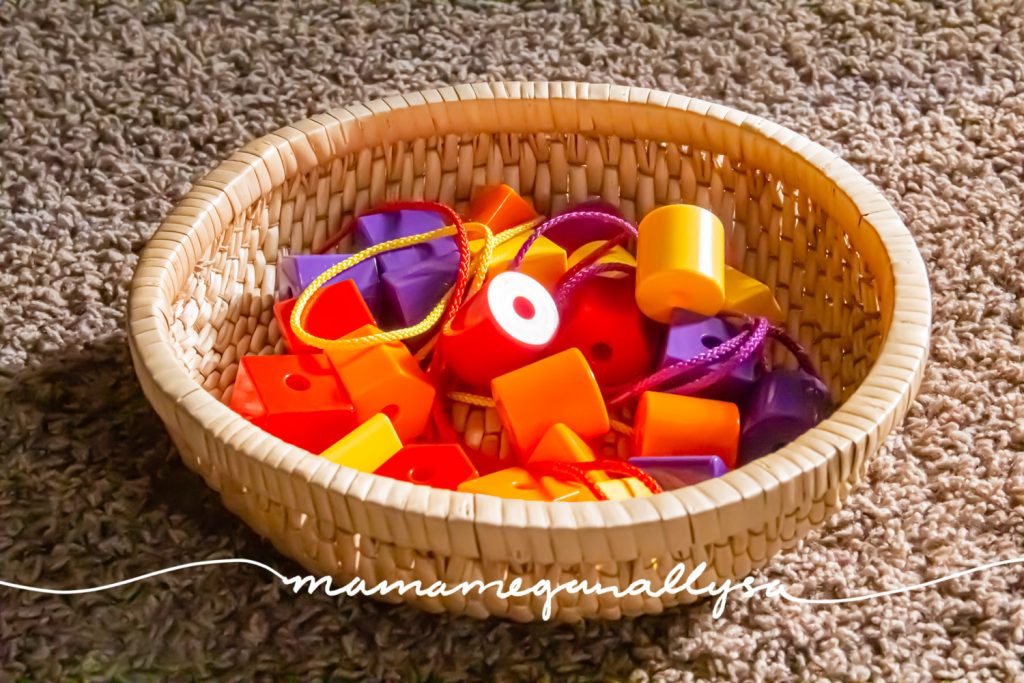 Spike the Hedgehog – I reset this guy 2 or 3 times a day and within a few minutes he's had at least 2 of his pegs removed. I don't see Bean sit and "work" with this toy much, but she seems to like toting the pegs around at the very least.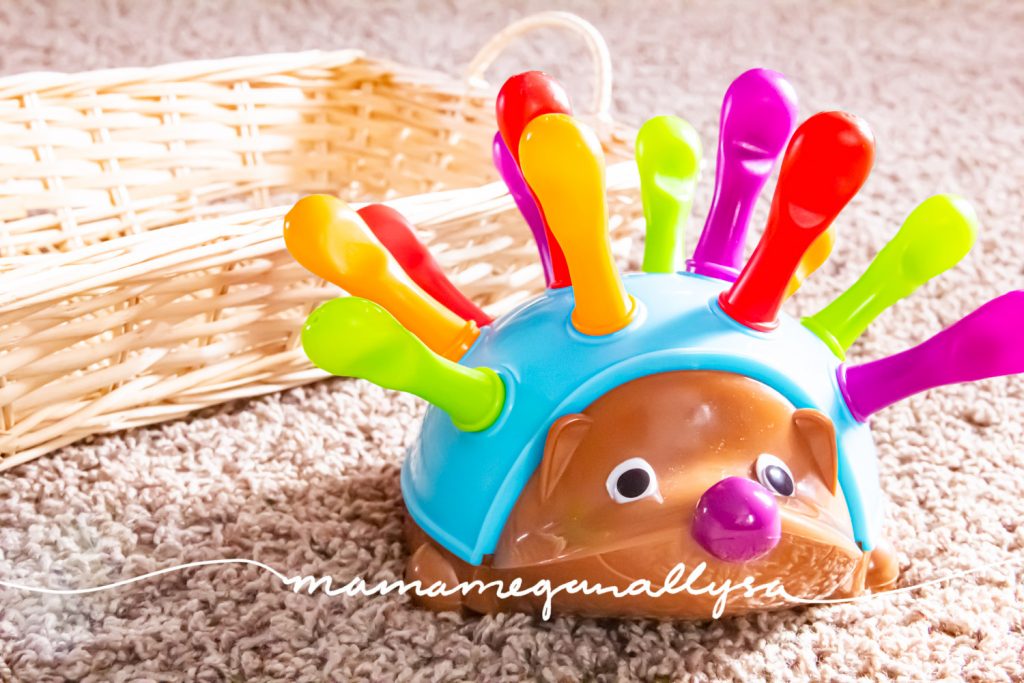 Red Discovery Basket – I have been loving creating discovery baskets for Bean! I didn't start doing that for Bitty until she was a little too old for them. Bean loves the random assortment. I've themed seasonal ones, book-based ones, and we are just starting our color-themed ones!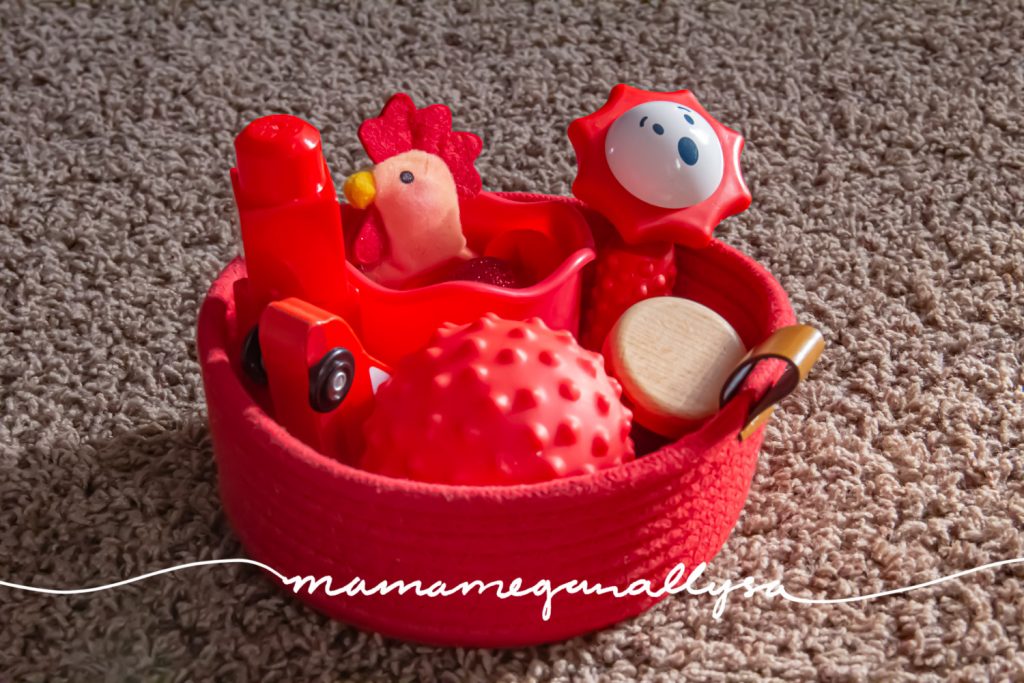 Lock Box Shape Sorter – This is one of the lockboxes from a larger set of 6. The circle one was both the easiest latch as well as the easiest shape so it was a bit of a no-brainer to start there for Bean. She has the shape posting mostly figured out, and she loves opening the door to get the shape out, but the latch trips her up.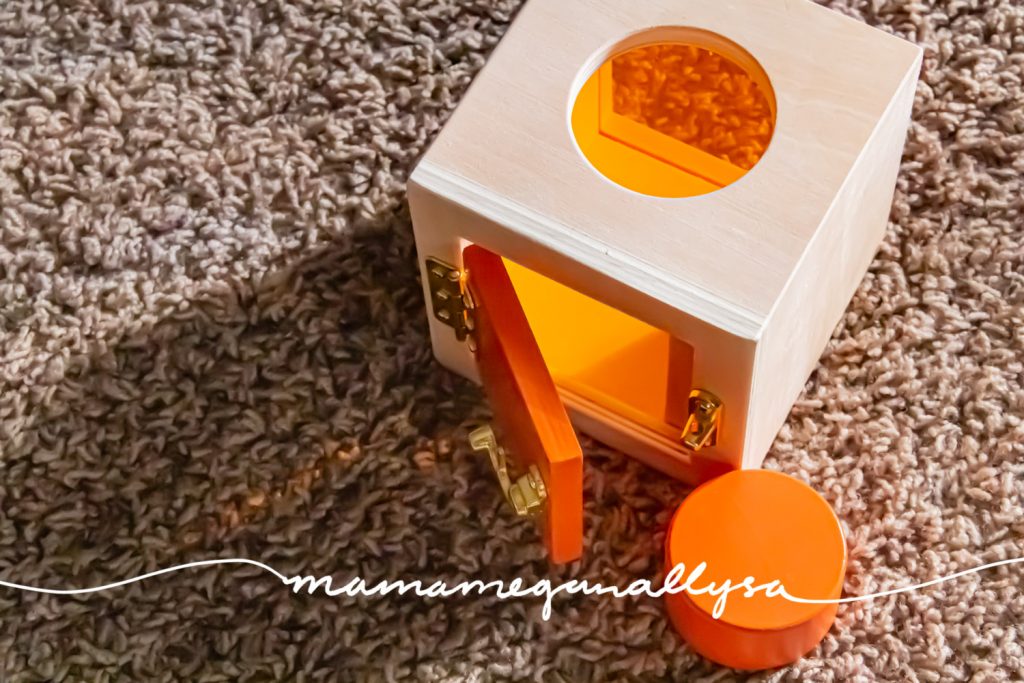 Small World Invitation
We always have some animals out for our playroom toy rotations, and I generally set up a little small world for them to live in and to spark some play.
For the most part, Bitty doesn't seem too interested in creating small words on her own yet, but she likes the animals and I like the way the small worlds look on the shelf.
Bean has taken to grabbing an animal or two and walking around with them so the small worlds tend to need reset after a visit from her. Lol I also keep her in mind when it comes to the loose parts that I set out with the small world. So no small rocks or gems and that's a bummer because I LOVE some loose parts play.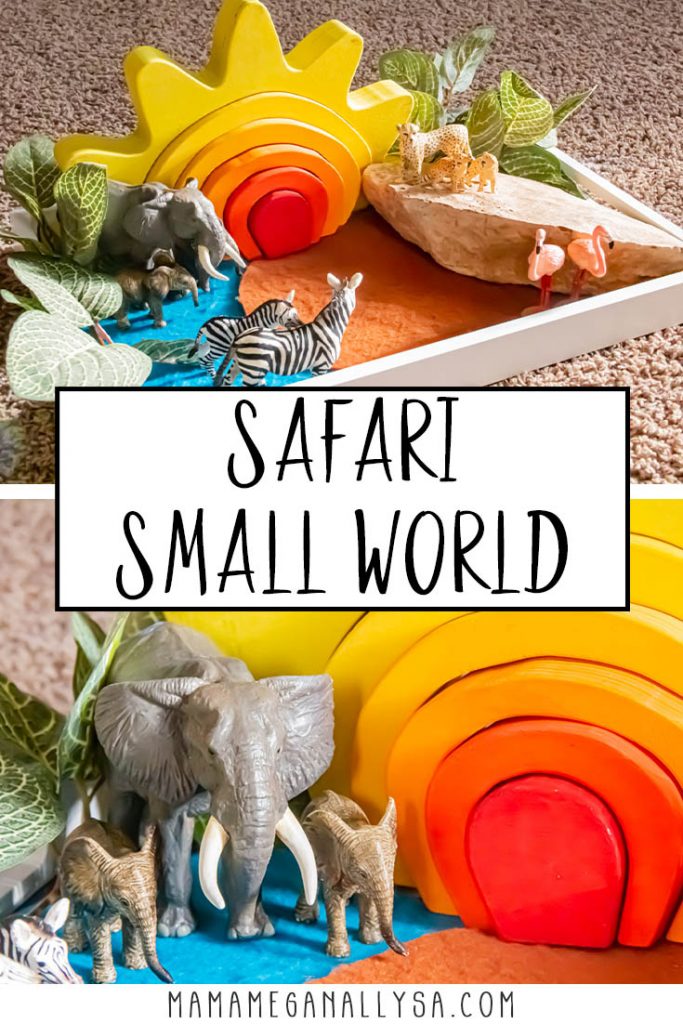 Safari Animal Small World
The sunrise in the background is my DIY sun stacker. You can see more details on the build in the post I did with all my Homemade Stackers. I have some felt play-mats for a watering hole and the dirt, then I added a large rock as a nod to pride rock from the Lion King and some fake plants for foliage. I don't have any good African savanna plants so if you know of some good ones let me know!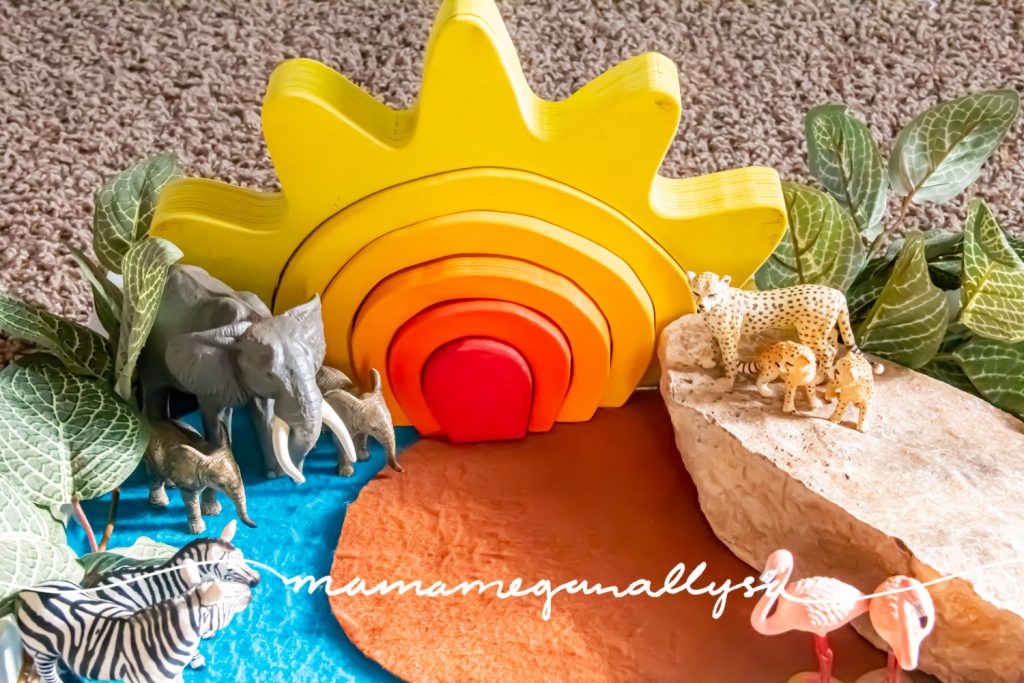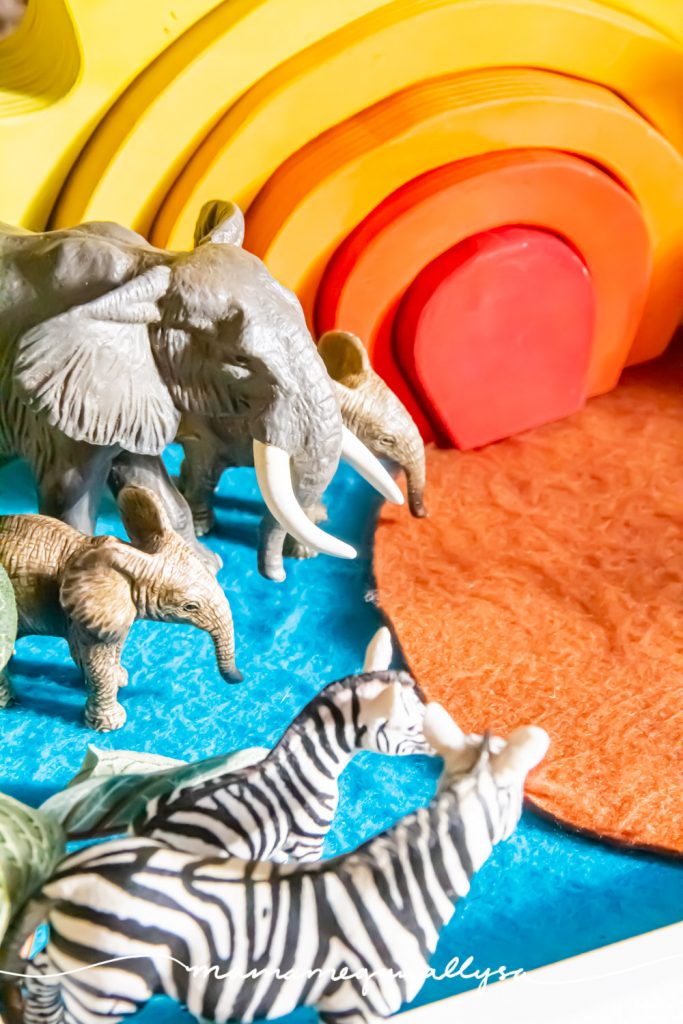 I also included a basket with the rest of the African animals we have in case she had some specific story she wanted to play out.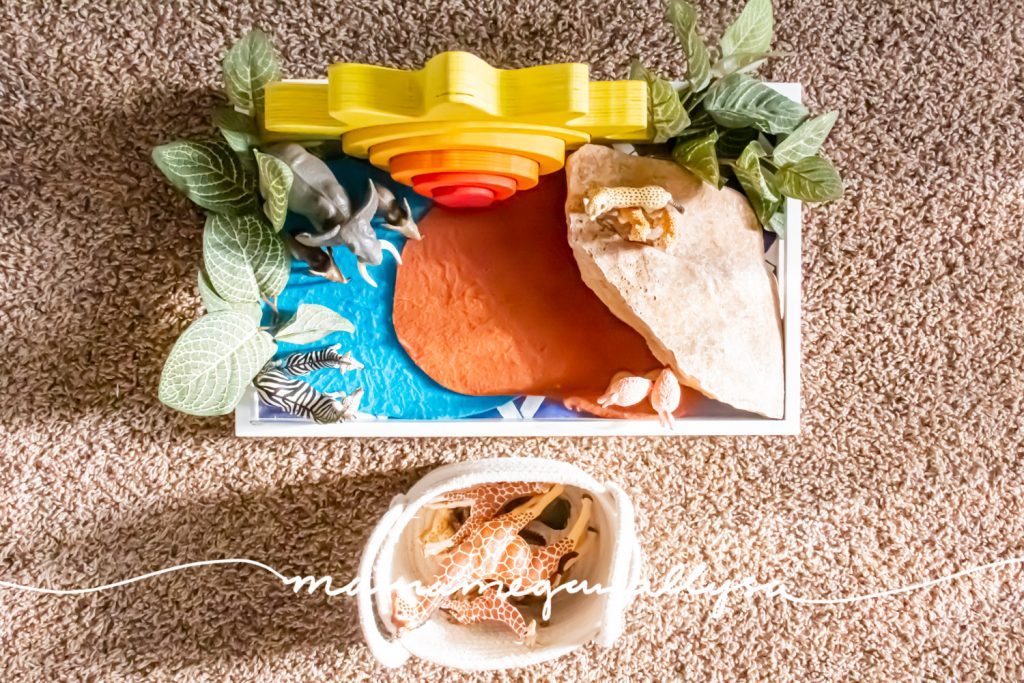 What Playroom Toy Rotation would be complete without a play kitchen?!
Bean discovered the Play kitchen a couple of months ago and she LOVES being up there. I previously had it along the wall that the ball-run is on and it fit there perfectly. For one kid. Trying to fit two there was both a challenge and nerve-wracking as all I could see was Bean getting bumped and falling backward into the corner of the toy shelves.
So we did a little rearranging and moved the kitchen in between the toy shelves. I don't really love that it is the focal point on that wall now, but it functions SO much better for them here.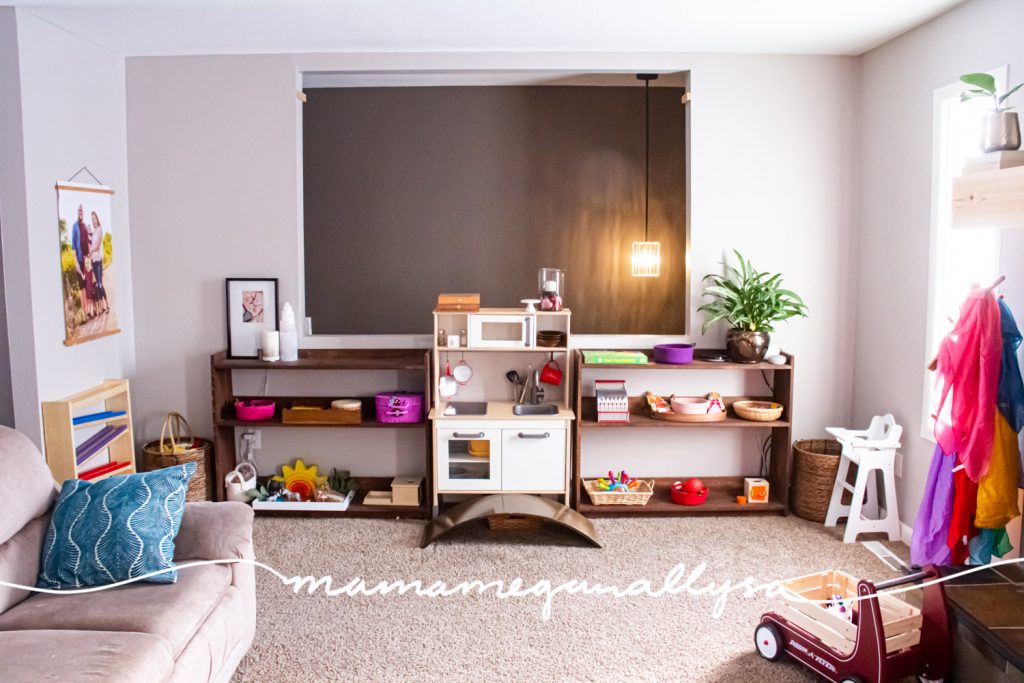 We keep most of the pots in the oven and the dishes in the cabinet. And I am on a hunt for a larger low walled basket for under the kitchen to keep all the food in! Both girls received play food for Christmas and our basket is near capacity. So we will either have to start rotating the food or find a larger basket.
We LOVE Learning Resources play-food. It's realistic, durable, and plastic. So that means it is easy to clean, can get dropped, and won't break or hurt when it gets swung in a baby fist at your face! Our coffee pot and mugs are our most used kitchen toys for sure. But the picnic set and ice cream cones are tied for a close second!
Tiny Toddler Specifics for our Playroom Toy Rotation
It goes without saying that Bean is in the mouthing stage, so our playroom toy rotations lean slightly younger than Bitty would like.
Most of the items I put out have been altered to make them safer or I have contained the smaller pieces in a Maple and Lark Jar. (Currently, they are out of stock, but they will receive a large order this spring so check back on the jars in April/May.) This allows for us to have them out and with supervision, Bean can play with them too. The rest of the time I won't have to worry about them disappearing in her mouth.
I Love a Good Discovery Basket and so Does Bean
Bean has a discovery basket that I rotate every couple of weeks. This is simply a small basket or tray that has a collection of a few items free for the baby or young toddler to explore. They are usually based around a theme of some kind like bathroom items, items all the same color, or items all from nature. Really anything that your baby might find interesting.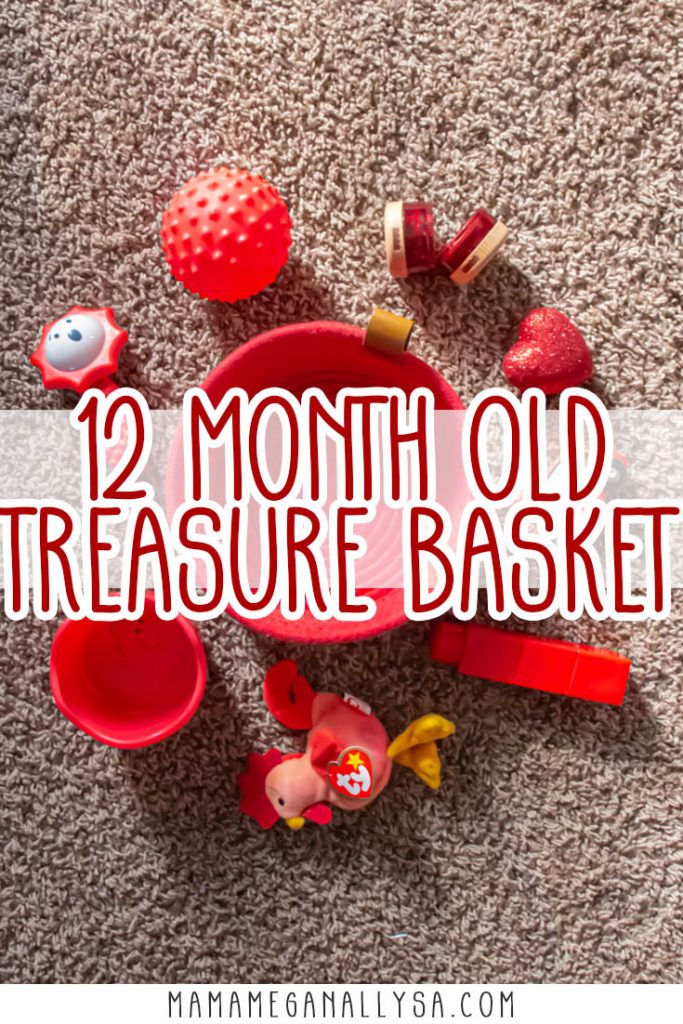 We JUST started doing color-themed baskets this month and no, I am not expecting her to learn the colors via this I just think it's fun, and as she gets older who knows. Maybe one of the colors will really resonate with her and she will learn a color. It's no pressure at all! This has been super fun to see what items really spark her interest and it's a fun challenge for me to round up the contents. Red was surprisingly tricky! If you don't want to miss any of the baskets make sure to follow me on Instagram where I always make sure to share them!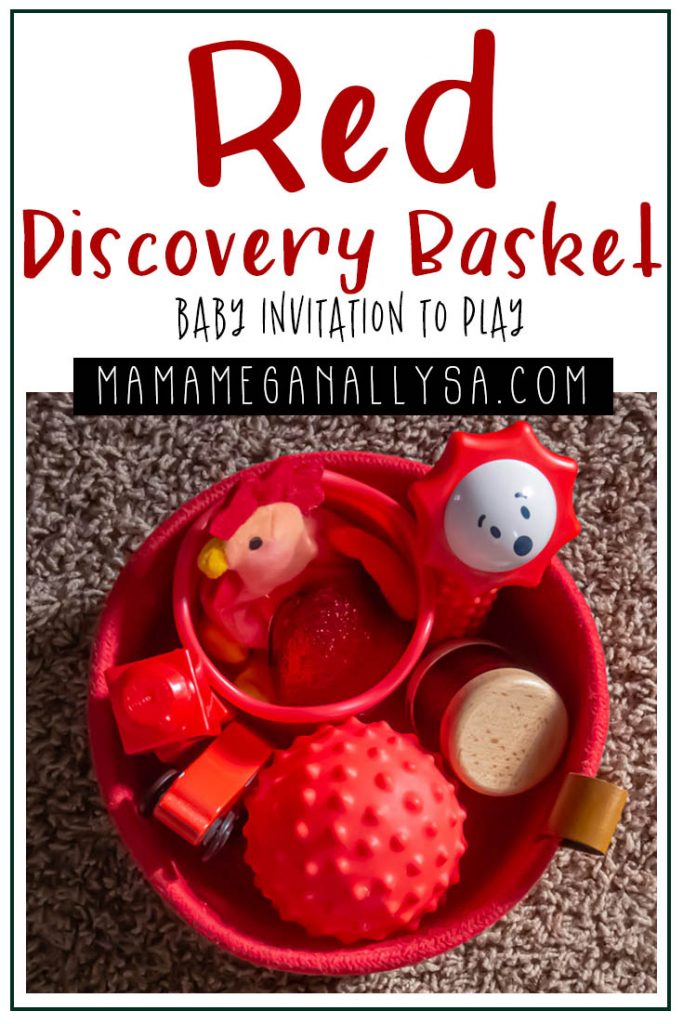 Red discovery Basket contents
Glittery heart
Red nesting cup – cannot for the life of me find our set, so here is a similar set
All stored in our red Maple and Lark Promise basket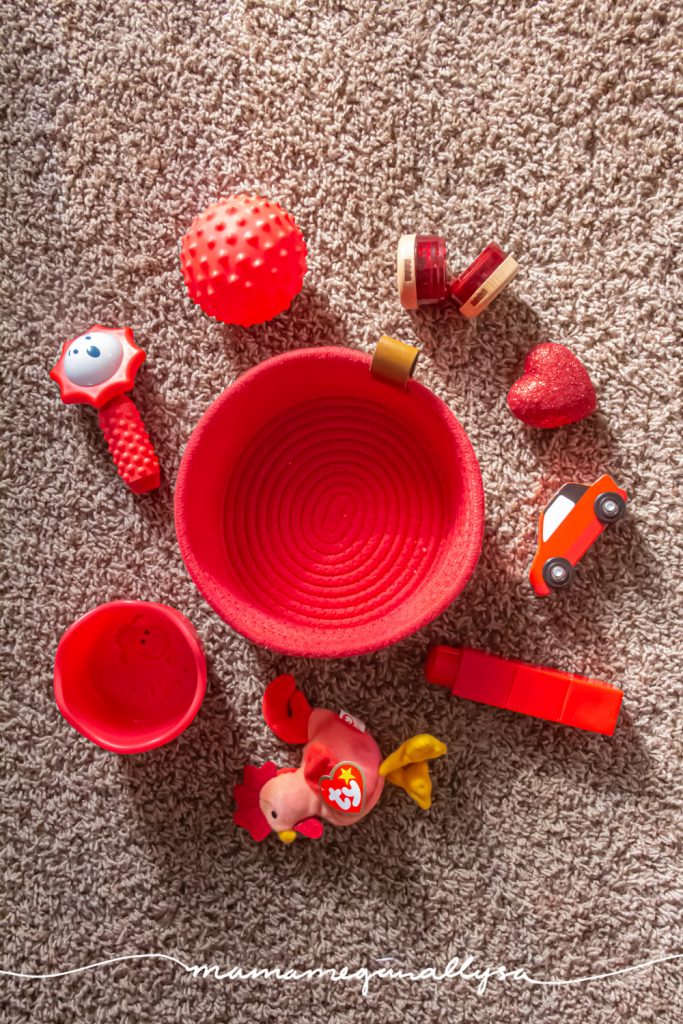 Our Living Room Playroom will Never be Complete
When it comes to your playroom toy rotations, don't be afraid to rotate the and rearrange the furniture too! A fresh layout in the room always brings a little life into the room, especially if you have a bit of cabin fever from being stuck at home all the time!
There is also the fact that Miss Bean is growing into a busy toddler and constantly changing her needs so we have to accommodate for that as well!
One other thing you may have noticed is that I am leaving the top shelf of one of the toy shelves empty. If Bitty has something that she knows Bean can't play with or she simply doesn't want Bean to wreck her lego build will slide the wobble board over and stand there to play. It's up out of Bean's reach and allows her somewhere to play with toys that otherwise would have to stay put away.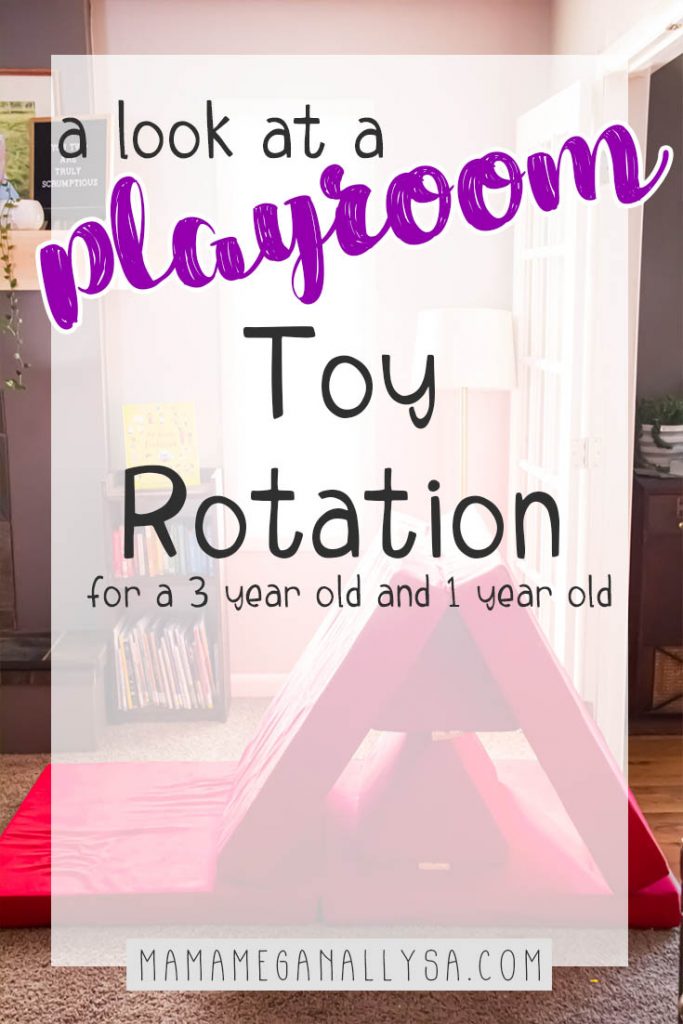 What do your playroom toy rotations look like?
If you have a playroom in your living room or if your playroom is shared between a wide range of littles of different ages or if you need help figuring out how to get started with toy rotations, message me on Instagram so we can chat about playrooms!
OTHER POSTS YOU MAY LIKE