The holiday season seems like it is on everyone's mind, myself included. Here is my holiday 2020 3 year old gift guide. This guide is geared to the 3 going on 4 crew and even more specifically to full time at home preschooler so it also has plenty of fun learn at home items!
My 3 year old gift guide takes longer than you would think to compile
I always keep a running list of ideas that I add to as I think of things over the year, but I inevitably end up searching to see if there are any gems I may be missing or things that I want to pick up for us to grow into. This is especially the case now that we are embarking on homeschooling and I have to try and think of the materials or resources we may want to have on hand!
I created my 3 year old gift guide to cover all the basics I could think of for a young preschooler who spends the majority of their time at home. I am in no way suggesting you NEED all of the items I list below I am nearly listing our favorites or our wish list items. Hopefully this sparks some ideas for your own 3 year old's wish list!
I list what I know and I have only ever known shopping for a little girl…
My list may be a little geared towards traditionally girl items, but lots of the things on my 3-year-old gift guide are just open-ended, loved by all toys, or at the very least come in other colors if llamas and glitter aren't your kid's thing!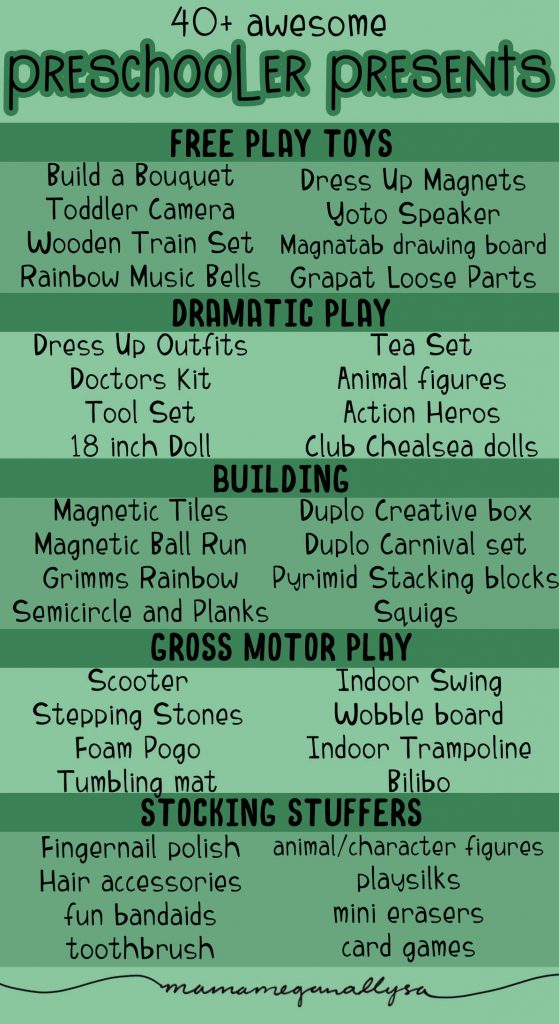 FREE PLAY TOYS
You could make the argument that nearly my whole list is "free play toys" as I am a huge fan of letting the play lead the learning and letting my kid lead the way as I best I am I able. BUT the following toys are here as they don't really fit into any of my other categories but I felt they were still very mush worth the mention.

DRAMATIC PLAY
Pretend play or Dramatic play take a HUGE leap around the 3 year old mark. I find that Bitty always as a story and is coming up with more and more creative play and its such a delight to watch the items in this section of my 3 year old gift guide are all about fostering that role play and story telling!
BUILDING
What 3 year old gift guide would be complete with with out some magnetic tiles and some Lego Duplo's!? These are without a doubt the most used toy in our house. Even better is that as your kid ages the way the use the blocks with change so they grow with your little !
GROSS MOTOR
Everyday I look at my preschool and I think to myself…"where does all that energy come from?!" Its amazing and so good for their development but with winter looming I am always on the look out for something to help burn so of that energy in a way that doesn't leave me drained as well!
STOCKING STUFFERS
It has been so interesting growing up and learning how differently Santa visits in each house. For me Santa filled my stocking and maybe a couple other gifts, This is something I plan on doing for my girls long after than catch me in the act. I just love filling a stocking! That said I am always on the lookout for some new ideas! Share your favorite thing to stuff in a stocking down below!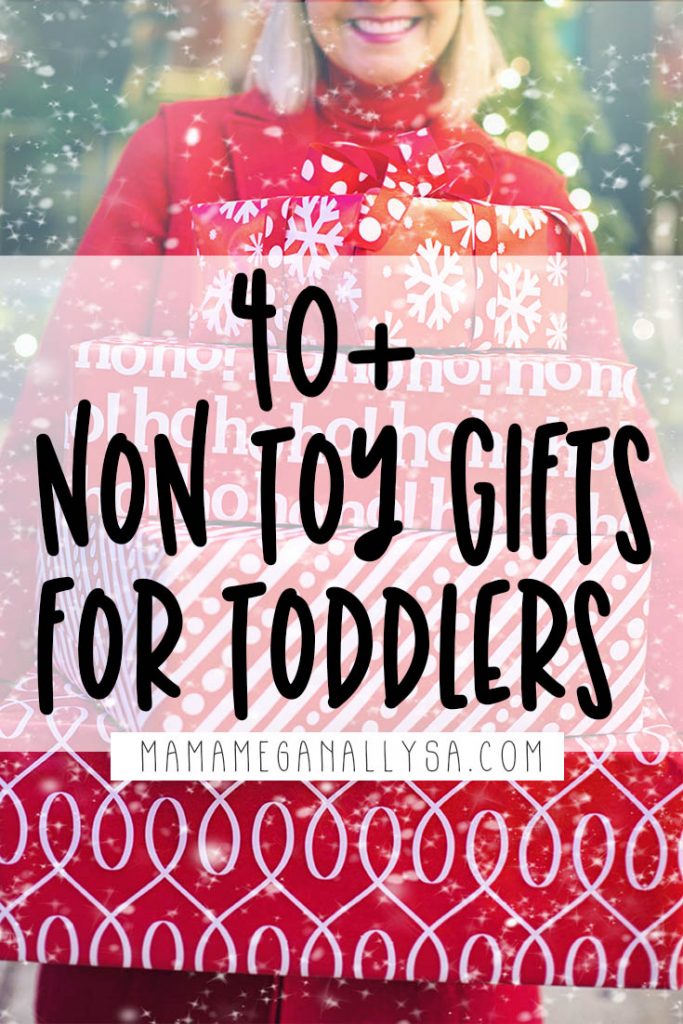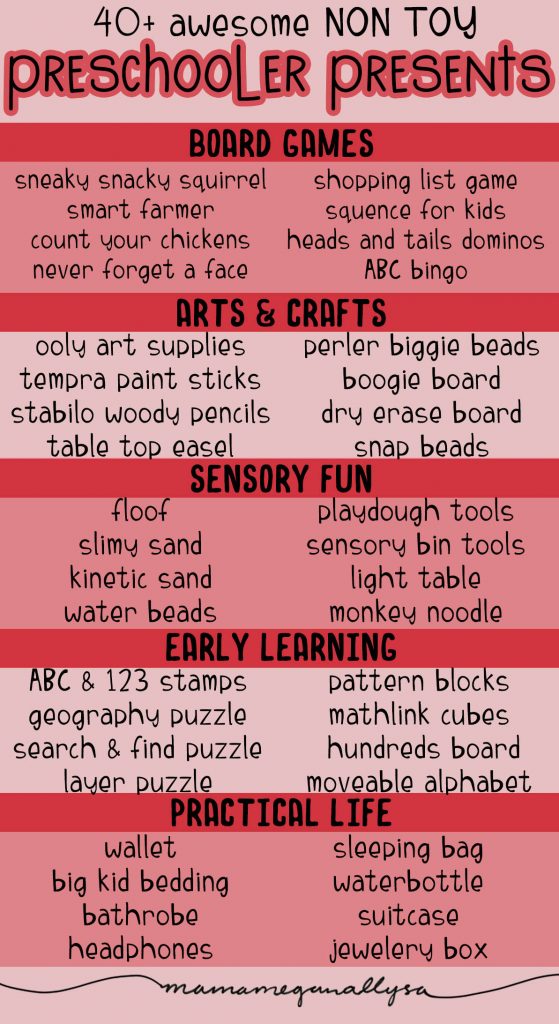 BOARD GAMES
The day we have been anxiously awaiting has finally arrived. We can play board games with our preschooler. We LOVE board games in this house. Ask me to prove it. Our board game closet is epic! I couldn't create a 3 year old gift guide without including our favorite board games for young kids as well as a few that we are itching to add to the collection!
CREATIVE
Its no secret that I am a crafty person. I love all things rainbow and colorful. Art supplies make the perfect addition to a 3 year old gift guide because they are the one thing that your preschooler is likely burning through at home and you would likely be picking up anyway!
SENSORY
Sensory play is super important for the preschool age crowd as they are still learning about the world around them and I love introducing various sensory bases. Of course you can still uses the classics of rice, beans and playdough (by the way make your own its SO much better!) but the Holidays are a great time to add a new filler to the rotation!
EARLY LEARNING
Kids are always learning. Don't ever forget that. Why not provide them with a few materials that will help them learn with a little more purpose and intention! This year is we are doing a little bit of preschool at home and I have found that a few things are super handy to use for manipulatives or to help get a point across. Your preschooler may not to through the roof with excitement over these but YOU will find them super useful!
PRACTICAL LIFE
I wanted to make sure and include some non toy items in my 3 year old gift guide. So many kids already have more toys than they could every play with and I totally get that and parents and loved ones are looking for other ideas of ways to still have presents under the tree. These items are where you are really going to want to customize your picks to you kids preferred colors, characters and needs.
BOOKS
We will never have too many books. Its just a fact. We may need to install a proper library in the basement but You wont hear me complaining. This is another section of the 3 year old gift guide that you are going to want to customize to your kids interests and needs. (enter again that homeschool life, we read a lot)
Other Posts you may like