If you follow along with my sensory bins adventures you will remember my Halloween loose parts sensory bin. It was such a hit that I wanted to follow in its footsteps so to say and I created our Fall loose parts sensory bin!
This post contains some affiliate links. As an Amazon Associate, I earn from qualifying purchases. I may receive a small commission from if you follow and decide to purchase. There would be no additional cost to you!
Fall Sensory Bin Supplies
Cloud dough
Triangle molds
Mini pumpkins
Nuts & Acorns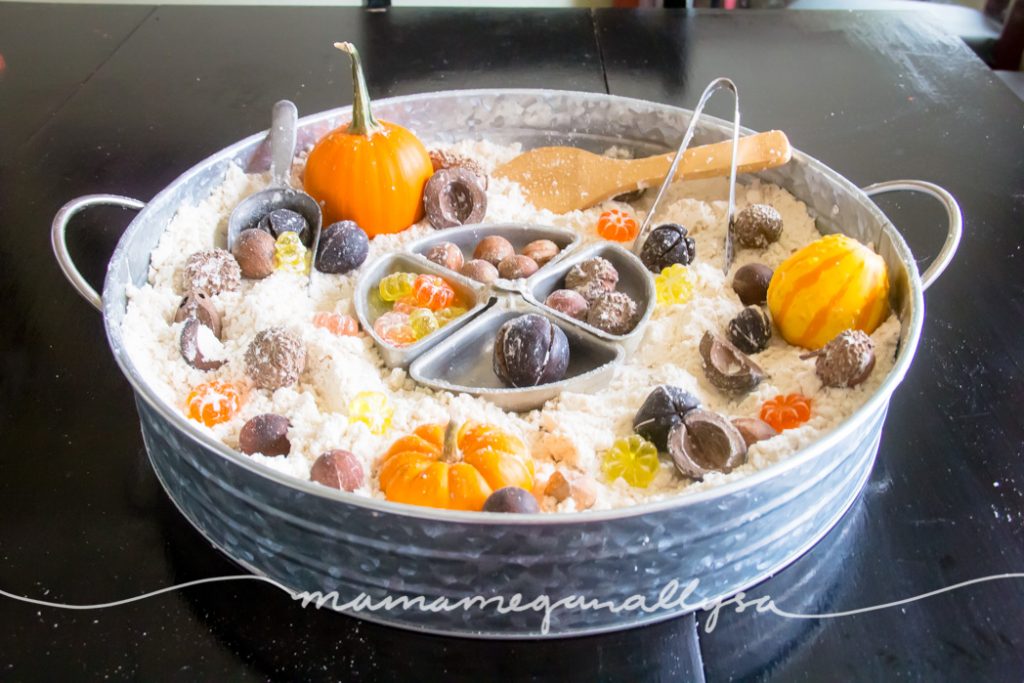 Nature is the Best Source of Loose Parts
There isn't a time that we go outside these days without Bitty finding some kind of treasure that she needs to bring home with us. Leaves, seedpods, pinecones you name it we have a tray of it sitting in our windowsill.
I remember as a kid myself one of my favorite things to do in the fall was to collect buckets of acorns. Don't ask me why but I did it year after year.
I collected these nuts and acorns back when I was working as a nanny and I just couldn't part with them. They feel right at home in our fall sensory bin!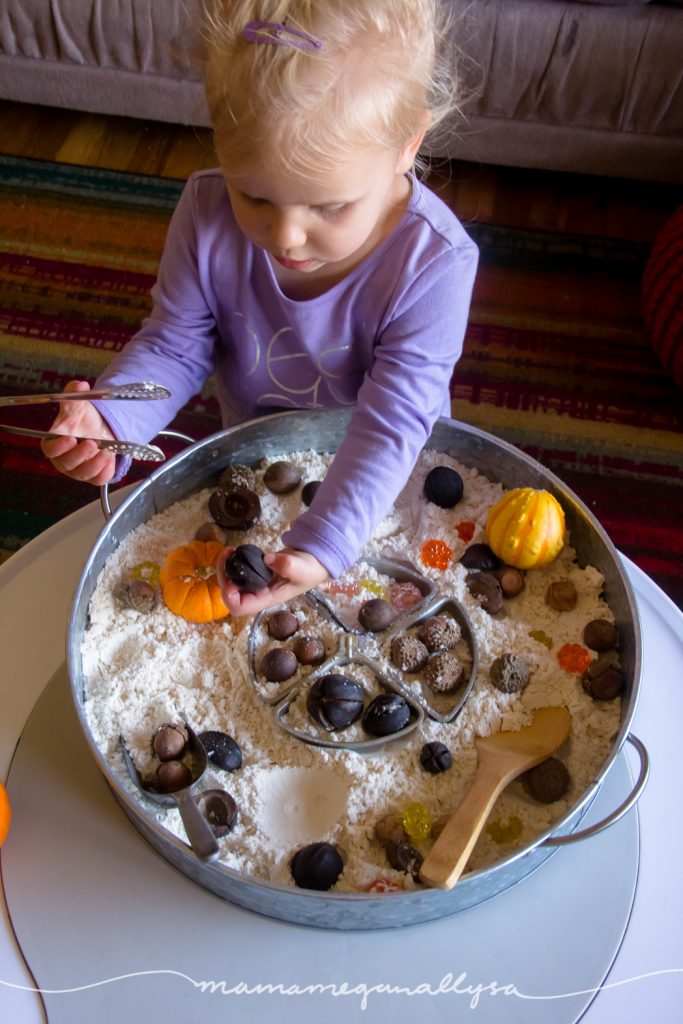 Fall Sensory Bin Sorting Tools
In addition to our favorite scoop and tongs, I added these 4 little triangle molds to our sensory set up.
A lot of her sensory play ends up as baking or cooking so I wanted to provide some trays to add her ingredients to.
These also double as a great invitation to do some sorting, something that she is just starting to show some interest it!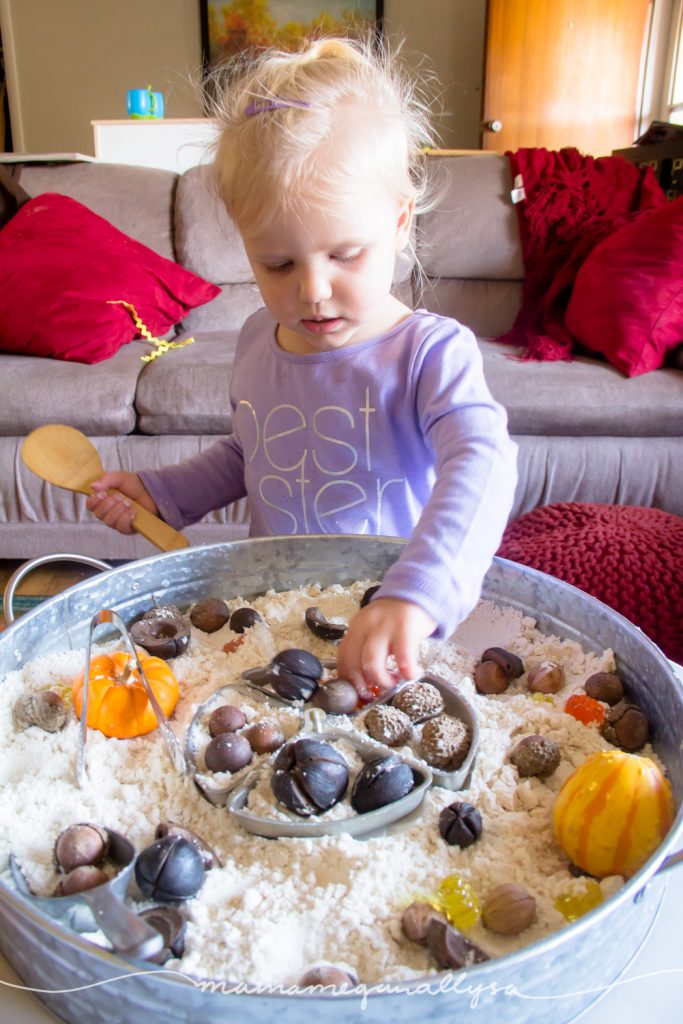 Fall Sensory Bin Filler
We have been spending a lot of time baking in the kitchen and one of her favorite things to do is stir the flour, so I thought it might be time to break out the cloud dough again and so loves it! Cloud dough is just a simple mixture of baby oil and flour. It keeps its fluffy texture but with a little pressure, it molds and packs.
Word of warning though this stuff is messy, no way around it. That said it vacuums up no sweat so clean up doesn't take long at all.
Share your Fall Sensory Bin with Me!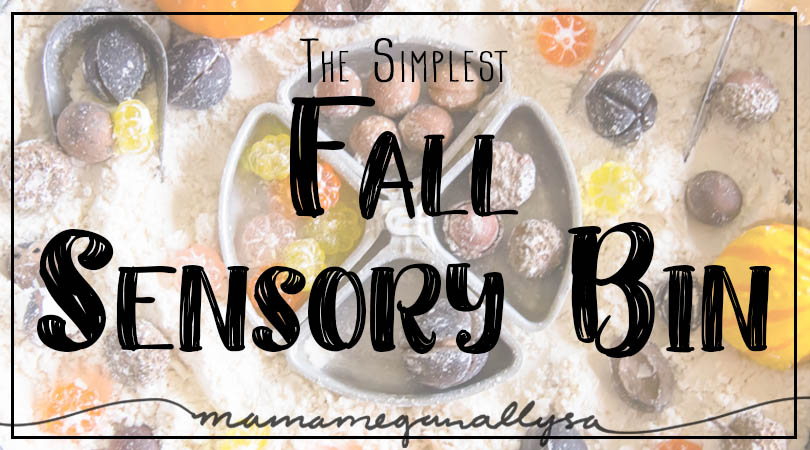 If you have any kind of fall sensory bin I would love to see it! It's awesome to see what natural loose parts your kids' love. Seedpods have been her latest obsession, she loves to crack them open to get at the beans inside!
If you want to get even more sensory bin ideas, make sure and follow my Sensory bin board on Pinterest where I save lots of ideas for awesome sensory play!
Other posts you may like