For me, and lots of other women the 2nd trimester is the easy one. Your not too big and uncomfortable, hopefully, the morning sickness and exhaustion have lessened and you sorta feeling like yourself again. Not to mention the tiny baby kicks and the arrival of that bump!
Bumpdates from 2nd Trimester
I have been taking weekly pictures throughout my 2nd trimester and it's crazy how different the bump looks depending on what you are wearing but there is definite growth going on!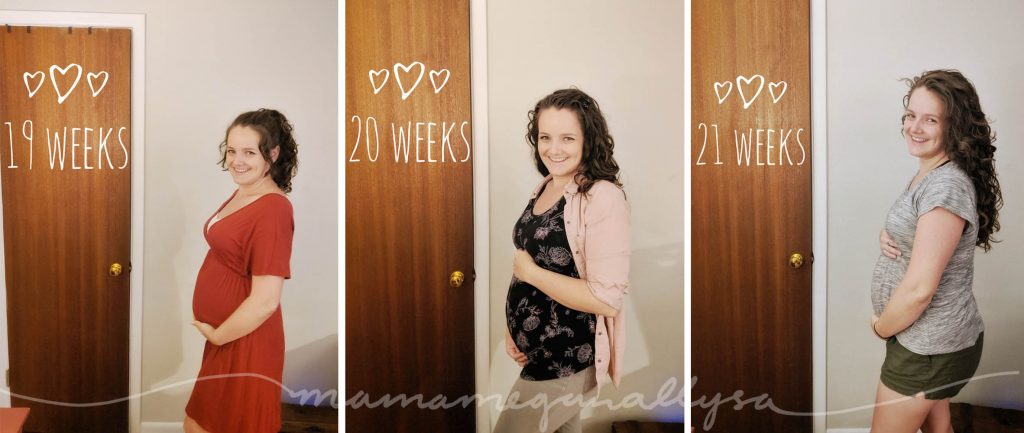 Big Sister in Training
We have been spending a lot of time talking about how Bean is growing and getting bigger and I think Bitty sorta understands that there is a baby…
The other day I was getting dressed and she goes 'mama getting dressed?' I say yup. Then without missing a beat goes 'Bean getting dressed?'  or we will be making lunch and she will ask if Bean is hungry. It shows me that at the very least she is thinking about the baby.

She also understands that her old stuff is going to be for Bean now. If she finds an old hat or something and I say that's for Bean she will run off and put it in Bean's drawers in the dresser
We moved Bitty's room into the bigger bedroom and have it set up so that we can easily add the crib in a month or so. So far she seems really excited to share with Bean and she loves her new big girl bed. I'll have a tour of the new nursery when We finish getting everything set up!
2nd Trimester Thoughts
Size – we are currently 28 weeks and Beanie baby is the size of a coconut
Baby Movements – Bean is much more active than Bitty was. There were days that I would have to sit and really think if I had felt any movements from her, but Bean makes herself much more known! I LOVE it. Most of the good kicks seem to be on the upper right-hand side of my bump. We haven't gotten Bitty to feel a kick (that she knows about. There have been some while we cuddle at snack time, but she's unaware of them). Zak has felt a few but most of the time when you say 'hey she's kicking' is when she stops…lol
Name – I think we have a name picked out! Which is crazy how much easier it was this time around. We just sorta stumbled upon it and I REALLY like it. I feel like I need to look at more ideas before I settle on it 100% but nothing else seems to be sticking as much as it
Gender thoughts – We are excited to have another sweet baby girl. I think we were all a little shocked though. I even almost asked the ultrasound tech if she was sure and maybe to check again…lol If you want to see more from our gender reveal check out this post here!
Morning sickness – Thankfully all of this seems to have passed.
Cravings – I really haven't had any cravings this trimester. In general, still favoring savory and salty over pure sugar but that by no means that I am saying no to chocolate or ice cream. I did crave a cinnamon roll for a few weeks, but I mean, I like cinnamon rolls no matter what…
Aversions – Still not a super fan of raw veggies besides carrots. I also have been getting heartburn a little easier than normal if something is too greasy or spicy.
What I am wearing – I am living in leggings for the pure reason that I hate the way my maternity pants fit…for some odd reason, it seems like all maternity jeans are cut way too short, so my ankles are just sitting out freezing in this winter air and I am not a fan. Most of my normal winter tops are actually working well for this trimester so that part of my wardrobe hasn't changed much.
Sleep – Some nights are better than others but overall not great. I tried adding a pregnancy pillow and it's just not doing it for me. (though Hollie loves it lol) Most nights I end up wedging a small pillow under the bump and just sort of power through. I do have to give a major shout out to my man as he has taken the lead majorly with Bitty at night so that I can get what sleep I can. He's always been a rock star with night wakings but we are currently dealing with some sleep issues as well as adjusting to the new room so I am super thankful for him!
Weight gain – Between the Halloween candy and the extra carbs from all the zucchini bread, it's not looking good as far as that goes…
Physical Changes – Honestly feeling pretty good in the 2nd trimester! The bump isn't too heavy yet and I'm not dealing with any chronic issues yet. (fingers crossed) The only real change I've been dealing with is weak muscles because this is my second pregnancy they just aren't as strong as they once were. I really need to look into a maternity belt or some kinesiology tape for some added support. Also getting out of bed and putting shoes on really pulls some muscles in my groin and that I could totally do without.
Workouts – I have to admit that I haven't done any proper yoga in weeks. I just fell out of the habit and it has been hard to force myself back into it. My evenings and nap times have just been busy getting stuff done and Bitty is making it difficult to do any yoga while she is awake.
How have I been feeling – I bruised my tailbone around 20 weeks and I am still dealing with that…It's obviously much better but it is still a pain when I go to stand up after sitting for a while. On that note squatting down or bending over is getting harder to do and I huff and sigh when I am standing up…so that's fun. But hey I can still see my toes and I don't need help putting on shoes yet so that's good!
What I've been loving – the bump has landed and I love it. No real pregnancy-specific products to mention beyond maternity leggings. I live in those babies.
What we are planning – With the 2nd trimester over that means the nursery has been moved and the gender reveal is over so there isn't much left to plan. I have some deep cleaning of baby stuff I want to do and some freezer meal prep that I need to start thinking about but other than that its just the holiday season that is keeping me busy.
Second Pregnancy Updates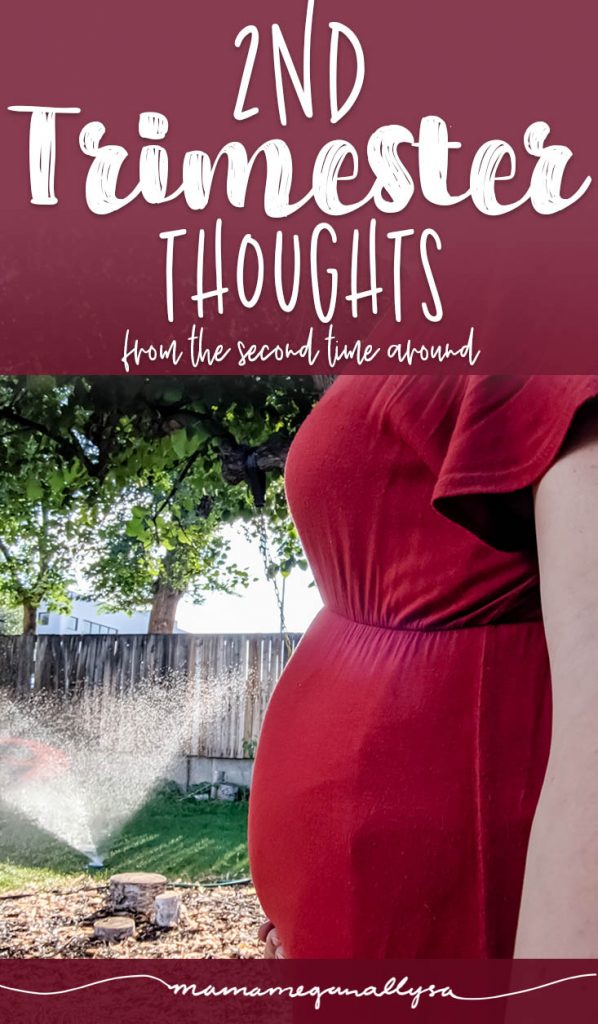 Classic second kid, I feel like I am forgetting to document as much this time around but at the same time, I feel like there just isn't all that much to really talk about…but if you want to see some bumpdate pictures now that the bump is really showing make to follow me on Instagram!
Also, I am due for my glucose testing this week so fingers crossed for me!
Other posts you may like