Vintage Elephant Gender Reveal Backyard BaByQ. That's such a mouthful when you say it all together. But that's what it was. We had some vintage decor touches. Plenty of elephants scattered around. We hung around in the backyard while we were grilling burgers for dinner on the BBQ. Then the whole point of why we got together to spill the beans about what sex baby Bean is!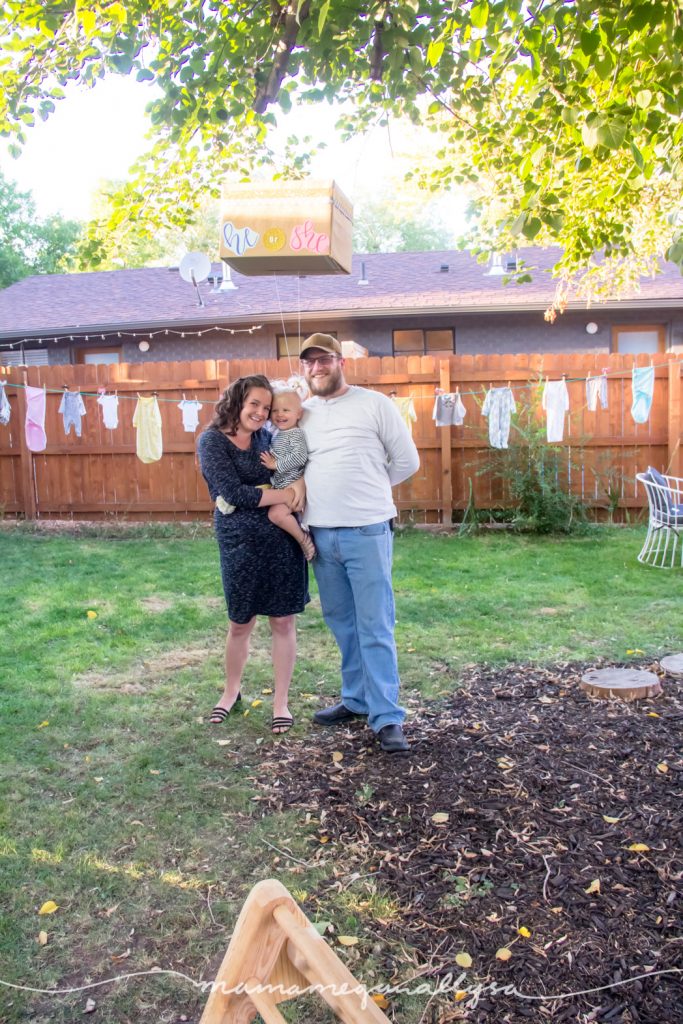 If you follow me on Facebook or Instagram you will have already seen that we had a gender reveal party for sweet baby Bean.
Party Planning is my favorite!
I LOVE to plan parties. Something about my detail-oriented/creative brain just thrives under the pressure! So when we did the math and realized that the traditional time to have a baby shower for Bean would have fallen basically on Christmas…well that just wouldn't work. Naturally, the next best baby party is to have a gender reveal!
Backyard BaByQ gender reveal details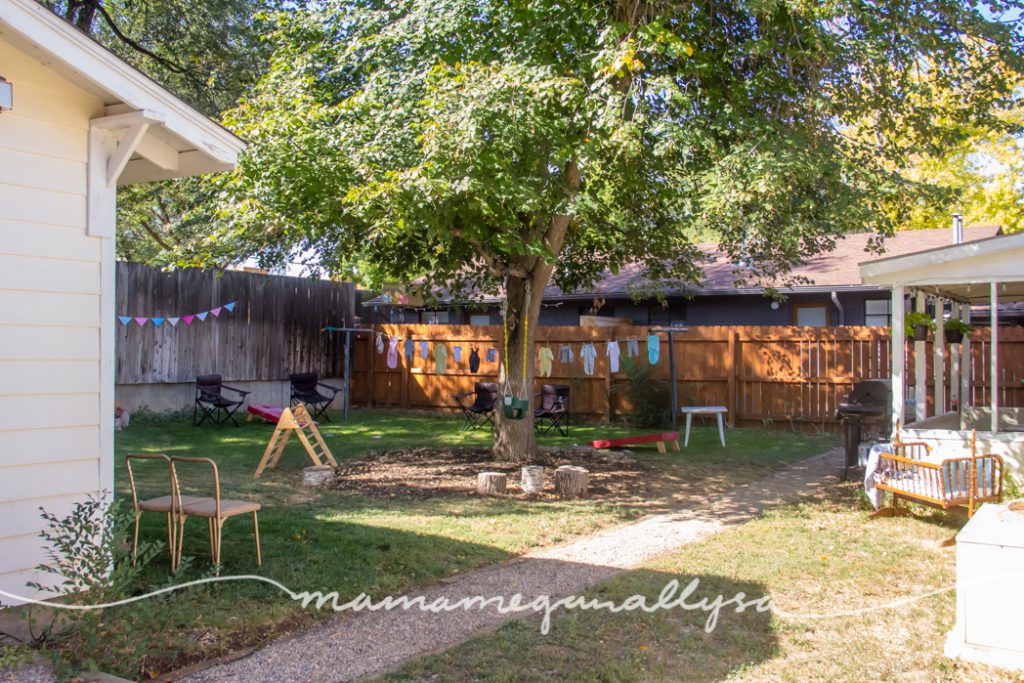 We wanted to keep it simple and nothing is quite as simple as a backyard BBQ! It's also the largest space at our house. 😉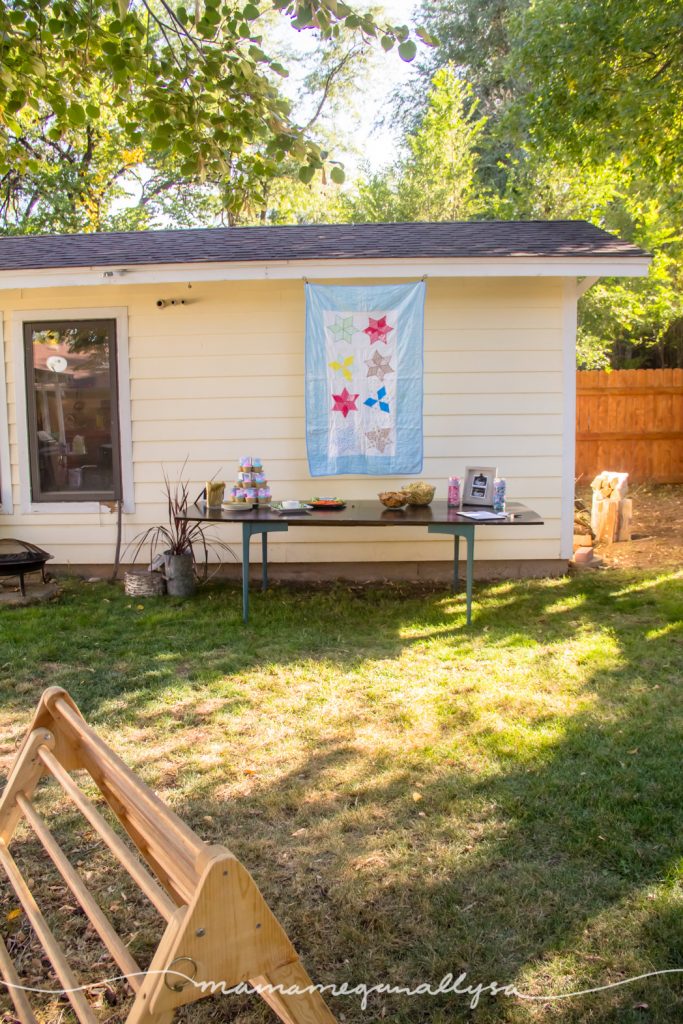 I suppose catering would have been simpler, but we are a family full of people that actually enjoy cooking so that was not even a factor for us really…lol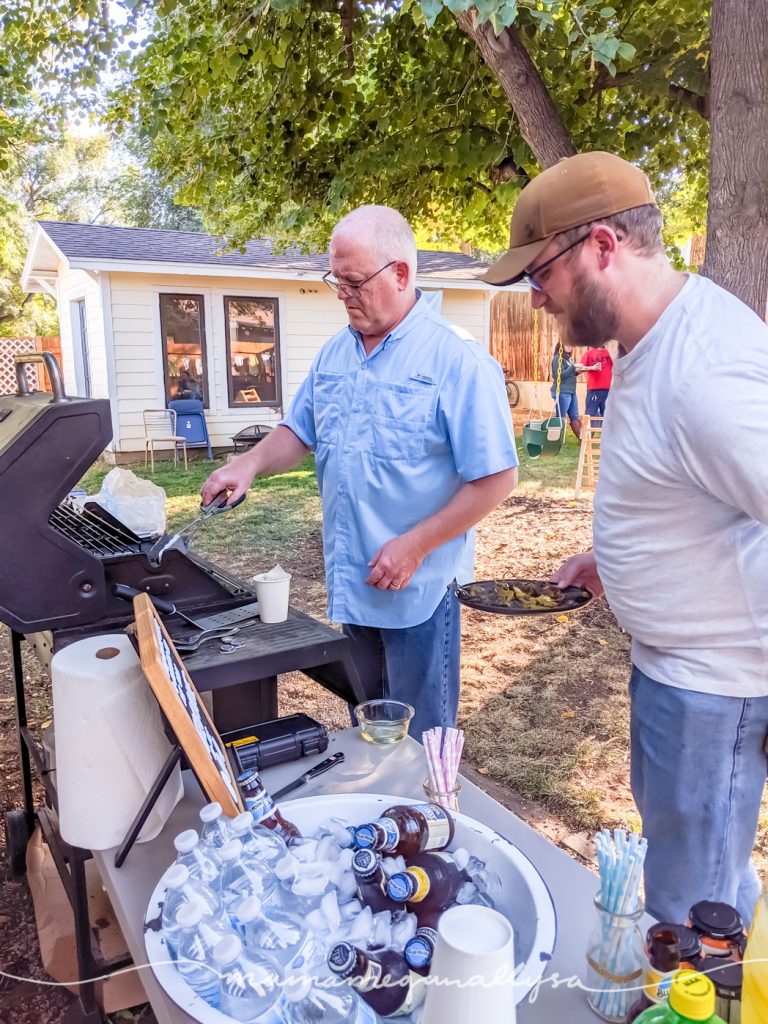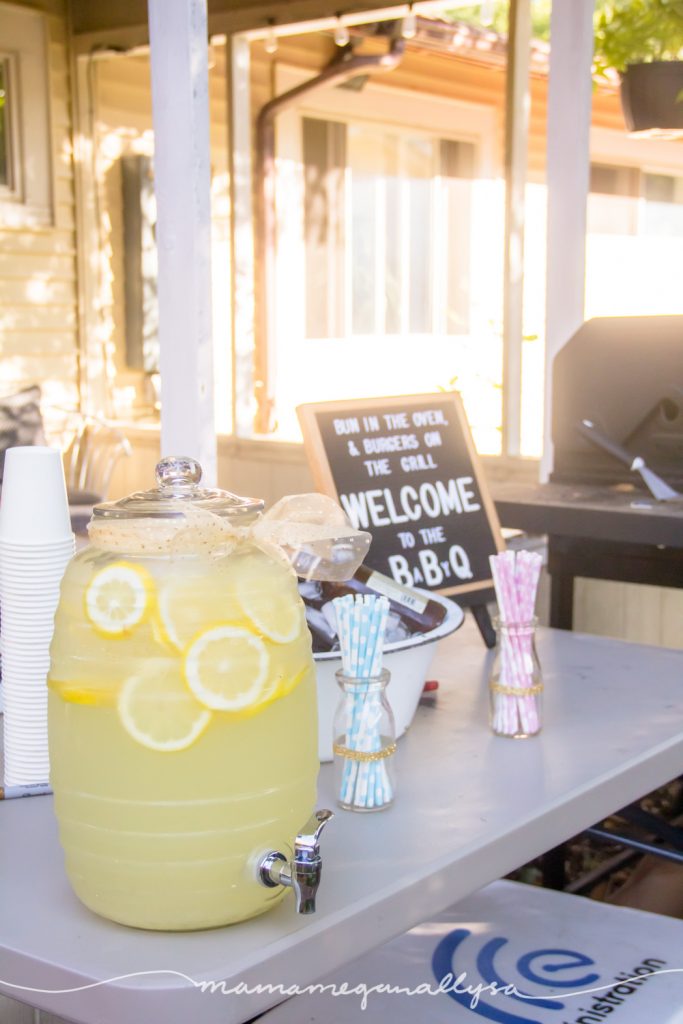 When you have a clothesline in the backyard that you don't want people to well…clothesline themselves on, what do you do?! You hand lots of tiny adorable baby clothes on them! Most of these pieces we already had, but I did pick up a few new pieces that I thought were just too cute to pass up! Tiny chunky knit cardigan anyone?!?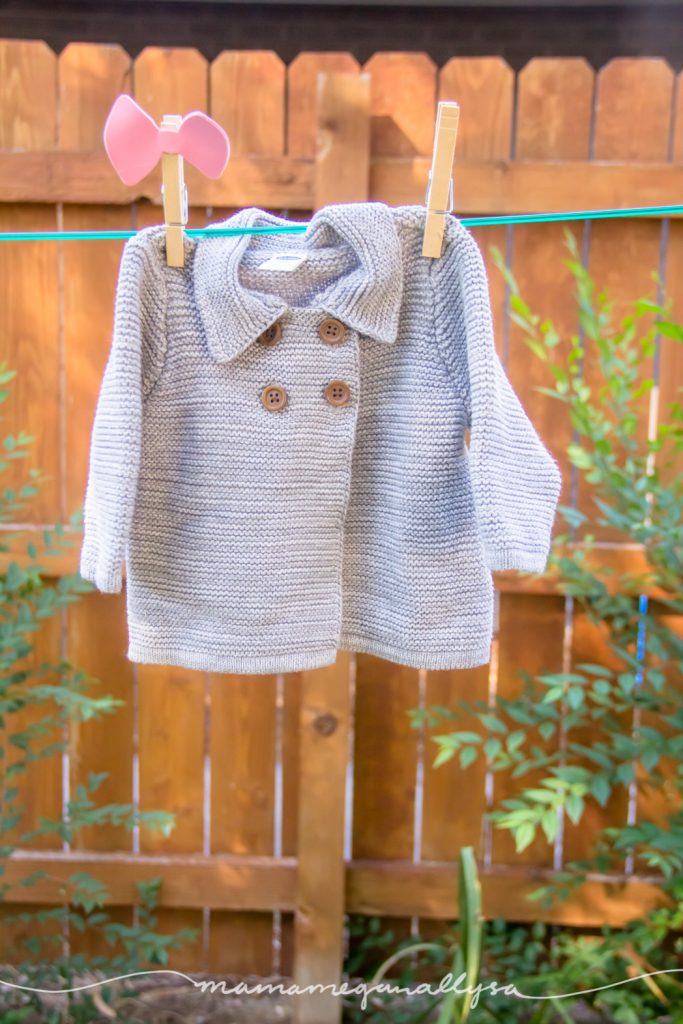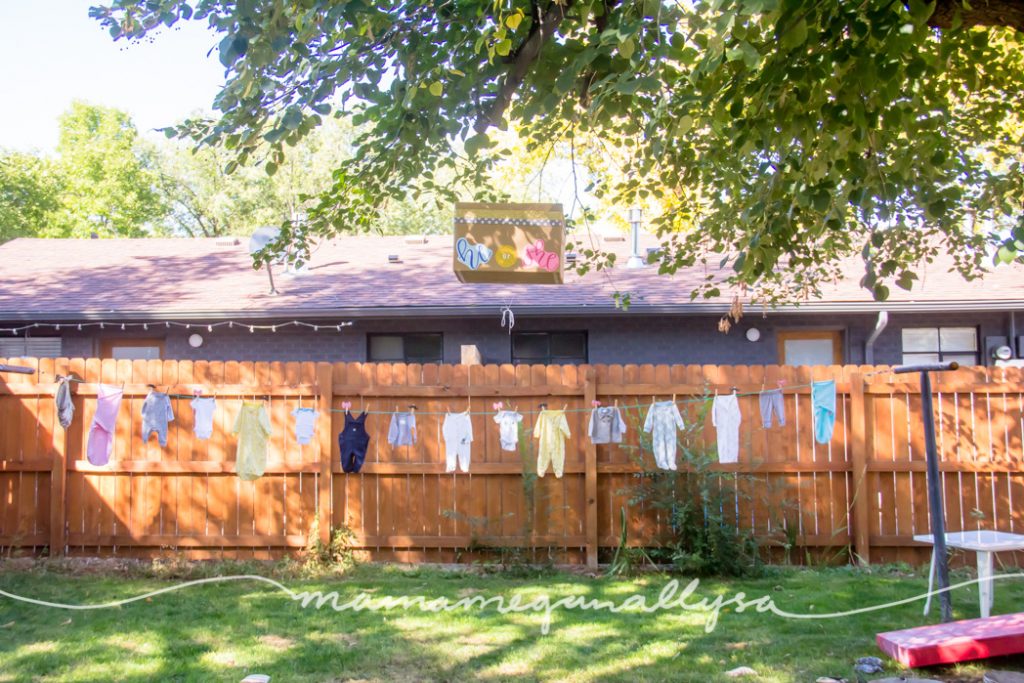 Fun for everyone
I wanted to provide something fun for any of the littles that might come by and well my own little that would be there. We have our DIY sensory table in the porch all the time and I just added some extra sand and some blue and Pink treasure to dig for. Simple, but what kid doesn't like a sandbox and some treasure!?
I have a very important question for you all. Have you ever played cornhole? Do you know what it is? Or have you just heard about it? I first heard of it in South Dakota, but it is like a staple in Alabama… Needless to say, it is now a staple for all our outdoor parties!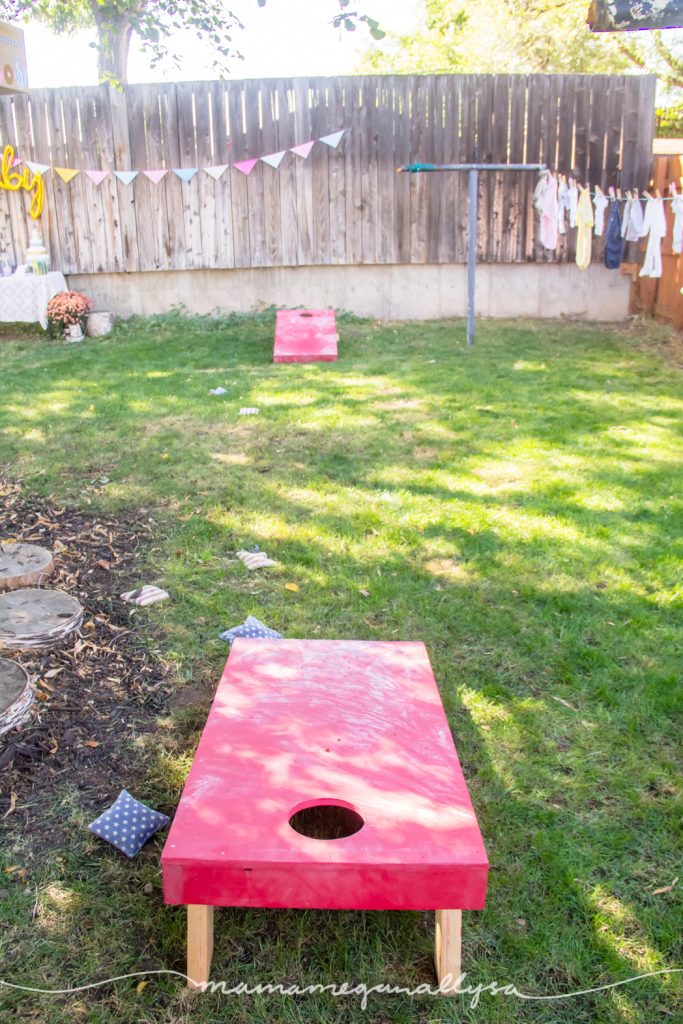 Vintage gender reveal details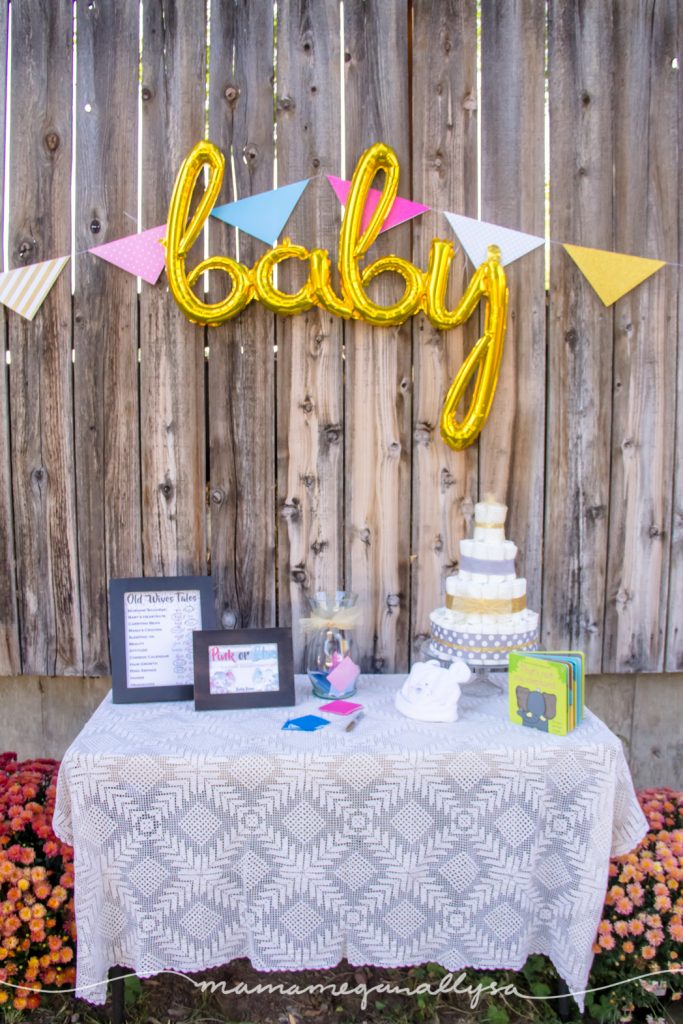 I fell in love with a vintage wooden cradle that we found at a flea market and I knew I wanted to use that as a decor piece in some way. A present location was the perfect job for it and it still added to the ambiance of the party!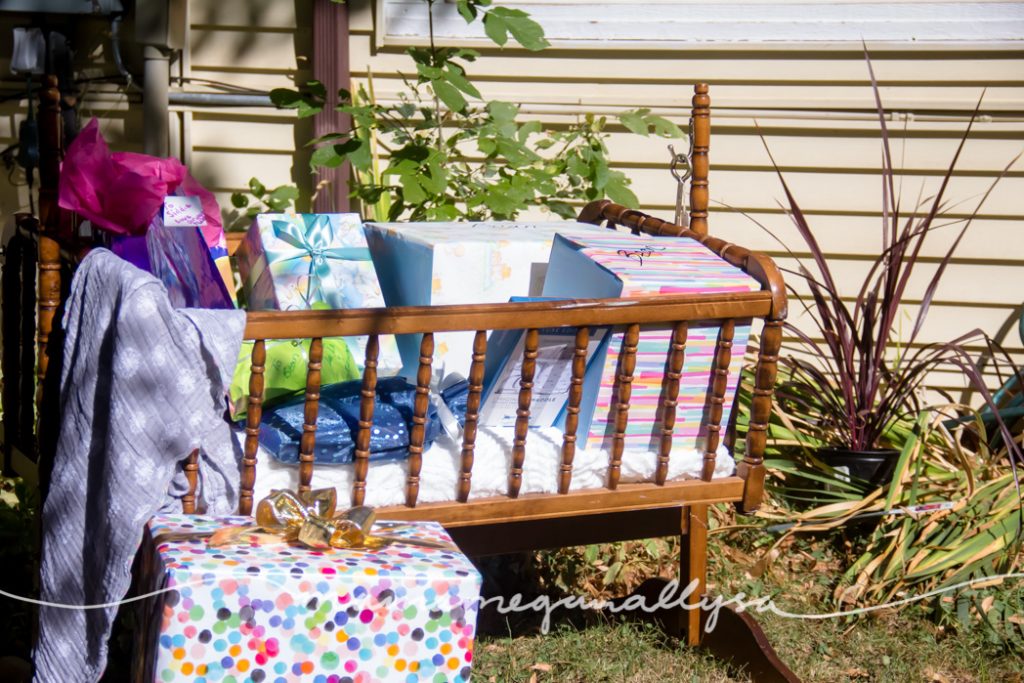 We also had a vintage tablecloth and baby quilt from Bean's great great grandma. Right after she passed away we were able to gather a few things and I thought this was a nice way to remember her as well as have some more décor for the vintage theme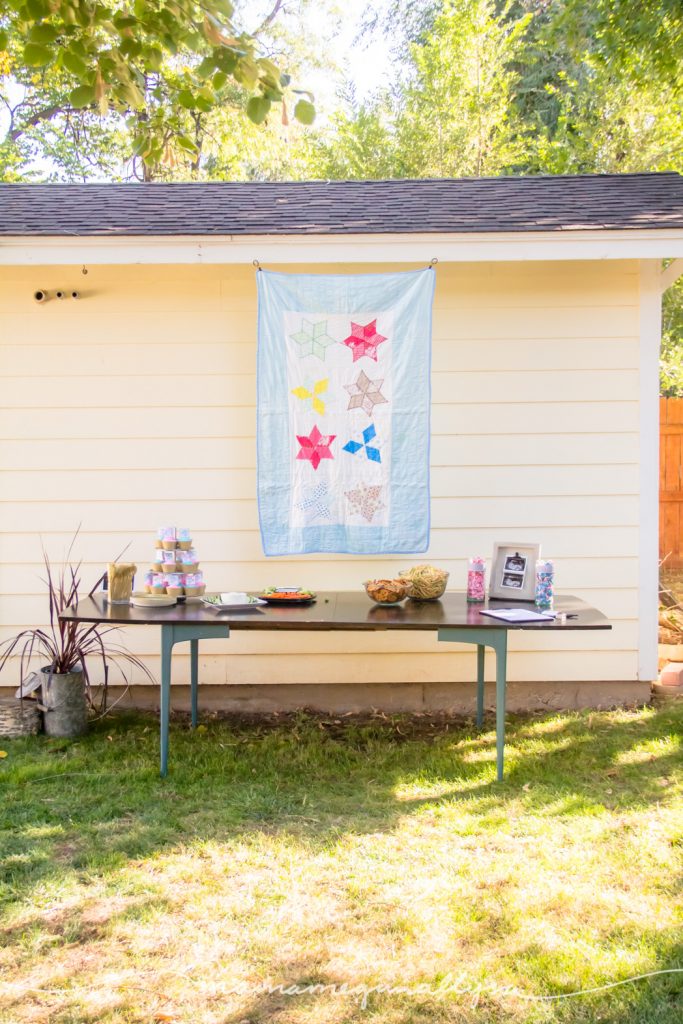 Gender Reveal Decoration Details
I made a pink and blue banner to hang along the fence and added a mylar "baby" balloon to really drive home the theme for anyone who might not have gotten the memo. 😉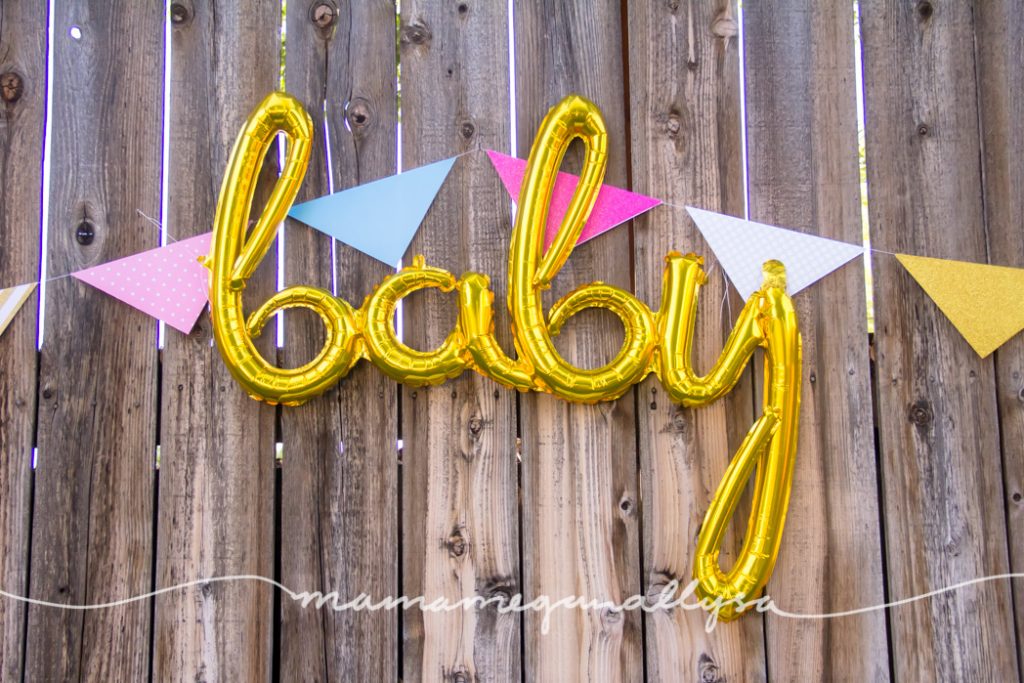 I love to have a couple of ultrasound pictures up on display and this clip frame that already had was perfect! We also have a bit of a weakness for sweets so the blue and pink taffy was a natural decor/desert to have out!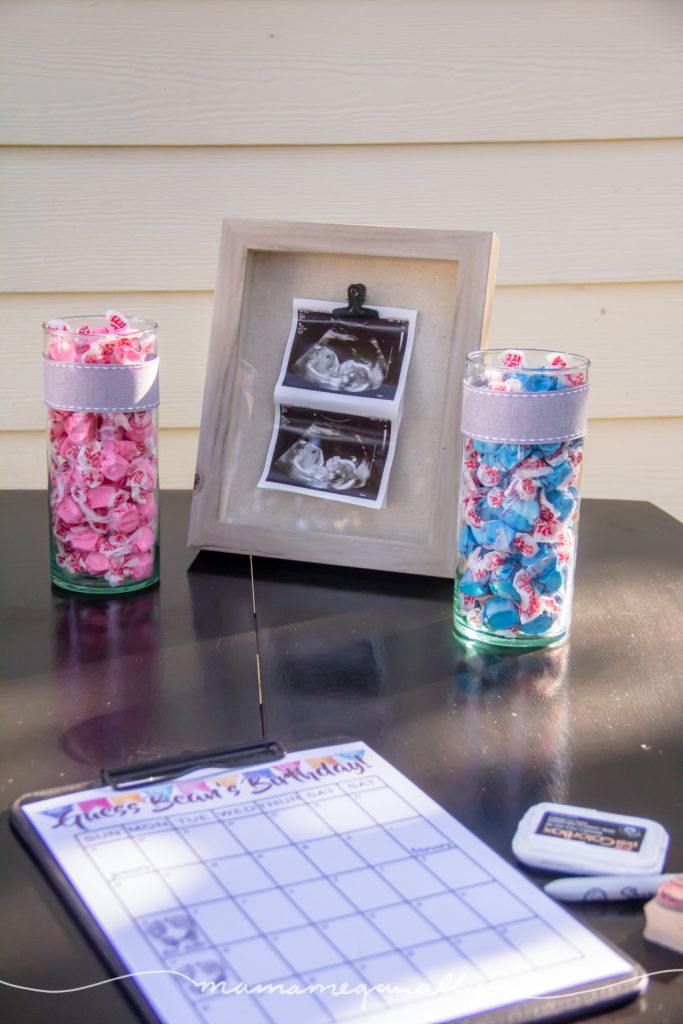 I love a good diaper cake. It's decoration, baby-themed, and it's practical! I made this with a box of newborn diapers, some rubber bands, pins and some fun ribbons!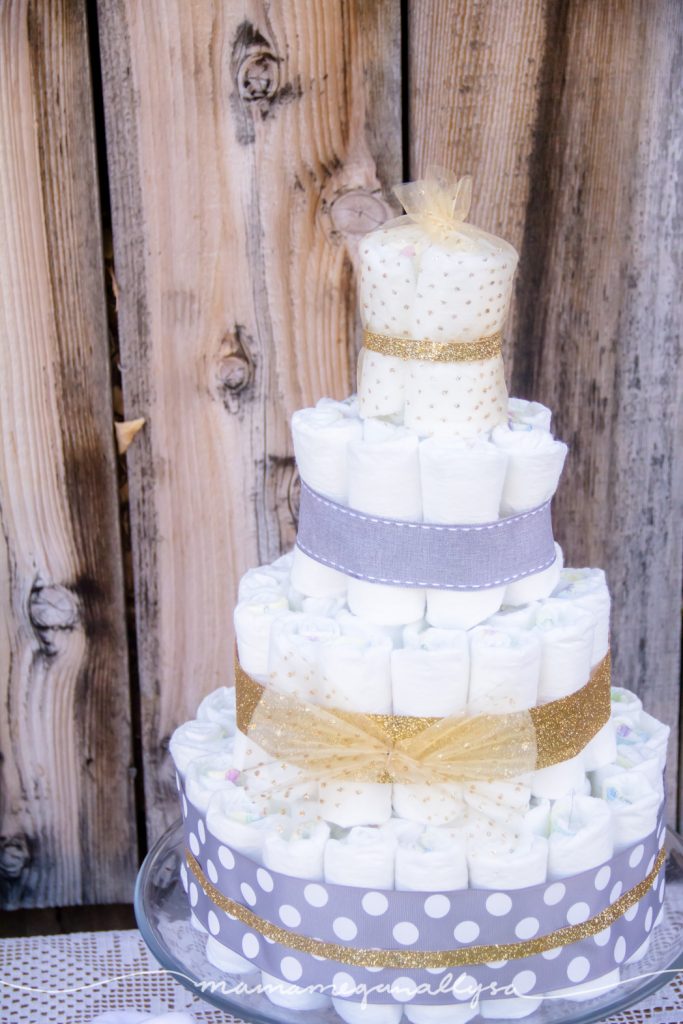 I had used an elephant in the invites for the party and that's really the whole reason for the elephant theme. After that, it just sort of fell into place. We already had some clothes with elephants on them. I made our cupcake toppers with the same little elephant illustrations as the invites and I found an elephant book that I liked. I don't like to be too literal with a theme, because then you have to have EVERYTHING that theme. So just a few little touches and I am a happy camper!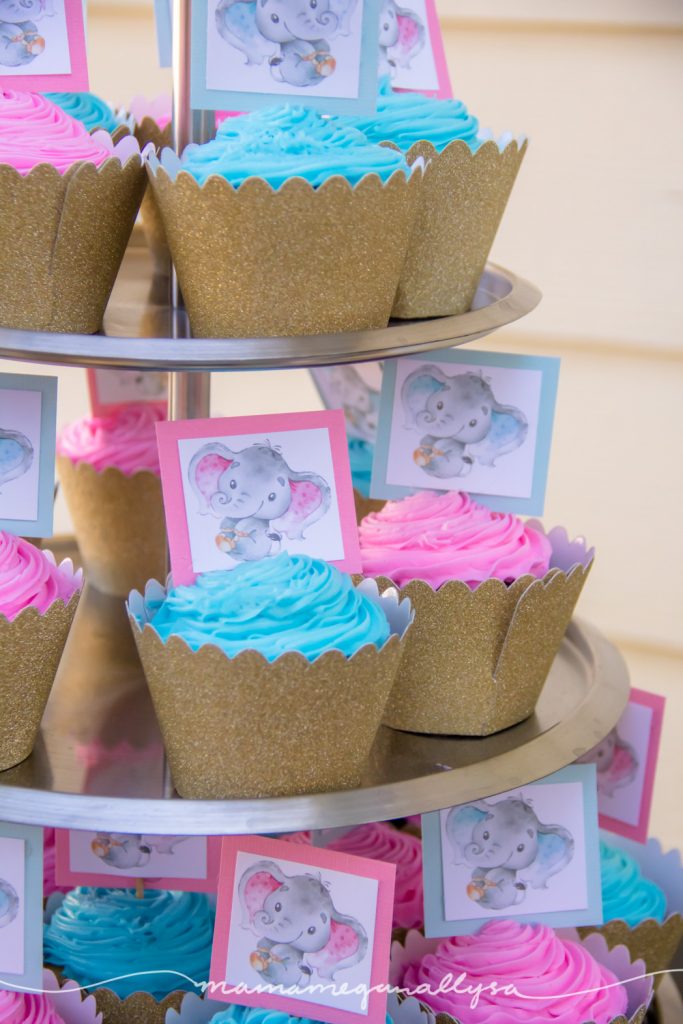 Oh, and what kind of millennial would I be if I didn't have a themed letterboard on display somewhere 😉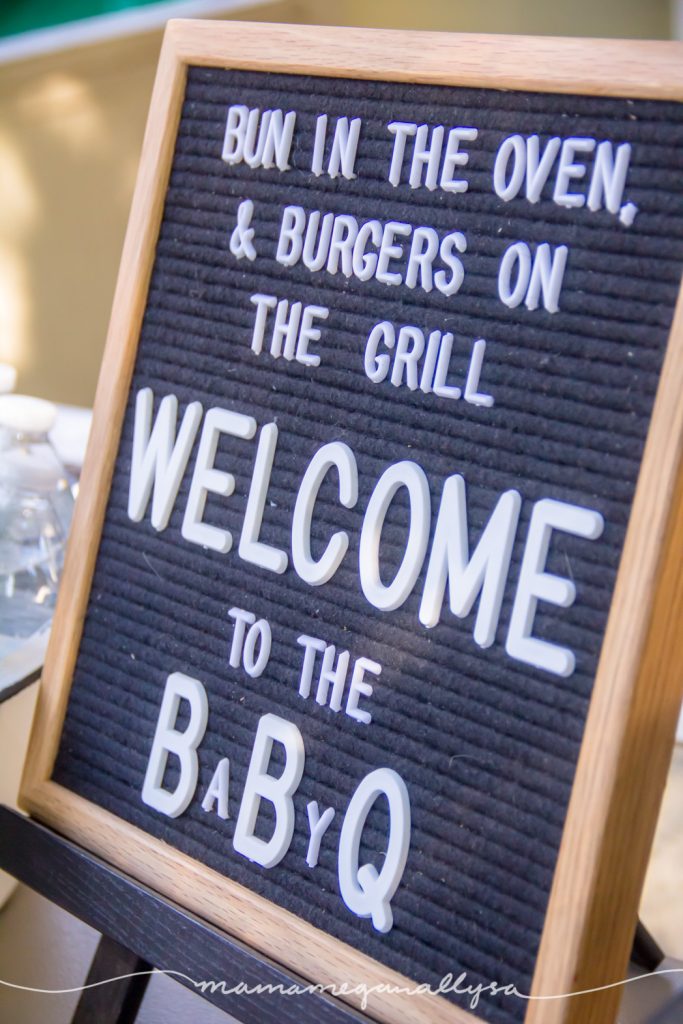 Baby Shower games
Some baby shower "games" we like are the due date guess as well as the Wives tale predictions.
The old wives' tales predictions can help some to pick a side if they didn't already have one. Plus its fun just to see how different they can all predict!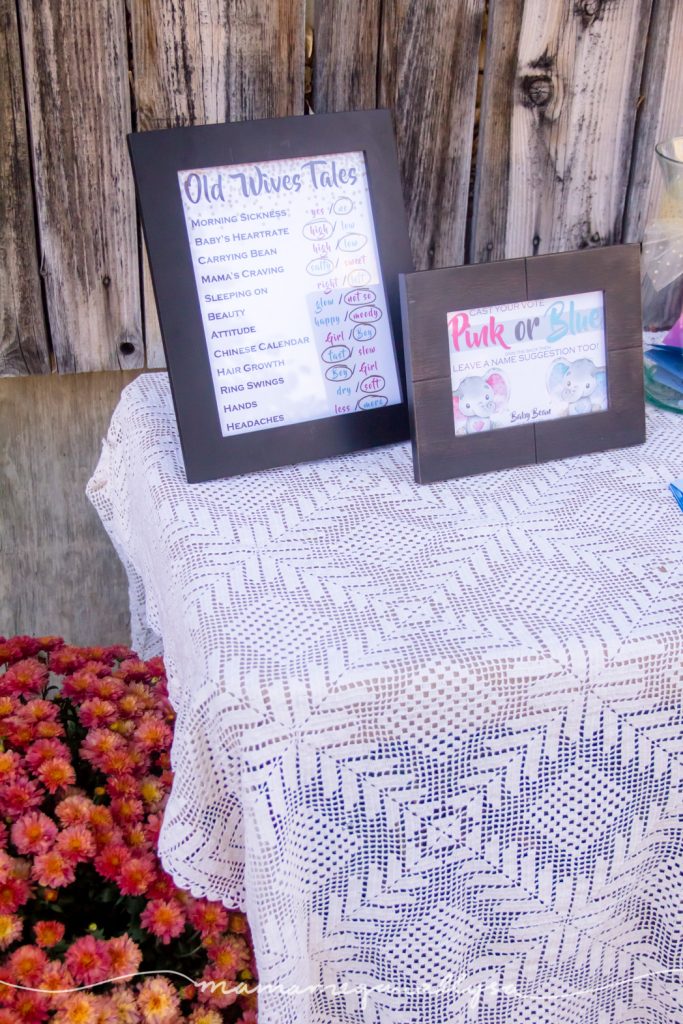 The due date calendar is fun to look back and see who got the closest, it also serves as a guest book of sorts!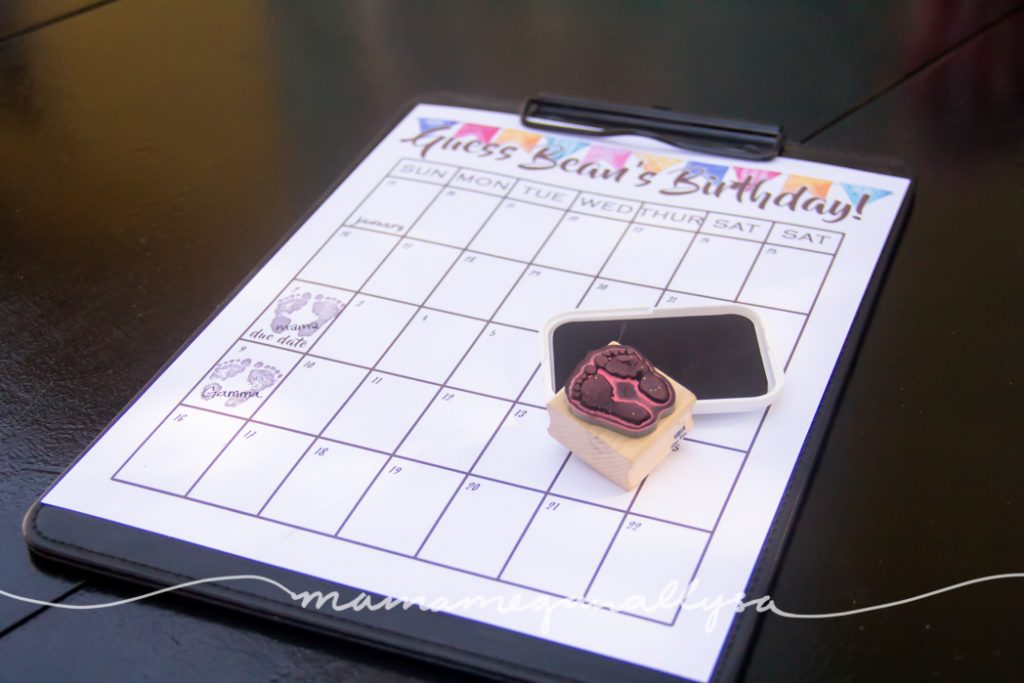 This time we also did a name guess jar. I just thought it would be fun to see what kinds of names every one came up with!
The Big Reveal
I liked the idea of the piñata style surprise box, as it was something that Bitty could be involved with and it was a little more exciting than a cake. (also we did the cake thing for Bitty)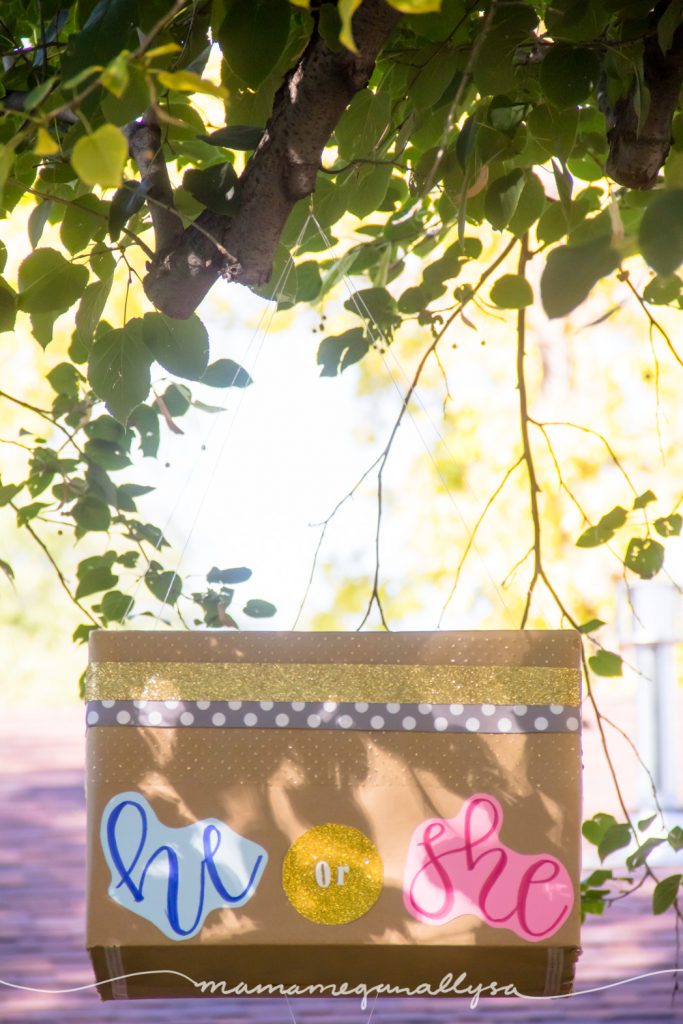 So I wrapped and decorated a box and filled it in secret with streamers, confetti, and balloons. When the time came, we could pull the strings to open the box and all the fun filler would rain down on us and tada everyone would know the secret!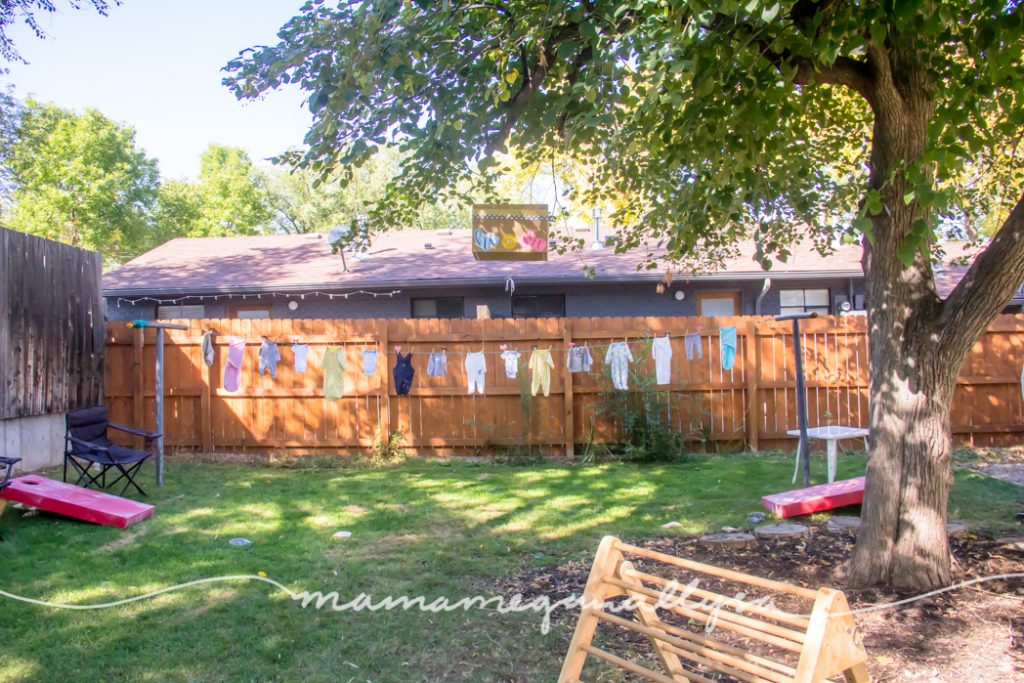 IT'S A GIRL!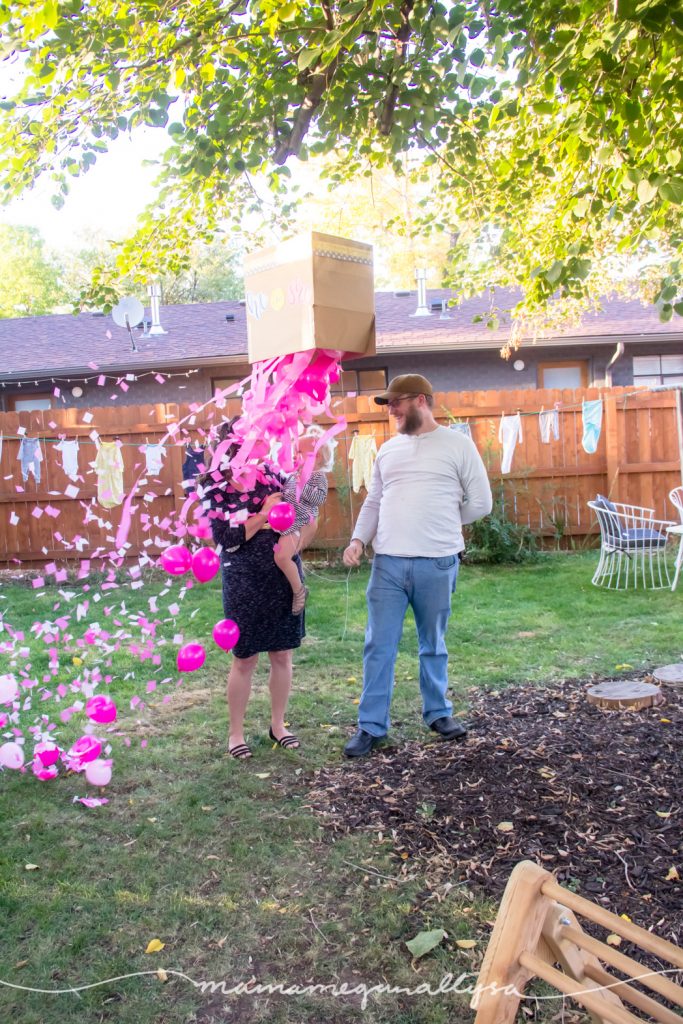 We were so excited to tell everyone we are having another girl. I swear everyone was on team boy this time around. So this was a big surprise for a lot of people.
Zak was team boy from the get-go and I never really picked a team. I never had that gut feeling and I was constantly changing my mind. Now that I think about it Bitty was team girl from early on…but that might just be because she is a girl. lol
To be honest Bitty wasn't sure what to think of the reveal. She seemed a bit freaked out by all the stuff falling on her.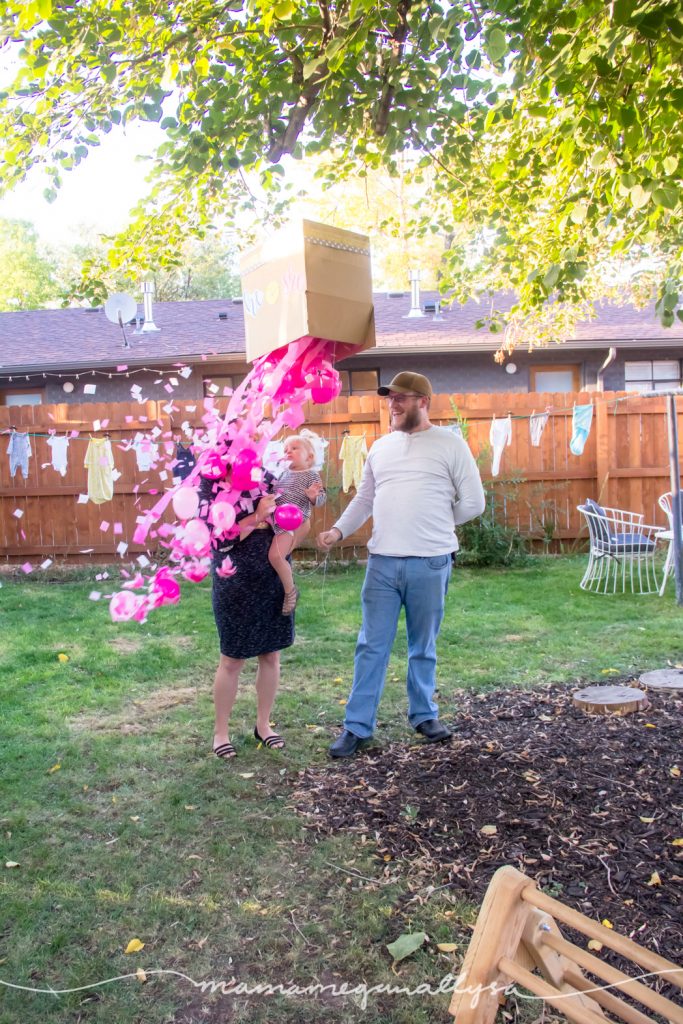 It didn't take long for her to warm up to it after the fact though!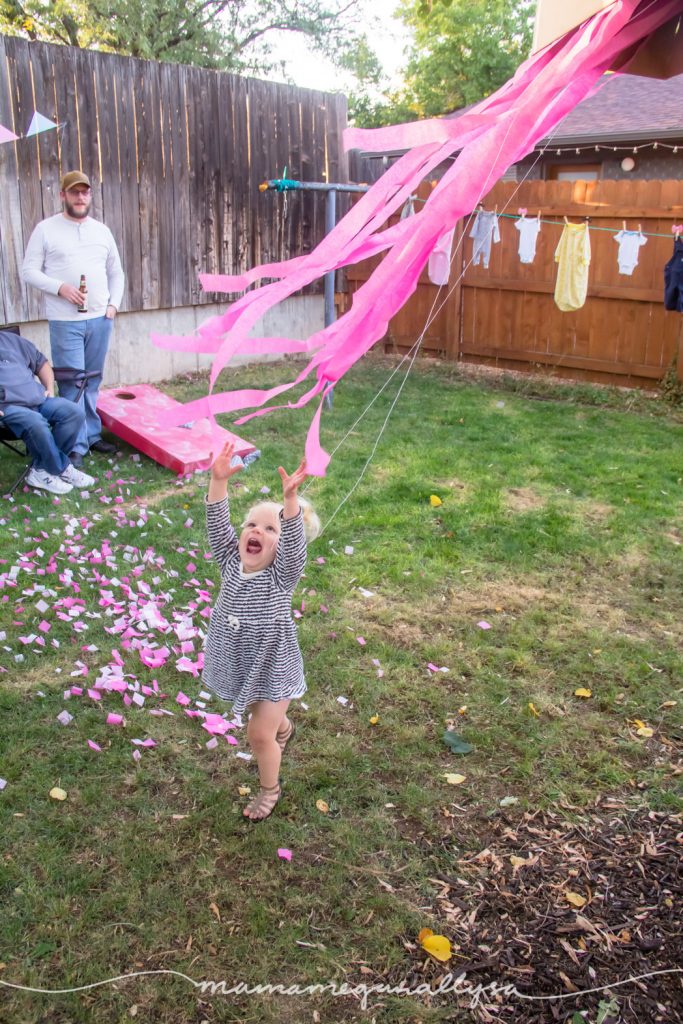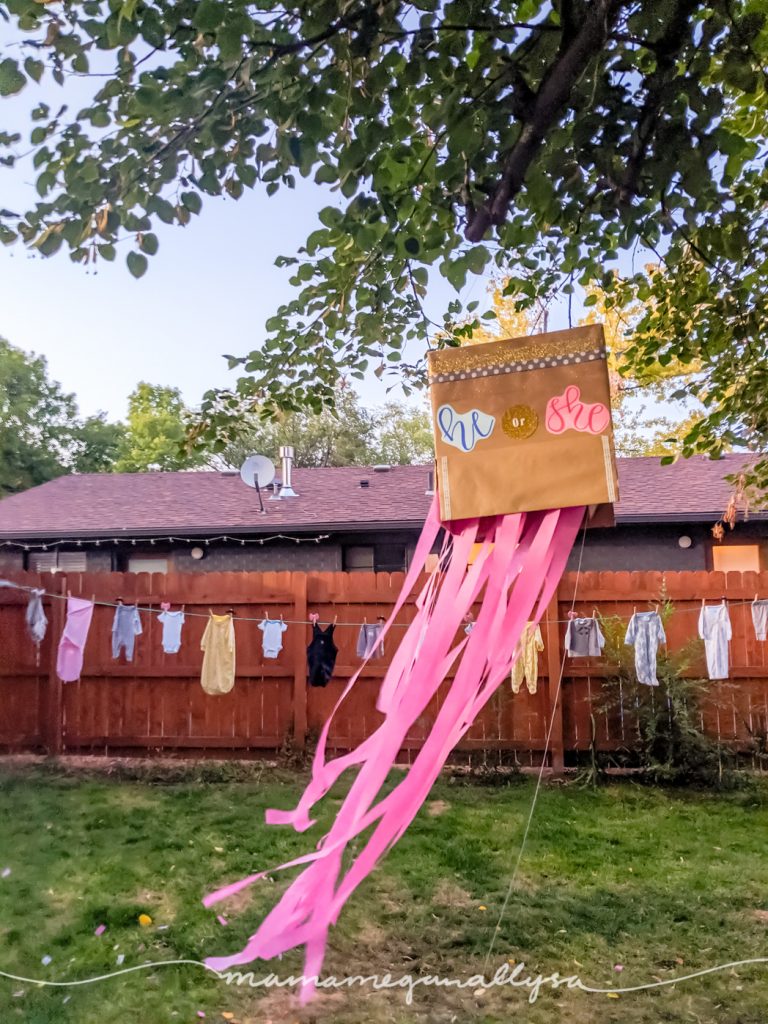 Vintage Elephant Gender Reveal Backyard BaByQ
Our Gender Reveal was a simple party but I really had a blast pulling it all together. We had an awesome time celebrating with friends and family and I hope you stick around to meet our sweet Bean in just a few short months!
Other Posts you may like