Today we add the last installment of the 4 step sensory bin formula; Sensory Bin Toys. If you have been following along you will remember that I did a post on my favorite fillers and my favorite tools. Now we talk about the extra stuff, the fun stuff, and the manipulative stuff!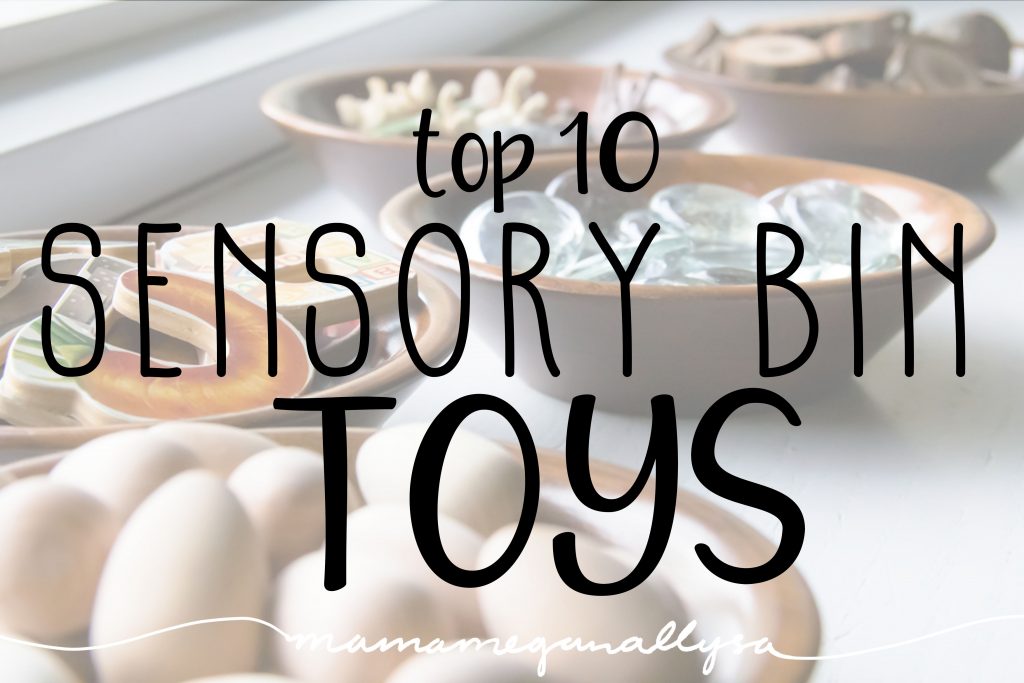 All sensory bins can be broken down into four parts. The Bin that you put everything in. The Filler or base that provides the sensory experience. The Tools used for fine motor skills and to help manipulate the filler. Then finally the Toys or manipulatives, these are often used to pull a theme together or to spice up an otherwise stale sensory bin!
This post contains some affiliate links. As an Amazon Associate, I earn from qualifying purchases. I may receive a small commission from if you follow and decide to purchase. There would be no additional cost to you!
What is a Sensory Bin Toy
A sensory bin toy is something that sparks some excitement and also offers an invitation to play. The sensory bin toy is often what draws a kid to the bin, even if they really stay for the filler.
The best part is that you probably already have some great sensory bin toy options because, well you probably have toys laying around! Things like puzzles and plastic animals are perfect for sensory bins!
The Best Sensory Bin Toys
In no particular order here are my top ten sensory bin toys
Gems – From glass gem vase filler to plastic craft gems to fishtank décor. We are not picky and these are always a guaranteed favorite anytime I add them to a sensory bin. Our favorite gems are actually fish tank decorations.
Puzzle pieces – Any chunky puzzle you have can easily be added to a sensory bin! Though if you're are doing something wet like bubbles or oobleck you may want to avoid puzzle pieces so they don't get ruined!
Plastic Animas – This is one of my personal favorites to add. It's so much fun to build a little small world and then listen to the little stories that get created. From Dinos to the farm to the African safari. Whatever your little is into!
Vehicles – Similar to the plastic animals; cars, trains, & construction trucks. The list goes on, whatever you have can easily create a small world for imaginative play!
Play Food – I LOVE adding play food to a sensory bin. It's so easy and it breathes new life into old play food. They already love to cook so here you are just giving them another ingredient to manipulate! Can you just envision all the soup they will make!?
Seasonal Options
Seasonal Vase filler – things jingles bells, tiny acrylic pumpkins, and foam hearts are all great for sensory bins. They easily give you a theme and are great for tong work as well as counting!
Novelty Erasers – similar to vase filler, novelty erasers shaped like Halloween monsters or Christmas trees or Easter bunnies; all instantly set the theme and offer great counting and sorting practice!
Fake flowers – These provide double duty in my books. You can provide basic flowers for flower arranging or garden play. Another use is as scenery for the small worlds you build for the animals or vehicles.
Odds and Ends
Wooden Loose parts – This can be so many different things. From simple twigs from the backyard to wood coins to loose part toys. All of these sensory bin toys offer great play opportunity. The Twigs may be used to stir, the wooden coins and blocks used to stack and the loose parts can be well anything, that's the joy of loose parts!
PomPoms – I prefer wool balls myself but Bitty seems to enjoy basic pom poms a little more. These are great for tong work as well as counting and sorting. Not to mention they are usually big and bold so they can really add something fun to a simple sensory bin set up.
Beads/Buttons – You can do smaller beads if you trust your little one with them or you can go with larger lacing beads. These again provide great counting and sorting, and that's if you don't provide some kind of string or skewer to practice lacing, then you can add some real fine motor practice in as well!
Size Disclaimer – Know your kid
I feel it goes without saying that make sure and know your kid. Many of my favorite sensory bin toys would be considered choking hazards and you should play with them at your own risk. If you are worried about that aspect stick to the larger toys for now and add in some smaller fun later on!
Share your Favorite Sensory Bin Toys!
I would love to know what your kid's favorite sensory bin toy is. Are they all about the animals or more of a pompom kind of kid! Share them down below in the comments!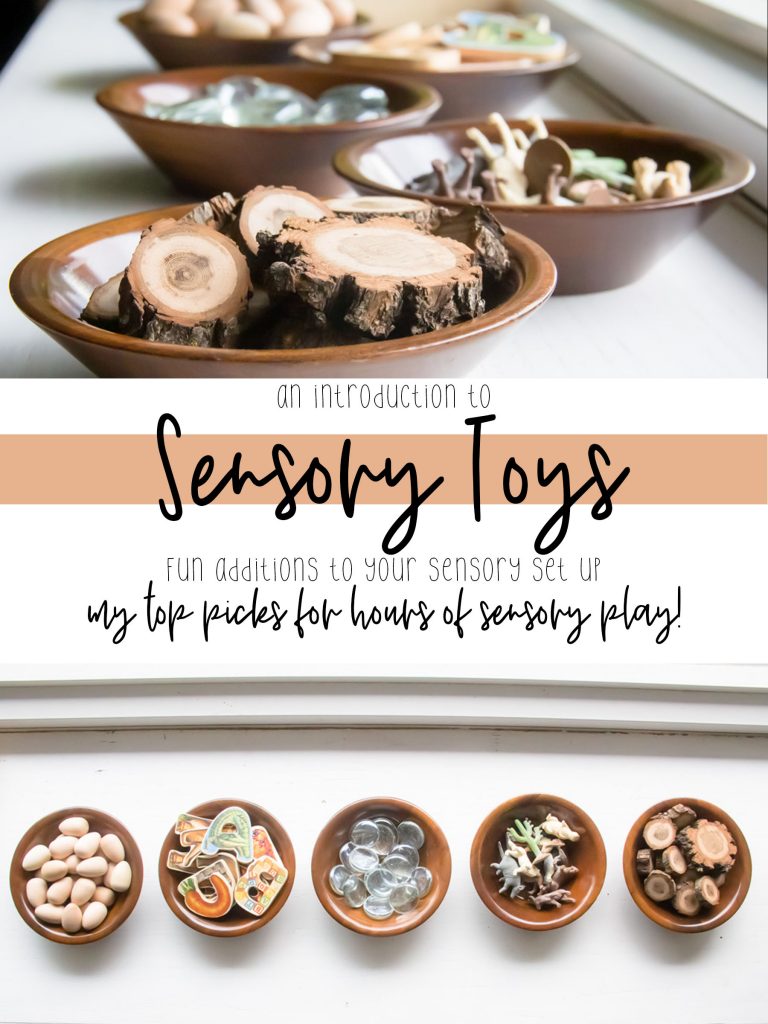 If you just can't get enough sensory bins, make sure and follow my Pinterest board full of sensory bin ideas. I'm always adding more to it as new ideas crop up!
Other Posts you may like