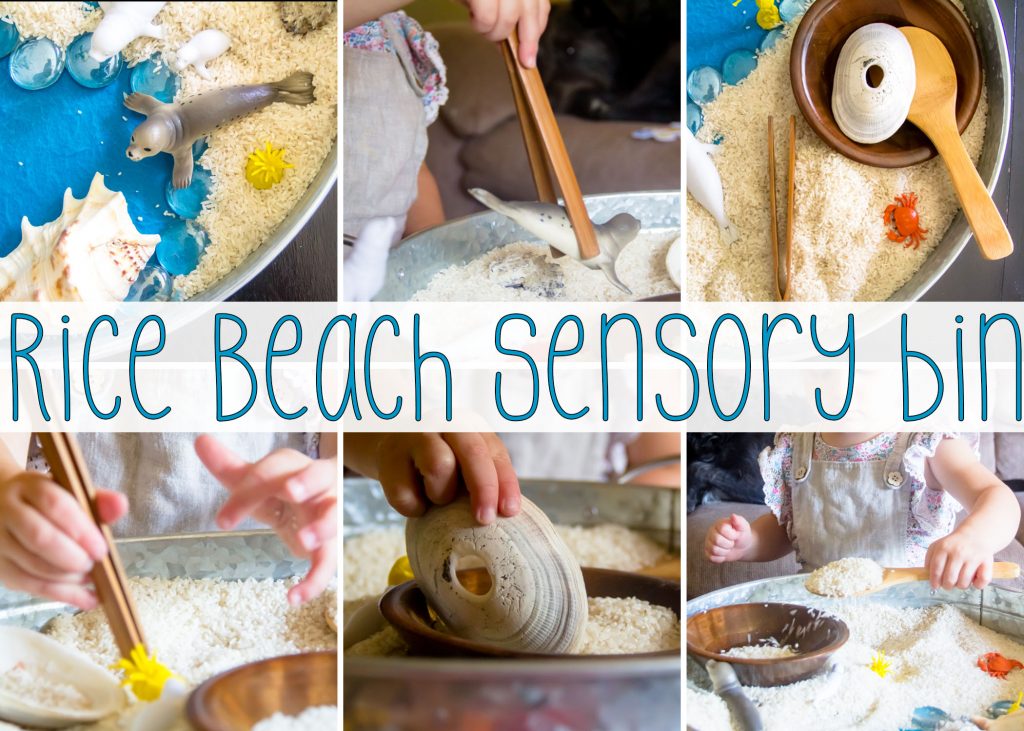 I haven't set up a small world sensory bin in a while, so I dug around her animal collection and the beach rice sensory bin was born!
Beach themed rice sensory bin supplies
Rice
Glass Stones
Seashells
Felt Playmat
Ocean animals
Bowl
Tongs
Spoon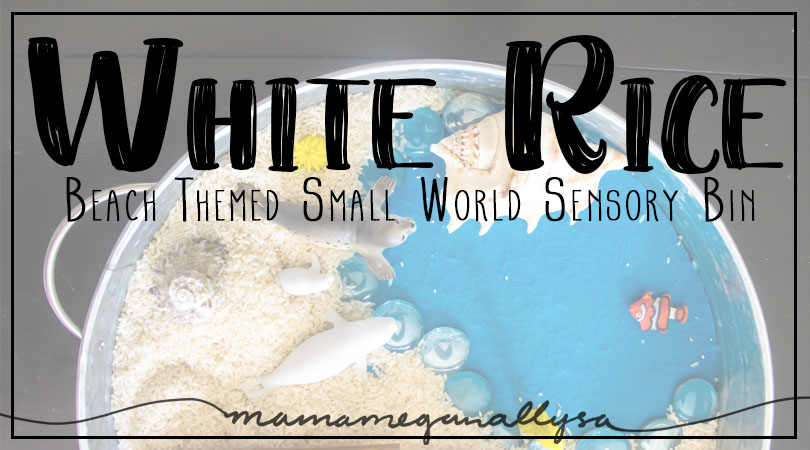 New views on rice
I wanted to find a way to use our rice, as it's been a while since we have played with it, but I didn't want to dye any of it blue or go buy any new supplies for this bin. Then it occurred to me that the rice is as close to the sand as we are going to get (other than using sand of course…)
I feel I must share for the uninitiated that rice is messy. They spill it without meaning to. Those are just the accidents…If you have a kiddo who is prone to throwing or dumping you may want to do this outside or hold off on rice all together for a bit. That said it really is a fun filler to play with and worth it if you can deal with the mess!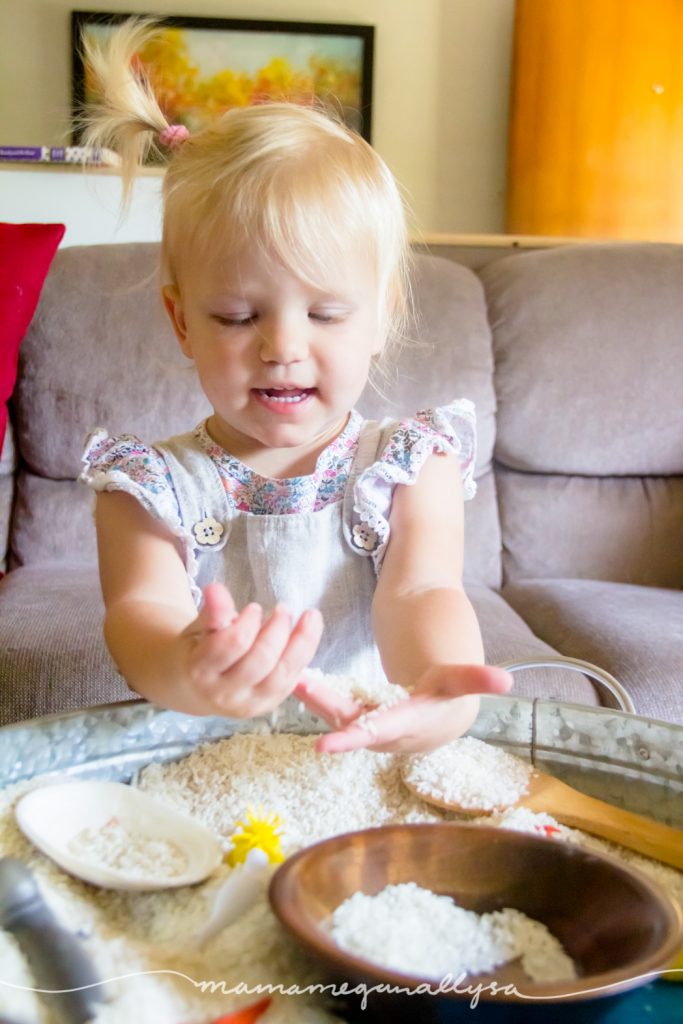 How I pulled a rice beach sensory bin out of our existing supplies
So if we used the rice as sand we would need some "water" I have these felt play mats that I use for her small world setups so that's a no brainer. I wanted some kind of barrier to attempt to keep the sand more on one side. She loves these glass pebbles and I figured they could sorta represent the foam of waves when it hits the beach! I added some of her more unique seashells and her more beachy animals and It was good to go! Except of course the tools!
I settled on a simple bowl and spoon and added in a simple tongs in the end for another option. I'm glad I did because she rather enjoys using the tongs to pick up the animals!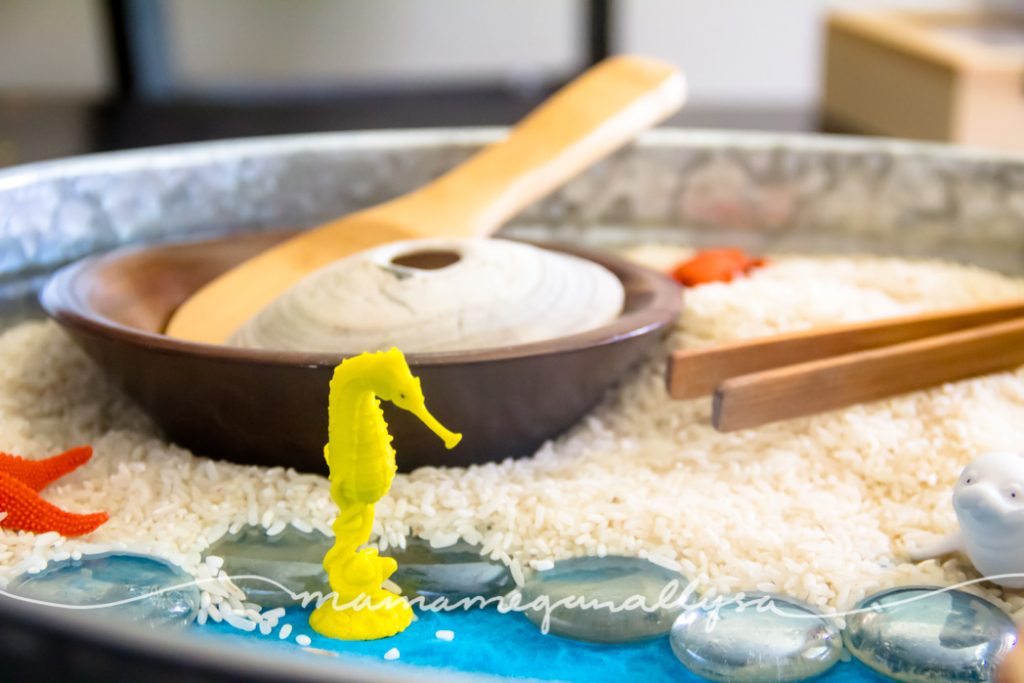 Sensory learning
This particular spoon is not great for scooping and works better for balancing, so I didn't expect much success with it. The real winner has been the tongs and one or her seashells.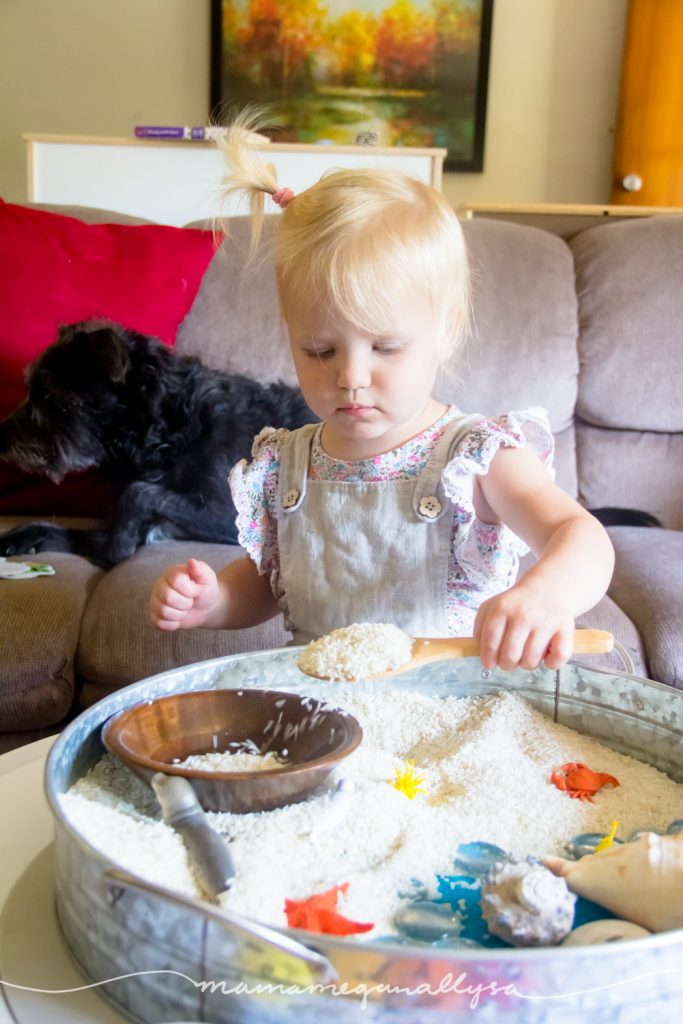 The tongs she started using with her animals after she figured out she could wedge the largest seal into the tongs and he didn't fall out immediately. So then we had to test that on all the other animals.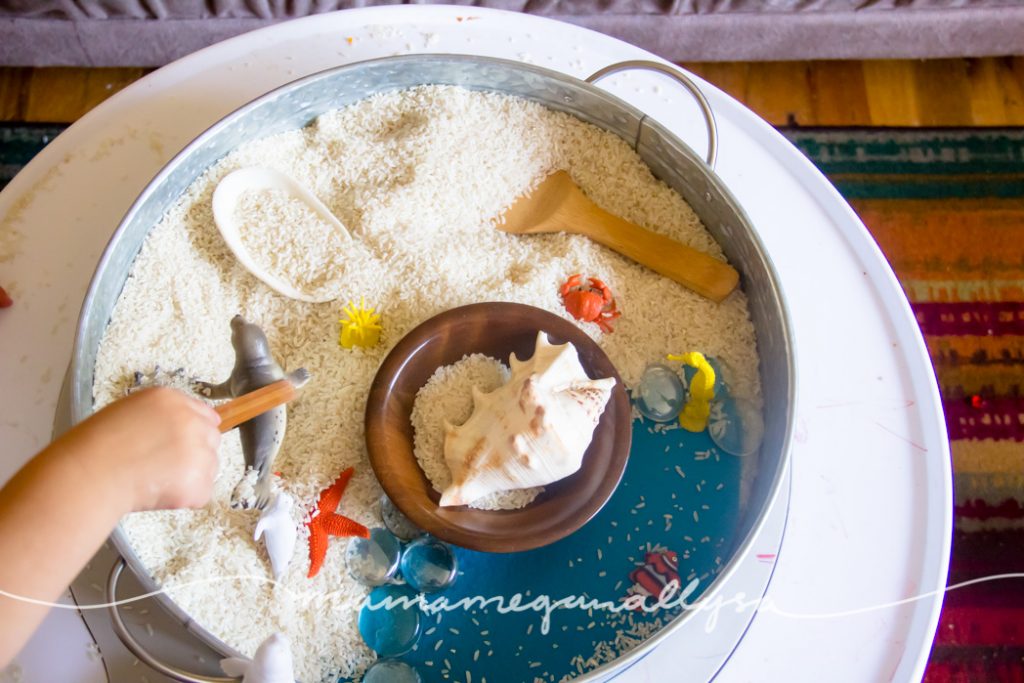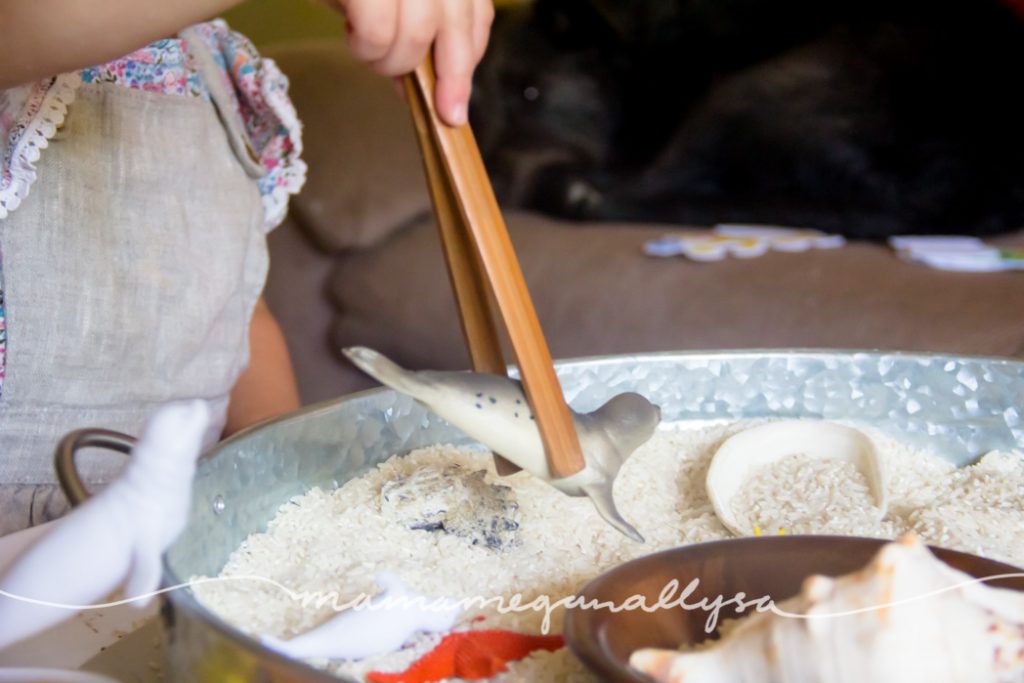 One of her shells is a perfect rice scoop with the added benefit that it has a hole like a funnel in the middle of it so that has been fun to watch her scoop and drain.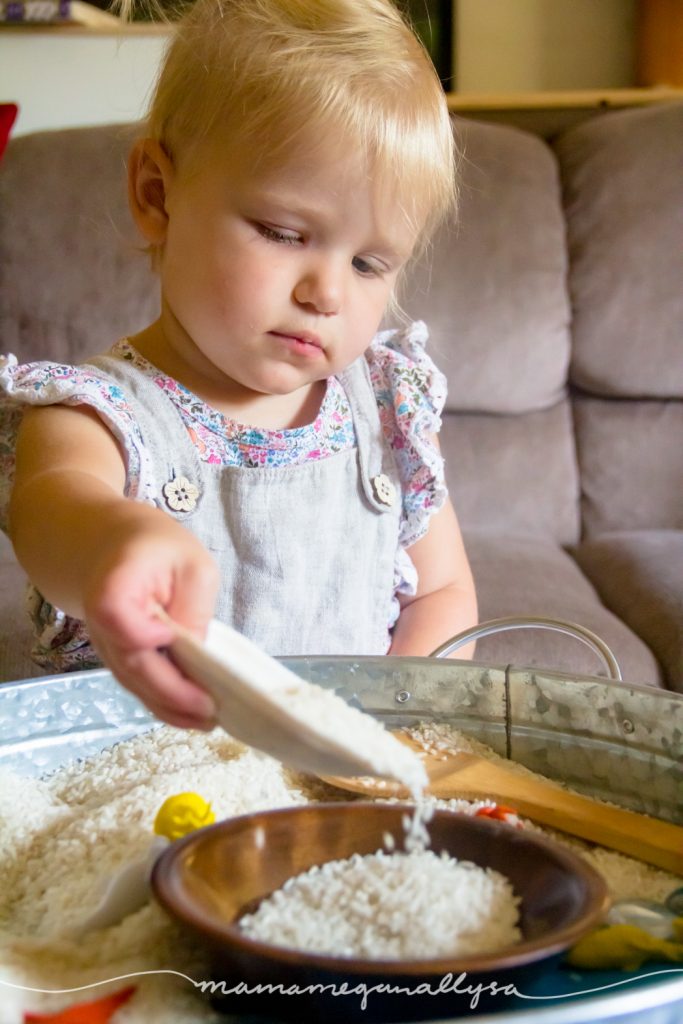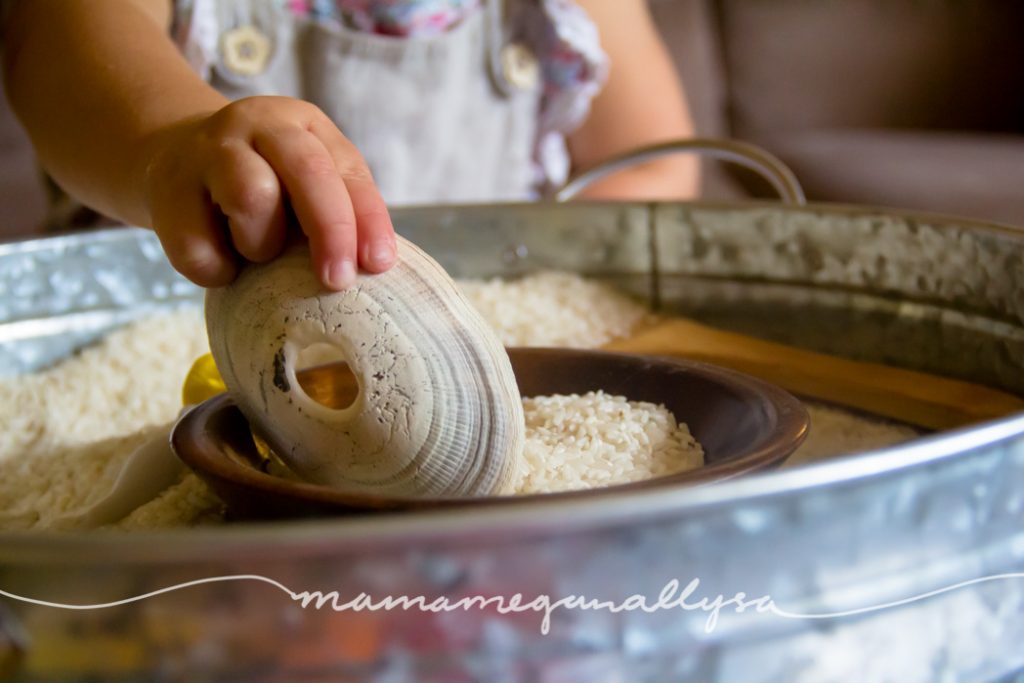 Share your rice sensory play with me!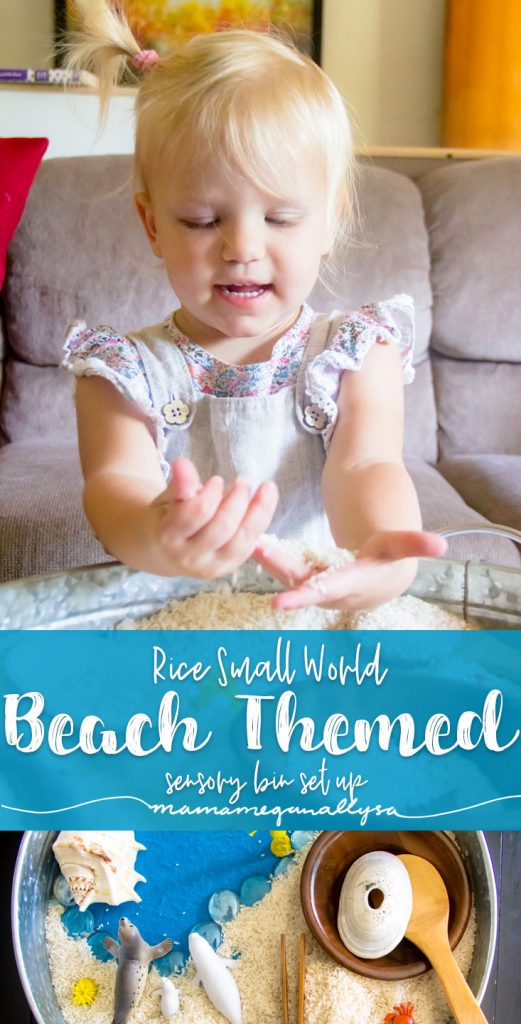 I feel like rice is the number one thing people start with when they start sensory bins. So I feel like there are so many great rice sensory setups out there I would love to see yours! Even more so if you set up a Rice Beach Sensory Bin! You can always tag me on Instagram or share a link down below!
Other Posts you may like