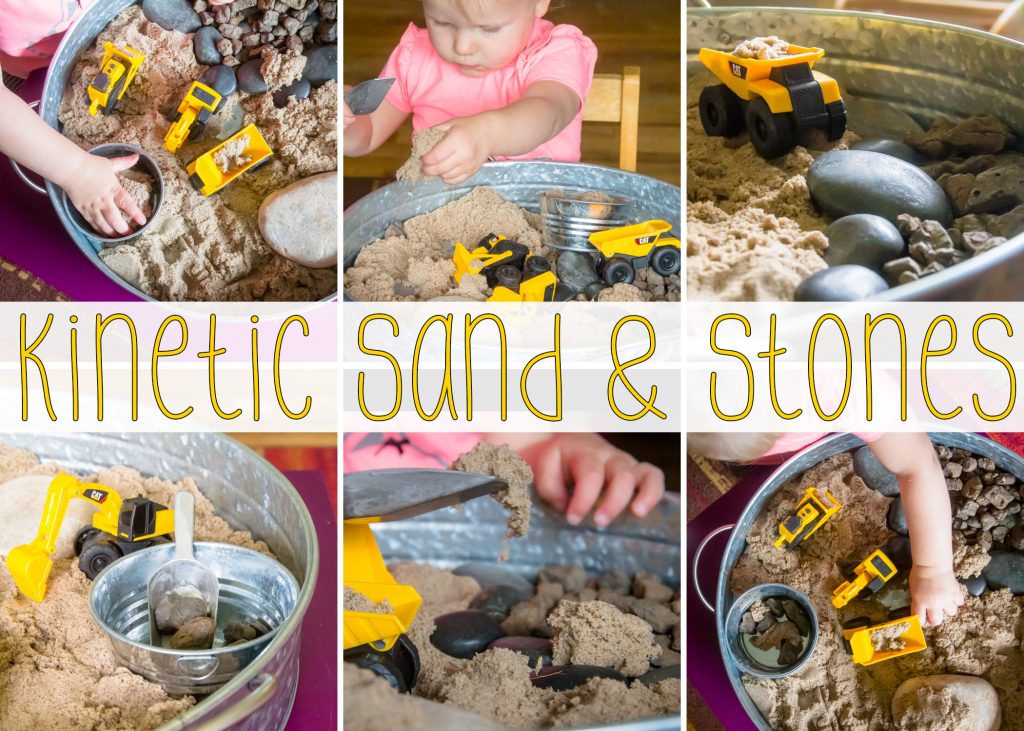 Our Construction Truck Sensory bin has been without a doubt the biggest hit in a long time! She is independently playing and staying engaged longer than any of the other recent bins. It's that kinetic sand man, it's magic.
This post contains some affiliate links. As an Amazon Associate, I earn from qualifying purchases. I may receive a small commission from if you follow and decide to purchase. There would be no additional cost to you!
Construction Truck Sensory Bin Supplies
Mini galvanized bin
A rock
Thats it. This is a super simple small world sensory bin!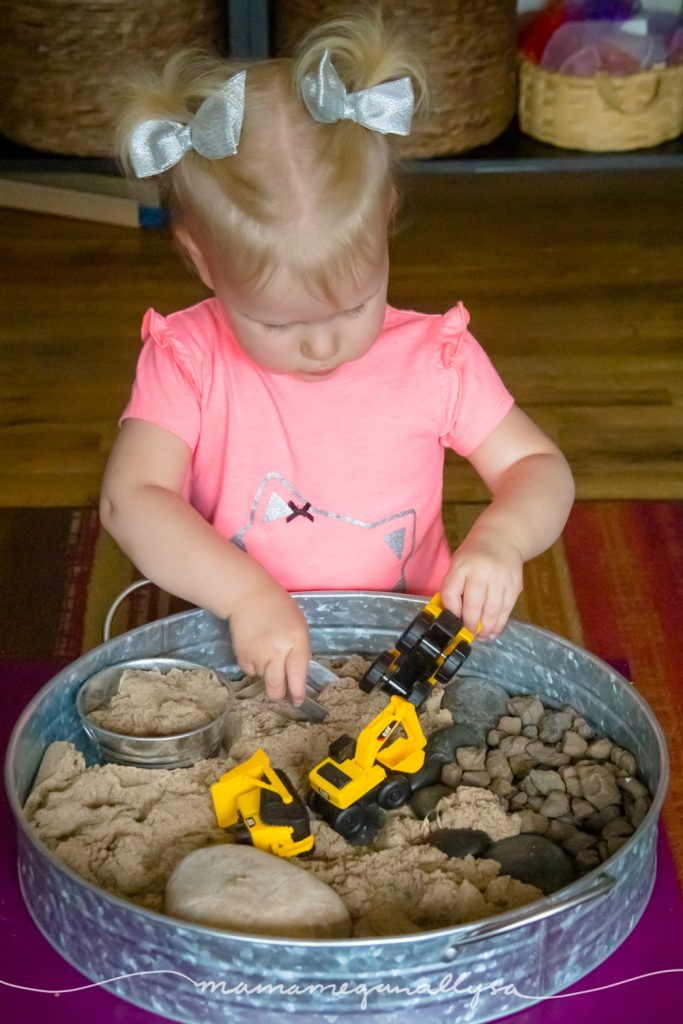 Mulit Sensory Input
Kinetic sand is awesome. If you have never played with it, it's probably up there in my top 10 favorite toys of all time. It always has a kinda cool temperature, it is great to squeeze and compress but also sorta flows over your fingers. It never dries out and it's honestly pretty easy to clean up. You can get it in different colors but we have the classic sand. Seriously add it to your repertoire, you wont regret it.
I picked two different rocks to add to our construction truck sensory bin this week. The black vase filler rocks are toddler palm sized and super smooth and then the lava rock (that I literally scavenged from our backyard) have a much more rough texture but are crazy light.
So in this simple bin we have the smooth and heavy in contrast to the light and rough as well as the magic that is kinetic sand!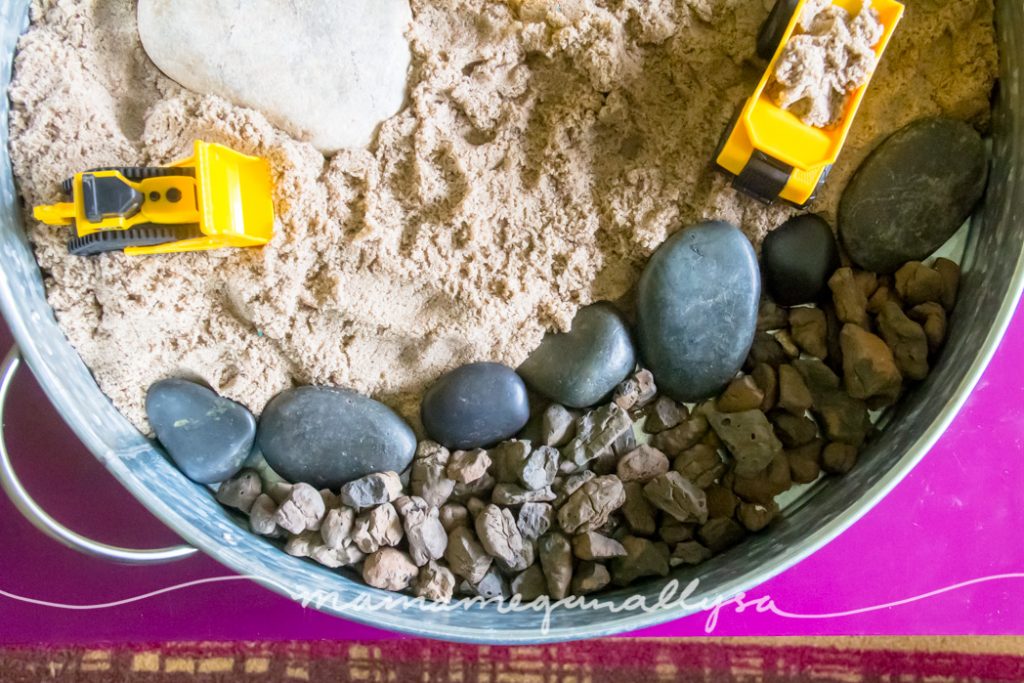 Construction Truck Sensory Bin set up
I presented the tray with the lava rocks edging a 'quarry' of the lava rocks with the sand filling the rest of the tray. I added a Large rock as a platform of sorts and then the bucket and scoop. These make less sense in the small world but all the sense in the world for her playtime!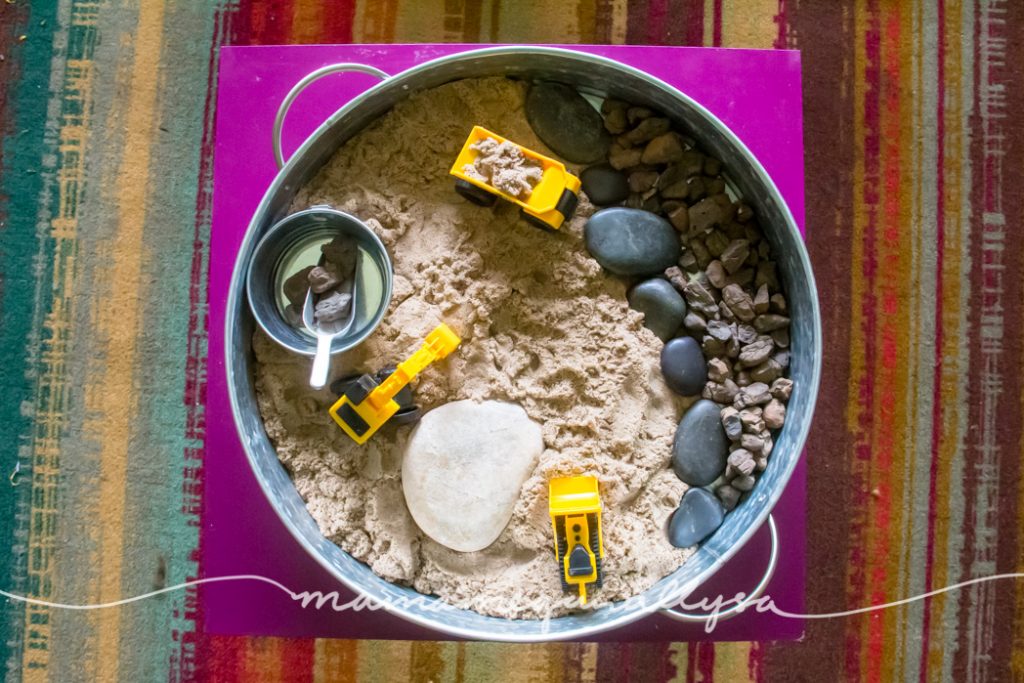 Semi-Independent play
I'm not going to lie to you. She asks me to play with her every time I get this out and she ALWAYS brings me a rock to investigate at some point.
That said. With a simple push and a reminder of 'you can play mom will be right here' she is content to independently play for 10-15 mins and that is just awesome in my books!
Her favorite part has definitely been the scoop and the sand. But I have seen her actively play with all the parts of the construction trucks sensory bin, and that's a refreshing change from her normal sensory bin play where she often just pushes things aside to play with only part of the bin.
Share your Construction Truck Sensory Bin with me!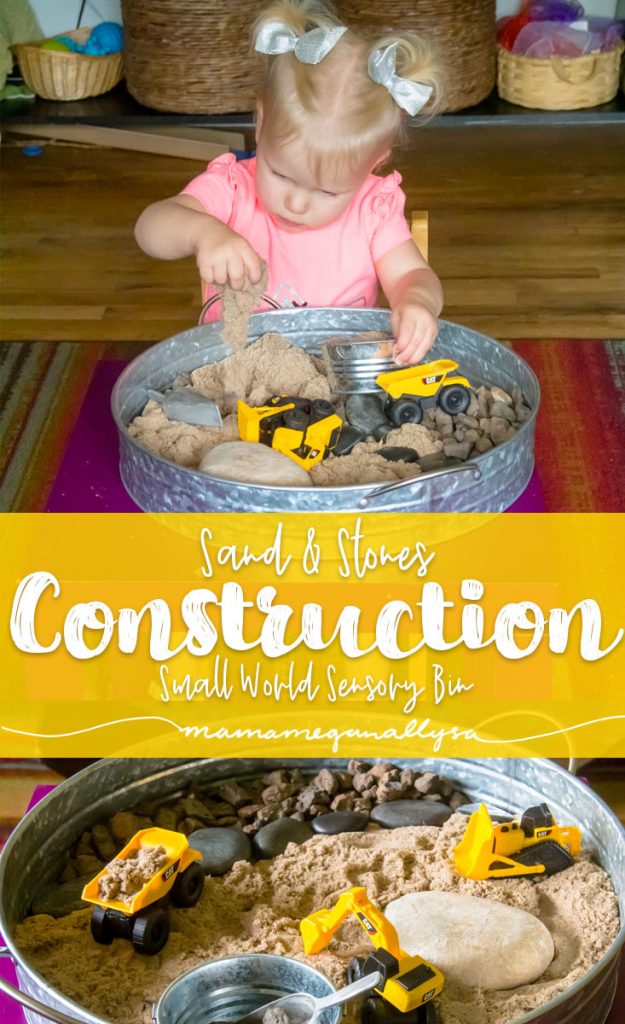 I feel like everyone and their grandma has done some kind of construction truck sensory bin, but I would love to see your versions! You can always tag me @mamamegan_allysa on Instagram or find me on Facebook!
Other Posts you may like