This was the first time in a long time that I actually forgot about toy rotation…
We had family in town in and out of the house for most of last week so Bitty just didn't spend as much time at home and what time she did spend here she was thoroughly entertained with her grandparents.
So this morning I had to make a decision. Do I rotate before she may be ready or do I rotate before things get stale?
Obviously I ended up rotating…lol
This post contains some affiliate links. As an Amazon Associate, I earn from qualifying purchases. I may receive a small commission from if you follow and decide to purchase. There would be no additional cost to you!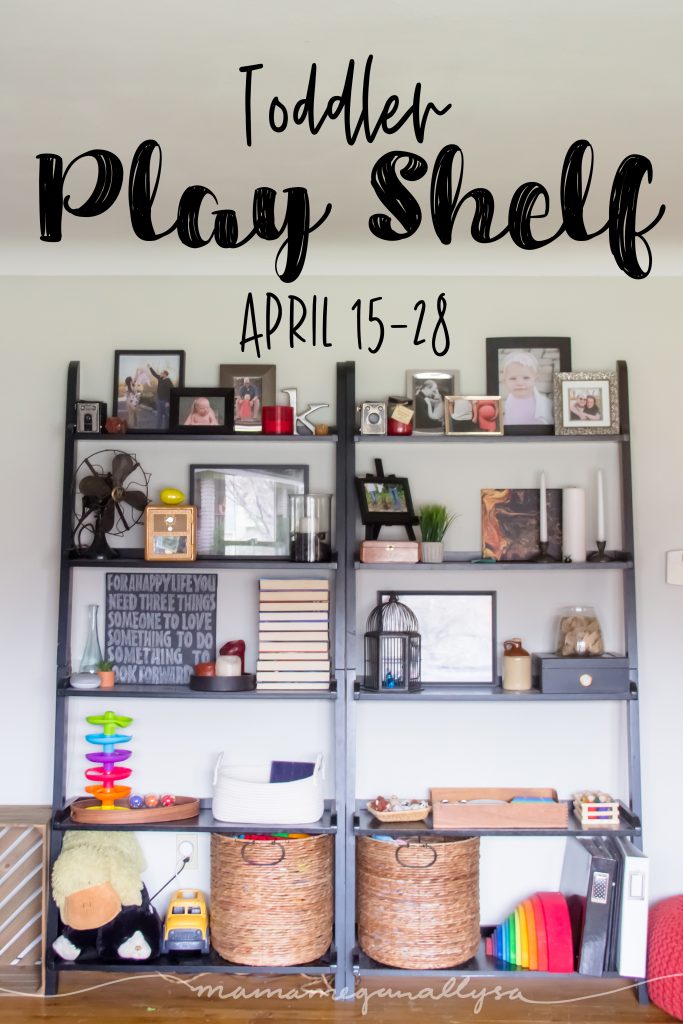 Activity Table
We moved her bigger table back to the sofa I just like it better here. We will just have to find some other small world situation.
We have her Forest Friends puzzle this week. This puzzle is one of her trickier ones as far as actually getting the pieces into the slots. Also without the picture on the back it adds an extra chalange. We will have to see how she does with it.
Play Shelves
I keep things quite simple, as we will be gone a fair amount with Easter this weekend. This rotation again she won't be here much to play with the toys that I have set out, so I didn't put too much thought into it.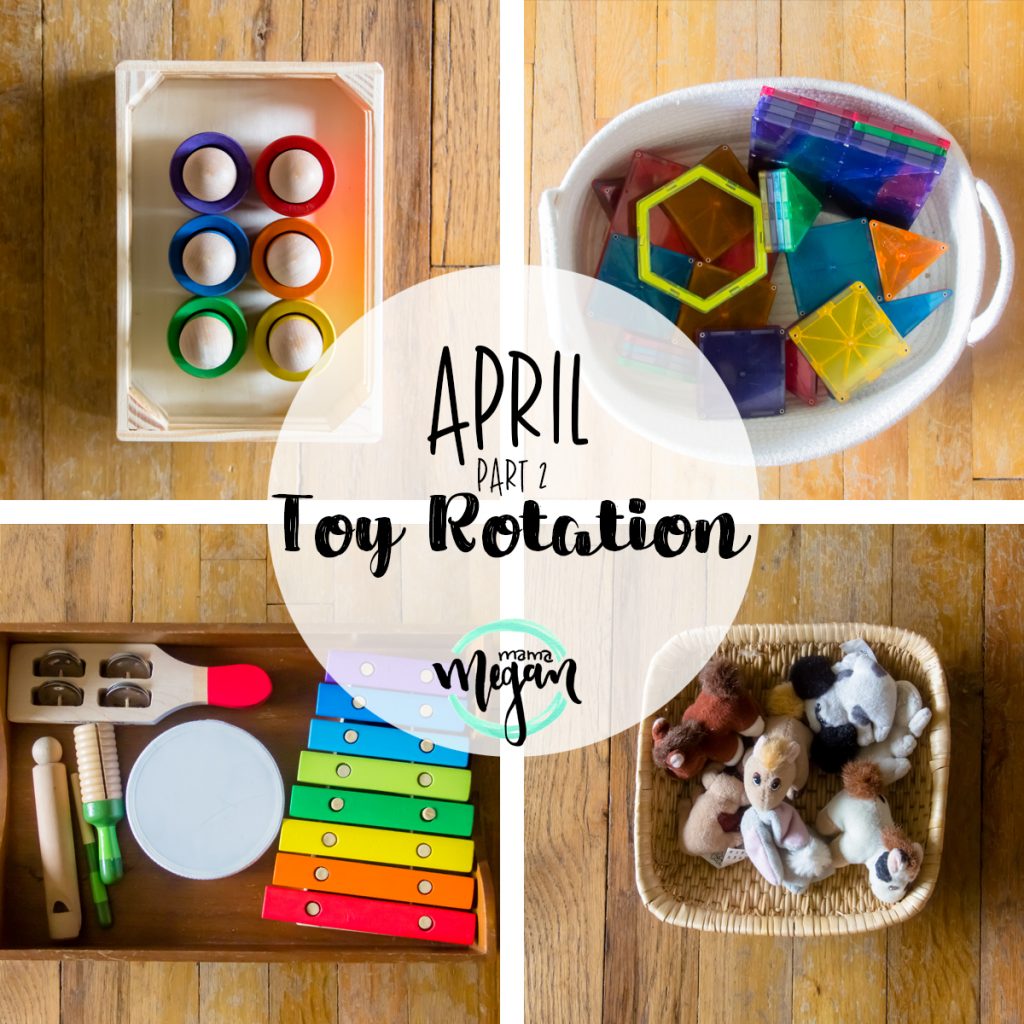 Her musical instruments are always fun to get out. We have collected a few random peices but most of these are Melissa and Doug. Right now she is getting really good with the tambourine and she really wants to figure out the slide whistle.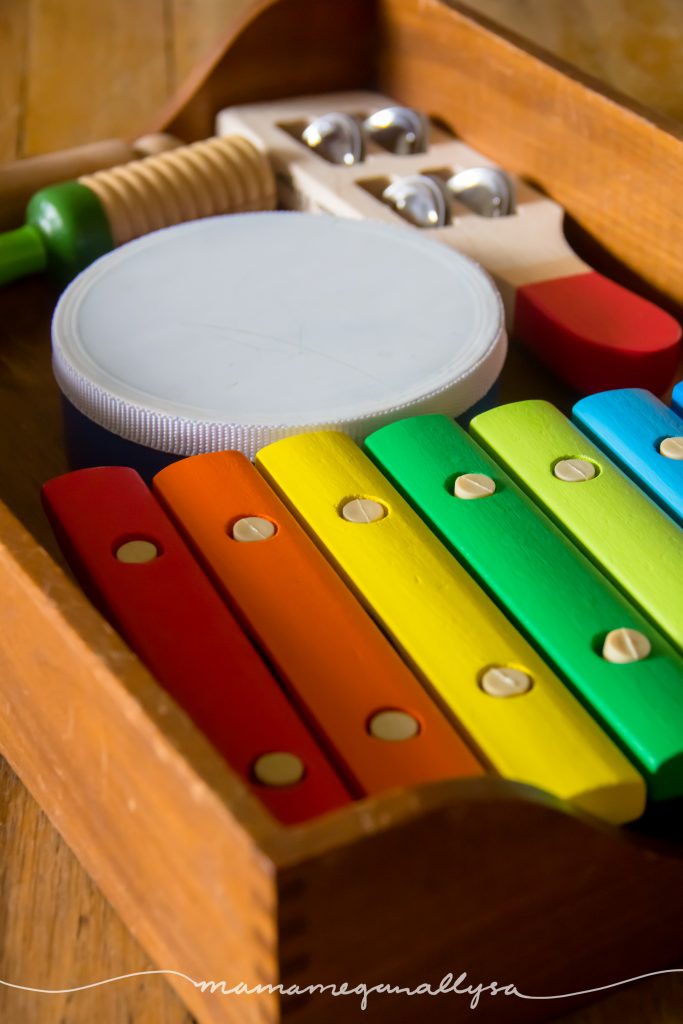 Does anyone remember Pound Puppies?! There are very few toys that I made a point to save from when I was kid. I mean don't get her wrong there are a ton of Beanie Babies and Barbies and a few Polly Pockets at my mom's house. But these Pound Puppies have stayed with me and oh how I wish I could find some more!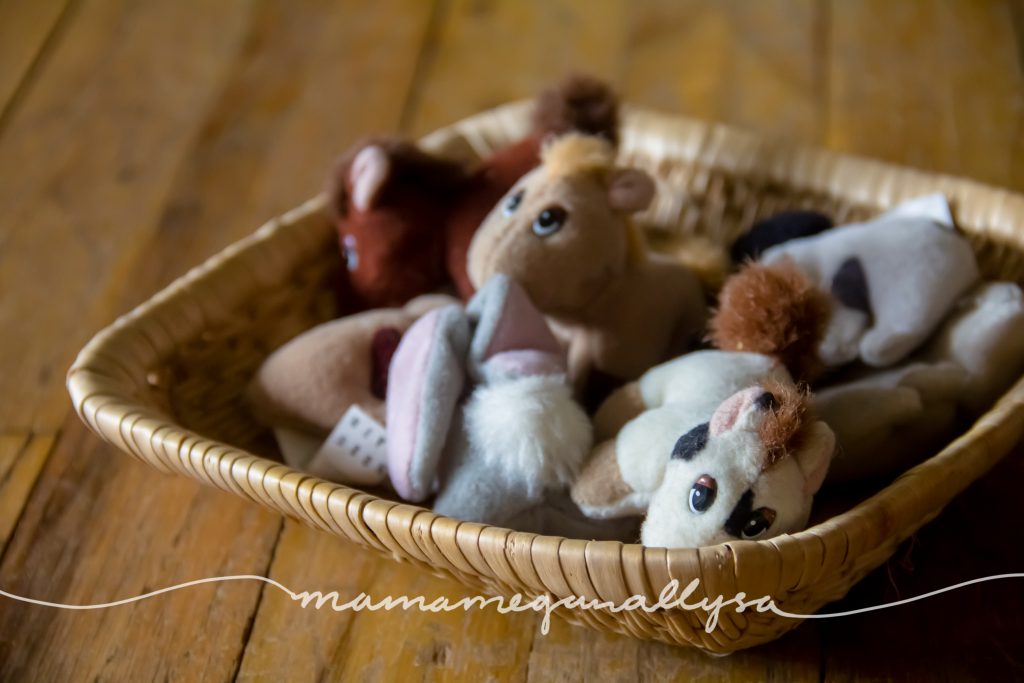 Bitty is currently obsessed with Horses so the little ponies are a no brainer. First thing she did when she discovered these was Neigh. So I'm going to call that a win.
Right now the MagnaTiles are more for Daddy and I. Bitty will stack them up occasionally but mostly she just loves being Godzilla baby and knocking her Dad's engineering feats down.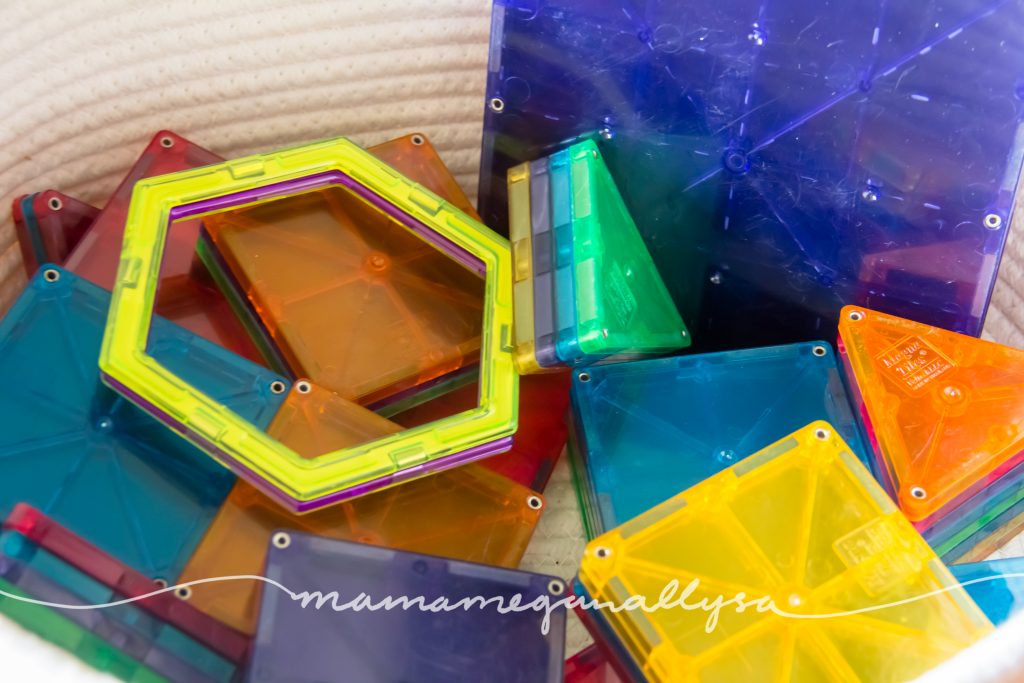 This rainbowball drop never ceases to entertain Bitty. To be honest I really like it too.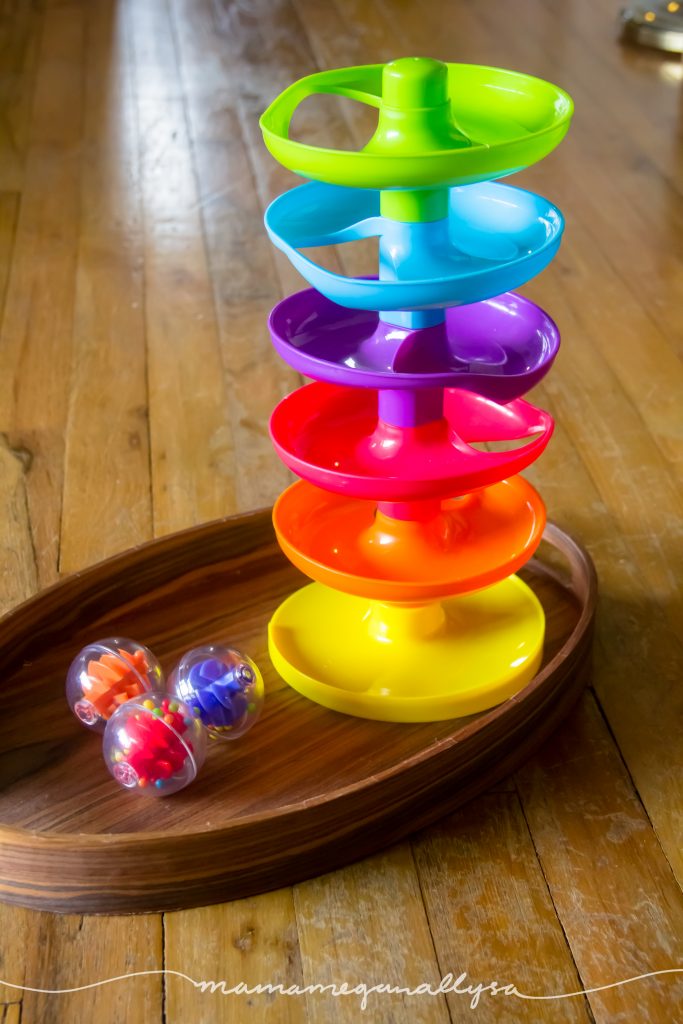 She has been pulling her Green Toys bus out of her closet everything I open it so I decided to just get it out for a rotation if she's that interested in it 😉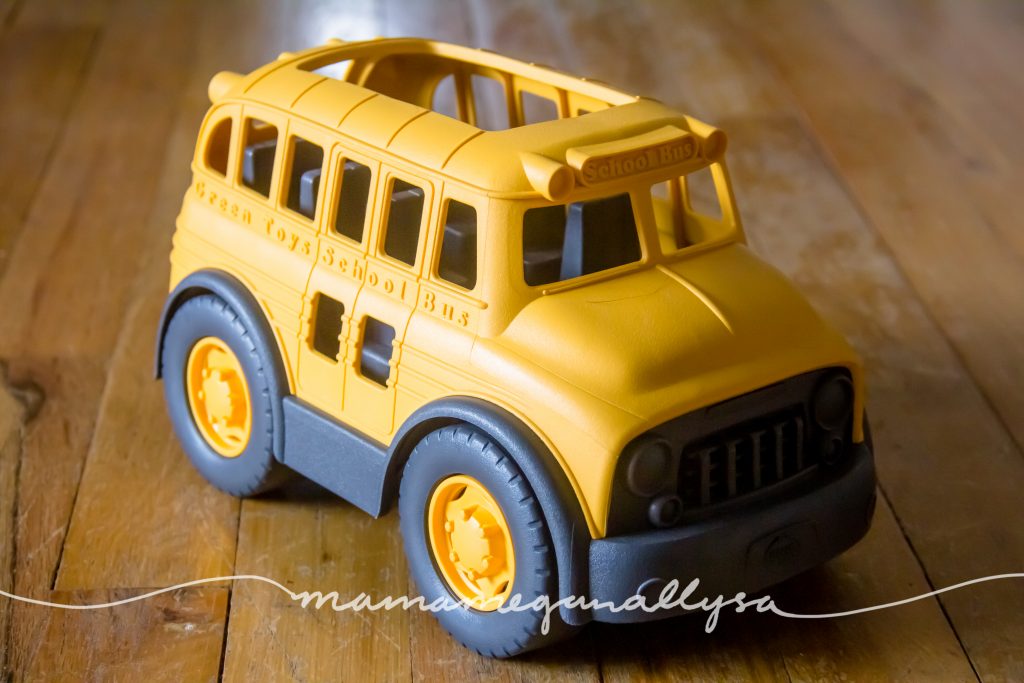 Our Grimms rainbow is still out, mostly because it's pretty. Bitty hasn't shown must interest in it lately. Unless I try and build with it…then she has to knock it all down. Similar to her and Daddy's Magnatile adventures.
Sneak Peek Peg People
I have been laboring over these peg people for WEEKS. Ok, laboring may be a bit of an exaggeration. I have had the supplies in my possession for weeks. They literally took me a couple of nights to get painted up. If you follow me on Instagram, (and you should 😉 there's lots of behind the scenes over there) then you saw my nearly complete set just the other day.
I chose to only pull out a few colors for now. I don't want her to get over whelmed and while I LOVE the full rainbow I know that's just too much for her to make sense of right now. At least as an open toy to play with full time right now. As her interest in colors grows I will add more people!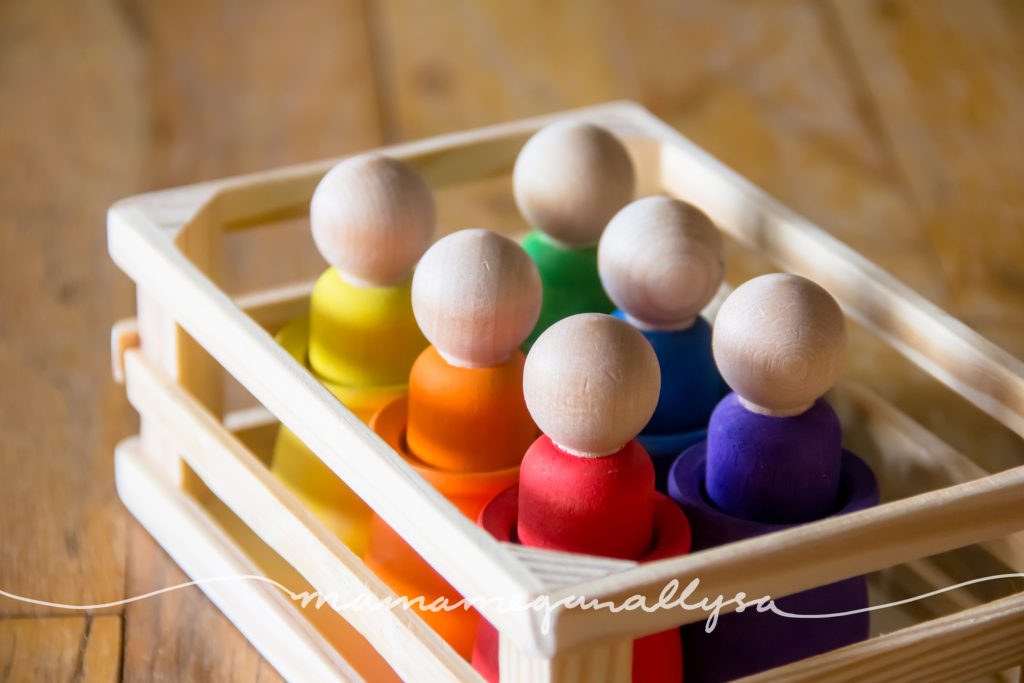 Keep an eye out for a post soon on these DIY painted peg people and loose parts! I have been hard at work and they are almost all done!
The Big Baskets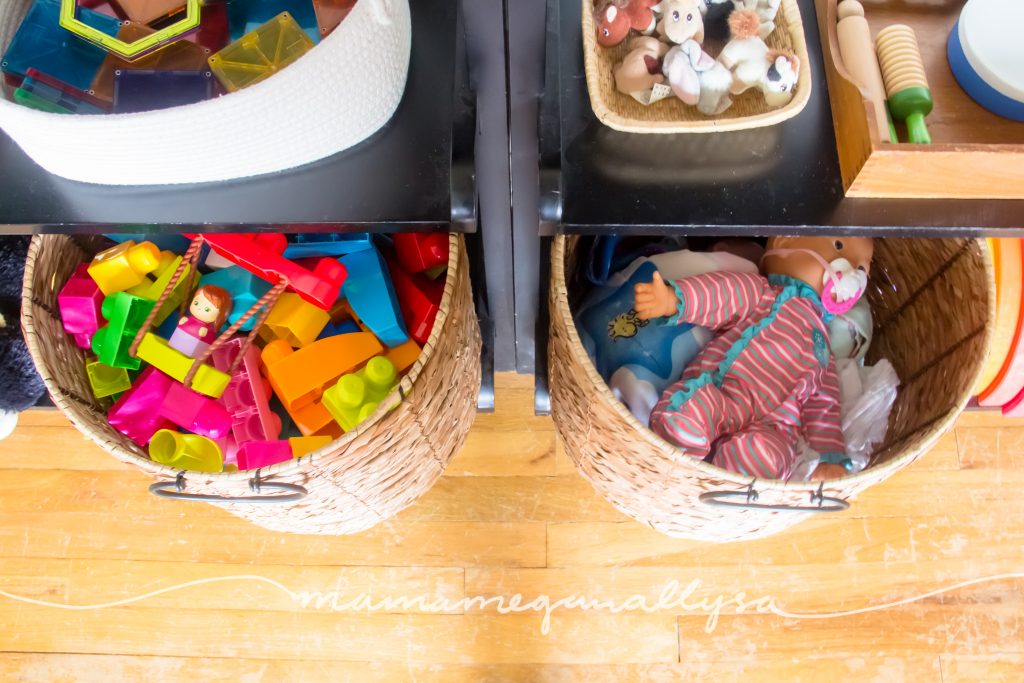 We have the Mega Blocks and her baby dolls as usual in the big baskets.
Gross Motor Fun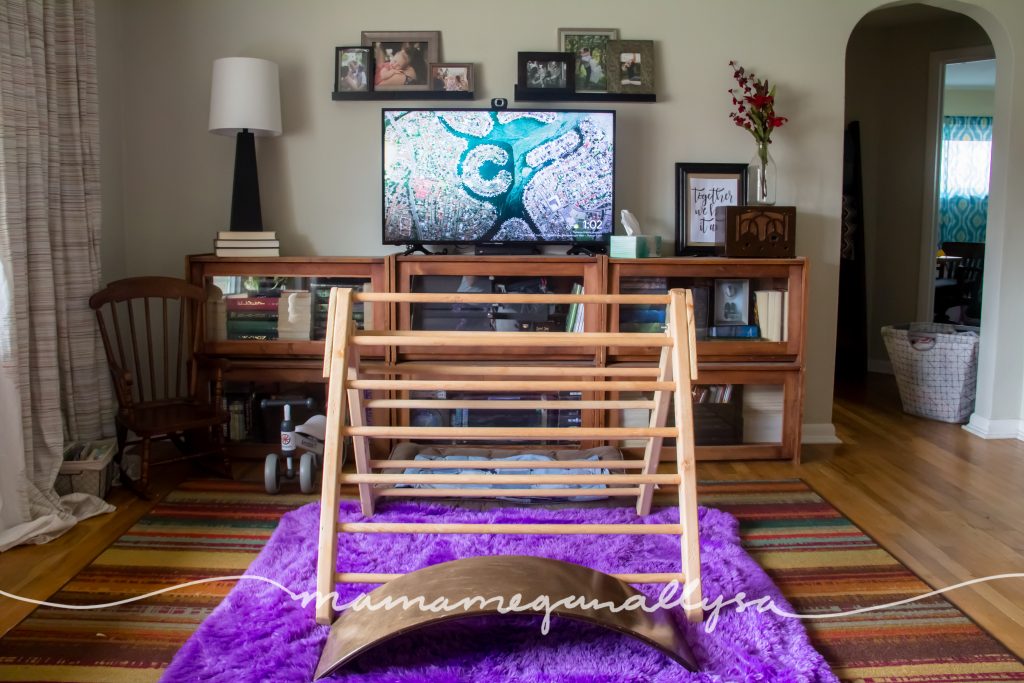 Her Pickler Triangle, bike and wobble board are in the center of the room. The wobble and the bike move around the room as the day goes by.
We have her rocking chair in the corner along with her basket for our library books.
The Window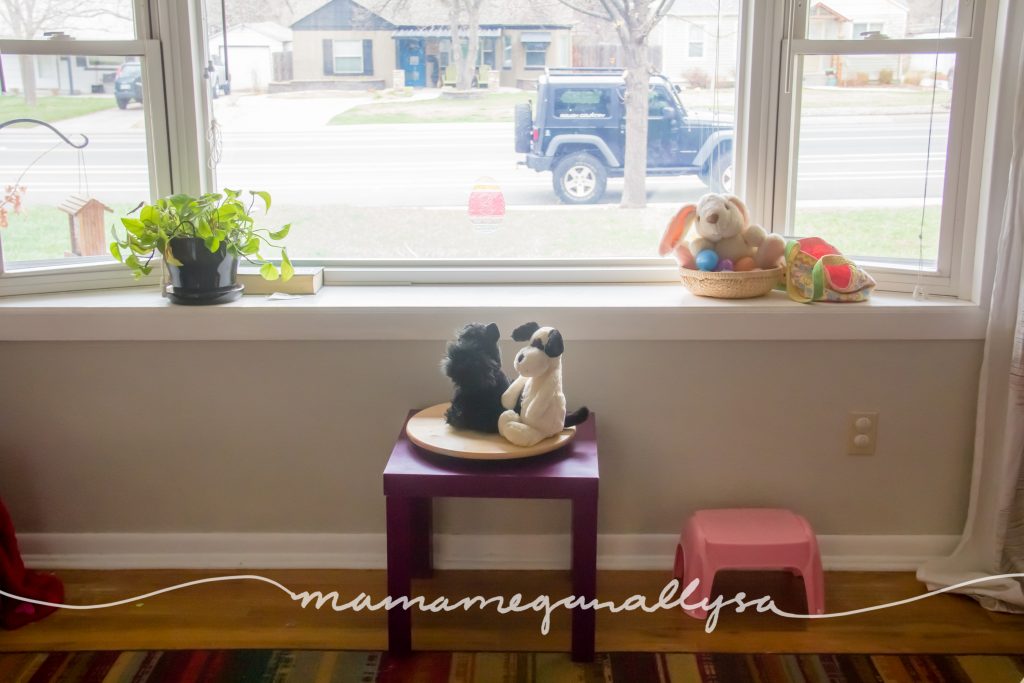 I have a basket of plastic Easter eggs and her stuffed bunny puppet out for decorations/discovery tray play.
I moved her little play table directly under the window at the moment and I don't know how I feel about it…It's not directly in the way but I also don't like that it's in front of the window, because well I like to stand at the window with her. Where would you put a play table in our living room? I'm struggling.