A fun way to add a little winter play into your day is to set up a chilly arctic small world sensory bin! Using Epsom salt as the filler you can get some beautiful sparkly snow, then add in some polar animals and some ice crystals for good measure, and your all set!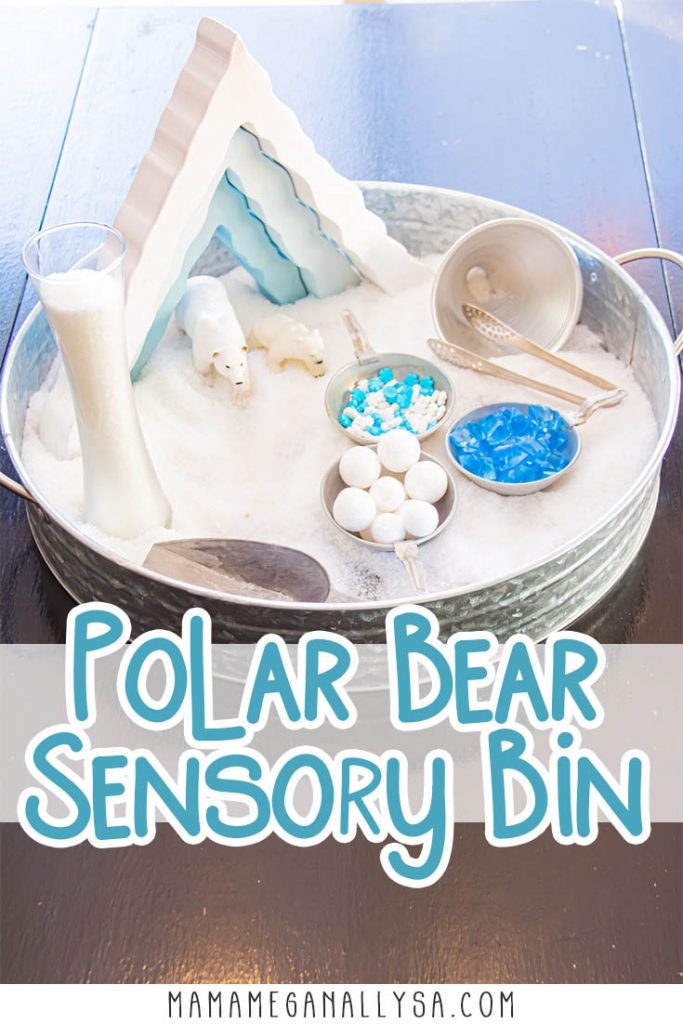 An Arctic Small World Sensory Bin for Polar Play indoors!
January seemed like the perfect time to do a little polar themed play. But im gonna be honest with you am a total wuss. I hate being cold. Thankfully our arctic small world sensory bin just looks chilly!
This post contains some affiliate links. As an Amazon Associate, I earn from qualifying purchases. I may receive a small commission from if you follow and decide to purchase. There would be no additional cost to you!
Arctic Small World Sensory Bin Supplies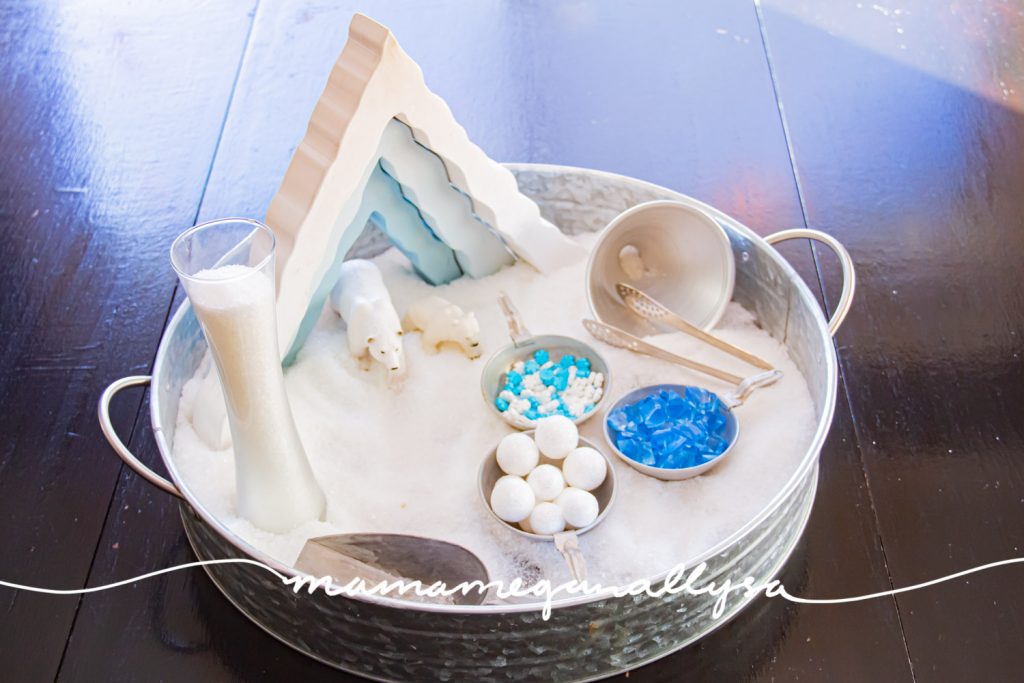 Epsom Salt makes the PERFECT fake snow filler for your Arctic Small world sensory bin!
There are a lot of people that probably know that Epsom salt exists and there are probably even a few that have a bag sitting lost in the back of the bathroom cupboards. But do you know that Epsom salt can make a GREAT sensory filler?
I think it makes the best snow. The crystals are rather large and it sparkles just like freshly fallen snow!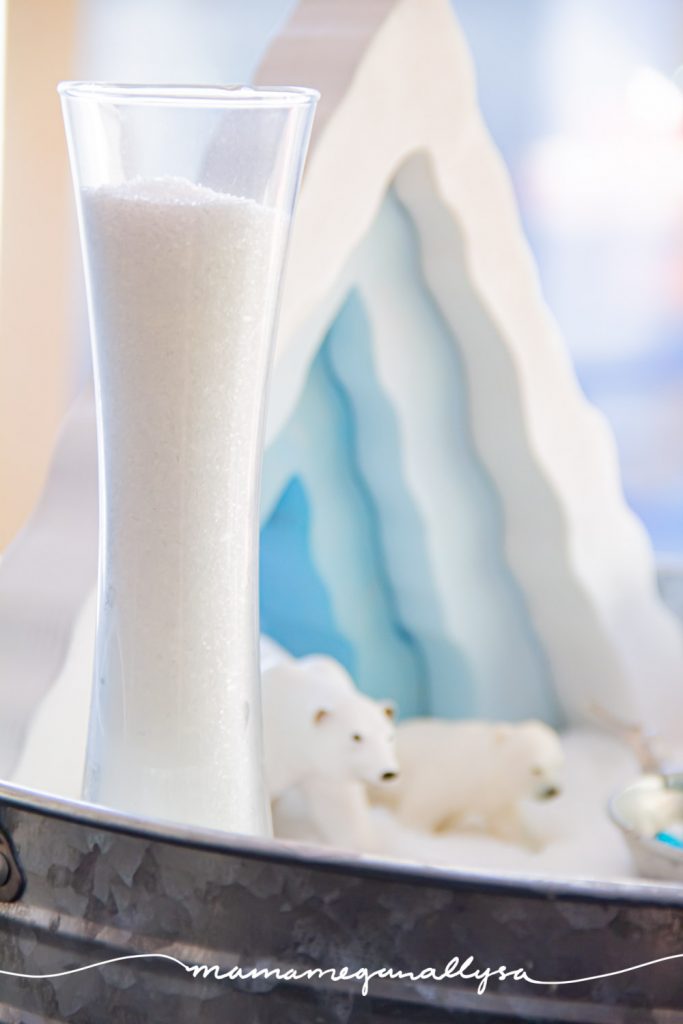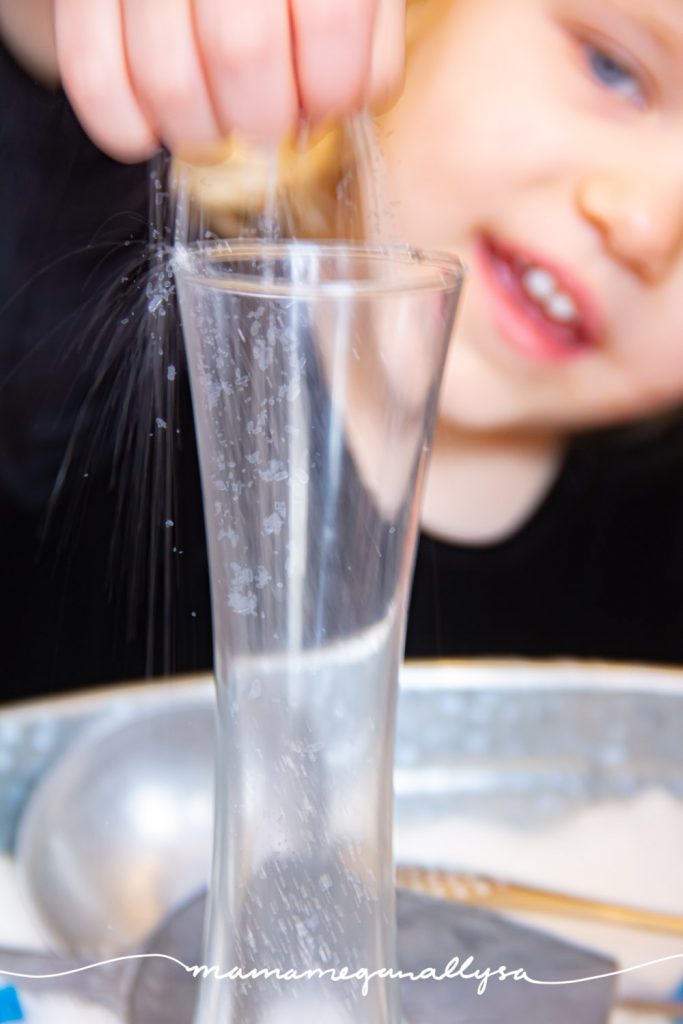 Another fun bonus is that Epsom salt is often infused with other ingredients that can add a great aroma to your arctic small world play! Ours is coconut but I've used lavender before and I want to try out orange next time!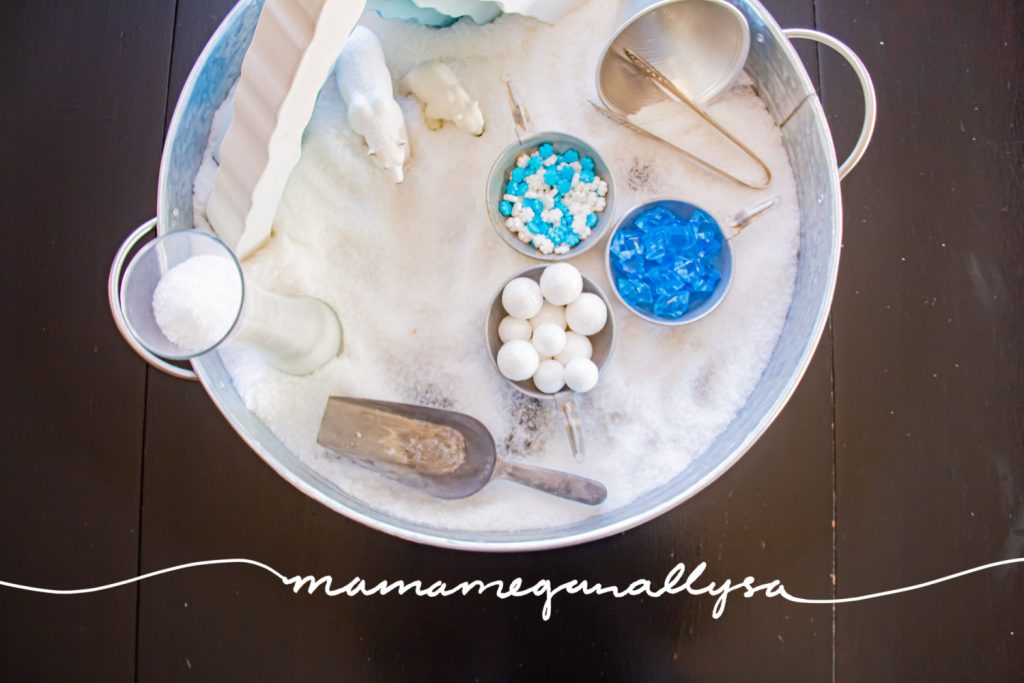 How to Set up an Arctic Small World Sensory Bin
Every now and then it's fun to set up a sensory bin that encourages a little imaginative play as well as sensory play. This is where small world sensory bins come into play

When you build any kind of sensory bin the very first thing you'll need is filler. In an arctic small world sensory bin, you'll need snow of some kind.
After the filler, you'll need are some animals. I chose to go with a mama and baby polar bear, as family units are Bittys favorite way to play right now.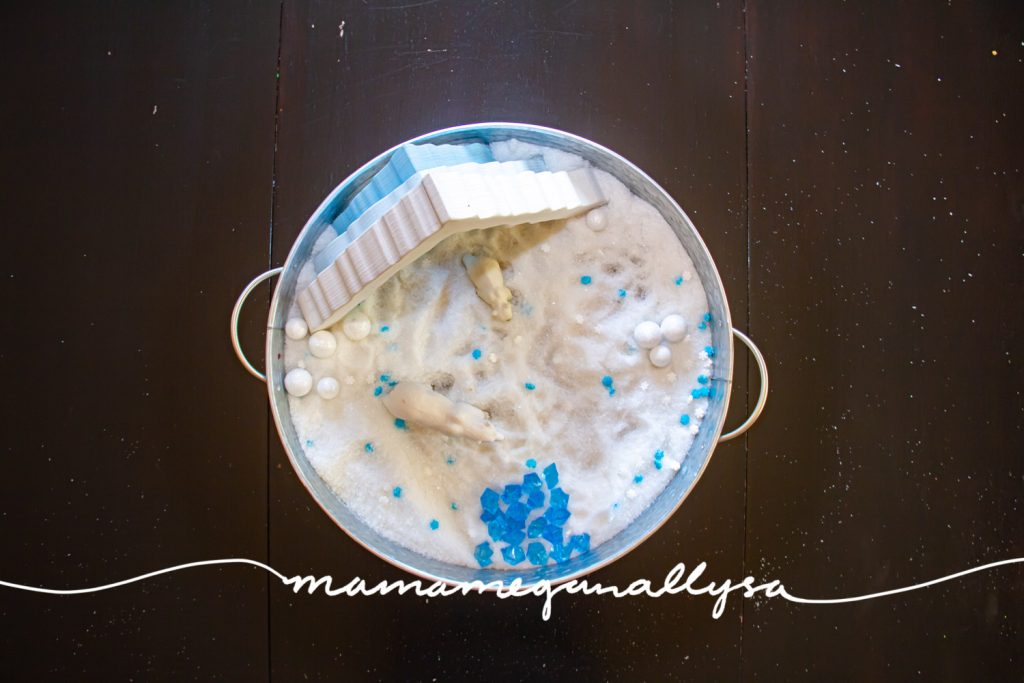 I personally feel that the animals need some kind of feature to interact with. A forest of pine trees, a frozen pond, a pile of rocks, or my favorite, a cave!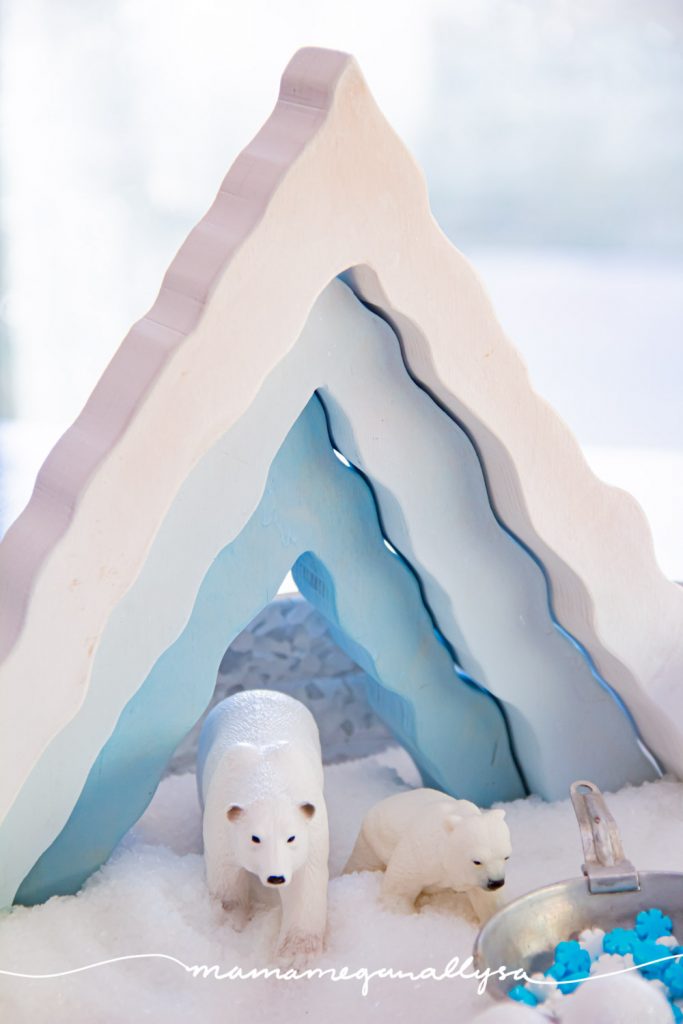 The last step is to add some additional manipulatives. I like to use random loose parts to help pull the theme together. I chose to add some "ice crystals" and snowballs. These loose parts can really help to spark creativity as well as some great fine motor practice!
For tools, I almost always include some tongs and a scoop. I find she likes to fill up a vase or bowl with the filler, so there is often one of those as well. Seeing as the Epsom salt flows quite nicely I thought a funnel might be fun as well.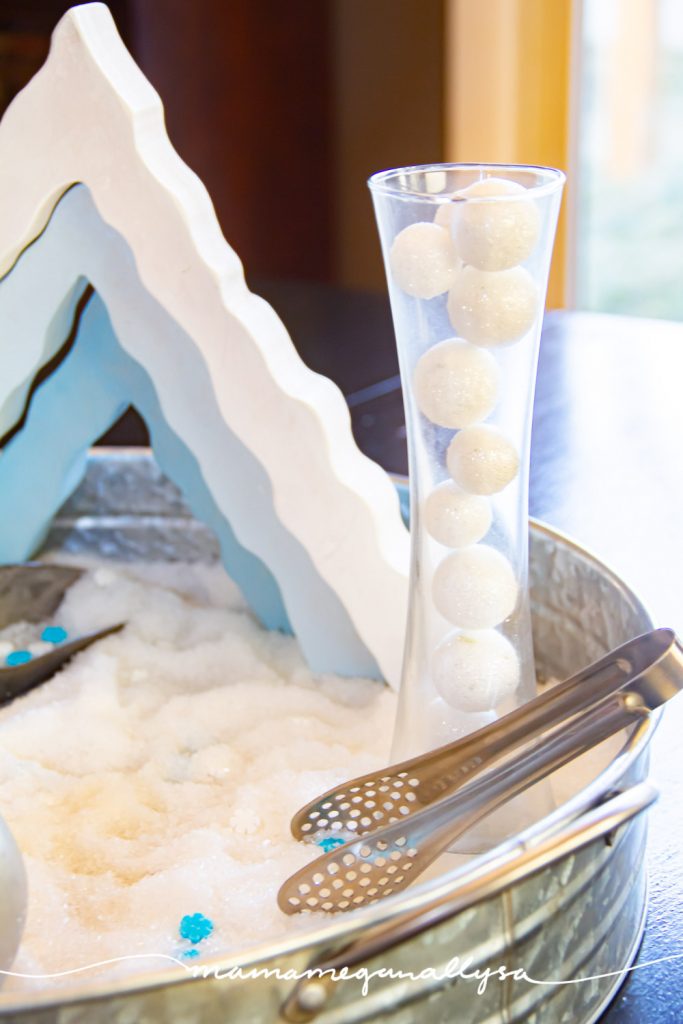 Completly Lost when it comes to Sensory Bins?! I've Got you covered!
If you want more details on how to build a sensory bin from the ground up you can check out these posts here!
Arctic Small World Sensory Bins are super easy to customize!
One of the things I love about any sensory bin is how personalized it is to you and your kids!
You want to do this but you don't have Epsom salts? No Problem, there are lots of other white sensory bases like sugar, fake snow from the Christmas section, Floof, or some real snow from outside and if you live where it doesn't snow, they even make instant snow!

Maybe your kid is more interested in penguins, try using a whole flock. Or maybe they like more variety in their animal choices so they can build a whole ecosystem.
The loose parts you choose to add will be totally unique to whatever you happen to have on hand or can fin in store!
It's honestly so cool to see the diversity that can come from the simple idea of an arctic small world sensory bin.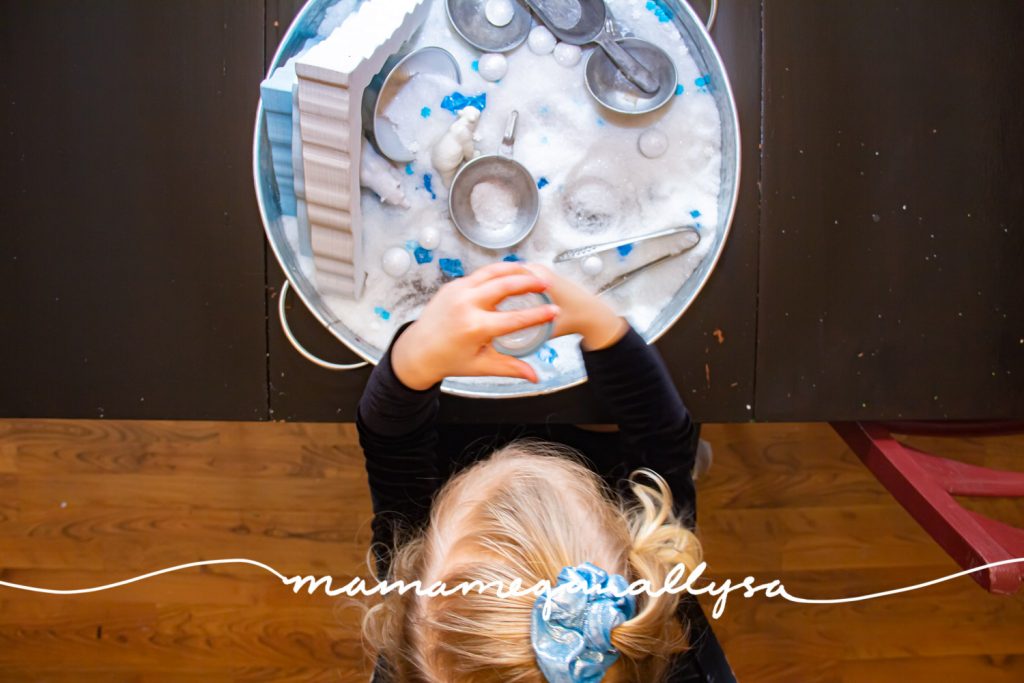 Share your arctic small world Sensory Bins with Me!
Your Arctic Small World sensory bin will be uniquely yours and I would LOVE to see what you come up with! Tag me on Instagram and share your Arctic small world sensory bins.
An Arctic small world sensory bin was a super fun way to add a little polar themed play into our day without heaving to get all layered up with our snow gear, and you know what a three ring circus that can be…
Other Posts you may like