If you have a little one who likes to help out in the kitchen then these food books for preschoolers will be right up their alley! I've included nutritional nonfiction, multicultural cooking, diverse foods and so much more in my selections!
Homeschool Preschool Food and Cooking Unit Study
I shared all about our homeschool preschool Food and Cooking Unit in another post! Be sure to check it out if you want activity suggestions and craft ideas for your little chef!
One thing I like about our lesson plans is that anyone could adapt them easily for use because we rely on books to be our main teaching tool! Make sure to check it out after you reserve some of the books below!
We had so much fun exploring diverse cooking and nutritional value in these food books for preschoolers! Definitely go to your local library and check out some of these amazing books! You won't be disappointed!
Disclamer
This post contains some affiliate links. As an Amazon Associate, I earn from qualifying purchases. I may receive a small commission from if you follow and decide to purchase. There would be no additional cost to you!
General Preschool Food Books for Preschoolers
So this category is a little random honestly. I included any food books for preschoolers that had at least a little to do with eating, cooking, or a wide variety of foods
Cooking and Food Diversity Books
Here are a few food books for preschoolers about the actual cooking process, and a few about how different and the same food is all around the world
Multicultral Food Books for Preschoolers
This was my personal favorite variety of food books for preschoolers. I love learning about all the different kinds of foods that people eat! If you have any others that you really like I would love some suggestions!
Food Group Books
These food books fore preschoolers the real "meat and potatoes" of our homeschool lessons. The simple nonfiction that our lessons are based on. I wanted to keep it simple and not focus on healthy eating so much as the various food groups and examples of protein/calcium/vitamin sources!
Board Books for Food Tot School
I had to include a few honorable mentions that we love for toddlers as well!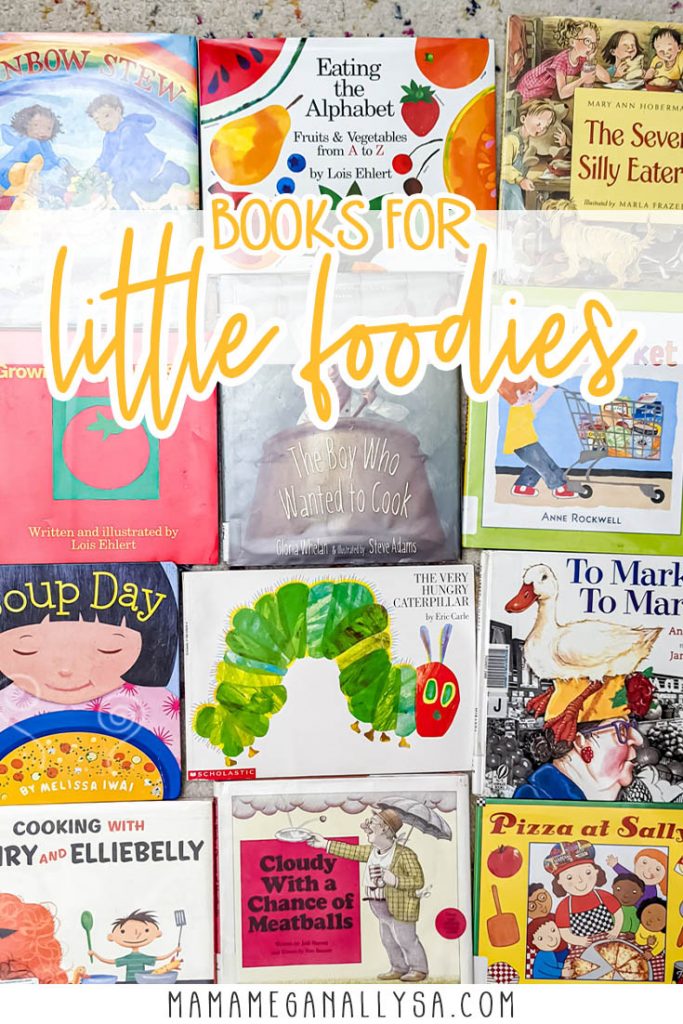 If you want more details on our homeschool preschool food and cooking unit, you can check it out here. I go into more details about the kind of work, the crafts, and everything that we did during this unit study!
Other Posts you may like