In an effort to cheer us up and get us through the last dregs of winter I planned a Springtime toy rotation! Here in Colorado, we have been teased with a few beautiful days, but they are always followed by cold and dreary days as well. So we needed something fun and bright for those grey days.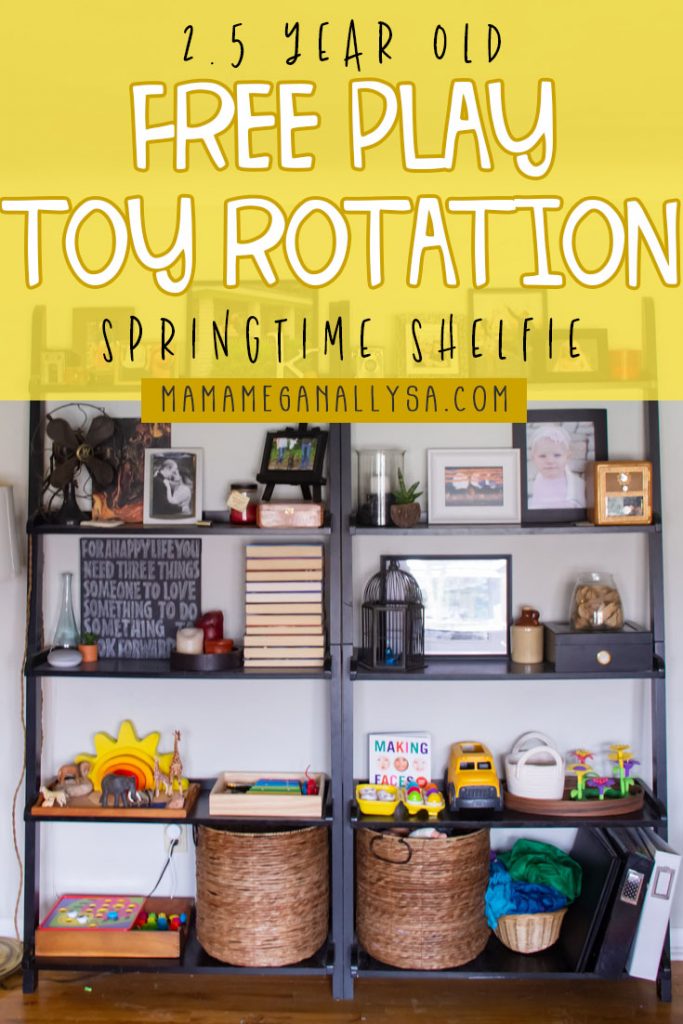 Our Springtime toy rotation has lots of bright sunny yellow, some baby animals, and of course, we can't forget flowers and bugs
Lots of Time at Home
We are 5 weeks into social distancing, and that means we are home all the time and thus playing with our toys more than ever. Bitty has definitely been getting bored so we have been rotating toys much more often to help keep everyone sane.
This post contains some affiliate links. As an Amazon Associate, I earn from qualifying purchases. I may receive a small commission from if you follow and decide to purchase. There would be no additional cost to you!
Living and Playing All in One Place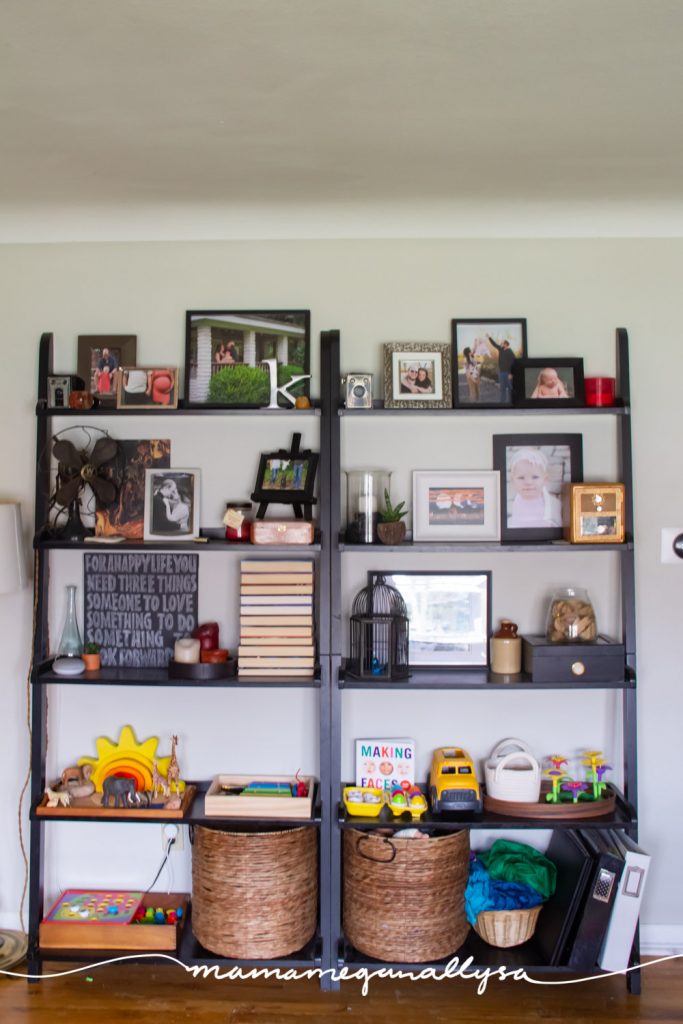 Our playspace also happens to be our living room. We keep all the toys in the living room where we have two bookshelves along the wall. The bottom two shelves are hers for free play. The only things that we don't keep here are her dress-up clothes, play food, and books.
We also have her gross motor toys in the living room. These tend to move around. Currently, we have the picker pushed up against the couch creating a little cave.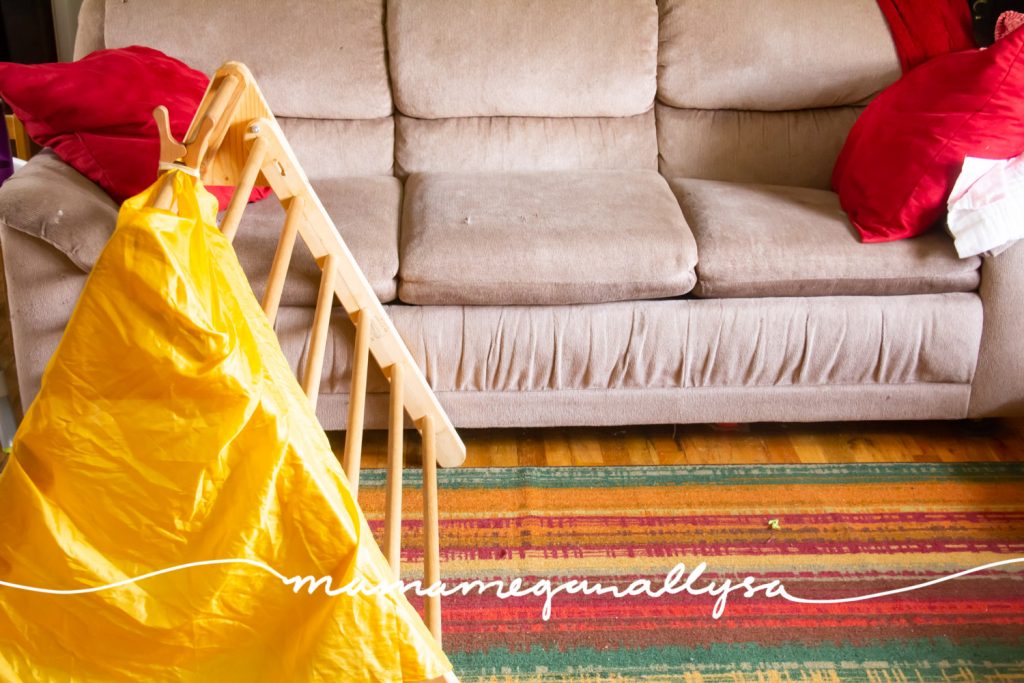 I would love to be able to have another room to play in, just for a change of scenery. But I am also aware that kids want to play where you are, so more than likely she would be in the living room playing no matter what. So, for now, this system works for us.
Dramatic Play Space
Behind the couch in what could be called our entryway we have her play kitchen and baby doll furniture. It is easily accessed but out of the everyday line of sight. I like it this way. It keeps the living room from looking too much like a preschool…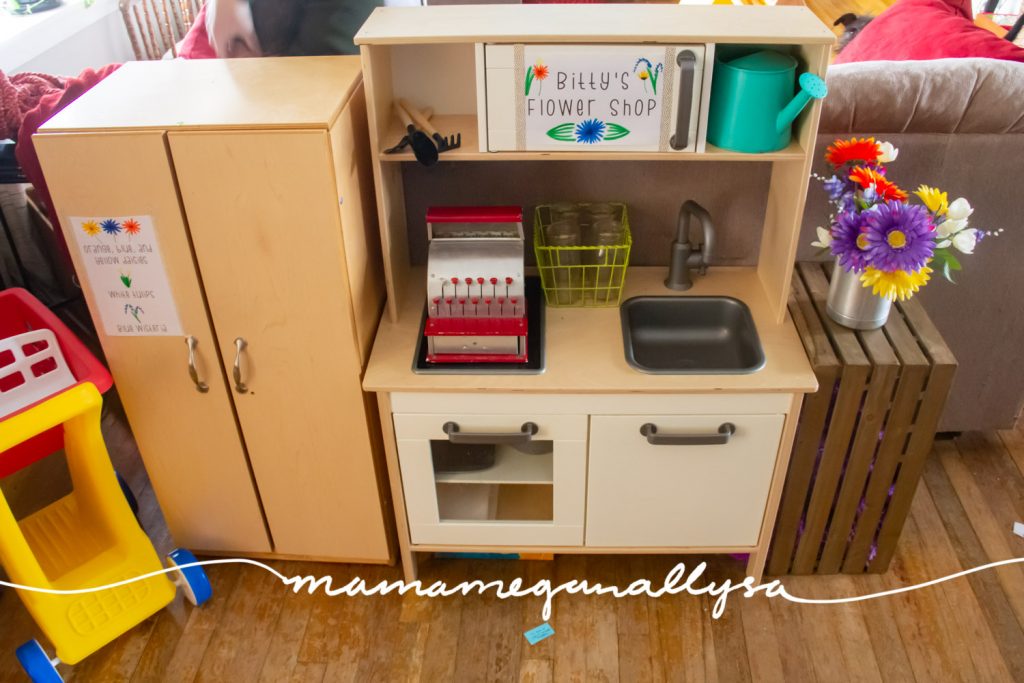 For our Springtime Toy Rotation, I set up her kitchen as a little flower shop. We have a plant store that we love to visit and browse but with the Shelter in Place order we are unable to go. So I thought it might be fun to try and create a little plant store for her.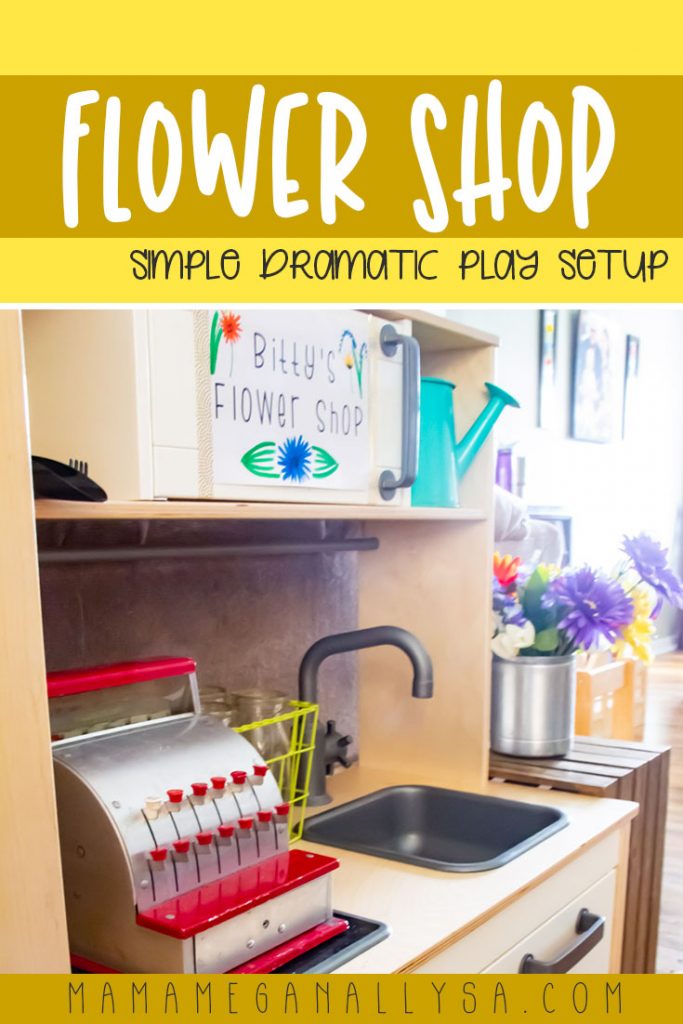 I placed her little cash register on the side of the burners of her play kitchen and then added a bucket of fake flowers and some little jars for arranging the flowers in. I added her watering can and some little shovels just to add to the theme.
This is the first time that I have tried to turn her kitchen into something else and honestly, the very first thing she did was ask me to move the cash register so she could make dinner…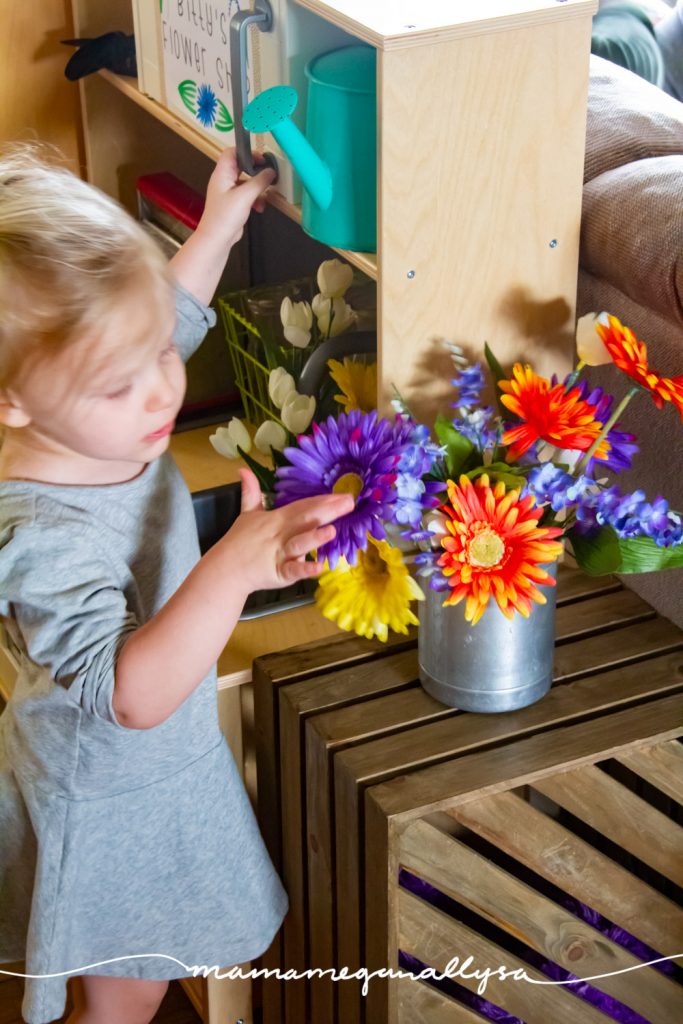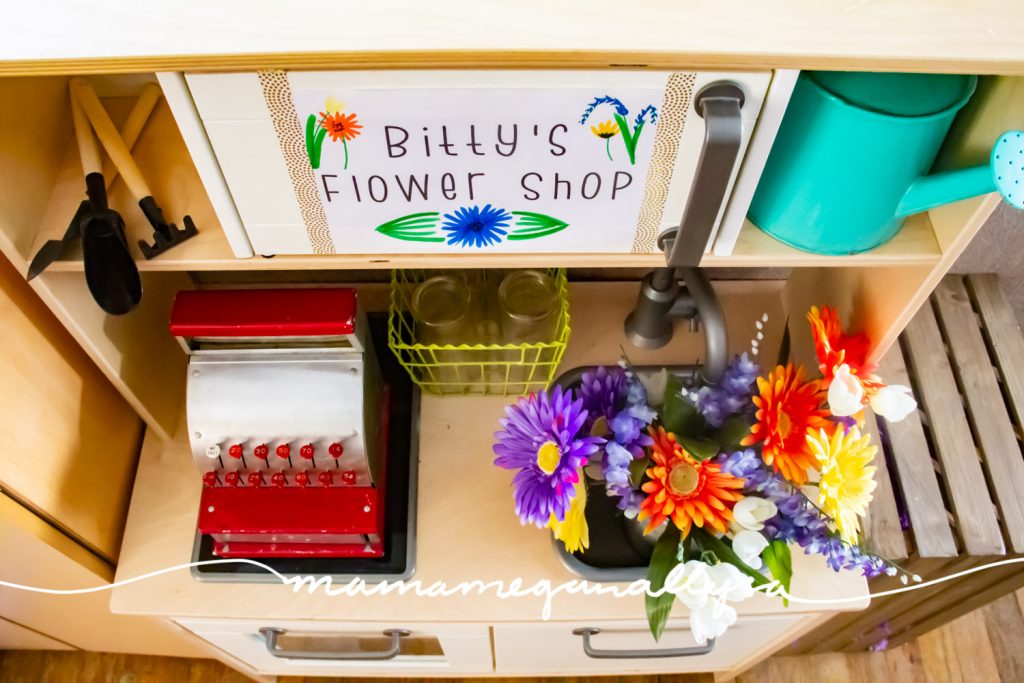 So dramatic play like this might be a little out of her grasp just yet…lol
Table Top Play
Her small table is honestly mostly for eating these days. I have a couple of activities that we will pull out and play with here. Puzzles and play dough are the most common and we do tend to use it for sensory bins as well.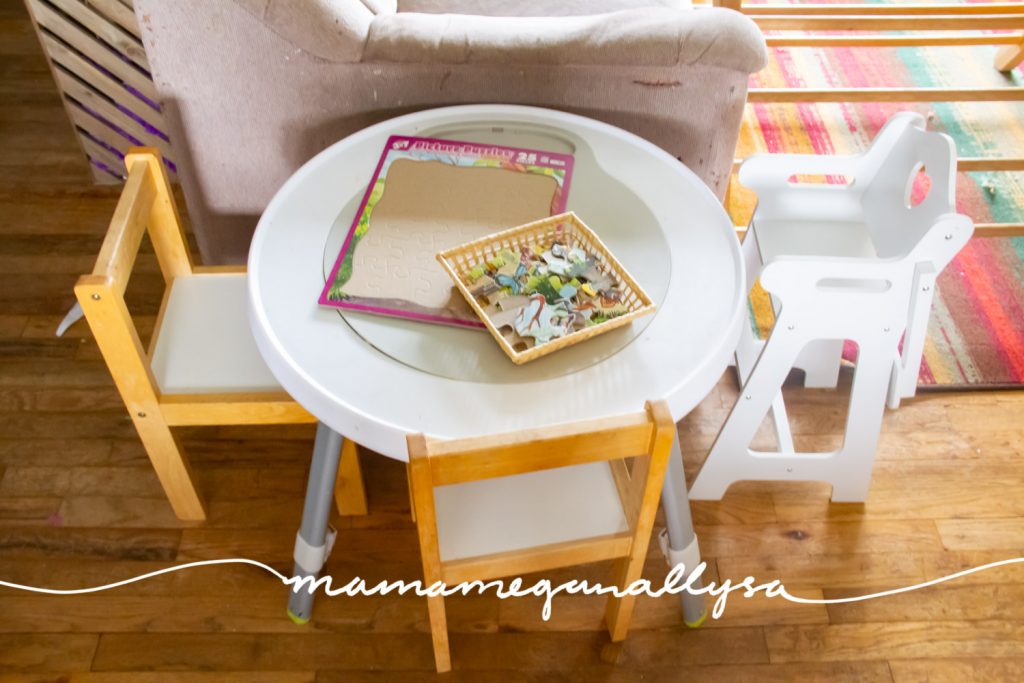 For our Springtime toy rotation, I pulled out a butterfly jigsaw puzzle. It's honestly too complicated for her, but we are at an interesting point with puzzles. They either are way too simple and she does them once and is done or they are too complex for her and she won't touch them unless I help her and then it's mostly me doing the puzzle.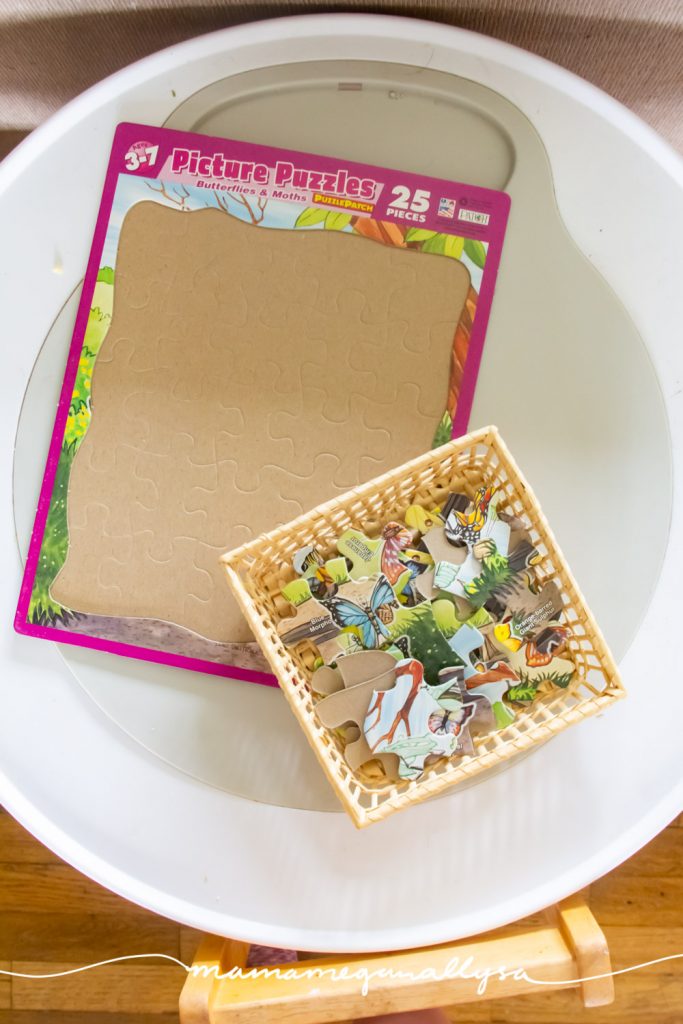 If you have any tips or fun ideas for puzzle play for a 2.5 year old I would love to hear it!
Baby Play Space
Bean may not be moving around much but she is taking up her fair share of the living room.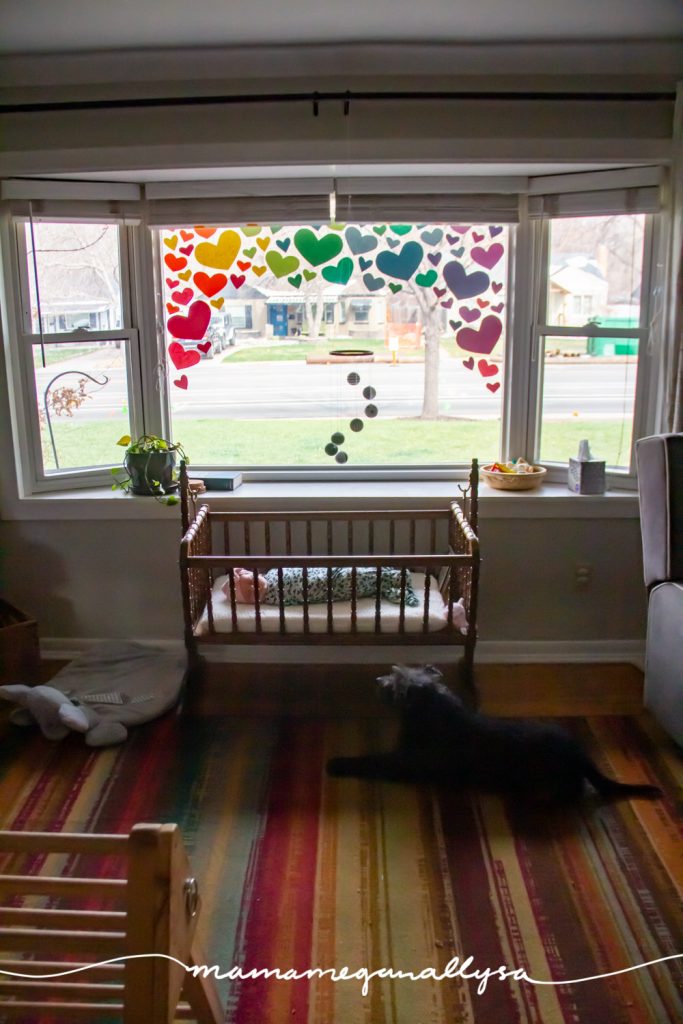 She has her cradle in front of the window with a DIY high contrast mobile (be on the lookout for a post about that!) hung above it. Then we have a tummy time mat that tends to live next to the cradle and moves around if we are playing on the floor a bunch. She is starting to hate tummy time a little less, so we are using this mat more now and will probably be getting out the baby gym soon.
Then we have the rocking chair in the corner. I don't foresee this leaving the space any time soon, as Zak has strong opinions on the state of our couch…lol
Springtime Toy Rotation
My toy rotations are for a 2.5-year-old. We are rotating every 2 weeks with a small refresh of one or two toys every week.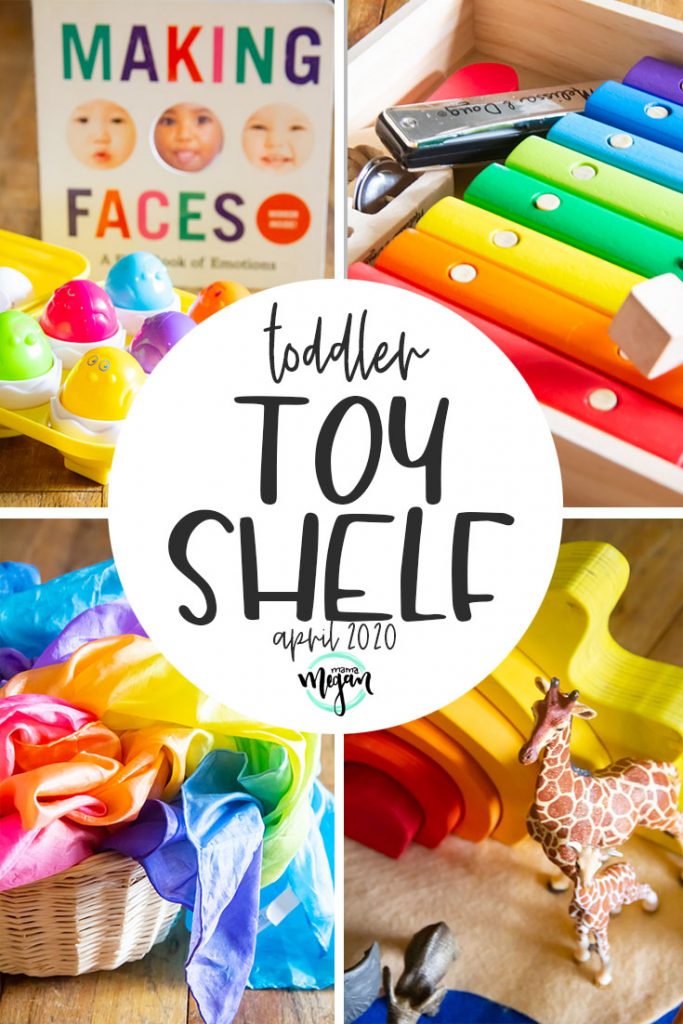 Build a Bouquet – She just received this for Easter and I think she will really enjoy this. Currently, she likes to color match with them.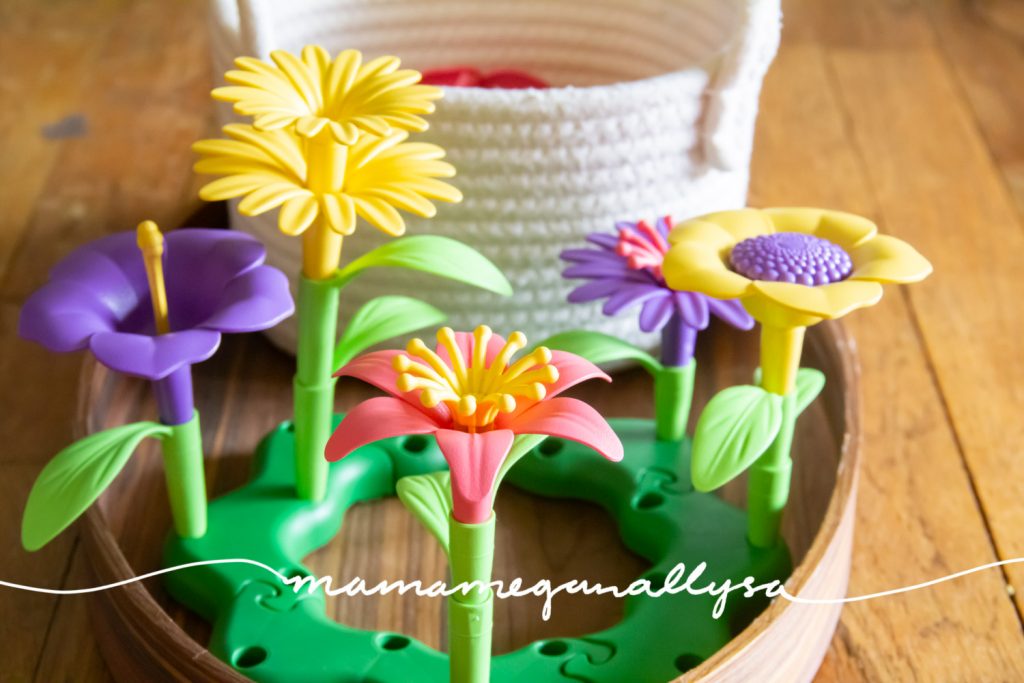 School Bus – Always good to have a vehicle of some kind out for every toy rotation.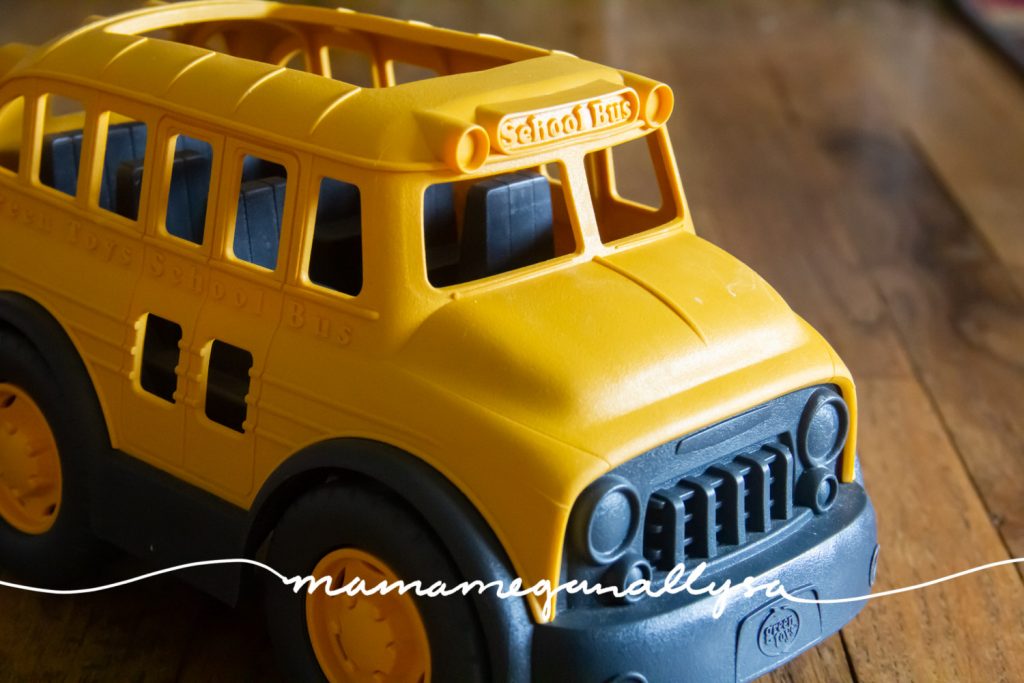 Hide and Squeak Eggs – these are technically a little young for her. It was nice watching her explore them for the first time but after that initial day, she didn't really interact with them much. In an effort to expand play I included the Making Faces book so we could talk about the different faces and emotions the eggs are making.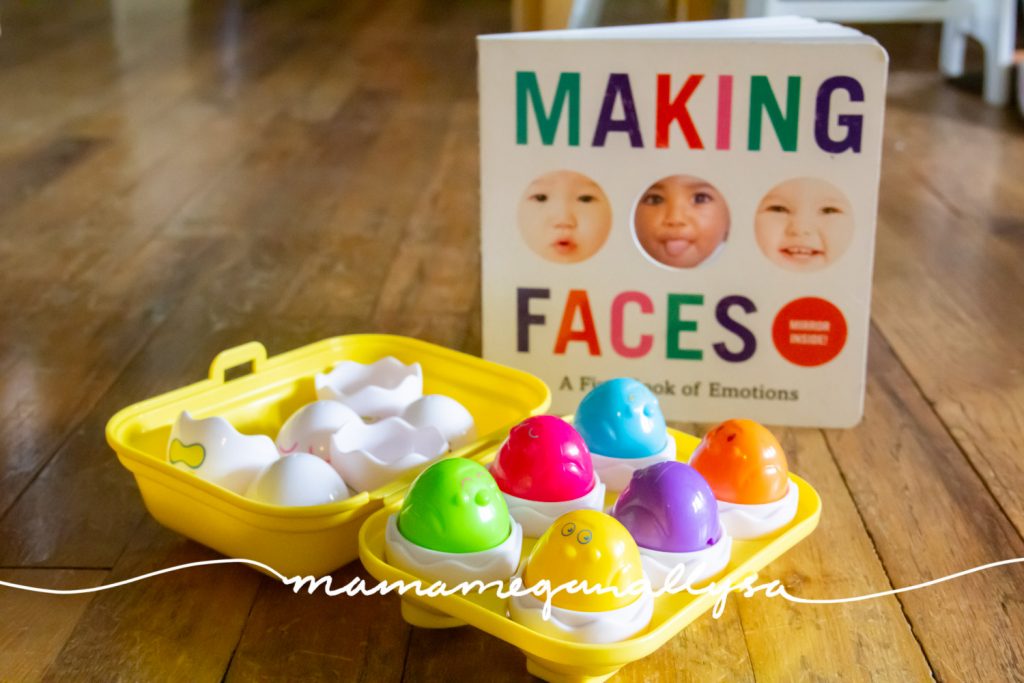 Musical Instruments – She just figured out how to work the harmonica so that the only instrument that she really interacted with much this time around.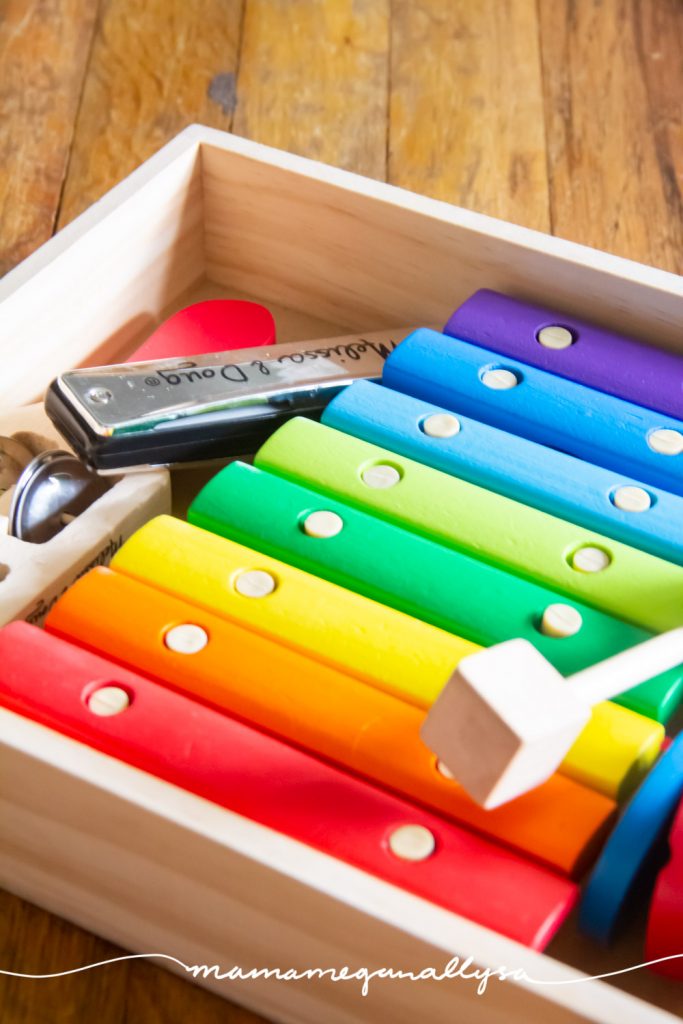 Safari Small World – I wanted to have a set of animals that had moms and babies, and the Safari animals are the most babies that we currently have. We have the giraffe and baby, the Cheetah and baby, Elephant and 2 babies and I included a lion as well.
The Safari theme also works out well as I can include our DIY sun stacker as a backdrop which adds some more yellow to our shelves!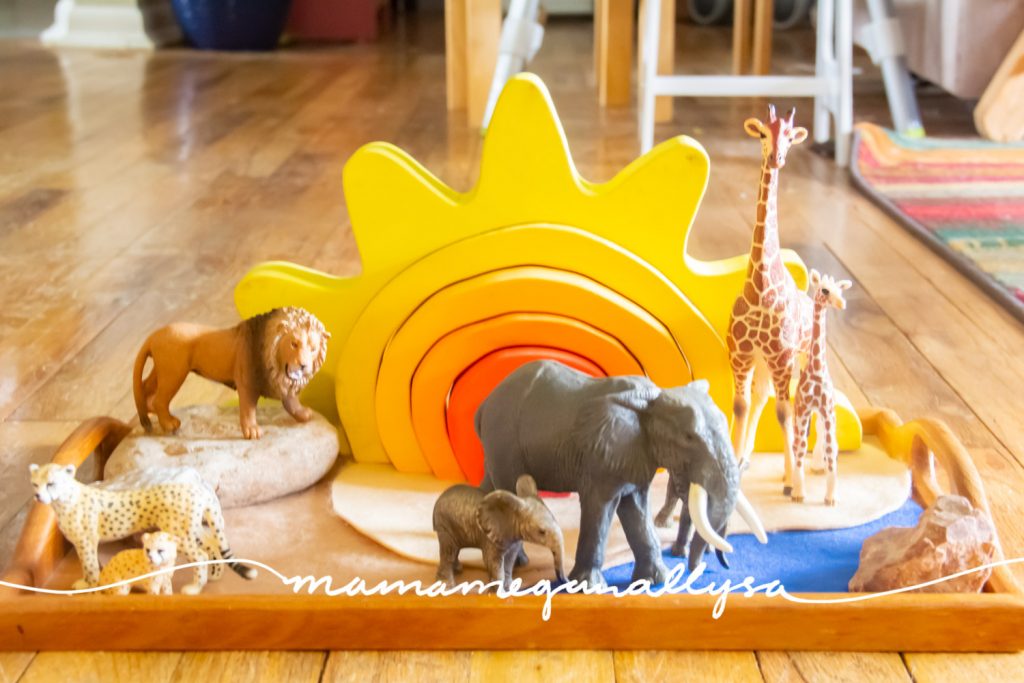 Button Puzzle – this is a great time motor as well as a puzzle of a sort. It offers lots of different pictures to work with. I chose a bug but we have also done and umbrella, a flower, a bird and a house. This toy is well within her ability, but I find that she looses patience with filling in a whole sheet and often disregards the colors and just uses whatever she wants. Not sure if its really just not her cup of tea or if she will improve as she gets older.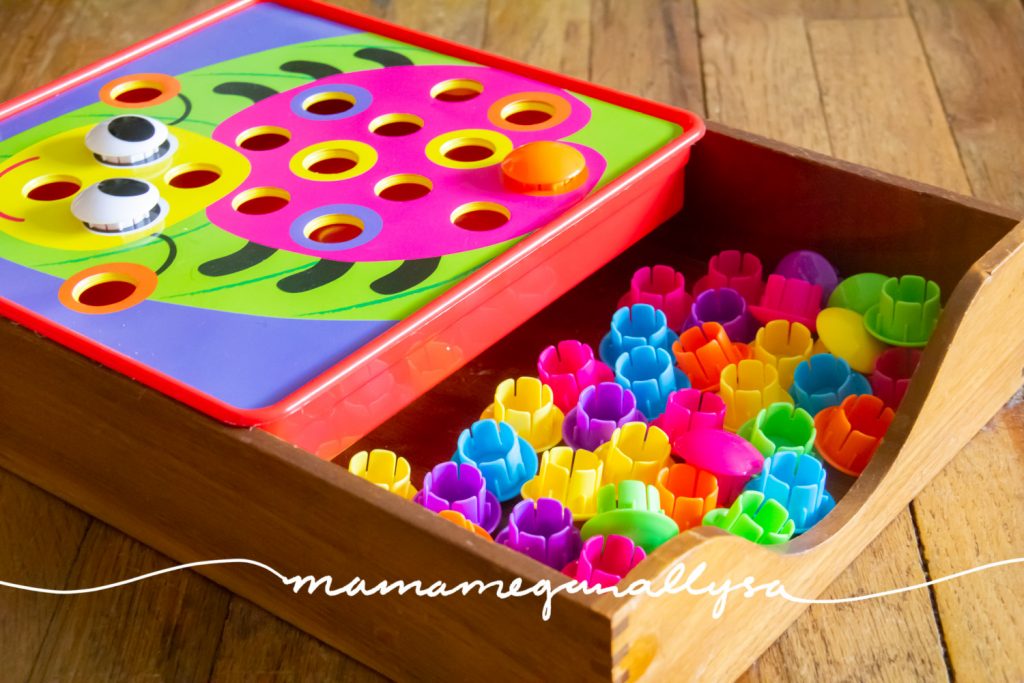 Non Rotated Toys
Play Silks – Our play silks are some of our favorite toys. From fort building to dress up, they find some kind of use almost every day.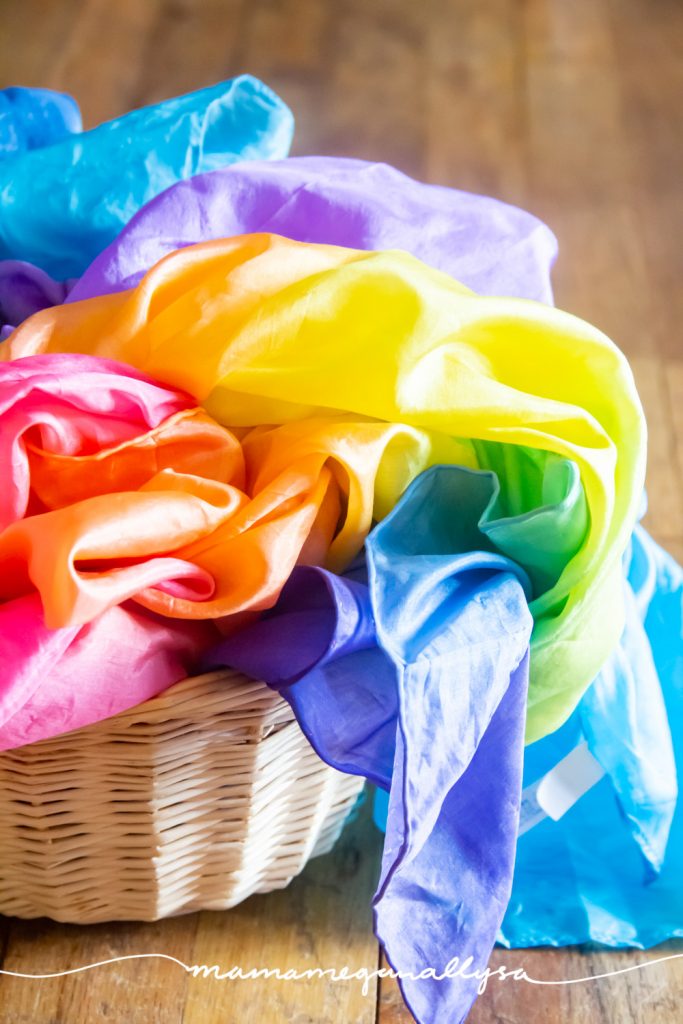 Wooden Blocks – These have been put away for a while now, so she has some renewed interest in her blocks. We will see how long that lasts! lol
Baby Dolls – Its been super sweet watching her take care of her baby dolls the same way we take care of baby Bean.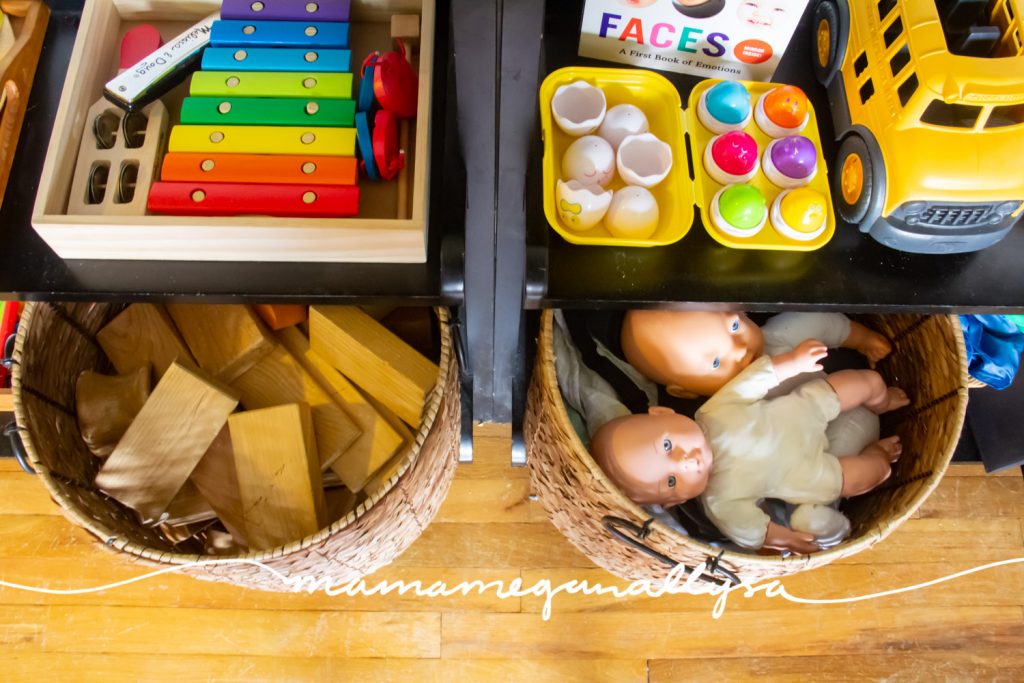 What is your 2.5-year-old Playing with These Days?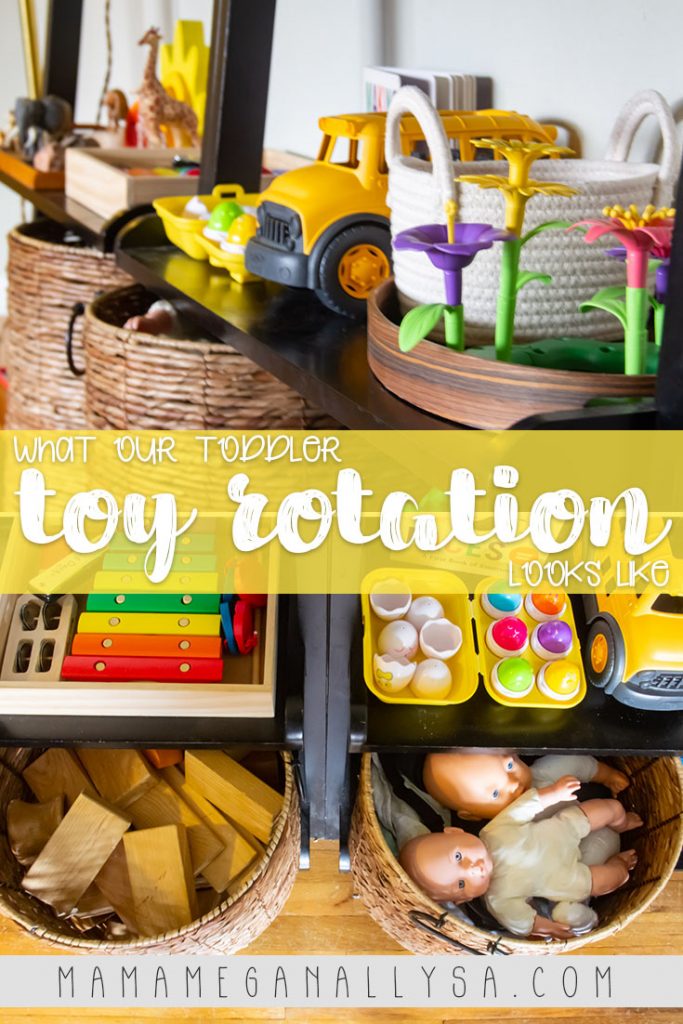 I have noticed her toys sitting unplayed rather more than I would like these days and I can't be sure if it's just because we are home more and she is truly getting bored or if she's just not interested in them in general right now.
If you want to check out how our Springtime toy rotations are played with and what adorable things baby Bean gets up to make sure and check out my Instagram where I post multiple times a week!
Other Posts you may like