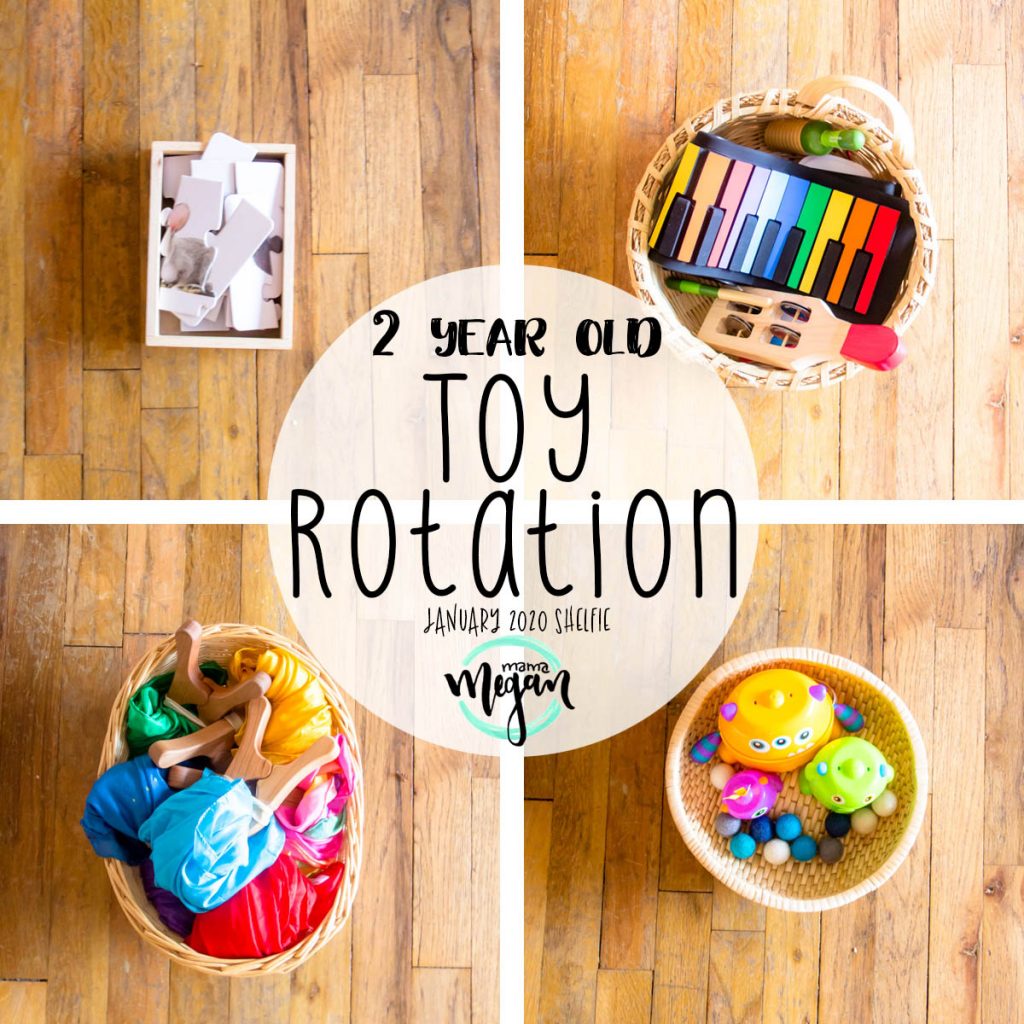 I spent some time updating our toy shelves for our January toddler toy rotation. I wanted to mix in some of her new toys from Christmas, but I also wanted to make sure and save some of them for later on down the road. Especially because we will need some good distractions with baby Bean due next month!
Living Room Toy Storage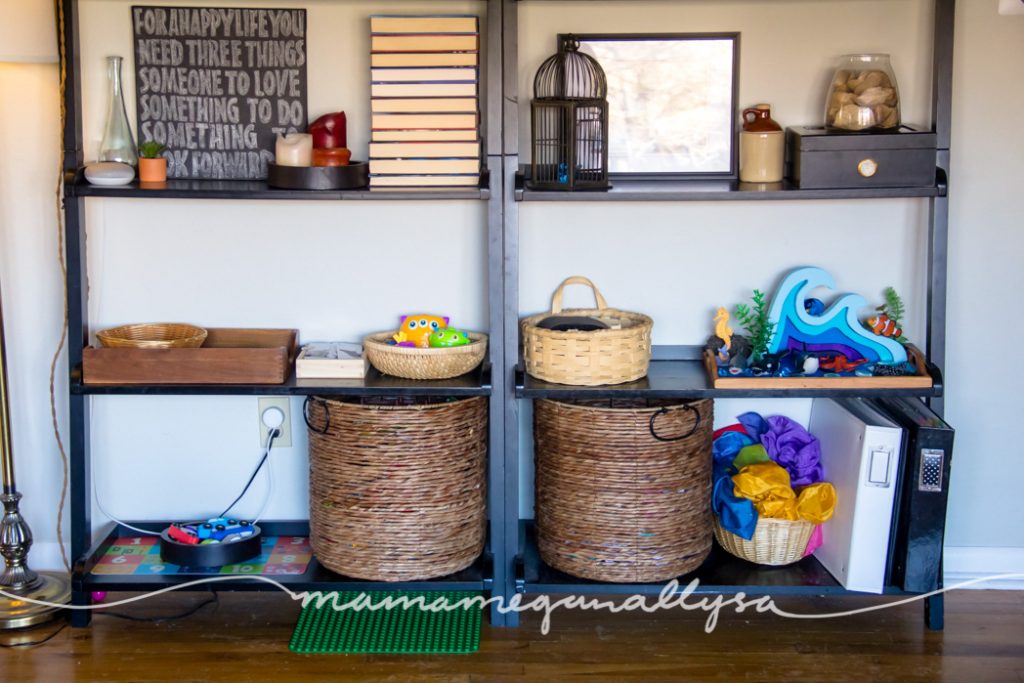 We like to have our toys out where they will be played with. So nearly all her toys are front and center in the living room. It makes clean up easier and faster and keeps the number of toys under control so we aren't tripping over them all day!
That said the back of the couch is lined with her kitchen and baby doll furniture. And she almost always has a puzzle floating around somewhere.
This post contains some affiliate links. As an Amazon Associate, I earn from qualifying purchases. I may receive a small commission from if you follow and decide to purchase. There would be no additional cost to you!
Along the wall of the living room, we have two black bookshelves, the bottom shelves are where are toys call home. We have all the rotating toys as well as two large baskets for her baby dolls and building blocks. She received her first Lego Duplos for Christmas so we rotated the blocks this month!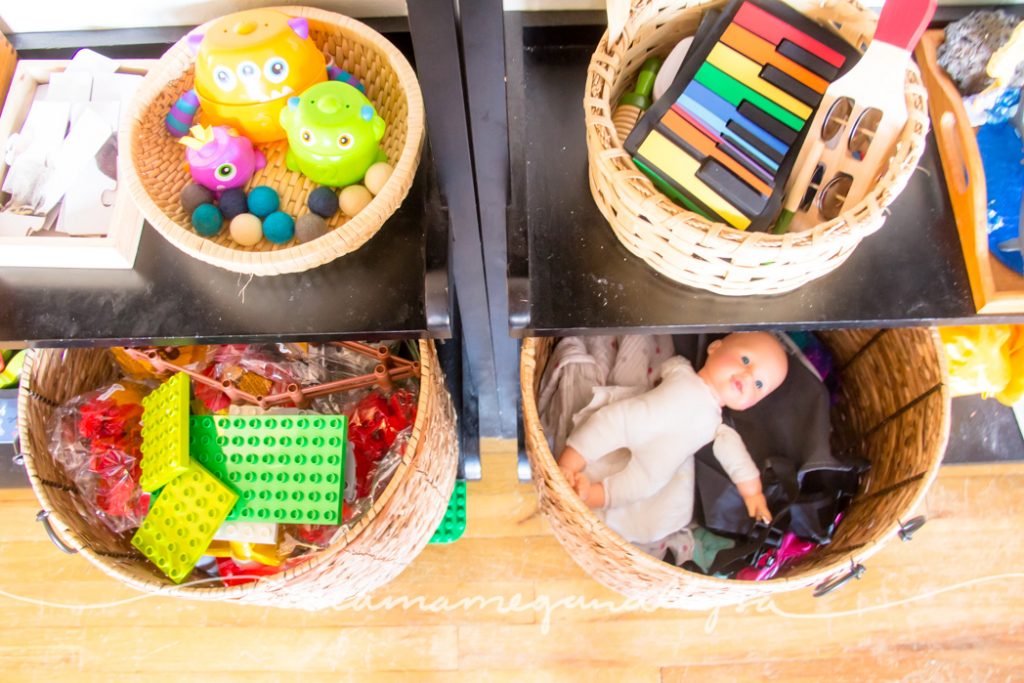 Free Play Toys make up our toddler toy rotation
Magnetic Princess Dress up – this isn't new from Christmas but it is the first time that I have added it to her toy rotations. I didn't put all the clothes out thinking I could switch the options later this month after she has gotten bored.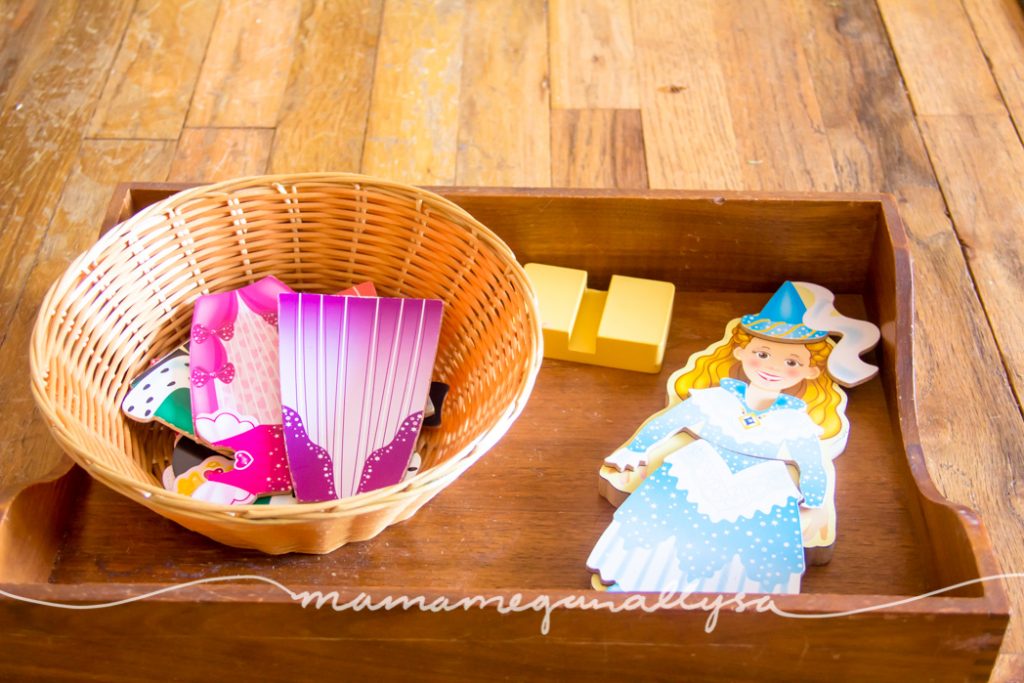 Nesting Monsters – I included some wool ball loose parts for her to feed the monsters
Puzzle presentation is almost as important as the difficulty level of the puzzle
Heads to Tails Puzzles – these are perfect for her right now. She can easily find all the matching pieces but it can sometimes take her a while to put them together. She likes to do these in bursts, and usually with someone "helping" her, so it will be interesting to see if she independently picks these out. Normally I would have liked to display the puzzle in a more inviting way but we just didn't have room on the shelves this month. So I will probably have to fix that mid-month.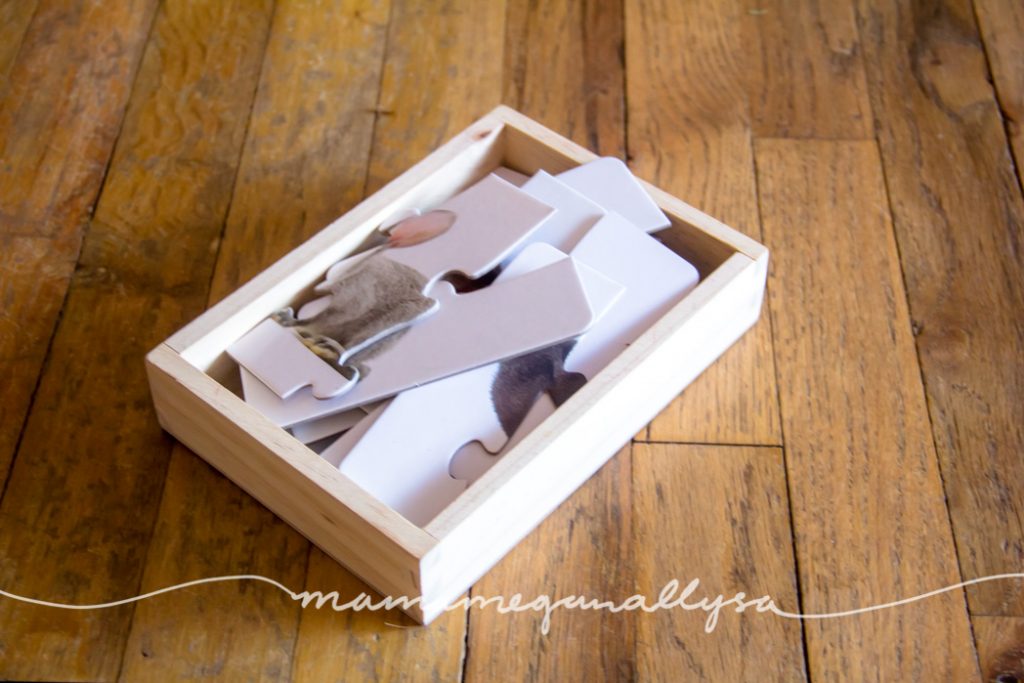 Musical Instruments – We have a few random instruments but the star of the show this week is her new roll up piano. I can say for sure she loves this thing…dad and I on the other hand wish you could lock the volume. She feels the need to play this thing LOUD. Thankfully it has a headphone jack so we can always go that route if we need it. lol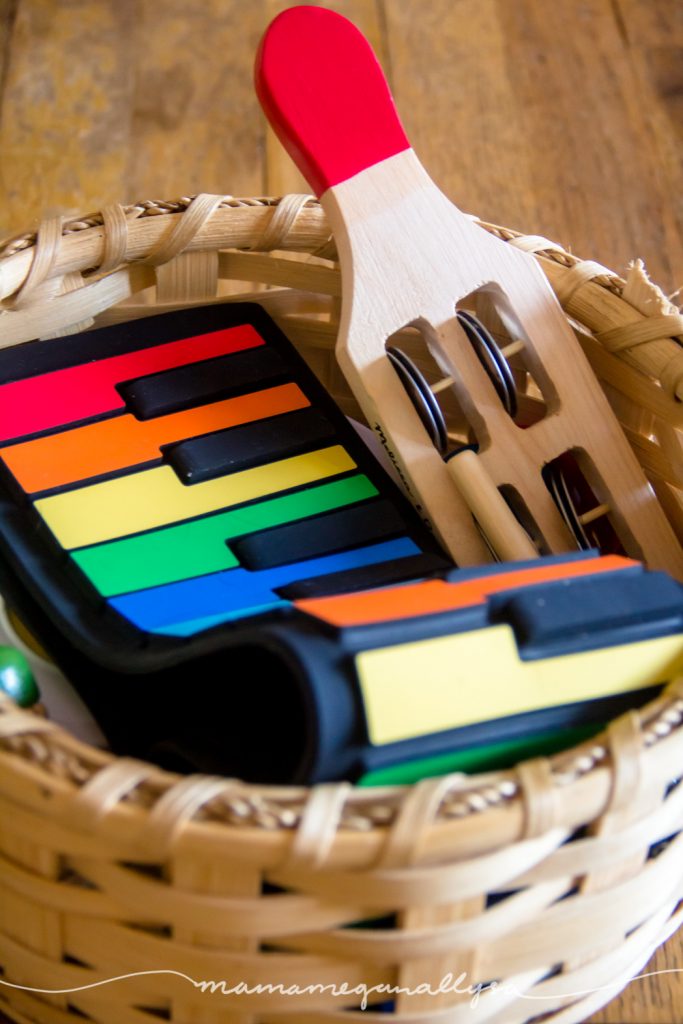 Wooden Cars and Placemat – Wheeled things have never been her jam per-say. So by adding the placemat, we can work on counting and some matching with the cars.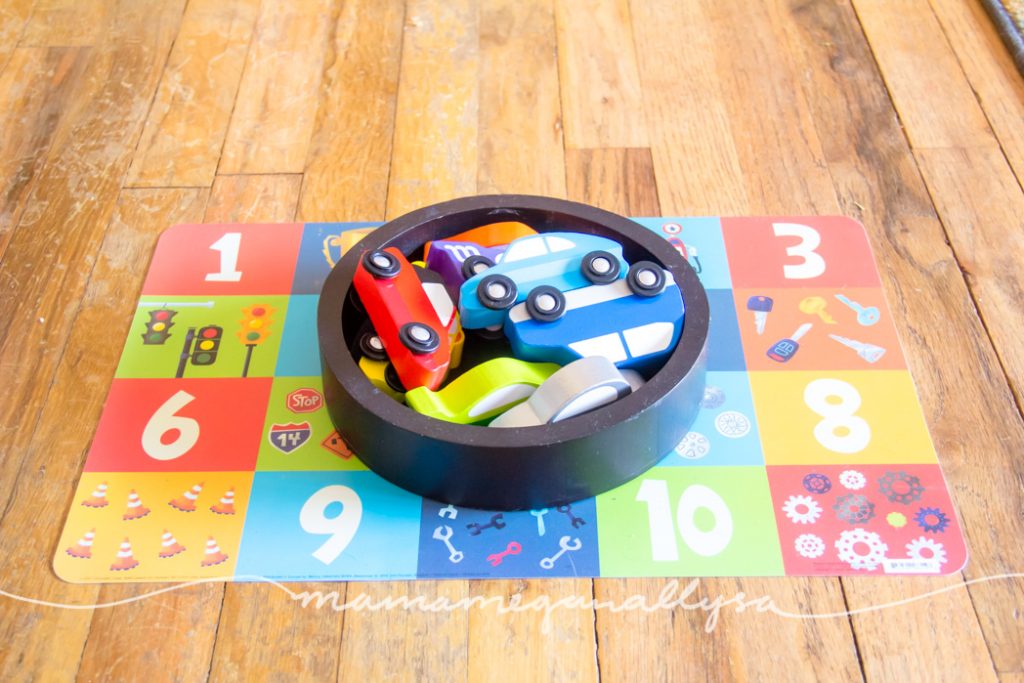 Play silks and Clips – We added another set of clips and a teal silk for Christmas and I don't know if the teal is her favorite because it's new or if its because it's the same color as Elsa's dress. (Yes, the frozen obsession has begun…)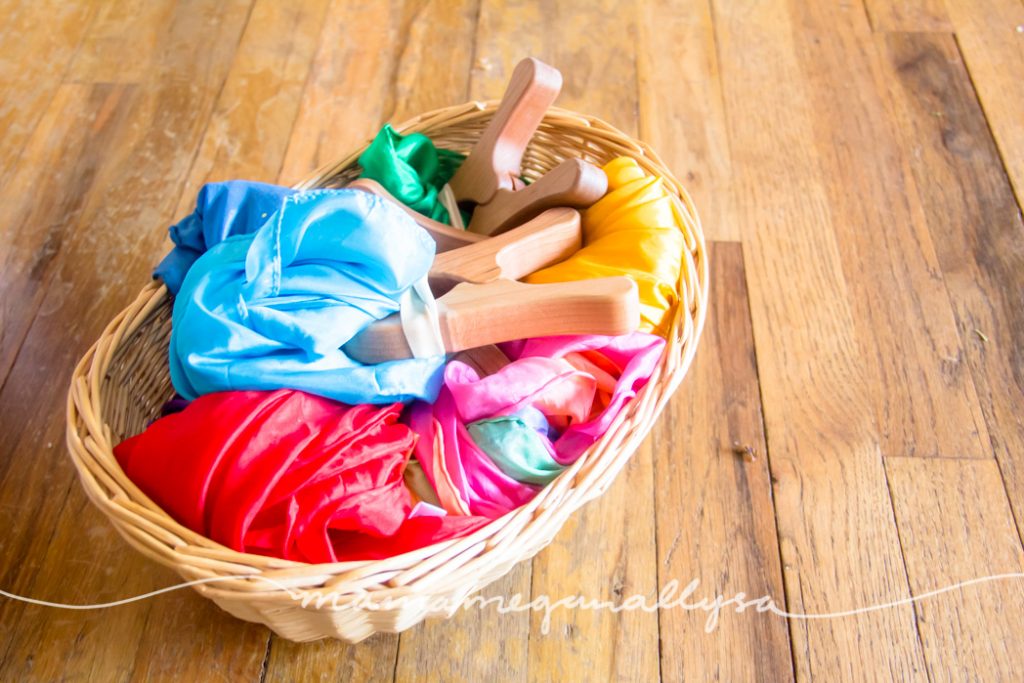 We always have some kind of animals out for small world play!
Ocean Small World – I wanted to play off our blue theme for the month so we pulled out our DIY wave stacker and felt mats. I added her Clownfish, Blue Tang, Spotted Eagle Ray, Killer Whale, shark (brand unknown), and seahorse. From there I added some glass gems for bubbles, and some aquarium décor to round out the theme.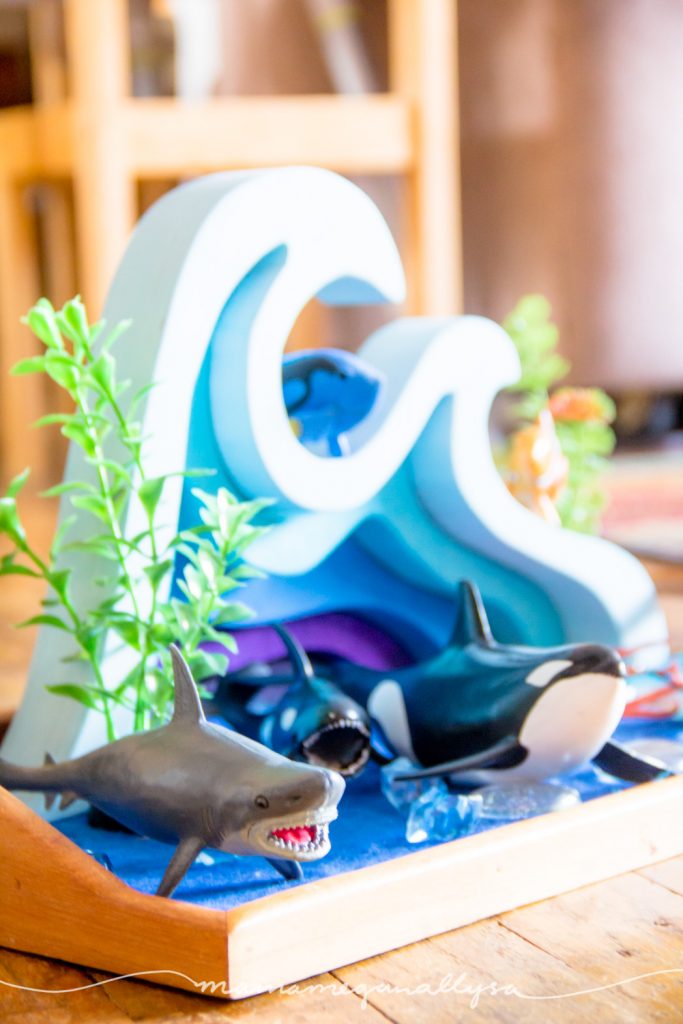 What do your Toddler Toy Rotations Look Like?
We rotate once a month with a mid-month refresh on any of the toys that have gone stale. So far the system is working well for us, but I have noticed by the end of the month she isn't as engaged with the toys…
I find it so interesting how some people rotate every day and others every week. I'm curious how you handle toy rotations! Let me know down in the comments!
You can see more of our toddler toy rotations on my Instagram where I have some walkthroughs saved on my stories!
Other Posts you may like