Our January Tot school plans will be the first month where I plan to introduce letters. We will also cover do some snow inspired art, play with Arctic animals, talk about emotions, and some driving practice with her toy cars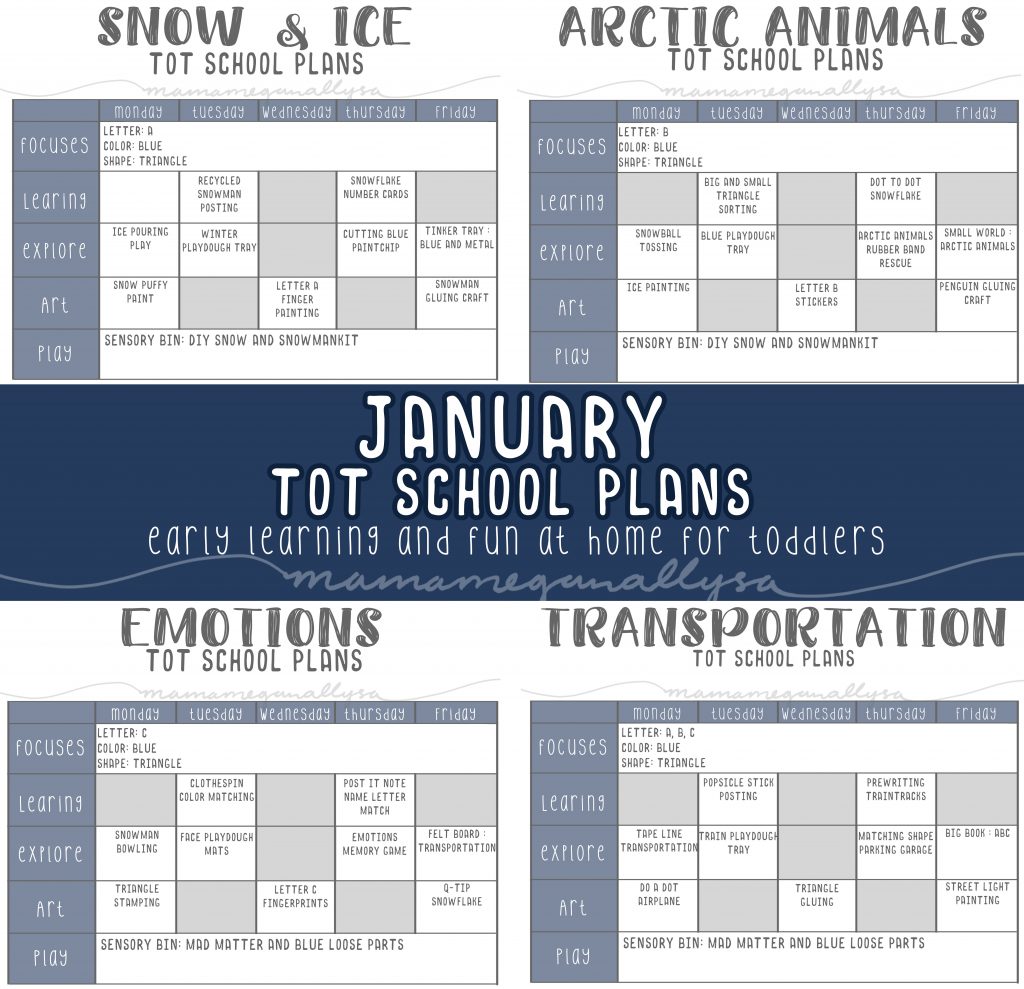 How we Tot School
My plans are created for a 2.5-year-old and we are just starting to introduce letters and prewriting activities. I try and keep our day very open and child-led when we can. So I only plan two learning activities a day and all together they maybe take up 20-30 mins of our time. The rest of the day is spent on practical life, free play and activities out of the house.
Download my Free January Tot School Plans Below
If what we do isn't quite the right fit for your I have a free editable tot school planner so you can customize your tot school to you and your toddler! Just enter your email down below!
January 2020 Tot School Plans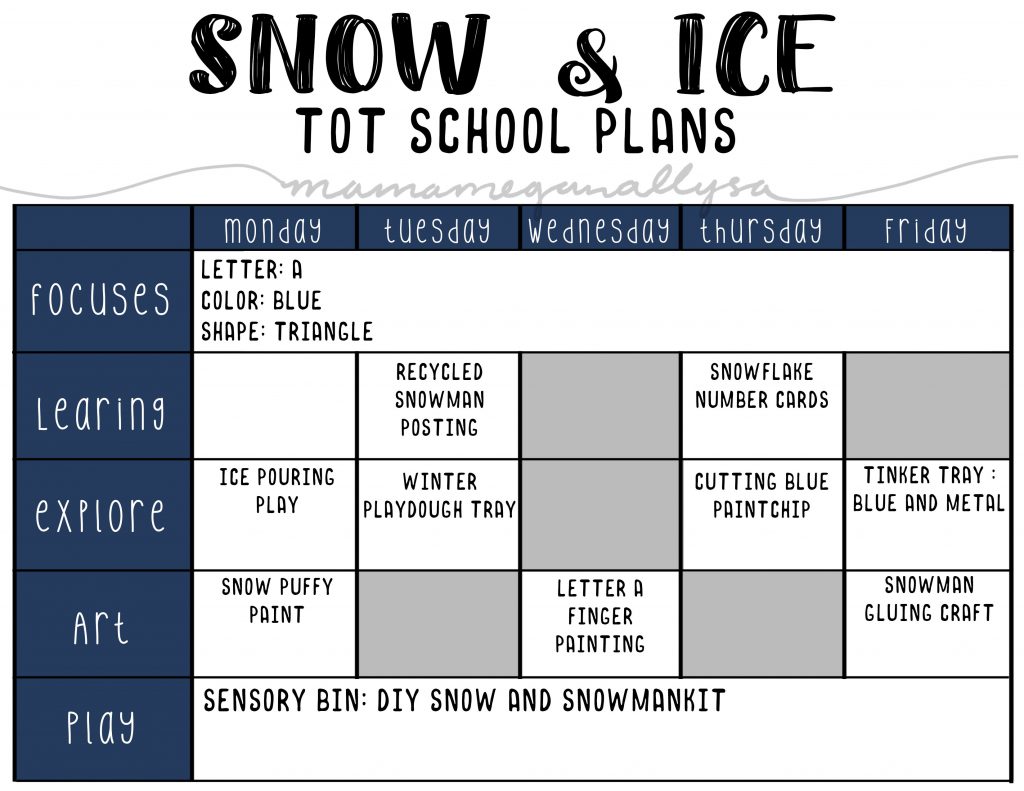 MONDAY – I will dye some water and make blue icecubes for her to use in pouring play. We will make some puffy paint in cool wintery colors and free paint
TUESDAY – I will take a creamer bottle and draw a snowman on it, then Bitty will fill it with cotton balls
WEDNESDAY – We will have a letter A coloring sheet that she will finger paint on
THURSDAY – Using my generic number cards we will count out snowflakes to match each number. We will continue to work with scissors cutting on a blue paint chip
FRIDAY – We will be gluing together a snowman from basic shapes. I will set out a tray of loose parts and some floam for her to explore
Letters of the Month : ABC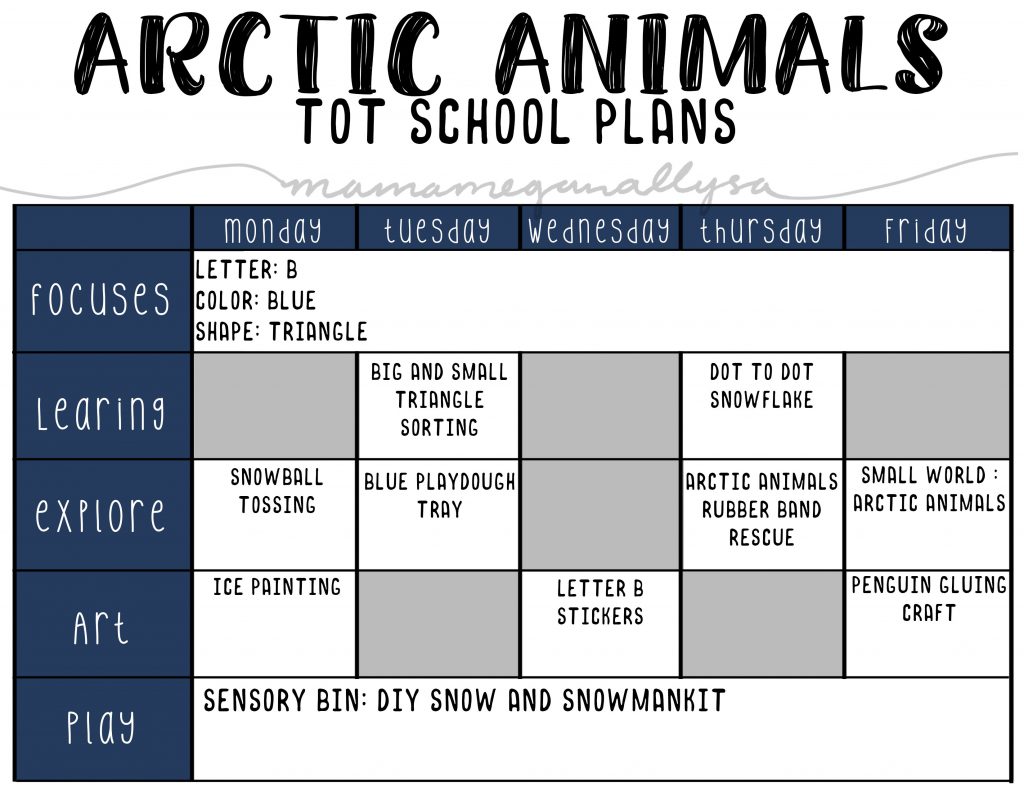 MONDAY – using some indoor snowballs I will have her toss them into a basket across the room. I will set out a tray of ice and let her paint on top of the ice as it melts
TUESDAY – using some printouts of triangles of various sizes we will sort small from big
WEDNESDAY – using a letter B coloring page we will add stickers to the inside of the B shape
THURSDAY – I will use small dot stickers to make a dot to dot that she will try and connect the colors and we will end up with a snowflake. I will wrap her arctic animals in rubber bands and she will have to free them
FRIDAY – We will be gluing together a penguin from basic shapes
Download our January Tot School Plans so you can follow along too!
Shape of the Month : Triangle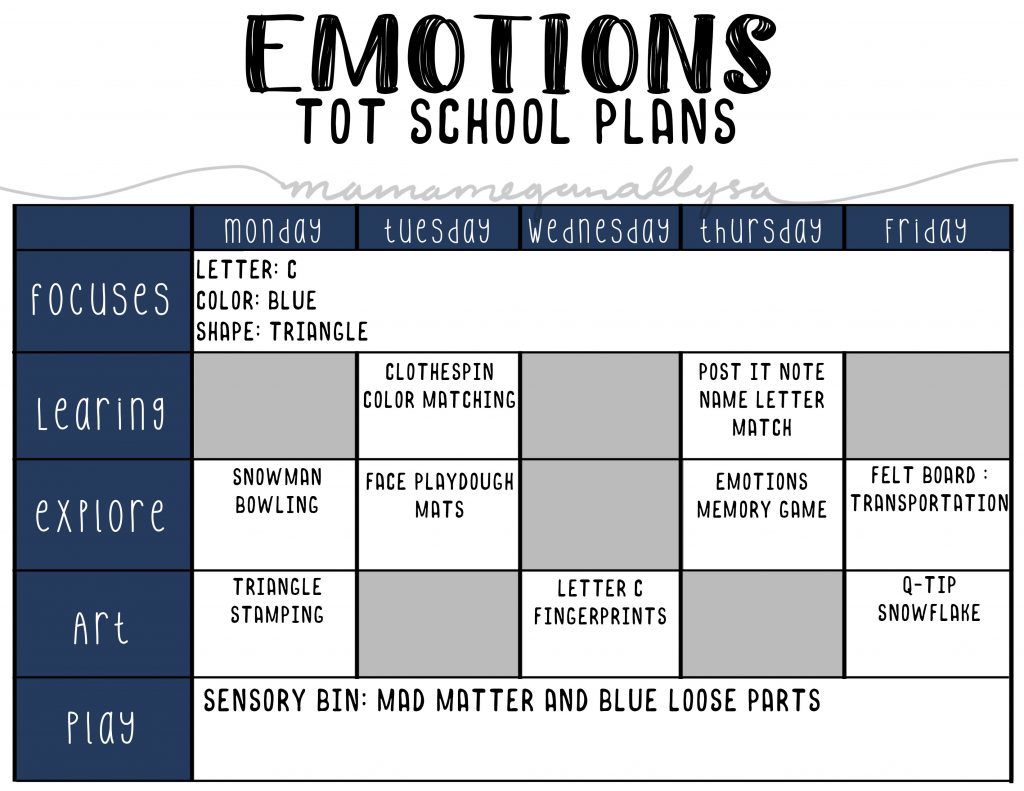 MONDAY – using some white paper cups decorated like snowmen, I will build a pyramid for her to bowl down with her indoor snowballs. Using our triangle cookie cutters we will stamp triangles onto paper
TUESDAY – using our DIY loose parts clothes pins we will match the colors to a cardboard card.
WEDNESDAY – Using a letter C coloring sheet and an inkpad we will do fingerprints inside the C shape
THURSDAY – I will write out her name on a large piece of paper and then also have all the letters on post-it notes for her to match the letters. using our emotions matching game we will match and talk about how the kids are feeling
FRIDAY – I will set out our felt board and transportation themed pieces. We will use q-tips and glue to create a snowflake
Color of the Month : Blue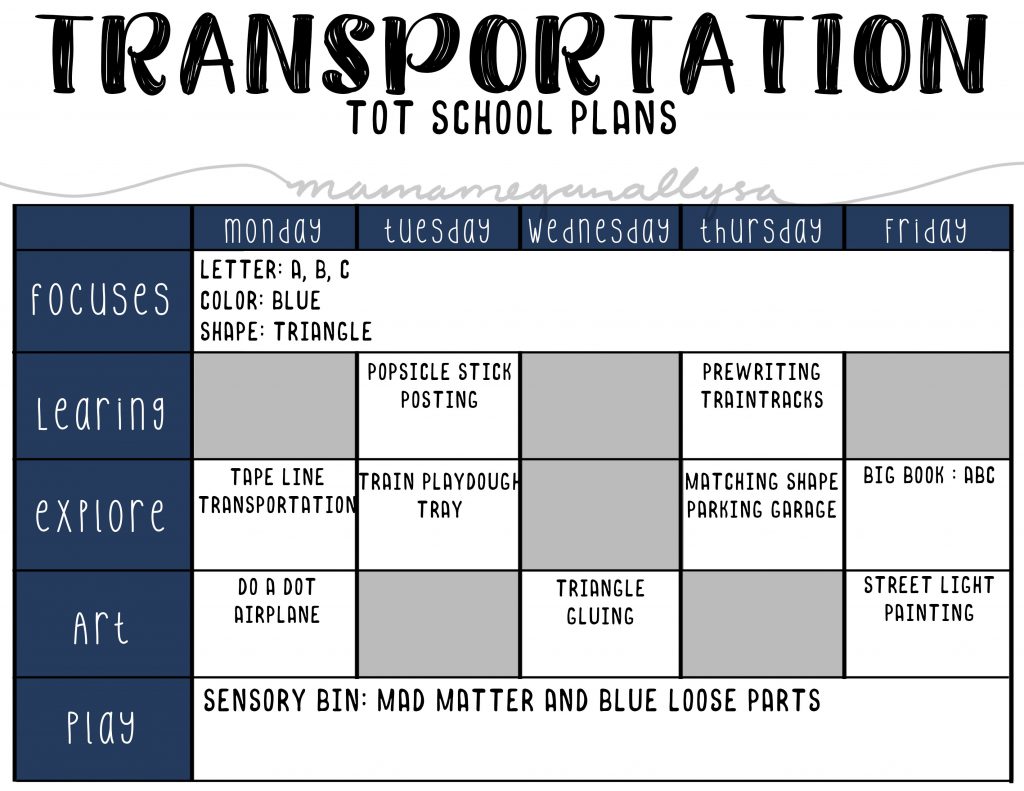 MONDAY – Using some painters tape I will make some lines that she has to follow to transport some blocks.
TUESDAY – We will post some of our DIY loose parts popsicle sticks into a tall container with slots cut in the lid.
WEDNESDAY – We will use tissue paper triangles and a glue stick to glue them down.
THURSDAY – I will draw the long sides of a train track, and she will practice drawing the short cross lines of the track. I will add some small stickers to the top of her matchbox cars and we will have a parking lot with the matching stickers for her to park the cars in.
FRIDAY – we will pain the red, yellow and green circles for a traffic light.
Free Editable Tot School Planner
If you are excited to try out some tot school fun for yourself, My free editable tot school planner is just the thing for you! Fill it in as much or as little as you see fit for you and your littles. Just enter your email down below and a link will be sent to you with my editable planner!
Join in on the January tot school fun!
If you want to see any of the crafts or activities make sure and follow me on Instagram where I try and post about them in the stories! If you decide to join me in any of the activities make sure and tag me I would love to see it!
Just a quick note…I will be VERY pregnant, with of course the possibility that baby Bean could arrive late January. So that said I will be giving myself a pass on tot school. I have the ideas there if we need an activity; but if we dont get around to it well that's just life!
Other posts you may like