My December Tot School Plans are going to be plenty festive with Christmas themed activities, but we will also be learning the difference between gold and silver and talking lots about stars!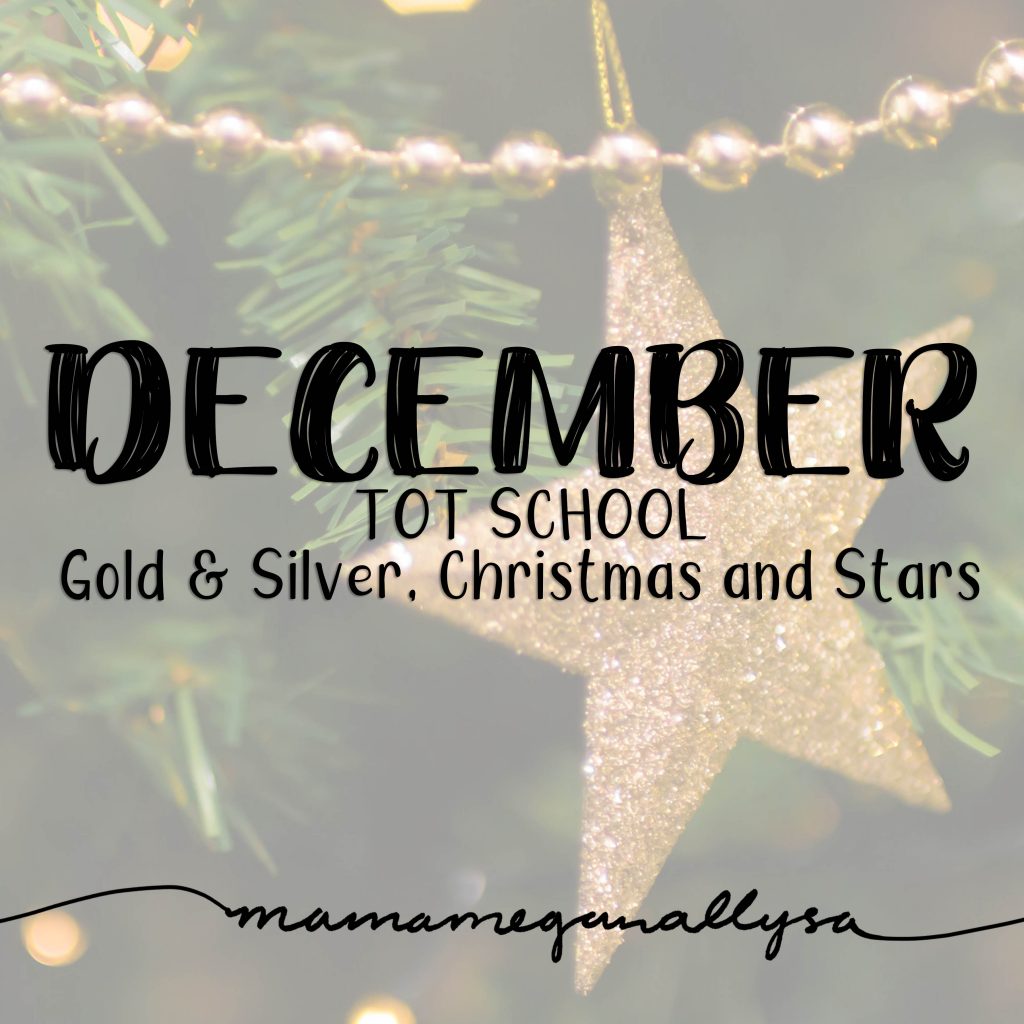 Download my Free December Tot School Plans Below
December is possibly the busiest month of the year for many families. With plenty of things to do, why did I even bother pulling together our December Tot School plans? It comes down to two things for us. It's cold most days and outside entertainment is short-lived, we still make the effort but we are just naturally in the house more…not to mention it gets dark so early! We are also making an effort to limit screen time, and thus need activities to fall back on when she is bored.
Color of the month : Gold and Silver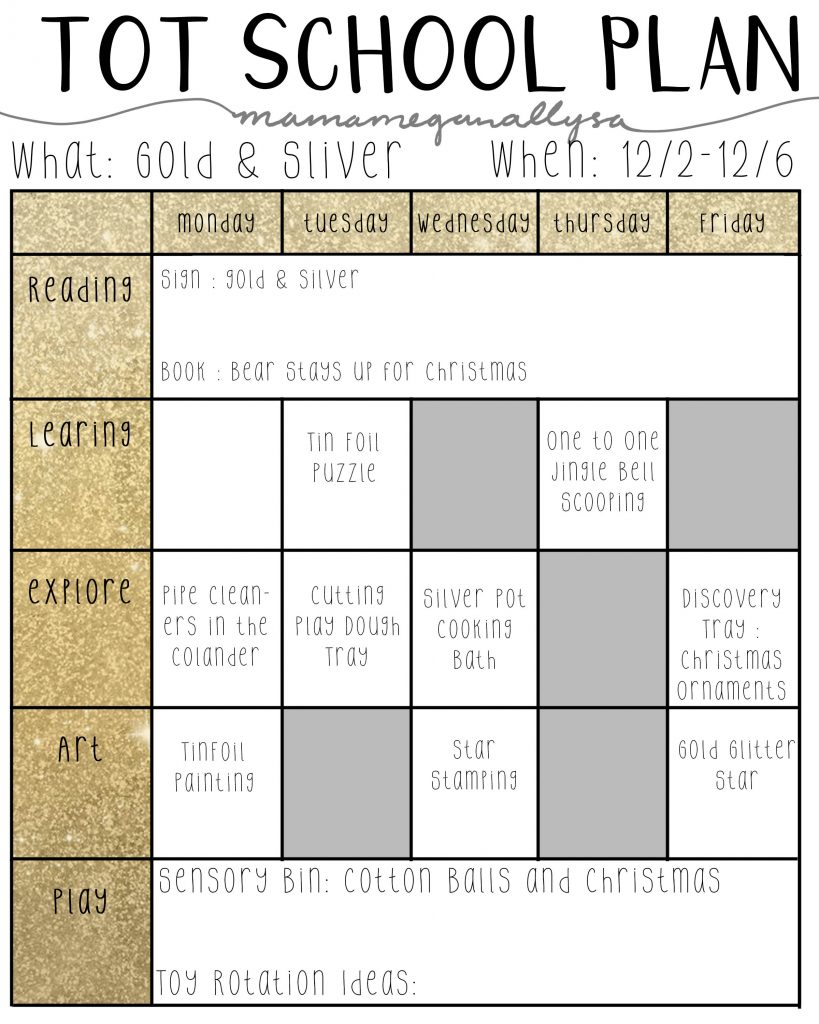 MONDAY – I will present Bitty with some gold and silver pipe cleaners to post into our colander. We will also be doing some painting on tinfoil
TUESDAY – You wrap the pieces of a puzzle in tinfoil and then after that have your toddler unwrap them and proceed to assemble the puzzle.
WEDNESDAY – I am going to raid my kitchen for some silver cooking odds and ends for her to cook with, in her bath. The star stamping will likely use a cookie cutter as the shape, but you could also create your own using a potato or sponge!
THURSDAY – For the one to one jingle bell scooping I will present a bowl of bells with a spoon and an ice cube tray. The goal is for her to scoop one bell at a time and deposit each bell into one slot of the tray.
FRIDAY – We are going to work on how to sprinkle glitter in the shape of a star. I will have a tray of (nonbreakable) ornaments out for her to explore.
Theme of the Month : Christmas
MONDAY – Some pouring play with some fun Christmas additions. Using the classic stick on Christmas bows as stickers for some free create art.
TUESDAY – I will present a bowl of two different colors of pompom with tongs and then two empty bowls for her to sort the pompom into. Our playdough tray will have some classic cookie cutters, a rolling pin, and some "sprinkles" most likely beads, for decorating her cookies
WEDNESDAY – The string lights fingerprints will start with a twisting string ready for all the colorful bulbs to be added.
THURSDAY – I am going to print some very basic counting cards for her to start placing items onto to start conceptualizing numbers.
FRIDAY – We will pull out our DIY felt board Christmas tree and make Mistletoes footprints
Download our November Tot School Plans so you can follow along too!
November Shape of the month : Star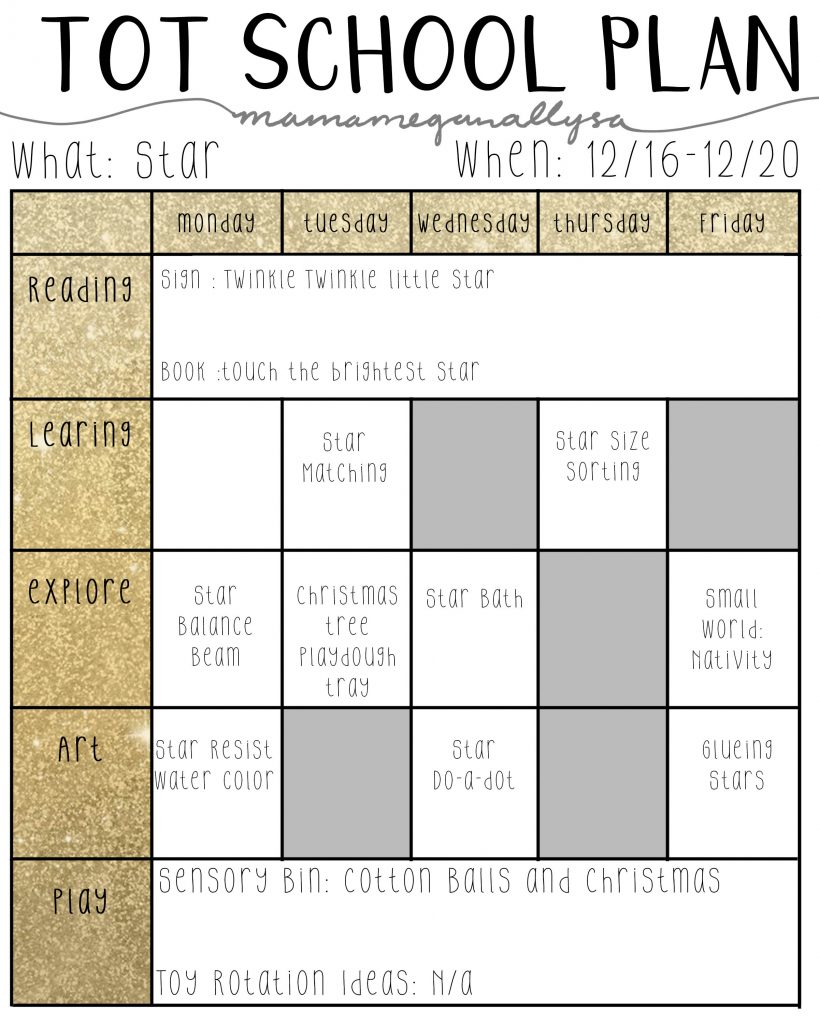 MONDAY – I will use painters tape and layout a star on the floor. Then we will practice balancing on the line. I will take some white crayons and make stars on white paper. After that, we will watercolor over the stars and like magic they will appear!
TUESDAY – I will cut out some stars out of various patterns of paper and have her match them. We will use our green playdough and make little Christmas trees for her to decorate for our new play dough tray
WEDNESDAY – Using our do-a-dot shape sheets we will fill in the star shape. Our star bath will use craft foam stars as decorations on the tub
THURSDAY – Using some table scatter I will have her sort the small stars from the big stars.
FRIDAY – Using a wooden nativity set I will let her explore and rearrange.
Merry Christmas and Happy Holidays
You'll notice that my December Tot school plans don't go to the end of December. We will be taking that time off to spend time with family and just relax. I feel like the chaos of the season will keep us busy enough that we likely wont get to all our plans through out the month. Anything we don't do before Christmas we may fall back on after if we need something to do!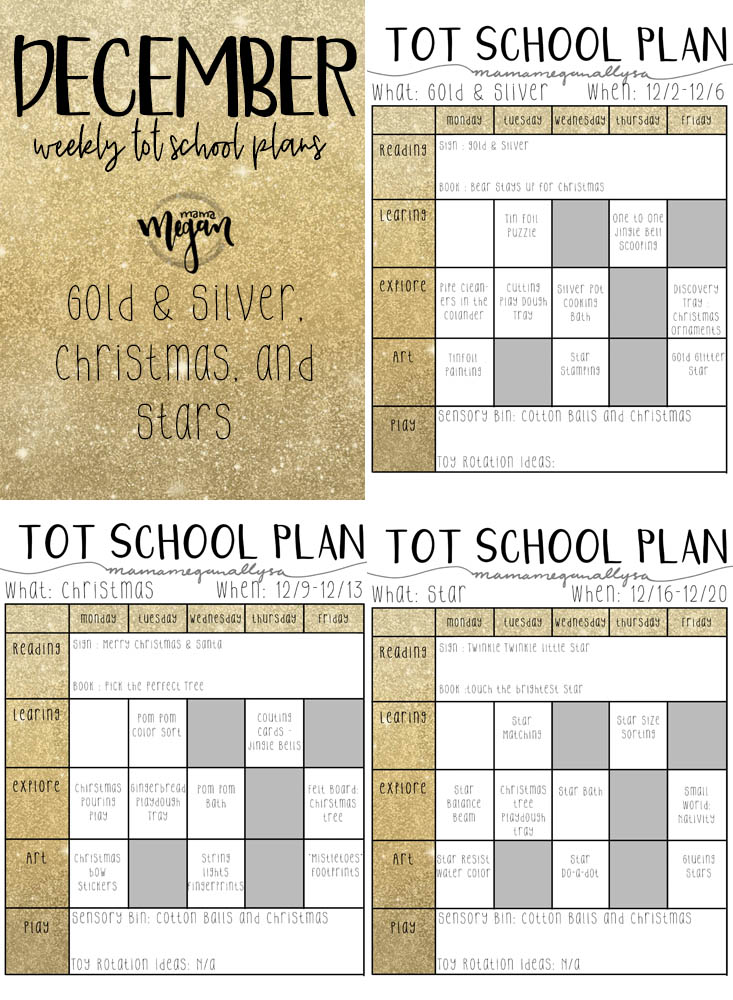 Free Editable Tot School Planner
I understand that not everyone celebrates Christmas or maybe your little one just isn't ready for some of the activities I have planned in my December tot school plans. I have just the thing for you! My free editable tot school planner is there for you to fill in as you see fit for you and your littles. Do as much or as little as you want and join in the tot school fun! Just enter your email down below and a link will be sent to you with my editable planner!
Follow along on Instagram
If you want to see what kind of holiday cheer we get up to make sure and follow me on Instagram where I post lots of daily life as well as some of the tot school fun we get up to!
Other posts you may like