Our March Tot School plans have been created for a 2.5 toddler and feature lots of green to celebrate St. Patricks Day, some fun activities with rainbows and talk about weather. We are also going to play with some ocean animals as well as some construction work!
Download my Free March Tot School Plans Below
MONDAY – Gree Pouring Play is some classic water play. You can always jazz it up with some pom-poms or foam shapes as well! We love doing handprint paintings around here so I make sure to find at least a couple. For our ocean animal theme, we will do crab handprints!
TUESDAY – For Crab Grab Transfer I am taking some inspiration from Turner Tots we will be using some tongs as crab claws to grab small loose parts and transfer them between containers.
WEDNESDAY – We adore our quick sticks for quick and easy "painting" nearly mess-free, she really enjoys using them, and the colors are super vivid.
THURSDAY – For Seashell Counting, we will be using our simple DIY number cards. Ours are similar to these cards. Scissors are still a bit out of her skill set but she LOVES practicing, so I continue to do the Paint Chip Cutting…even if she needs a fair amount of help with it.
FRIDAY – Threading has definitely increased in interest level for Bitty, so I think these Threading Jellyfish will be a fun craft/activity. We can start by painting the paper plate and then she can work on the fine motor to thread the "tentacles."
Color of the month : Green
MONDAY – the Rainbow Relay activity is a gross motor activity as well as some color recognition. We will use some candy for a fun treat, but you could do it with almost anything! The Snip and Glue Shamrock is another excuse to let her use the scissors. Bonus points for using up some scrap paper!
TUESDAY – I will pick up some gold coins from the dollar store and we will post them into a box.
WEDNESDAY – I will pick up some shamrock stickers for her to use on the H coloring sheet this week.
THURSDAY – We have been working on drawing straight lines so the Dot to Dot Shapes will be a great activity to practice with as well as some shape recognition! For Shamrock Sorting we will use some table décor that has different colors of shamrocks we will set up a sorting station for her to sort them by color.
FRIDAY – The 4 Leaf Clover is another handprint art.
Download our March Tot School Plans so you can follow along too!
My March Tot School Plans are full of fun thematic crafts, early learning activities and sensory play that will keep your kids busy all month! You can download my plans below and jump right into all the Tot School fun without any additional work on your end because let's be honest you have enough to do in a day am I right?!
Letters of the Month : GHI
MONDAY – Puddle jumping will be using our felt play mats as puddles for her to jump around on. The Do a Dot Rainbow will be focusing on trying to make sure the dot go inside the circles.
TUESDAY – Clothespin Color Match will use our painted clothespins (DIY Loose Parts Toys) that she will find things around the house that match the color. A great fine motor activity for her fingers as well as a gross motor as we go around the house!
WEDNESDAY –Using the letter I stamp and her fingerprints to decorate the letter I coloring page.
THURSDAY – the Raincloud Name is a project that I plan on having this mostly done already and she will just help assemble it while we will talk about the letters in her name. For Cottonball Cloud Counting we will be using our number cards again, but this time we will use cotton balls for our manipulative.
FRIDAY – Eyedropper Rain Art will be a learning experience for us both. We haven't done much with eyedroppers so this may end up a total disaster! lol
March Shape of the month : Square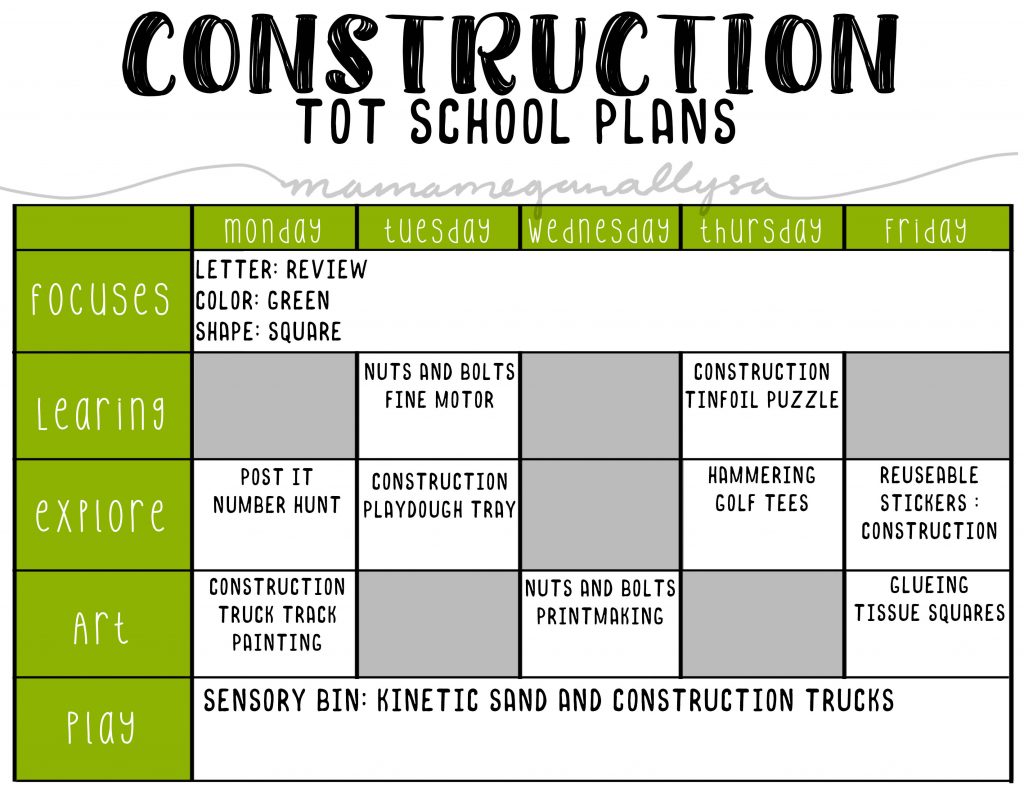 MONDAY – Post-it Number Hunt is a super easy prep activity. I will place post-it notes around the living room with numbers 1-9 and then some flashcards with the same numbers on her table. She will hunt up the post its and then match them to the same number on her table. For Construction Truck Painting we will have her construction trucks drive through some paint and make tracks on the paper
TUESDAY – I am going to pick up some large bolts, washers, and nuts for her to work on her fine motor.
WEDNESDAY – Using the same nuts and bolts we will get out an ink pad or maybe paint and make Nut and Bolt Prints
THURSDAY – The Tin Foil Puzzle is a classic, but she really enjoyed it last time so I want to see if its still a hit for her or not. For Hammering Golf Tees I will provide the hammer, tees and some hard foam for her to practice hammering.
FRIDAY – For Square Art I will pre-cut some squares and let her glue them down freely however she wants.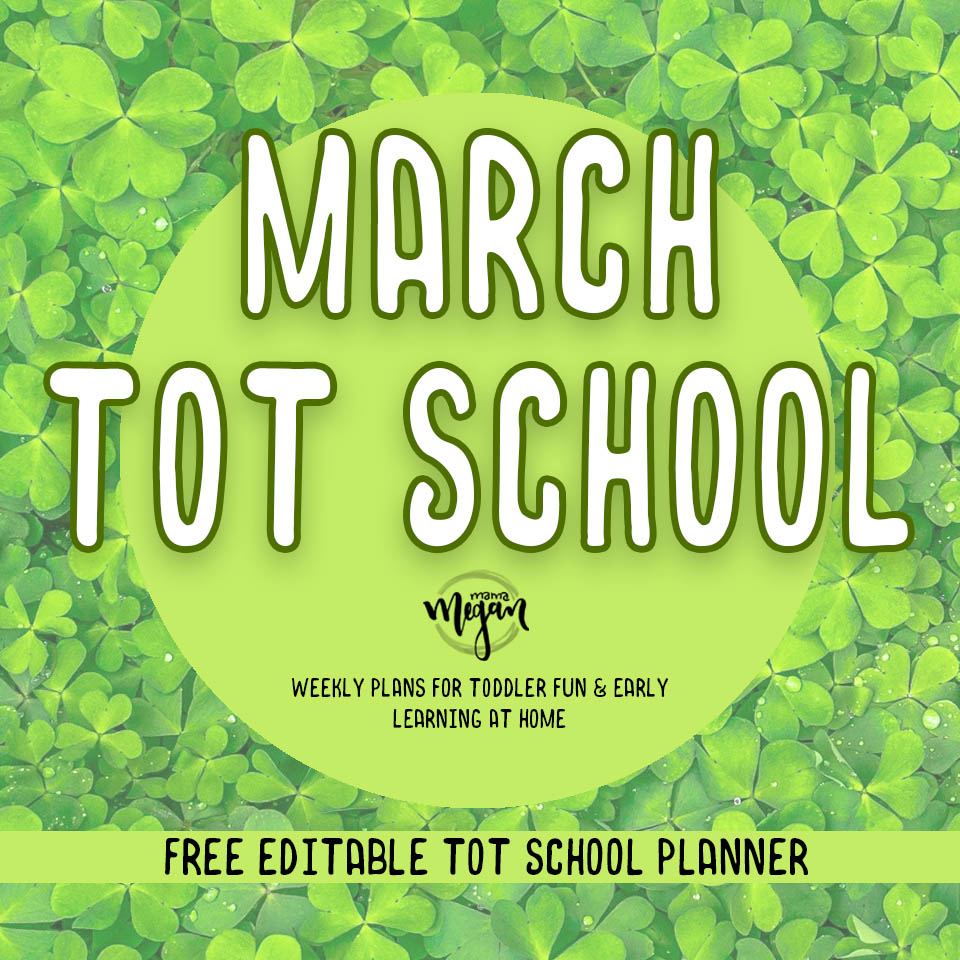 Flexibility in our Tot School plans is key for me
In our March Tot School plans you may have noticed that my weekly themes are not always perfected themed, and we often have activities or projects from other week's themes mixed in. This allows me some flexibility if we don't get everything done that I want but it also allows for some crafts or projects to get included that I can't think of a way to make thematic.
Free Editable Tot School Planner!
Every child is different and maybe your little hates getting dirty so finger painting is out of the cards or they adore numbers but simple counting cards are too easy for them. The beauty of any kind of homeschooling is that you can customize it to you and your child and tot schooling is no different! I offer a blank editable tot school planner for you to fill in and customize to suit both your little one's needs as well as your own! Just enter your email down below and a link will be sent to you with my free editable planner!
Other posts you may like