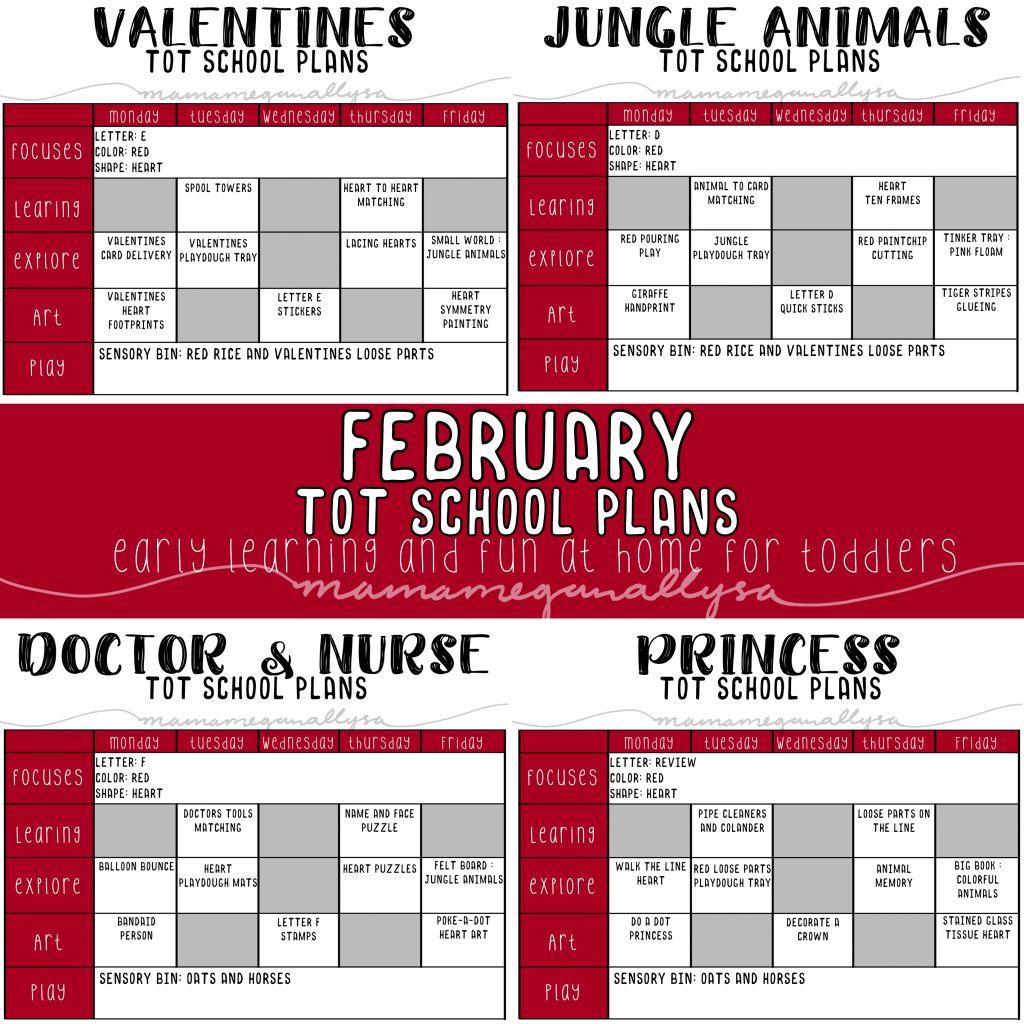 For our February tot school plans I found lots of cute valentine's crafts, but other than that this month might feel a little disjointed…I really just wanted to come up with some themes that would spark some fun dramatic independent play.
Download my Free February Tot School Plans Below
Color of the month : Red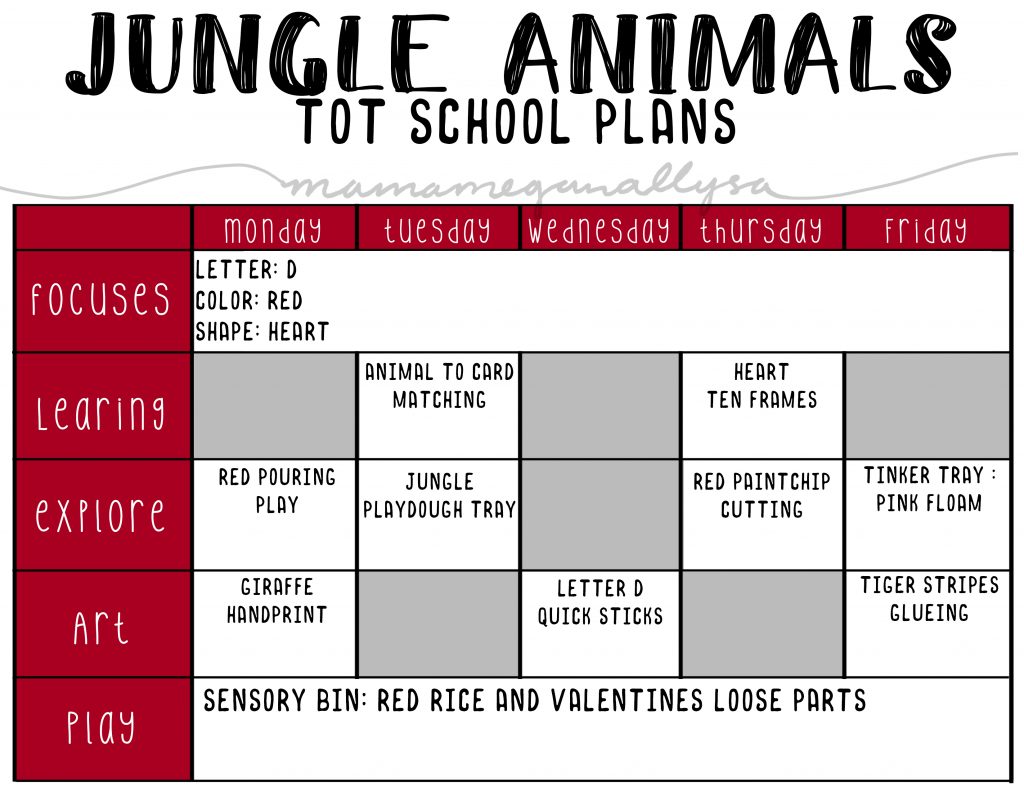 MONDAY – We will be making a handprint giraffe like this one
TUESDAY – I finally found my old animal flashcards so we will be doing some matching with her animal figures. We will probably do more than just jungle animals, but that is where we will start!
WEDNESDAY – Using our letter coloring sheets we will free paint with the Red and Pink tempera paint sticks.
THURSDAY – I made some little 10's frames cards to introduce some number work. We will be using some loose parts Hearts.
FRIDAY – I plan to set up a tinker tray with her pink floam and some loose parts. If you want to know more about tinker trays make sure and check out my post about them here!
Taking some inspiration from toddlerapproved.com we will be gluing stripes onto a tiger
Letters of the Month : DEF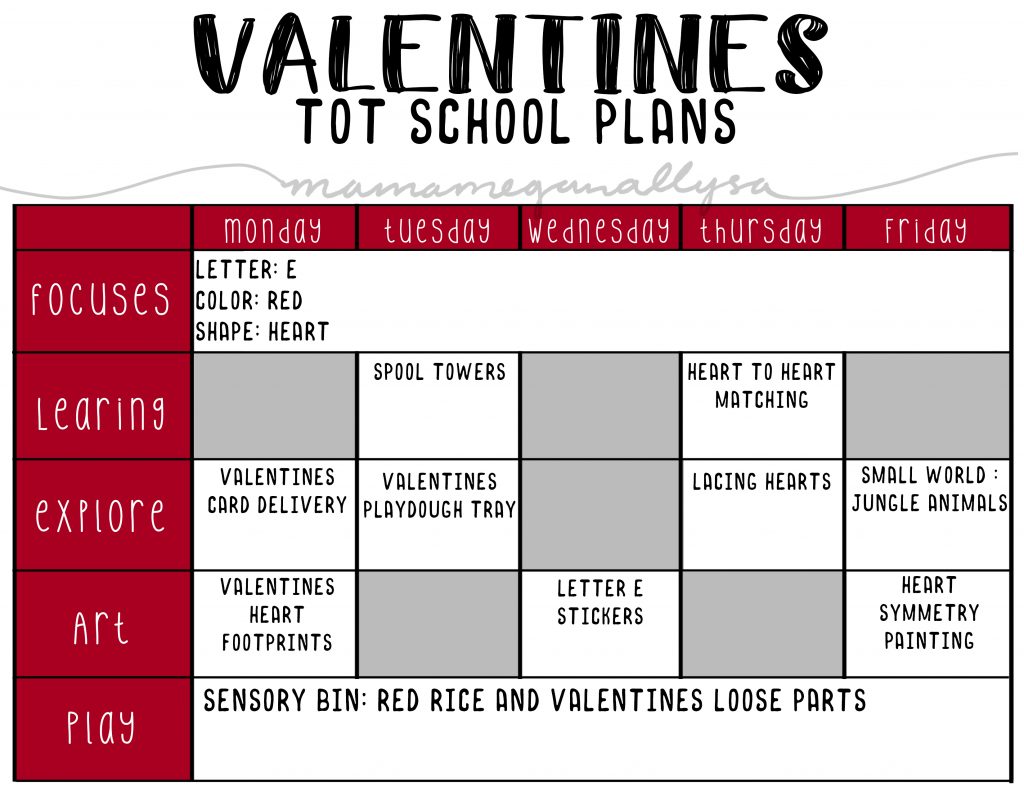 MONDAY – As a fun dramatic play and a gross motor game I will set up a little mail center for her and then put some envelopes on the bedrooms doors for her to deliver her valentines to. Ours won't be as elaborate as this but something similar to Pickle Bums mail center.
We love a good handprint or footprint around here. I *hope* baby Bean will be here in time for us to do her footprints with this craft as well.
TUESDAY – I want to work on some fine motor stacking and threading to remind her to be gentle, so we will stack our DIY wooden loose parts spools as well as thread them onto some spaghetti noodles.
WEDNESDAY – Using our letter coloring sheet we will add some heart stickers.
THURSDAY – Using matching pairs of heart stickers on opposite sides of the paper I will encourage her to draw a line from one half to the other.
Lacing is something that is just starting to take off with Bitty so we are going to try this DIY version!
FRIDAY –Another mess-free or at least low mess painting option, that always turns out fun!
Download our February Tot School Plans so you can follow along too!
My February Tot School Plans are full of fun thematic crafts, early learning activities and sensory play that will keep your kids busy all month! You can download my plans below and jump right into all the Tot School fun without any additional work on your end because let's be honest you have enough to do in a day am I right?!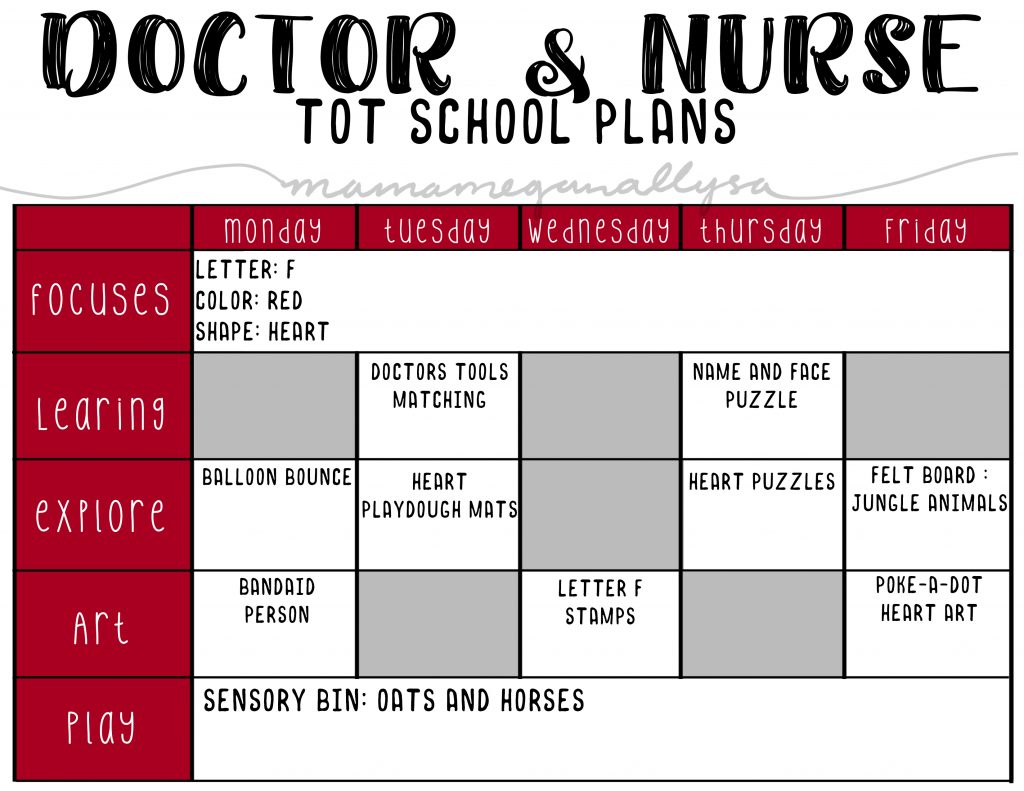 MONDAY – Balloons are always a hit, so I plan on filling a couple up and seeing how long she can keep them up in the air. We might have to make some kind of paddle for her.
Band-aids are becoming a big deal around here so I am going to give her a few and let her work the fine motor to unwrap them as then cover up the owies on her coloring sheet person.
TUESDAY – Using her doctors kit I am going to trace around the tools and then let her try and match the outline to the tool that goes with it.
WEDNESDAY – Using our letter coloring sheet and some Red and Pink ink pads she will use her fingers as well as a letter F stamp to decorate the paper
THURSDAY – Using a picture I print of Bitty I will cut it into strips with each strip also having a letter from her name. When she puts the picture together the bottom will also spell out her name
I will create some little heart puzzles. Using some paper hearts that I have cut in half she will have to match each heart back together.
FRIDAY – I will tape down a heart for her to decorate around using some pompom stampers then we remove the heart and you have a clean heart left among the poke-a-dots
February Shape of the month : Heart
MONDAY – I will tape down a heart on the rug and have her walk on the line. We will also jump and maybe ever gallop
Using a Do a dot color sheet she will work on only adding dots to the circles in the heart shape
TUESDAY – I will pull out some valentines themed pipe cleaners for her to thread into the colander
WEDNESDAY – We will cut a paper crown out of a paper plate and I will let her decorate it using glitter and gems
THURSDAY – I will pull some of our larger gems out for her to line up along a line that I draw for her
FRIDAY – Using some contact paper tissue paper we will create some heart suncatchers
Transition Into the Unknown
At some point, our February Tot School plans are sure to get interrupted. I am due any day with baby Bean and I am sure that there is bound to be a very big adjustment for us all. That said I am going into our tot school plans accepting that and knowing we won't end up doing all of them. I also know that we will be home a lot and that Bitty tends to get bored when we do that. SO, I wanted to have plans and projects on hand for when she demands to paint, or I need to pull out the playdough to keep her distracted for a bit.
Free Editable Tot School Planner
Whether you are just starting out your tot school adventures, or you have been there done that, my lesson plans may not be just right for you. So, I wanted to offer something that I think can help anyone. I have a blank editable tot school planner for you to fill in and customize to suit both your little one's needs as well as your own! Do as much or as little as you want and join in the tot school fun! Just enter your email down below and a link will be sent to you with my editable planner!
Other posts you may like