The first time I heard the term loose parts was last fall; and trust me, you and your kids have played with loose parts. You just maybe haven't used that term.
Loose parts play is just providing random loose parts for kids to do whatever they want with. They might make them play food or make patterns out of them. They might see how high they can stack them or sort them by color. The idea is that it is entirely up to your kid and their imagination!
The big fad in children's toys right now is Wood, either in its natural state or dyed bright colors! I am here for that because well, it's pretty and it looks nice on my shelf! The other big thing is open-ended toys. Toys that don't tell you HOW to play with them. Your little can use them in any number of ways to suit whatever game they come up with. These DIY loose parts fit both of these bills and I am so happy with them!
This post contains some affiliate links. As an Amazon Associate, I earn from qualifying purchases. I may receive a small commission from if you follow and decide to purchase. There would be no additional cost to you!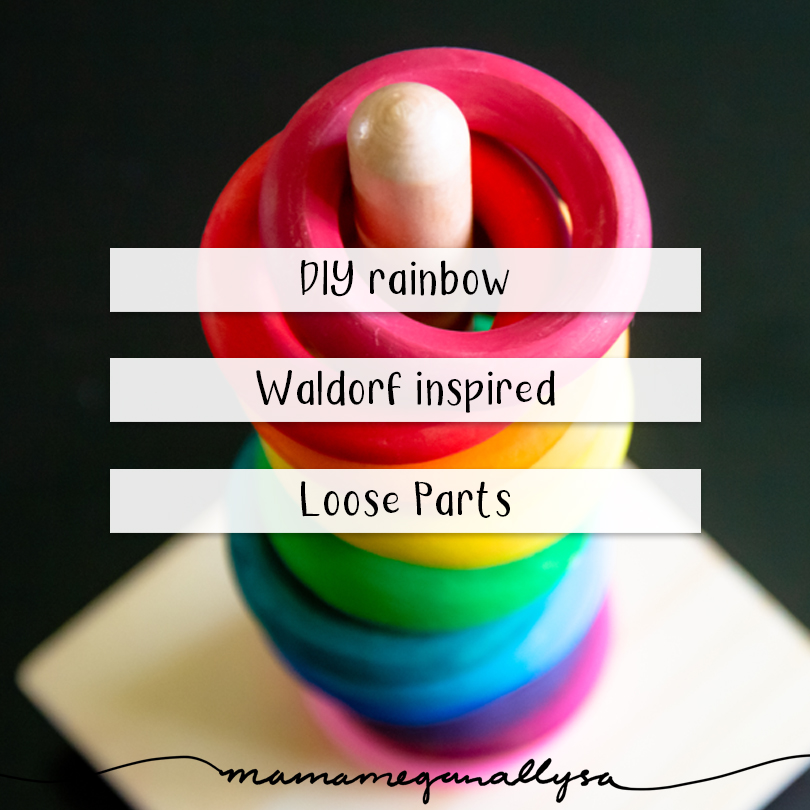 The most well known loose parts companies are Grapat and Grimms (at least these are the two I hear the most about) .
These companies make a wide variety of loose parts and sure you can buy premade, but that's just not my style! After some research and internet digging, I knew that there were at least SOME of the more common loose parts that I could totally manage to make myself!
Prepare yourself. There are LOTS of pictures coming.
In the Beginning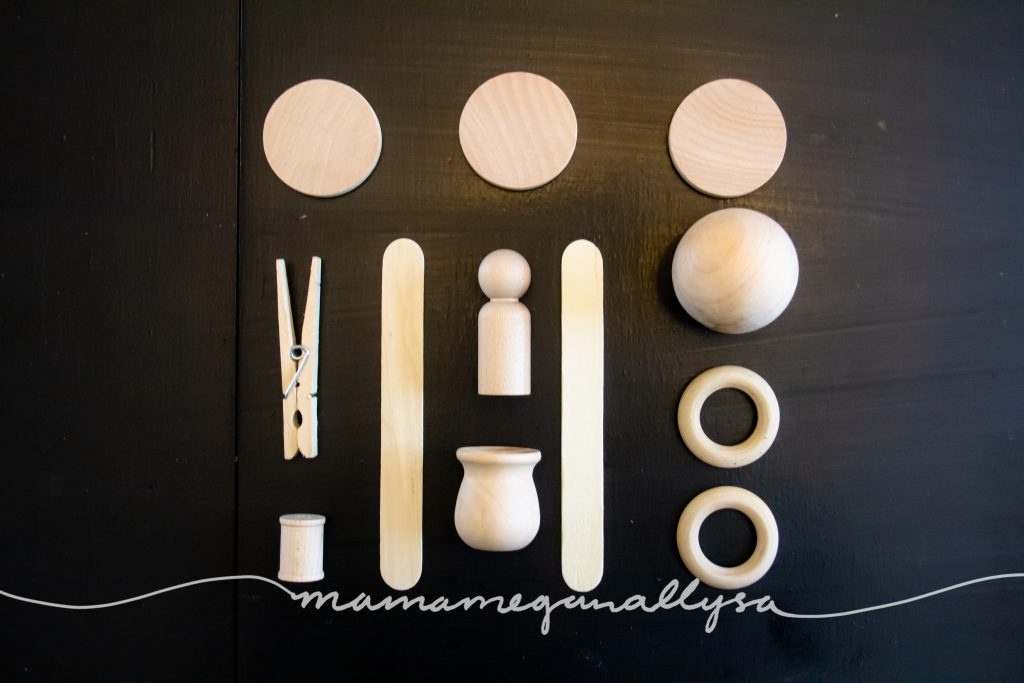 There are lots of options for where to find your raw wood. Craft stores, Etsy, and Amazon. Had I wanted to keep it simpler I would have, but I tend to over complicate things…
In the end, I purchased my supplies from caseyswood.com I found they had the best selection and their prices were good too!
These are the items I settled on
20 – 2 3/8" peg people
20 – 1 9/16" bean pots
16 – 2" balls
32 – 1 ¾" rings
54 – 2" coins (discs)
16 – ¾" spools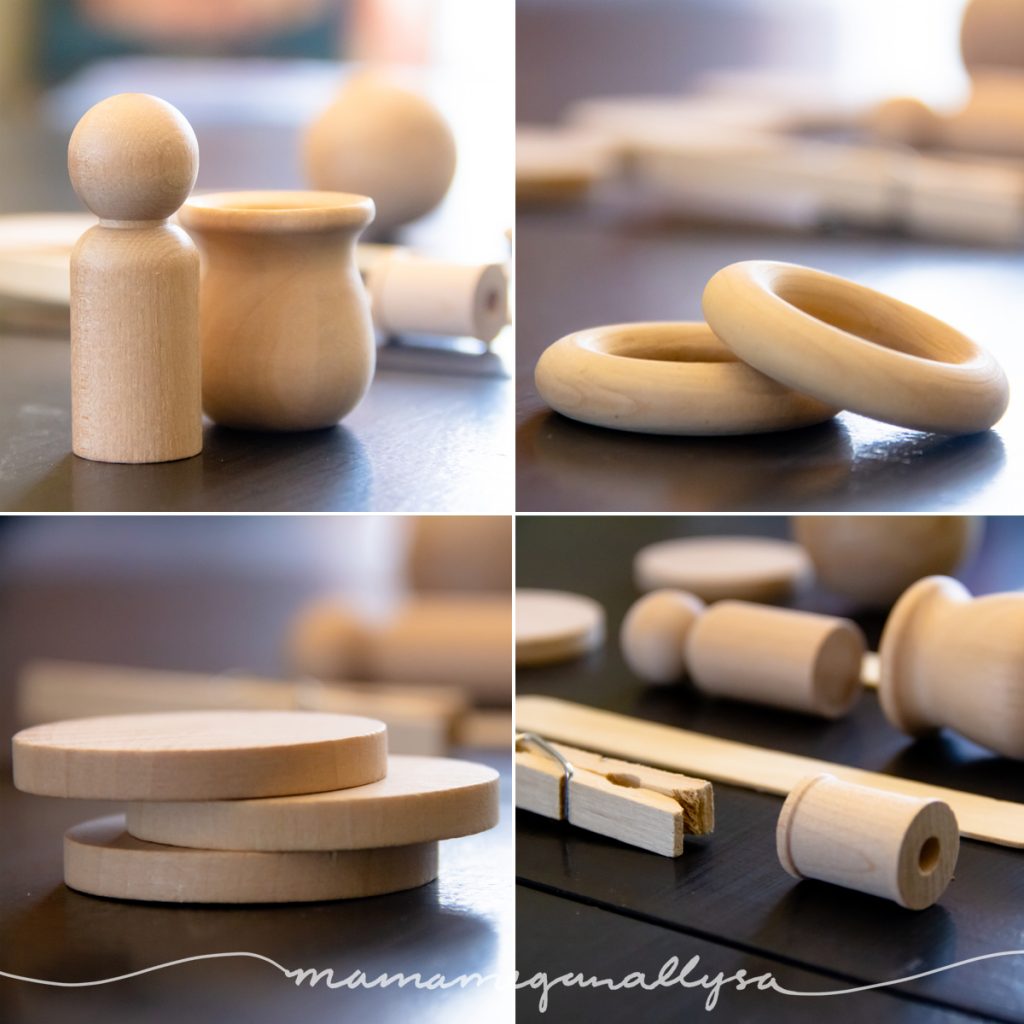 I also picked up a couple other simple items that I knew I could paint to add to the set
20 – clothes pins
32 – popsicle sticks
You my be wondering why there are so many different numbers in that list. Trust me I had a theory!
Its just simple math
I knew I wanted to color match our Grimms Rainbow, but I also felt that there were some gaps that should be added in, plus some neutrals and in the end we had 20 different colors. So that is why there are 20 peg people and pots! We only have 16 balls and spools because I didn't do any neutral colors for those. The rings are easy enough to figure out, as I just wanted 2 of each color of the rainbow (no neutrals) so that gets us our 32. The coins are the trickiest. I went for three of each of these colors (love me an odd number every now and then!) BUT this time I did the full rainbow, plus black and white. I didn't want to do brown and natural because I have actual branch slices that I can use for that. So 18 colors at 3 coins each and that is where we get 54 from!
Time to paint : but with what?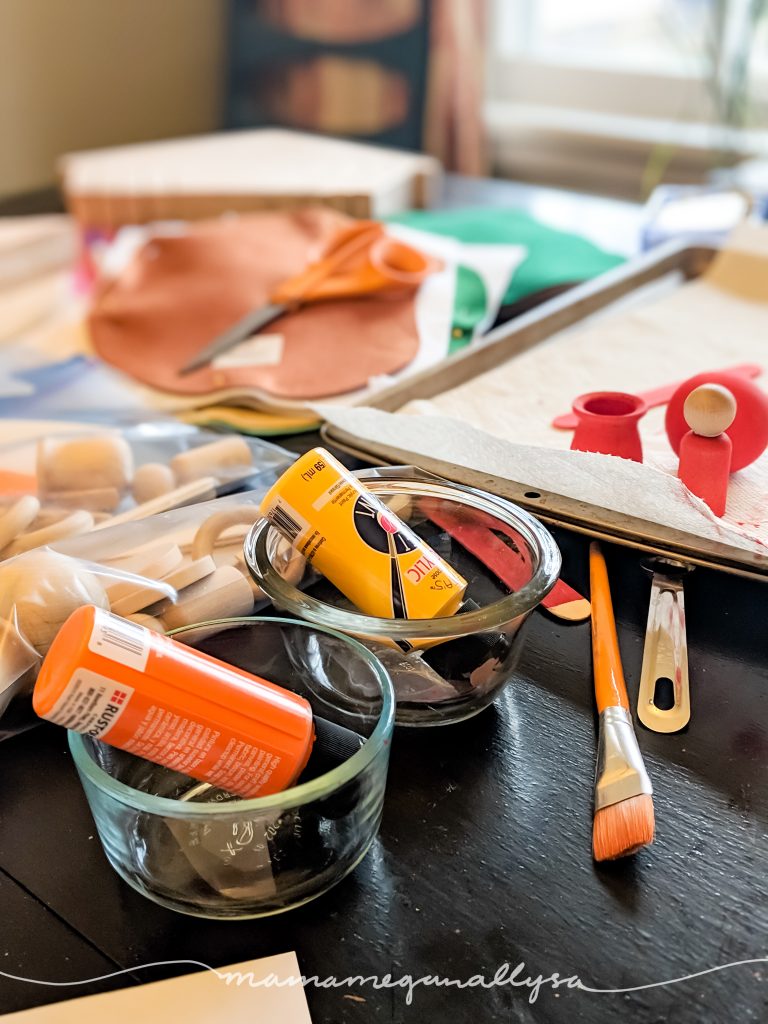 I sat on the raw wood pieces for a quite a while before I got the nerve up to paint them. There were visions of matching our Grimms rainbow in my head and that meant I needed to be picky about colors. I debated on food dye, proper wood dye, watered down acrylic and DIY wood stain.
I settled on acrylic for a few reasons.
it's cheap
it's readily available
it comes it a wide variety of colors from the get go
Food dye is a good option, though a slightly more limited pallet unless your game to start mixing. Also it is water soilable, so if your little is still mouthing things the color would bleed. Ultimately I said no because I couldn't figure out how to seal it without some kind of gloss. Still doing research there, as I would love to have taste safe for future projects. (Not that Bitty is still mouthing things…)
Wood dye would do what I want but DANG that stuff is expensive and with the base colors you have a limited pallet.
DIY wood stain is a new idea to me and I am interested to try it out at some point I just decided not to for this.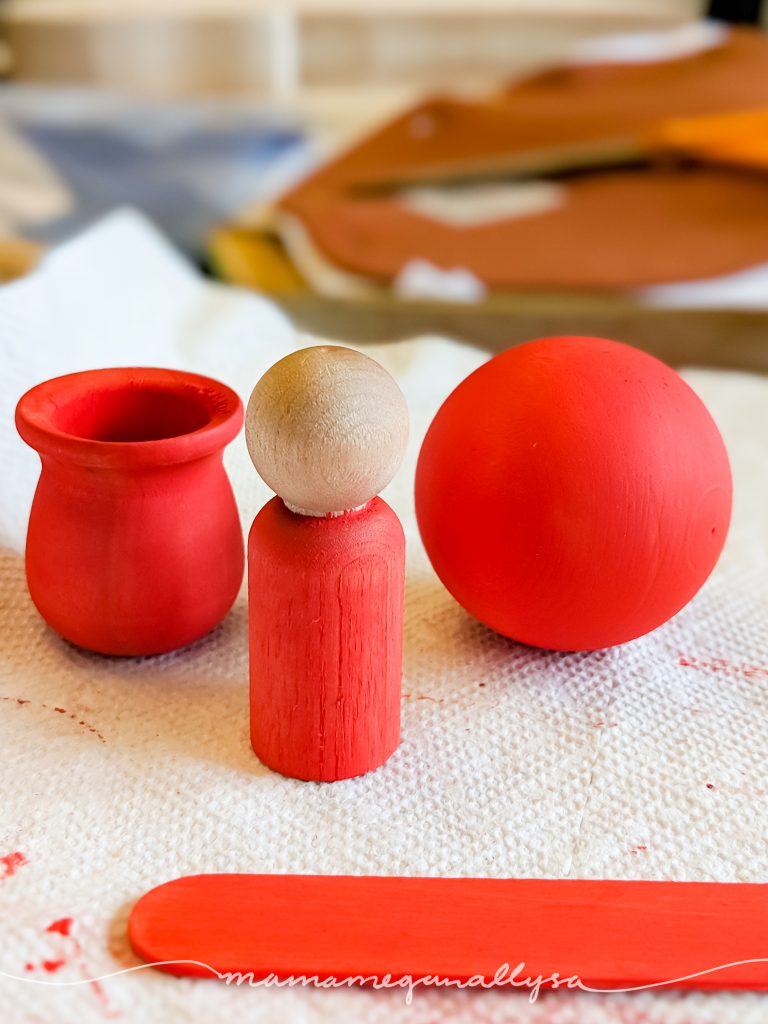 Trick time: By watering down the acrylic paint we can still see some of the wood grain underneath and we don't loose the texture of the wood either!
For the colors that matched up with our Grimms Rainbow, I wanted to be as close as possible. Some of the paints that I picked up worked great from the get-go, others needed a little custom mixing. I also wanted everyone to be the same ratio of watered-down so that the wood grain showed through, I ended up on a 2:1 ratio of paint to water.
I used spare popsicle sticks for color swatching. You can see here some of my notes trying to find the right red!

These two reds were some the trickiest to get right
Sealing it up
I have yet to seal these. I have toyed with the idea of beeswax or mineral oil. But those would eventually need to be reapplied. There are a number of clear coats I could use but I don't want to lose the wood texture… I am also hoping to find something nontoxic.
If you have any ideas on what we could use to seal these babies up leave a comment down below!
Ok enough of the boring behind the scenes. You're here for rainbows!!!
Let the Rainbows begin!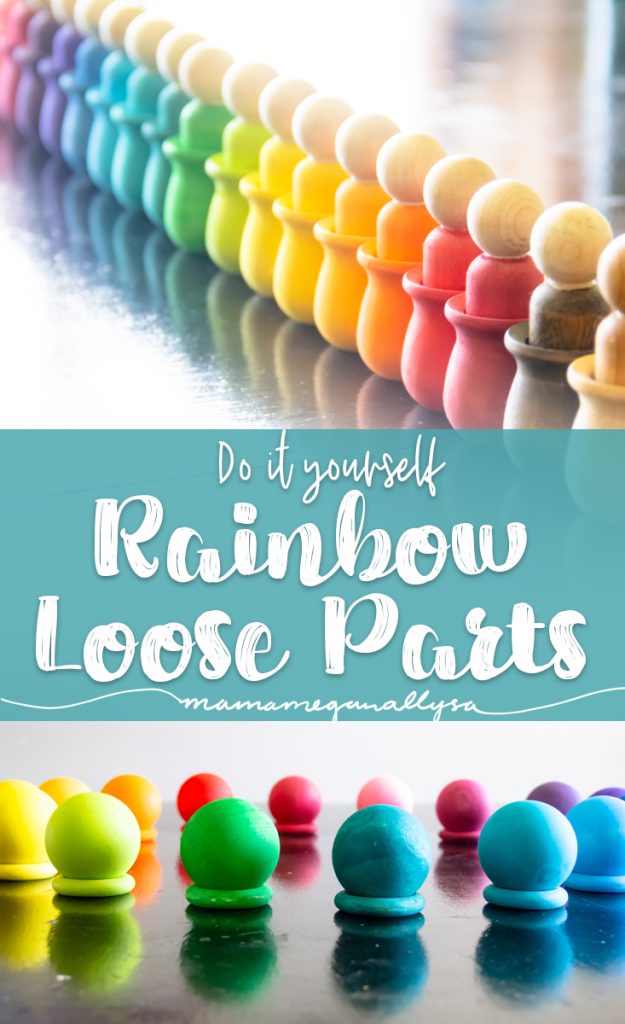 I currently keep our loose parts put away for the most part as I feel she would get overwhelmed with the whole collection out. So when we get them out we just get our a few at a time, and usually with some sort of invitation to go along with them. This helps get the juices flowing and then from there she gets more creative!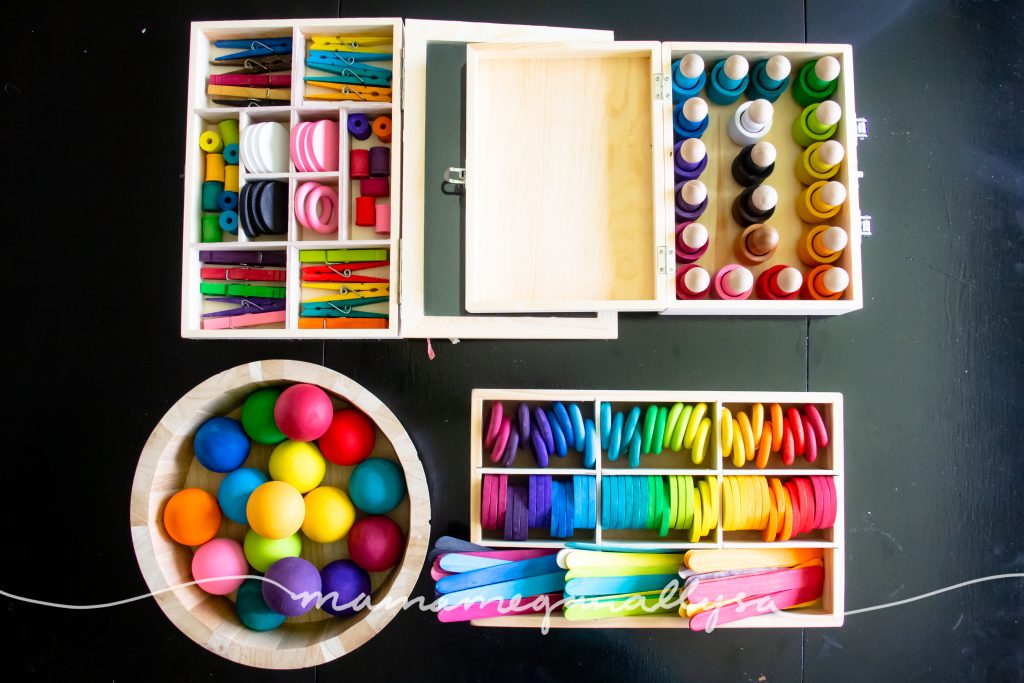 Peg People & Bean Pots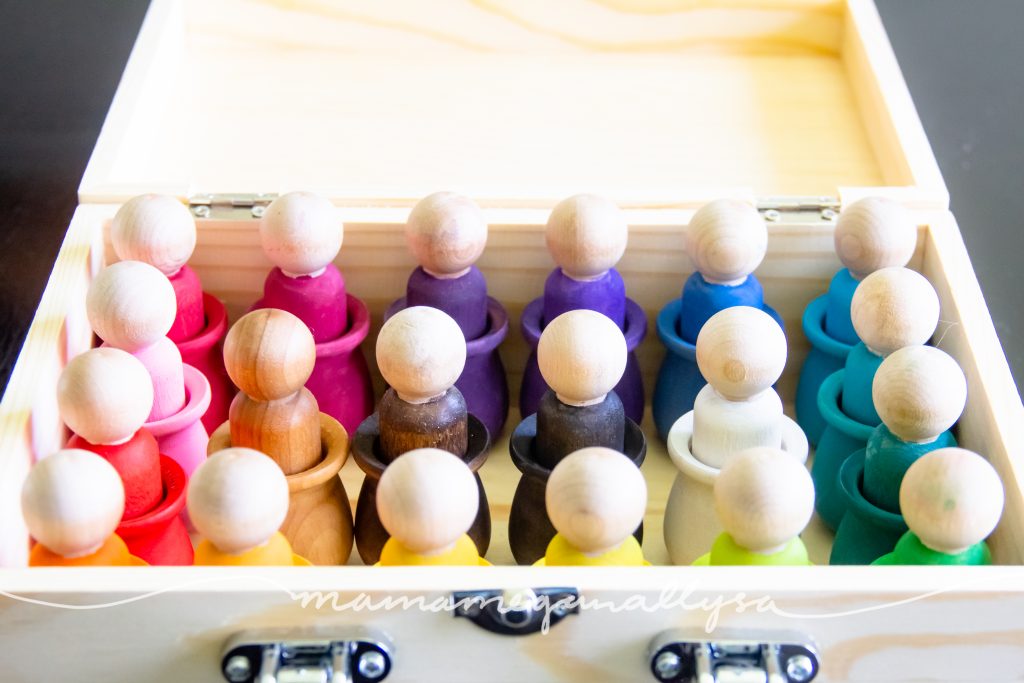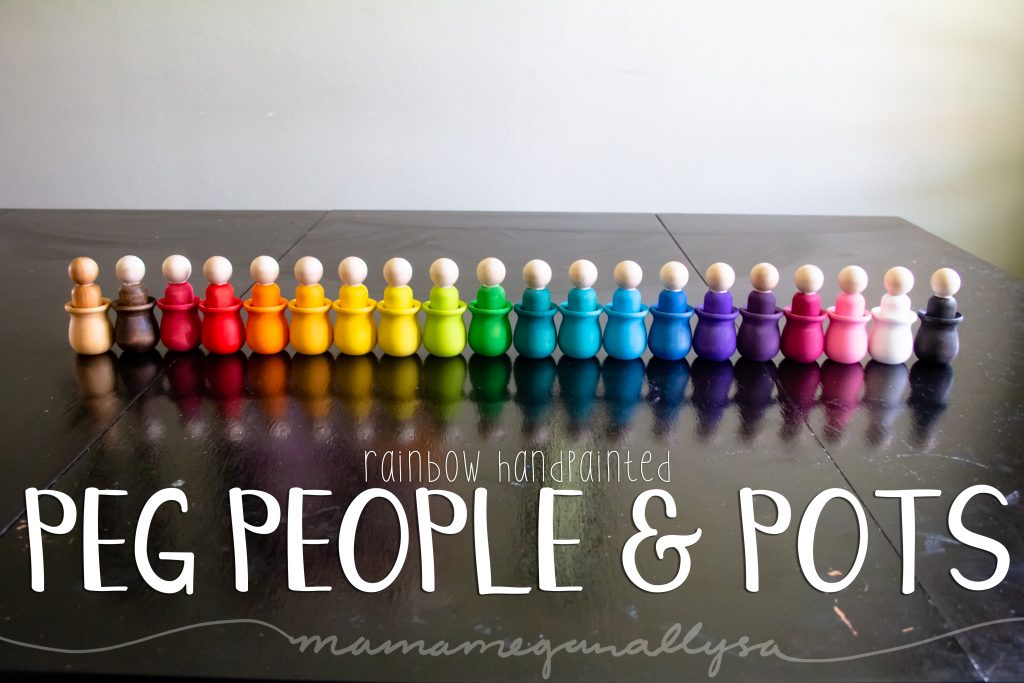 These peg people and pots are possibly the most well known. I think this is because parents understand them more. There is a goal, a purpose, a skill to do with this. While that is true they are still just as open-ended as any of the rest.
Rings and Coins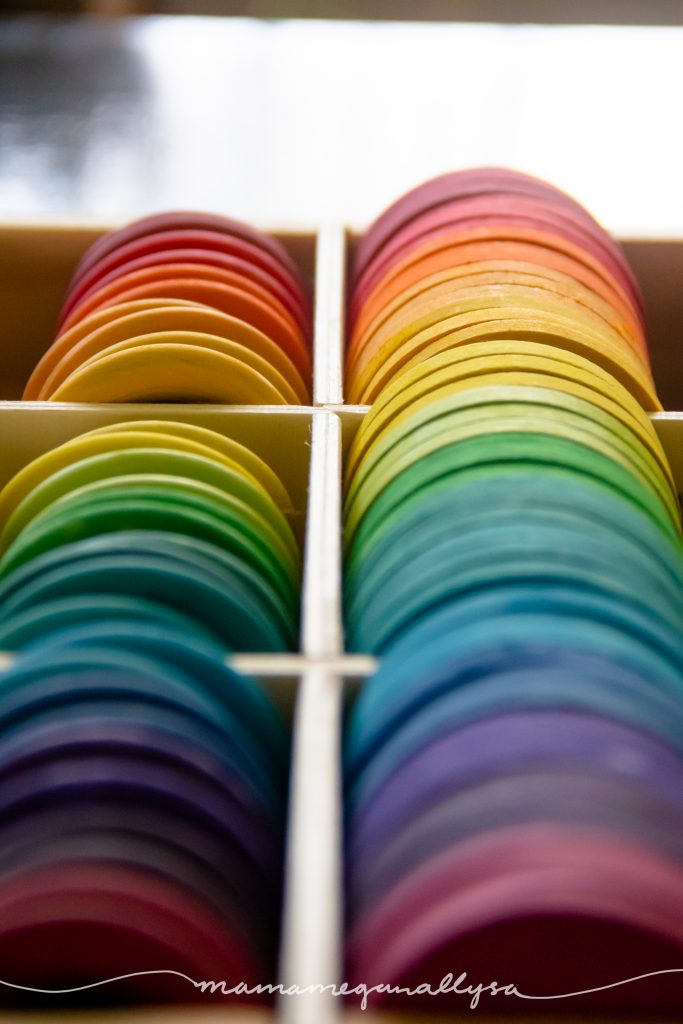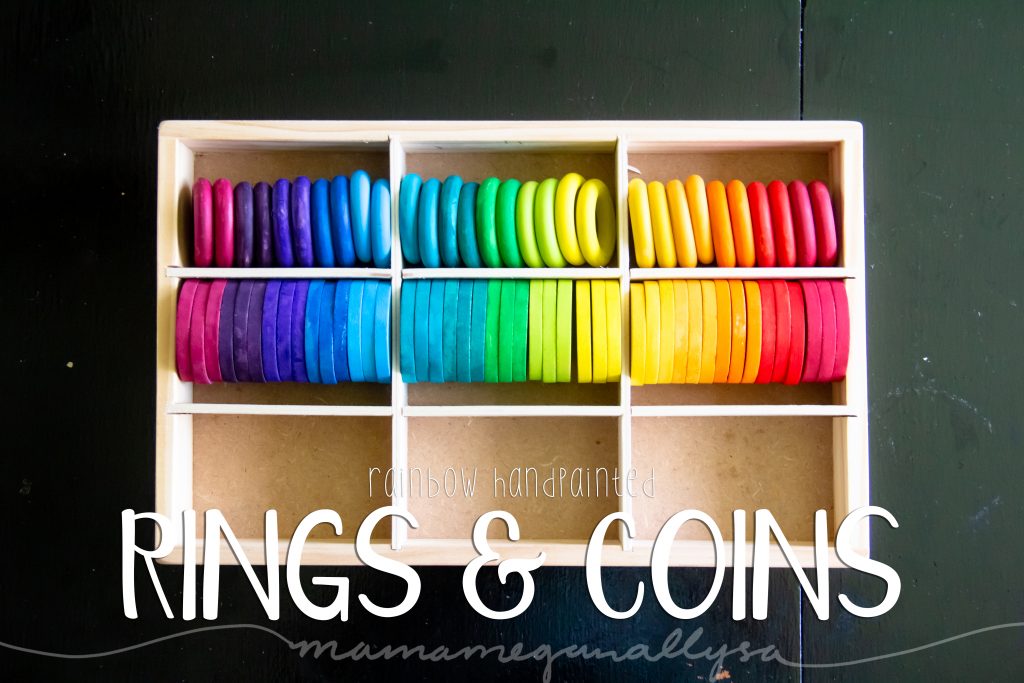 The coins and rings are possible the most open ended. They can be used for building or posting or stacking or sorting or rolling or small world. The list is endless…but that's the point!
Balls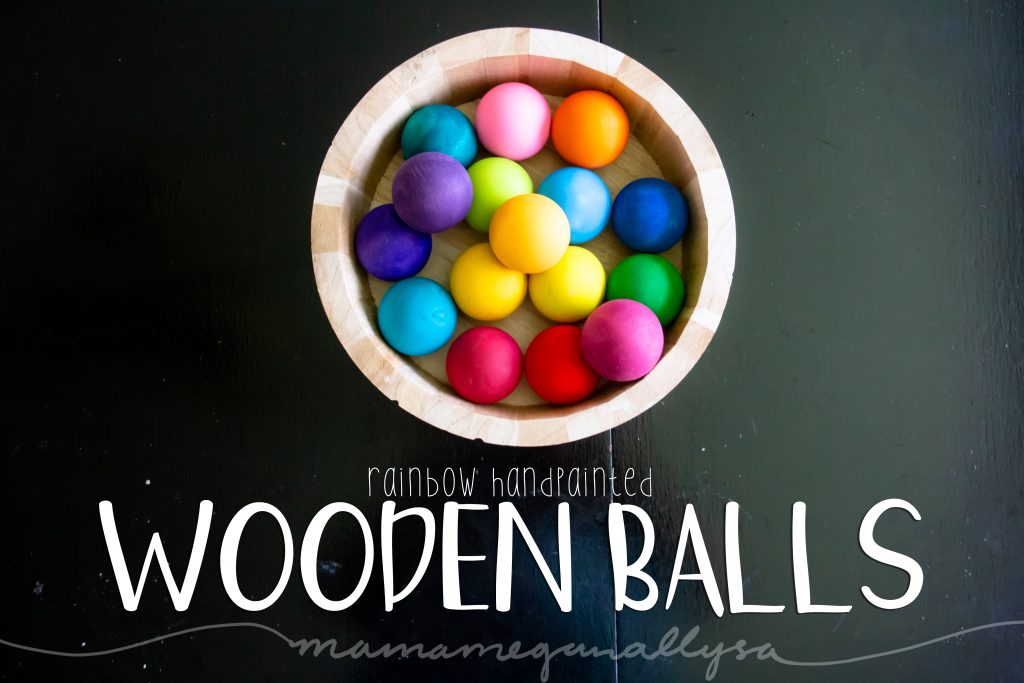 The balls are just that, balls. Anything you would want to use a ball for you can use these for. They do have a really nice weight to them…so maybe don't throw them…lol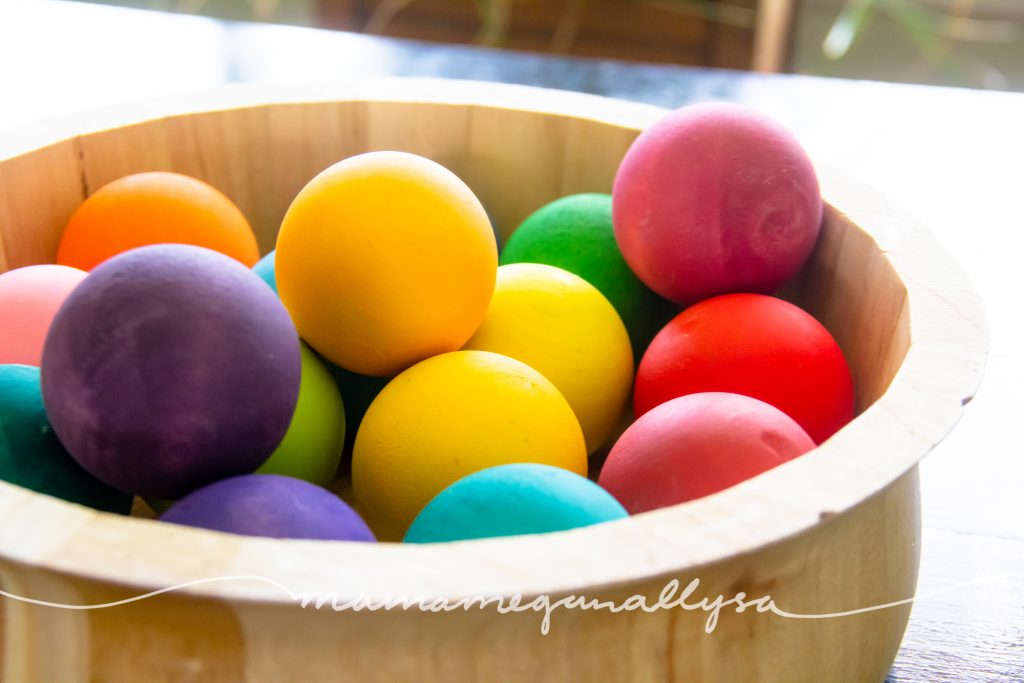 Spools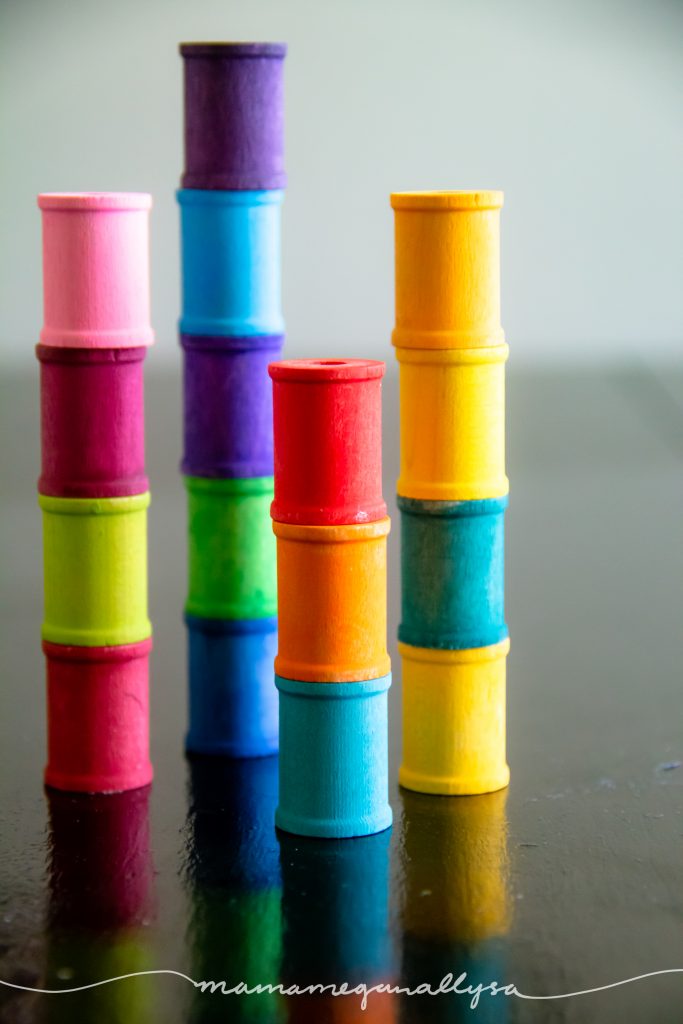 These spools are great for lacing and stacking but could be used for anything. Advice time: If you are making these, get larger spools to make it easier for little hands to work with them!
Popsicle Sticks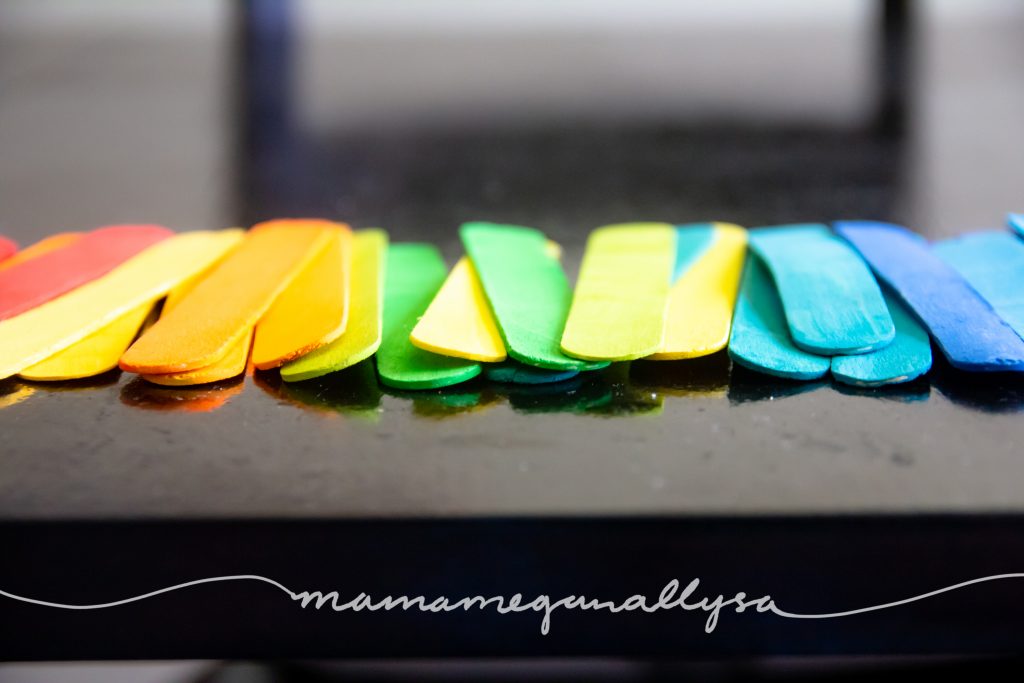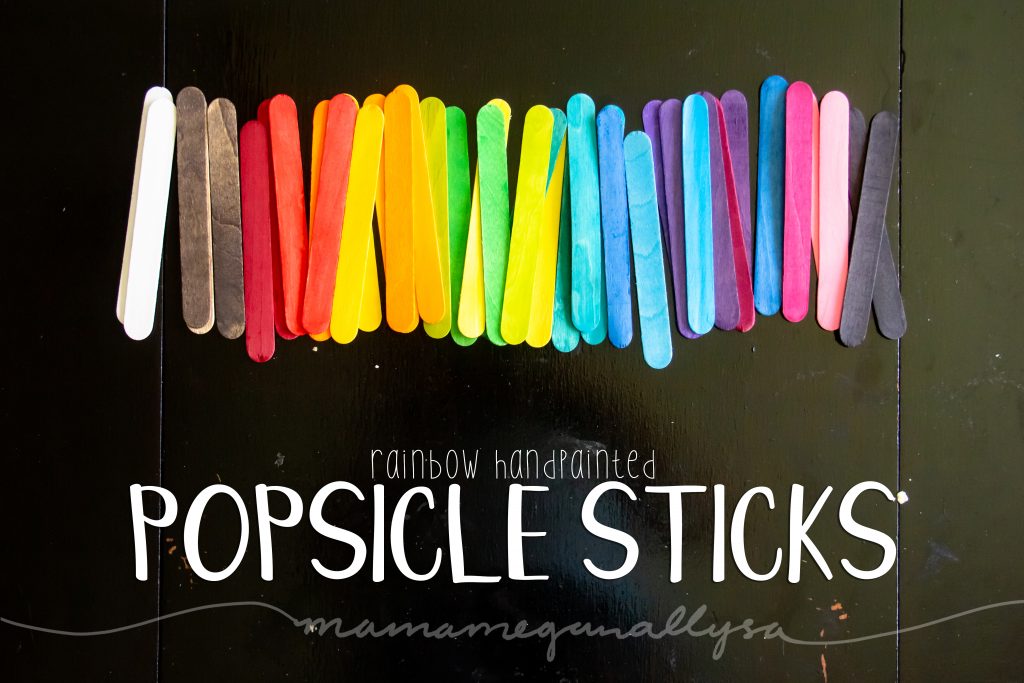 Advice time: If you want to make these popsicle sticks, buy slightly higher quality. I purchased mine at the dollar tree and the added water in the paint made some of them bow a little.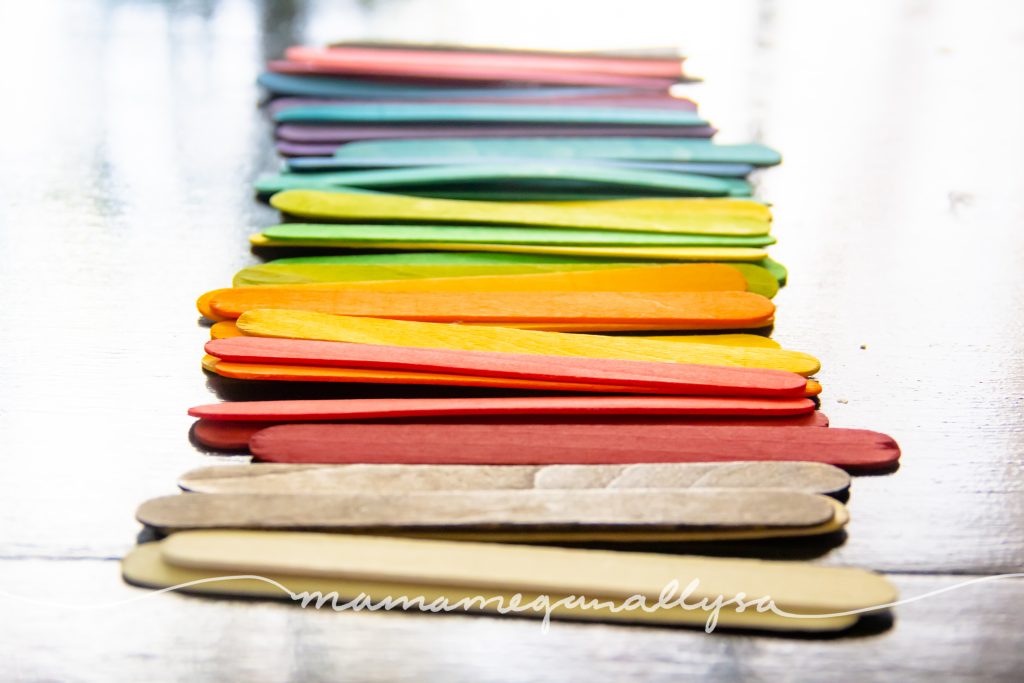 Clothes Pins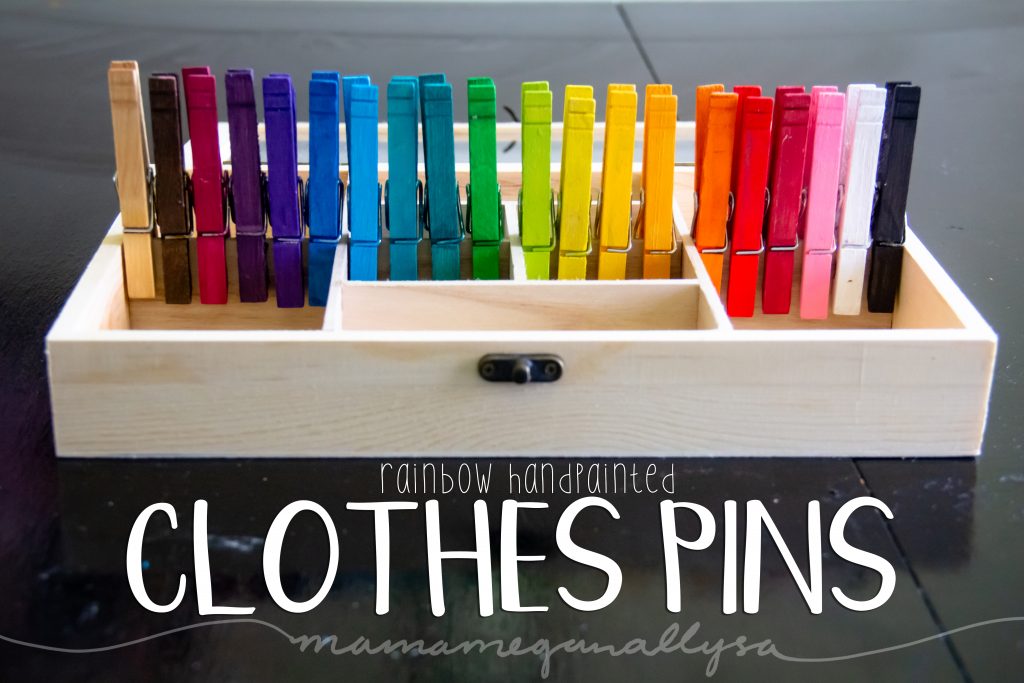 Tip time: If you're like me your first instinct will be to pull the clothespins apart to paint them. This makes painting them a breeze! BUT putting them back together marred the paint. So when you make yours leave them together, getting into all the nooks and crannies was trickier, but the end result was better!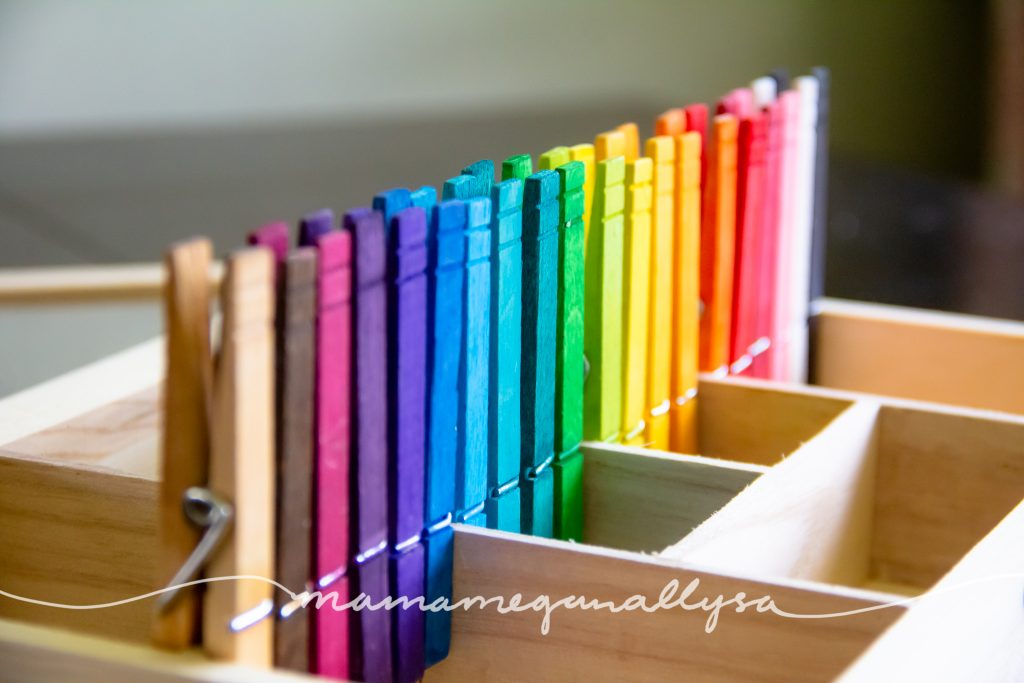 Homemade toys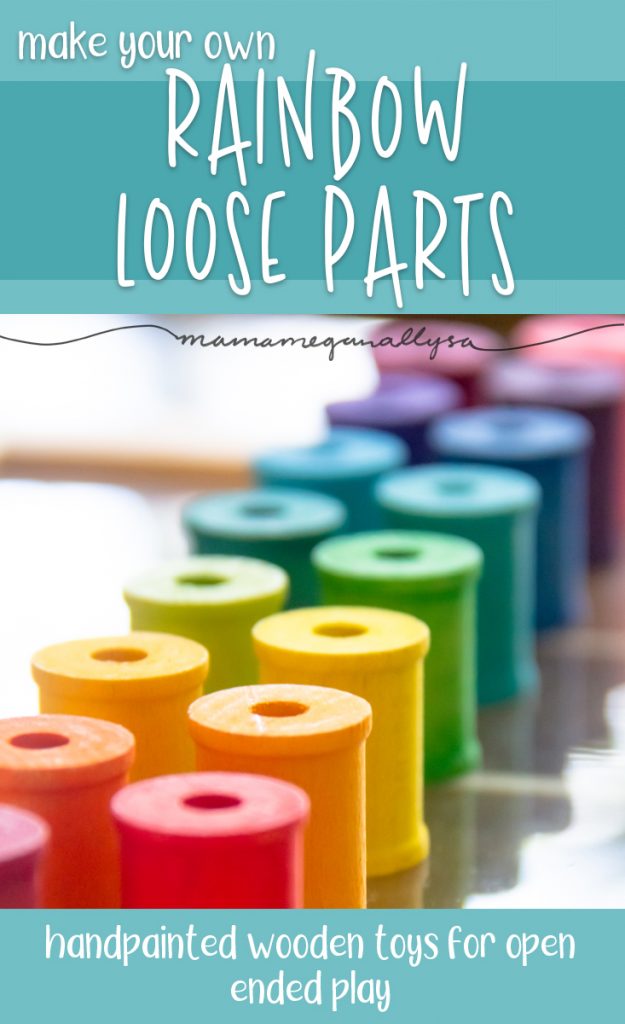 This was a bit of a passion project that just kept getting bigger and I absolutely love how these turned out!
Have you ever head of loose parts play? Are you the kind to take on the task yourself or buy the premade. After doing this I would totally make more but new shapes and objects are harder to find so we might end up buying some too!