I am soo ready for winter to be over and to spend more time outside and make use of all our new outside toys we got from Easter! I'm hopeful that the time is quickly approaching!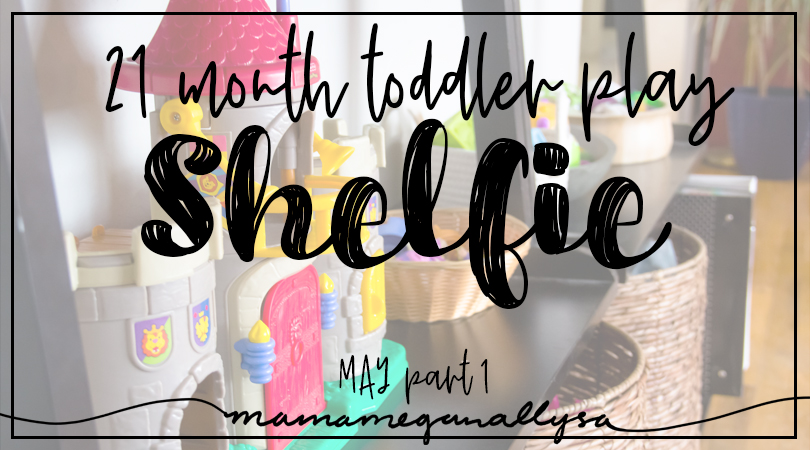 This week's toy rotation actually had me a little stumped. I try and have a rounded selection of toys. From construction to imagination to fine motor to logic, and so on. She's really not ready for anything literacy or number based, so we haven't really gotten into that.
I also haven't been able to pin down any one schema that she is in right now so I can't just roll with that. If you want to know more about schemas let me know I would be happy to do a little more research to share with you all!
This post contains some affiliate links. As an Amazon Associate, I earn from qualifying purchases. I may receive a small commission from if you follow and decide to purchase. There would be no additional cost to you!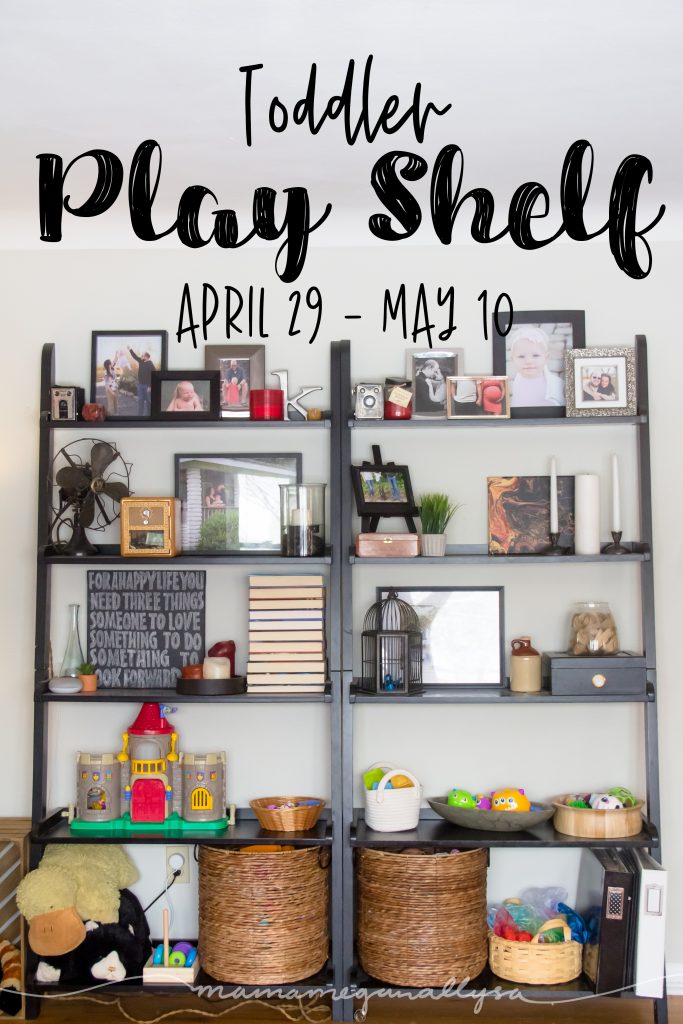 Activity Table
We have the Melissa and Doug Safari puzzle out on the activity table. These puzzles are just starting to be a little too easy for her. She can easily put them together and then after she does them once or twice she just doesn't go back. BUT if we go with one that doesn't have the picture on the back she won't do them at all…I am a bit puzzle stumped right now. Got any advice?!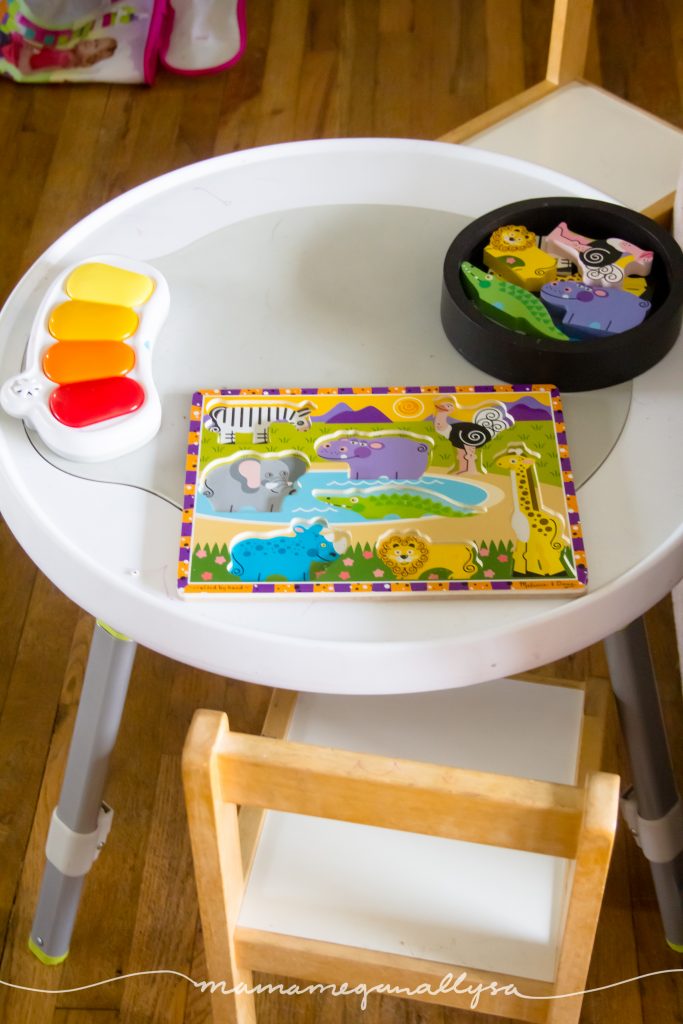 I also feel like we aren't using this table to its best capacity right now. The chairs on the other hand she is LOVING. She pushes those things around everyday.
Play Shelves
We wanted to get out some of our presents from Easter this week and the little people castle is always a hit!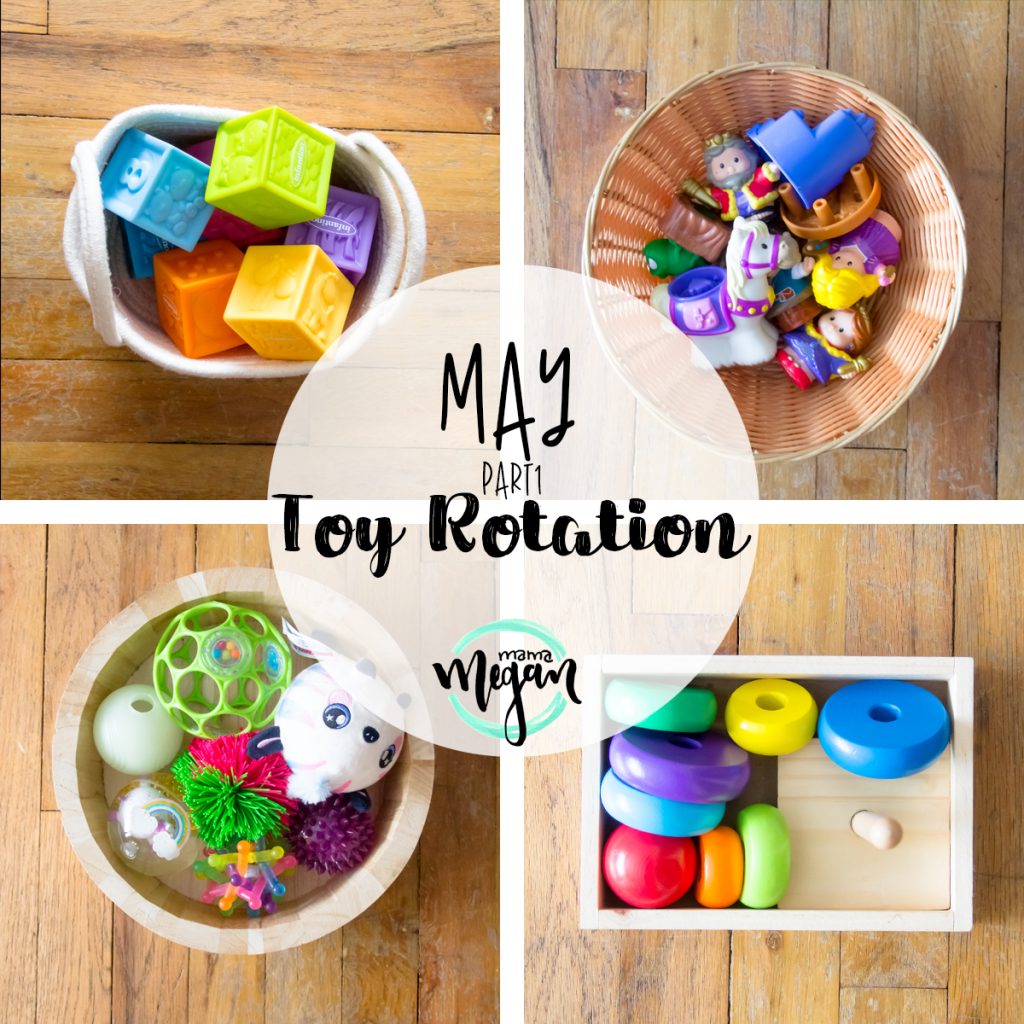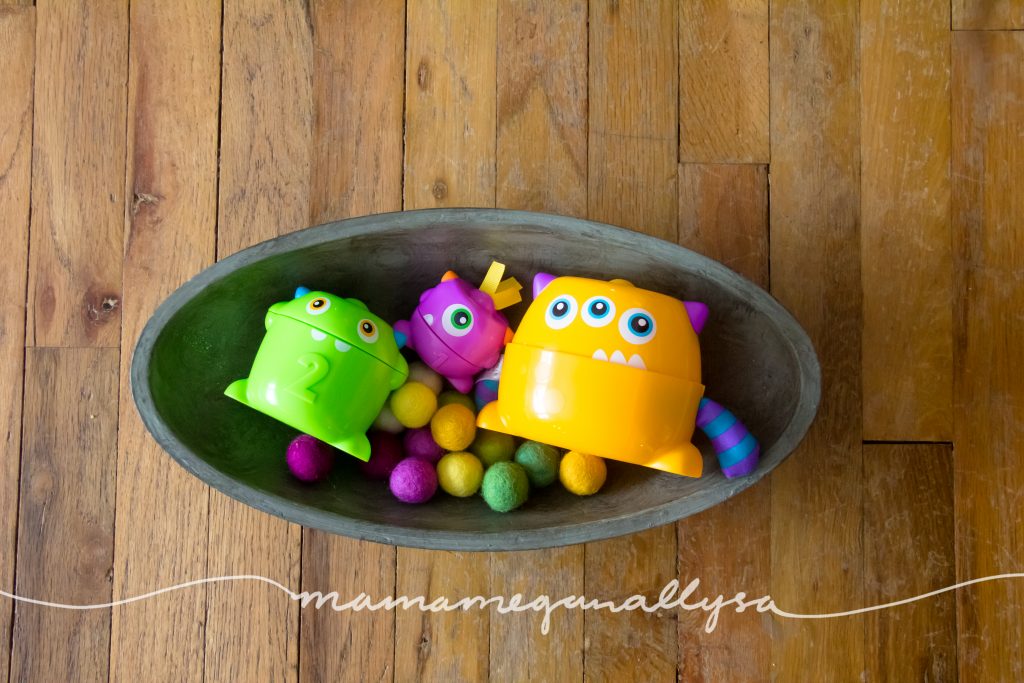 These little monster nesting dolls are fun but it really bothers her that the little purple one doesn't open. For some added fun I added some of our felt balls as food for the monsters!
New Staples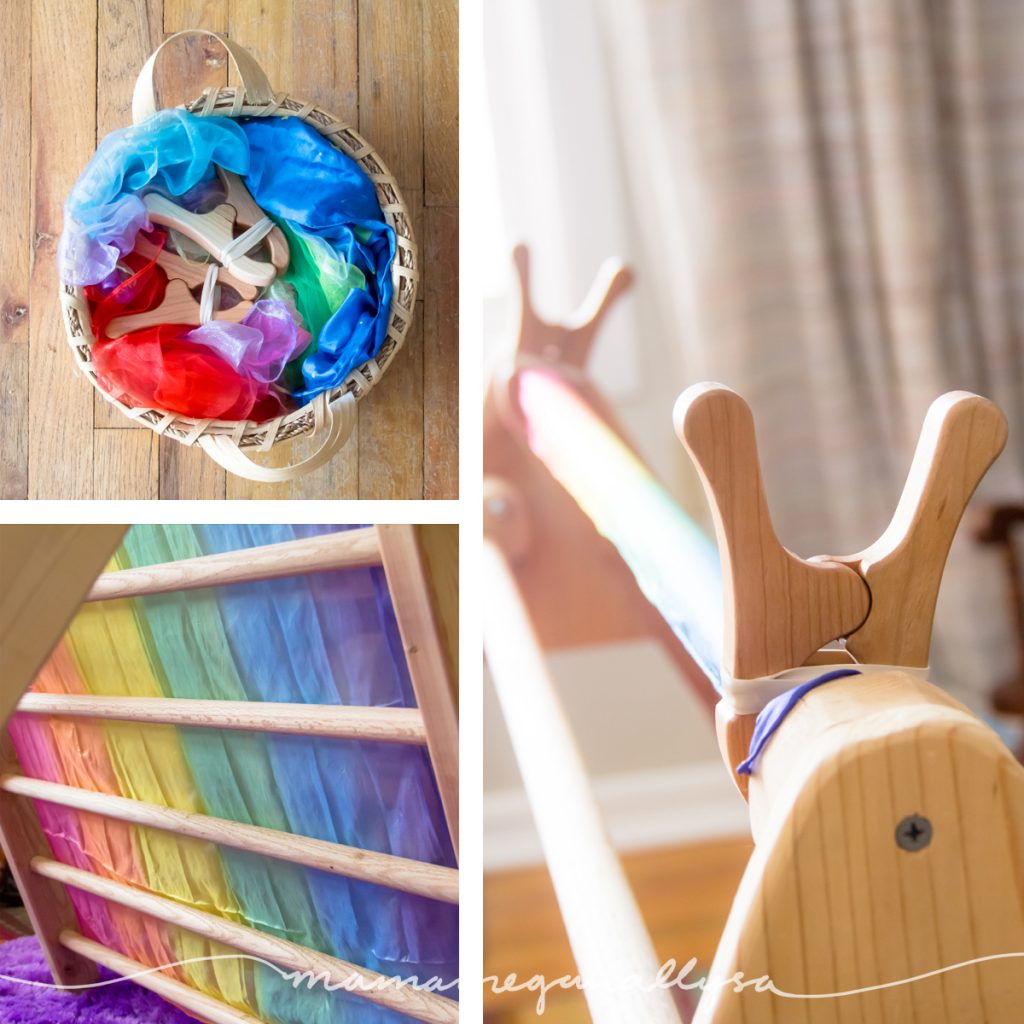 We got Sidney some dance scarves for Easter and her Lala got her a couple of Sarah's Silks and the wooden play clips. These have been the runaway hit this week for sure. She LOVES the clips and it has been fun watching her get a little stronger and more confident every day with running the clips herself. We have the Rainbow and the Starry Night silks and they are beautiful. We also have the dance scarves mixed in the basket just for added fun!
The Big Baskets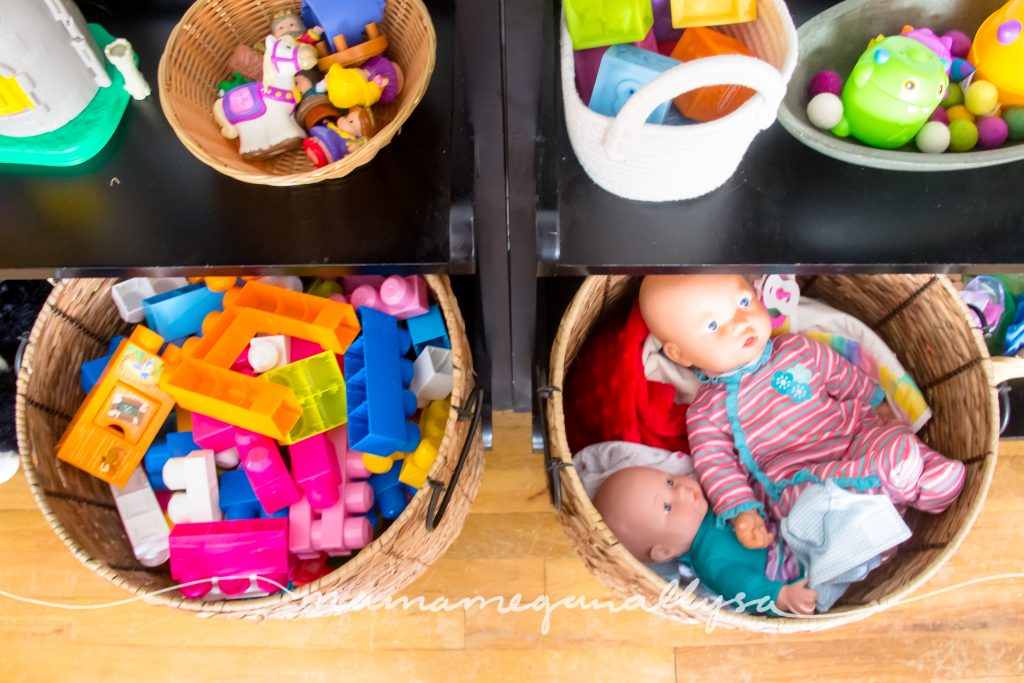 We have her MegaBlocks and her baby dolls. She has been very interested in her babies lately there is always at least one pulled out. Her mega blocks are an interesting thing for her, she likes to have them out and she wants to play with them but she demands you play with her and then while you are building she just gets up and leaves.
Front and Center
We have her Reading corner to the left with her library books and rocking chair. I am thinking about switching her rocking chair for her little arm chair in her room. She isn't really using either one much so I thought a little change might spark some new interest.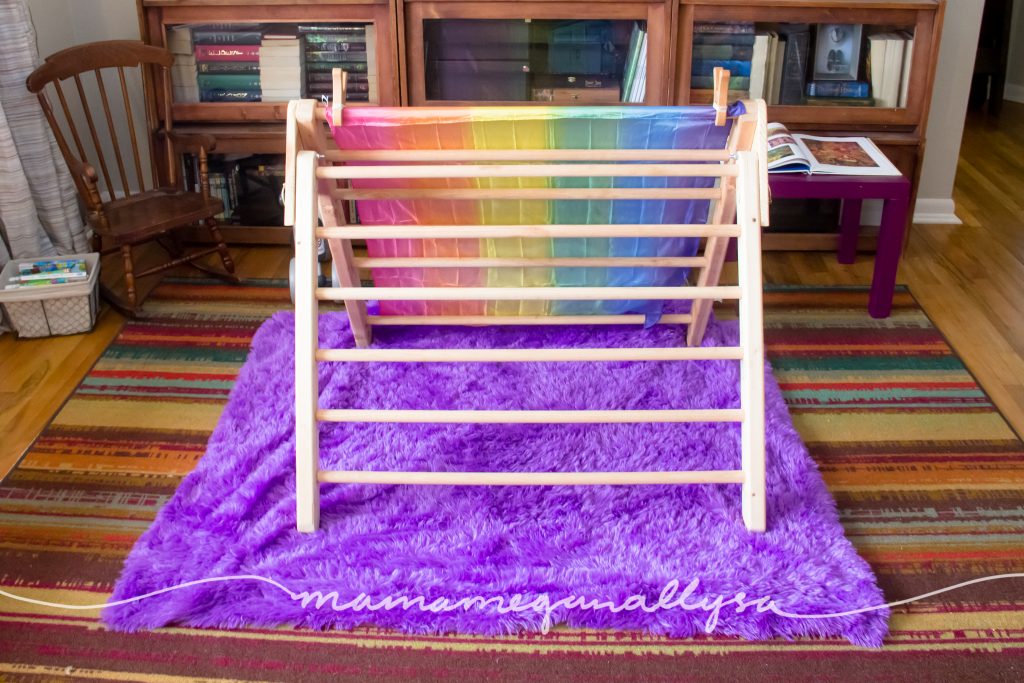 Her pickler is in fort mode this week with her silks and clips. Oddly she really likes to climb her pickler when it has a silk/blanket draped over it. No idea why. If you know please let tell me!
We have the little extra table over to the right of the living room this week. I wasn't really a fan of it in front of the window. I don't mind it over here so much. Right now we have an art book out for her to look at.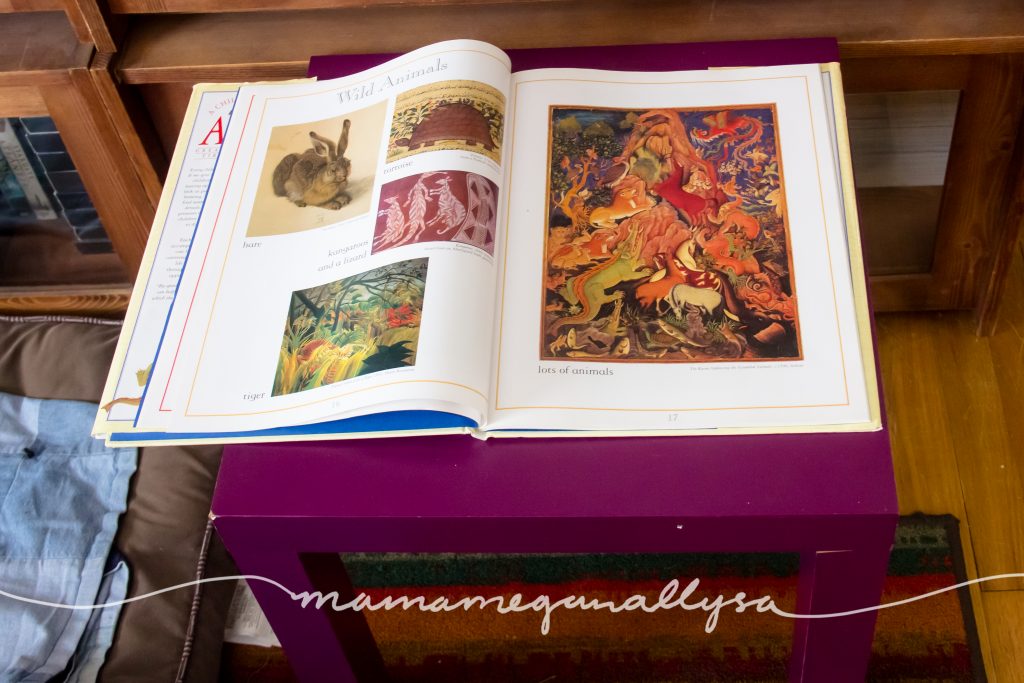 Discovery Tray
We are ready for a new color this month and I wanted to get the primary colors finished up so we are on to Red! This week we have a discovery tray filled with all sorts of random red stuff from around the house.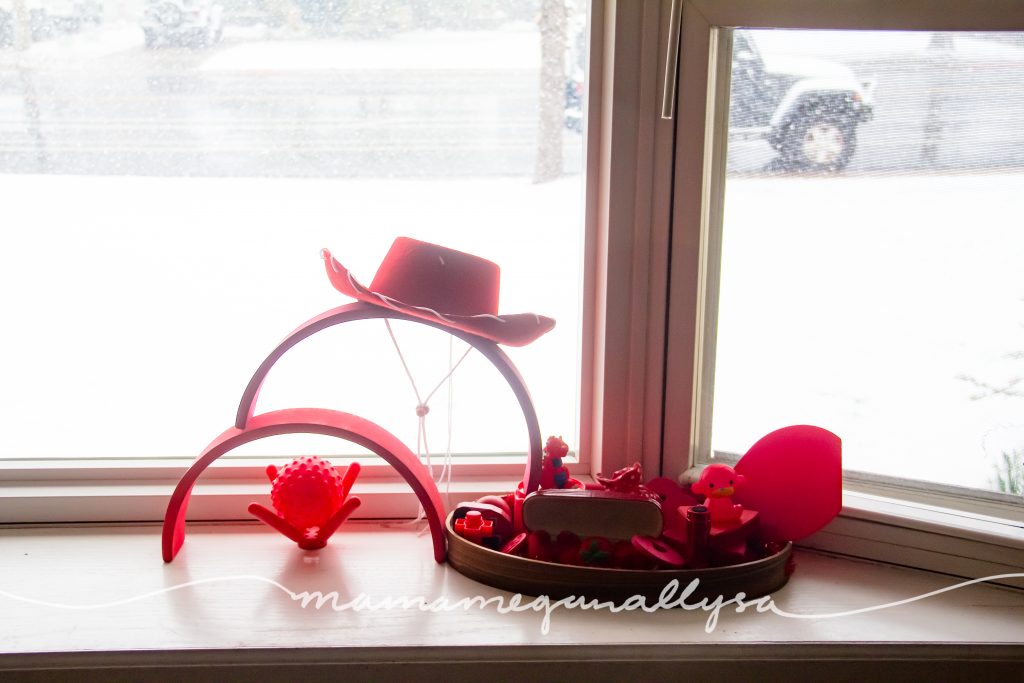 tough age
So there it is; our toy rotation for the first part of May. I feel like we are in a bit if a rut with toys. A lot of stuff just goes untouched on the shelves. She's just so gross motor focused and any play that she has to sit for just doesn't last. What did your littles play with at this age?