It was time for a toy rotation and I thought it might be fun to get a little more creative for March and thus the St. Patrick's Day Toy Rotation was born.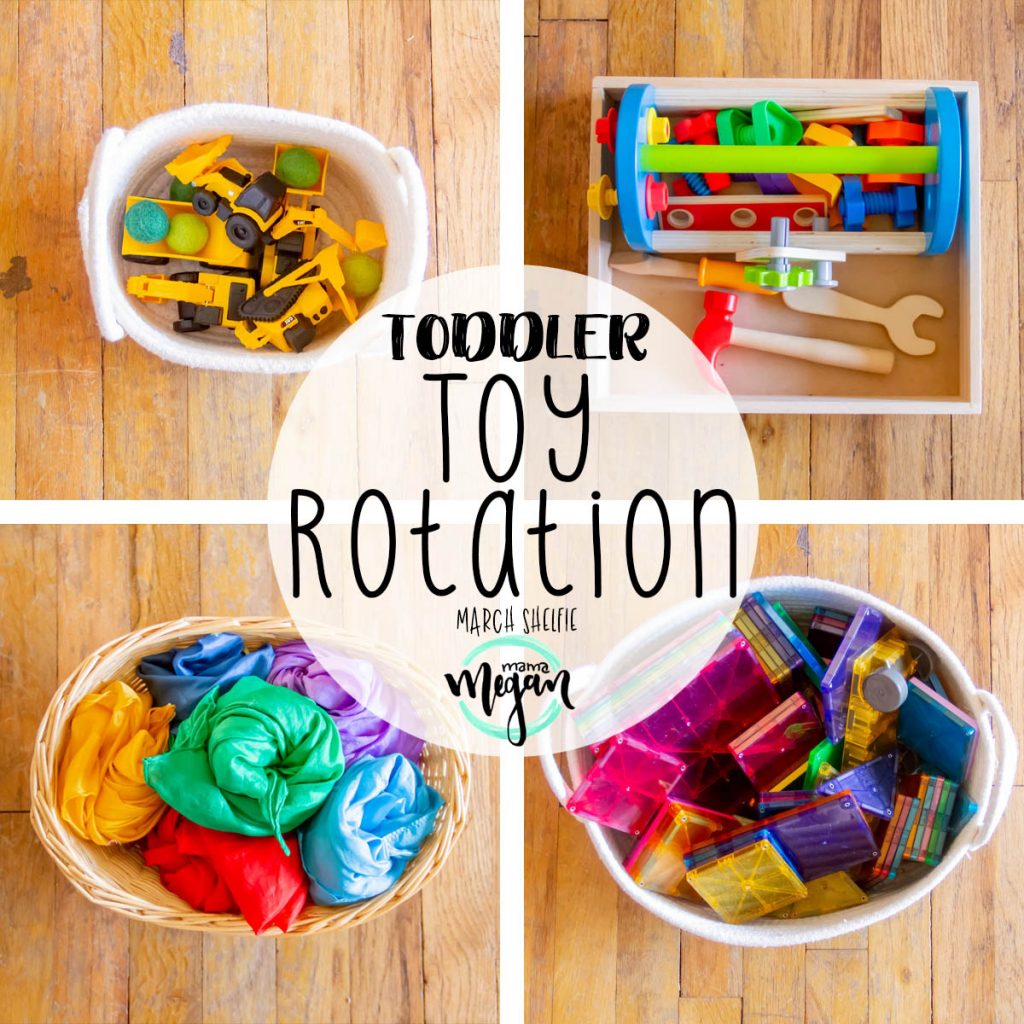 To be honest, I could have themed our St. Patrick's Day Toy Rotation more, but the idea hit me without a TON of time to prep so I was only working with what I had already on hand. I have already started thinking about what I could do for next month. Hit me up with your favorite Easter-themed toys and invitations to play!
Free Play Toys at Easy Access
We keep all the toys in the living room where we have two bookshelves along the wall. The bottom two shelves are hers for free play. The only things that we don't keep here are her dress-up clothes, play food, and books.
I rotate the toys on these shelves every two weeks or so. By limiting the number of toys out and having them put away on the shelf but still visible, she is able to access everything when the mood strikes her but also put everything away easily. This keeps the mess under control and encourages more meaningful play instead of just dumping everything out, leaving it there, and moving on.
This post contains some affiliate links. As an Amazon Associate, I earn from qualifying purchases. I may receive a small commission from if you follow and decide to purchase. There would be no additional cost to you!

Our Other Main Play Space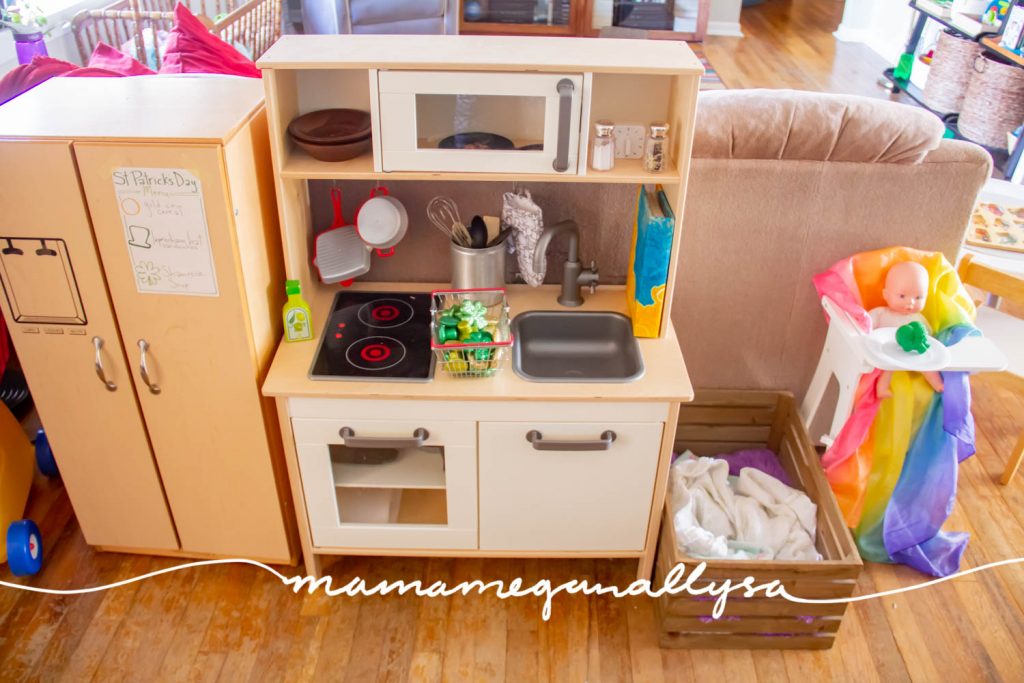 We have a little kitchen and baby doll home space set up along the back of the couch. Easily accessed but not the main focal point of the room and I like it that way.
This month I have some St. Patricks day loose parts added to her kitchen as ingredients. I also taped up a menu for her to look at, but I'll be honest that parts mostly for me. I love a theme. I am looking forward to more themed play in this space as she gets more imaginative!
Our Play Table Needs to be Multi-Purpose
We use this table for eating and coloring most of the time, but I wanted to move puzzles off of her free play shelves and we don't really have space for a second table at this time so we will just be moving the puzzle around as we need. Who knows maybe it will spark new interest in old puzzles!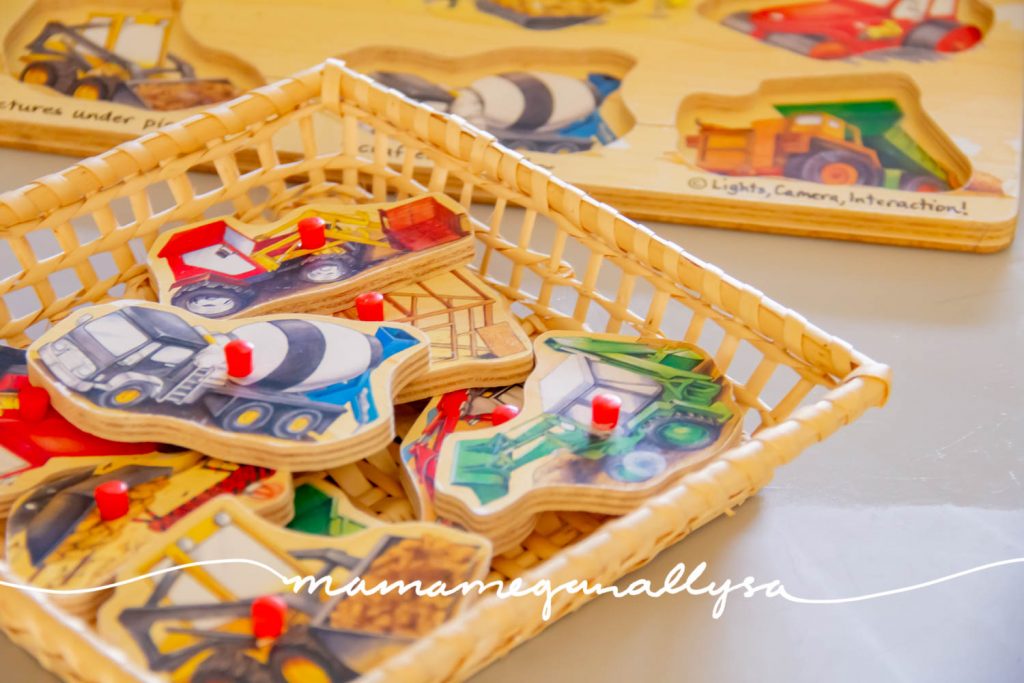 Construction Puzzle – This is a simple peg puzzle that she honestly has outgrown, but bigger jigsaws are too tricky for her to do on her own right now.
We also use this table for tinker trays and playdough trays. If you want to see more of those let me know!
Newborns need space too!
With our new addition, I had to figure out how the living room is going to work now with two littles in the space, even if the littlest doesn't move around much.

Now I know that newborns do not "play" per se but they do need some space to sleep and do tummy time.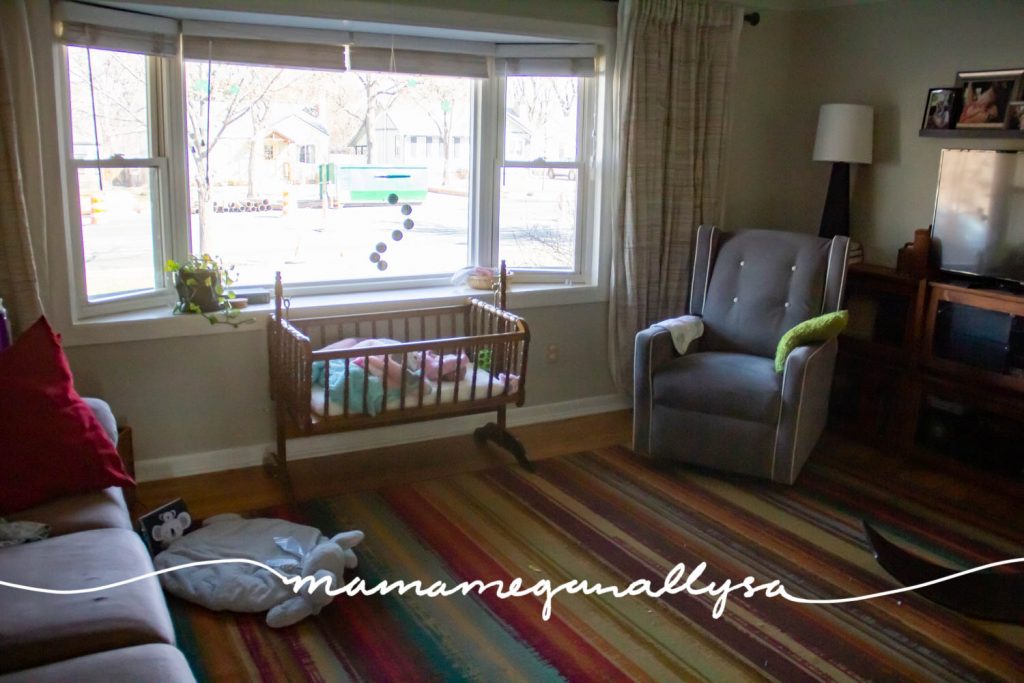 We have a small tummy time mat that honestly moves around the room, but this is where we keep it most of the time. Then we have her cradle in front of the window with a mobile hanging above that. (be on the lookout for a DIY post on that soon!) We also have the rocking chair in the living room now as we didn't want to be in and out of their room bothering Bitty while she slept.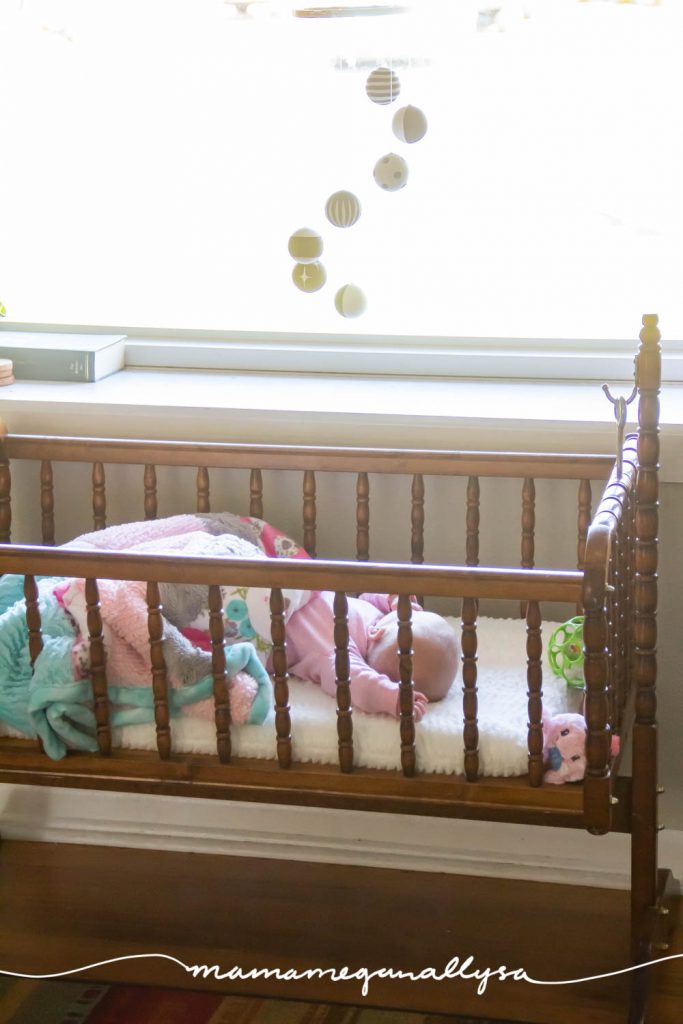 This is how we have the baby space set up at this time, but it will be evolving as she grows and her needs change.
St. Patrick's Day Toy Rotation Free Play Toys
Green Loose Parts – This is a collection of some St. Patricks foam décor, wooden loose parts, some lacing beads, silicone cupcake liners and then some odd and ends toys that were green to fill out the tray.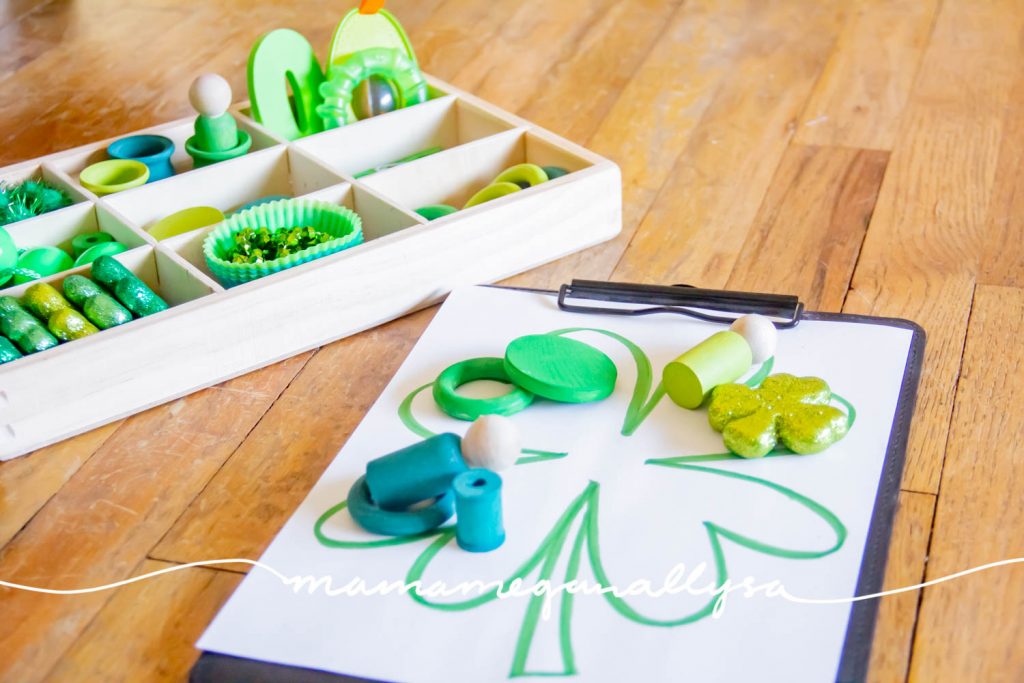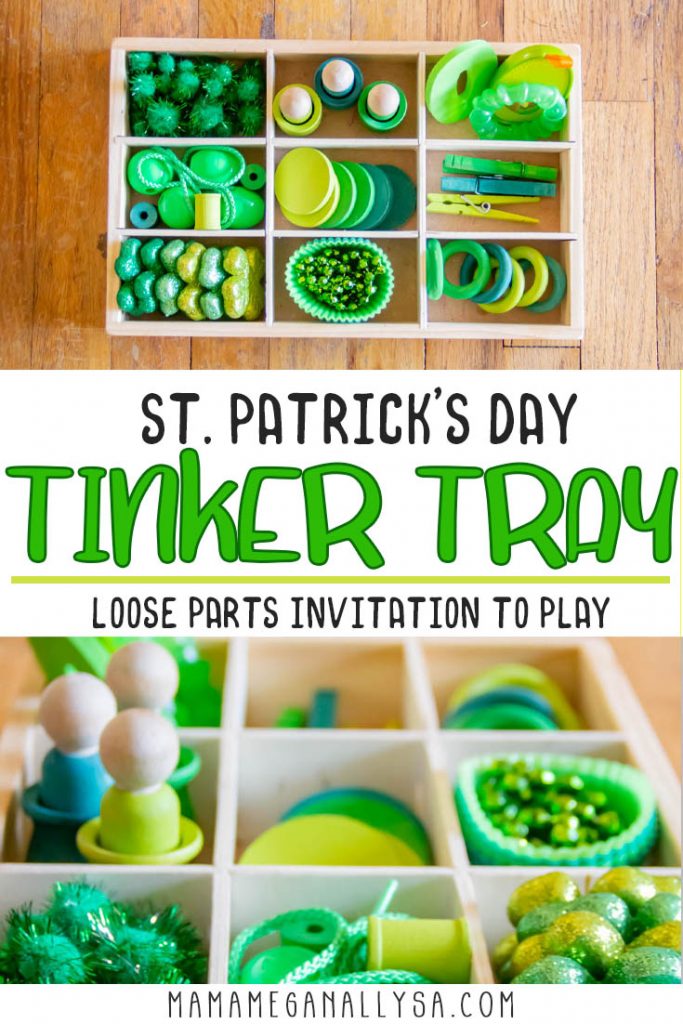 Mini Construction Trucks – We are having road work done in front of our house and we have been talking about construction trucks a lot. I also add some green wool ball as boulders for her trucks to move around.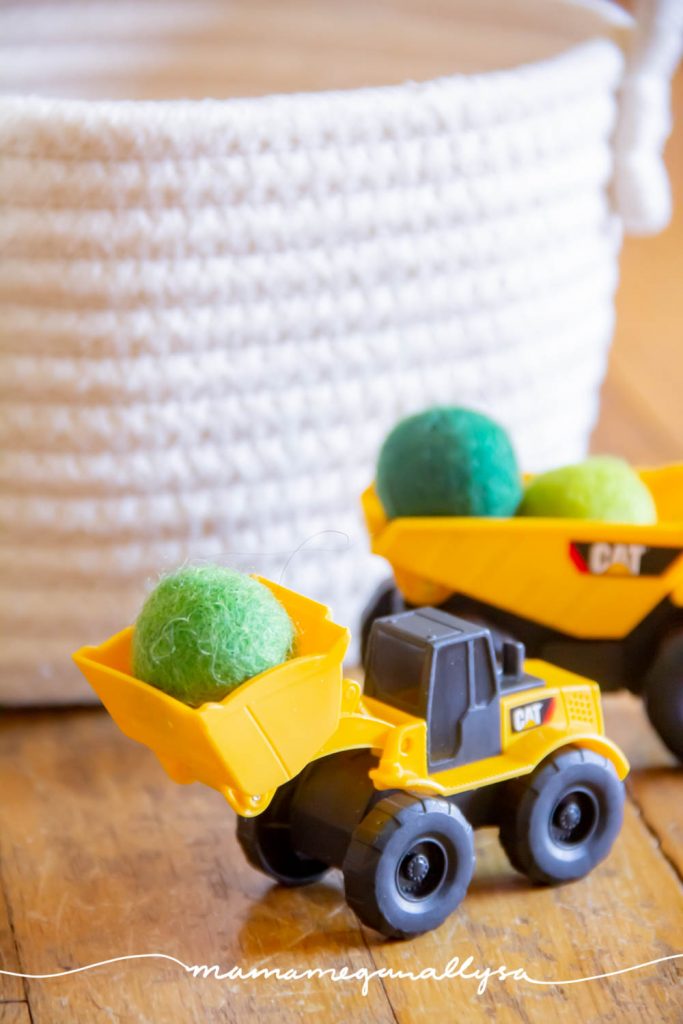 Tool Set and Nuts and Bolts – Bitty has been asking for her toolset on and off for a couple of weeks now. She will get it in her mind that she has to fix something and she needs her tools to do that! After she got into her closet yet again to get them out over the weekend I figured we needed to just get them out for her.
Grimms Rainbow and Unicorn – Beyond Green what could fit a St. Patrick's Day toy Rotation better than a rainbow!? We also have this unicorn book from Usborne that is just waiting for the day that Bean will care about books, but in the meantime, Bitty enjoys it so we added that as well.
Cash Register and Coins – Our vintage cash register is one of my personal favorite toys. With a simple addition of some coins or loose parts and we are set! This time we went with some leprechaun gold to fit our St. Patrick's Day Toy Rotation theme. I also added this snack container as another place to post the coins.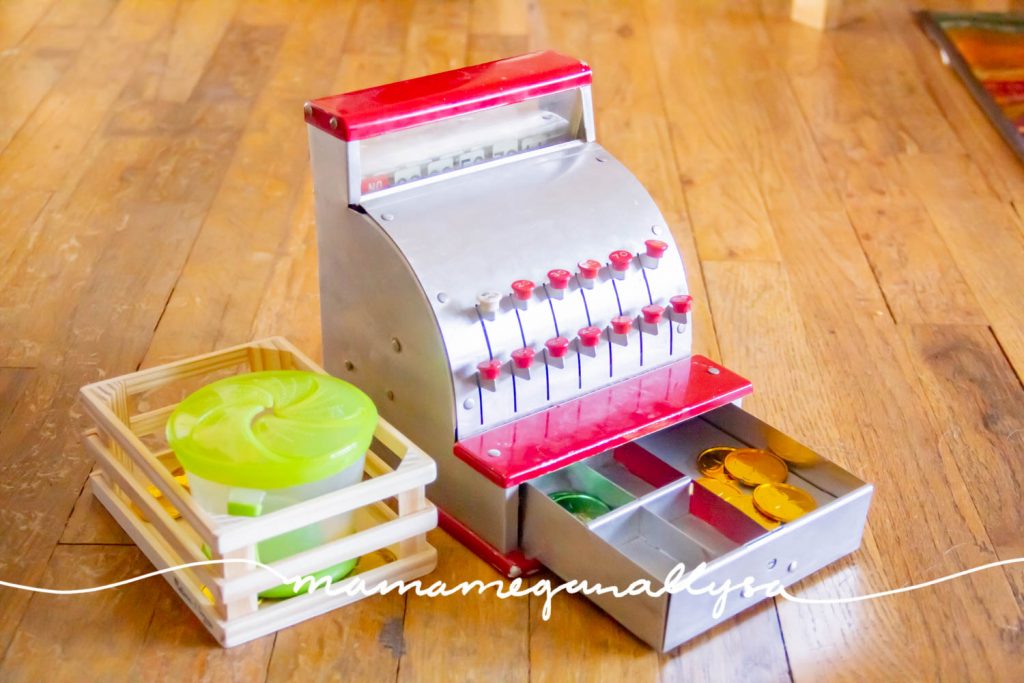 Non-Rotated Free Play Toys
Play Silks – our play silks get used daily. Mostly as dress-up dresses lately.
Magnatiles – These are normally part of our rotating toys, but she has been building with them SO much and not losing interest so for now at least they will stay.
The Big Baskets
Lego Duplo – In one of the large baskets we always have a building block of some kind. We have had the Lego Duplos for a couple of months now and I think we will switch soon, but they are still seeing regular play sessions right now.
Baby Dolls – We always have some baby dolls out. She is always wrapping up her baby or changing its diaper or feeding it. I don't mind. It's great watching her care for them the way I care for baby Bean.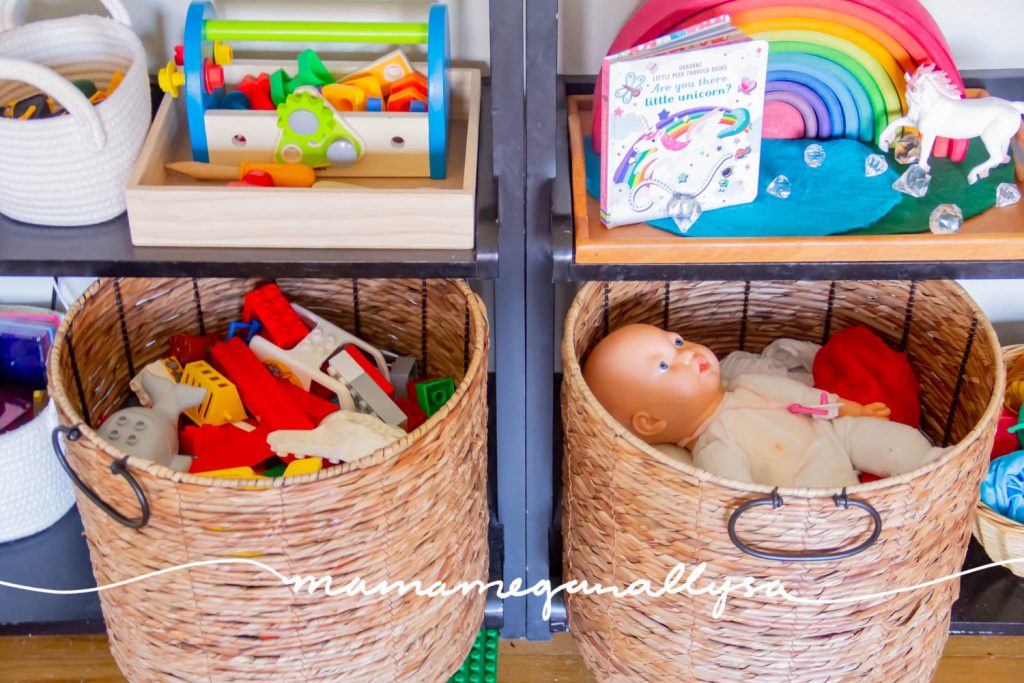 Do You Theme Your Toy Rotations?
I love the idea of themed shelves, but it is a bit of extra work on my part. I would love to hear from some people that have done them and pick your brain about themes or ideas they have!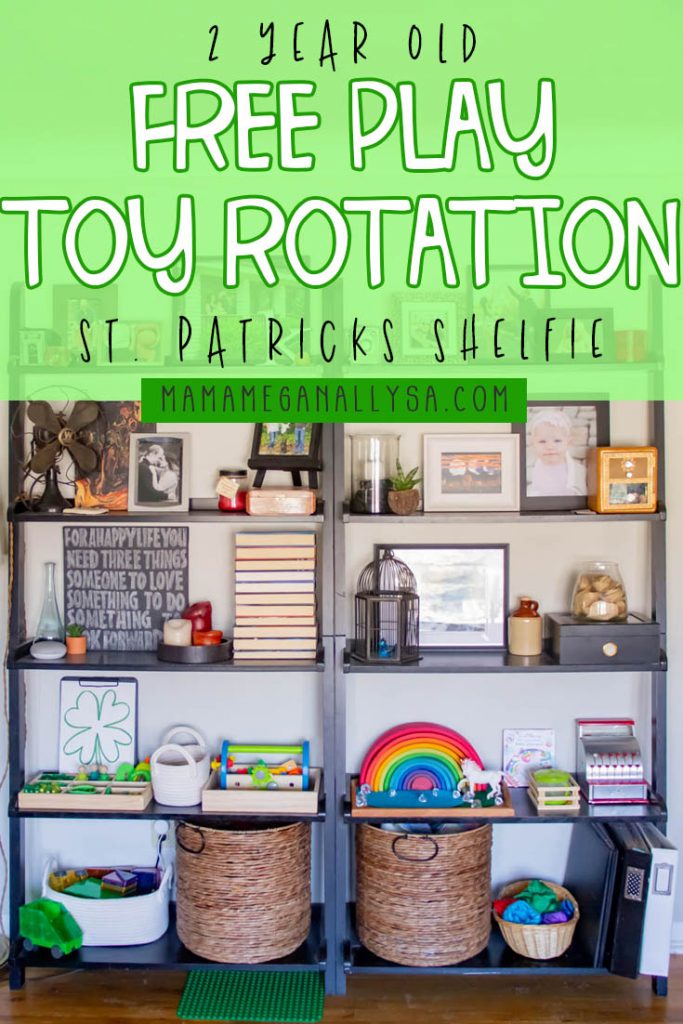 The St. Patrick's Day Toy Rotation ended up half construction, as I couldn't think of any other toys that fit the theme. What other toys would you have put out?
If you want to see our everyday life and how we use and interact with the free play toys make sure and check out my Instagram!
Other Posts you may like