After being away for vacation I knew that I wanted to freshen up our play space, but to be honest I was exhausted. There is never more truth than needing a vacation after vacation than when you travel with toddlers!
I knew we needed some tried and true easy favorites out on the shelf this week and I didn't want to spend a lot of time thinking about it either.
This post contains some affiliate links. As an Amazon Associate, I earn from qualifying purchases. I may receive a small commission from if you follow and decide to purchase. There would be no additional cost to you!
Living room play space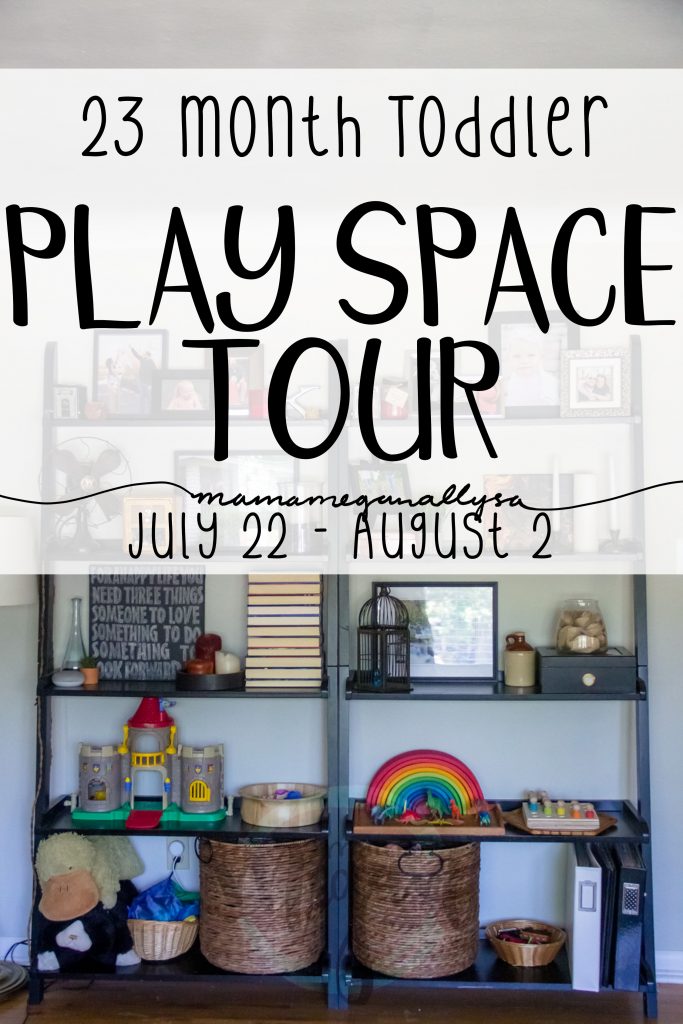 These shelves are just about the only place we display toys. She does also have some activity tables and a dollhouse in the office but these are the meat and potatoes of her toy selection. Her play space really is just the living room. But I try and have homes for everything so I am not lining the walls with toys.
We have her Pickler triangle under the window. Currently, that is her favorite spot for it so she can use it to look out the window as well and it is teaching her to use it in new ways as well!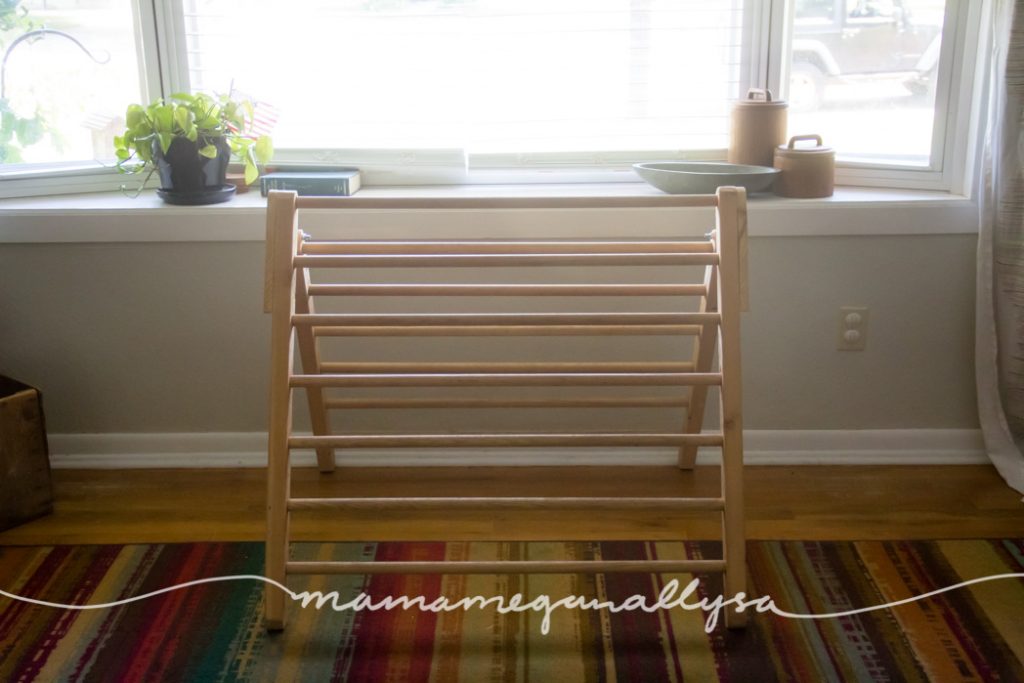 Then under the TV, we have three little zones set up.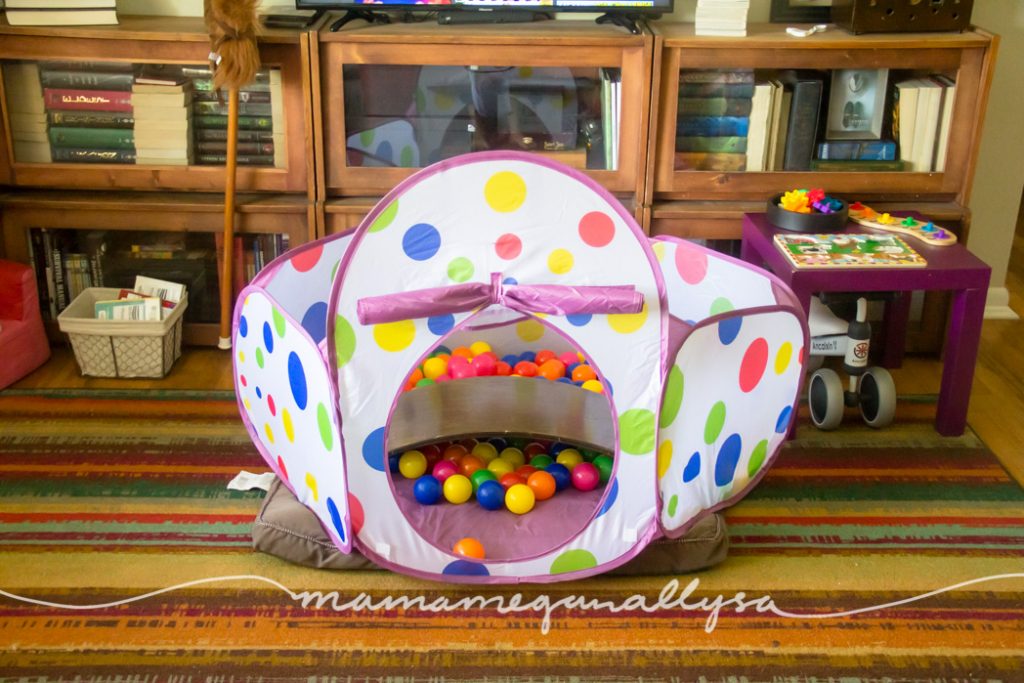 We have a reading nook in the corner by the window. This is where we keep our library books.
In the middle of the space, we have her ball pit and balls set up this week. We haven't had this out for a while now so she was very excited to see it! I added her balance board into the pit for a little slide/seat for her to sit on!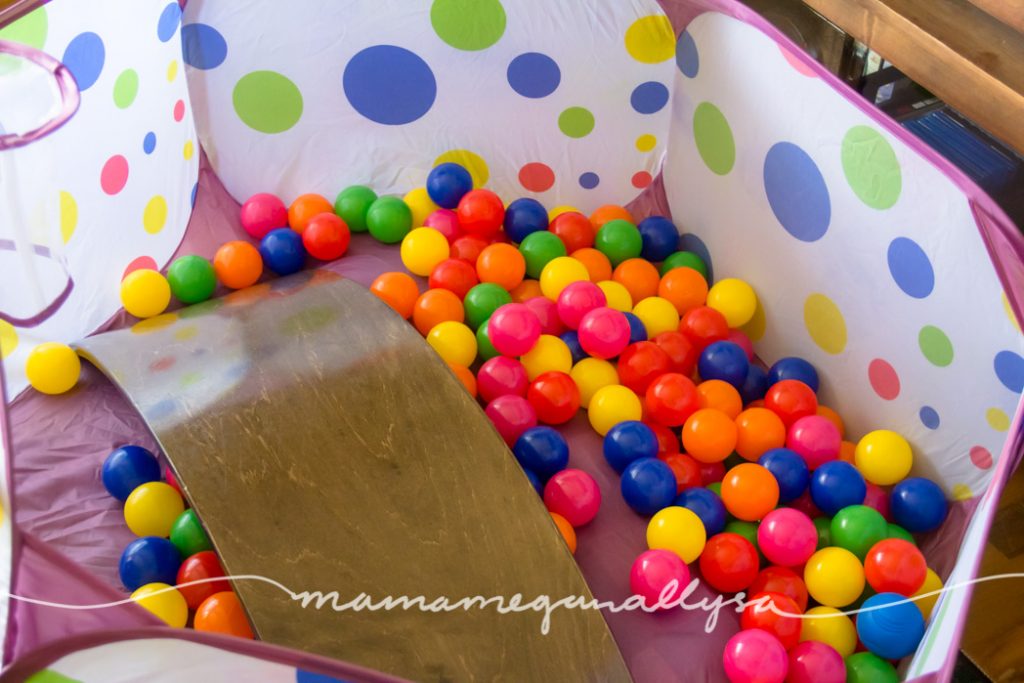 On the other end of the TV cabinets, we have her puzzle table and the baby bike.
On her Activity Tables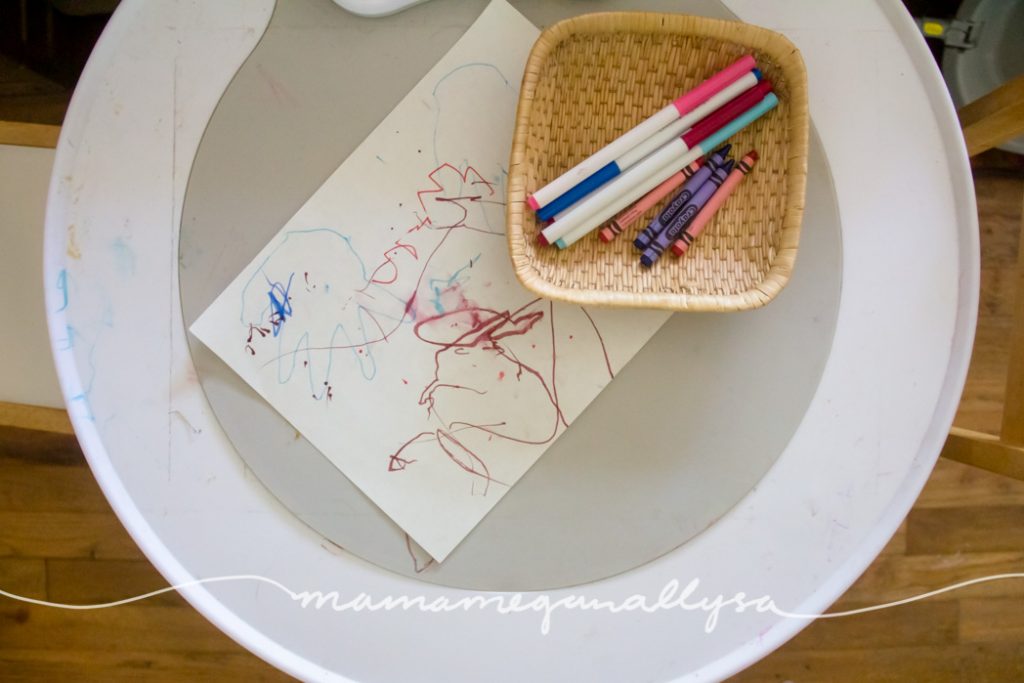 Her large table is where she colors at or where we set up quick invitations to play for tot school. This is also where we do small world set-ups when we do those. This week we just have some free access to markers and crayons out.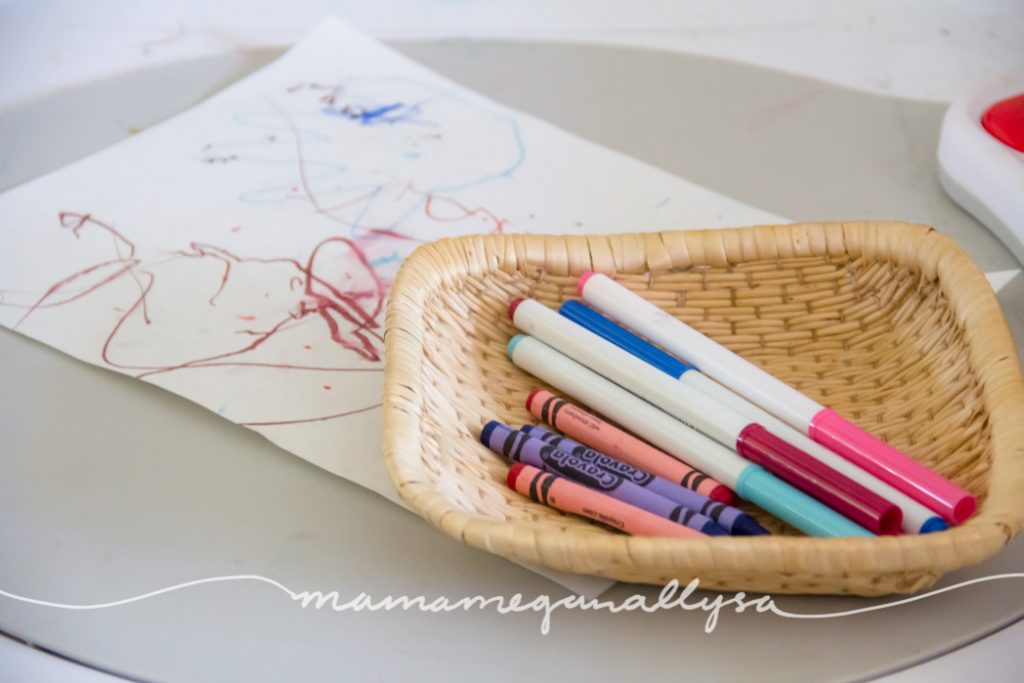 She has really gotten into having someone trace around her hand so that is something I am sure we will be doing more of this week.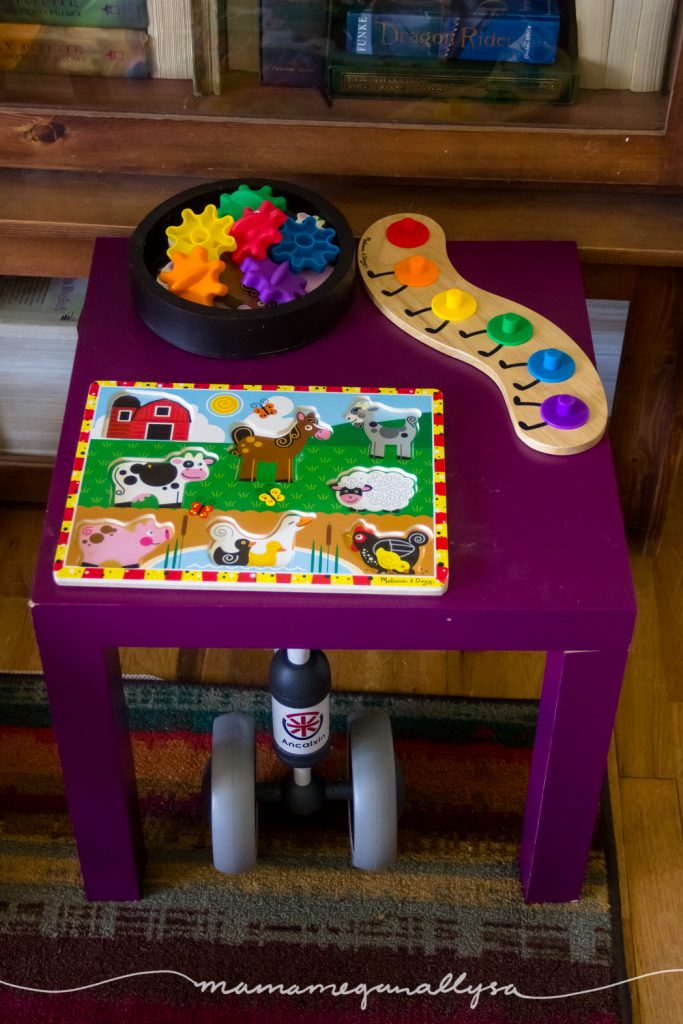 Her smaller table is for her puzzles and sensory bin. Most of the time it stays over by the TV with her puzzles on it and we will slide it out into the middle of the room for sensory play. This week we have the gear caterpiller that she picked out and the farm puzzle. I mixed the two puzzle pieces together for a little extra challenge.
This week's toys in our play space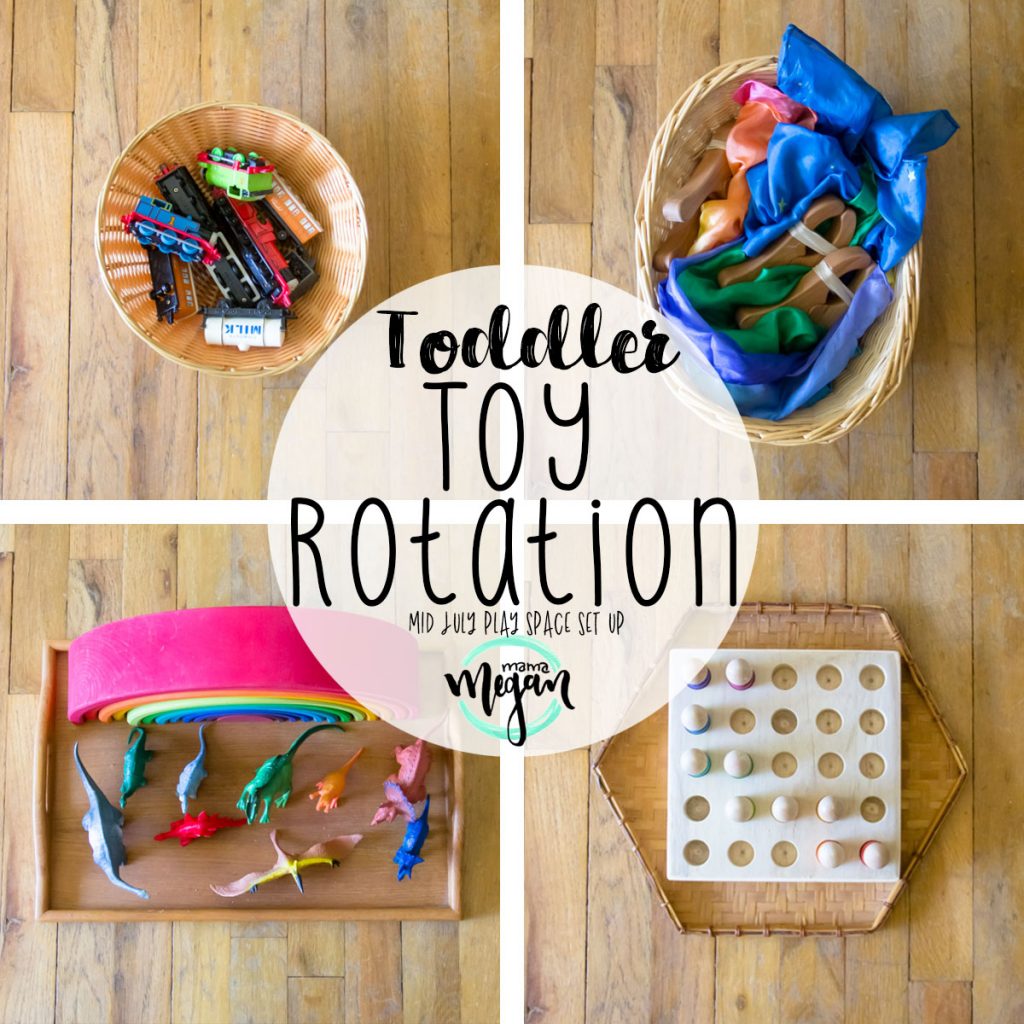 Peg People and DIY Pegboard – I made this pegboard the other week and we hadn't had a chance to have it out yet. So this was a mama want more than a Bitty want but I am excited to see what she thinks of it!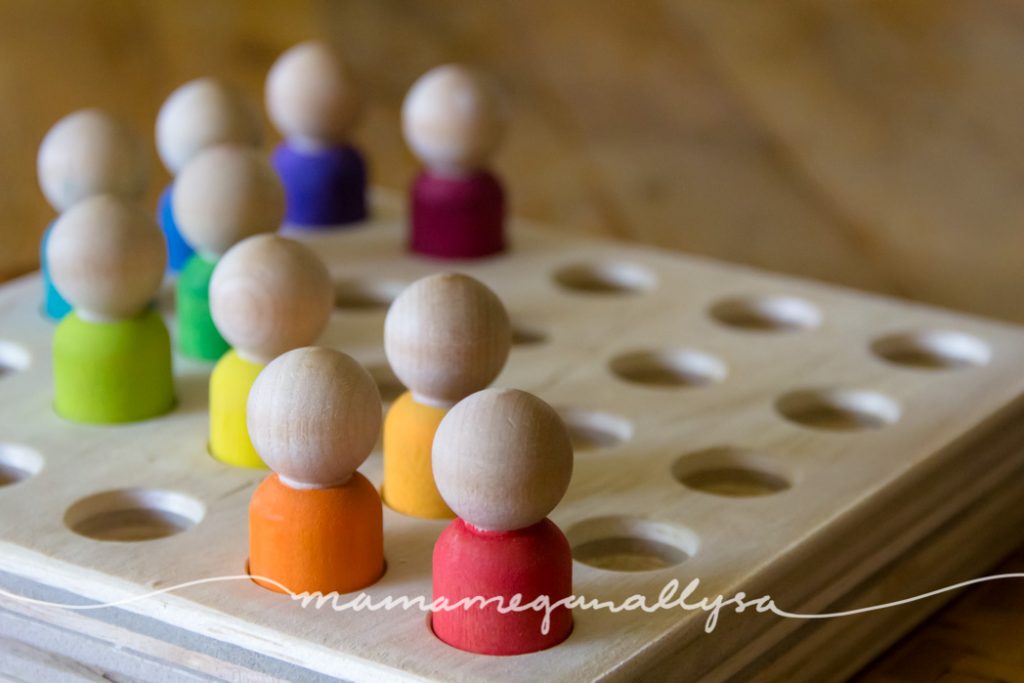 Grimms Rainbow and Dinosaurs – I wanted to get the rainbow out to play with her wooden blocks so In addition to the rainbow I added a rainbow of dinosaurs. Our rainbow is complete but I think I did pretty good lol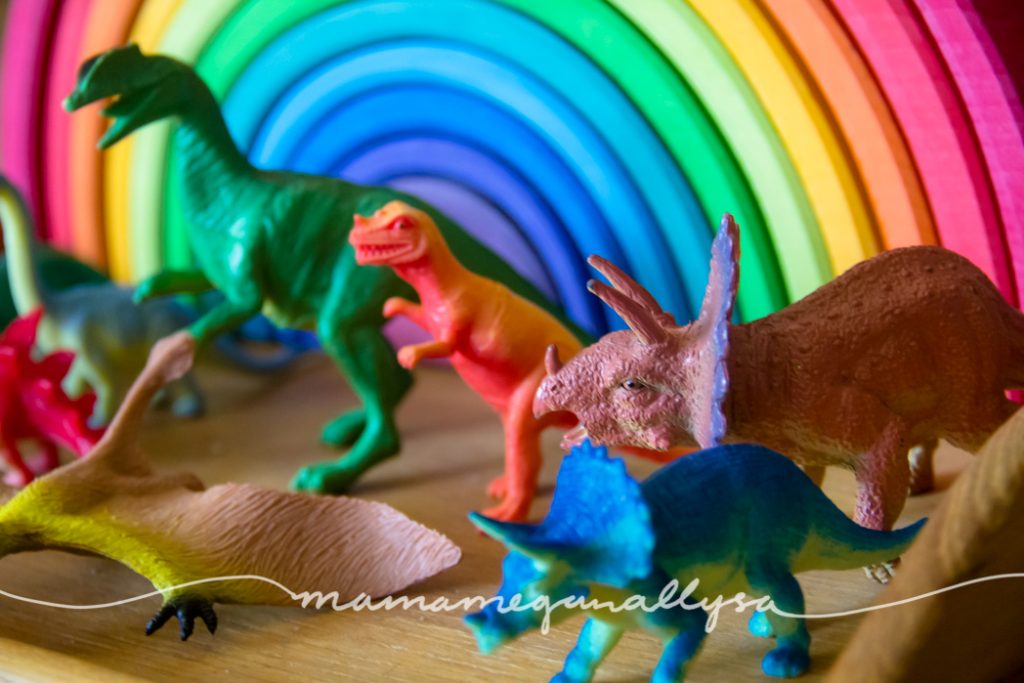 Play Silks and Wooden Clips – Bitty got some new play silks from her Grumps and Lala for her birthday and I wanted to have the full set out to play with!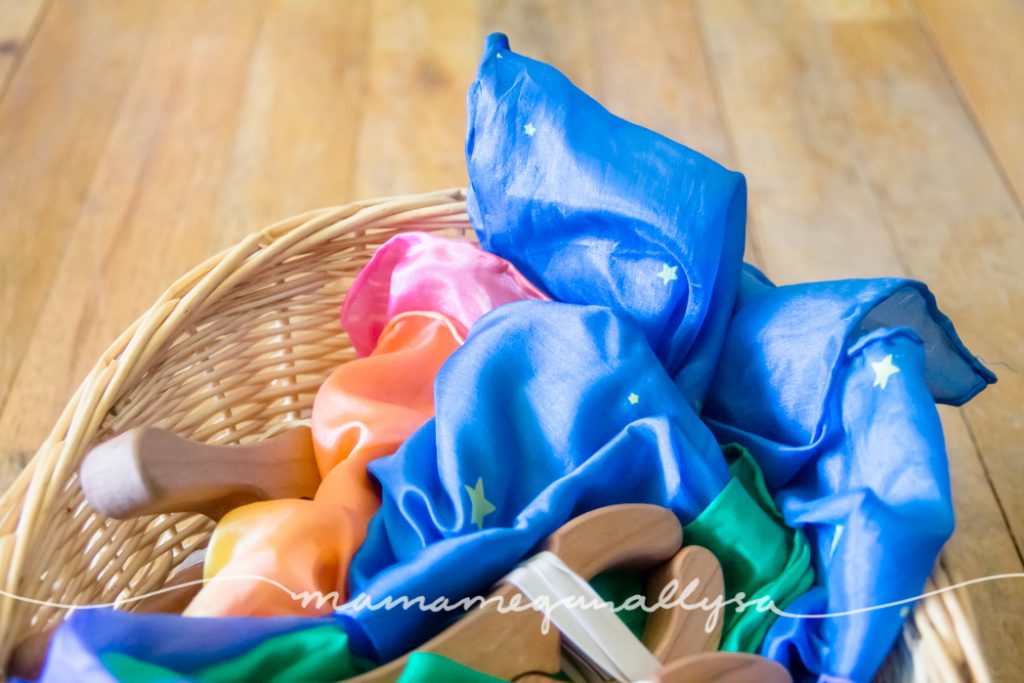 Thomas the Train – again I got these out to add to the wooden blocks. I thought it might be fun to build some ramps or tracks for the trains to follow!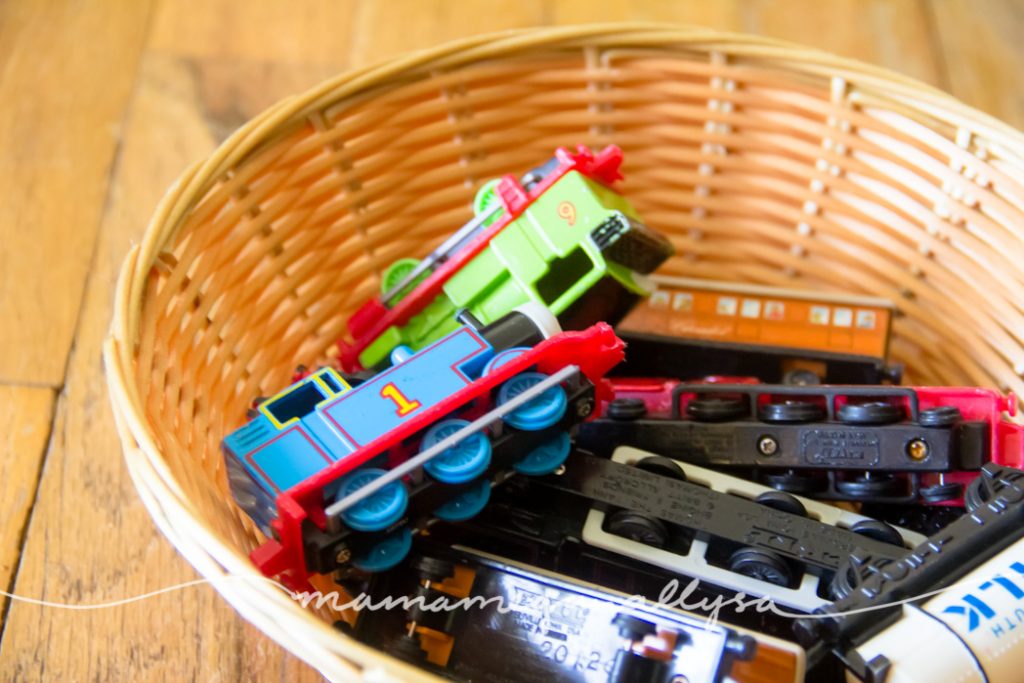 Little People Castle – this is the heavy hitter this week for sure. She has played more and more independently with this castle and little people than any other toy that she owns I think. She is just starting to role play with them having them sit around the table to eat or use the stairs to climb to the top. I LOVE watching her play with it!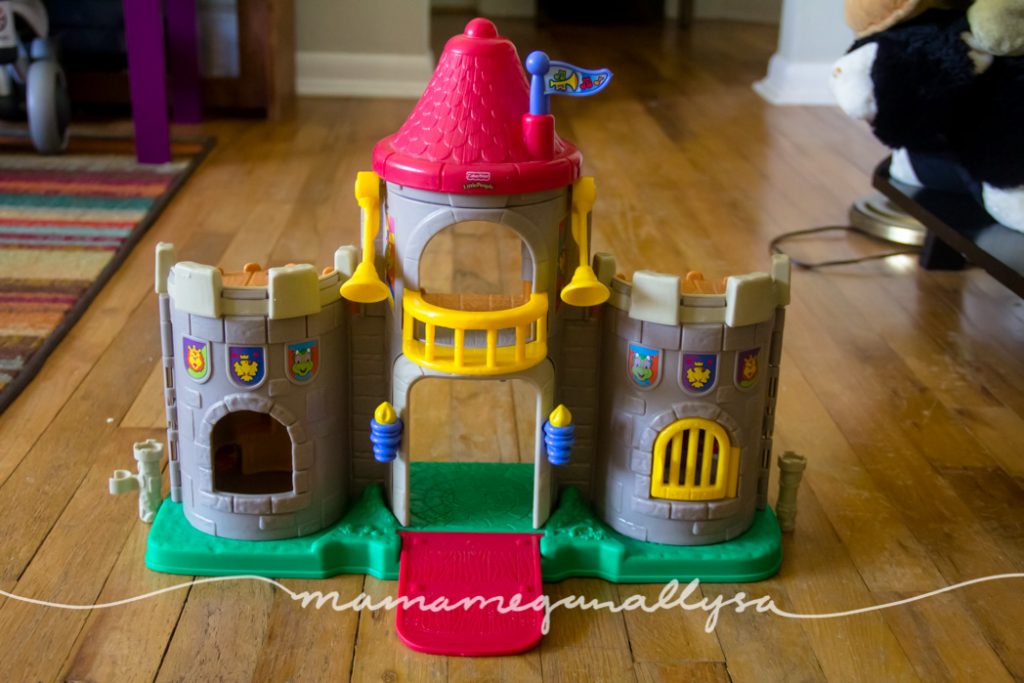 The Big Baskets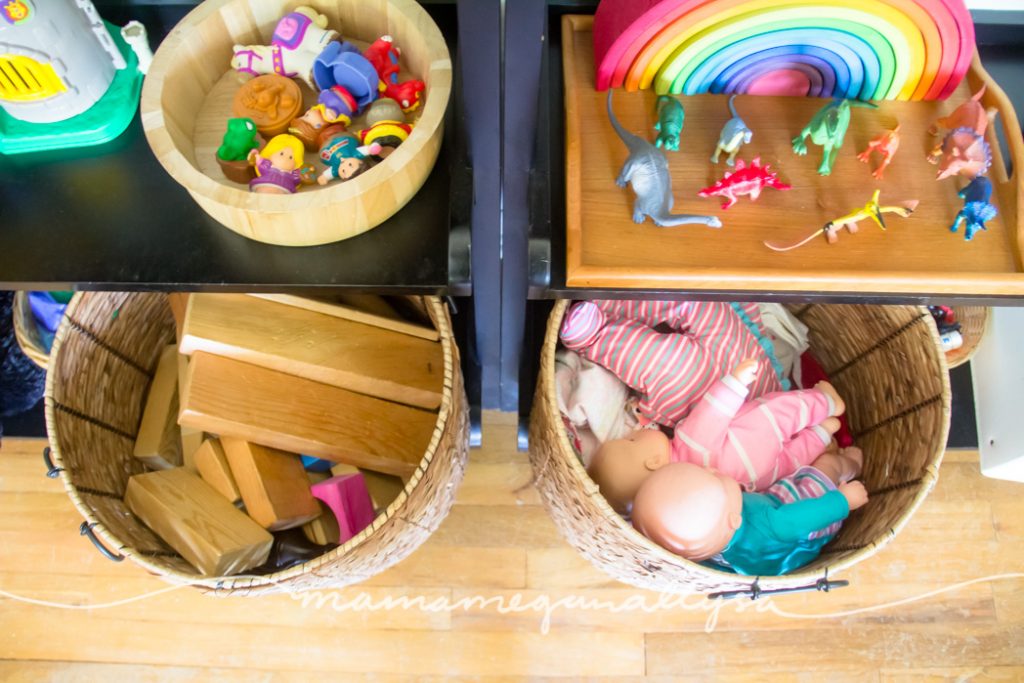 Her role play basket is still just babies as that is all that she really role plays yet. If she ever really gets into dress up and more detailed role play I plan to change this basket up but for now, babies is all she wants
Her block basket has her wooden blocks as well as some random colored wood blocks. She hasn't been building much but she has been rummaging in here a little so I think I need to have daddy sit down and build a little with her to encourage it some more!
Toddler Play Space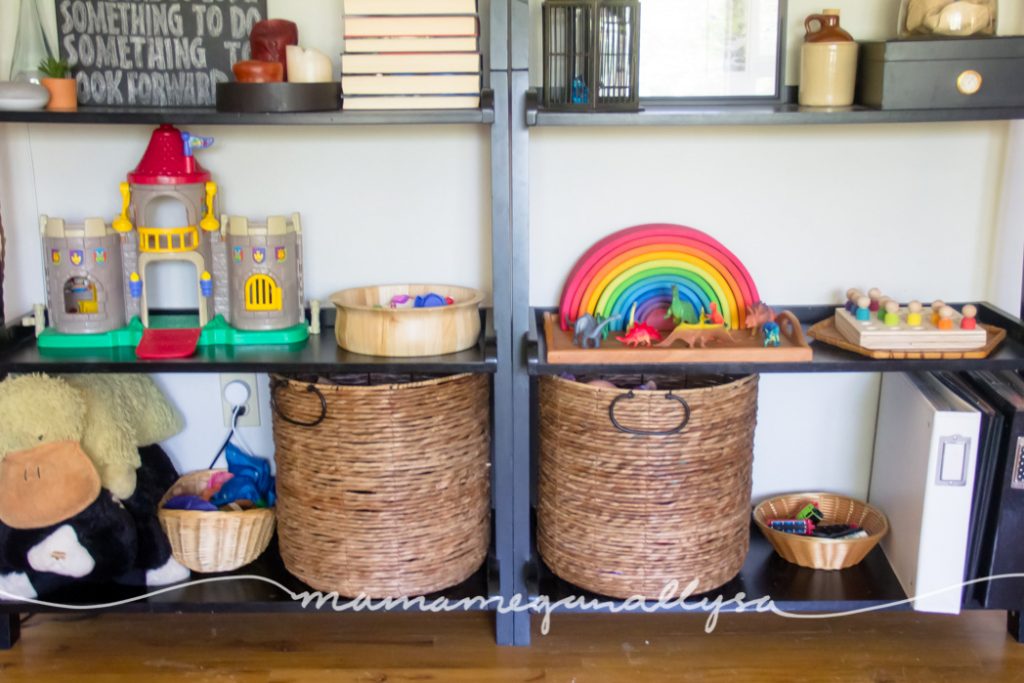 Our play space is honestly our whole house. I don't keep her out of anywhere and I don't really encourage her to play anywhere specifically. That said 90% of her toys are in the living room because that is where we are the most and we have the most space to play!
If you want to see how our play space and the toys in our rotations actually get played with you should make sure and follow me on Instagram! I share lots of great daily life and playtime on there!

What does your toddler's play space look like? Do you have just one room or do they have the run of the house?!
Other posts you may like