I finally finished our DIY stacker toys!!! Seriously this has been months in the making. These are going to be great open-ended toys to add to Bitty's collection and I can't wait to watch her grow and learn with them!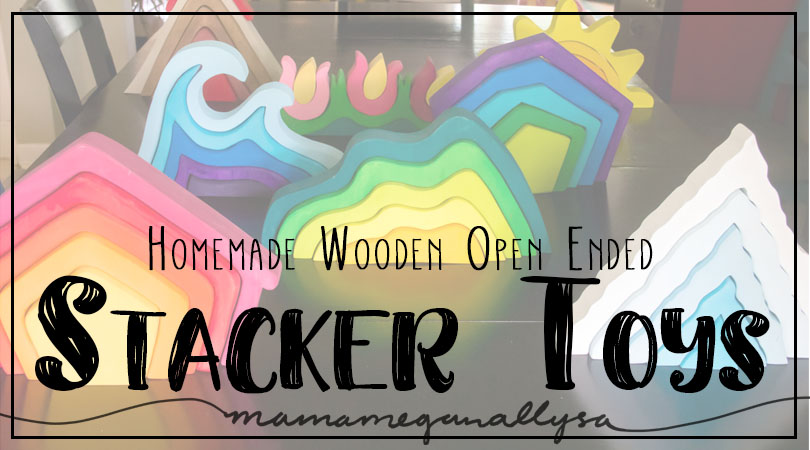 PSA: Buckle up baby. Long Post Alert
This post contains some affiliate links. As an Amazon Associate, I earn from qualifying purchases. I may receive a small commission from if you follow and decide to purchase. There would be no additional cost to you!
DIY Stacker toys were a time investment
Back in like February or March, I got the grand idea to make my own stacker toys. I will warn you now that this is not a project for the faint of heart or a weekend project. Even if I have worked on it religiously it would still have taken at least a month of working evenings and nap times. Countless hours cutting, sanding, cleaning, sanding more, and painting.
That said I am thrilled with the way they turned out and I have plans for more!
Wood is having its toy moment right now
If you follow the children's toy market right now you'll have noticed wood is all the rage, and I am here for it. Having Bittys play space in our living room means her toys are a major part of our décor. Thus I want her toys to be pretty to look at. Natural fibers generally do a better job matching my aesthetic than plastic does. ALSO, most plastics toys are just too busy and over the top!
Our DIY stacker toys were very much inspired by our Grimms rainbow and these wonderful stackers by Clickity Clack on Etsy. But if you know me I have this problem…If I think I have any ability to do something myself…well, I have to.
I am extremely lucky to have a dad with one heck of a workshop and some seriously impressive power tools that I knew I was going to need to have any chance of doing the projects I had envisioned.
So we planned a trip to South Dakota and I got busy!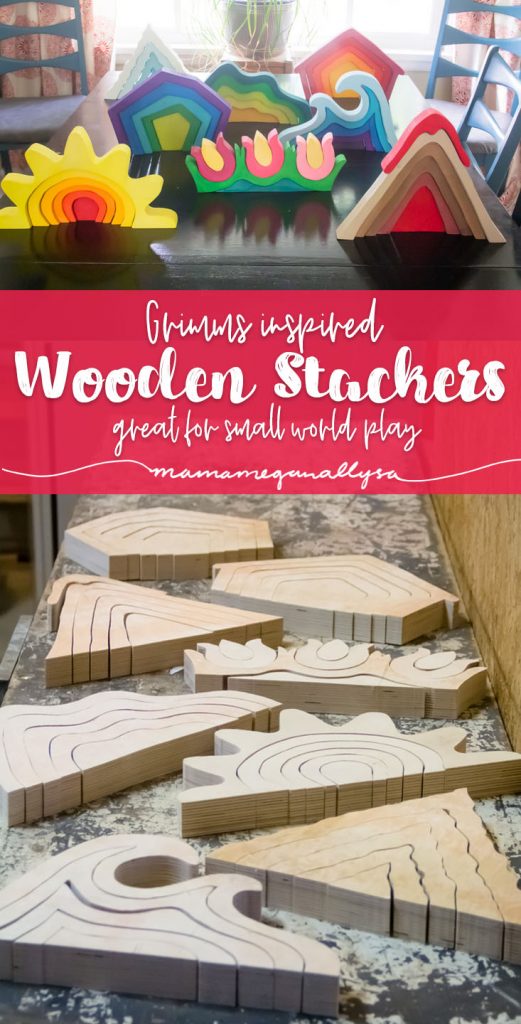 DIY Stacker toys had many revisions
The entire process started with working out the actual sizes and designs I wanted the stackers to be. I had a vague idea of what I wanted but once you get the wood in front of you, generally you want a better idea before you start cutting.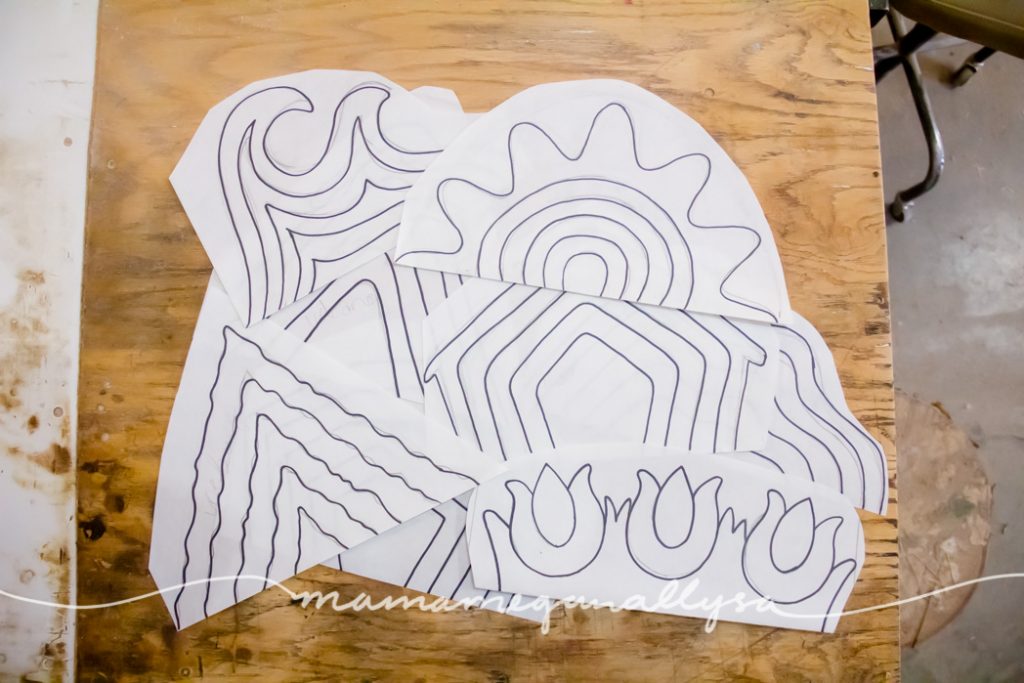 After I have a basic idea of the size and a general layout I tetris'd them onto my sheet of Baltic plywood. Who said video games wouldn't teach you anything!
You can download my DIY Stacker Toy templates right here!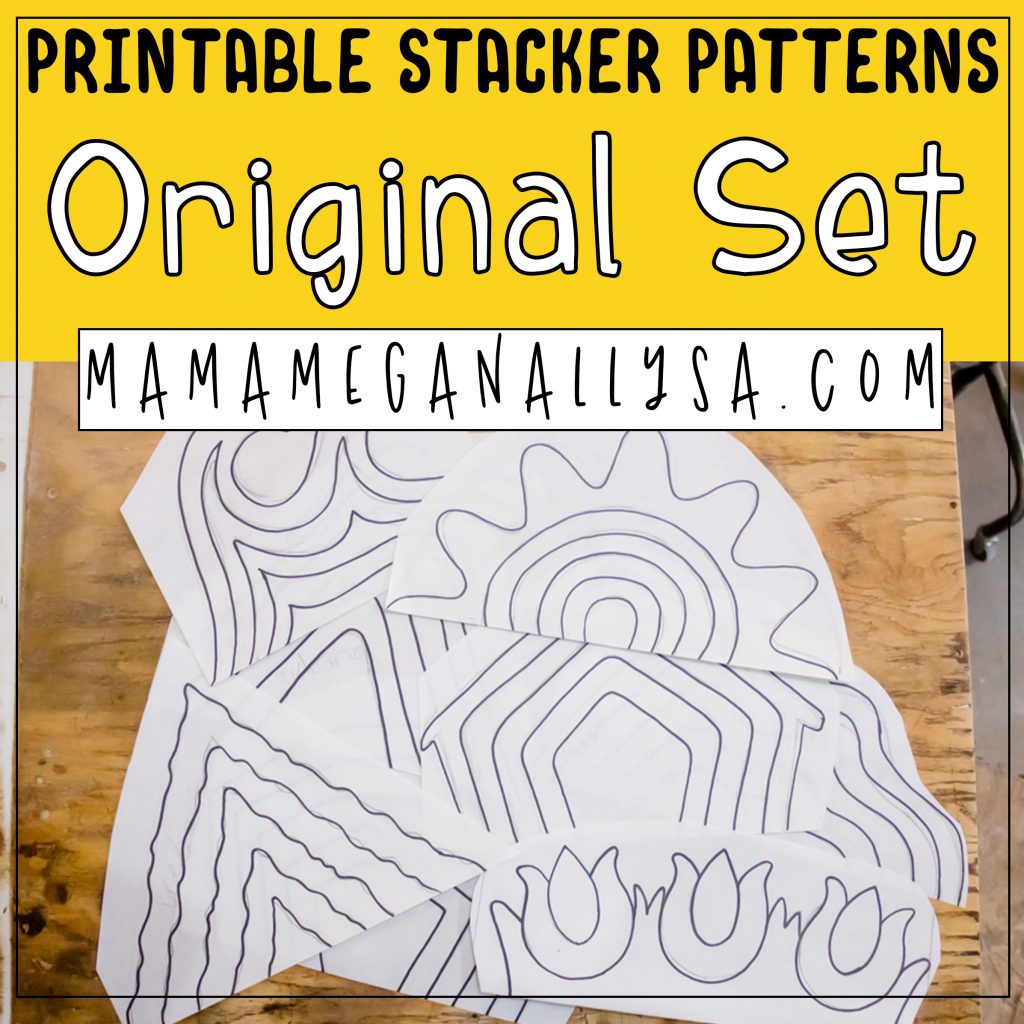 After the sheet was cut into pieces trace those pieces onto a second sheet of plywood and cut again! We did two sheets of Baltic Plywood on the recommendation of my dad. This gave the final outcome a wider base to stand on and also helped to strengthen some of the areas that were more prone to problems
So LOTS of wood glue and clamps later we were left with a pile of laminated plywood ready to be cut.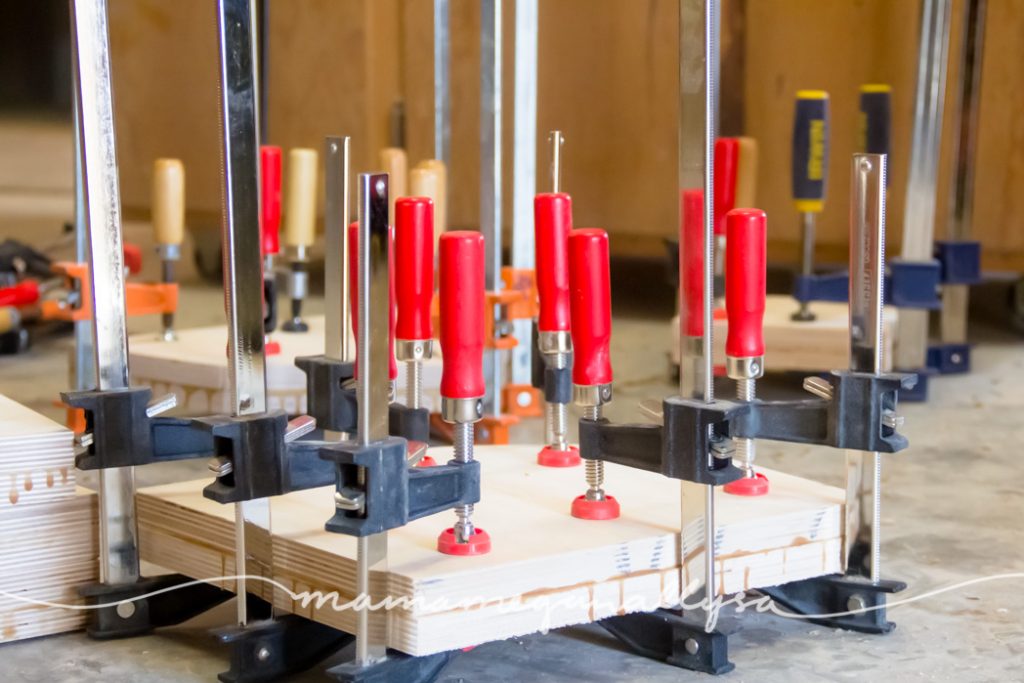 For the starting rough cuts, I just had the designs taped on, but I knew that when it came time to cut the inner bands I would want a line to follow. The easiest way was to glue the paper designs to the wood. We used a quick construction adhesive. I do not recommend you go this route. It was a nightmare getting the templates off when we were done and there is still some residue/chemical damage to the wood that I was unable to sand away. (Future Megan popping in to say look into Easy Tac for adhering your templates to the wood!)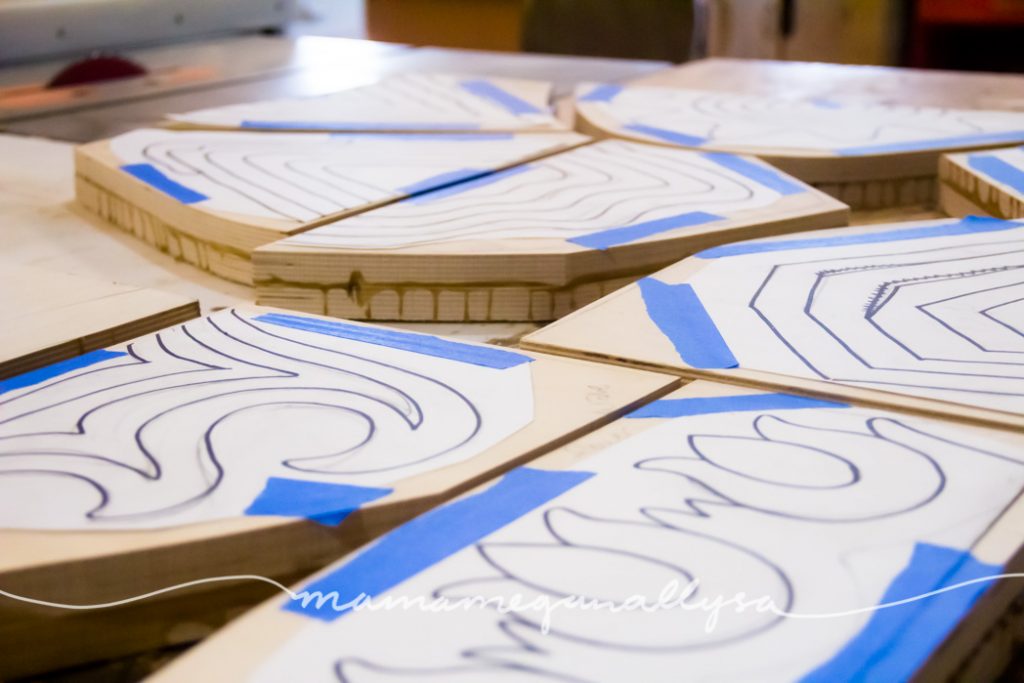 Cutting the DIY stacker toys
I used a bandsaw for these designs. If you plan on attempting your own DIY stacker toys I would recommend a scroll saw instead. You will be able to make tighter turns and the cuts will be more delicate overall.
I started by trimming away the outer excess from each piece. This was a nice way to warm up to the machine as it wasn't as vital to make my cuts in one precise path. I could come at the piece whatever way I needed and make straight cuts.
After that, there really was no point in waiting anymore. I started cutting. I will say that for a good number of these I had help on this step. Not because I asked for it but because both Zak and my dad wanted to take a crack at cutting these more complex shapes. So I shrugged and started sanding.
So Much Sanding
With these being intended for children's toys I wanted to make sure they were smooth and silky. No sharp corners and definitely no splinters. The device of my choice was a drum sander. It was able to take those rolling hills and band of sunshine no problem and was 100% better than having to hand sand all of these bands!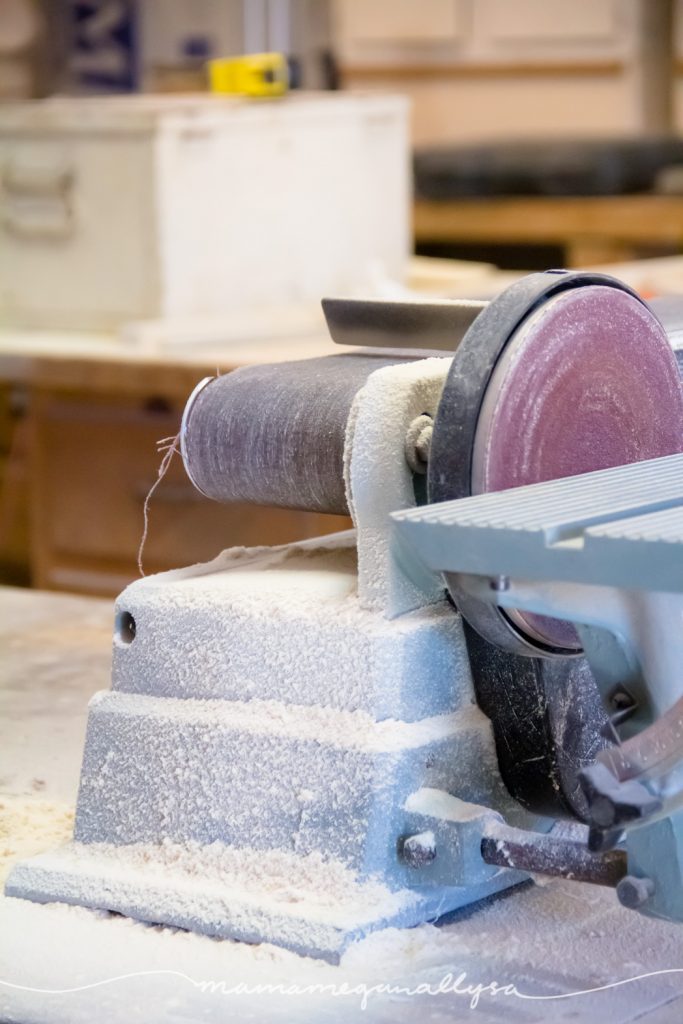 I was able to give everything curvy a once over on the drum sander and even start on the less curvy pieces before we had to come back home.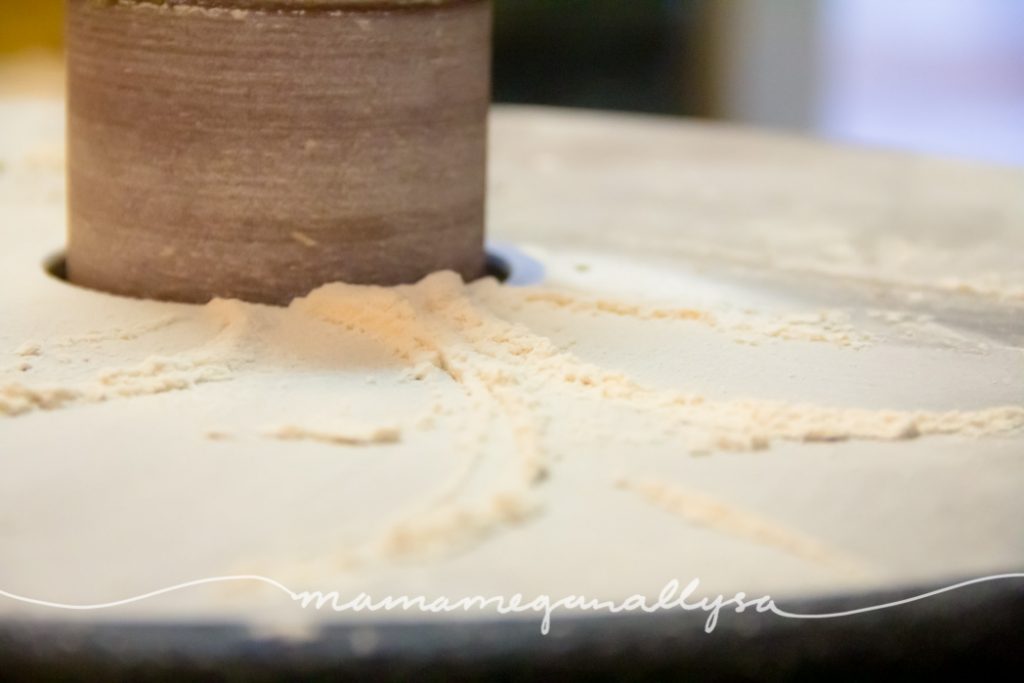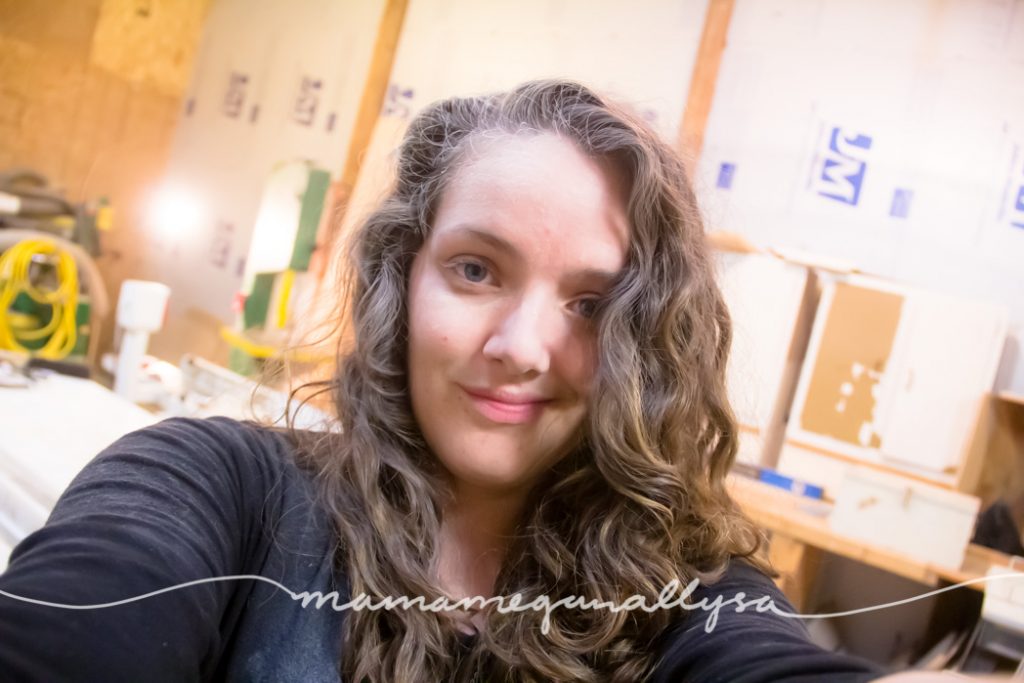 I again called in the cavalry to help remove the paper templates at this point. And oh baby was that a task and a half. We managed to get them off with just some residue left on the boards. I knew I was going to have to sand that off and planned on doing that at home later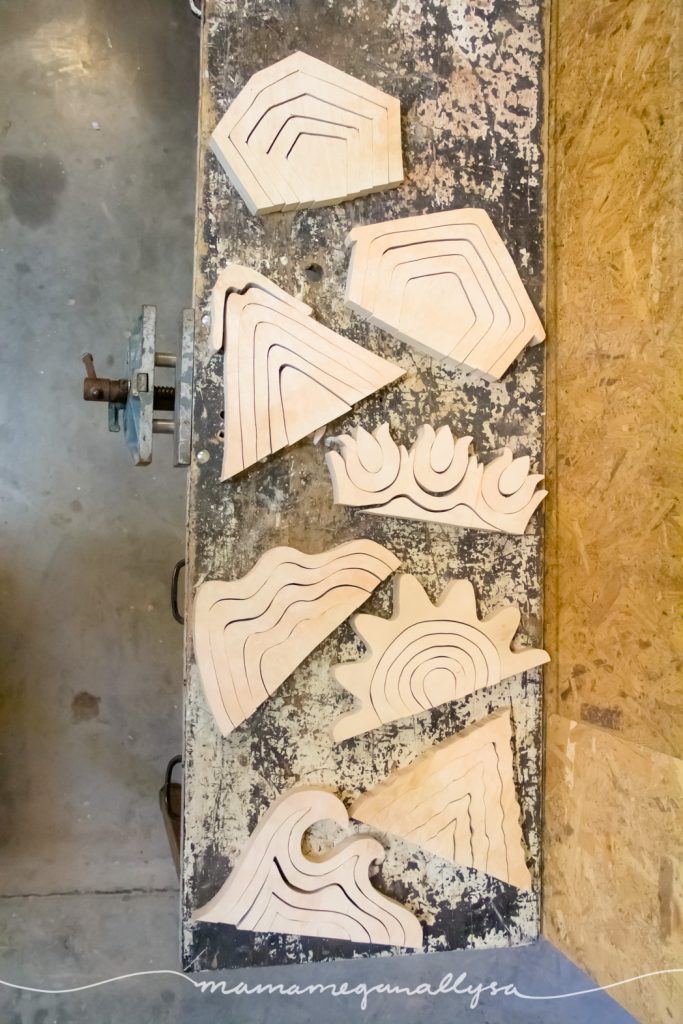 Our workshop growth
Our shop space at home has been growing exponentially between my woodworking projects and Zak's metalworking, so we have a pretty healthy set up of our own including a belt sander that I was going to commandeering for a bit.
I continued to sand on the pieces and even picked up a drum sanding accessory kit for our drill press to do some fine-tuning on some of the curves that needed more TLC. That was totally worth the purchase in case you were curious.
It was time to try and tackle that residue…In comes the old trusty orbital sander a clamp or two, and some elbow grease. It took some work but I was able to get most all the reside and odd discoloration off the pieces. Some of the pieces never fully recovered so word of advice. Either use some sort of washable glue or maybe put your pieces through a planer to get all that of… (EDIT – I have not yet used but have heard great things about EasyTac for holding your templates on)
I then proceeded to give our DIY stacker toys a once over by hand with some fine-grit sandpaper. This was just to make sure everything was super smooth. I also wanted the bottom of the bands to still have as much surface area as possible so I found hand sanding that part was the best option.
As I sanded more and more of these I got a better idea of how rounded I wanted the edges to be and you can clearly see the difference between the cave and the hill. The cave was the first one I finished sanding and he had some cutting errors that had to be blended out and thus he was a bit too rounded in the end. Where the hill feels much flatter and holds together a bit better because of it.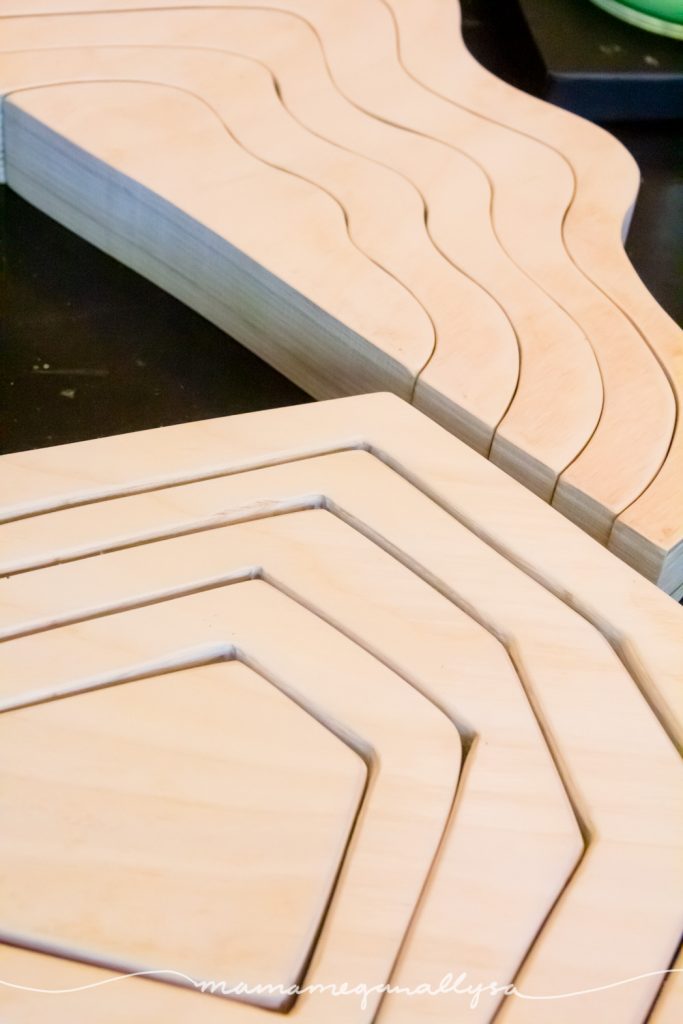 DIY stacker toys its all about that wood grain
I took a break here while I researched coloring options… I wanted to be able to see that wood grain and feel that texture when you played with them. Not to mention that unsealed texture actually helps them sort of stick together a bit.
My options were this
Acrylic paint – watered down so that the wood grain would show through
DIY wood stain – made from oil paints
Wood Dye – difficult to come by
Food dye – readily available and also nontoxic
I had problems with all of these
Acrylic Paint – when watered down it can get a little dull and it will always block woodgrain to some point.
DIY wood stain – a bit time-intensive to make and no way to make the colors non-toxic that I knew of
Wood Dye – Expensive, especially when I needed the full rainbow
Food Dye – water soluble
In addition to the choices of color, there was the question of sealing the color in some way. I have yet to actually do this step and I may never do it. Lol If you have a great way to seal wood without losing the texture let me know down below!
Planning my colors before actually painting
I ended up going with acrylic in the end and I can say that I am very happy with the outcome (though I am still super interested in the wood dye, that will have to be for another project another day)
I was super thankful to have had my loose parts set already done and painted because the wood coins were perfect paint swatches to give me an idea of what worked well together! It was so easy to rearrange the coins and try different combinations without having to waste a ton of time and paint and scrap paper!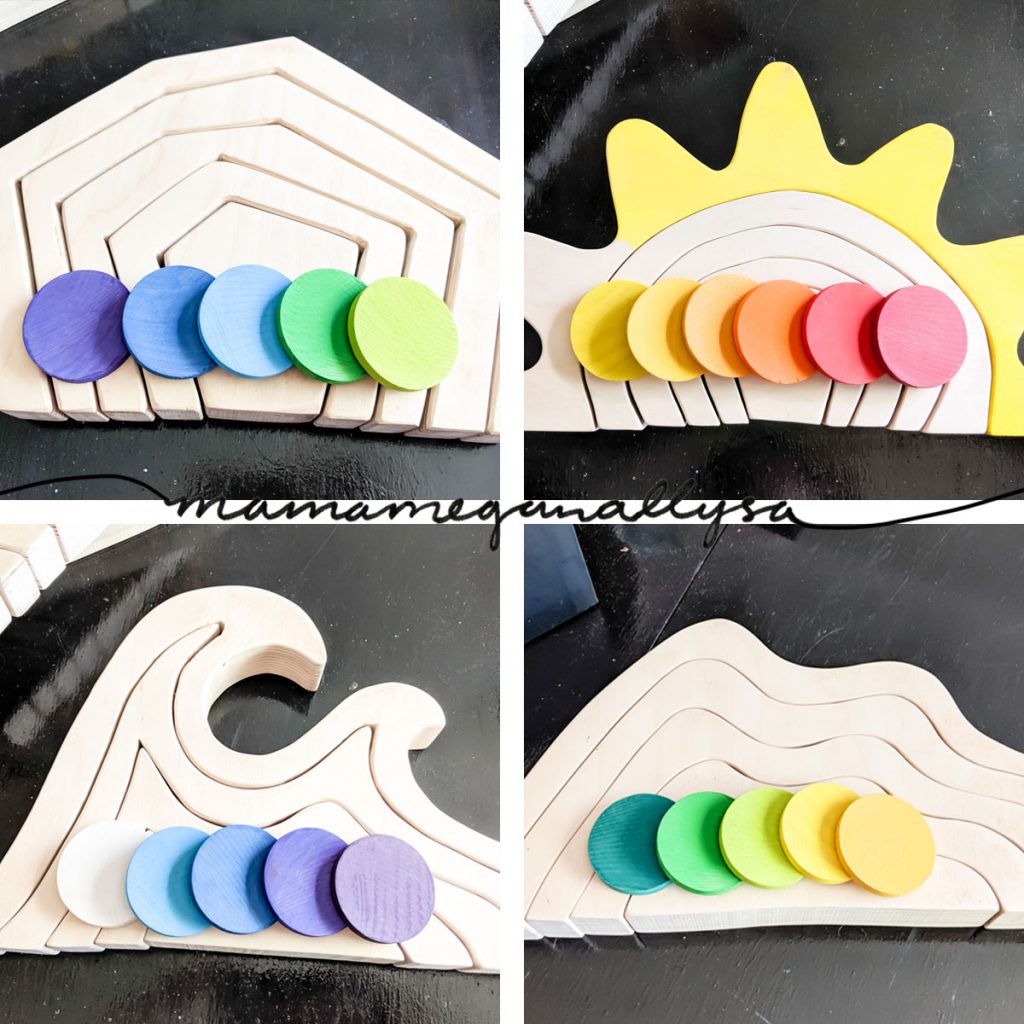 It took a lot of deliberations to figure out what I wanted in the end. Some were easy I had a vision and I knew what I wanted. Others took a lot of tweaking and rearranging.
For example the Cave I knew I wanted to go from purple to green. So sue me I LOVE the way the Grimms cave looks and this was my attempt at my own version. The House, on the other hand, I wanted the outer band to be red and it took me forever to select the colors for the rest of it.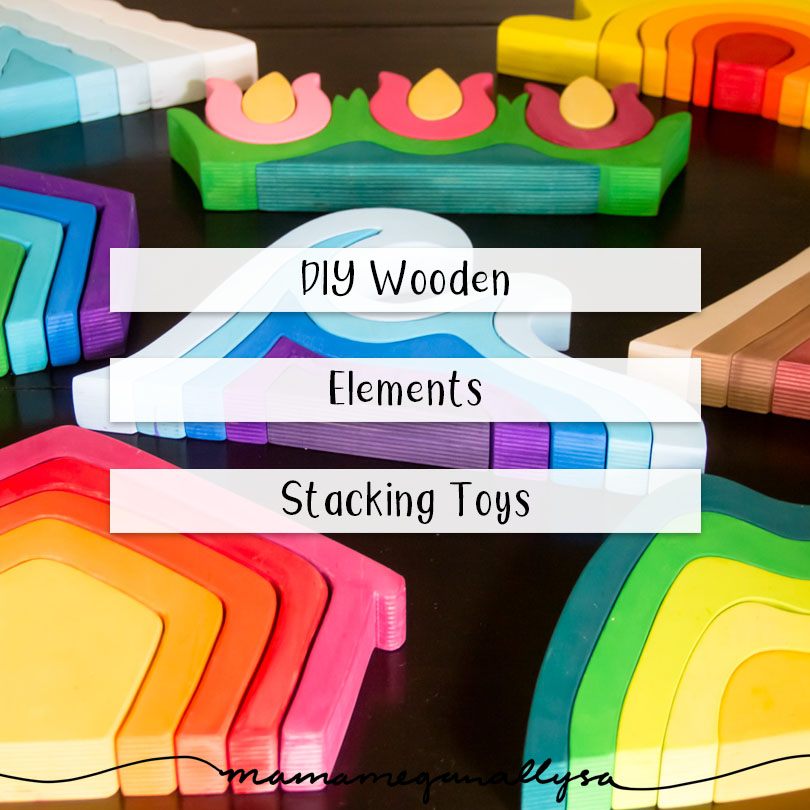 Painting the DIY stacker toys
After I finally picked the colors it was time to bite the bullet and lay paint on wood. It was weird how much I resisted this step. It was like I was so scared of messing them up and I didn't want to start over…
I pre-mixed all my colors with water and stored them in some small mason jars, this way it would be easy to switch between colors and not waste any!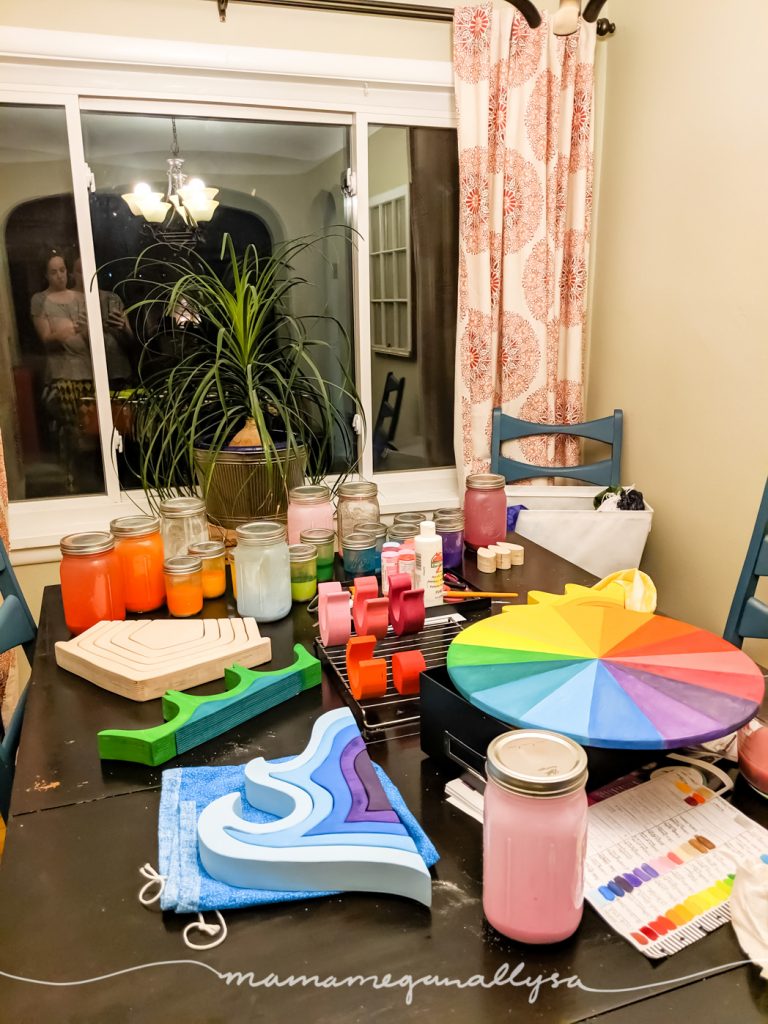 After many an evening of painting and listening to my Audiobooks (Audible is our jam. Let me know if you need some recommendations I have a LIST lol) The stackers were done!
The Complete DIY Stacker Toys Collection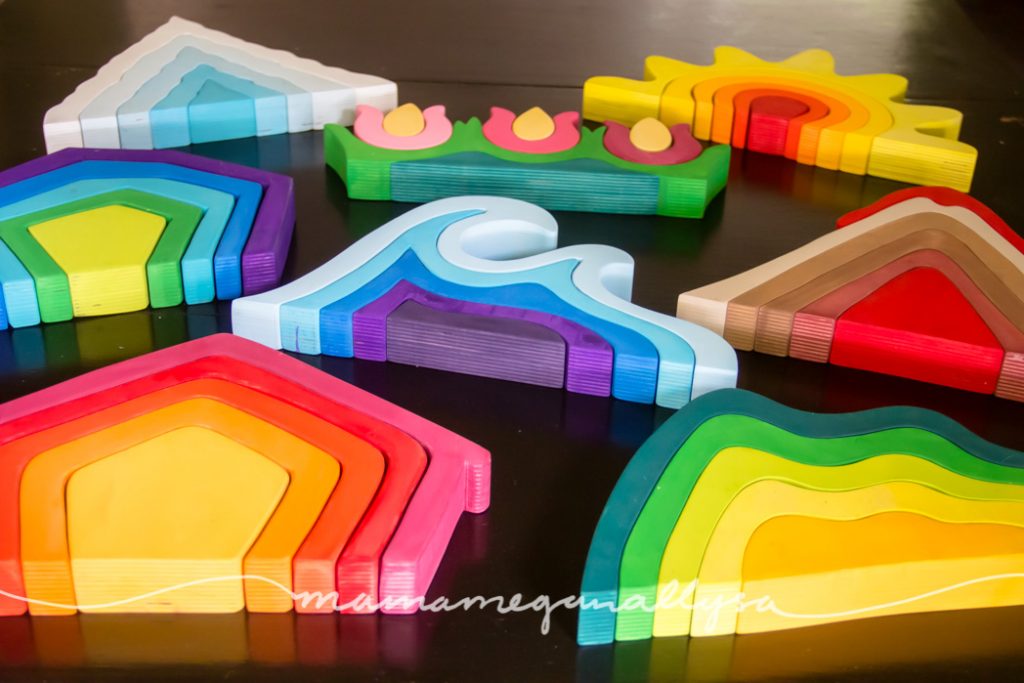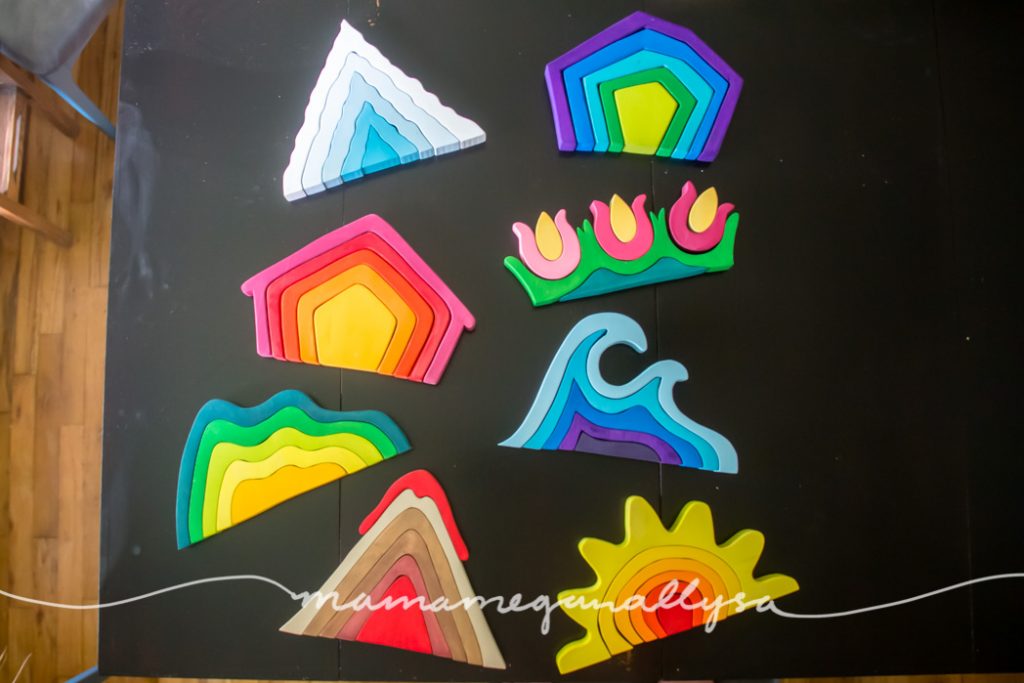 a Close up of the Big Reveal
If you follow me on Instagram you have seen peaks of our DIY stacker toys in my stories and on my feed. And without further ado here is the completed set!
The Hill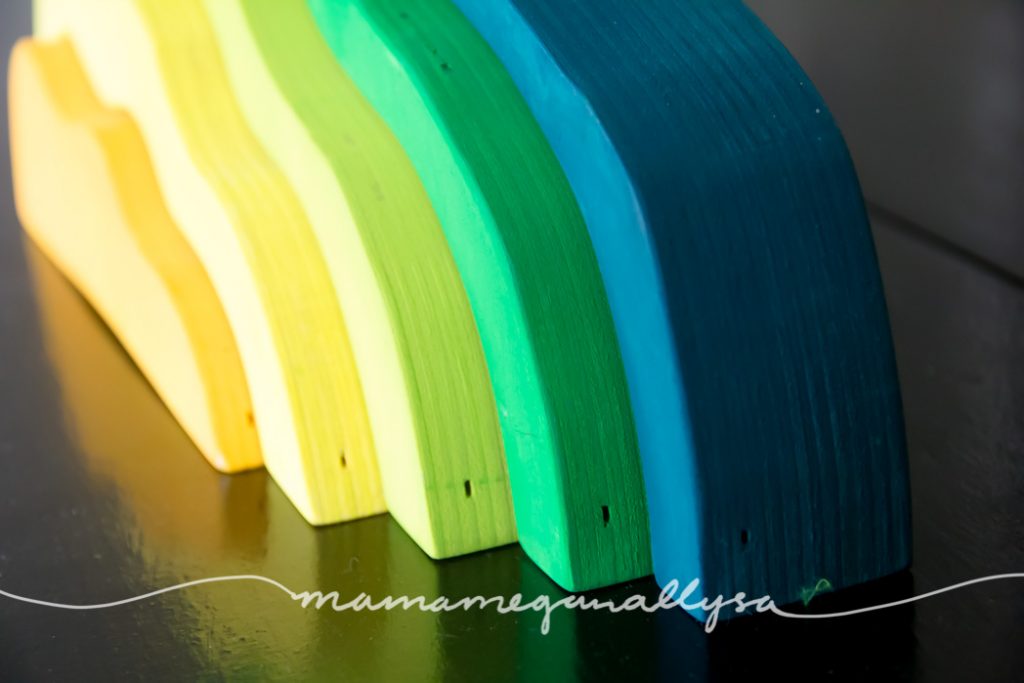 Originally unplanned but I had space on the board when first designing them and I am so glad I did. This one might be my favorite.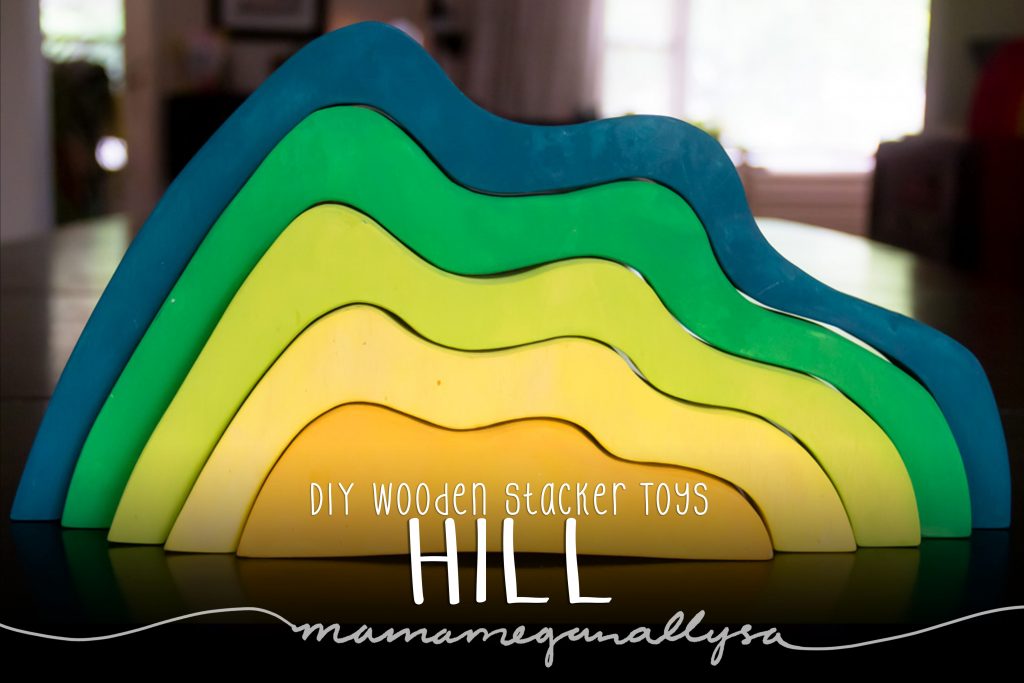 The Sun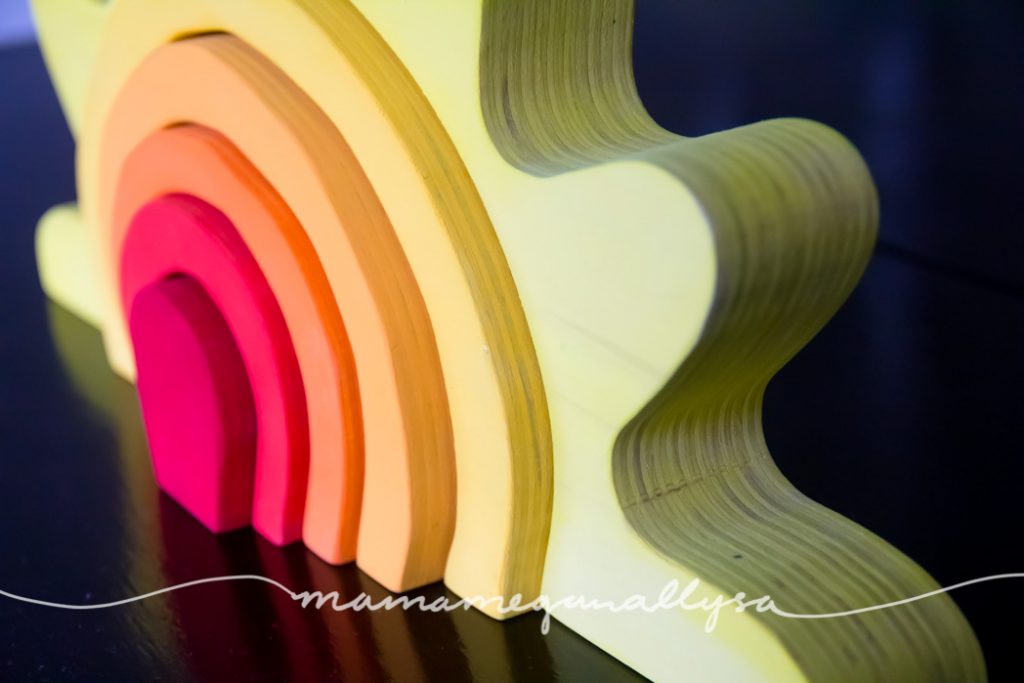 If I were to remake this I would paint the outer rays a lighter yellow as in person it is a very similar shade to the first inner band.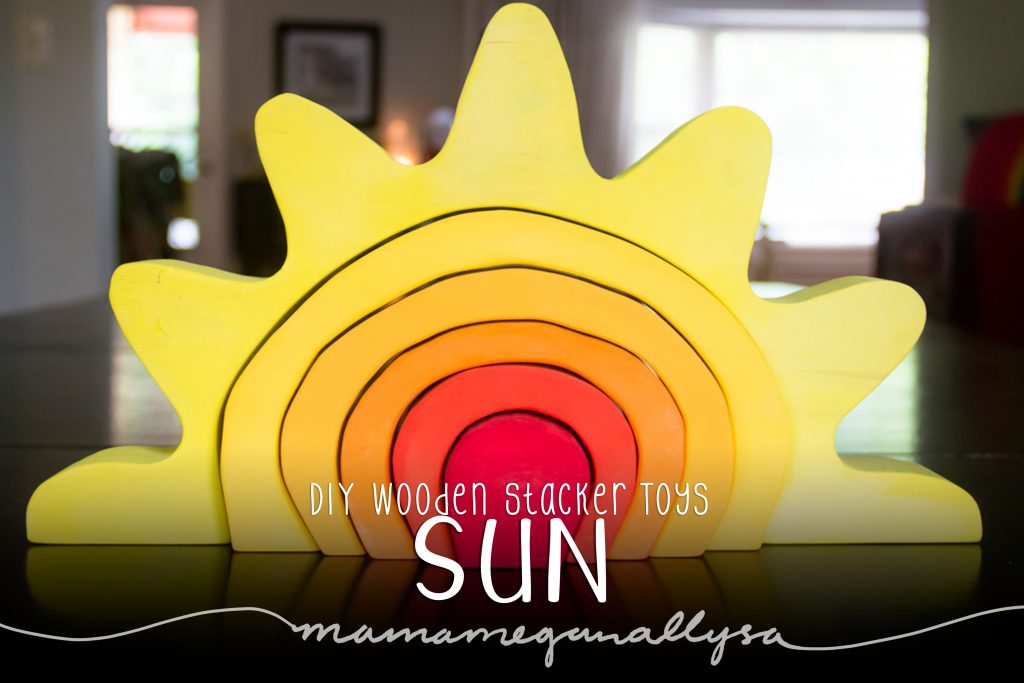 The Cave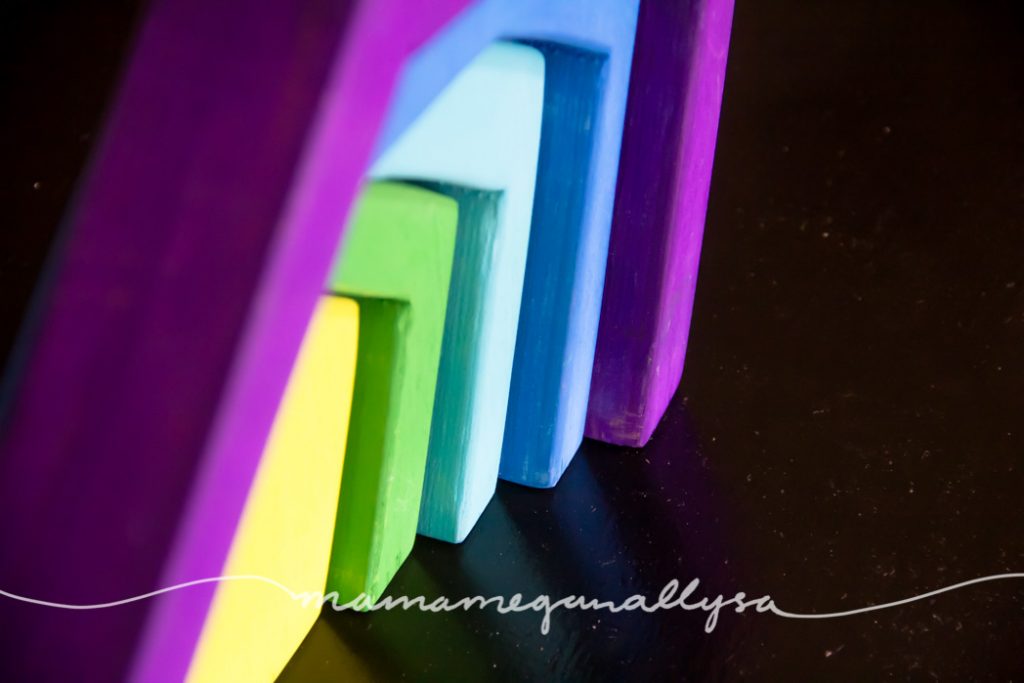 I would love to take another crack at this one and take better care cutting so that the bands fit together a little more snugly!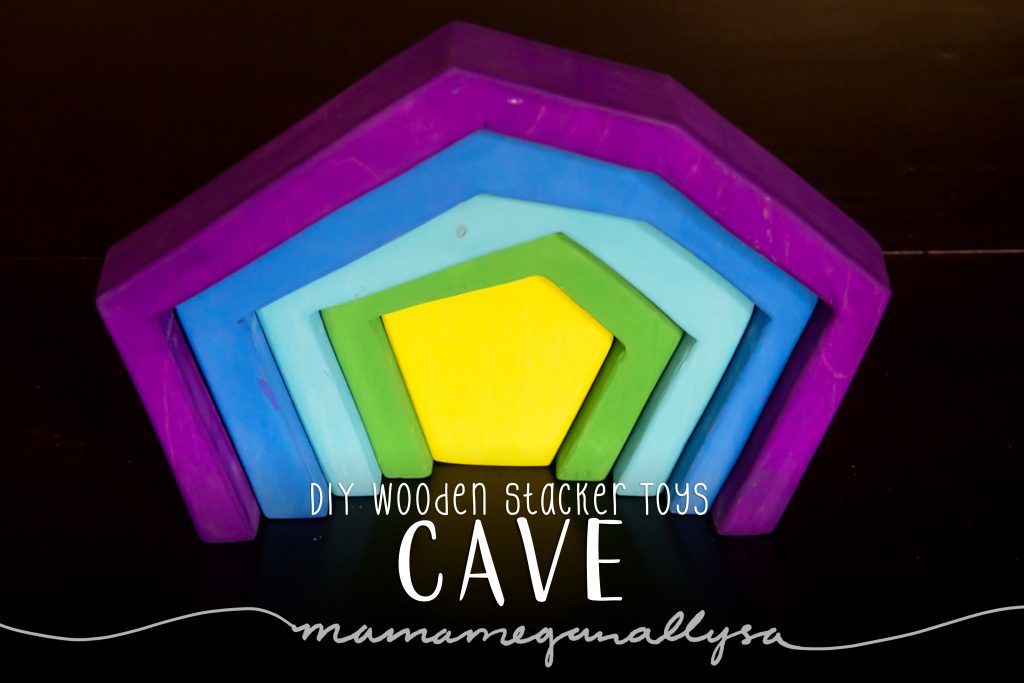 The Wave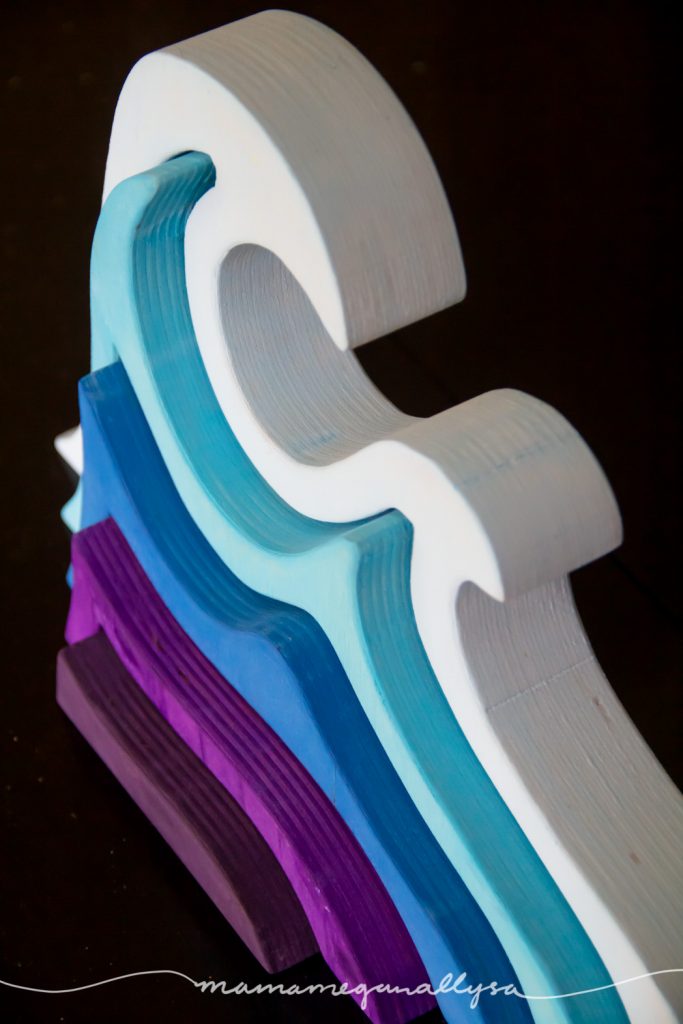 Zak was terrified of this one and it really wasn't as hard to cut as he thought it would be!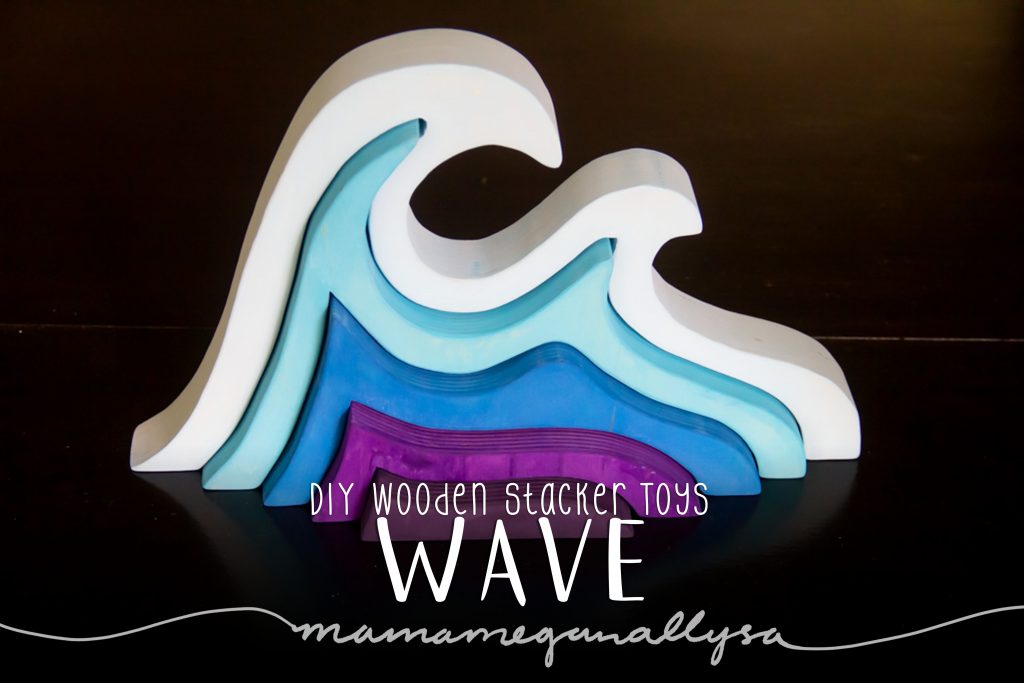 The House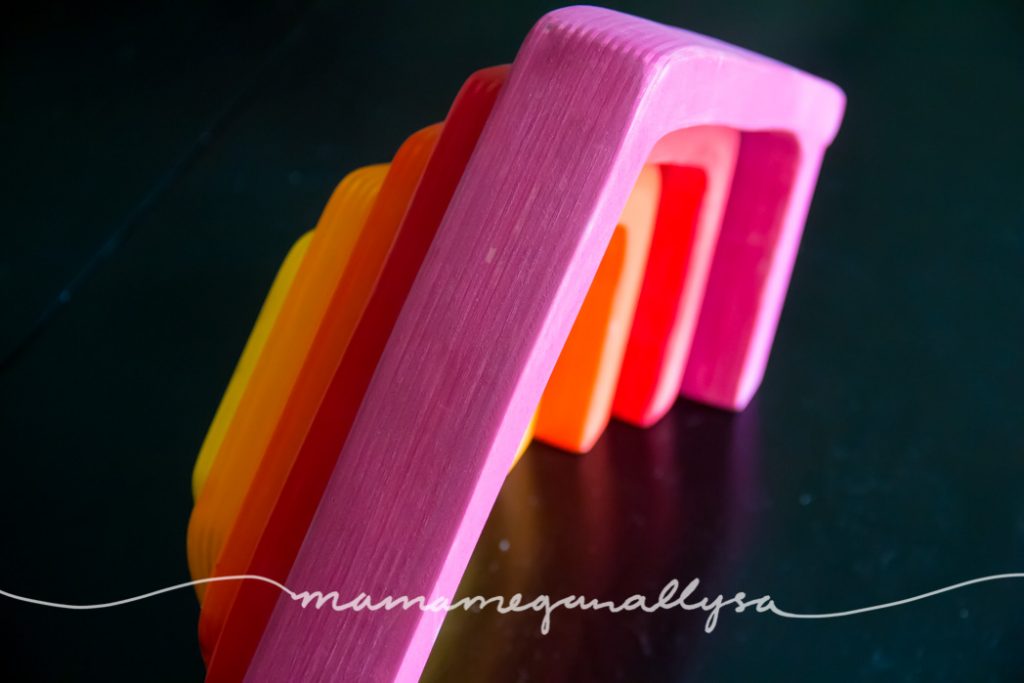 I love that this can be a house or a barn based on what animals and things are with it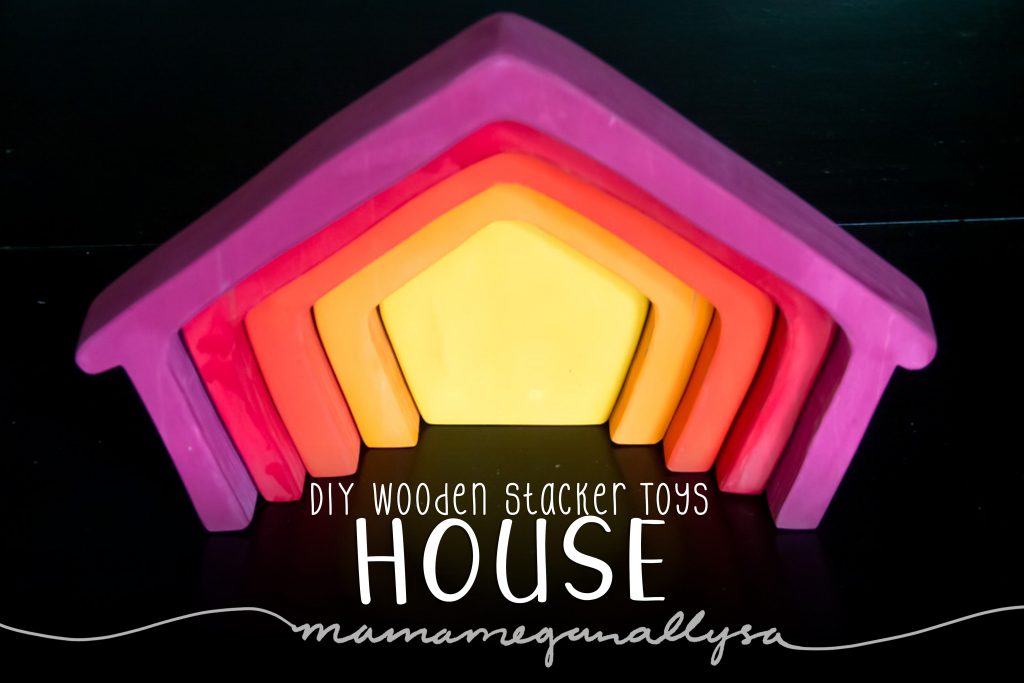 The Flowers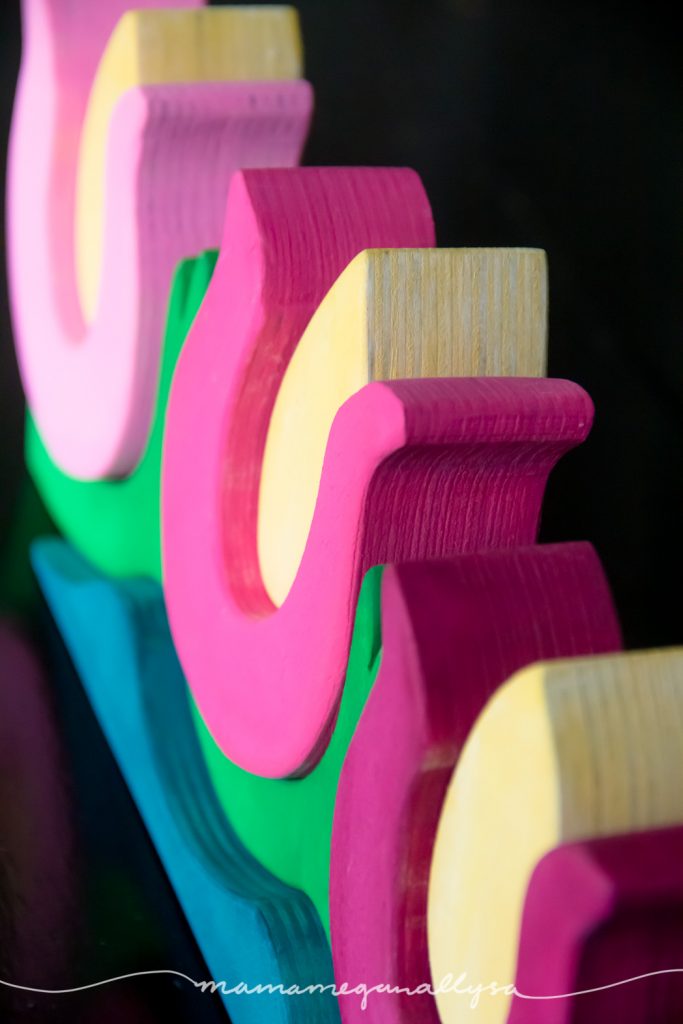 This was an entirely custom design created by my sister, I asked if she could think of a way to do some flowers and she said 'give me a minute' and less than ten minutes later we had something to work from!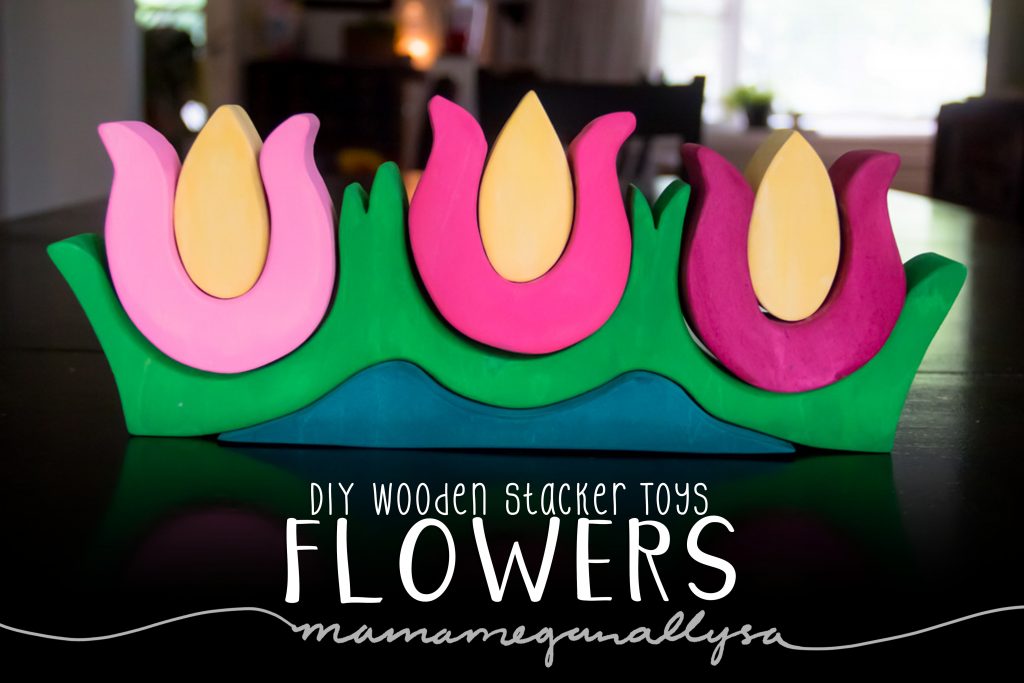 The Iceburg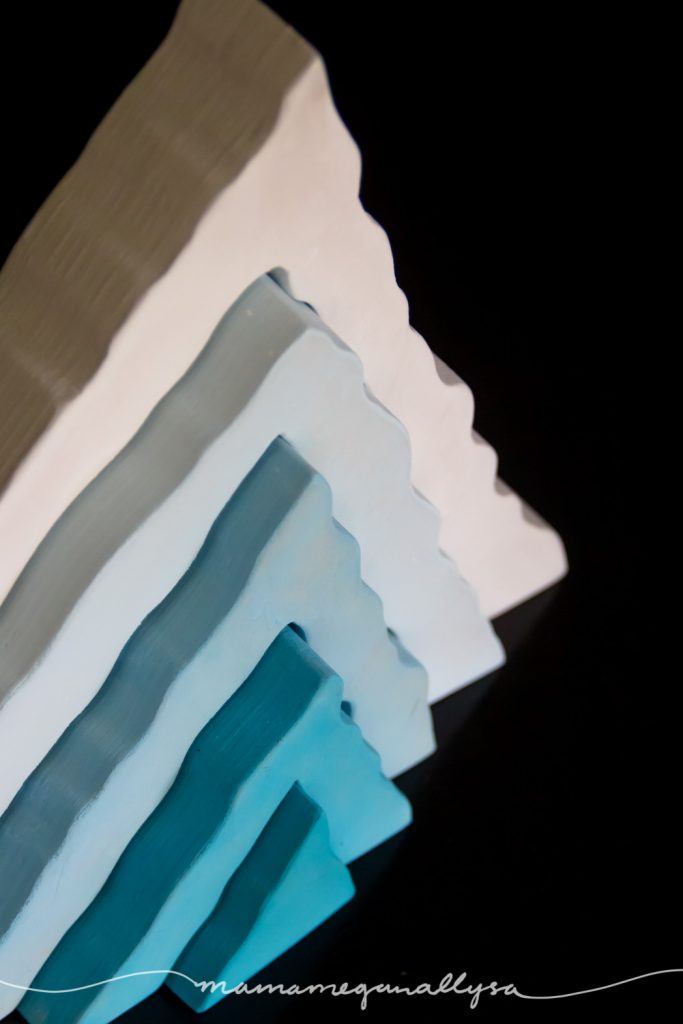 I really like the jagged edges on this one. Also, it was the most forgiving as far as cutting went. Mistakes were just now part of the ice!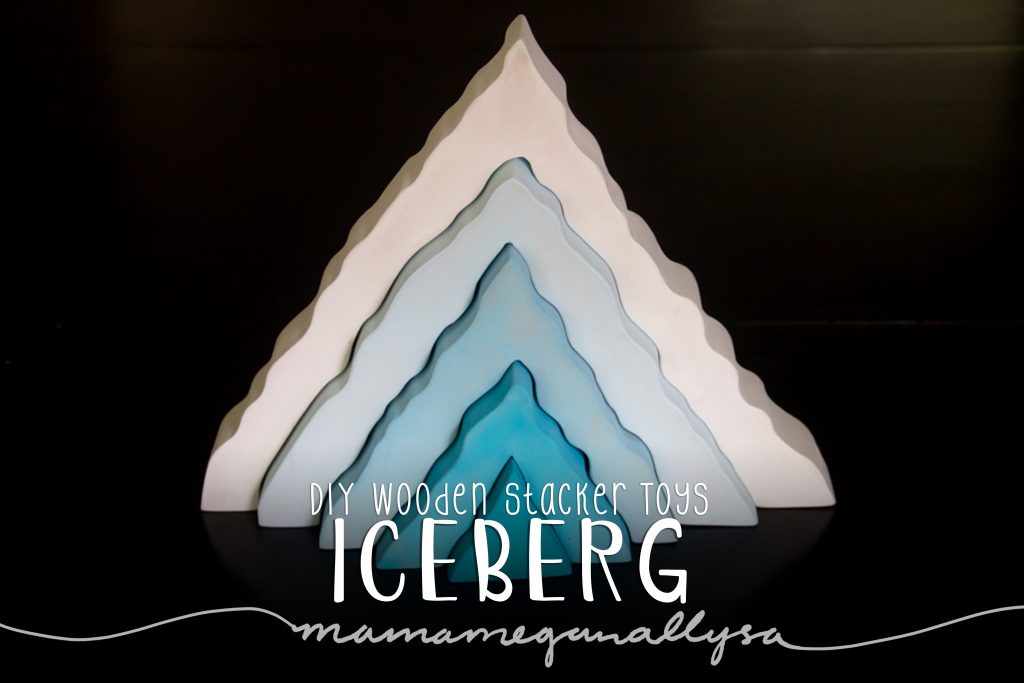 The Volcano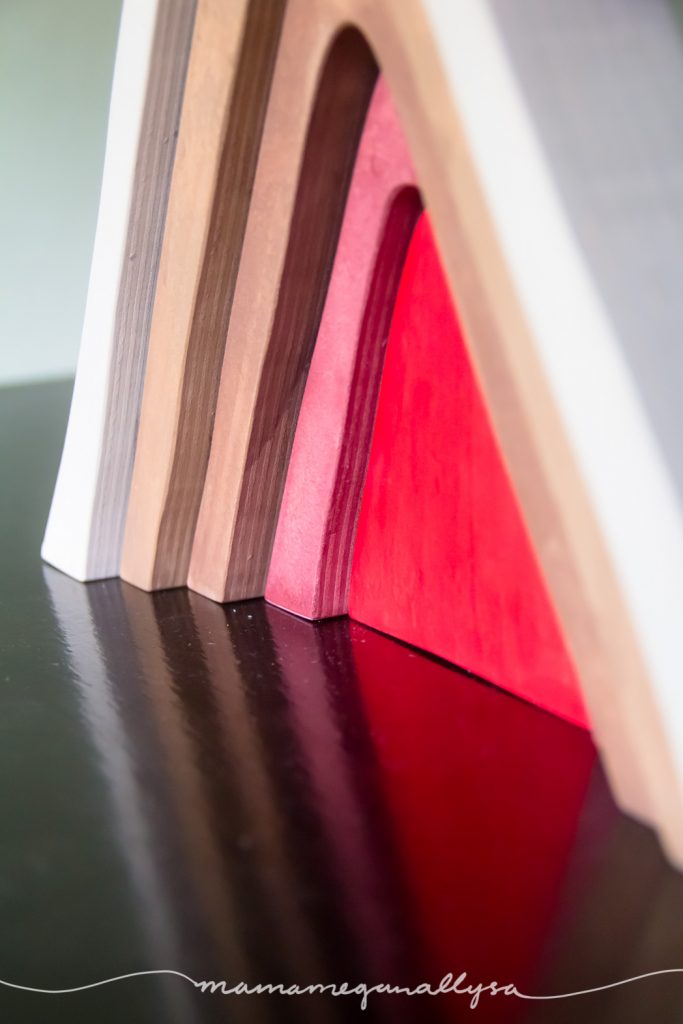 The lava at the top is removable so that the volcano can be dormant and erupt whenever we want!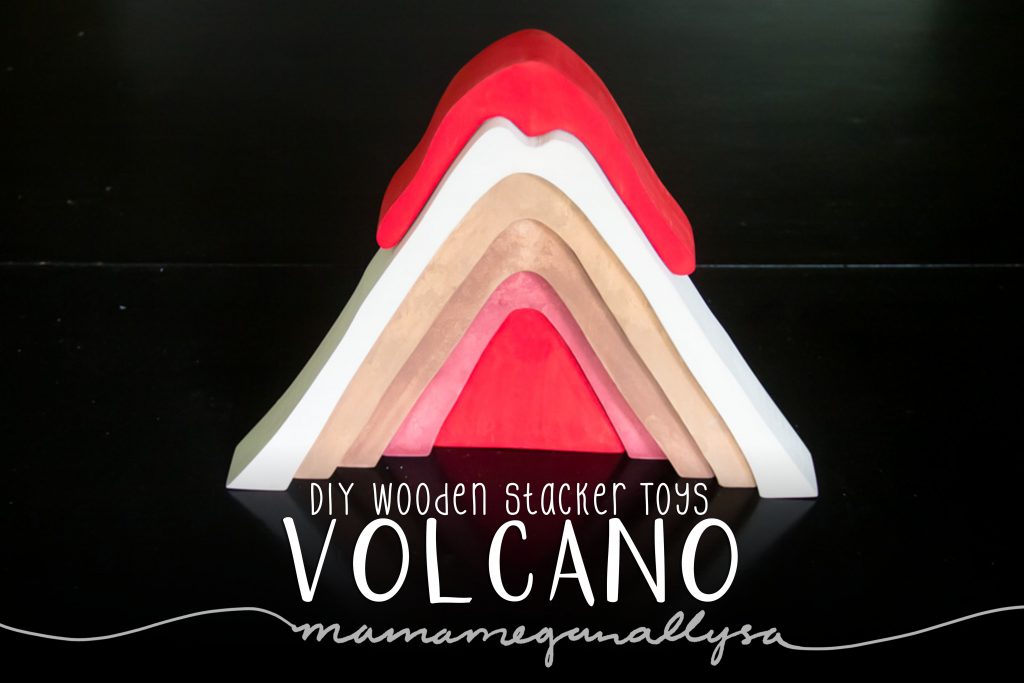 IT TOOK FAR TOO LONG BUT PATTERNS ARE FINALLY HERE!!!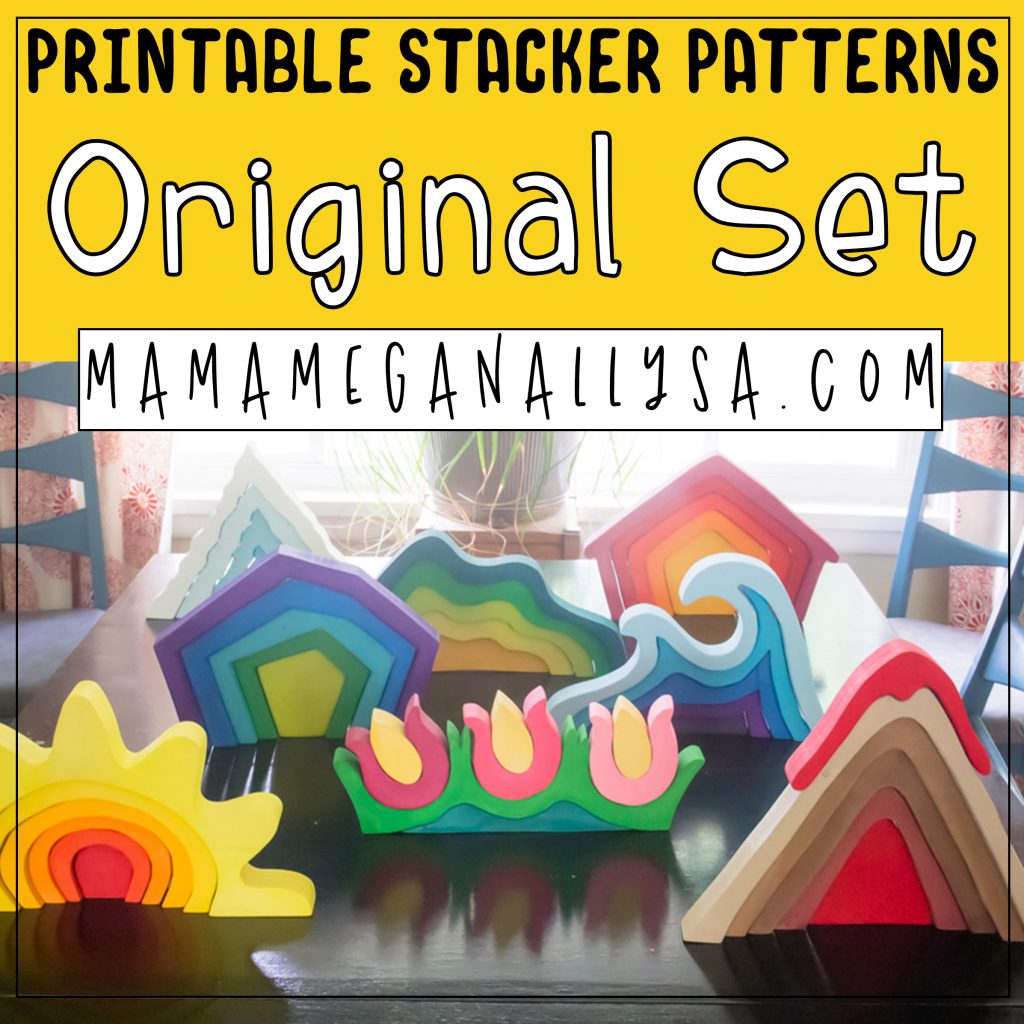 Are DIY Stacker Toys Really Doable for Everyone?
I would be lying if I said that these were easy and that anyone could make these. You need a hefty shop and lots of time and patience. But it is possible, if not by everyone…but honestly, that's the way with most woodworking projects!
My next attempt will be a rainbow I think. We have our Grimms rainbow but I just think it would be fun to try and make a sunset one. What other kinds of stackers should I try? I would love to know what you would make if you could! Leave your ideas down in the comment section!
Please if you love these as much as I do share them. I am so proud of them and I want to shout it to the rooftops!
Other posts you may like