When I do our rotations and we have a fresh toddler toy shelf it always refreshes the space and that's just what we needed after last week!
I strive to be honest and real in everything I post. Our last toy rotation was a bit of a flop. He played with most of it sparingly and some of it she never touched. I honestly can't tell you why she ignored it so much. So I really wanted this weeks rotation to have some beloved toys in it so that it might entice her to play with her toys a bit more.
This post contains some affiliate links. As an Amazon Associate, I earn from qualifying purchases. I may receive a small commission from if you follow and decide to purchase. There would be no additional cost to you!
Living Room Toddler Toy Shelf
I adore having her play space in our main living space. By having her toy shelf where we spend the majority of the day she is more likely to play without me having to drag toys ALL over the house. (Don't get me wrong there are toys all over this house but that is her doing not mine! Lol)
Activity Tables
In the smaller table, I have her new to us construction peg puzzle. I feel like this might be a little out of her skills yet but we are doing construction in Tot school this week so it was too perfect to pass up. Also, who knows maybe she will surprise me and take right to it!
Under that is her baby bike, which has been getting quite a lot of action these days! She even started taking a liking to her Strider outside so we are doing lots of bike riding now.
On her bigger table, I have a little mail invitation to play set up. Just a target dollar spot felt mail kit and an old mailbox left over from our wedding! That thing has been hanging out for five years now and it finally got another job! Lol
Animals and Stacker on the Toddler Toy Shelf
If you follow me on Instagram (and you totally should ;)) I posted the other day about FINALLY finishing painting all our homemade stackers! I celebrated by putting the last one out on her toy shelf this week.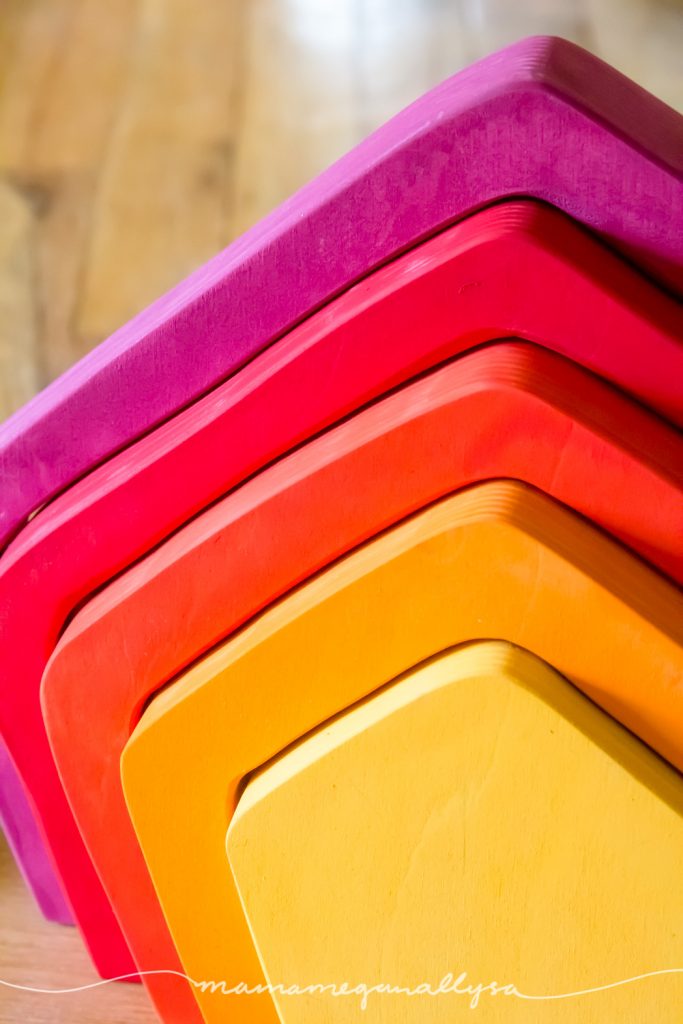 This house stacker was the one that I couldn't settle on the colors for the longest time and now that it's painted I LOVE the outcome.
In addition to the house stacker, I pulled all her dogs and cat figures out. We have a Bernese mountain dog and pup, a golden retriever and pup, a Newfoundland and a tabby cat. ( I feel like we need another cat in this setup. It's feeling very weighted towards the puppers!)
Deep Dive into our Toddler Toy Shelf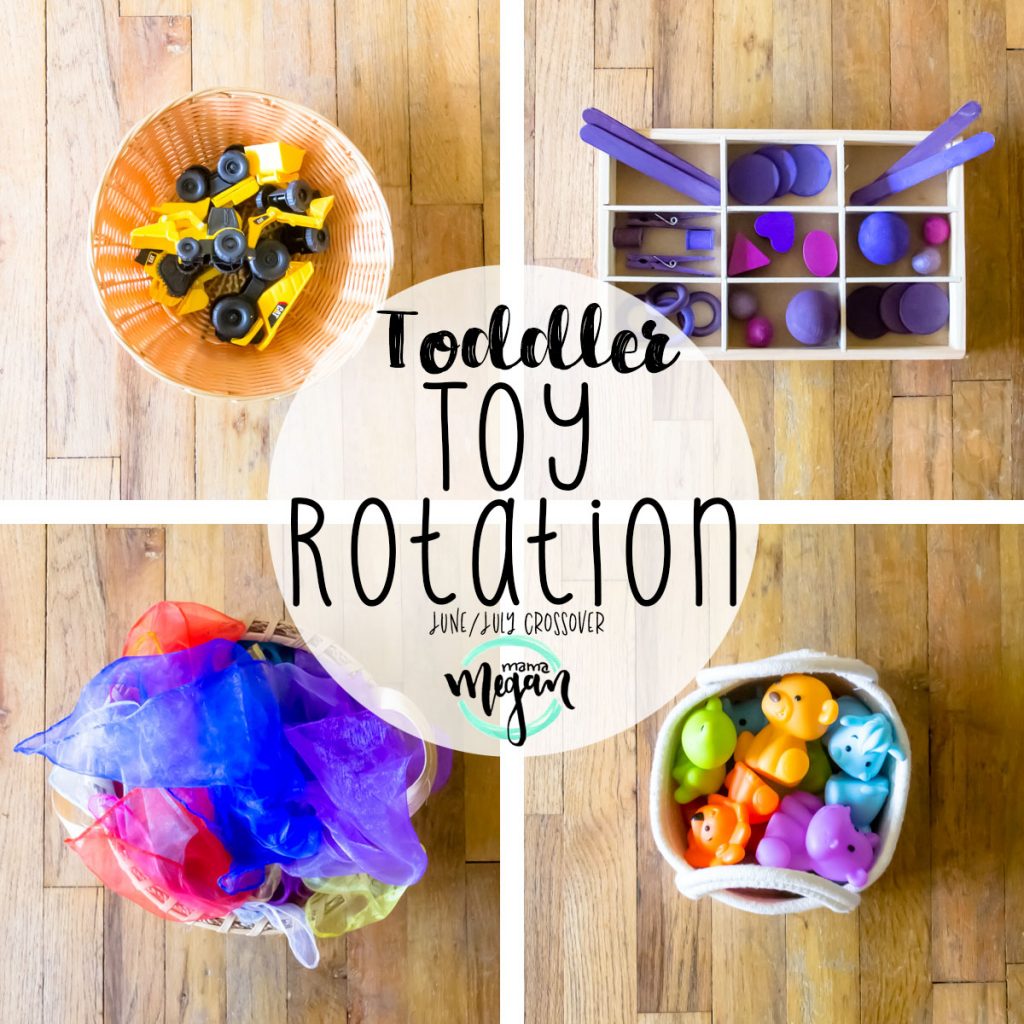 I also have her vintage cash register, which she likes to load her loose parts into.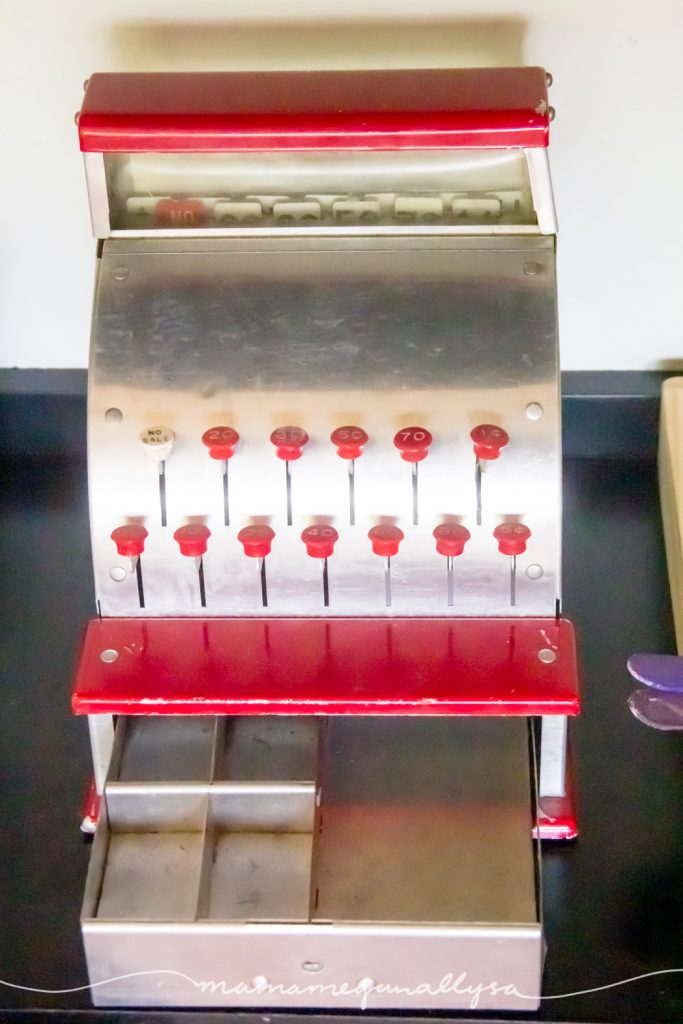 Her ball drop has been one of her favorite toys for a very long time now so I am sure this will get good play time.
The Big Baskets
I finally got around to rotating her blocks this week. We put away the megablocks and pulled out the vintage fisher price wooden blocks. She is JUST starting to get into stacking so I hope that these get some play time its been a long time!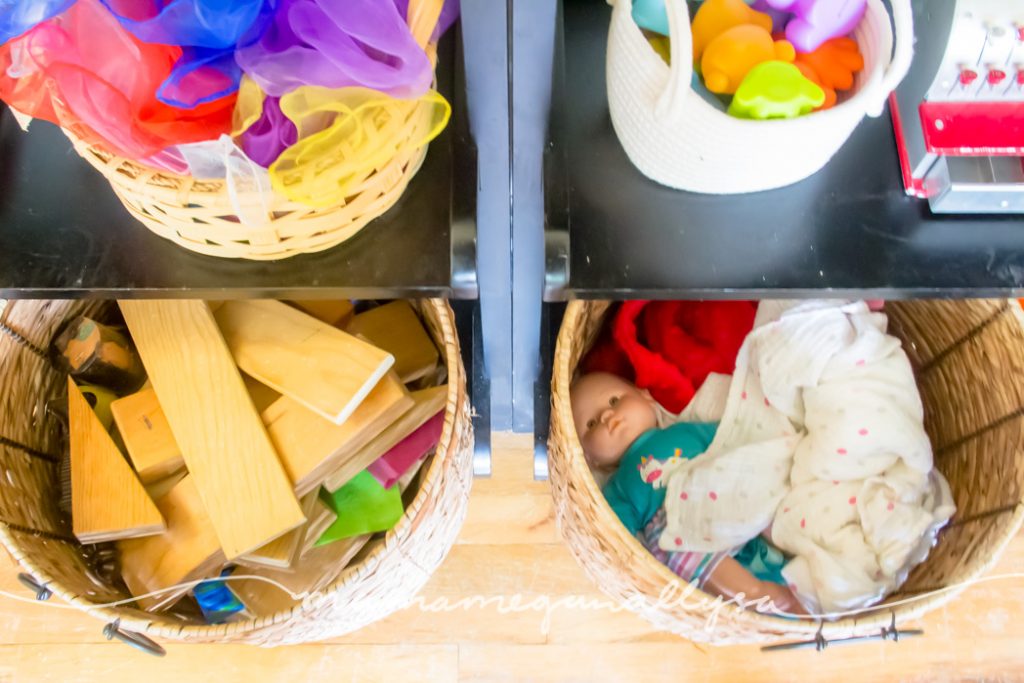 We also have our tried and true basket of baby dolls and blankets. This basket is rummaged in at least every day and most day, two or three times.
Toddler Toy Shelf Rotations
I always share my toy rotations in more real time on my Instagram if you want to know what we are doing sooner! I share lots of great behind the scenes and real-life updates over there!
If you are noticing that your toddler isn't touching their toys I strongly suggest you try toy rotations! What kinds of questions do you have about toy rotations? I would love to help you get started if you haven't yet!
Other Posts you may like