I hope my April Tot School plans can help some moms (and toddlers) make it through the social distancing we are all practicing right now. We are going to learn about birds, nature, and springtime, and do some fun Easter crafts and activities. As well as our monthly focuses of the letters JKL, the color yellow and circles.
With social distancing and the shutdown of schools, so many people are finding themselves at home with little ones that need distractions. I hope that I can share just a few ideas to make the time pass a little!
Download my Free April Tot School Plans Below
Color of the month : yellow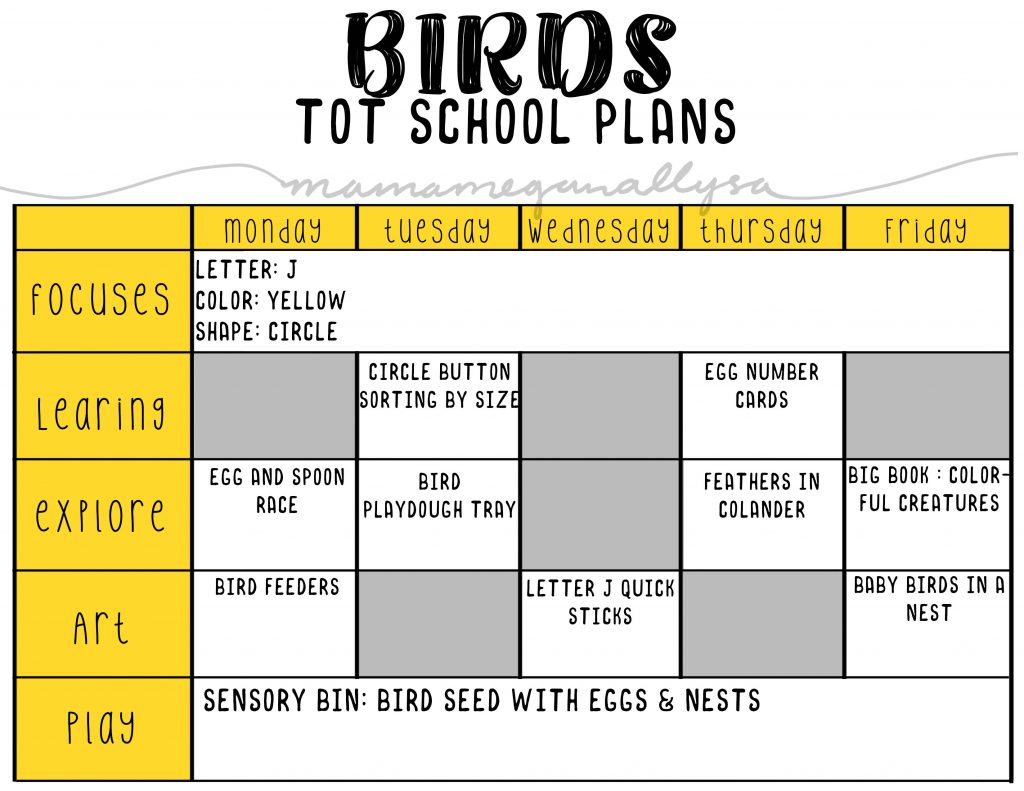 MONDAY – I will attempt to teach her the classic egg and spoon race using a plastic Easter Egg that I will fill with something to give it a little more weight. We will also be making some peanut butter and birdseed bird feeders.
TUESDAY – Using some random buttons we will sort by big and little.
WEDNESDAY – using our letter coloring sheets we will use our yellow quick sticks and markers to color and work on pencil grip
THURSDAY – using our DIY number cards and some little wooden eggs we will practice counting. We will post some feathers in the holes of a kitchen strainer to work some fine motor skills
FRIDAY – We will work on gluing and following instructions with this for the baby birds in a nest project. This is a very mom lead art project for her, but she occasionally enjoys them, to be honest, we may split it up over a couple of days depending on her interest level.
Letters of the Month : JKL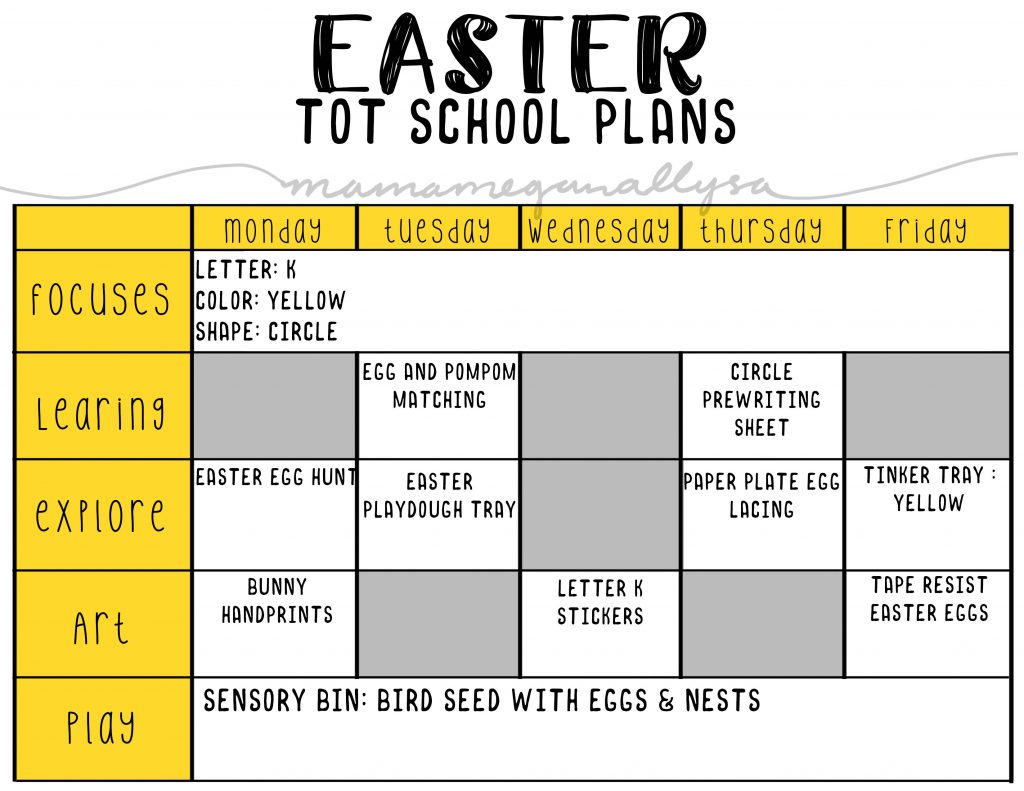 MONDAY – Why save all the egg hunting fun for one day of the year. I will hide a dozen or so eggs for her to fine. Think of it as a dry run for Easter! Lol We love a good handprint project here so I selected a bunny handprint art this month
TUESDAY – I will have a selection of plastic eggs and pompom that match the colors that she will have to put the pompoms into. It will work her fine motor to crack the eggs open as put them together again as well as the color matching.
WEDNESDAY – We will use our letter coloring sheets and decorate with some Easter stickers
THURSDAY – She has recently started circling things with she draws so I thought we would try out a prewriting coloring sheet with some circles of different sizes to try and trace. The Easter Egg threading will be a paper plate cut into an egg shape with holes along the edge and a rainbow yarn to thread through and "decorate" the egg
FRIDAY –For the tape resist egg we will lay down some washi tape and break out the paint to decorate a paper egg.
Download our April Tot School Plans so you can follow along too!
My April Tot School Plans have thematic crafts, early learning activities, sensory play and invitations to explore that will keep your toddler busy all month long. You can download my plans below and jump right into all the fun with very little prep work needed on your part! Because let's be honest. You have enough on your plate right now!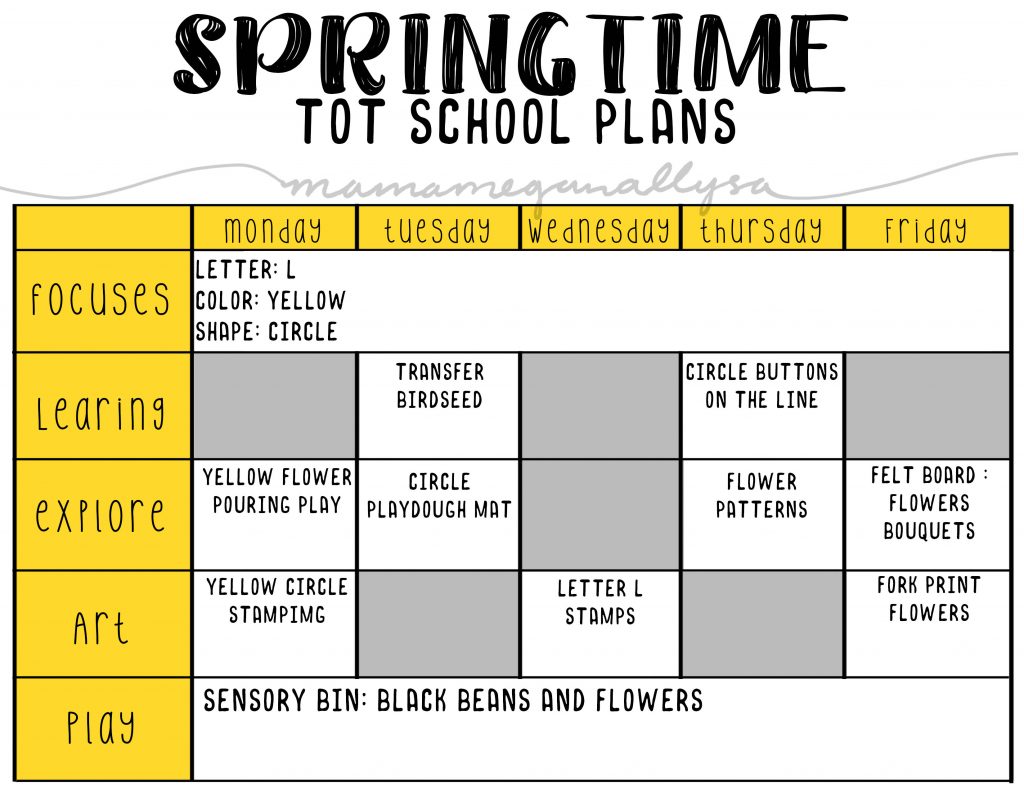 MONDAY – The flower poring play is just some classic water play. I will try to add some yellow flowers if I can find some if not we will use fake flowers or even foam cut into flower shapes! For circle stamping, we will use some bottles of different sizes to make circle stamps with yellow paint.
TUESDAY – Using some bird seed and a spoon she will transfer the seed from a bowl into an egg carton filled with half plastic eggs
WEDNESDAY –using out letter L coloring page we will stamp and make fingerprints
THURSDAY – using some buttons I will try and have her line them up along some lines. I may try this with some contact paper to hold the buttons in place so she doesn't get frustrated. Using some felt flowers that I make we will try and see if she understands what a pattern is.
FRIDAY – I will cut out some flowers from felt and a little vase for her to "arrange" the flowers in. For Fork Flowers, we will use a fork to make prints that we can turn into flowers.
March Shape of the month : Circle
MONDAY – Using a nature scavenger hunt for ideas we will see what kind of things we can find in the backyard. We will try out a "mess-free" painting to make an earth. Just don't let them get too mix happy or your colors will end up muddled.
TUESDAY – I am going to grab some of her circle threading beads and maybe some other beads and we will work on her threading them independently.
WEDNESDAY – Painting rocks is a classic activity I used to do every summer as a kid. We will collect a few palm sized rocks and just paint them.
THURSDAY – Scissors play continues to be a favorite of hers so we will continue to practice with them. We will cut a yellow paint chip into tiny pieces. Using some of our wooden tree coins that I cut we will do some counting, and probably some stacking as well.
FRIDAY – I will pull out her colorful creatures book and we will look at all the birds through out the book. I will pre-cut some circles out of yellow papers for her to glue however she wants.
Remember Play is Learning!
So many moms suddenly became homeschoolers during the social distancing and I totally understand that you want to keep your little one's brain growing. but just remember playing is learning. Keep it as fun and relaxed as you can so that they see the fun and joy of learning!
I create my tot school plans more as a guide and something to fall back on when I need ideas to get us through the day. I don't stick strictly to it and I don't force her to participate if she isn't feeling it. She is only 2.5 and play is how she learns about the world around her.
If you want to see how we play and learn with our tot school plans make sure and follow me on Instagram where I am always posting and sharing our day to day reality!
Free Editable Tot School Planner!
If you love the idea of tot school but my April tot school plans just aren't the right fit for your toddler then fret not! I have the perfect solution for you. My free editable tot school planner is available for you to customize for you and your toddler's early learning adventure! Just enter your email down below and a link will be sent to you with my blank planner for you plan out your week with!
Other posts you may like