Our Gingerbread sensory bin is so simple and so cute! Using some white rice, some ingredients from the cabinet, and a few holiday candies I made this super fun invitation to play and it went over wonderfully!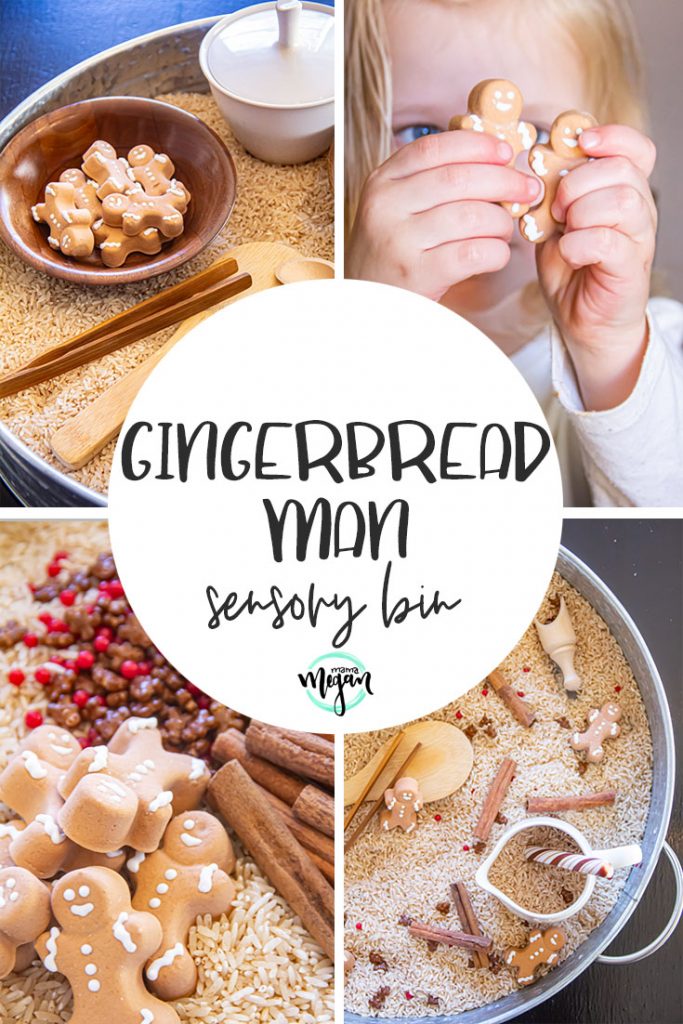 A Gingerbread Sensory Bin for some simple Holiday fun!
With the holiday season upon us I wanted to find a way to work some seasonal fun into our sensory play. There are lots of red and green sensory bins out there and plenty of candy canes but I wasn't finding anything that really spoke to me and then I stumbled upon the CUTEST little gingerbread candies and I knew that was it!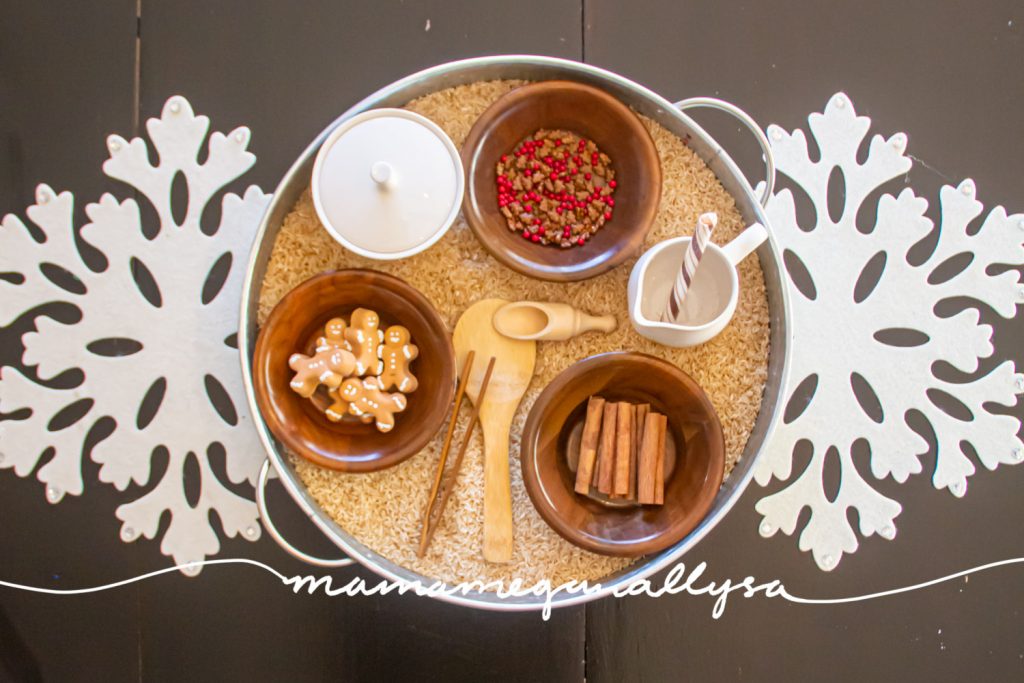 Gingerbread Sensory Bin Supplies
This post contains some affiliate links. As an Amazon Associate, I earn from qualifying purchases. I may receive a small commission from if you follow and decide to purchase. There would be no additional cost to you!
White rice – brown would work great
Gingerbread Man Sprinkles – this is not the selection that I picked up but it has the same jumbo sprinkles
Gingerbread Candies – couldn't find these online. I found them in the seasonal aisle of my grocery store as hot cocoa extras, near the sprinkles
Tongs – ours are thrifted but these are similar
Scoop – this is a pack of 10- you don't need 10 of these…but this is the size
Wooden bowls – again ours are thrifted but these are super similar looking
Creamer and Sugar Set – yet again ours is a thrifted set but this one looks similar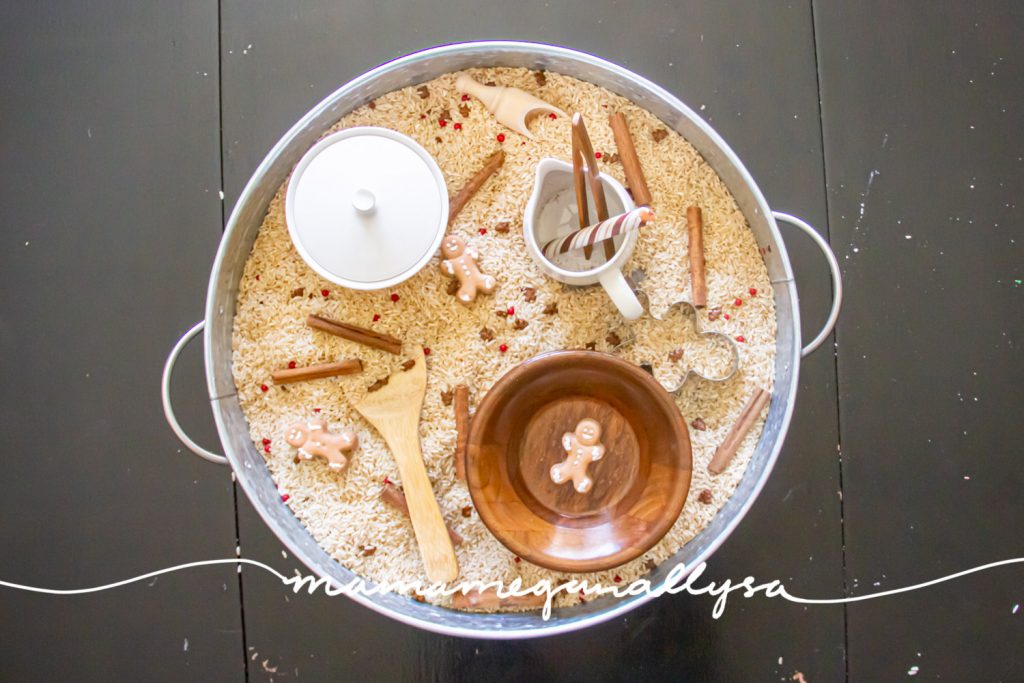 How to make Gingerbread Rice with simple ingredients from the pantry!
I wanted to take the white rice a little more interesting, so I tried adding some spices and a touch of vanilla to make it really smell like gingerbread!
I went with Cinnamon, All Spice, Nutmeg and Vanilla.
Pour 6 cups of rice into a ziplock bag then I added ½ TBSP of cinnamon, ¼ TBSP All Spice, ¼ TBSP Nutmeg. Honestly, you can eyeball it and just use whatever you want. Then pour ½ TBSP vanilla and ½ TBSP water into the bag. Seal and Shake shake shake!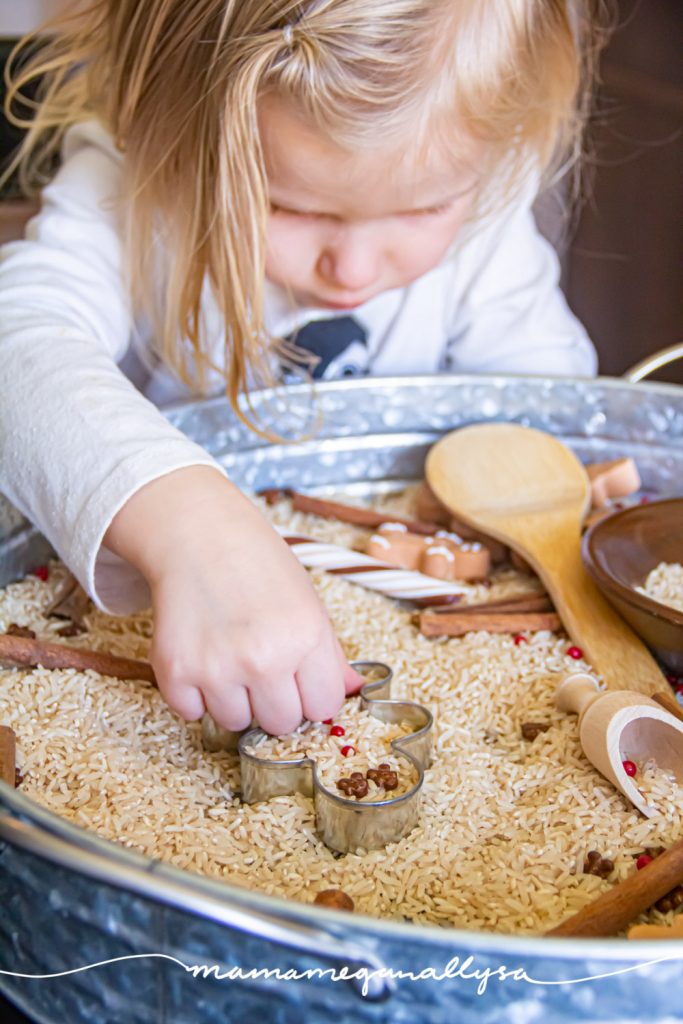 It smells amazing and the vanilla dyed the rice a light tan color. Most of the spices did end up falling off the rice as they dried but they are in the bottom of the tray, so it still smells great!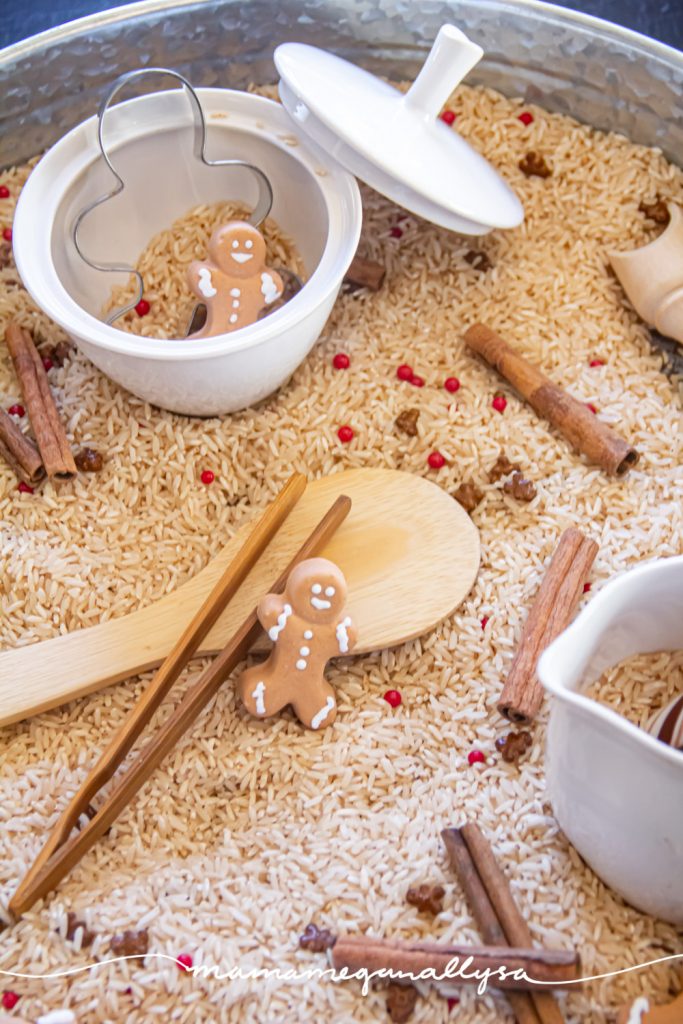 How to Set up a Gingerbread Sensory Bin
Our Gingerbread sensory bin an open-ended sensory bin if ever there was one. Just some tools, a few manipulatives, and a fun filler!
What really sets the stage for this sensory bin is the sprinkles and gingerbread man candies! The jar of sprinkles that I picked up had the little red balls mixed in with the gingerbread men and I didn't mind so they went it the bin as well. The set of gingerbread man candies also came with the brown candy stick so I added one of them just for fun.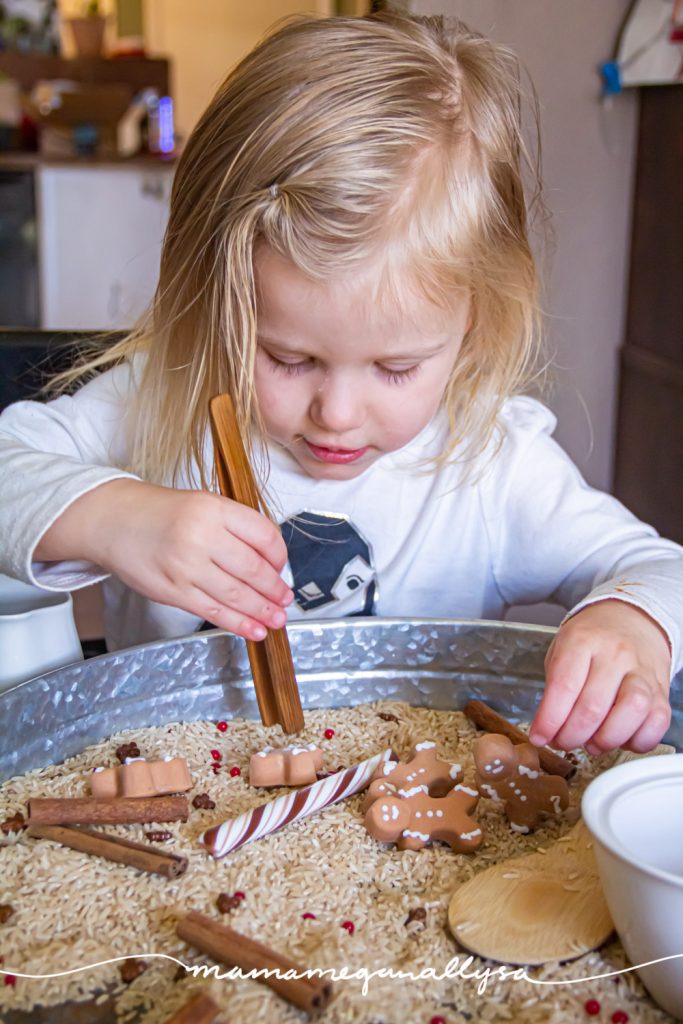 For tools I chose some tongs that would be perfect for the tiny gingerbread sprinkles, a small scoop, and a rice spoon. Both of these pose a challenge for her as one is quite small and the other is flat so it doesn't hold the rice well. Then I added some wooden bowls and sugar and creamer set for pouring.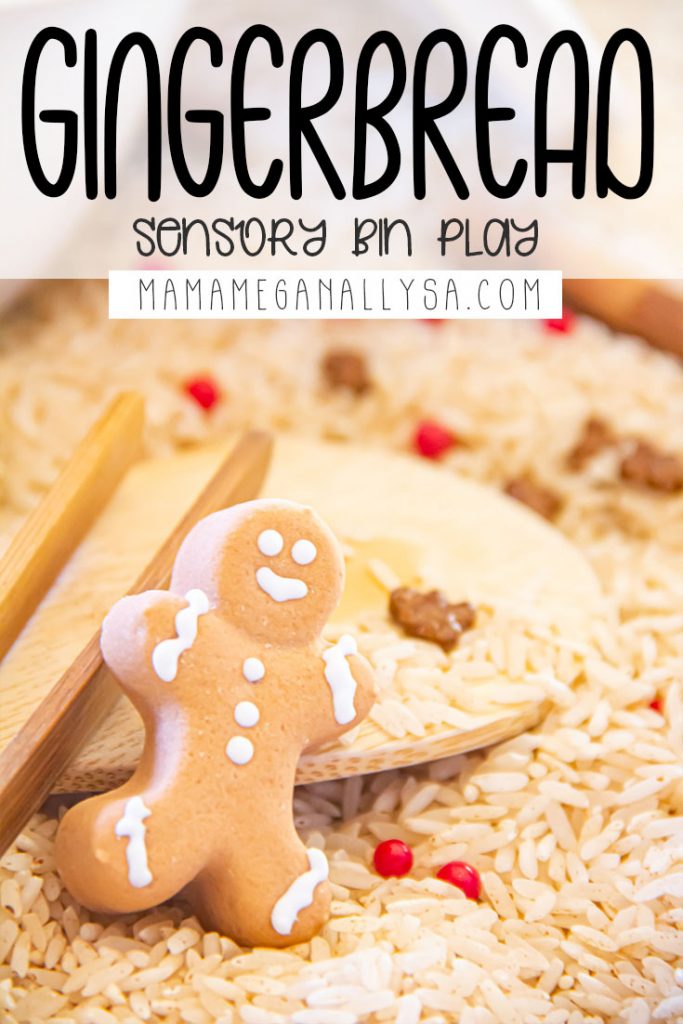 Gingerbread Sensory Bins are super easy to customize!
The gingerbread sprinkles should be easy enough to find BUT the little candy gingerbread men might be a little tougher.
Taking that into mind it would be SO simple to replace them with actual gingerbread men cookies or you could make ones out of felt or paint little wooden ones. Honestly, there are tons of options for the gingerbread men!
Share your Gingerbread Sensory Bins with Me!
This was a super simple way to add a little extra Christmas cheer into our Monday and It would be a great idea to add to your elf activities or advent calendar! If you do make a Gingerbread sensory bin I would LOVE to see what you do!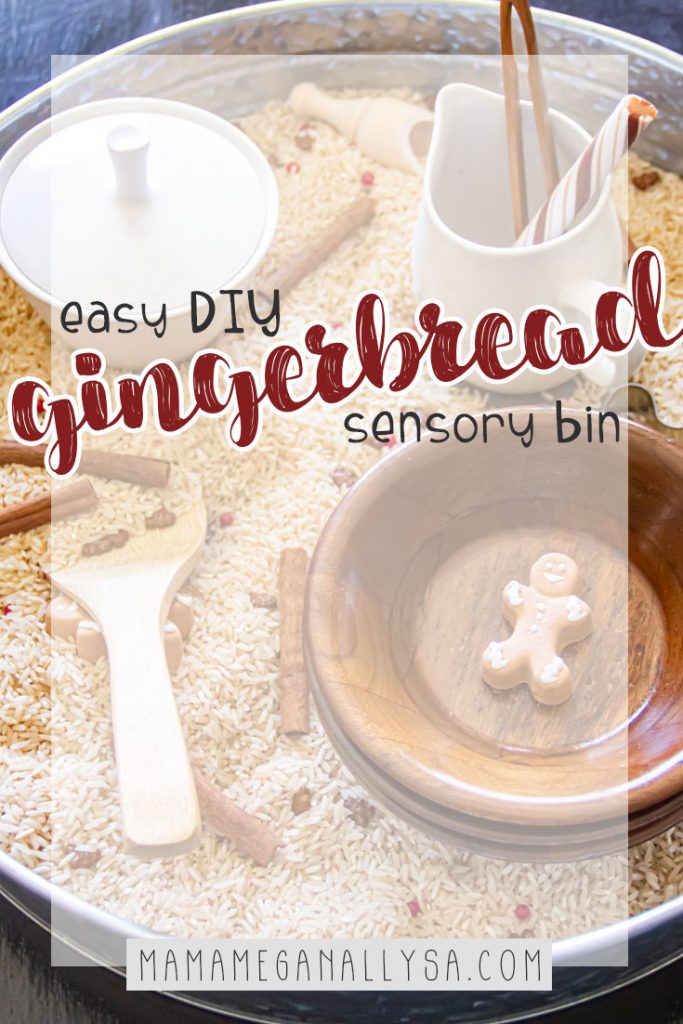 Tag me on Instagram and share your Gingerbread sensory bins. I feel like there are so many different ways you could alter this one to make it work with what you have on hand!
Other Posts you may like