Our Baby Led Weaning Gear gets used every day and is honestly some of the more used baby gear we own. Bean is my second babe to BLW (baby led wean) and as such we have developed a few preferences. I thought I might save you the time and hassle of trying every suction plate on the market (hot tip…none of them REALLY suction perfectly) and share our Baby Led Weaning gear guide with you!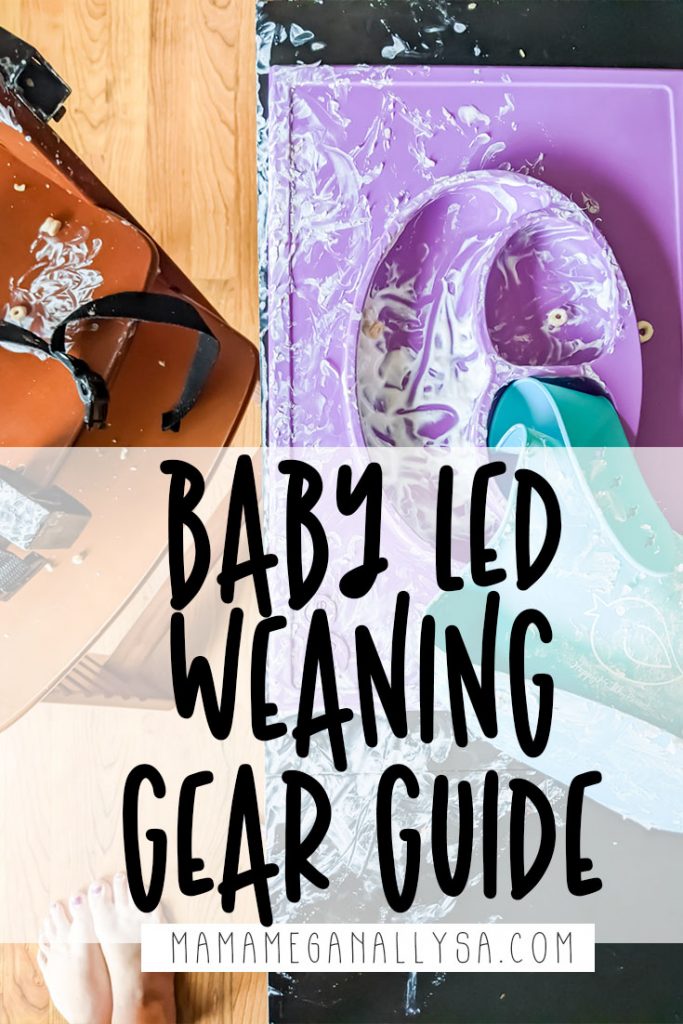 Baby Led Weaning for those of you that don't know what it is simply put, it is skipping pureed food and allowing your baby to self-feed from the beginning. When your baby meets all the developmental milestones, (typically around 6 months) you have the green light and most any food is fair game, as long as it is prepared in a safe way!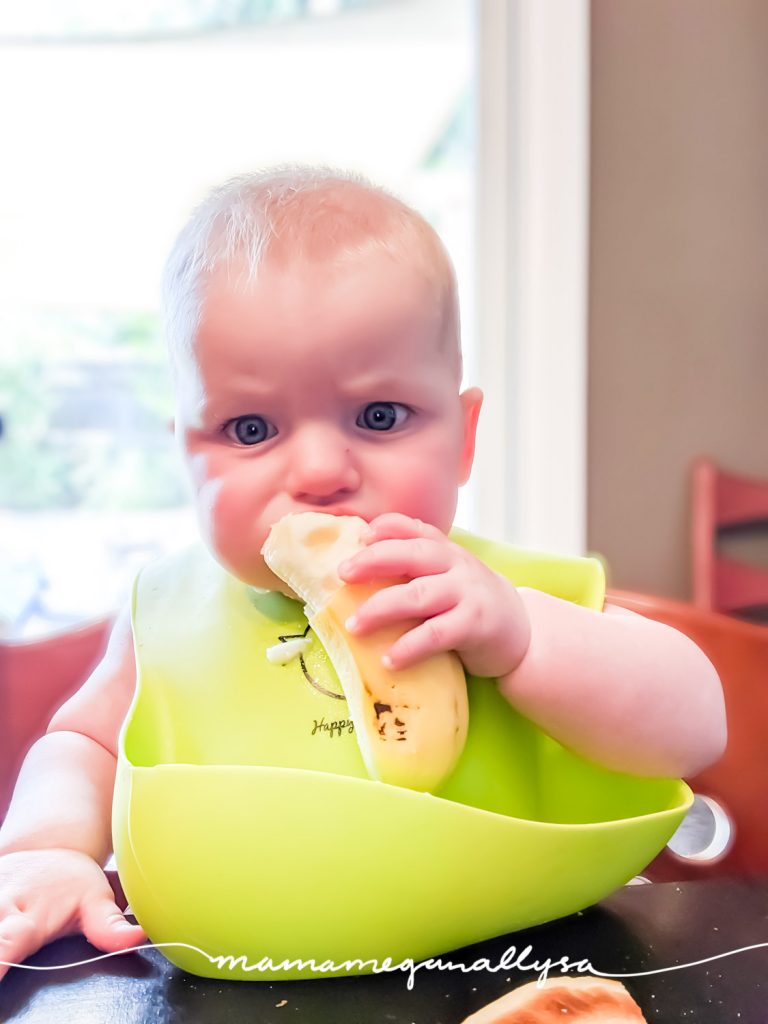 This post contains some affiliate links. As an Amazon Associate, I earn from qualifying purchases. I may receive a small commission from if you follow and decide to purchase. There would be no additional cost to you!
Im not going to waste your time with the specifics because if you are considering it you should really do your own research from qualified people and that I am not. Enthusiastic, yes, but qualified, no. You can check out these Baby Led weaning books or this article on parents.com for a place to start. 
I also recommend finding a Facebook group or Instagram page to follow for more tips and ideas as well as some other mamas, where you can ask all your real-time questions! That was a lifesaver the first time around.
Also, I feel it goes without saying but I'll say it anyway. You should check in with your pediatrician before making any changes to your baby's diet.
Also Also, Baby led weaning works best from the start, it can be a done following purees but there are some differences in how you would present foods so again find a resource more knowledgeable than me if your babe has already been on purees and you want to make the switch.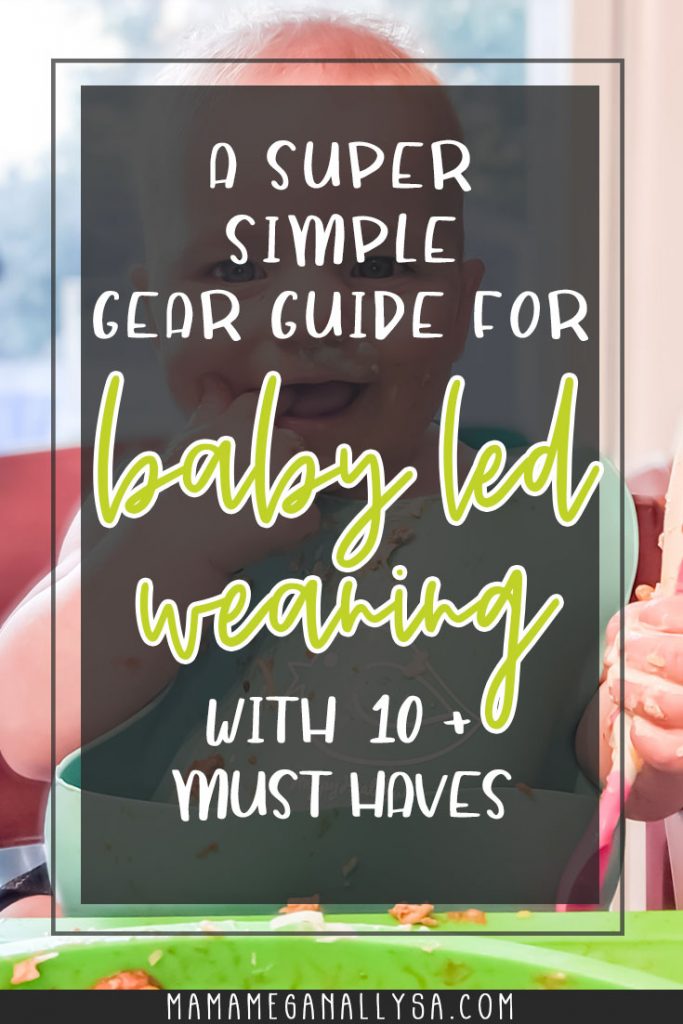 Okay on to the Baby Led Weaning Gear Guide!
Keekaroo highchair – We didn't have this with Bitty and oh how I WISH we had. One big part of BLW is not having your babe leaning back they have to sitting up and engaging their core muscles and these chairs are perfect for that! You can use the tray if you wish but it also slides right up to the table with no problem.
ALSO, the adjustable seat and footrest allow for the chair to grow with your babe well into toddlerhood and we are on the hunt for a used one for Bitty to use now, we love it that much.
BIBS – Baby Led Weaning is messy. Prepare yourself now and if you can't handle the mess you may want to reconsider!

Silicone bibs – The silicone makes them a breeze to clean, they don't stain, and the wide pocket at the bottom catches a fair amount of food with the bonus trait of acting like a trough for you babe to eat out of!
Full shirt bibs – For some foods, you may want a fuller coverage option to protect clothes or prevent an extra bath night.
Washclothes – you will need these whether you are BLW or traditional weaning. It's a messy affair no matter what but Baby Led Wean can be on a whole other level some days. Pick up a pack or two of the really soft baby washcloths to help with the aftermath of spaghetti night.
TABLEWARE – I'ma be honest here, there are lots of times Bean just eats straight off the table. That said there are certain foods and times when having a plate with some walls just makes more sense.
Suction plates – these are the ONLY plates I have found that actually sort of stick and stand up to a toddler.
Plate mats – we started our Baby Led Weaning journey with Bitty using these. I don't LOVE them and they certainly don't stick perfectly but they are large and floppy enough that I haven't had an issue with a baby being able to tip it over before I could intervene and before I discovered the suction plates these were my go-to.
Metal Utensils – I personally find most kid-safe forks frustrating to use and I have relatively good fine motor control. I can't imagine how frustrating they are to babes just learning how to wield them! That's why we went for metal utensils from basically the start.


Plastic Utensils – we personally don't have these, only because I kind of forgot about them at the time and now I feel like it's a little late to introduce them but these palm grasp utensils seem like a great idea if you want to introduce them from super early on!
DRINKS -when introducing a sippy cup for the first time there are lots of different models to pick from and different kids will have different preferences. You can go with a 360 style, a weighted straw, a classic suck, or skip straight to open cups. It's all what works for you and your babe.
Weighted straw cups – We like the weighted straw style. I liked that it was teaching a skill that they were eventually going to have to learn anyway.
Hot tip if your babe can't seem to figure out the straw blow a little air into the cup to create a bit of a pressure difference, this forces some water up the straw and allows the babe to wet their lips and show them the straw is more than just something to gnaw on. Worked like a charm for both my girls!
Small open cups – silicone or shot glass This is something we are just now getting into. And Yes they make a mess with it. That's why I say small. If you only offer a tiny amount of water at a time it leads to less of a mess. As babe gets older and has more control you offer more liquid. Montessori parents swear but the thick-walled shot glasses, hard for a babe to break. We will likely go with a silicone style
Simple and Straightforward Baby Lead Weaning Gear Guide
To feed a baby, no matter how you go about it donst require a ton of stuff, its just that the stuff you need you use a LOT. I hope my baby led weaning gear guide has helped you find something that you will use every day while you watch that little babe experience some tasty new foods!
It has been such an absolute blast watching both my girls explore and experience their first foods! Now if only it could magically cure toddler picky eating! Lol
What would you add to a Baby Led Weaning gear guide? Also, what was your babe's favorite food? We are all about the bananas and grapes right now!
Other Posts you may like