Suddenly here we are. I have a three-year-old and a 6-month-old and a shared playroom for them attempting to take over my living room.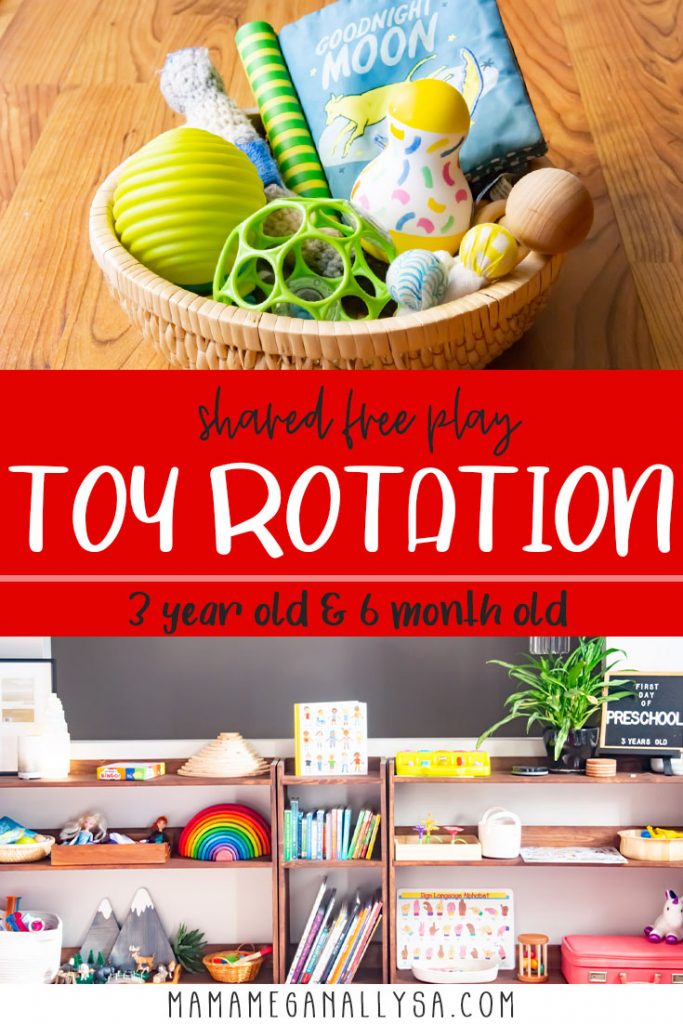 New Home Means a New Shared Play Space
I am thrilled to death with our new home! This has been a bucket list item for quite a while. We are quickly taking the house and making it our home. Now begins the long wait to slowly make the upgrades and updates we really want to make!
I knew during our entire house hunting process that our living room was going to transition into even more of a playroom than it had been in our previous home. Knowing that we purposely searched for a house that had 2 living spaces. One as more of a Family/TV room and then a living room that would basically be the shared playroom.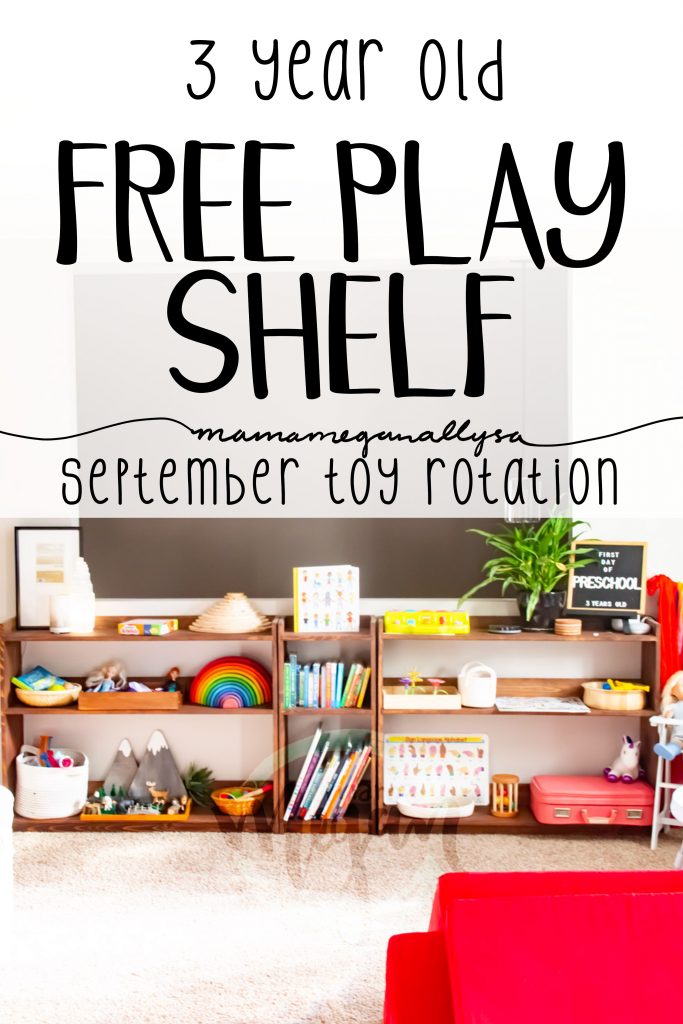 This post contains some affiliate links. As an Amazon Associate, I earn from qualifying purchases. I may receive a small commission from if you follow and decide to purchase. There would be no additional cost to you!
Main Play Space
Keeping the shared playroom in the main portion of the house instead of shoved into a bedroom or hidden away in the basement keeps the mess under control as you can't forget about or just close the door. It also means it's more convenient with little ones in the house. You can leave them to play in the living room and go let the dog out or pop something in the microwave without being too far from the action.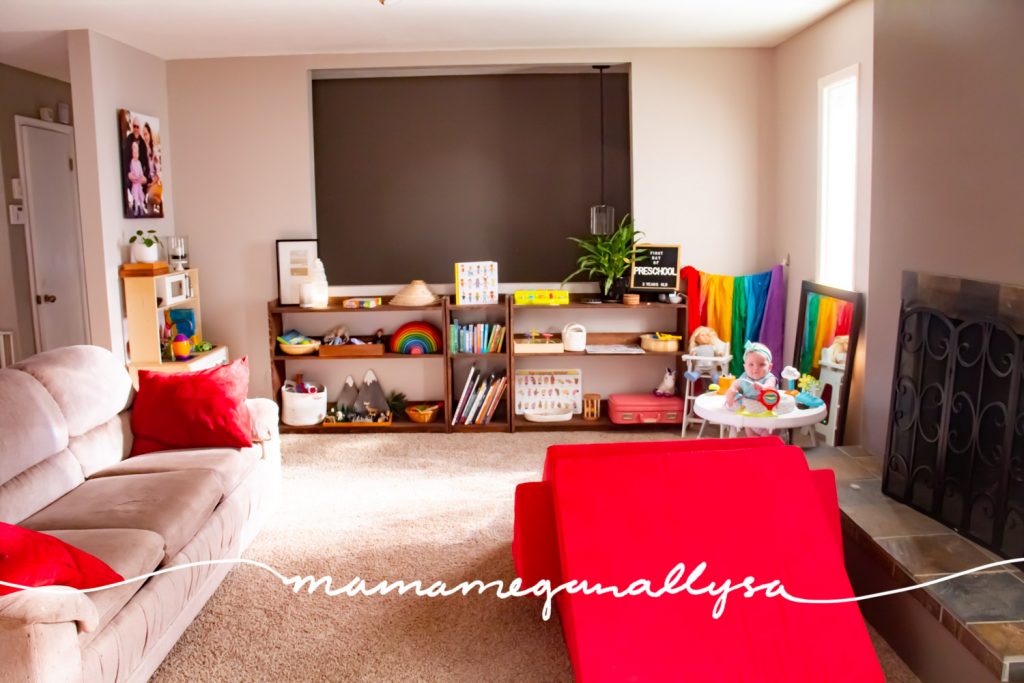 I will say that other than the fact that I am "living" in our living room for a major part of the day it doesn't much resemble a traditional living room anymore. One whole wall is dedicated to toys and books, we have gross motor toys scattered around the floor, and there is no TV in the room. The couch is the only living room item in the room really…
We Have Gross Motor Opportunities for Both the Girls our Shared Playroom
When I set up our shared playroom right after we moved in I wasn't particularly thinking of Bean's gross motor needs as well her gross motor skills were tummy time and sitting and she was content. That is no longer the case. She is working on crawling with some major focus and she wants to stand all the time now.
So I think I am going to have to bring the Pikler back out so that she has something easy to grab on and to practice pulling up on as well as cruising eventually.
Bitty hasn't been using the Pikler as much lately, but she still has her balance board and our latest addition…
Let's talk about the elephant in the middle of the room…or more specifically the Nugget
We were SUPER lucky to be able to score a Nugget earlier this year and then we waited many months for it to be delivered, but we have been thoroughly enjoying it over the last few weeks now that we finally have it.
Bitty is just starting to get more creative with it and rearrange it all on her own or ask for repeats of setups that she liked. It makes a great gross motor toy for her and a great spot for me to sit on the floor with the girls. As Bean gets older I am sure that she will love climbing all over it!
Brand New Toy Shelves for our Toy Rotations
When we moved into our new home our old shelves didn't fit in this room so we had to put our thinking caps on and came to the conclusion that we were going to have to do a little DIY to get what I wanted. Honestly, bookcases/display shelves are EXPENSIVE. And I was going to need two of them and mama didn't want to spend that kind of money. Not to mention that I wasn't finding what I really wanted. I'll keep my eye out long term but for now, our DIY shelves are doing great.
I knew we were going to want more space in the shared playroom than we had previously. Bean is only going to be more and more interested in toys as she grows so we were going to need room for toys for 2 kids instead of just one. I also knew I wanted a better solution for books when we start getting library books again.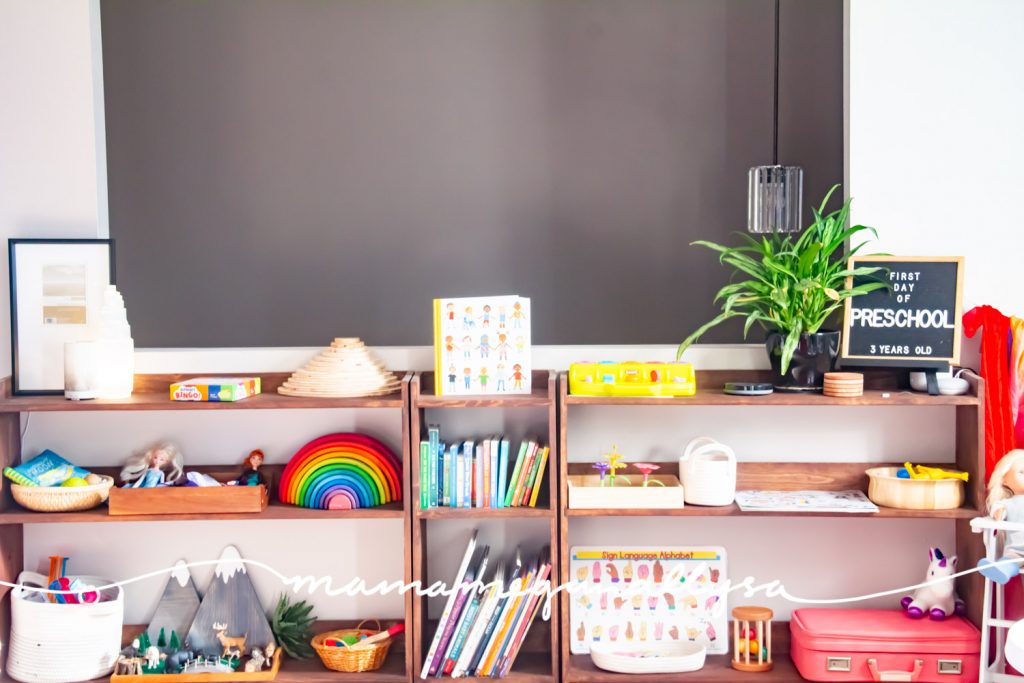 We built two long low shelves for the toys and one smaller matching shelf for the books. As of now, all three are on the wall but I made sure to make the large shelves small enough that they can move around the room to different locations if we need them to as the room evolves.
Our shared playroom is still a work in progress…
We are definitely still settling into our space. I want to get a mantle on the fireplace and get a shelf to hang the silks. I am hoping to update the couch to something a little smaller and we need a console table in the space as well. All in good time
With the fact that Miss Bean is growing and constantly changing her needs, I'm sure the shared playroom is bound to change and evolve over the next few months to meet her needs as well.
Toy rotation system for a three-year-old and a 6-month-old in a shared playroom
I custom rotate the girls toys every two weeks. I have about 14 things out at a time not including the gross motor toys, stuffed animals, and the books. 
I always include play food, a building toy, a fine motor toy, some kind of musical instrument, her dolls, and the play silks. We almost always have some small world play and some dramatic play. Now that the baby's toys are on the shelf as well, she has her discovery basket and at least one other toy on the shelf.
New additions now that we have more space are a sit-down game, a puzzle, and some kind of art/creativity toy on the shelves.
From there I will fill in with just some random toys that haven't been used in a while. I try and make sure that a couple of the options going out for rotation are safe for the baby to play with so she can have a little more variety.
What's on our toy shelves in our shared playroom for a 3 year old and a 6 month old
Magnetic Tiles and Ball Run – Top 10 toys. Top 5 toys. We LOVE the ball run and we need more! If you think that magnetic tiles are great then you 100% need the ball run as well.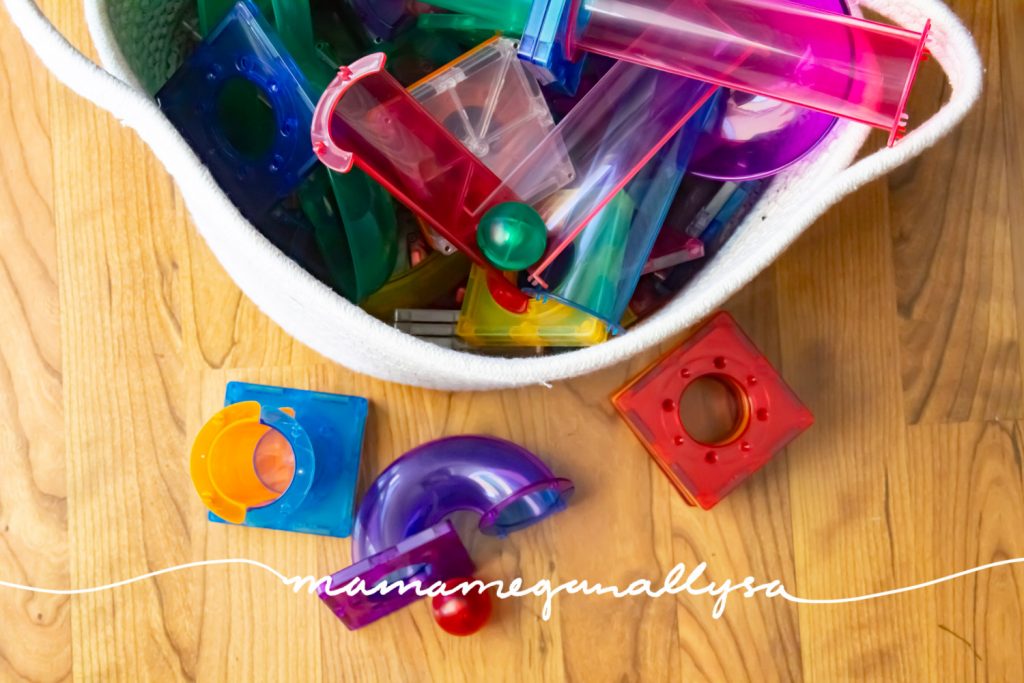 Musical Instruments – This week it is a hodgepodge of target dollar spot finds, some baby shakers and pieces out of a Melissa and Doug set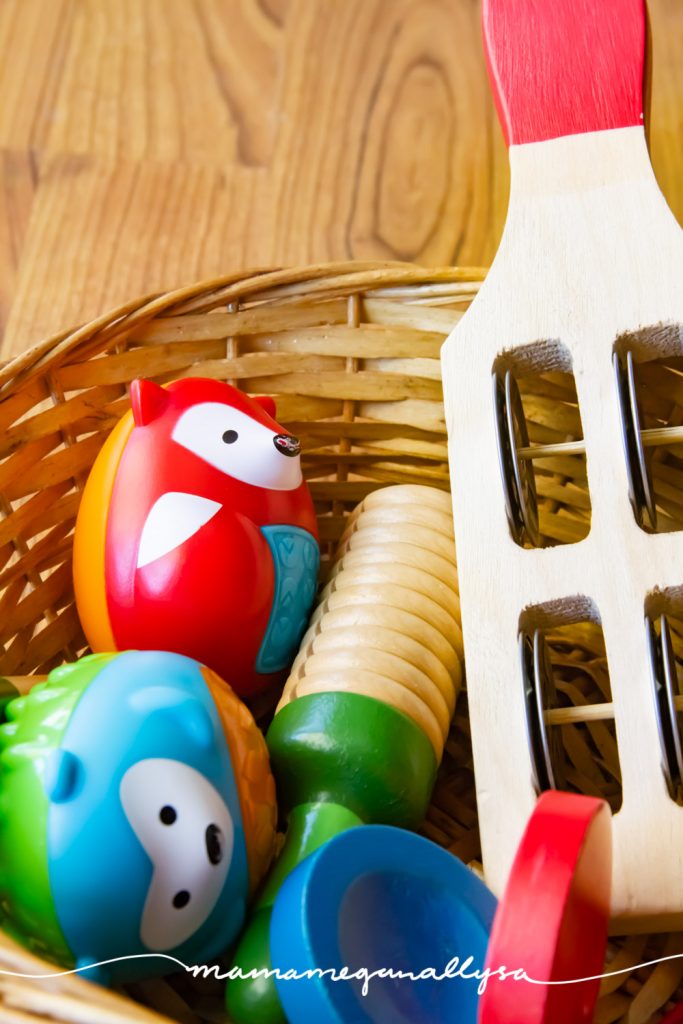 Baby Discovery Basket – Just a basket filled with baby approved items for her to discover and explore. Usually, around a theme. This one is blue, green, yellow, and wood.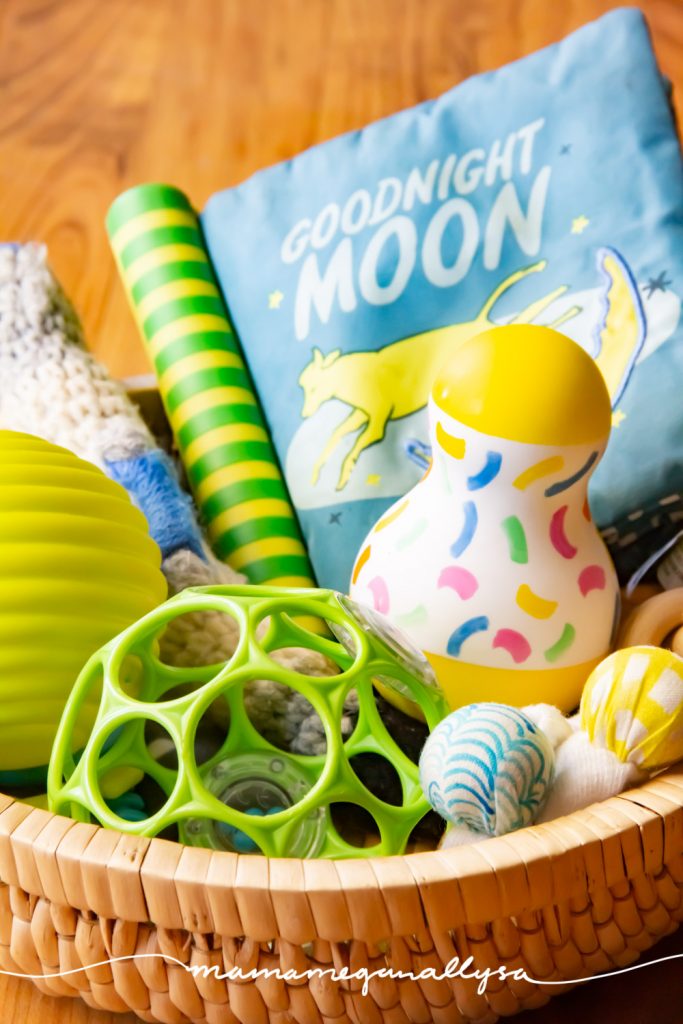 Elsa and Anna Dolls – She gets so excited when I get these out and honestly I had to basically bribe her to leave them on the shelf long enough for me to get a picture. Sidenote. Elsa needs a deep condition. What do you use to fix barbie doll hair?!
Grimms Rainbow – I just drool over this thing and I wish Bitty used it more! I am making a point to pull it apart and set up invitations with it to show her it's not just decor in the hopes that she uses it more.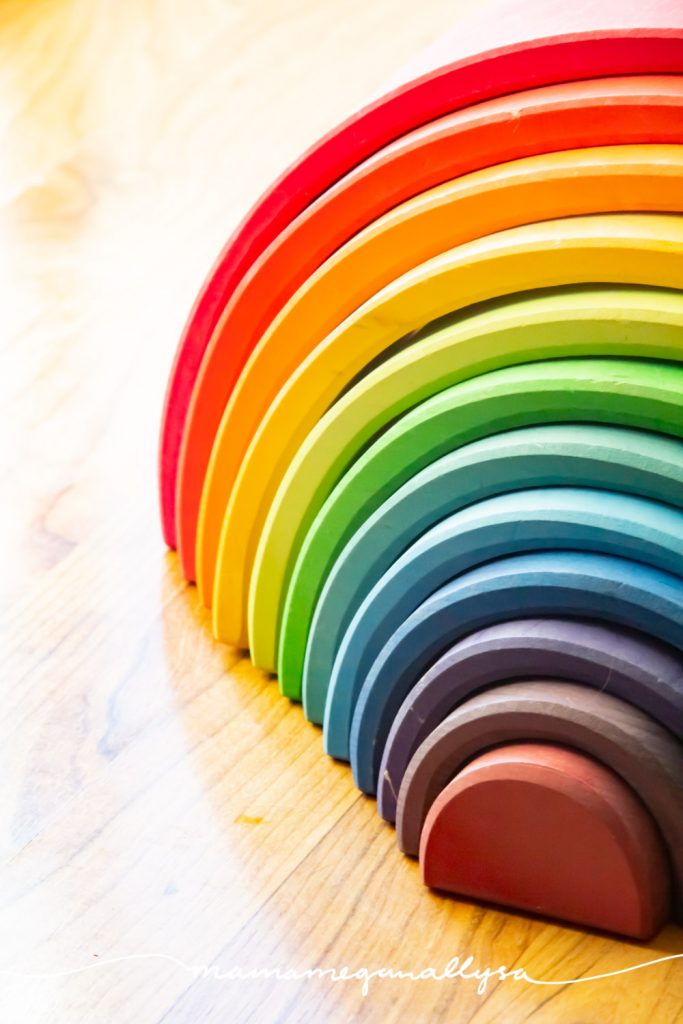 Semi-circle building planks – These are here to be used in conjunction with the rainbow. You can check out how to make your own HERE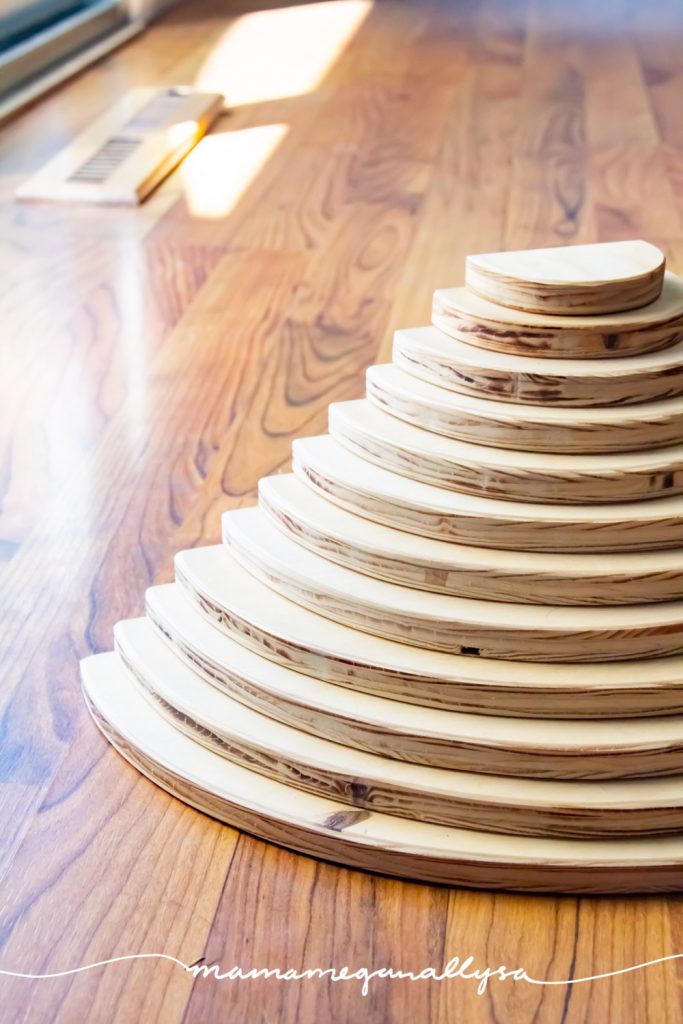 ABC Bingo – such a great game that can be tailored to suit your little's skill level. Right now we are just matching the pictures, but we always mention the letter and the sound so she's learning while we play!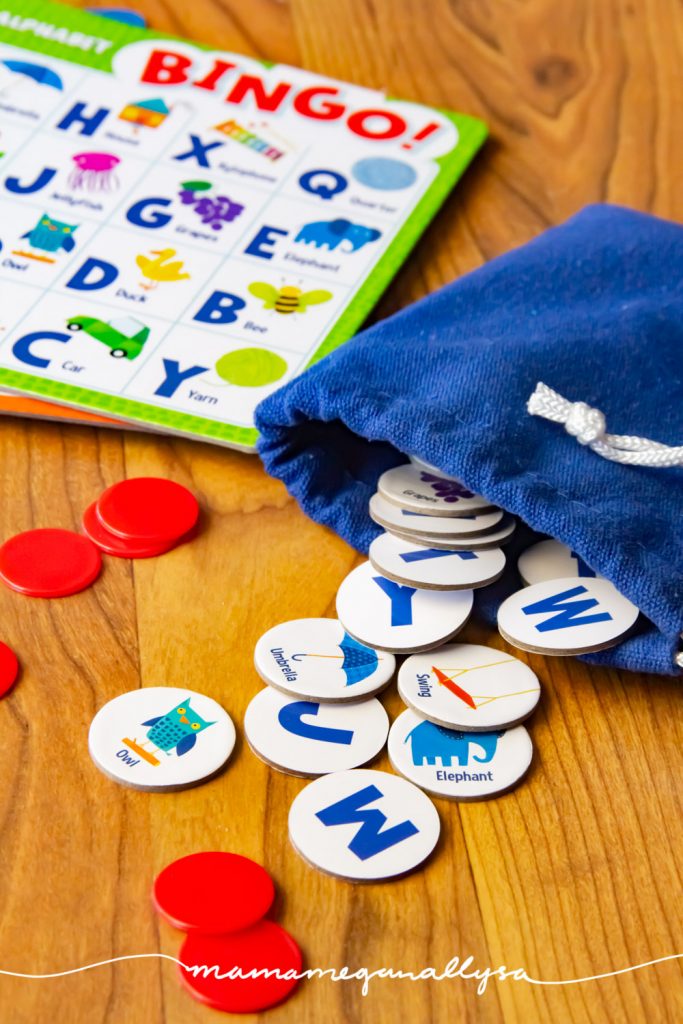 Playskool Pop Up – such a classic baby toy, that honestly, I find the toddler fiddling with quite a lot. We picked ours up at the thrift store but you can find a very similar one online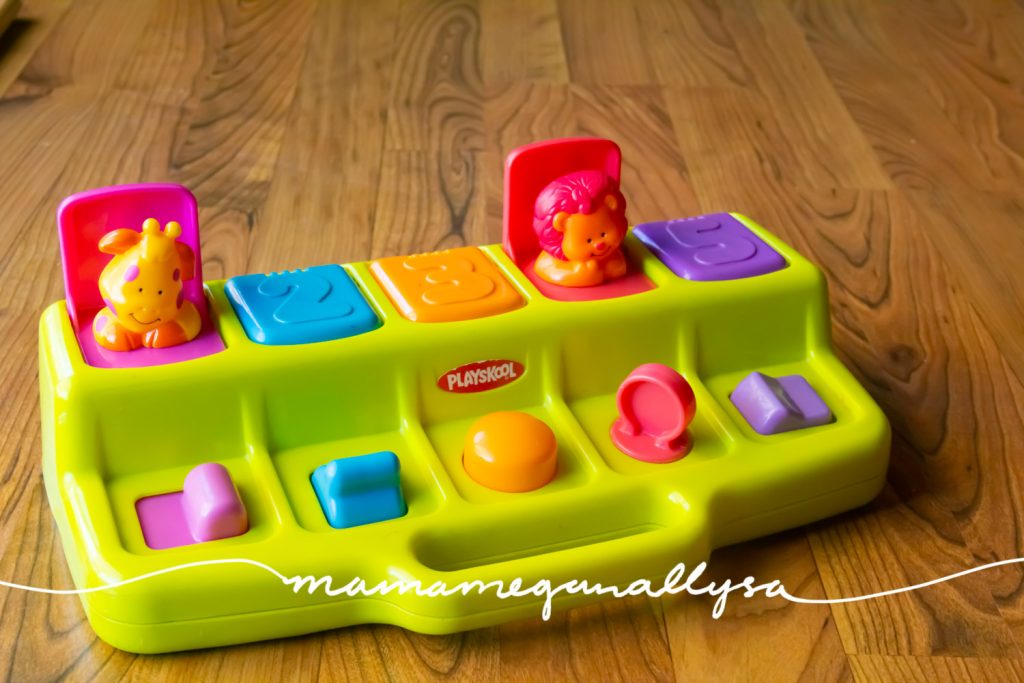 Green Toys Build a Bouquet – This is such a fun little toy that works some great fine motor! Bitty especially likes to match the colors and build really TALL flowers.
Reusable Stickers – These are hit and miss in our house. She likes them but they don't hold her attention very long.
Smartmax First Safari – This is a great toy for a shared play space. It's part building, part fine motor, part pretend play. All the pieces are large and the animal parts are a flexible silicone that is okay for little babes to chew on. Win Win!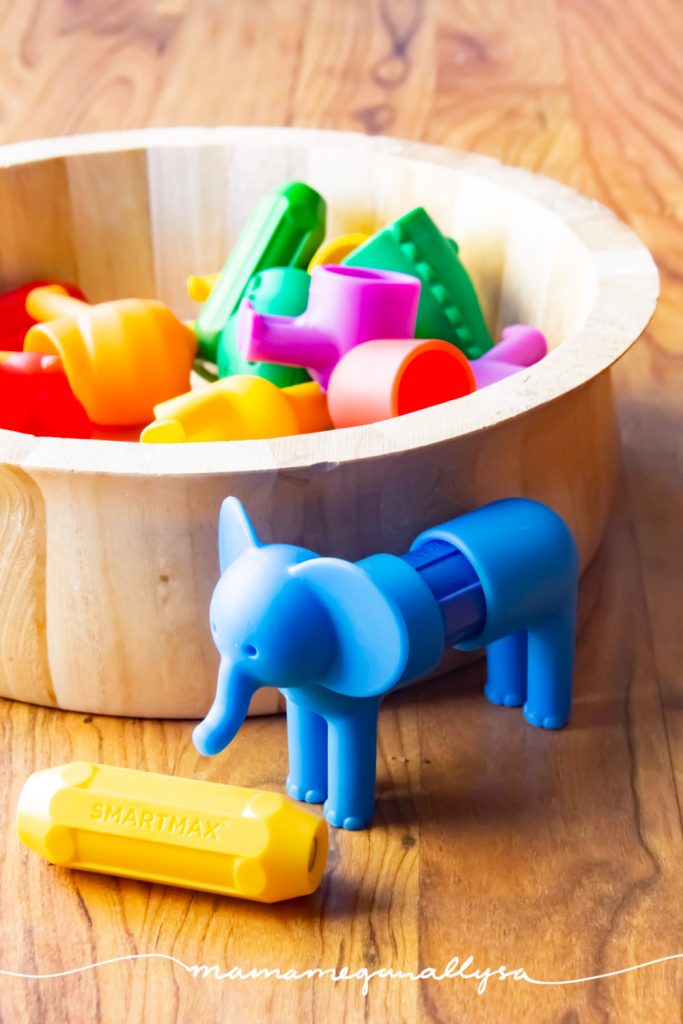 ABC 2 Part Puzzles – I presented just a few of the letters right now, with the rest on reserve if she's really into it one day. If you put out all 26 I would wager your toddler would get overwhelmed and wouldn't want to play with them at all. ALSO, it's a lot easier to lose a piece with that many out. So I went with 6 sets I think and that's about where her attention level is right now. I also presented this with our sign language placement hoping she would recognize some of the letters.
Ball Cylinder – a classic Montessori baby toy that promotes tummy time and crawling. Ours is from Heirloom toys. They make beautiful wooden baby toys if you're in the market!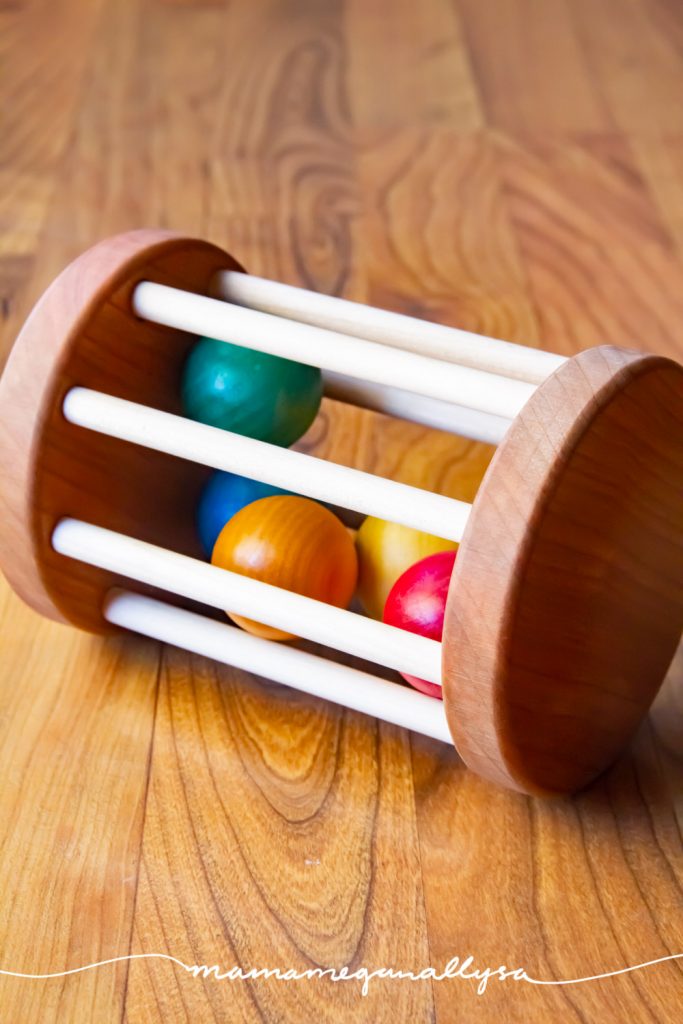 Small World Invitation
I like to create a little small world for Bitty to explore. For the most part she doesn't seem too interested in creating small words on her own yet, but she likes the animals and I like the way the small worlds look on the shelf.
I will often redesign the small world every few days to see if a change in the set up sparks any new interest.
Story Time : Last weekend we had a wild black bear cub in a pear tree down the street from our house. It was honestly the talk of the town.
This is why I pulled our forest animals out for her to play with. I hoped the real world experience might spark some fun pretend play.
Anyway, He hung out all weekend…basically until he ate all the pears…We would walk down to visit him 3 or 4 times a day because I mean how often do you get that kind of opportunity?! I learned later this week they finally relocated him back to the forest. Bitty was honestly near tears that she wouldn't get to see "Pear Bear" again!
Forest Animal Small World
The Mountains in the background are homemade and the felt play mats are also a DIY. These are both super easy to do yourself and really set the stage for your small world play. I like to use some loose parts to help add to the scene. For our forest small world, I went with little bottle brush trees, a little fake fern, a stick, and wood slices. The little bridge is out of place but she got that the same time she got the little Pear Bear figurine and I knew she would want to play with it.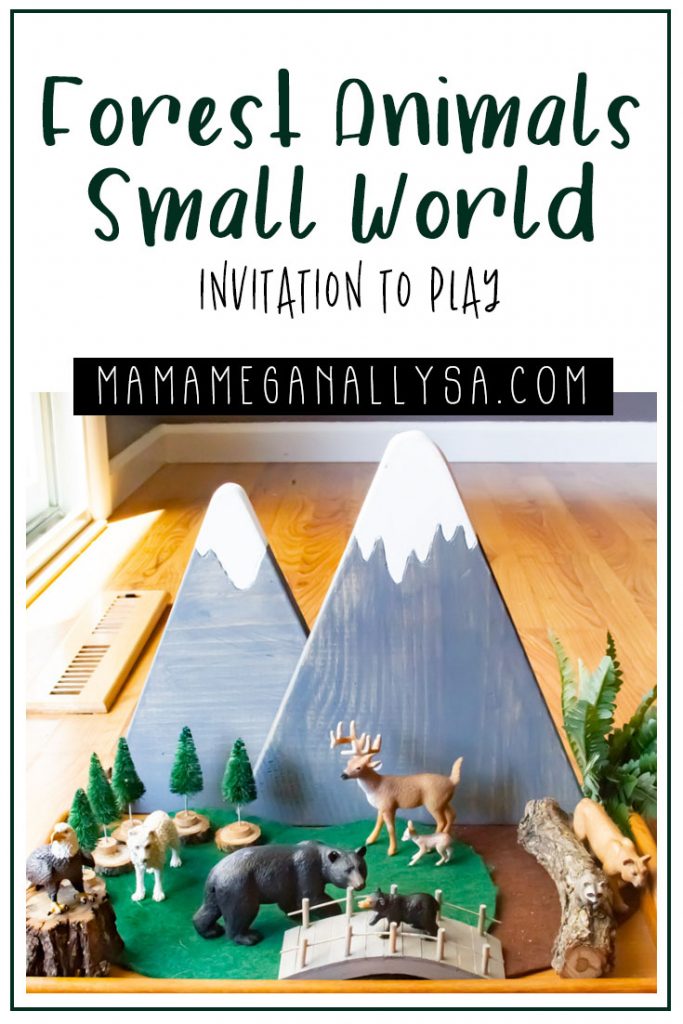 all our little tiny critters were gifts and I cannot recall what the brand was…sorry!
Non-Rotated Toys
There are toys that never leave our shelf. They may get shuffled around the shelf and displayed in new ways but there are always there and get used almost everyday.
Play Silks – I want to find a wall shelf with some hooks for better storage for our silks. In the meantime, they are just hanging on a string held up with command hooks. Our play clips are in a basket on the floor nearby
Our Generation Doll – This is a new toy that Bitty got for her Birthday at the being of the month but we have effectively replaced the baby dolls with her new doll.
She also received a vintage pink suitcase to keep all her doll clothes and accessories in. I only wish our shelves were a couple of inches taller, then she could have it sitting open! She can't dress her on her own yet but we are working on it.
We are keeping the highchair over by the suitcase for the time but I see it moving around as the play suits her.
What Shared Playroom would be complete without a play kitchen?!
With the move, the play kitchen got a new place of honor in our shared playroom. No longer is it hidden behind the couch. But I tell you what I STRUGGLED finding a space for it. I still didn't want it front and center in the space and I didn't like it covering up one of the windows. There is this one short wall that leads you to the stairwell and it's like that wall was made for this kitchen!!!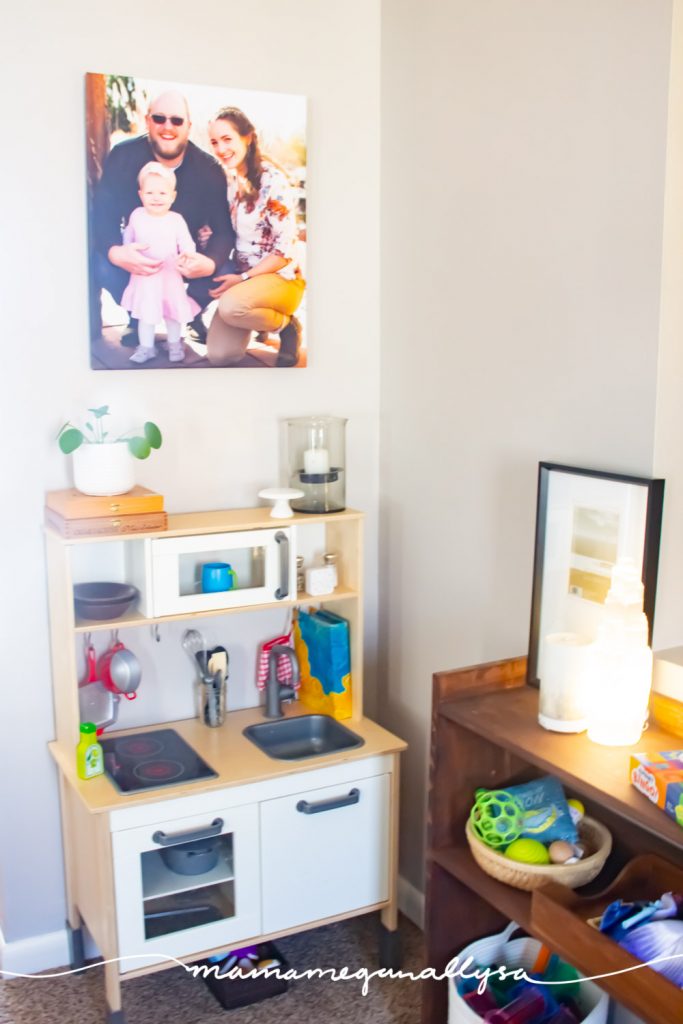 She had to give up her fridge but as of right now that's really not a big deal. That may change if Bean gets super into dramatic kitchen play but for the time being, I'll just enjoy the smaller setup!
We keep most of the pots in the oven and the dishes in the cabinet. And I am on a hunt for a really cute larger low walled basket for under the kitchen to keep all the food in! We have a small one right now but I would like more space down there!
Also, make note of the coffee cup in the microwave…I feel personally attacked…but it's the truth and I will admit that I end up nuking my coffee more than once most days… Our coffee pot and mugs are our most used kitchen toy for sure. If you don't have a set I HIGHLY recommend.
Baby Play Space
We moved when miss Bean was 5 months old, so she was JUST starting to need her own space on the shelf for her toys and as she is getting older her stationery needs are evolving. Away with the cradle and in with the activity table. Then there's the whole learning to crawl thing…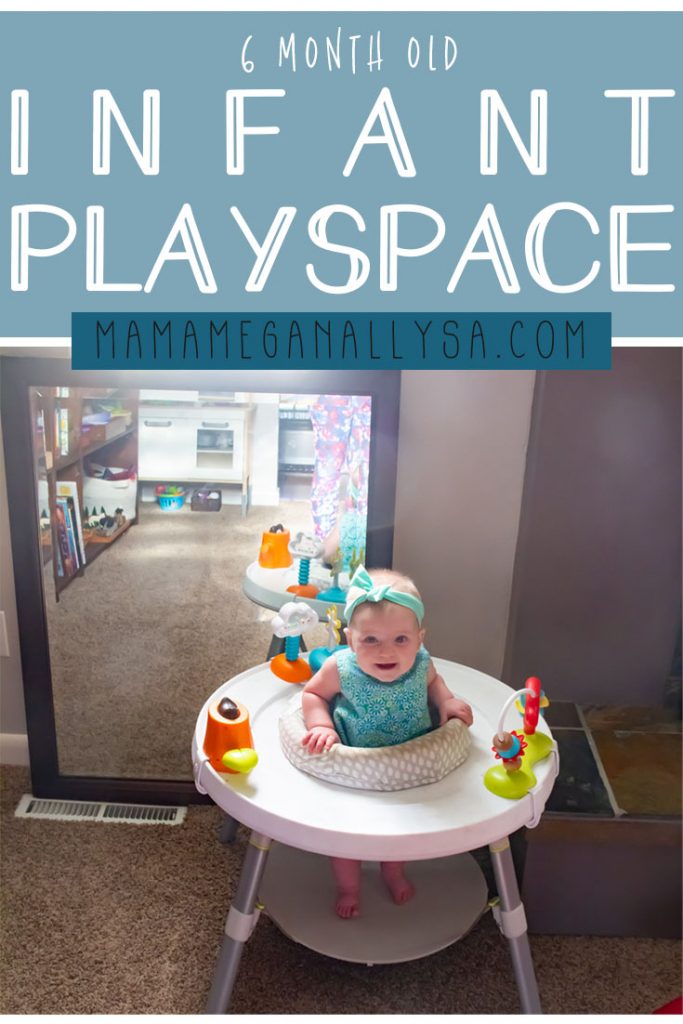 Our current 6 months old set up in our shared playroom is simple
I have a large mirror leaning on the floor for Miss Bean to look at herself, it also serves the same purpose for the 3-year-old 😉
As I mentioned above we have the activity table set up and that baby moves all over the house as needed. She really only likes to sit in it if she can still see you. So more often than not it moves between the kitchen and outside when I am busy and can't be there to keep her from face planting on the hard ground.
She has a discovery basket that I rotate every couple of weeks. I am looking forward to pulling together some themed baskets in the near future. Even if the theme is more for me than her! Leave your suggestions for some discovery basket themes down below!
As of right now, they don't have a theme beyond what I think looks nice and covers all her basic toy types. Rattle, ball, teether, rings, some crinkle paper, and a couple of other small toys from there.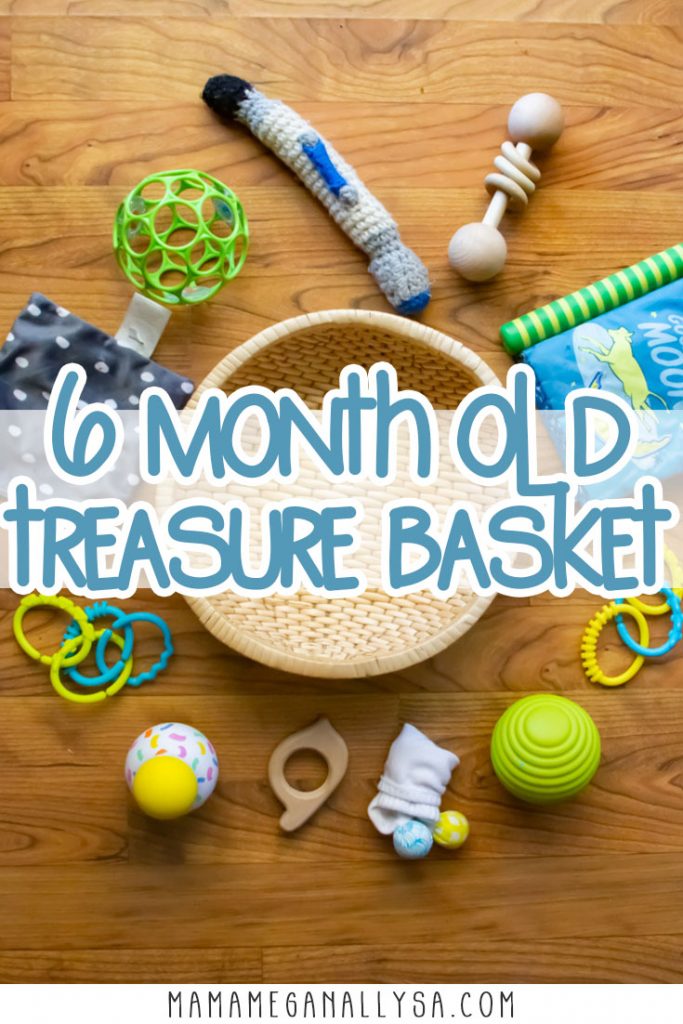 I have really enjoyed the Senser play kit from Lovevery. Its meant to be introduced around 5-6 months and we are now pushing 7 months and I think we have lots more fun to have with these items. This week we have the tunny time wobbler and the jingle socks in her discovery basket.
In addition to her discovery basket, I have 1-2 other "baby" toys on the shelf. This week its the popup toy and the ball cylinder.
What does your shared playroom look like?
If you have a playroom in your living room or if your playroom is shared between a wide range of littles of different ages I would love to see how you set up your space! Tag me on Instagram so we can chat about playrooms!
Also If you want a behind the scenes tour of our toy rotations in our shared playroom/living room make sure and check out my Instagram where I add tours to my stories every couple of weeks (or I try my best to, I've missed a few lately…)
Other posts you may like