It happened. Over the winter we were bitten by the Frozen bug. A princess Toy rotation seemed like a no brainer now that we have started to accumulate more princess toys. This is a theme that I feel like a lot of little girls would love and it was a HIT for us.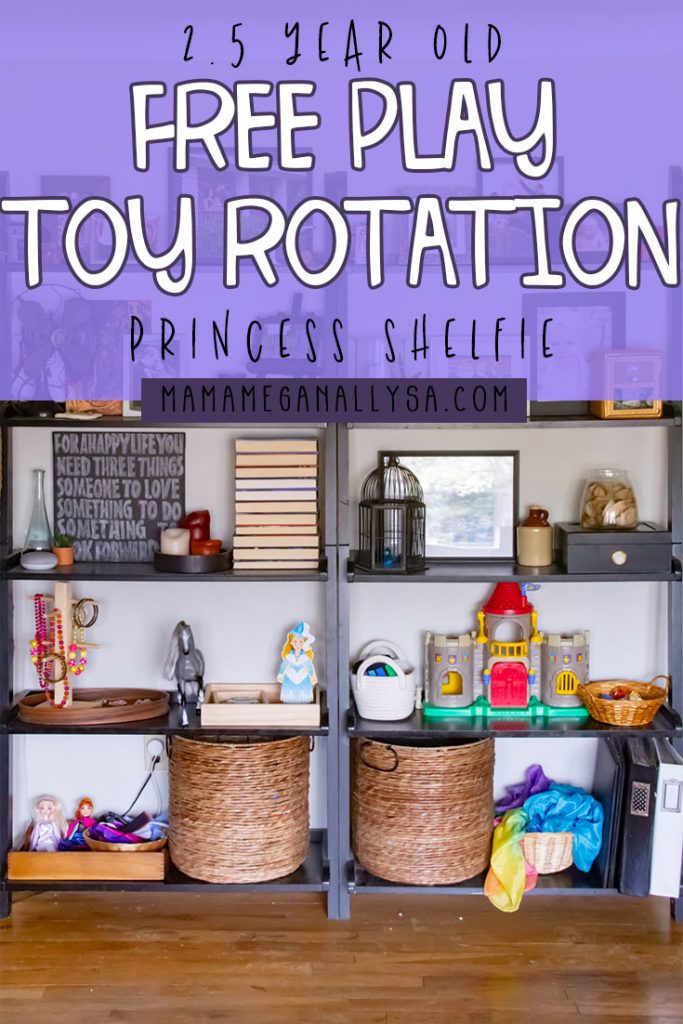 Our Princess toy rotation had lots of different dress-up options. From magnets to barbie dolls to real life. We also had a couple of majestic horses and some music to fill the castle!
Princess Toy Rotation has been Amazing
I cannot praise the magic of toy rotation enough. Our Princess toy rotation has been one of her most well-loved play shelves in a long time and boy did mama need that! As we enter our third month of sheltering at home, we have fallen into a routine for sure but there is still nothing quite like the peace that some independent play brings. Those precious moments where I can sit back and drink some coffee or snuggle the newborn in peace while she plays on the floor are just bliss.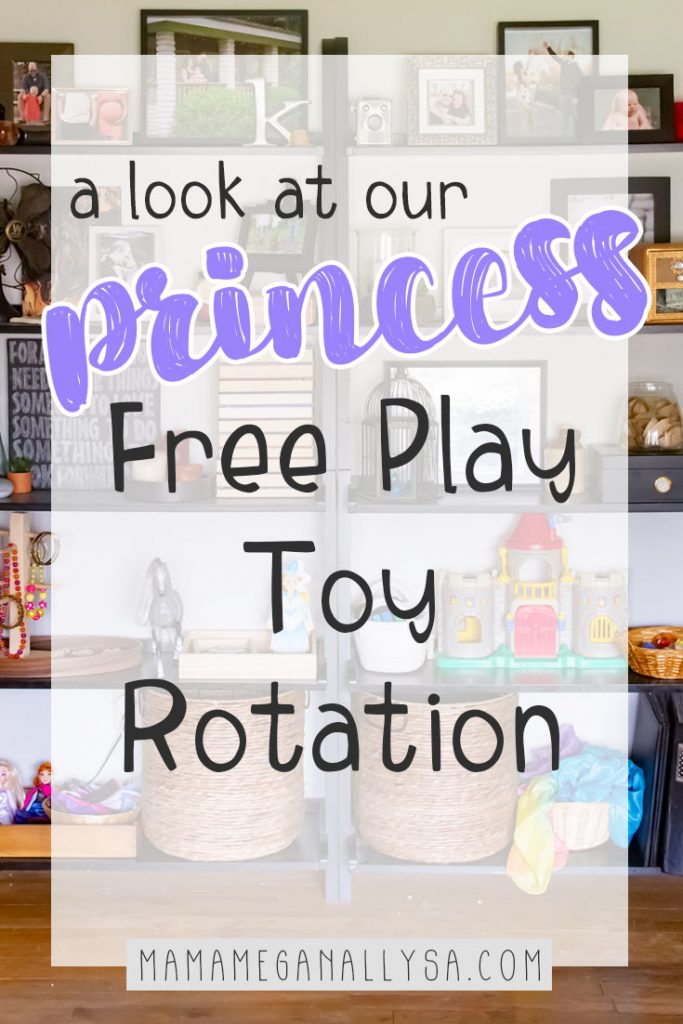 This post contains some affiliate links. As an Amazon Associate, I earn from qualifying purchases. I may receive a small commission from if you follow and decide to purchase. There would be no additional cost to you!
Main Play Space and our Living Room are One in the Same
Our main play space is also our living room at the heart of our home and 90% of the time I love that. It's easy for her to feel involved and connected to the family. I can see her easily from the kitchen hear her from anywhere in the house. The 10% of the time I don't like it is that I cant walk away from the mess. It's always there front and center…but still, we like this set up the best.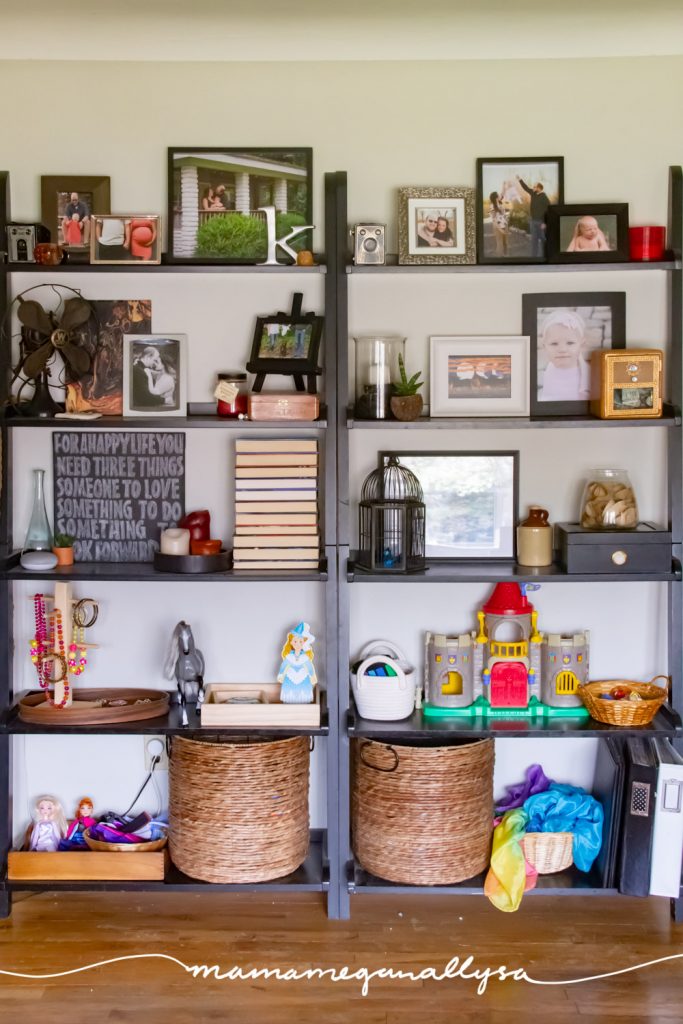 We have two large bookshelves with the bottom two shelves all for her free play toys. She also has her books and dress-up clothes in her bedroom.
Also in the living room is the gross motor toys. We move these around week-to-week, we currently have the wobble board and the Pikler triangle out. Though the Pikler is otherwise occupied currently…
We can't Forget the Baby Play Space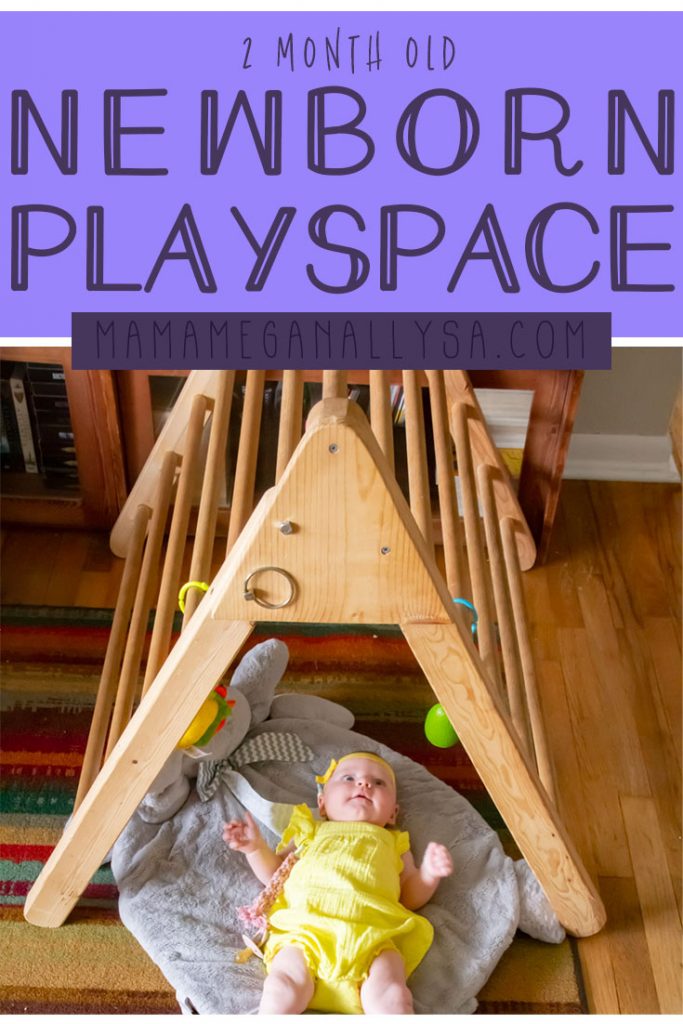 I added a couple of dangle toys to the pickler and placed a play mat under the Pikler and bean has been loving it! She will lay down there "talking" to her taco and avocado more than any other play set up I have for her right now.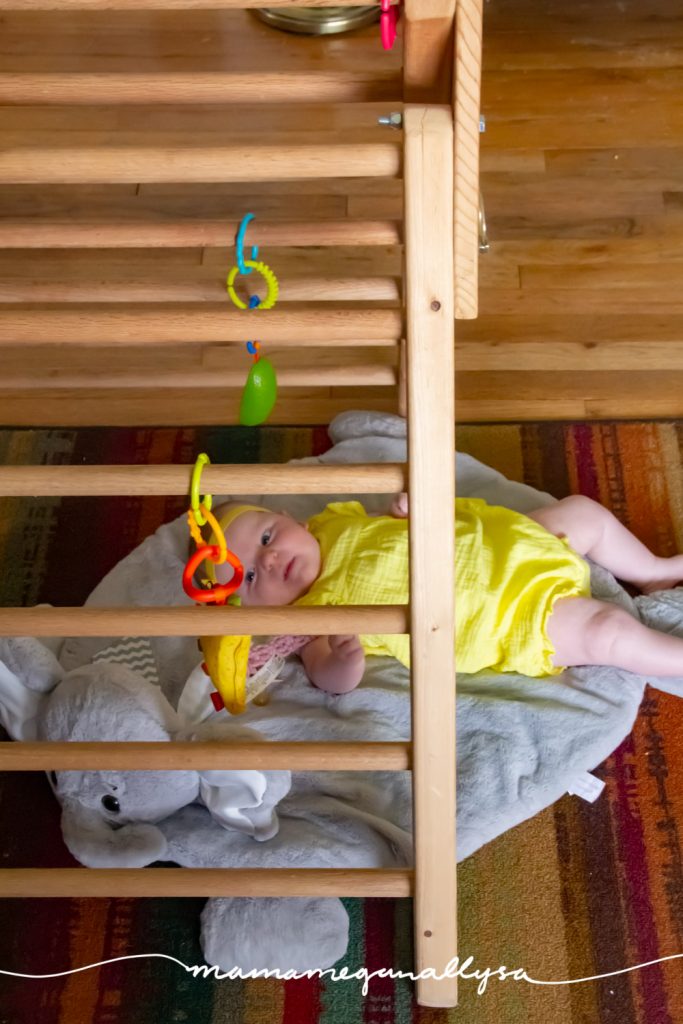 We also changed out her mobile above the cradle to a DIY gradient inspired by the Montessori mobile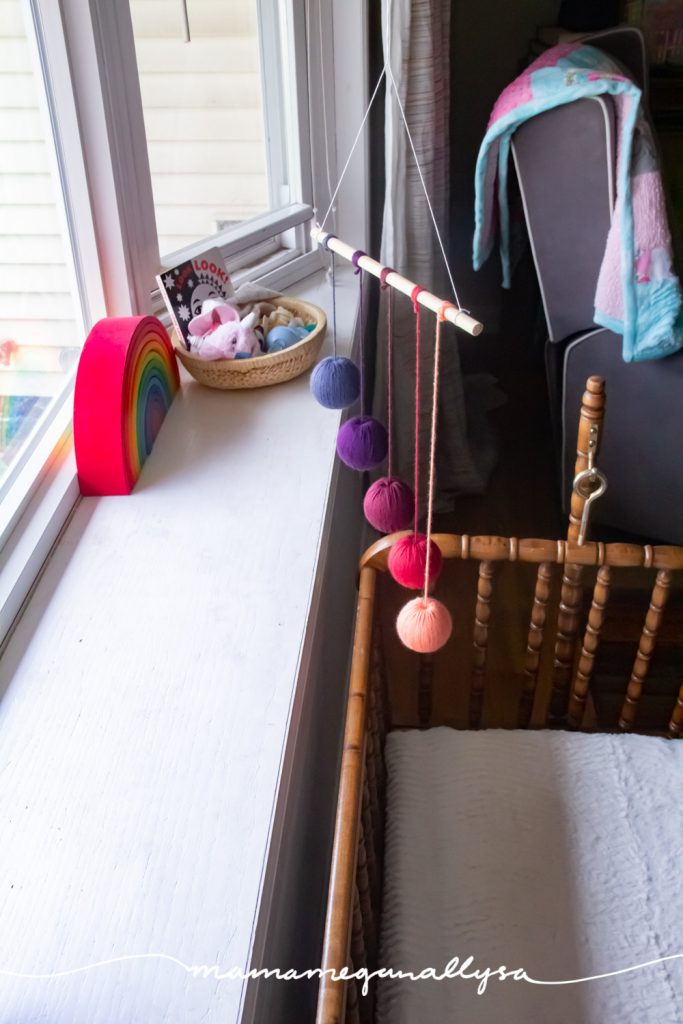 Princess Toy Rotation Shelves
Bitty is currently two and a half and we are rotating every 2 weeks with a small refresh of a couple of items every week.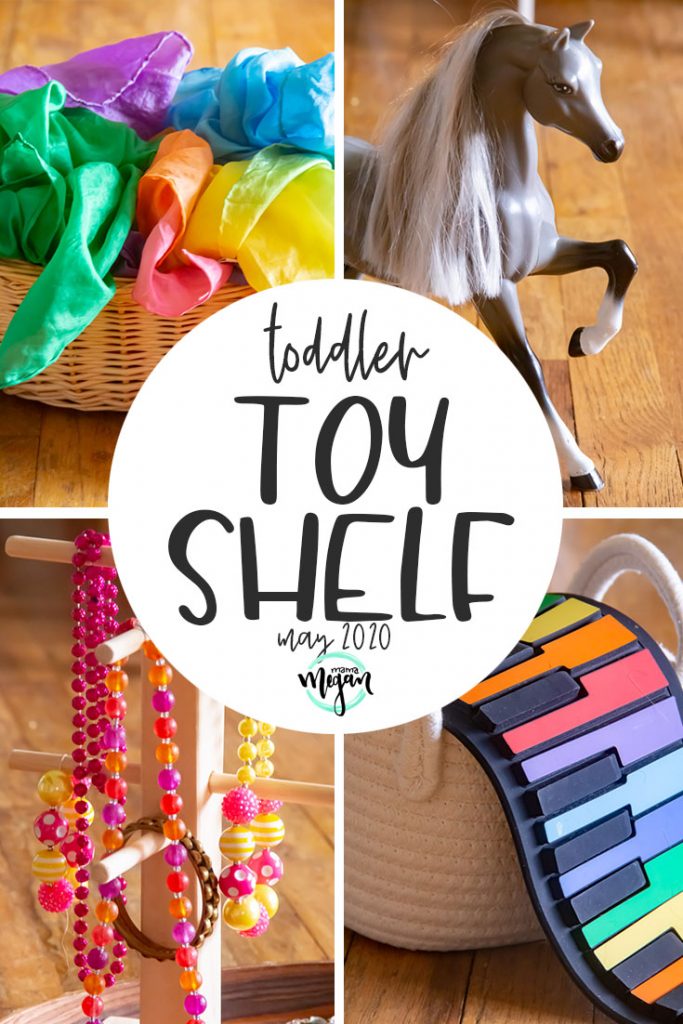 Jewelry Tree – I wanted to have a "loose parts" invitation for this week, but she's not quite ready for unrestricted access to beads for making her own jewelry so I settled on just normal jewelry and my DIY mug tree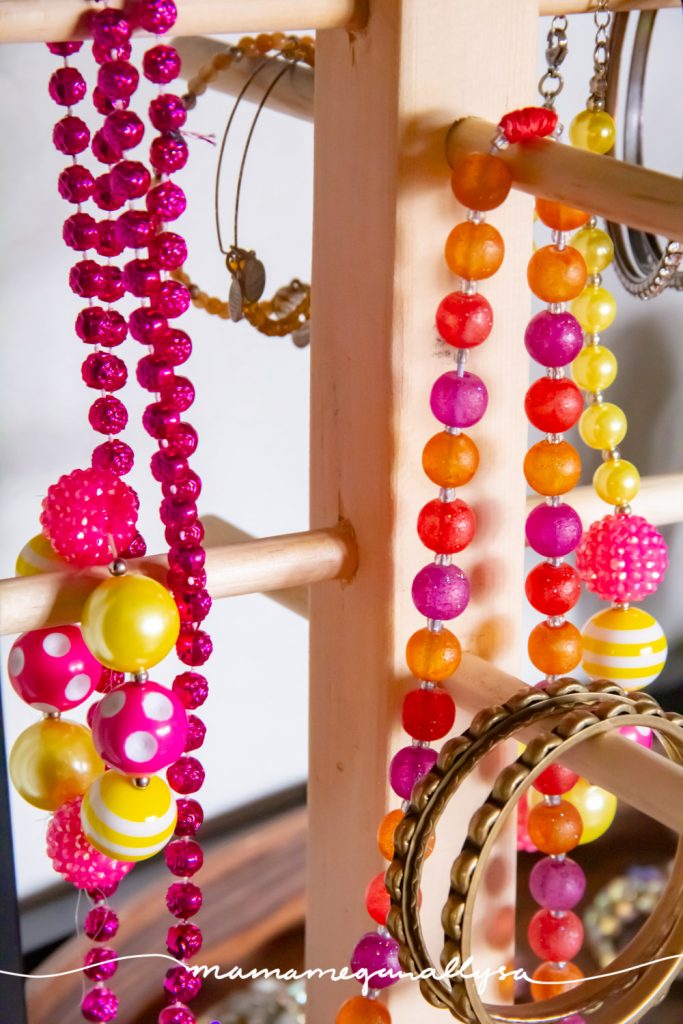 Horse – So many princesses have horses. It just sort of made sense.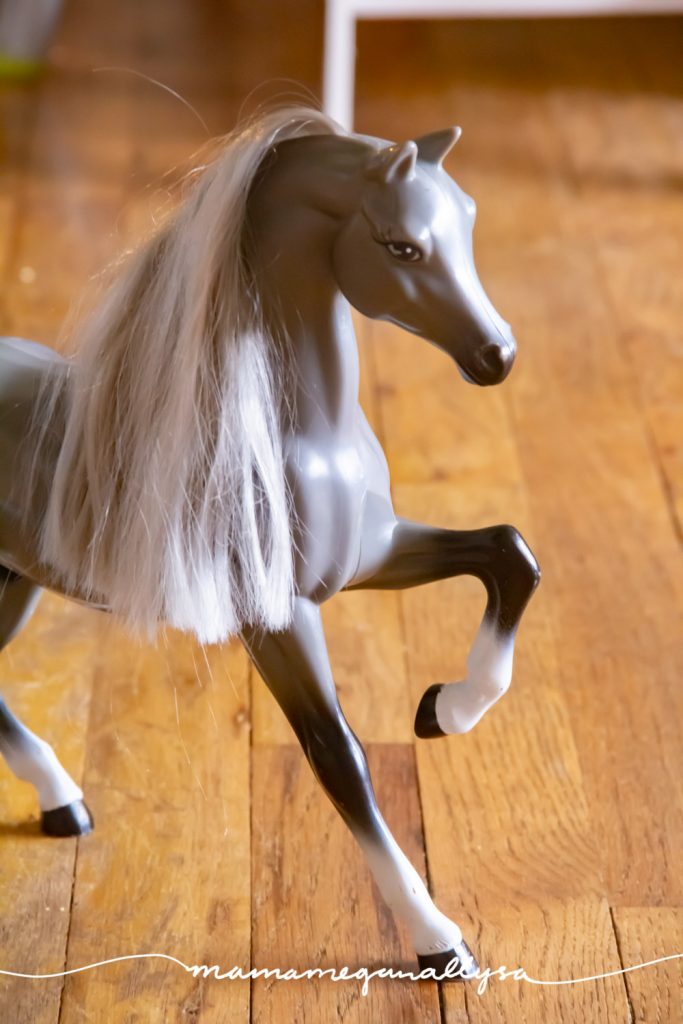 Magnetic Princess Dressup – I'm always a little surprised how much she enjoys this toy. It's not one she plays with endlessly but every time I look she has a different dress on.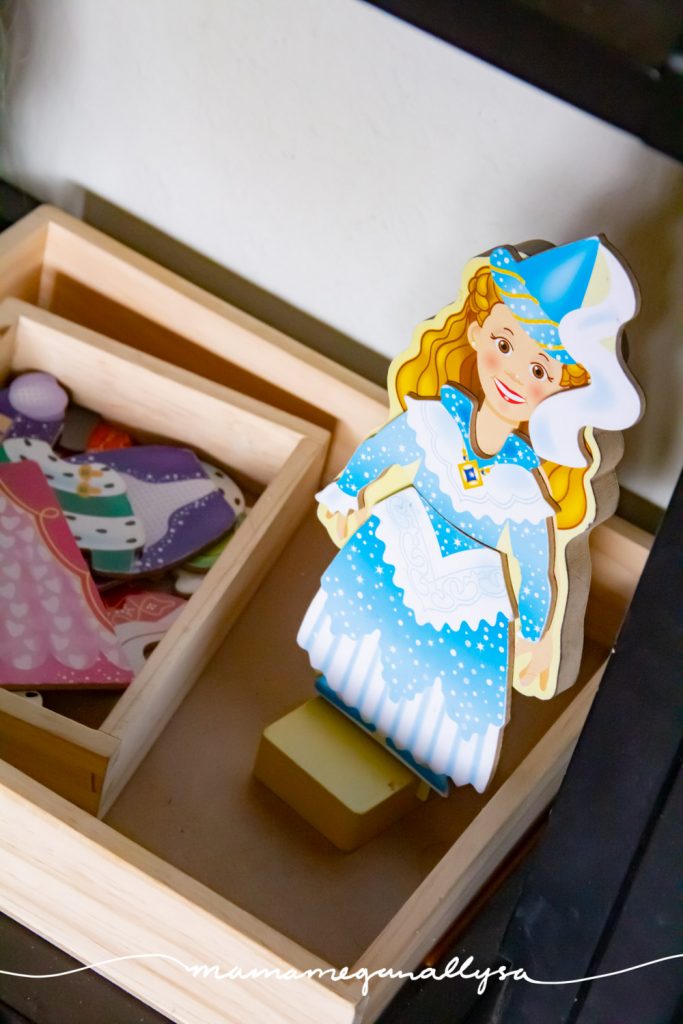 Roll up Piano – This is a great option if you want to add a piano to your musical instrument line up but you don't have the space for some of the more traditional ones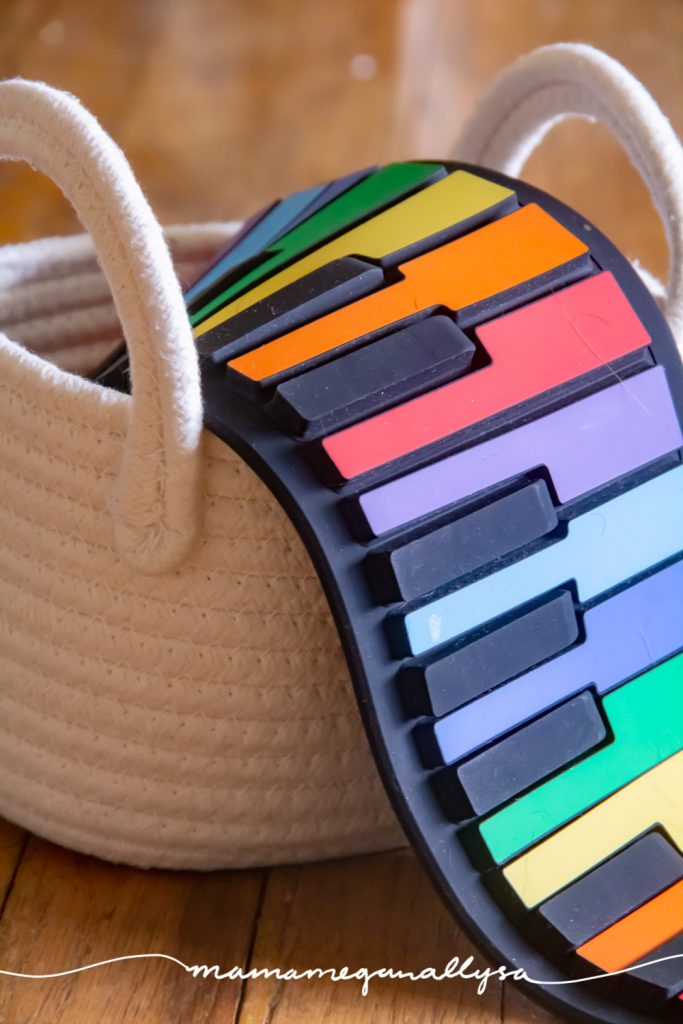 Little People Castle with Rapunzel and Friends – our vintage castle was one of the first toys that I wend out of my way to track down when Bitty really started to play imaginatively. I knew I didn't like the current little people castles so I had to track this down second hand and I am so glad we did.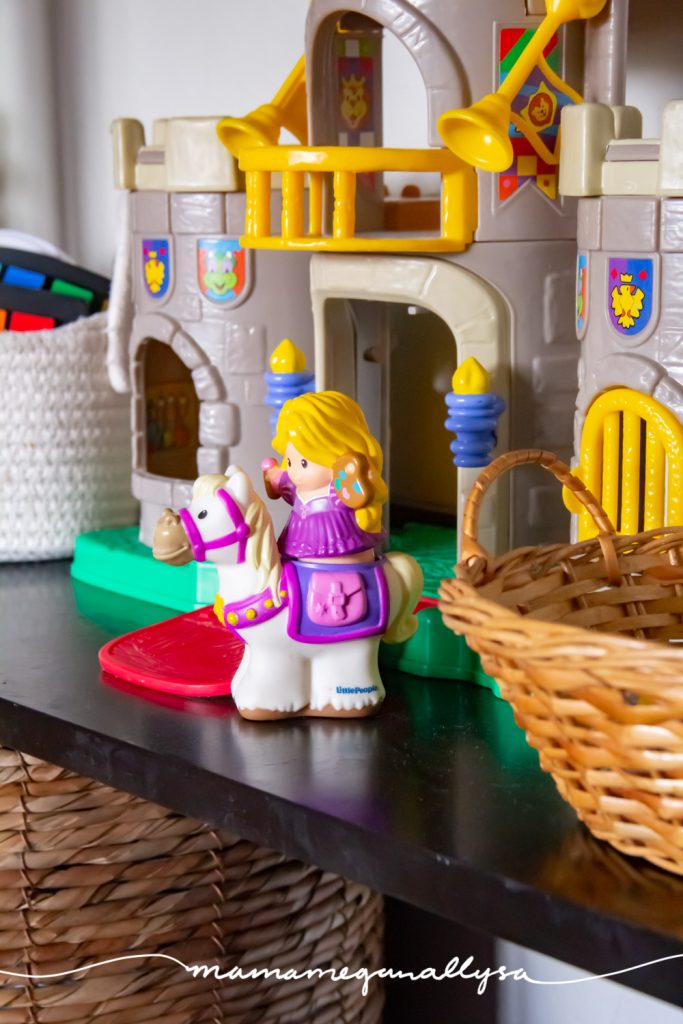 Anna and Elsa Dolls – These are new for Bitty. She received them for Easter, and she has loved changing their outfits and doing Elsa's hair. (dolls linked are not exact matches to ours, but very similar) I added her Frozen 5 Minute stories book and she has sat down to "read" it a few times!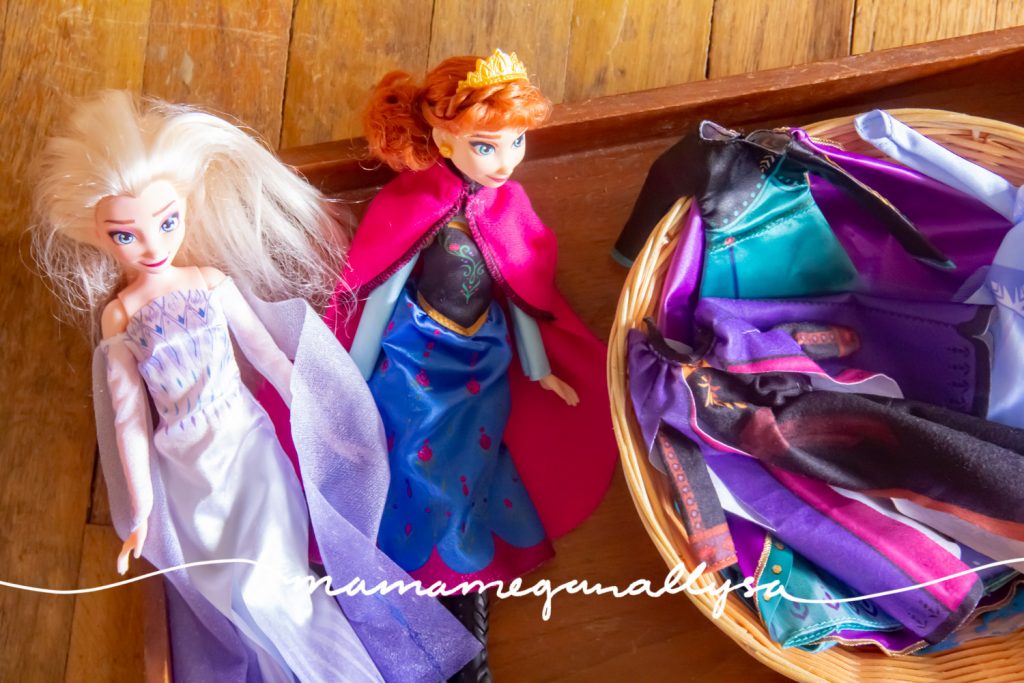 Non Rotated Toys get Played with No Matter What
Some toys don't necessarily fit our Princess toy rotation theme, but those are the toys that get played with no matter what, and often there are ways to use them that can work with the theme.
Play Silks – She uses these for dress up all the time and has started relating the specific colors to the princesses who wear that color.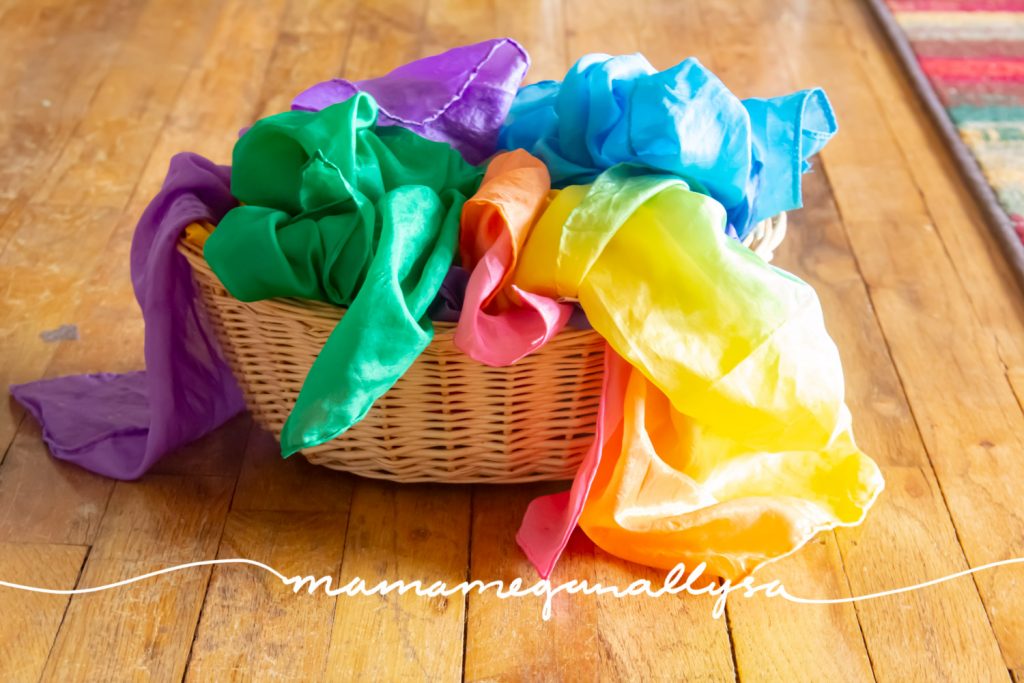 Wooden Blocks – just a simple set of wooden blocks. Ours are vintage playskool ones
Baby Dolls – Our babies have been to a lot of tea parties this week.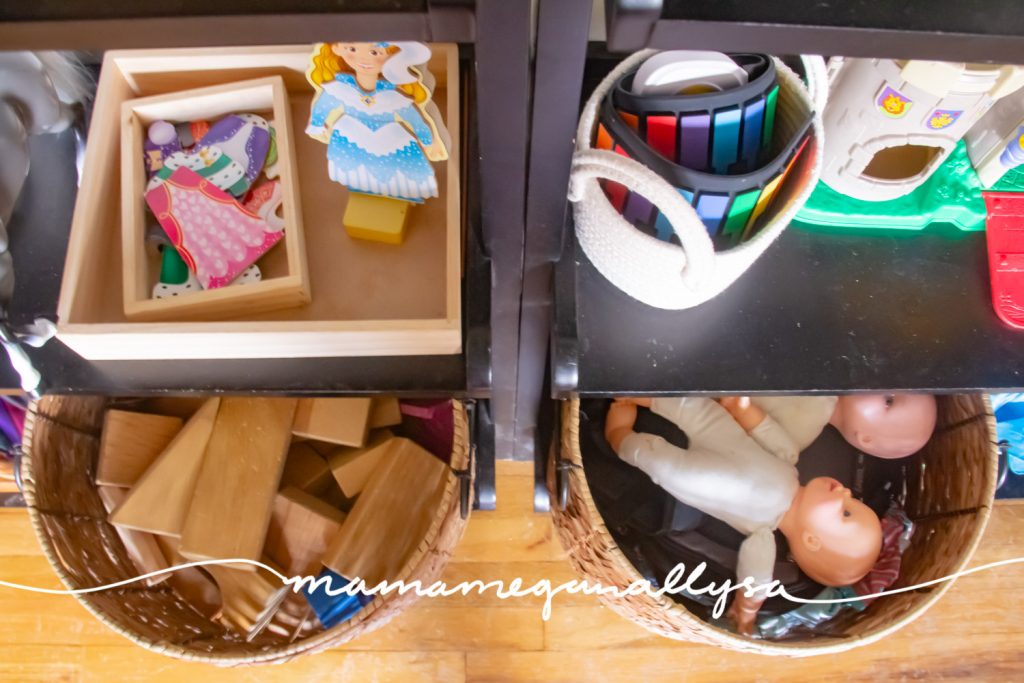 Dramatic Play Set-Up was a Struggle this Week
We keep her play kitchen behind the couch along with her baby doll furniture. It's easy to get to and always there but not in my everyday line of sight so it keeps the living room from feeling like a daycare all the time.
I struggled to come up with a good themed dramatic play set up for our Princess toy rotation, and then it hit me. What do lots of little girls love to do? Dress up like princesses and have a tea party!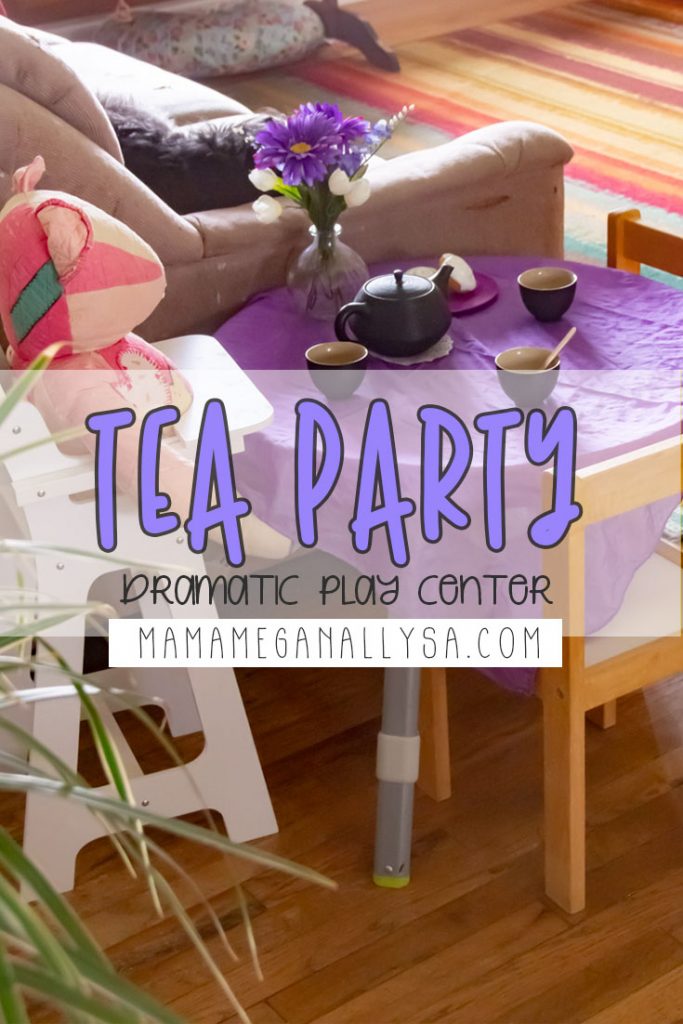 I have a little teapot and cup that are the perfect size for little hands so I pulled those out and set her play table up as a fancy tea party. Complete with flowers and doilies. (to be honest, I wanted more doilies, but I simply could not find mine and the stores are still closed here)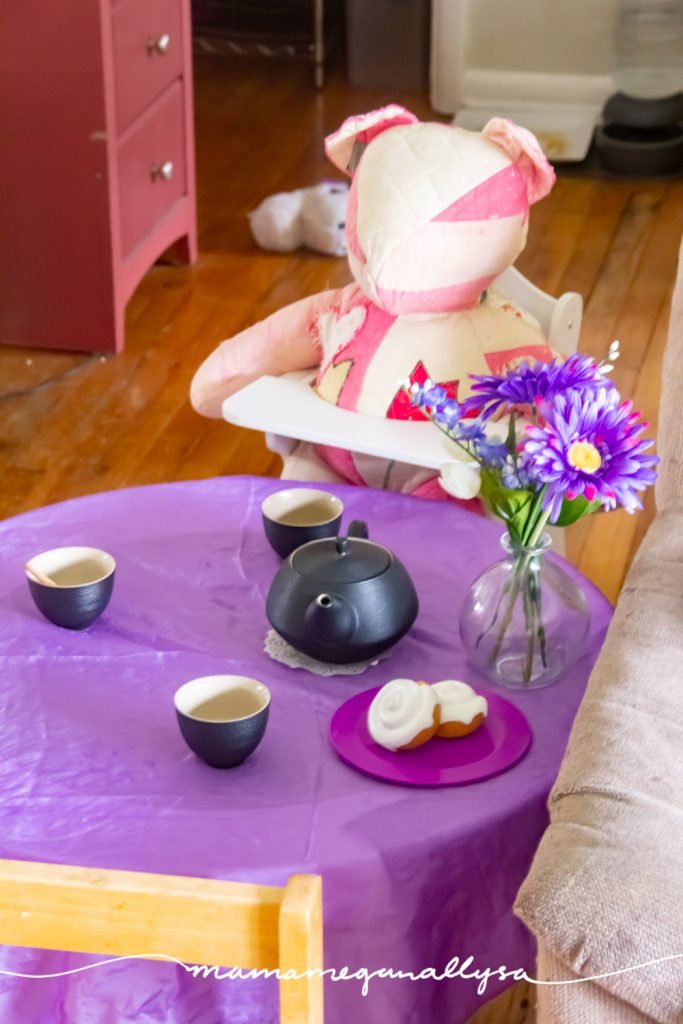 This was by far the most successful dramatic play we've done in a while. She has made tea every day this week and her teddy only just left the table today.
Adjusted Toy Rotation System
Last fall I stopped rotating our toys as much, I felt that she was still interested and playing with them past the old two-week mark. So I switched to a once a month rotation with a small refresh mid-month if something was getting ignored. That system has had to be readjusted again now that we are at home all of the time. We are back to the biweekly rotation and we are even doing weekly refreshes when I need the distraction of some "new" toys.
How Often do You do Toy Rotations?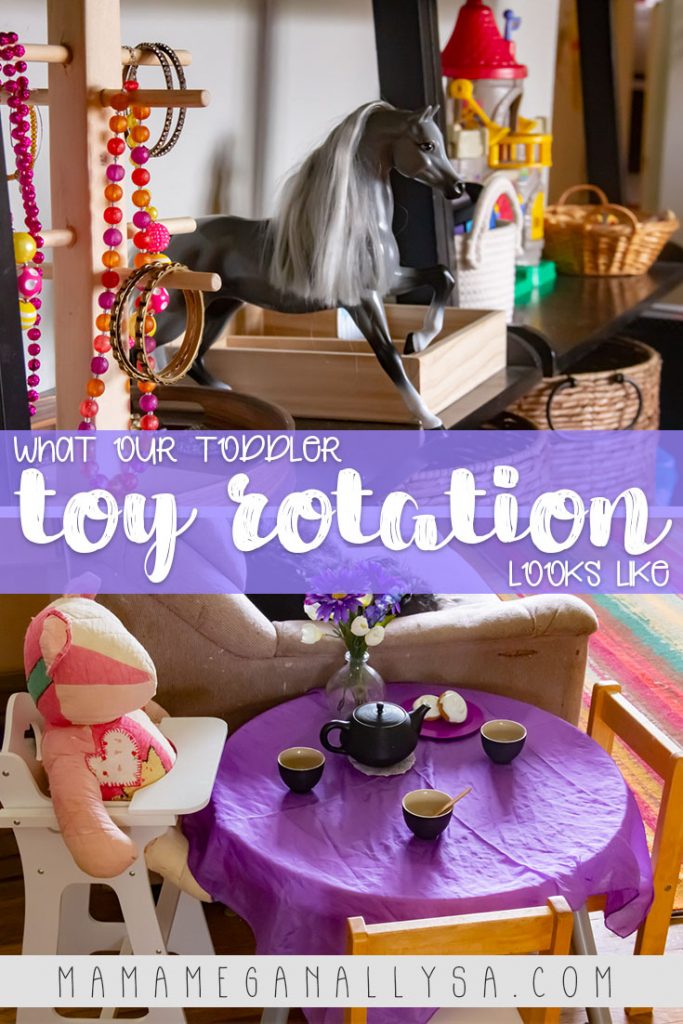 If you want a behind the scenes tour of our toy rotations make sure and check out my Instagram where I add tours to my stories every week (or I try my best to, I know I've missed a few weeks now…)
Other posts you may like