Its time for another play shelfie! This week's toy rotation has been brewing in the back of my mind for a week now. It seems my brain never stops planning. I am going to be trying something a little new this week so we will see how it goes!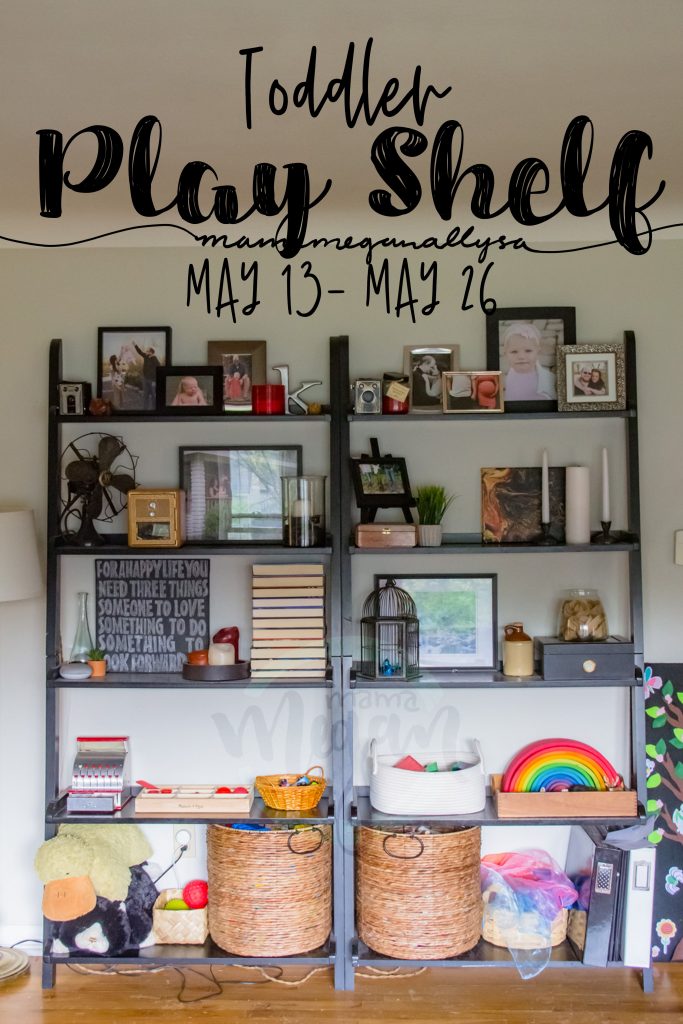 This post contains some affiliate links. As an Amazon Associate, I earn from qualifying purchases. I may receive a small commission from if you follow and decide to purchase. There would be no additional cost to you!
Livingroom Play Shelfie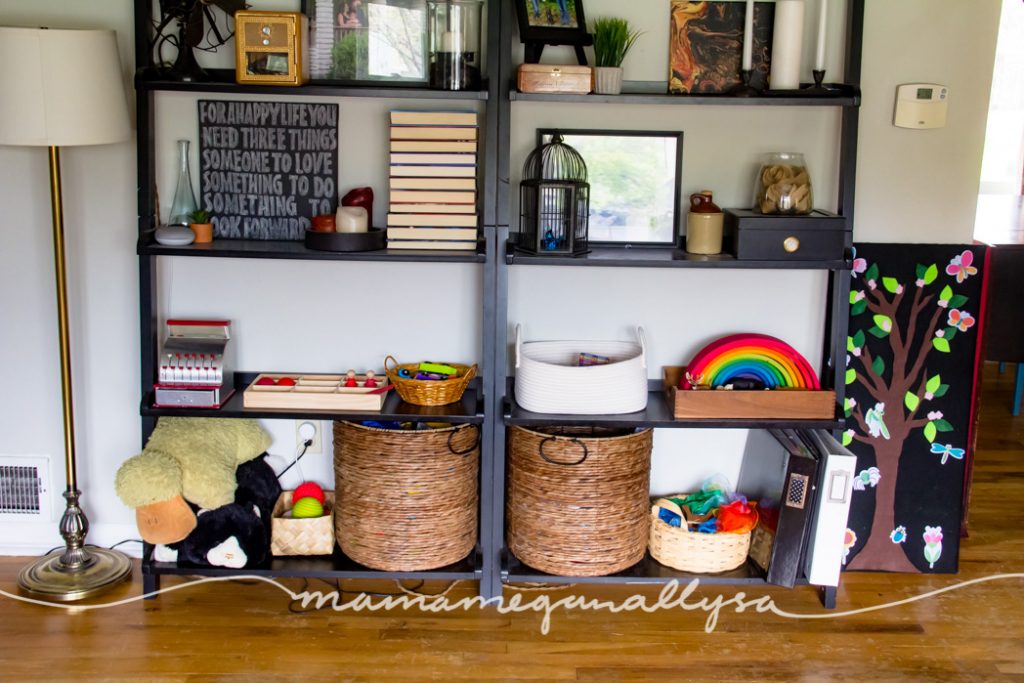 We are going to trying out a couple of new things this week, and hopefully they will make toy rotaions go even smoother!

Animals and Stackers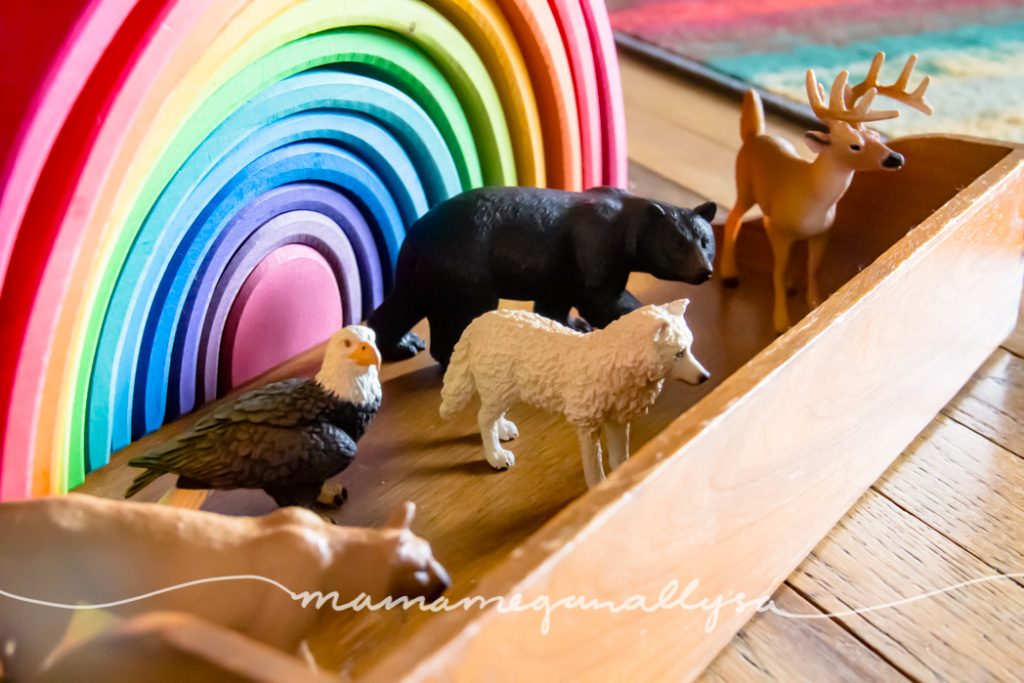 I want to have some of her animals out full time from now on. The plan is to take a selection of animals that go together in some way either based on a biome or a book or species and have a group of those animals out. So come rotation day we will change what animals are available but there will always be at least some out. At least that is the plan. I also want to include some sort of stacker to encourage world building! (also because they look pretty on the shelf!)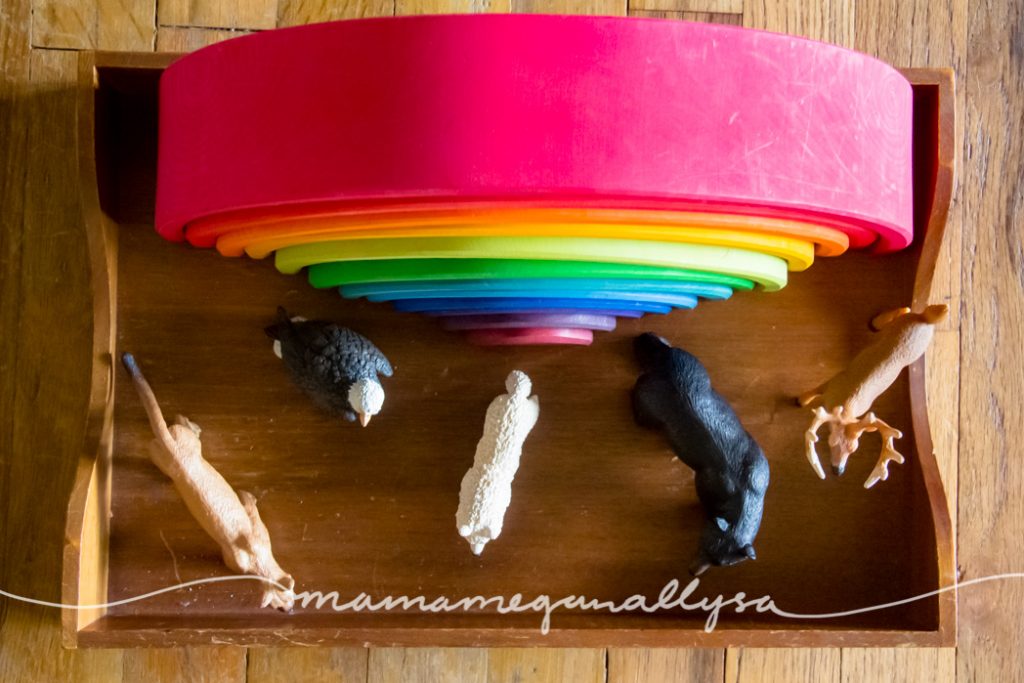 For the first rotation of animals, I selected her forest animals. We have a mountain lion, eagle, wolf, black bear, and deer. We buy a mix of Schleich, Mojo, and Safari LTD. I included her Grimms Rainbow as the stacker this week. We have other stackers that would fit with the forest theme a little better but they aren't done yet! I really need to get to painting on those. (just you wait, a blog post is coming for those babies, your gonna love em!)
Loose Parts Play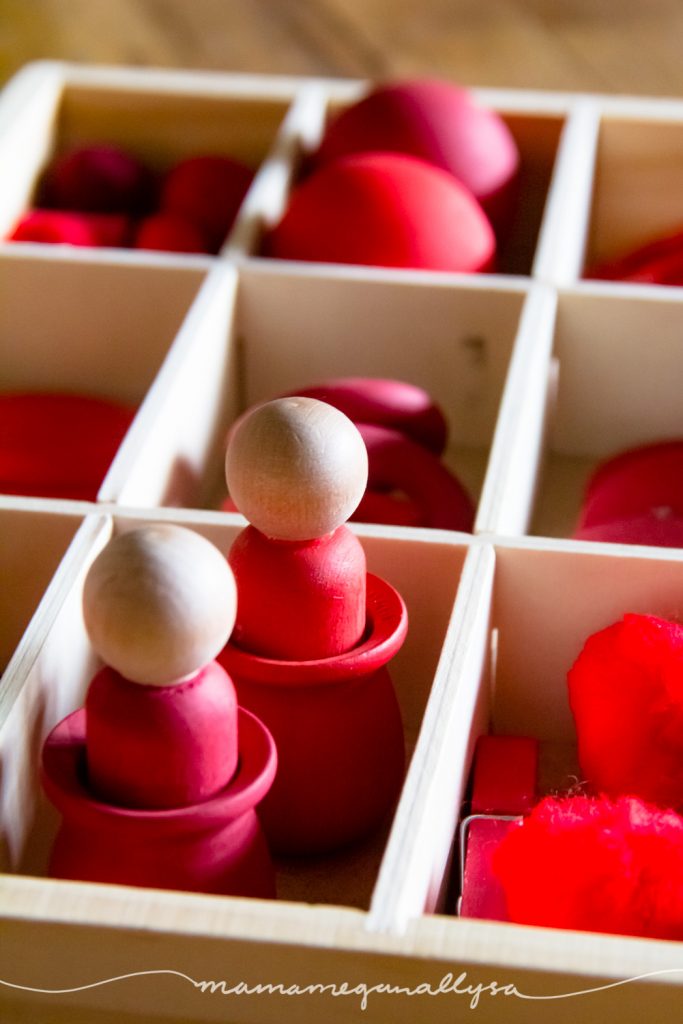 I want to find a way to encourage loose parts play in our play shelfie. This may take some research and possibly even DIY'ing some things but I don't mind in the slightest!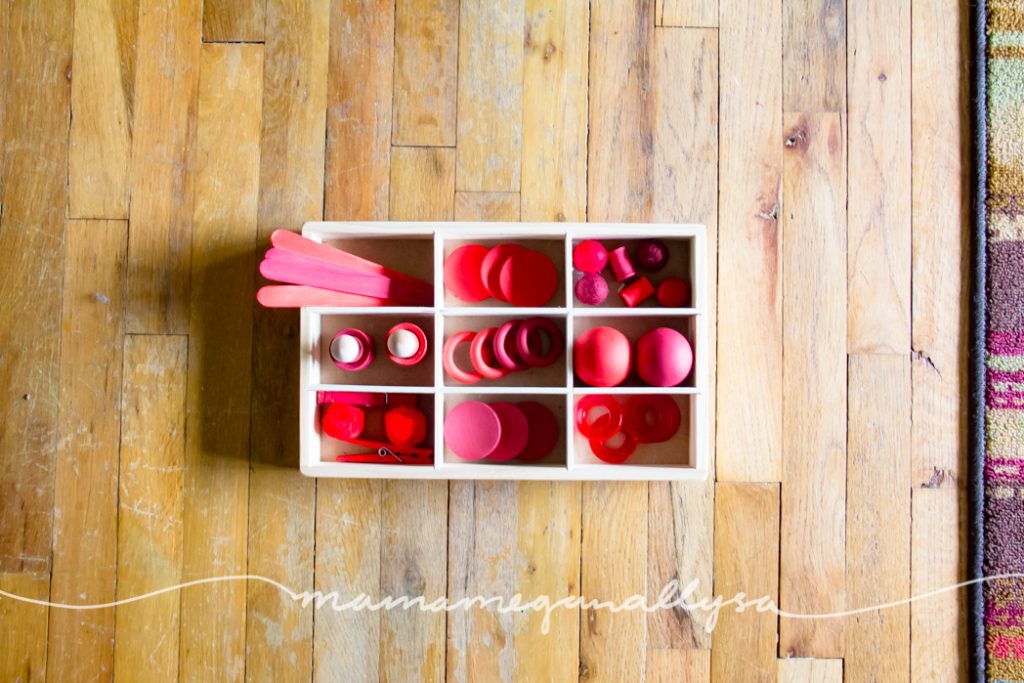 This week I laid out our tinker tray and with our red parts because we are still on the color red for May. If you use loose parts with your toddler how do you display them? This is the only tinker tray I have and I would like to have some other ideas for rotations beyond just dumping them in a bowl!
If you want to know how I made these check out DIY Loose Parts Toys post I wrote the other week!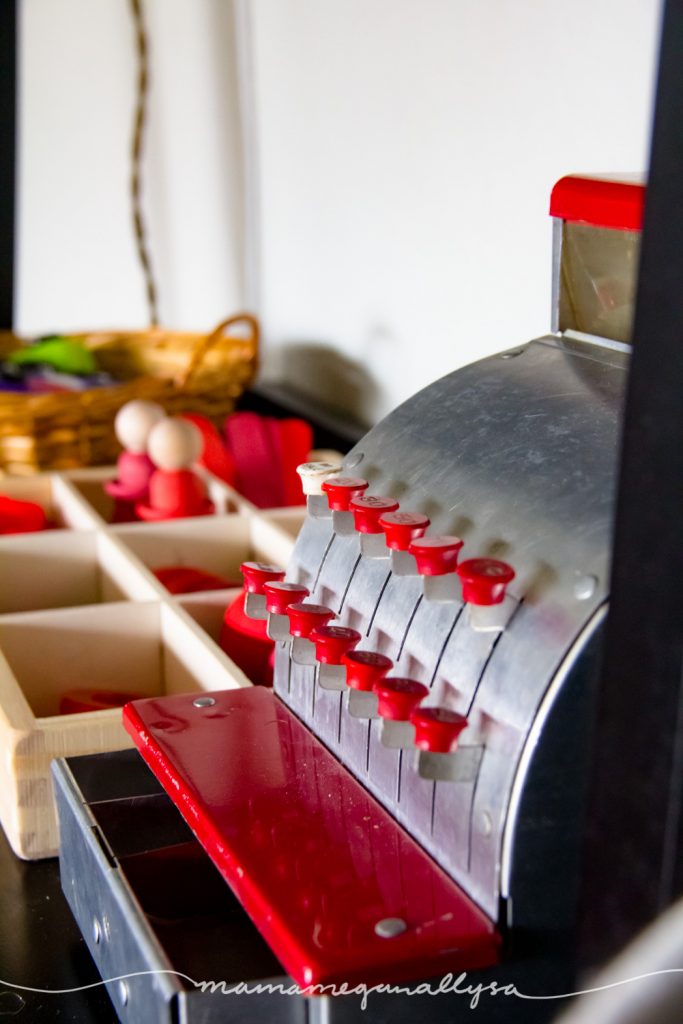 In addition to the tinker tray I also got out her vintage cash register! Quite a few of her loose parts fit in the drawer so thats extra fun! Honestly this toy is awesome. The buttons are really satisfying to push and they make the little flags and the top pop up and when you push them all the way down it opens the draw which then dings when you pull it out. It just feels so realistic…even if modern day registers are nothing like this.
Deep Dive into the Play Shelfie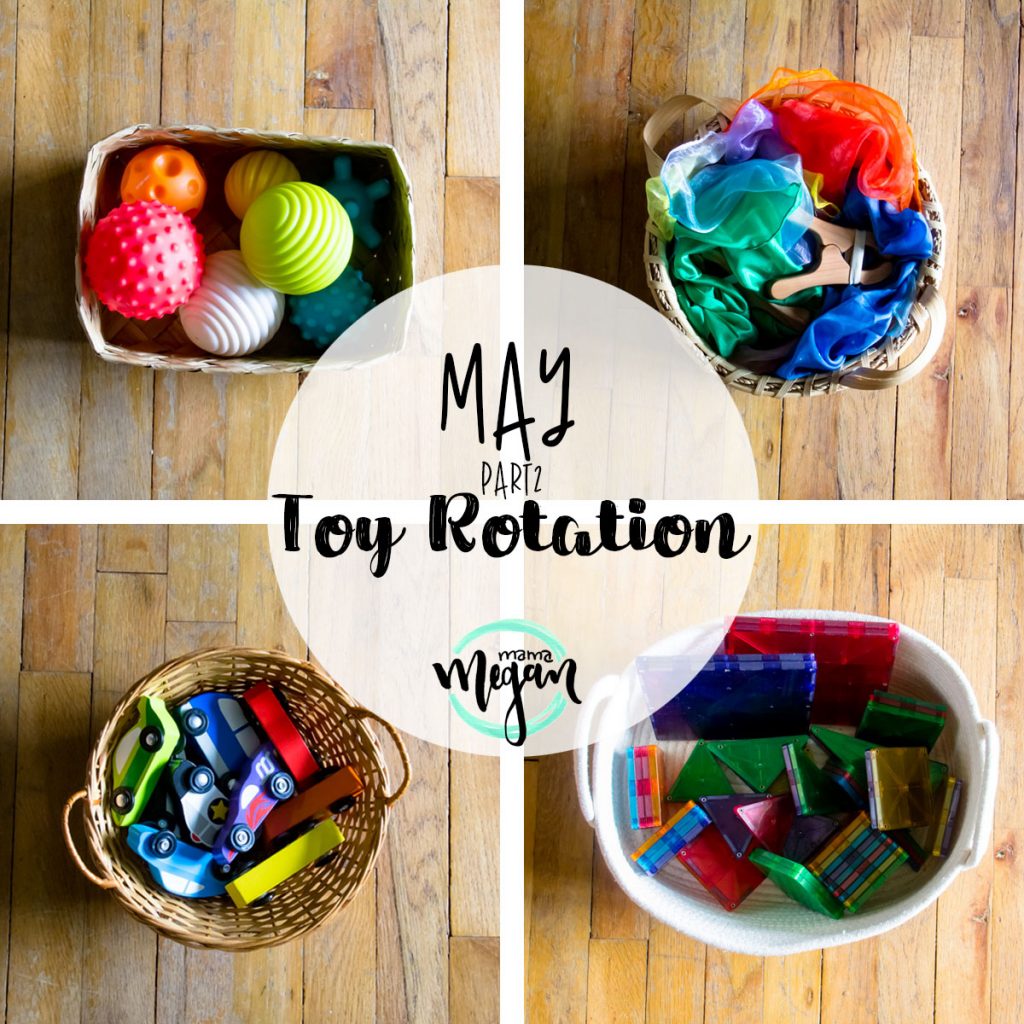 Big Baskets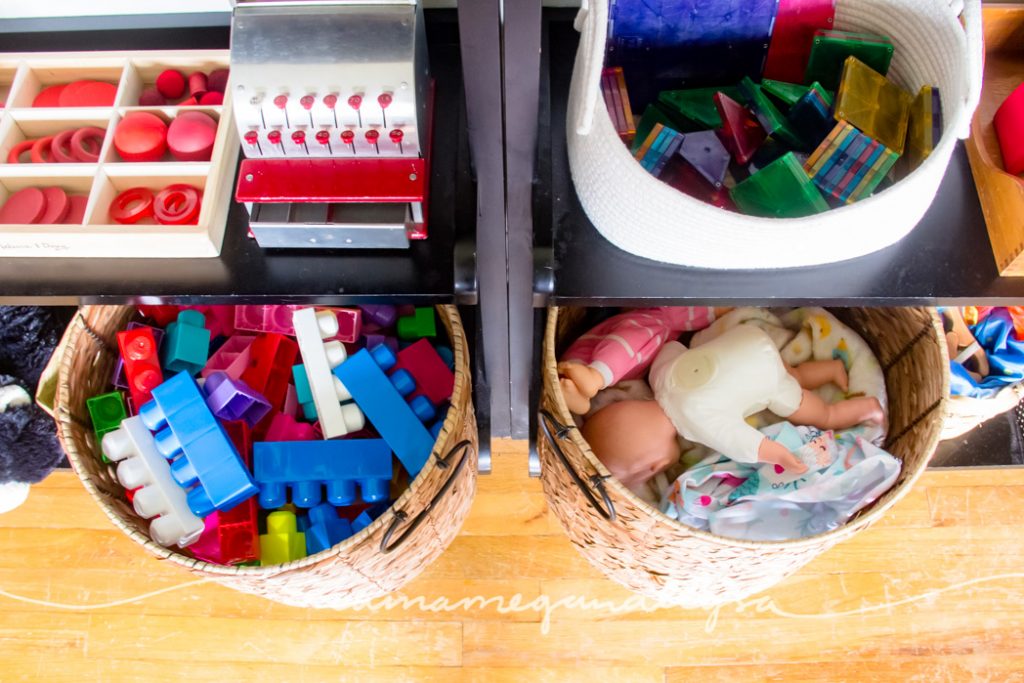 We still have her Mega Blocks and her baby dolls in these. The Mega blocks are something that she likes to see built with but she isn't the one who builds with them so, I think we could switch these soon for a change of pace. She is currently OBSESSED with her babies so I don't see those going anywhere soon.
Front and Center Play Space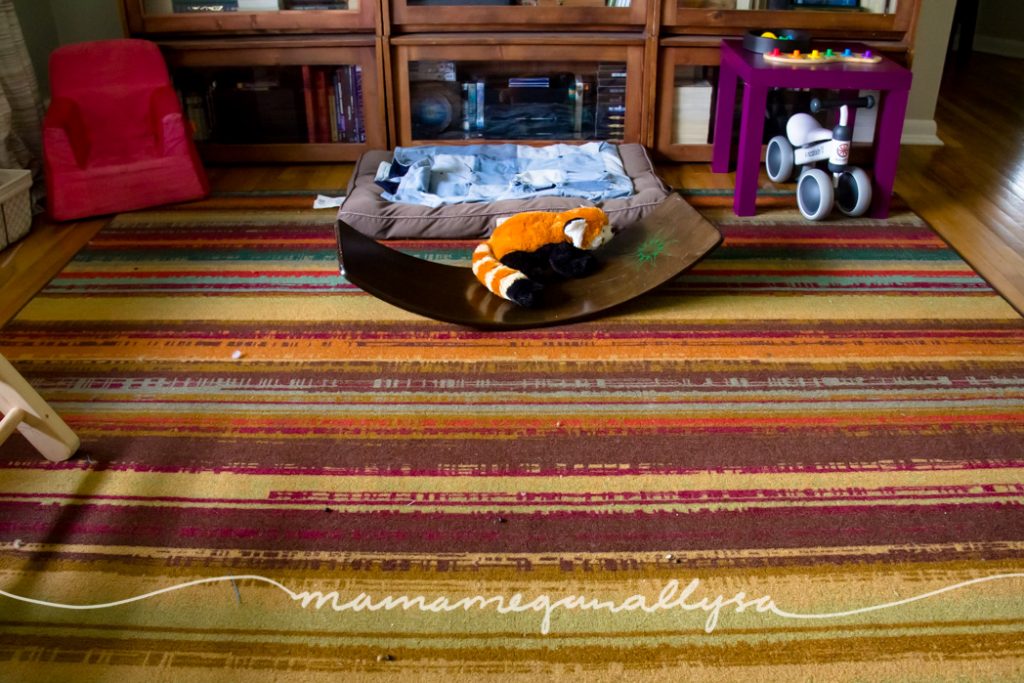 You'll notice I that the Pikler isn't taking center stage right now. Her curvy board is still rocking it there (ah see what I did there ;)) as well as her bike, which has been getting a little more use lately!
I wanted to mix things up and we moved the Pikler to the window and it's been used sooo much more. She has been loving climbing up so she can see out the window.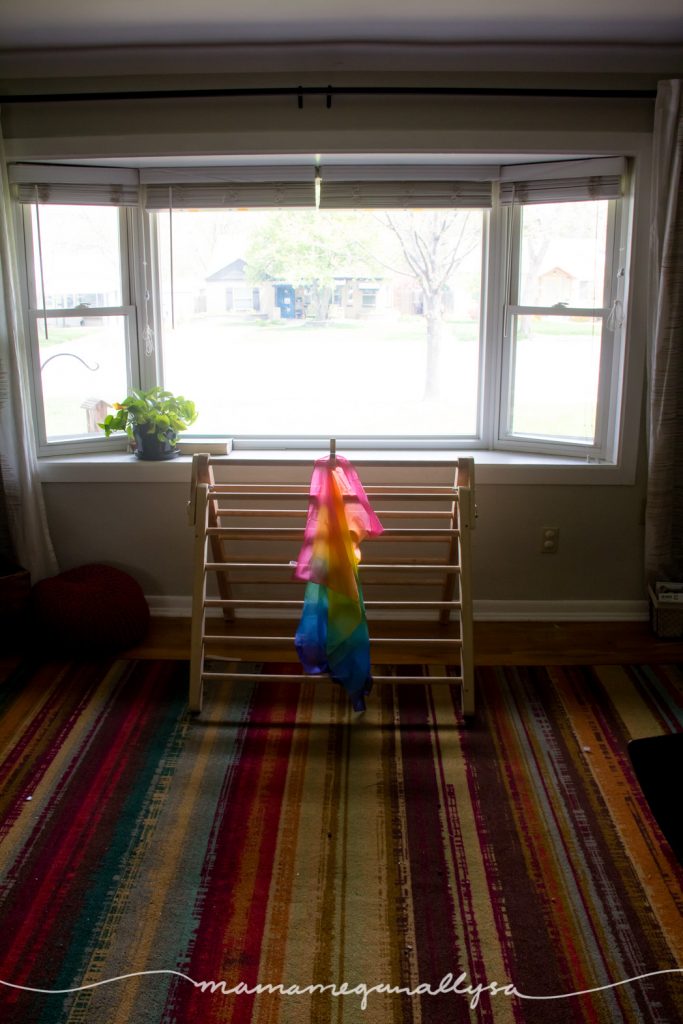 I honestly can't complain, I love the way the light shines on it! Not to mention the way it makes her rainbow silk shine…but who am I kidding I just love all the light from that window! She climbs up so that she is horizontal with her belly in the window and I will admit it makes my mama radar go off but if she slips she'll learn and I have to remember that!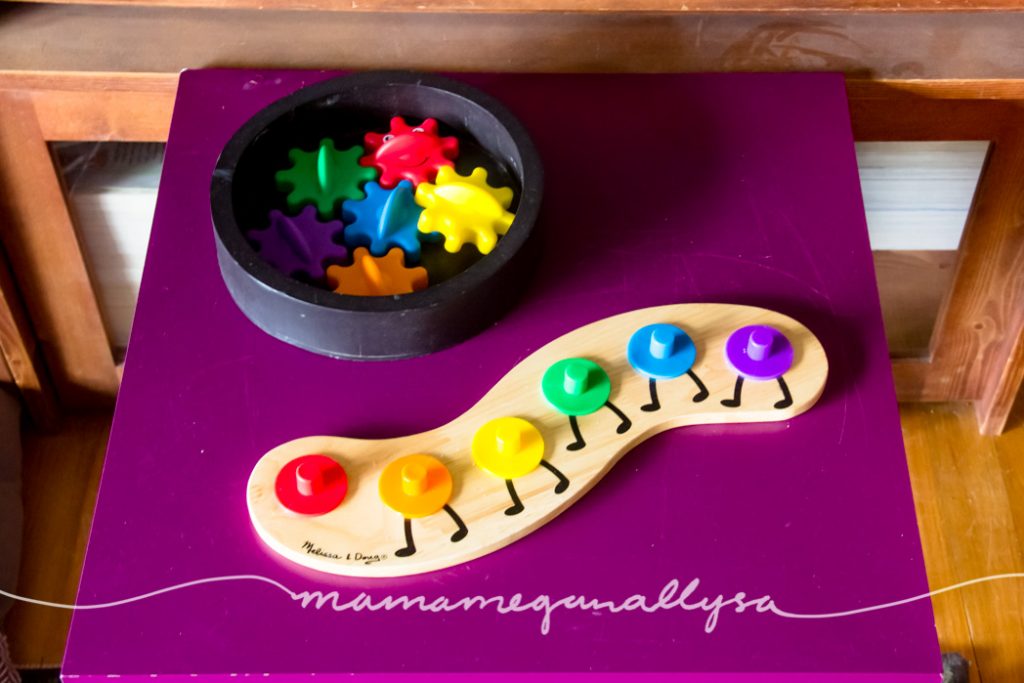 On her activity table, I have the caterpillar puzzle. As far as a puzzle goes this is too easy for her, but she does enjoy it and here soon we could start working on color matching. I'm curious when did your kids age out of this puzzle?
Our Stationary Play Table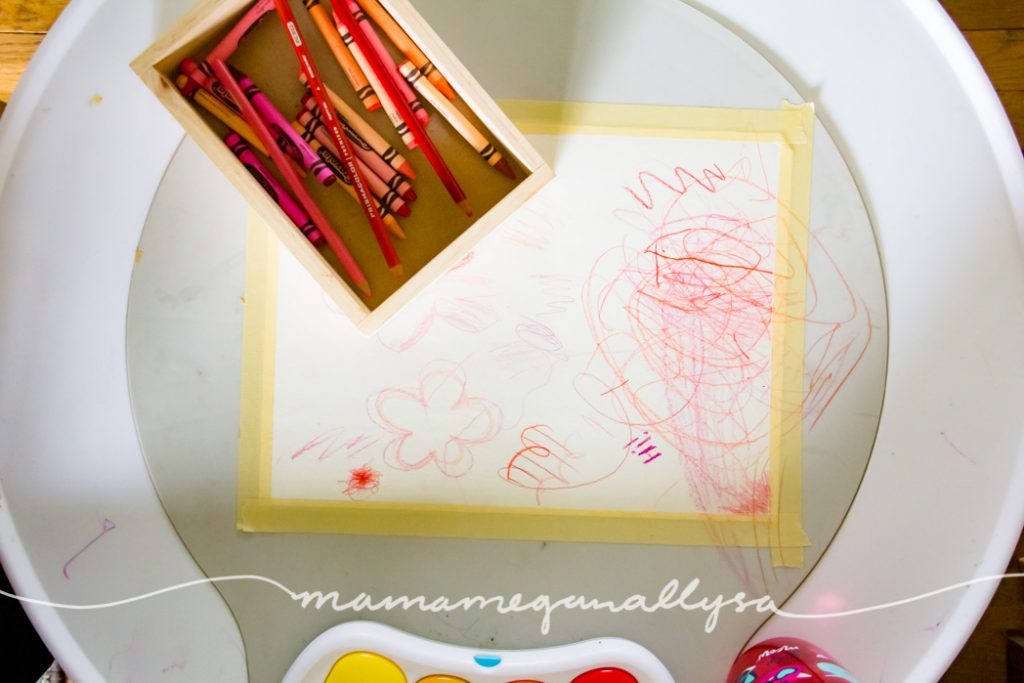 I tried out free access to some coloring supplies this week and you can tell its already been a hit! I will for sure have to do this more regularly… Really we just need some bigger paper I think.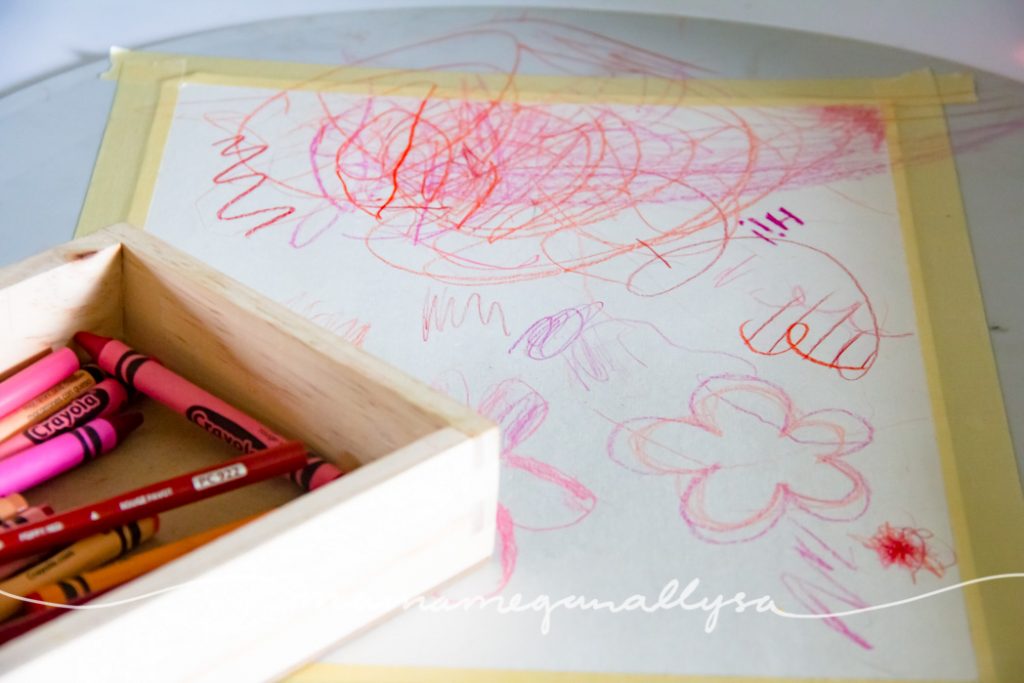 Home Play Shelfie
Okay so it's not really a shelf so its not really a shelfie, but you get my point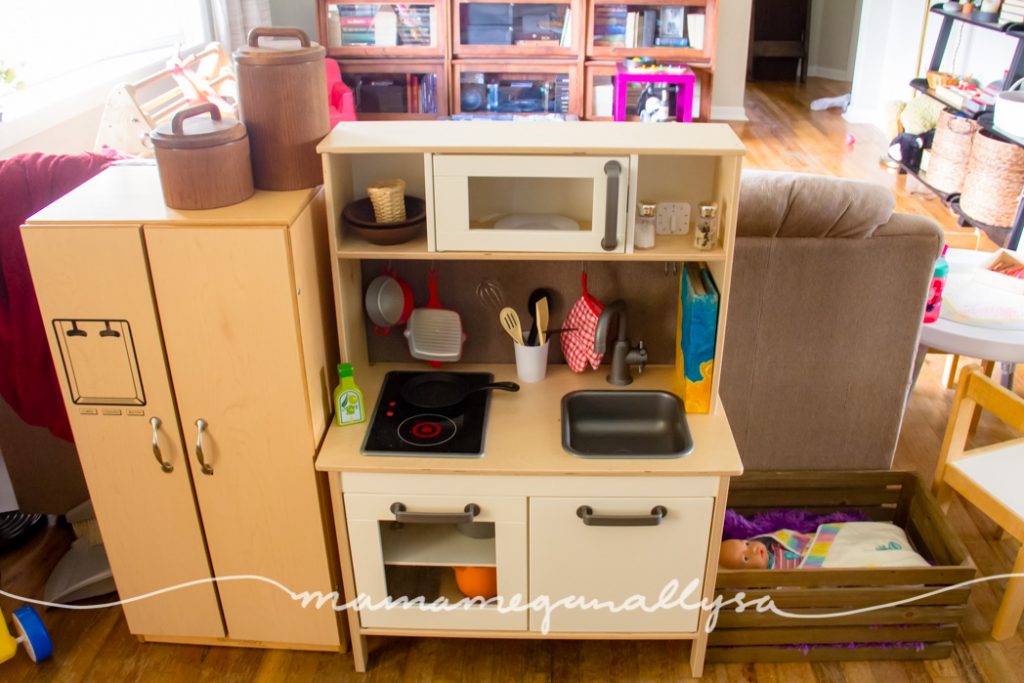 I wanted to share an updated home corner. I added that little wooden crate as a crib for her baby dolls. She keeps putting her dolls to bed by tossing them into her crib and then couldn't get them back out! I think this works rather well as a makeshift crib don't you! I also gave her one of my cookbooks in the vain hope that she will leave mine on the shelf in the kitchen! (fingers crossed)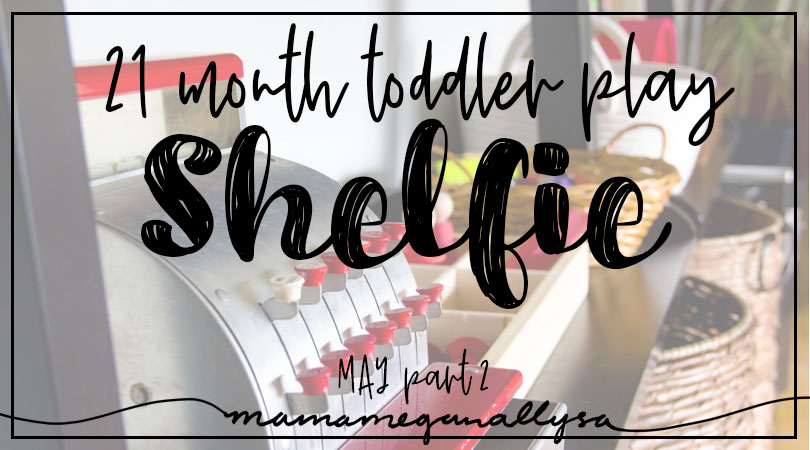 What I learned from this weeks play shelfie
Repeat toys are okay and in-fact may spark new interest based on the other new toys.
She needs more access to crayons and colored pencils.
Sometimes all you need to do is rearrange what you already have!
What is something you learned from your own toy rotations? Do you have a play shelfie in your living room or do you have a playroom? Or maybe you have both! I would love to learn more about the process from others!
If you want more real-time updates on our toy rotations, make sure and follow me on Instagram, I do some stories on my feed the day of the rotation!
Other Posts you may be interested in