The toy closet keeps all her toys together and organized so that come rotation day finding what we want to put out on her play shelf is a snap! We don't use a complete bin system, I'm sure we will get to that but I currently prefer doing custom rotations and my organization system is set up to suit that!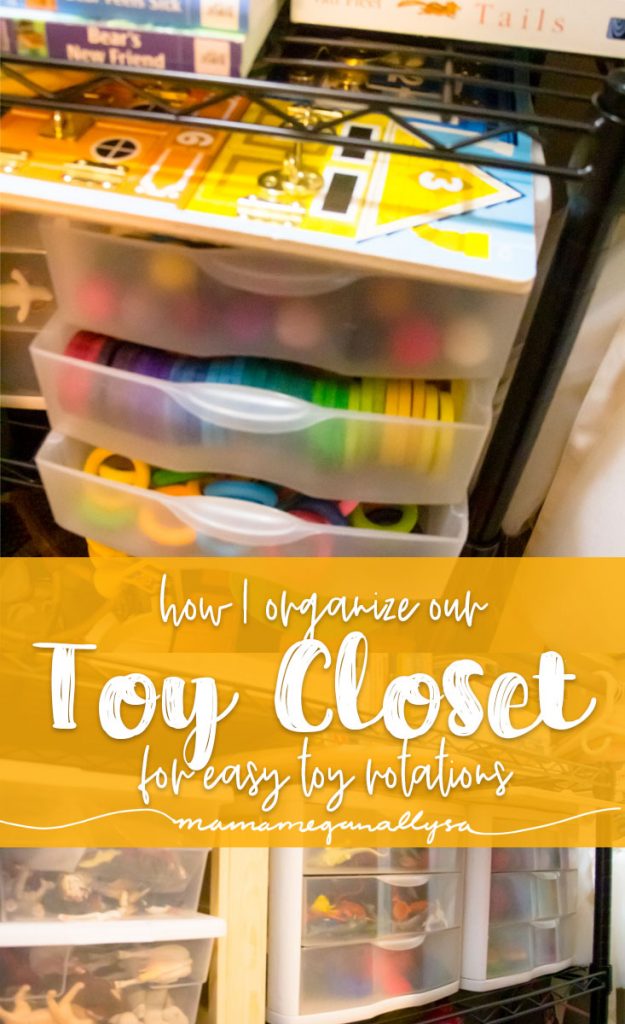 You'll have to forgive the poor quality photos…its a closet. The lighting just isn't up to par. lol
WHY WE HAVE A TOY CLOSET
That's simple. It's because we do toy rotations and only have out a few toys at a time. We have to have a fairly good toy storage system in place for the rest of the toys. It doesn't have to be fancy but it does have to be organized so you can pull new things without having an avalanche every time!
TOY STORAGE LOCATIONS
Most of her toy storage is in her closet. This stays closed and is off limits to her. (Mostly because I don't want the massive mess that happens when she does get in there!) She does have a few toys scattered around her room as well as the permanent toys and the play shelf out in the living room.
There is also her sensory/small world dresser in the garage. We won't be visiting that today, as it's a post for another day.
WELCOME TO OUR TOY CLOSET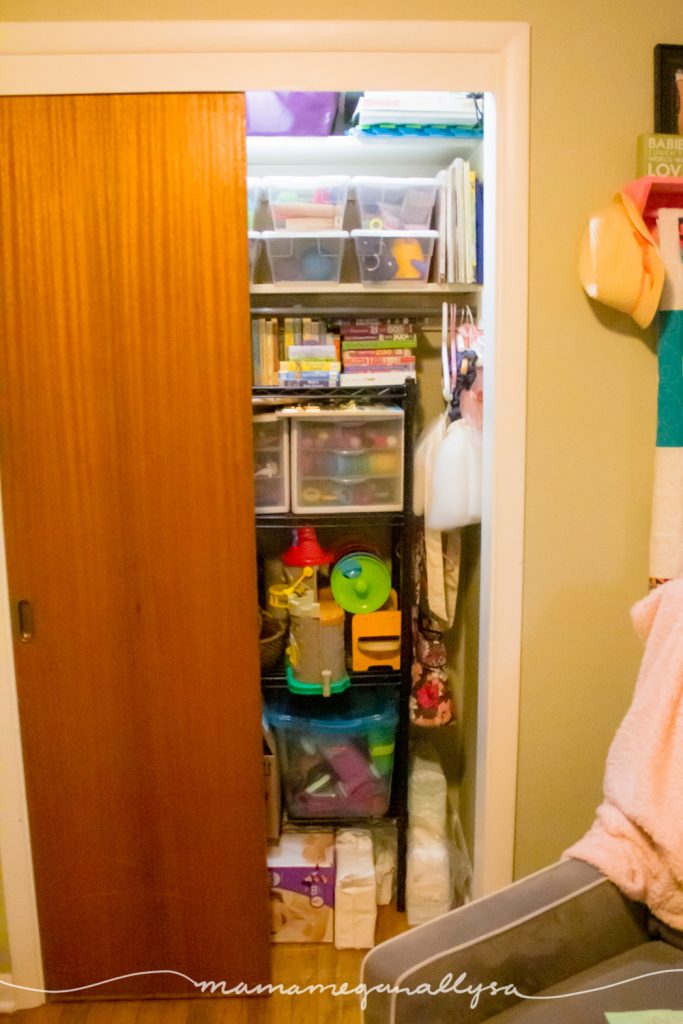 built in shelves
Up at the top we memorabilia and toys that she has to grow into yet. We don't get up here often as I'm short and it's a pain. lol
On the built-in shelf, we have shoe storage boxes with types of toys organized in them. You know musical instruments in one, animals in another, cars in yet another. So on and so forth. I don't have these labeled for a couple of reasons.
They are clear…you can see what is in them, no need to block that with a label.
I will switch contents on rotation days. Say I pull all the Magnatiles out I will put the rubber animals into that box.
This system is going to stop working for us rather soon. For example for her transportation box holds her wooden cars, her matchbox cars, her construction tucks, and her trains. We would never have all of these out at the same time so there will always be something left in that box. So I will have to find another solution come toy rotations…
personal storage additions
In addition to the built it shelves we added a metal storage shelf. This allows more freedom to dictate shelf height as well as overall use of the sq footage that is available in the toy closet.
On the very top of that shelf, I keep books that are out of rotation as well as her homemade large right angle puzzle and her other puzzles. I swear every parent on the planet has the same struggle with toddler puzzles! They are chunky and just don't stack well with the knobs and pegs! I am looking into a puzzle rack I just have to find the right one…
This is the shelf that tends to collect junk so I TRY and keep it as full of purpose as I can so that it isn't just a massive junk catcher.
On the first wire shelf, we have her animals and loose parts. I have most of her plastic animals split between two boxes for now. One holds domesticated animals and the other has wild animals. The dinosaurs and ocean animals are in the drawer units. Her collection is growing fast and we are already looking into a better solution for these. If you have any great ideas for how we can store her animals please let me know!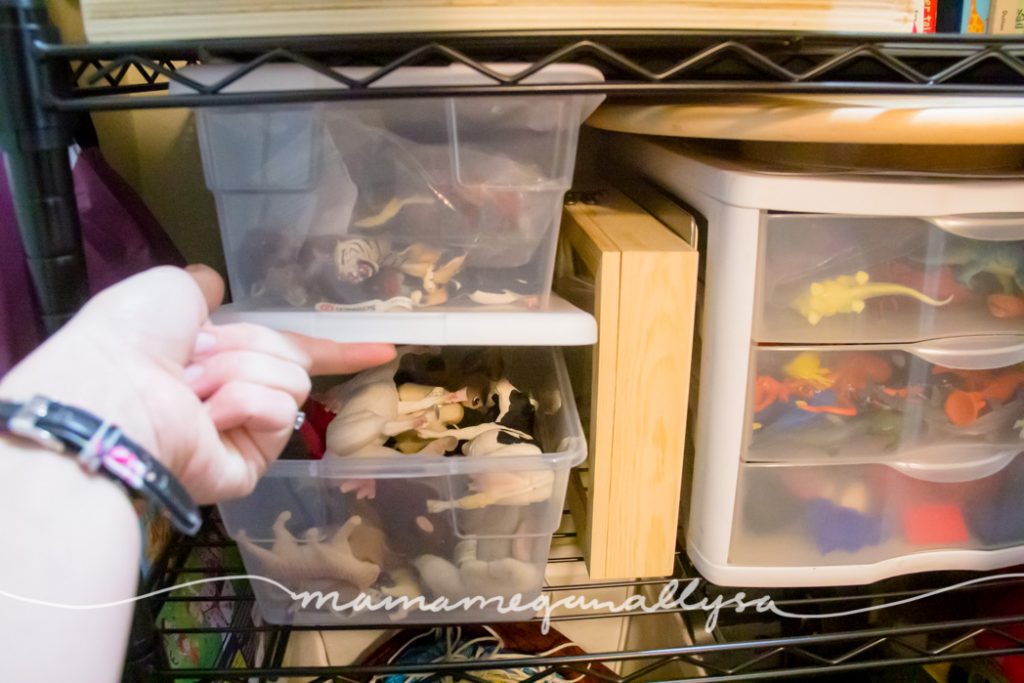 Next to those boxes, I have a tinker tray and then 2 of those 3 drawer storage boxes. I like these for her loose parts because I can keep things a little more organized and easy to access. I am also storing her placemats, the lazy Suzanne and her busy board on top of these. (that busy board is a nightmare to stack so this was just the perfect spot for it!)
bulkier toys
The next shelf down we have her homemade stackers. I had my grandma make some bags for these so they are easier to pull out! I have them in this bin right now but they could probably go somewhere better. For now, this works. To the right of that bin, we have her bulky toys. Things that just don't make sense to box up or just physically can't be.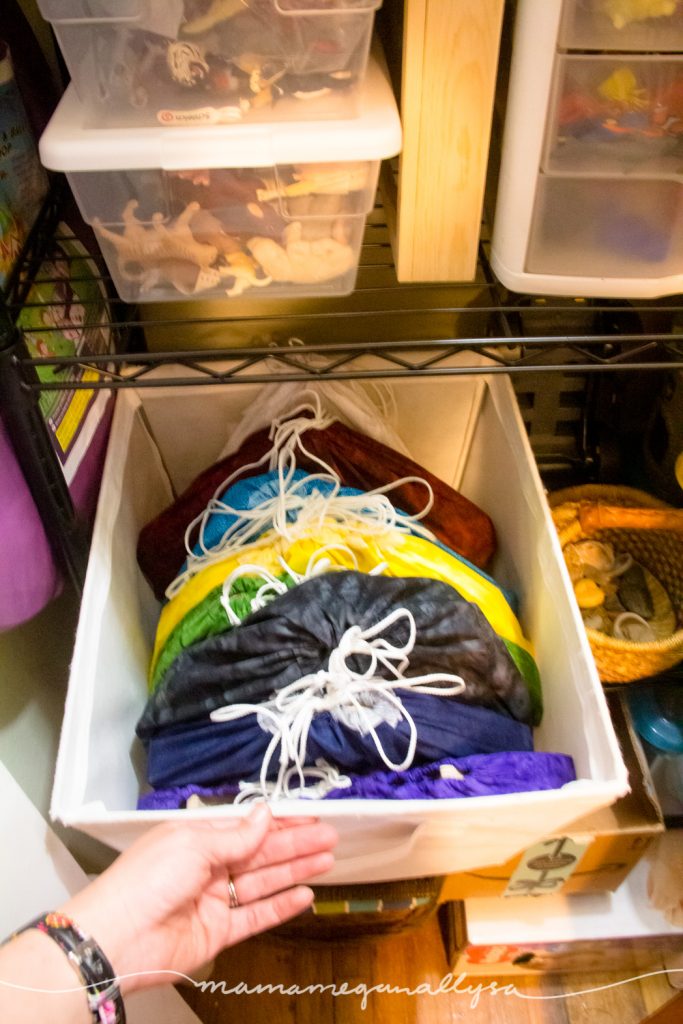 LESS ROTATED STUFF
On the bottom shelf of her toy closet, we have a bin for extra stuffed animals. As far as toy storage goes this probably our least used space. She has a basket in her room for stuffed animals and we just need to pare down or get a bigger basket in her room I think. That or maybe one of those beanbags that can be stuffed with stuffed animals! Next to that, we have a box for her blocks. She currently has two types of blocks. A wood set and a mega blocks set. One of these is always in rotation and the other is in storage. This works well for us now, but if she gets any other kinds of blocks we are going to have to think of something else! In the big blue bin, I keep her road trip toys. These are toys that she only gets when we are in the car or on an airplane. By keeping them put away there is more novelty and they are more interesting when we need her distracted for hours at a time!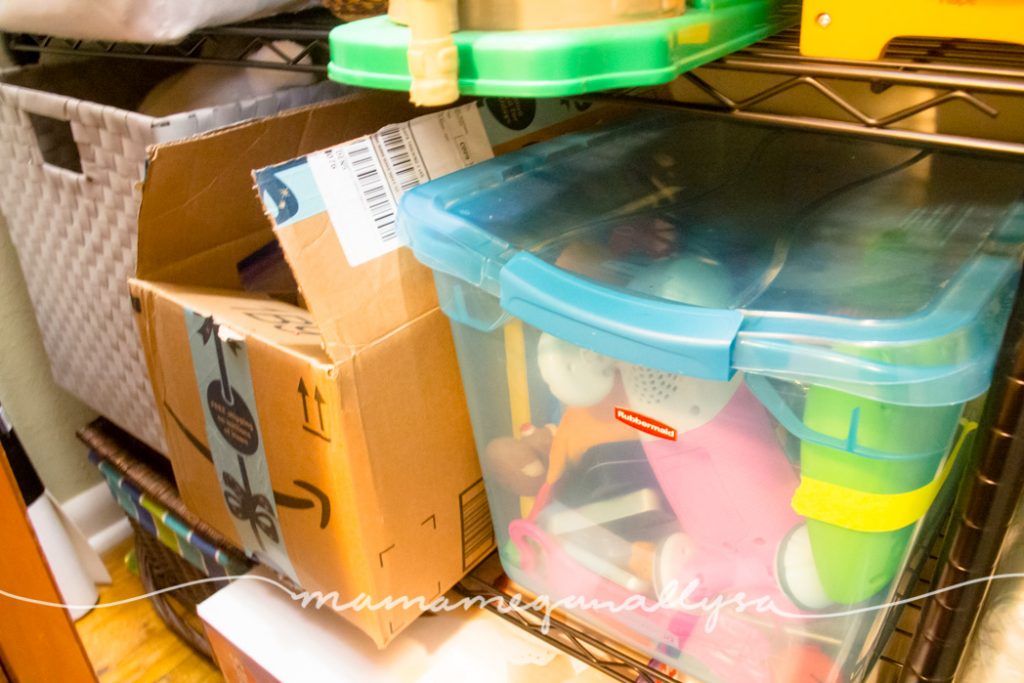 On the floor of the closet, we keep spare diapers, wipes, and a basket for extra sheets. Not really toys but they have to go somewhere!
Her closet also has a rod that we use a little bit of. We hang her foldable tent up on the side the other side has her "nice" dresses, the Ergo carrier when it's not in the car and, a toy bag for her when we have to run long errands.
TOY CLOSET PROBLEMS
Having all her toys in her room is great for keeping it all together and containted but it comes with some challenges.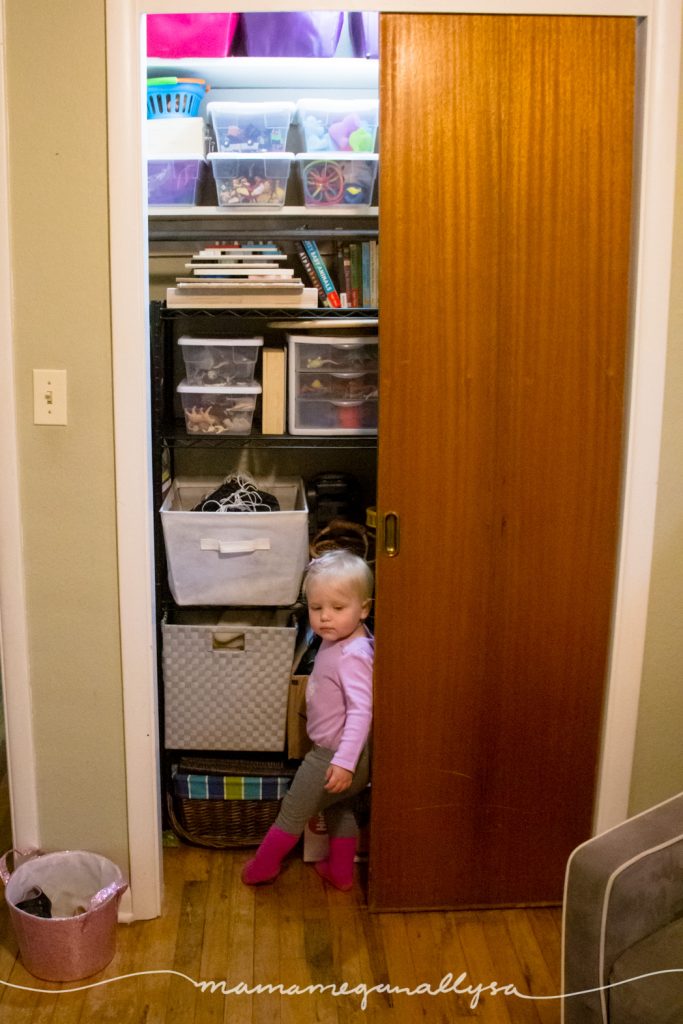 She is starting to figure out how to open the closet on her own and I want her room to not be a play space so much as a calm space. So we may have to look into some kind of door lock…on dual sliding doors…got any ideas?
A bedroom toy closet is also a problem for toy rotations as I can't access it while she is sleeping…so our toy rotations have to take place when she is awake, that's not really too big of a deal except is always underfoot pulling toys out while I'm trying to rotate!
THE EVOLUTION OF THE TOY CLOSET
Toy storage is an ever-changing thing as her interests shift, she outgrows things and as holidays and birthdays come and go I am sure her toy closet organization will change.
I have this personal goal that her toy collection can be contained in this closet. Not counting the toys that are out for rotation and the permanent toys. I think that come her birthday we are going to have to put away some of her old baby toys in favor of some new big girl toys. How do you store your kid's toys to keep them from taking over the whole house or is that part just inevitable?!
Other posts you may like