I am all for letting a child have access to as much of the house as possible. We keep cleaning supplies up high or locked away and small choking hazards also out of her reach, but other than that its free for her to explore. It also helps that she has never been a very mouthy baby so I honestly trust her. (most of the time…lol) That said we do have a few special spaces that are all hers. Here is what our toddler play spaces look like at 18 months!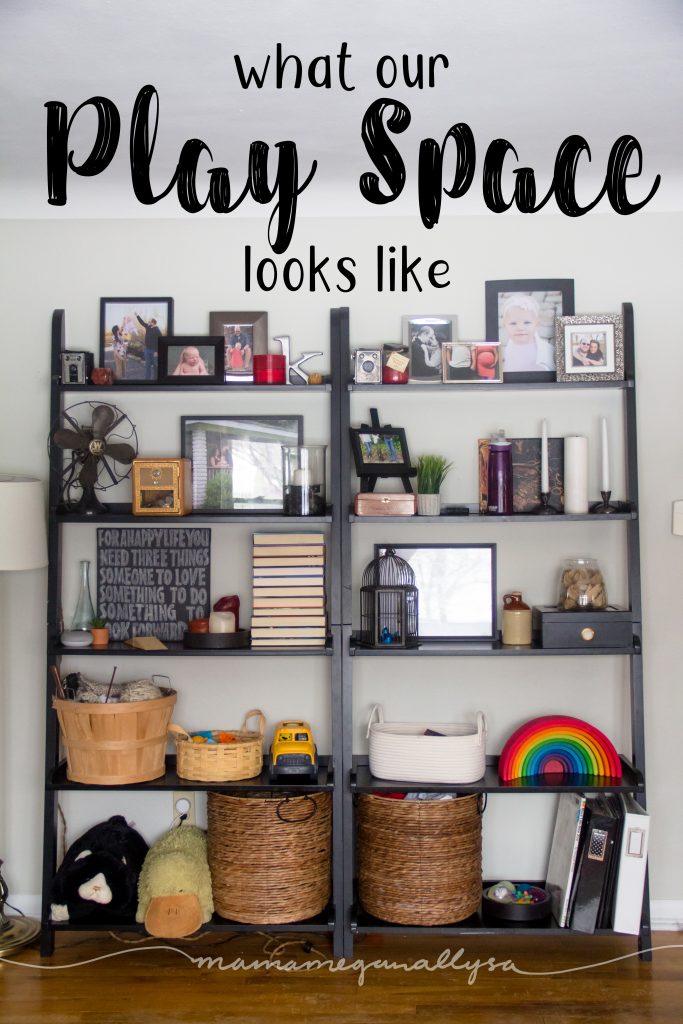 The living/ dining room is our home base for most of the day. This is where her toys that are out on rotation are displayed. We are lucky enough to have a spacious living room with space for multiple toddler play spaces!

THE MAIN BOOKSHELVES
Along the hallway wall have the black bookshelves where we keep the most of the toys. We don't keep very much out at a time right now. She honestly prefers non-toys to play with, (you know the dog leash, a flour sifter, a big rubber band…obviously better than toys right?!)
The bottom two shelves of these bookshelves are all hers (mostly) and she has access to these toys whenever she wants. I use a variety of bins, baskets, and trays to keep toys contained in their group or displayed in an inviting way. Most of these containers I have scored at the thrift store or repurposed from another space in the house. The exception would be the two large baskets on the bottom. Those were purchased specifically with toy storage in mind. They are from Hobby Lobby and fit on that shelf like a glove! Those baskets rotate the least. One holds all her baby dolls and things (bottles, blankets, bibs other b related baby things…lol) and the other holds her blocks. Right now we just have a wooden set and a mega block set that trade places every couple months or so.
THE LIVING ROOM TODDLER PLAY SPACES
In the middle of the room we have space for Gross Motor play. Could be the Pikler, could be the Wobbleboard, could be a ball pit. This week it's a cardboard city. This stuff only really gets rotated as I get board/annoyed with it.
We have a bay window in the living room that I just love and with the addition of a stool, the ledge makes for a great play space for Bitty. This is where I set up oversized books that I want her to be more careful with (IE borrowed from the library) or discovery trays. If you want to know more about our discovery trays click here! Nearby we also have her rocking chair and a bin for more library books.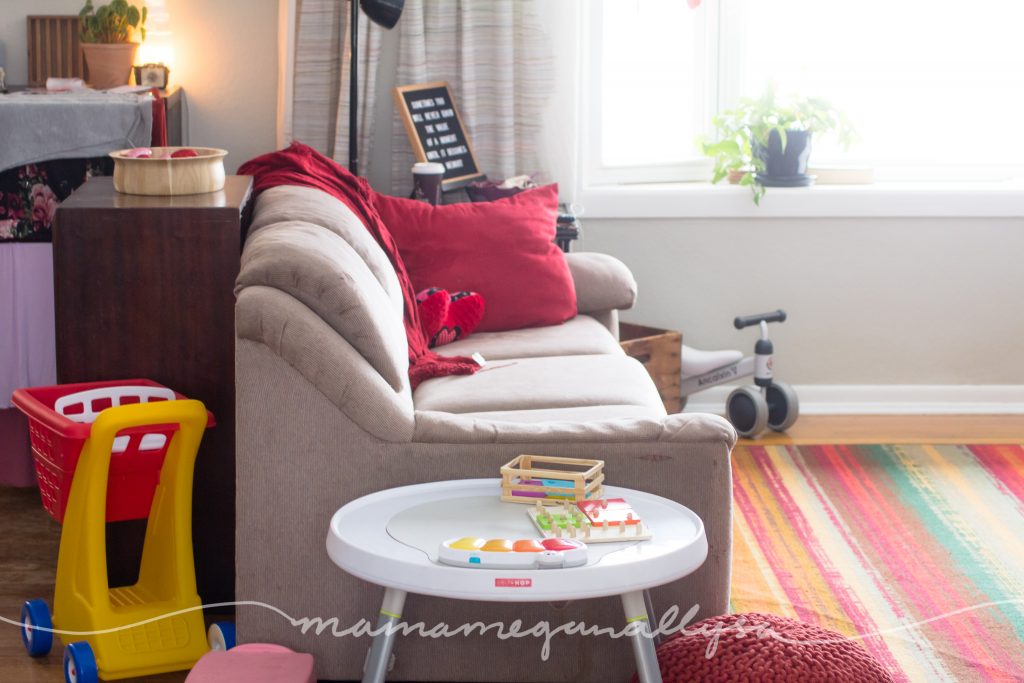 We have a small space next to the couch that I currently have her play table set up at. This usually has a puzzle or a fine motor activity set up on it. We are using the Skip Hop Explore and More activity center. (https://amzn.to/2HoKRFE) This baby has been in steady use for a year or more now!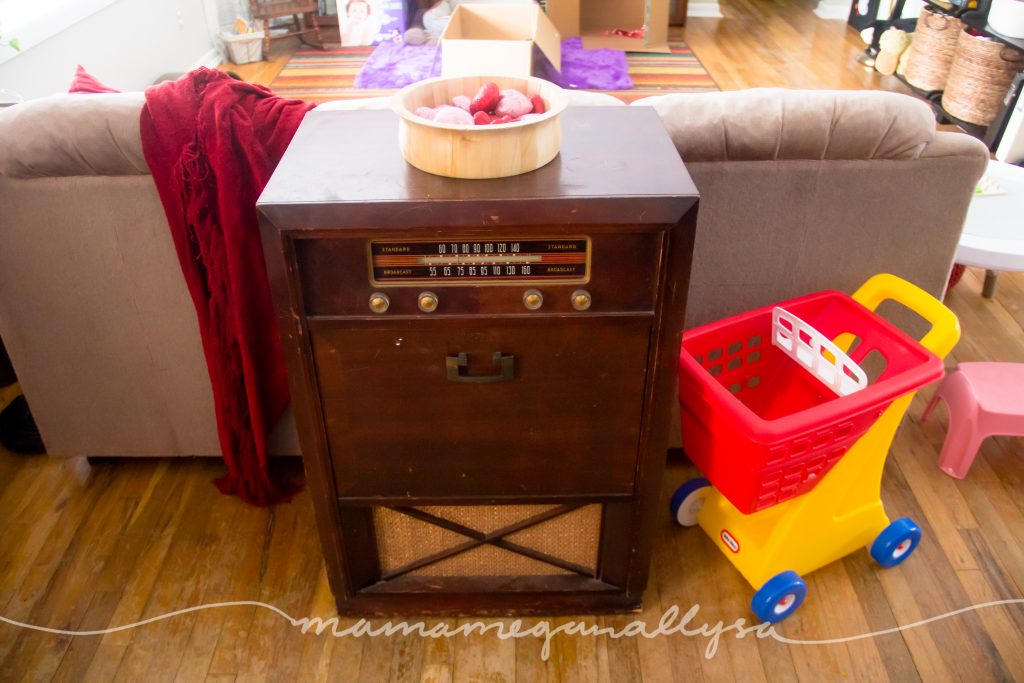 On the backside of the couch, her little tikes cart (https://amzn.to/2EIECtq) is usually chilling back here and we also have an old radio that houses her coloring and stickers. These are put away but she has access to them when ever she wants. I am considering setting out crayons on the play table full time but haven't committed yet. Do you let your kids have access full time? I feel like that is how walls get drawn on, but I want her to feel free to be creative whenever she wants…maybe when she is 2 and can understand the difference between paper and wall!
DINING ROOM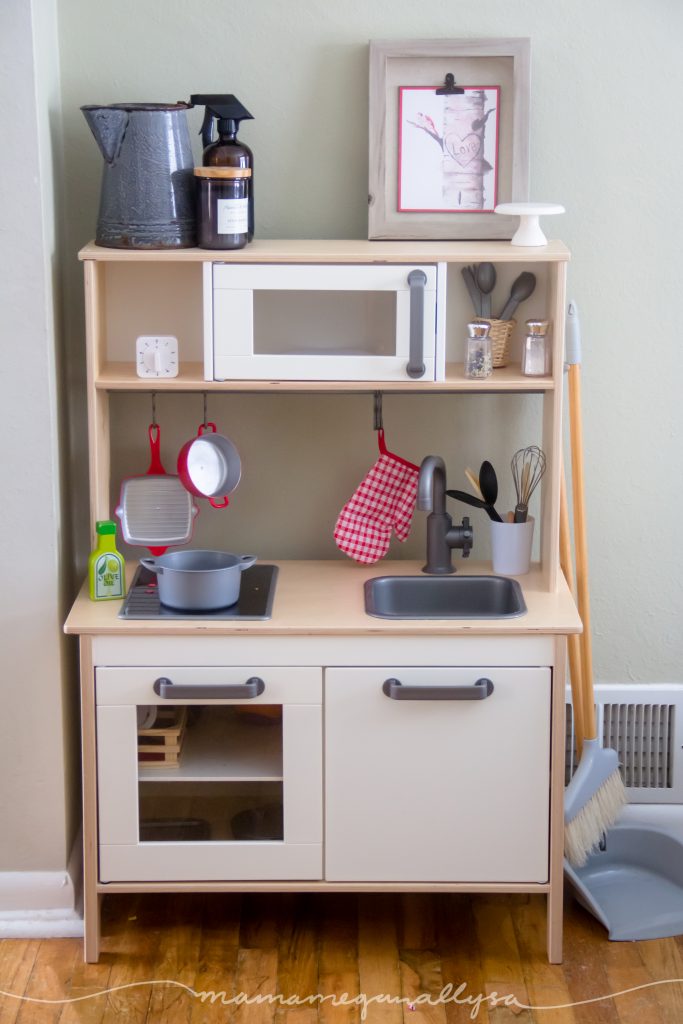 Just around the corner from the black bookshelves is the dining room and this is where her play kitchen is. We keep all the play dishes and play food in this kitchen. As you can see we have the IKEA Duktig play kitchen. (https://amzn.to/2VJPYEG) I am very happy with this play kitchen but it has limited storage. She will outgrow that storage sooner than I would like to admit. We have dreams of DIYing some sort of fridge to go alongside it, but with the addition of our new dining room table space is more limited… When that time comes there may have to be a bit of a rearrange.
OTHER TODDLER PLAY SPACES THROUGHOUT THE HOUSE
We have one mobile play space. I have a wooden tray that I will fill in a random space as I see fit. This will have a rotating cast of activities from small world play to mom supervised activates to a free create space.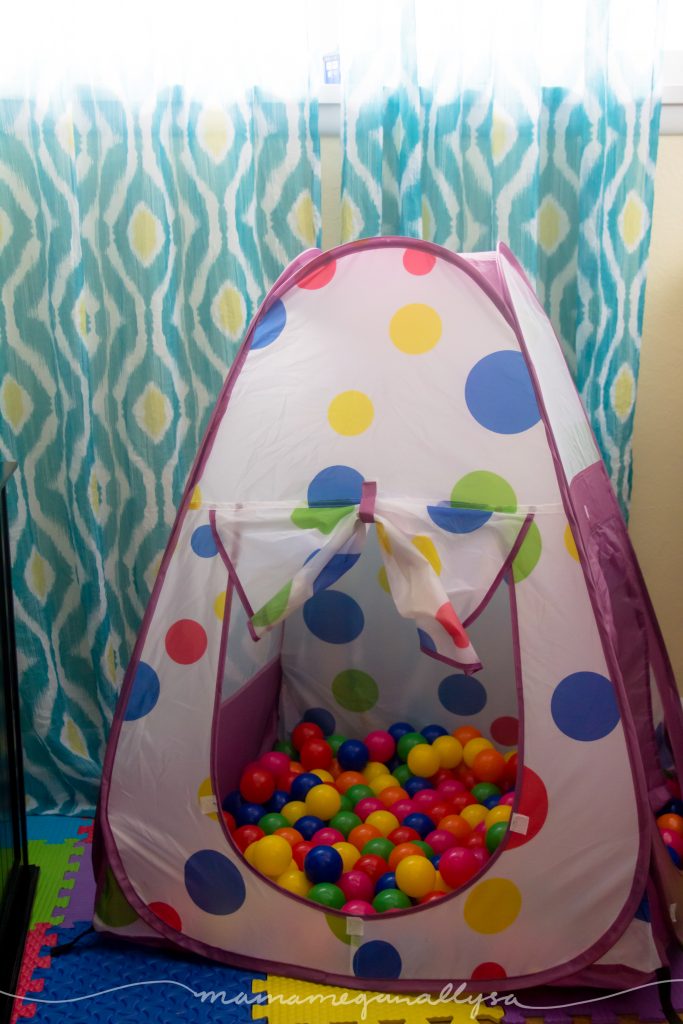 In the office toddler play space, we have some foam mats laid down and currently, her popup tent and balls are in there. These are part of a 3 piece pop up tent system that we just rotate through most of the time. This isn't the exact tent she has but is very similar! (https://amzn.to/2H3vPpx) I am thinking the skip hop play table will move in here, but I'm not sure, this space is still up for debate. Mostly it's just a space that she can play at while we are in here because let's be honest we spend a fair amount of time in there.
HER BEDROOM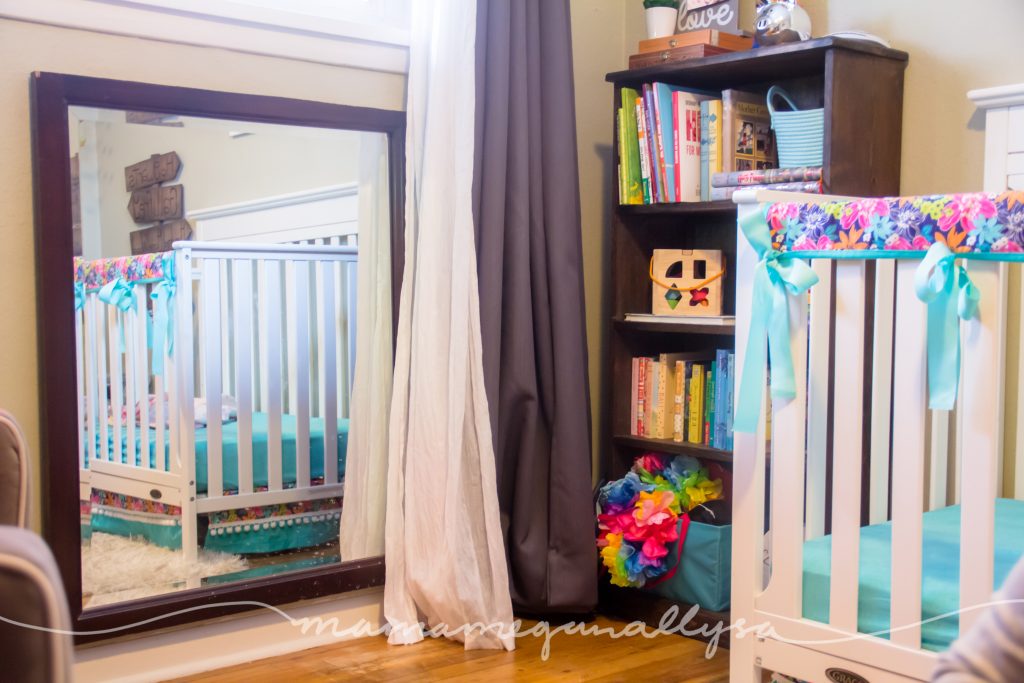 Her room has a bookshelf with her dress up clothes at the bottom and free access to the three bottom shelves. Mostly it's all books. (I'm a sucker for board books) She has a little armchair to read in. Other than that she just has a basket for her lovies. (Zak's a sucker for a stuffed animal) Her favorites (and ours honestly) are the Wild Republic animals. They are so soft and so snuggly and they are unique! The Fennec Fox (https://amzn.to/2Uk3IWd) and the Red Panda (https://amzn.to/2UpvwbP) are her recent obsessions.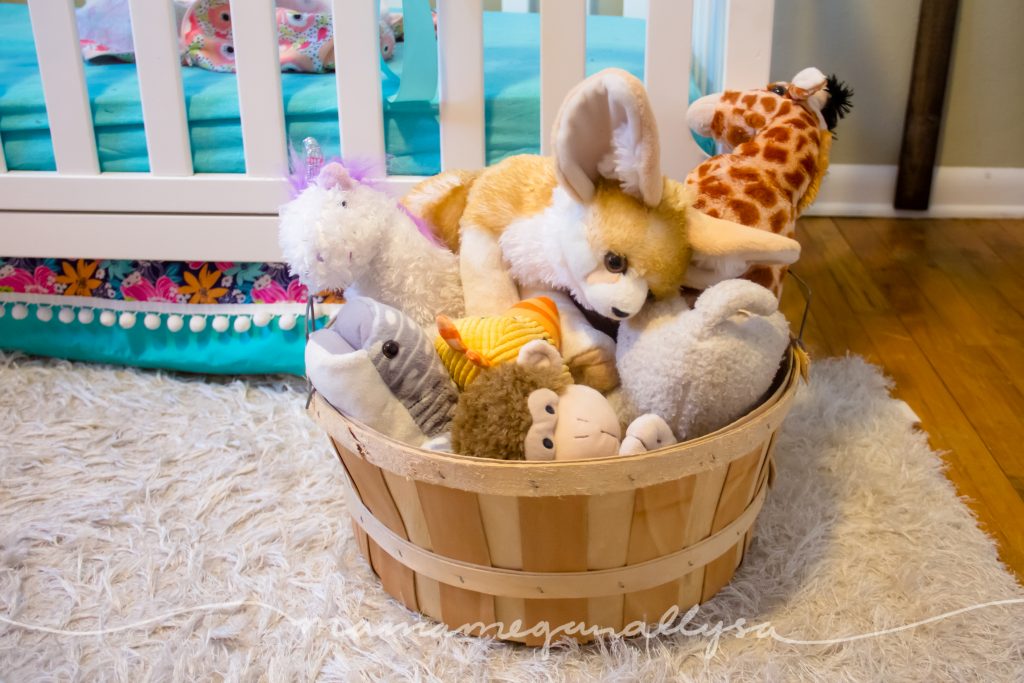 FUN THROUGHOUT THE HOUSE
Like I said she has access to the whole house really, with the exception of a few cabinets that are baby-proofed for safety reasons. I feel like having these designated toddler play spaces helps keep things from totally taking over the house. Everything has a home where it belongs at the end of the day. I am also okay with her exploring and discovering new thought around the house so this works for me. I'll be honest though I do have to wander around the house and put away the most random things every day…She has a thing for this one cookbook and I have no idea why…
Do you let your little ones loose or do you have designated play spaces?