Tot School is not quite preschool – there is no structured lessons or specific thing she has to learn. But it's also more than just daycare. It's more about exposure to concepts and everyday tasks, as well as the chance to practice skills that those busy toddler brains are already learning. It also gives a theme for some direction and keeps things interesting for everyone!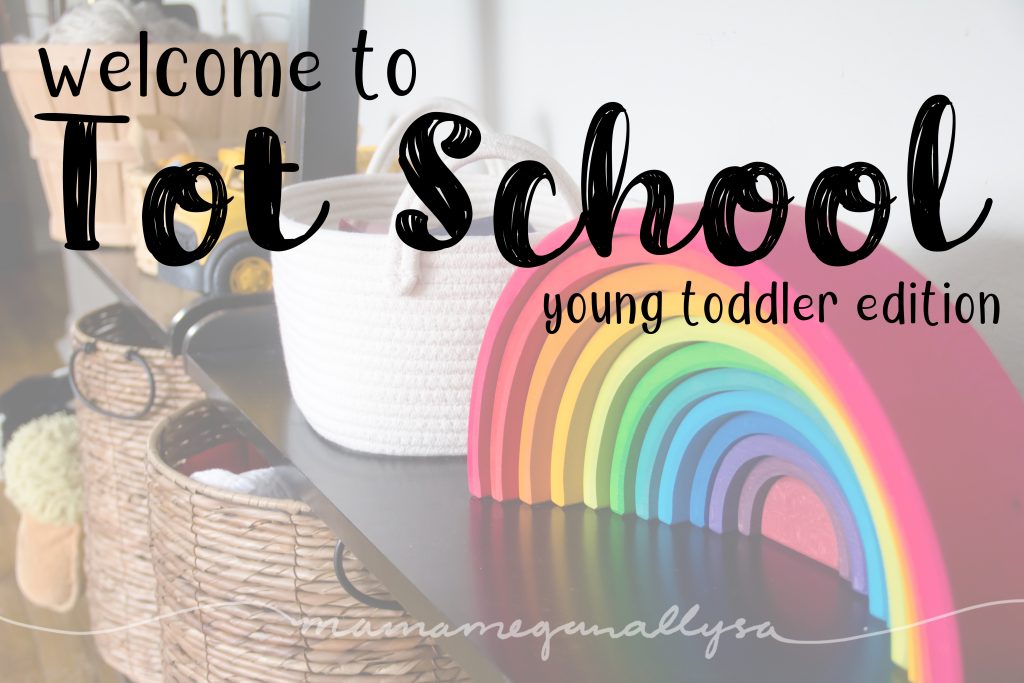 Bitty is 18 months old right now and I find that if I don't have some kind of plan in place we end up watching too much TV. So what did I do? I made a plan, and not just loose 'hmmm here's a couple ideas' kind of plan. There are tables and categories and themes. Just like you would expect my type A brain to do!
WHERE TO START WITH TOT SCHOOL
I did not come up with the phrase Tot School, but I loved the idea when I can across it. and I knew that it was just the thing to keep us both out of trouble!
There are tons of ideas all over Pinterest for Tot School themes as well as toddler crafts and activities. (Thank god for Pinterest am I right?) Also, be on the lookout for posts in the future about theme ideas!
You may even surprise yourself at how simple it can be to get started with Tot School and how much your little one (and maybe even yourself) really enjoy the structure! I have included a free editable weekly planning sheet so it's even that much easier to get started!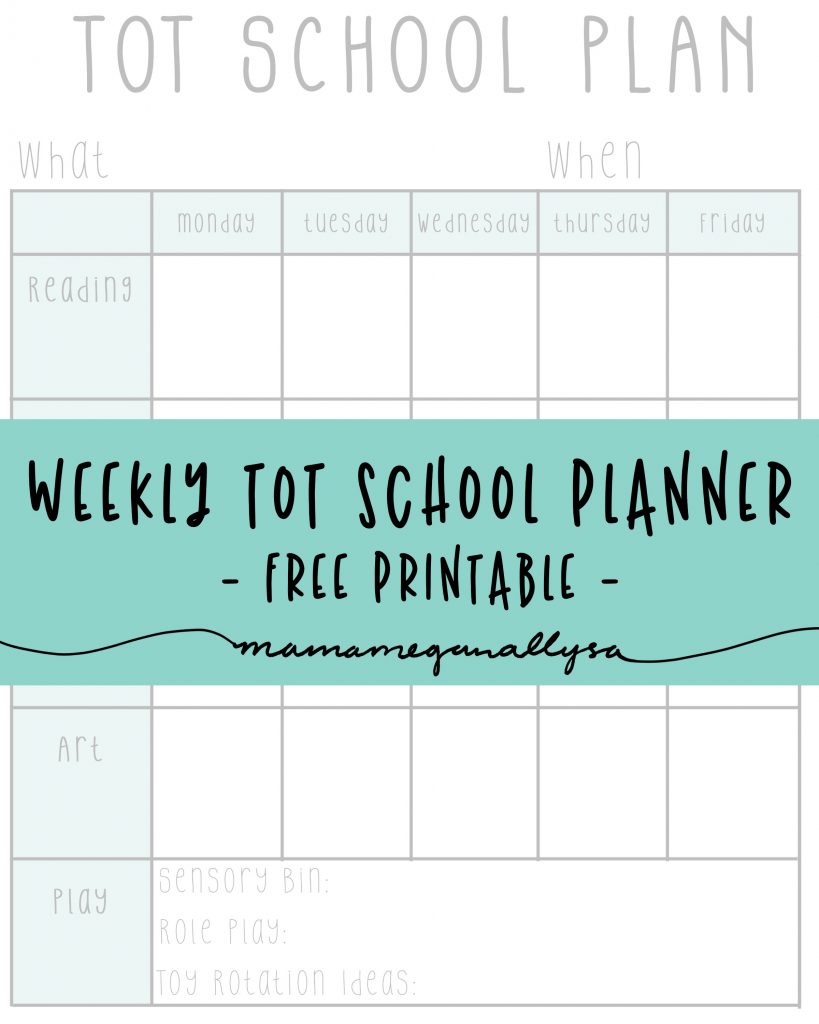 DIVIDE AND CONQUER YOUR WEEK
I split our Tot School curriculum into 5 categories; reading, skill-based learning, exploring, art, and play. by dividing this up It made sure that we didn't spend day-in and day-out doing art projects. (because everyone knows those are the "fun" things) I wanted to make sure and have a variety of learning opportunities available!
Reading
I leave up to her right now. We pick a few books from the library that seem fun. She has her personal collection at her fingertips as well so whatever she feels like bringing me we read. I may pull out a book that has to do with our theme but that's mostly for me. 😉
Learning
These activities are more focused on fine motor and some cognitive skills. This is when I will present things that she may still be struggling with or that need some guidance. I often end up looking for Montessori style work for this. As she ages, this will incorporate prewriting and letter and number recognition as well.
Explore
These activities are just like they sound, something put out in front of her to explore and experience as she sees fit.
Sensory baths – think shaving cream, bubble foam, glow sticks, dyed water, foam shapes, anything your willing to get wet is fair game.
Playdough/Slime/Gloop – fun stuff to play with that needs a bit of supervision. This is not the only time that she will get to play with these materials. Mostly this is for me to be able to make note of different recipes or invitations that I want to try. There are so many different kinds of slime and other messier sensory items! I am also looking forward to doing playdough trays as she gets older, so be on the lookout for those!
There are other kinds of 'explore' activities that we will use. These were just my most commonly used!
Fridays explore is slightly different as it is not a one and done activity this is something that I trade out each week to keep things interesting. Sort of like a mini toy rotation!
Discovery trays: A collection of items presented in some new way as to spark some interest or creativity. You can check out some of our first trays here.
Small World: This is something that we haven't started yet and I am really looking forward to getting into! We just don't have a lot of animals yet so I am limiting how much we have it set up. As our collections grow I imagine that there will be some form of a small world out most of the time. Check back in for sure on that!
Felt board: I made a felt board for Bitty when she was around 15 months and while she did interact with it some she really only knocked everything off of it. So I scaled back on it and put it into the rotation. That way it will only come out once a month or so/ We will continue to work on how to play with it over the next few months.
Art
Pretty simple for us right now. Coloring, stickers and abstract painting. I am looking to add some dot markers to the mix soon. I have three art projects planned out for each week but I wouldn't be surprised if we only ever get 2 done. The 3rd is mostly for backup or weekend activities if we get bored.
Play
This is the free play section where I just make notes really. It is also a reminder that child-led free play is SUPER important and I want to make a point each day to encourage it! I keep track of what sensory bin we are on and any other play notes. As she gets more interested in dramatic play I will probably keep a note of that down there as well.
SAMPLE TOT SCHOOL PLAN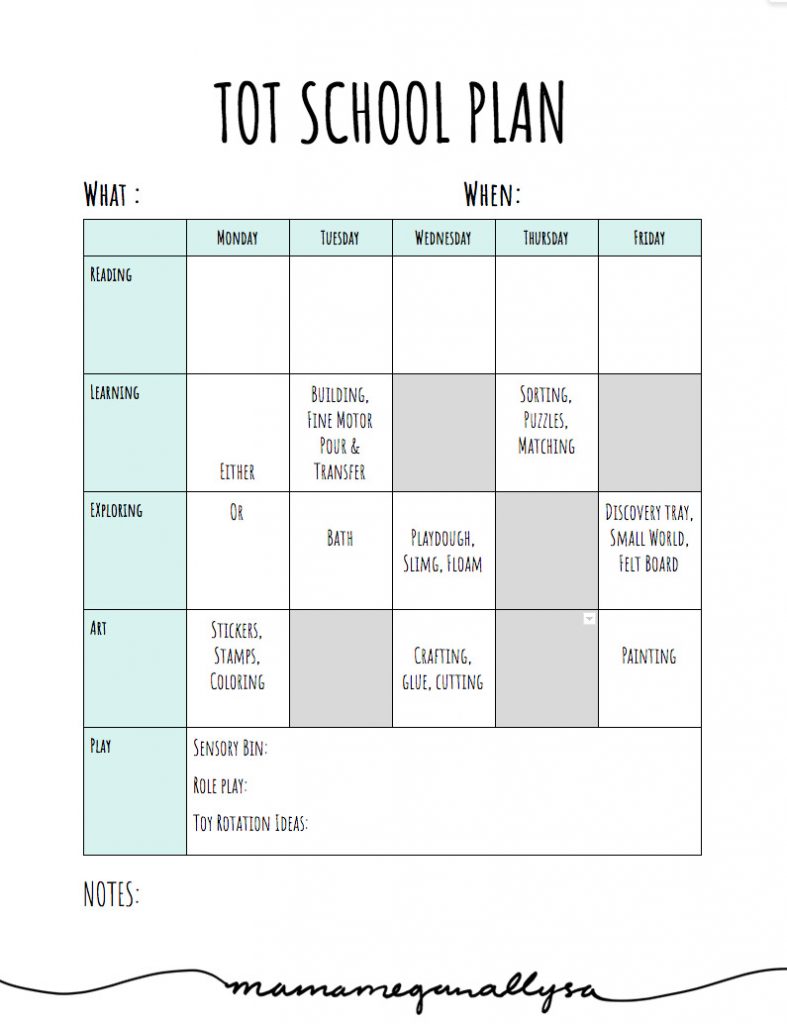 above you can see a really vague example of how I plan to structure most weeks. Nothing too crazy it just keeps me accountable and gives me something to fall back to, when the witching hour hits and we have a bored toddler on hand!
IDEAL WEEKLY FLOW
In a perfect world our Tot School week would go as follows.
Mondays we would do our sensory bin in the morning. Some simple art before lunch and either learning or explore after nap. Just kind of depending what kind of activites I mananged to come up with that week.
Tuesdays we would do the explore bath in the morning and the learning activity after nap.
Wednesday we would do our sensory bin in the morning again, maybe changing out some of the tools to make it new and exciting. We would do art before lunch. This would be our "big" craft of the week if we have one and then a sensory explore after nap. Something like a playdough tray or a slime kit.
Thursday we are usually busy in the mornings so we would just do the learning activity after nap.
Friday we would do the sensory bin again if she's interested. I have a back-up art project if we need something for the morning. Then the after naptime I set up an explore activity that rotates between discoverytray/smallworld/feltboard.
This Tot School routine has us doing something new and interesting every day without being overscheduled or too ambitious, as well as allowing for flexibility!
EXCITED TO LEARN
Everyday Bitty is learning and there are definitely activities and projects that she just doesn't resonate with as much and that is part of the fun. Learning how she likes to learn! I have grand plans for our Tot School curriculum and themes. Make sure and follow me on Instagram to see some of our Tot School in action!
Remember you can grab an editable Tot School planner here and join us in the fun!
Have you ever heard of Tot School before? Is it something that you would like to learn more about?