You've heard about them in parenting groups on Facebook, you've looked them up on Pinterest and you just don't know where to start. No Worries! I am here for you and I will hold your hand through your introduction to sensory bins. You wont regret it I promise!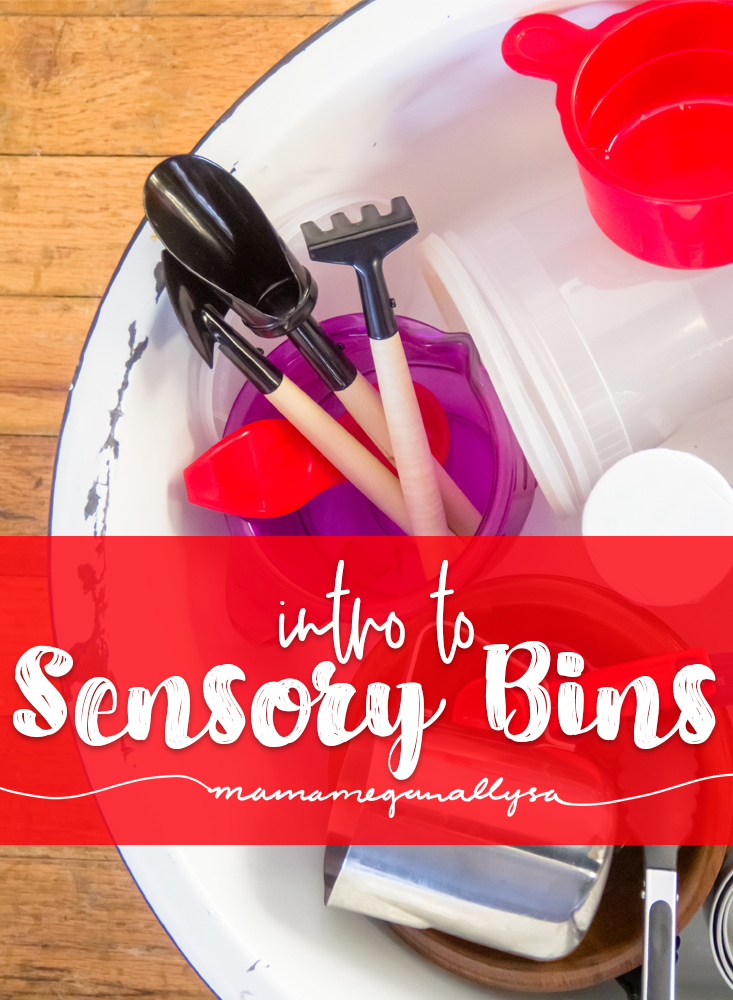 Sensory bins can be as fancy or simple as you want. In truth all you need is a container, scoops and a filler of some sort. All the extra things are just that. Extra. The most important part is to have fun and embrace the mess just a little bit.
Sensory play is a wonderful thing for toddlers to partake in. Beyond keeping them occupied(and out of your hair) there are other great benefits as well!
It fosters their imagination with some great small world or role play.
Teaches them critical thinking as well as cause and effect as they pour scoop and move the materials around.
We can't forget the fine motor skills they are working on when they use the tongs and other small manipulatives!
BEFORE YOU BEGIN
If your little darling is a mouther, stick to taste safe fillers and stay away from choking hazards. (I promise eventually they will stop putting beans up their nose!) Or maybe you have a wild child that just throws things everywhere. I would opt for things that are easier to clean up and honestly they may need more supervision and guidance as they are introduced to sensory bins.
Some sensory bins may have a bit of a learning curve as you teach what is acceptable and was isn't while they play. Remember messes are part of growing up but so are learning to follow directions. 😉 When in doubt also remember that some bins might just be better suited to older kids that can controls themselves a bit more.
It's all about reading your kid and knowing what they can handle and what you can handle as far as clean up goes. There is always the easy way out too. Play outside. the mess is just less intimidating when it's not all over the living room floor!
ALRIGHT, YOU'RE READY TO JUMP INTO THE WORLD OF SENSORY BINS!
SMALL WORLD
Here you often mix and match a number of fillers to build the world. You would provide animals or cars or characters or heck even a combination of those to help flesh out the world. This one works great with slightly older crowd, as they can get lost in their imaginations!
HOLIDAY OR SEASONAL THEMED
Where again, you might mix and match items to get your vibe across. These are very open-ended and much more about the sensory experience of different materials together and how they could interact.
EXPLORATIONS OR SKILL FOCUSED
These are often one filler material, maybe some additional accessory items and some tools to help them explore the filler or work on finemotor with the tools.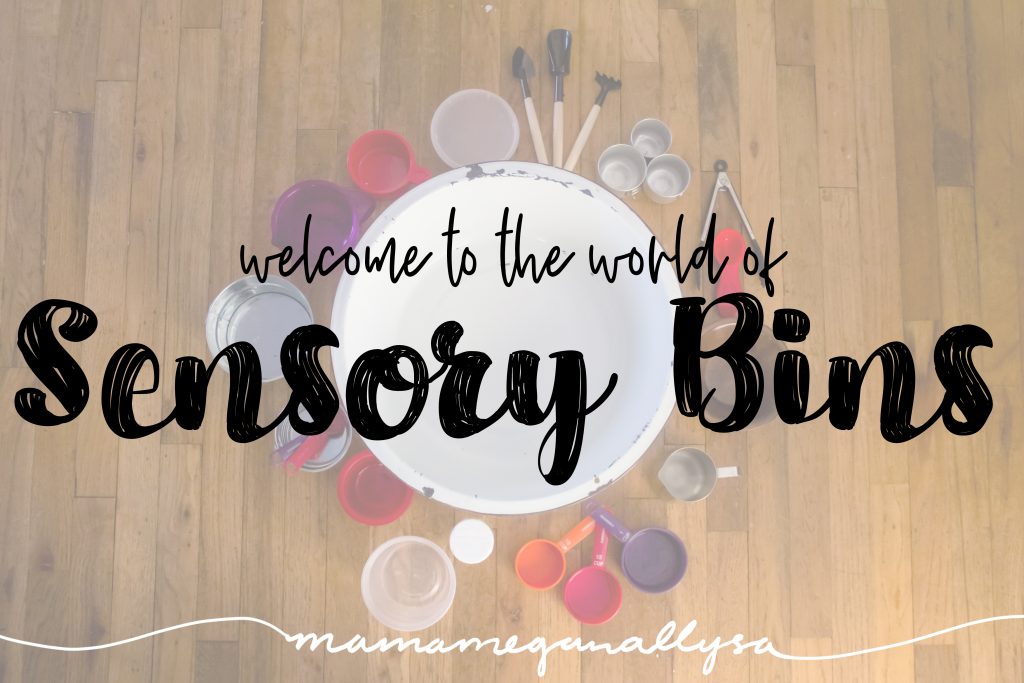 Of course, you can set up a bin however you want and however it works best for the kiddos using it! Most importantly it should be fun. I hope that this introduction to sensory bins has helped you understand what they are and how easy they are to add to your kids play time! Tell me what themes are you most excited to explore?!