Our Halloween Toy rotation is filled with lots of orange, plenty of halloween themed loose parts and more pumpkins than a 3 year old can count!
I love a good theme. I find reasons to do themes all the time and holidays are just kind of a no brainer! A Halloween toy rotation is super fun because you have lots of things you can use as inspiration! You can draw on all things spooky, play with plenty of pumpkins, or just a simple color pallet of orange white, and black!
Main Play Space
Our playroom is the living room. I find keeping the playroom in the main portion of the house instead of shoved into a bedroom or hidden away in the basement keeps the mess under control as I can't forget about or just close the door. (I don't want to talk about the perpetual state of our basement…I shudder to think what it would look like if there were more toys down there.)
A living room playroom is also more convenient with little ones in the house. You can leave them to play in the living room and go let the dog out or pop something in the microwave without being too far from the action. As a bonus, our Halloween Toy rotational also acts as decoration for the house. Just another reason I love a themed toy rotation!
How I decorated the playroom for a Halloween Toy Rotation
I have some bats flying across the fireplace and the hearth is filled to the brim with pumpkins! If you follow me on Instagram you would have heard about these pumpkins. When we moved into our house we discovered a couple of pumpkin plants. They quickly took over our yard and produced these beautiful heirloom pumpkins! So I just HAD to put them on display in the house!
I decorated our large mirror under the window with a Halloween table runner and honestly, Bean hasn't bothered it at all. Bitty on the other hand seems personally offended by it and keeps removing it…lol I also added another table runner to the back of the couch.
Bitty's play kitchen got a witchy makeover and is ready for her to make all kinds of potions and brews in her black cauldron.
From there I just filled the toy shelves with as much orange and as many pumpkins as I could fit!
Gross Motor Options for both girls in our playroom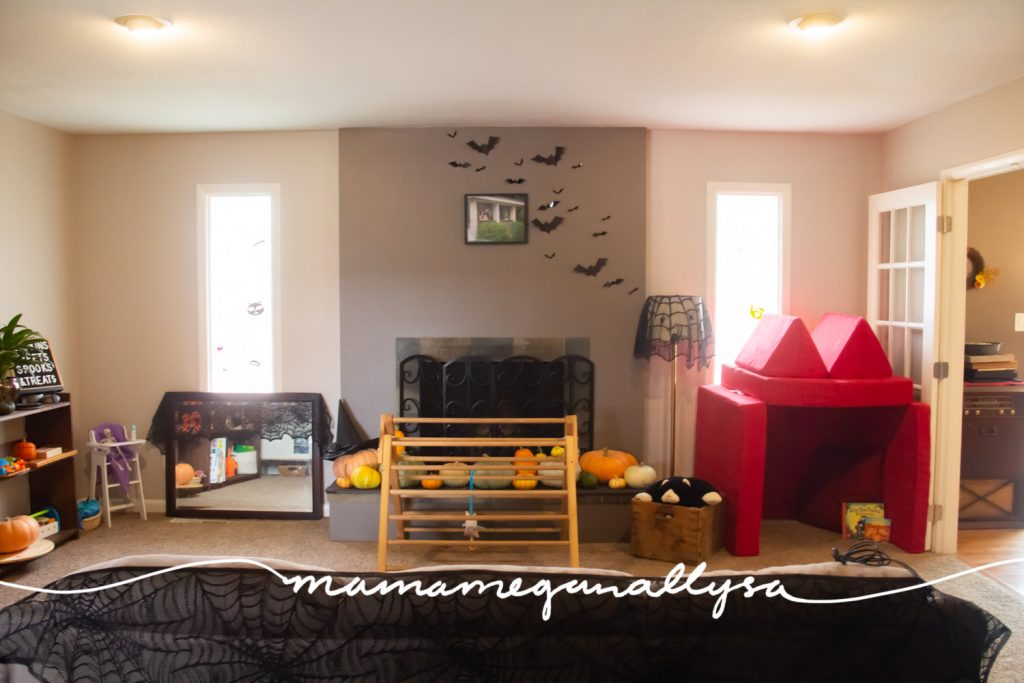 The Piker is front and center once again. Bean comes and goes from this, it's not her absolute favorite but when she decides she wants to play the child has climbed nearly to the top! I'm all about them learning their limits but this mama was hovering real close for that…lol
We also have the wobble board out and both girls enjoy this in totally different ways. Bean likes to smack it and watch it wiggle. Bitty likes to use it as a slide and to jump off it.
Then of course there is the nugget. Bitty has been loving setting the two haves up and jumping across the "river" in the middle.
Our Nugget set up for our Halloween Toy Rotation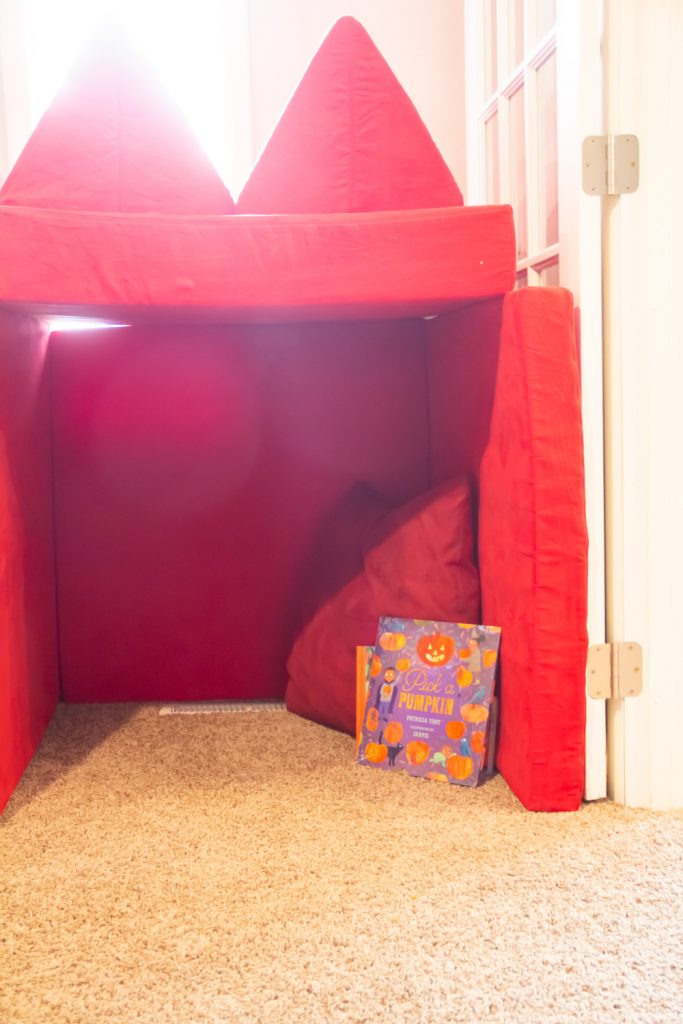 We have been loving using our nugget as a 'spooky' cave to read and snuggle in lately. Part of the draw might be the fact that I built the cave over one of the heart registers so it's always nice and warm in there! I wanted to stretch a spider web across it but Bitty was not a fan of that idea so I left it alone.
I added one of the couch pillows and a couple books to make a cozy reading corner.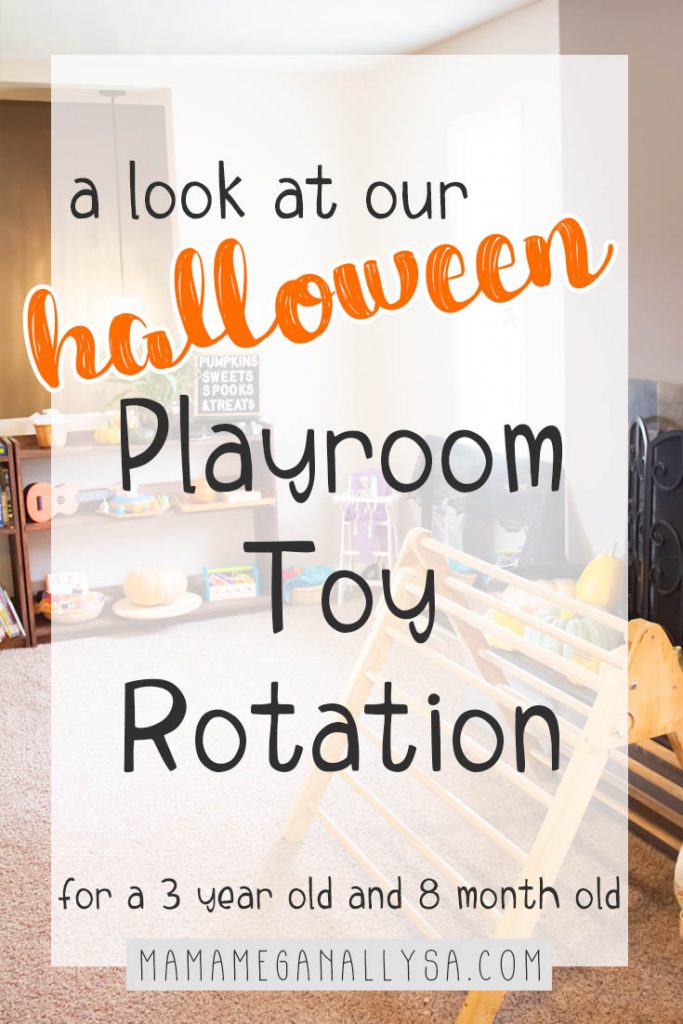 Toy rotation system for a three-year-old and a 8-month-old in a shared play space
I custom rotate the girl's toys every two weeks. I have about 14 things out at a time, not including the gross motor toys, stuffed animals, and the books. We LOVE books in fact books might be Bean's favorite at the moment.
I always include some play food, a building toy, a fine motor toy, some kind of musical instrument, a doll of some kind, and the play silks. We almost always have some small world play and some dramatic play. When I feel up the mess I will include a tinker tray or some kind of loose parts invitation. Now that Bean's toys are on the shelf as well, she has her discovery basket and at least one other toy on the shelf.
New additions now that we have more space are a sit-down game, a puzzle, and some kind of art/creativity toy on the shelves.
From there I will fill in with just some random toys that haven't been used in a while. I try and make sure that most of the options going out are safe for the baby to play with because she gets into everything now…
What's on our toy shelves in our Halloween Toy Rotation
This post contains some affiliate links. As an Amazon Associate, I earn from qualifying purchases. I may receive a small commission from if you follow and decide to purchase. There would be no additional cost to you!
Lego Duplo – I have about half of her collection out here. I tried to pull out lots of the actual building blocks and then a few of the farm accessories.
Pound Puppies and Ponies – These are "vintage" otherwise known as they were mine when I was a kid. Are the 90's vintage yet? I did not get out a smalls world this toy rotation, but I wanted some animals still so we went for these. I stashed them in her trick or treating pumpkin just for the heck of it and to add some more Halloween fun to the toy shelves
DIY House Box and Peg People – We have a dollhouse down stairs but I didn't want to bring it up…BUT I wanted our peg people to have somewhere to live and to encourage her to see them as people. It's been an okay invitation for her but I LOVE the way it looks. =p I pulled out the Orange for a pumpkin, white for a ghost, black for the cat, green for a monster, and purple for a witch!
Glitter Pumpkins – Part decoration/part loose parts invitation to explore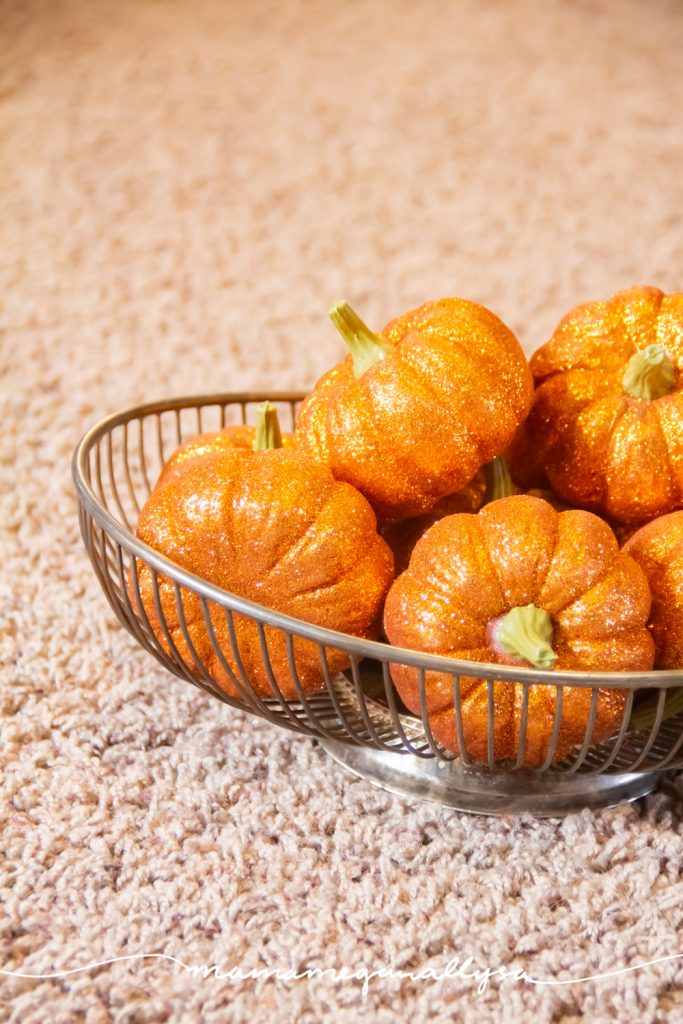 Costume Dress Up Dolls – Her magnetic dress-up dolls seemed like a no brainer. She loves them and here she can put "costumes" on them! I used pieces from a couple of different sets but mostly the Joey set with some of the Nina set.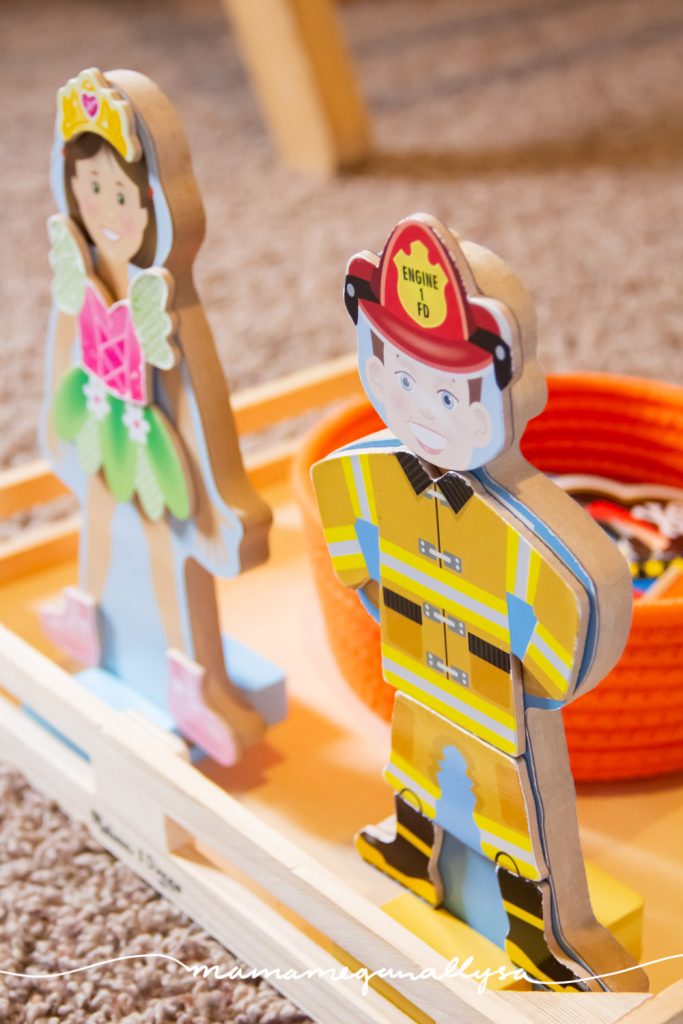 Hoot Owl Hoot – This one is a stretch. We didn't have any Halloween games. But owls are kinda spooky…so *shrug* why not.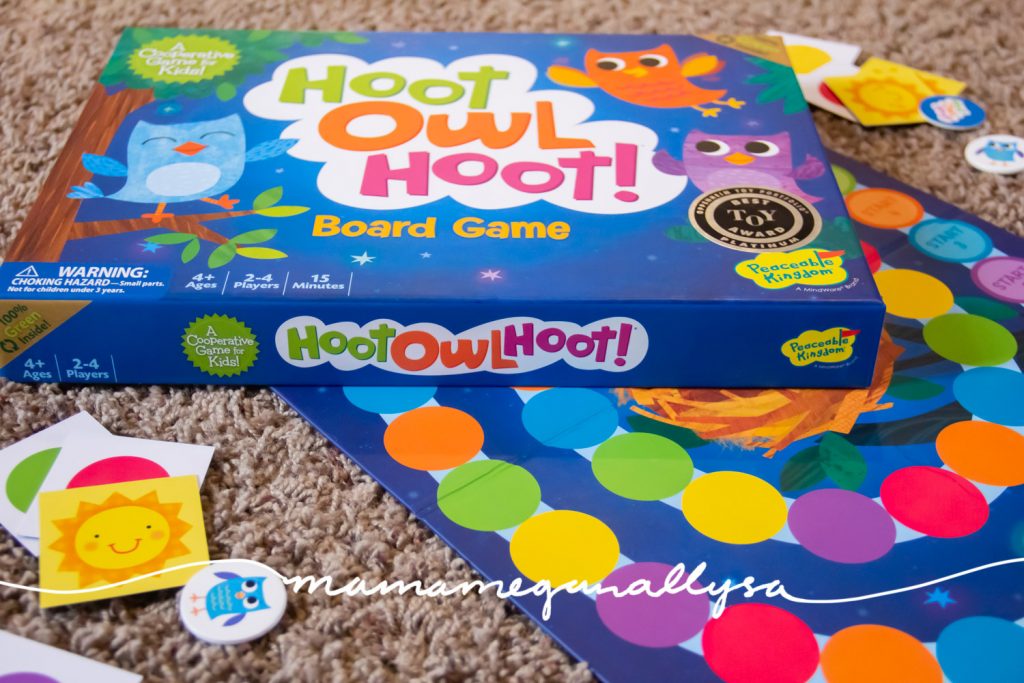 Heads to Tails Jigsaws – We don't have a Halloween puzzle. I would venture to guess most people don't. OH, You could do a skeleton puzzle and that would actually be a great way to stay on theme!
Ukulele – she hasnt had this out in a month or more so she was super excited to see it and its Orange so perfect!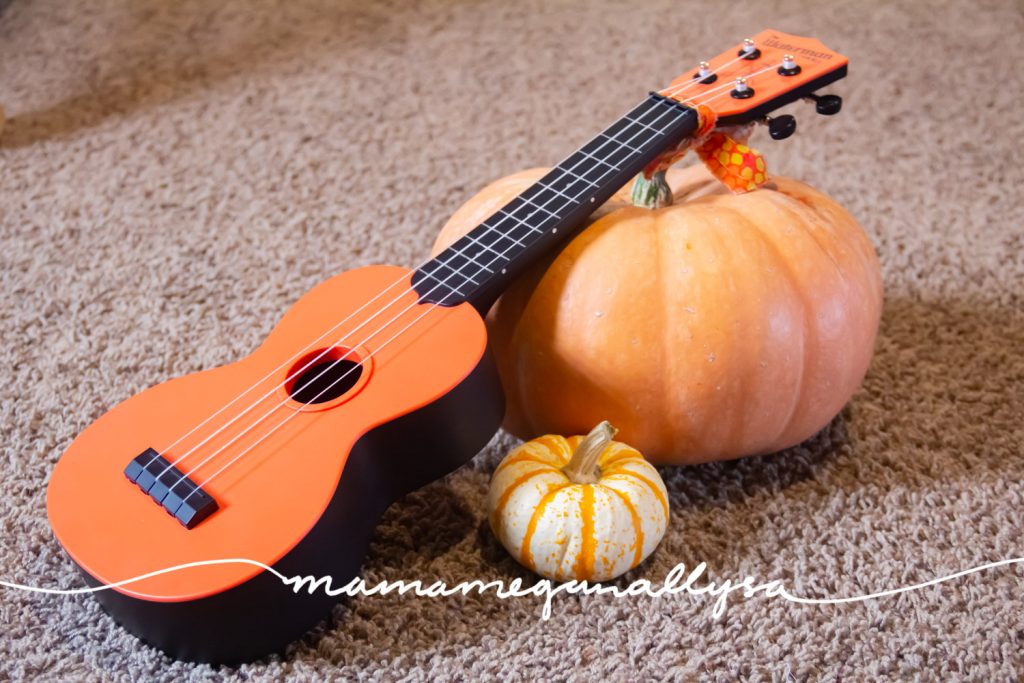 Jooki Speaker – I updated the ghost figure (naturally) to a Halloween playlist for her dance/play her Ukulele along to. They are currently unavailable as they are getting ready to release version 2!
Knobbed Cylinder Puzzles – how I WISH we could afford the full set of these puzzles. She seems to love them and diligently works with them until she gets them perfect. I find that combining two or three of them increases the challenge. I stored all the cylinders in this little pumpkin basket to add the challenge as you don't know what piece you will grab next!
Hape Wooden Tool Set – A classic Montessori fall activity is hammering into pumpkins. I got her tools out so we could do just that and we just haven't gotten around to it yet!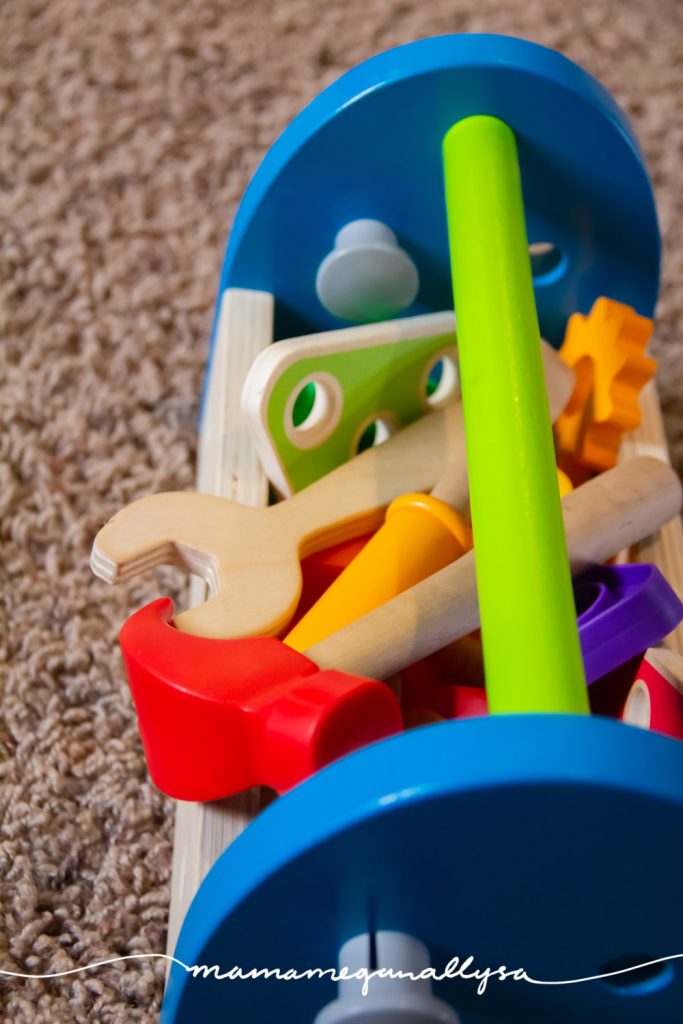 Non Rotated Toys
There are toys that never leave our shelf. They may get shuffled around the shelf and displayed in new ways but there are always there and get used almost every day.
Play Silks – I want to find a wall shelf with some hooks for better storage for our silks. But in the meantime, they are in a basket on the floor as well as our fort clips.
Baby Dolls … Except a Skeleton. I moved Bittys Doll into her room this month as I knew she would still want her out but I wanted to add a skeleton to our shelf and it has been so much fun! Both girls have really enjoyed this thing. It's more maneuverable than any of the other dolls we have.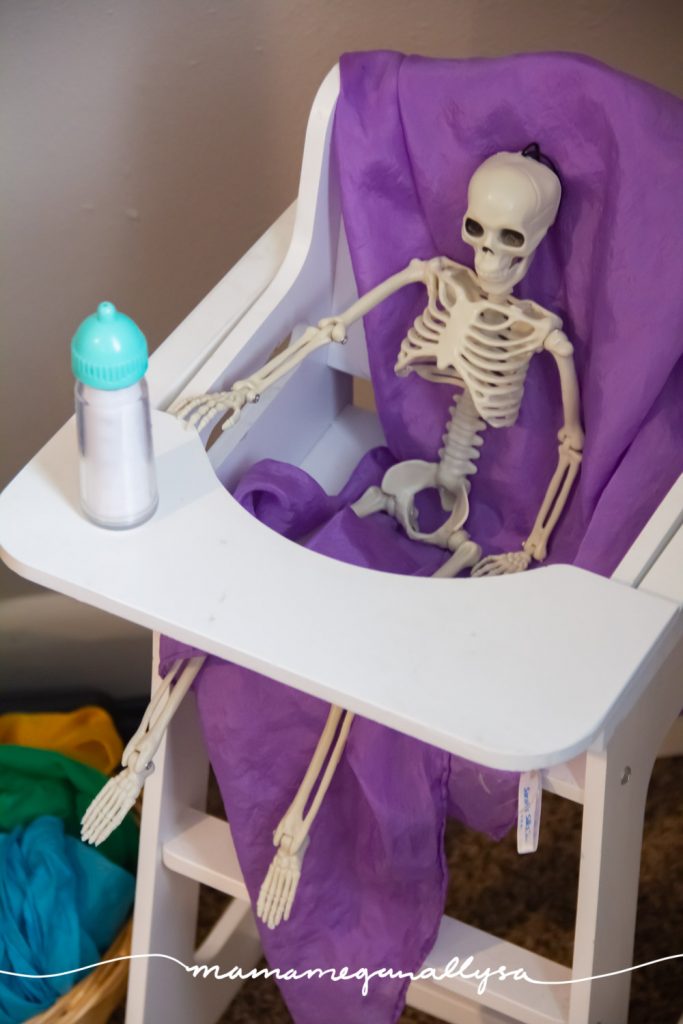 Bitty had it climbing the pikler at one point and Bean has thoroughly investigated it. I did keep the highchair over in the corner more or less as somewhere to put Mr. Lotso Bones
Halloween Tinker Tray Invitation
Now that Bitty is getting older she is getting more and more into imaginative creative play and one way that I really like to invite that is to provide a Tinker Tray. This is simply a divided box with a lot of little loose parts for her to use as she sees fit.
Most of the time she likes to use them in her kitchen. Following that lead, I made her some little recipe cards using some of the loose parts and encouraged her to try counting specific items to add to her pot.
One invitation that I want to introduce her to with her tinker tray this month is the idea of mandalas. This will also make good use of the lazy susan that I pulled out! Mandalas might be out of her ability just yet but I want to show her another way to play with them and I think it would be a fun project we could work on together and she is always game for some one-on-one play with mom.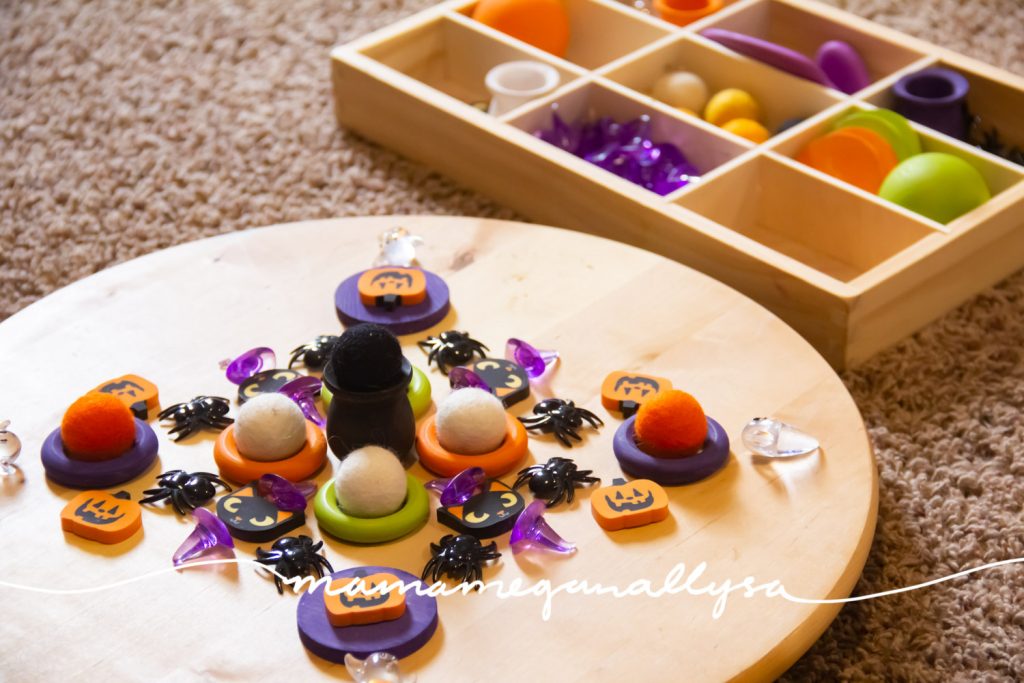 Halloween Tinker Tray Contents
Green, Orange, and Purple wooden DIY Loose parts – rings, coins, balls, and pots
Halloween colors felted Pom poms
Halloween table scatter – ghosts, witches hats, and spiders – found at Hobby Lobby
Halloween Erasers – Balck cats and Jack o' lanterns – a target find
Witch's Kitchen Dramatic Play
I stripped her kitchen down to the bare bones and then built it back up with some of our Halloween decorations and made a super simple and cute witches kitchen complete with a cauldron for her to mix some potions in!
I'll tell you what. If you have never set up a themed kitchen you should totally give it a try. This has been a great invitation to play this month and she just keeps going back to it! I put her Halloween tinker tray nearby and she has been sourcing ingredients from it every day.
Here are some ideas on how you could make your own Witch's Kitchen Set Up
Jack O'Lantern and metal pails
Small Aquarium crystals – I found our mini ones at Hobby Lobby and I can't find them anywhere else. If you know where I can get more let me know!
Halloween table scatter – Hobby Lobby
Halloween erasers – Target
What the 8 month old is playing with in our Halloween Toy Rotation
Everything. She plays in it all now. Even when you don't want her to. Lol
Seriously she is into everything right now. Her particular favorites have been the Peg People, the Jooki figures, and the Ukulele.
The items I got out just for her to play with
Lovevery Tissue Box with DIY scarves – I cut some orange gingham fabric into the same pattern as the official Lovevery tissues and now her box is themed appropriately! More importantly, she has figured this baby out. She hasn't really tried to pull it down on her own BUT if you put it down for her, within moments every single tissue is on the floor! And she will do it over and over as long as you keep putting it back together for her.
Pumpkin Lazy Susan – I thought this would be a fun twist on the spinning drum. She has played with it some but seems mostly uninterested. That said. The 3-year-old has played with the Lazy susan a fair few times. Not the pumpkin so much but I'll take a half win when I get it!
Discovery Basket – Bean has a discovery basket that I rotate every couple of weeks. This month's theme was as Halloweeny as I could make it. So mostly orange with a pumpkin thrown in for good measure…lol I would have loved a little ghost stuffed animal or something and maybe a pumpkin teether, but I am trying to not buy things unnecessarily…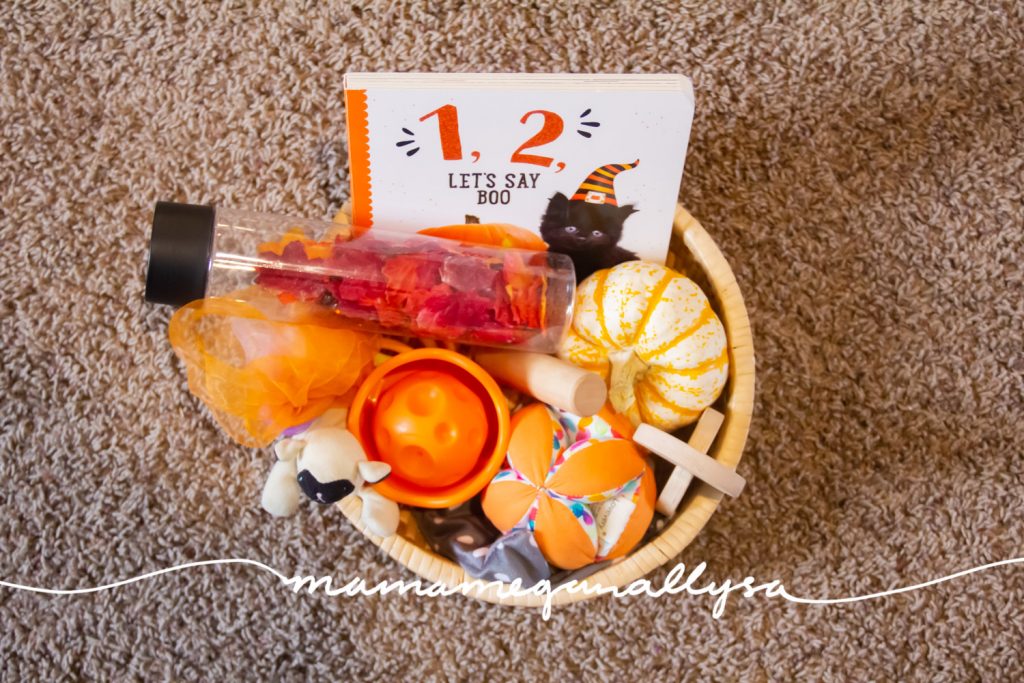 8-month-old Halloween Toy Rotation Discovery Basket Contents
Rattle – wooden stick rattle
Ball – Lovevery Puzzle Ball
Teether – Not pictured here but there is an orange silicone straw somewhere…lol
Rings – These have not been played with much lately…might be time to put them way.
Crinkle Paper – she has been loving crinkly plastic so I thought she would like her crinkle paper out…nope plastic is still way better. lol
Book – 1 2 Lets Say Boo, great real life pictures of animals in costumes
Small Lovie – I didn't have black cat anywhere in our collections so I went with a little lamb tiny beanie baby.
DIY sensory bottle – I picked up a few of these on clearance the other week and I am super excited to try out some fun sensory bottles. Leave your suggestions down below!
Dance scarf – I tied it up in a knot to make it easier for her to pull out of the basket.
Interlocking discs – classic Montessori Infant toy
Stacking cup and ball – the ball fits perfectly in the cup and I love that. She seems uninterested in that feature. lol
Our shared play space is always evolving and changing
I still have so much I would like to do with the space and hopefully, by end of winter I will have a few of those projects checked off BUT as the girls grow and change our needs in the room are going to change
Our shared playroom has quickly had to become baby safe as Miss Bean is on the move and has discovered that she can access the middle shelf…So this leaves me having to really think about the choking hazards that I allow out for bitty and how/where we put them. I may need to clear more space on the top shelf so she can have more options out.
Possibly thinking about changing our shelves back to the black ladder bookcases we used to use. I don't LOVE that idea as I like our current setup but the black shelves would allow for more storage up out of Beans reach and that's something to be considered…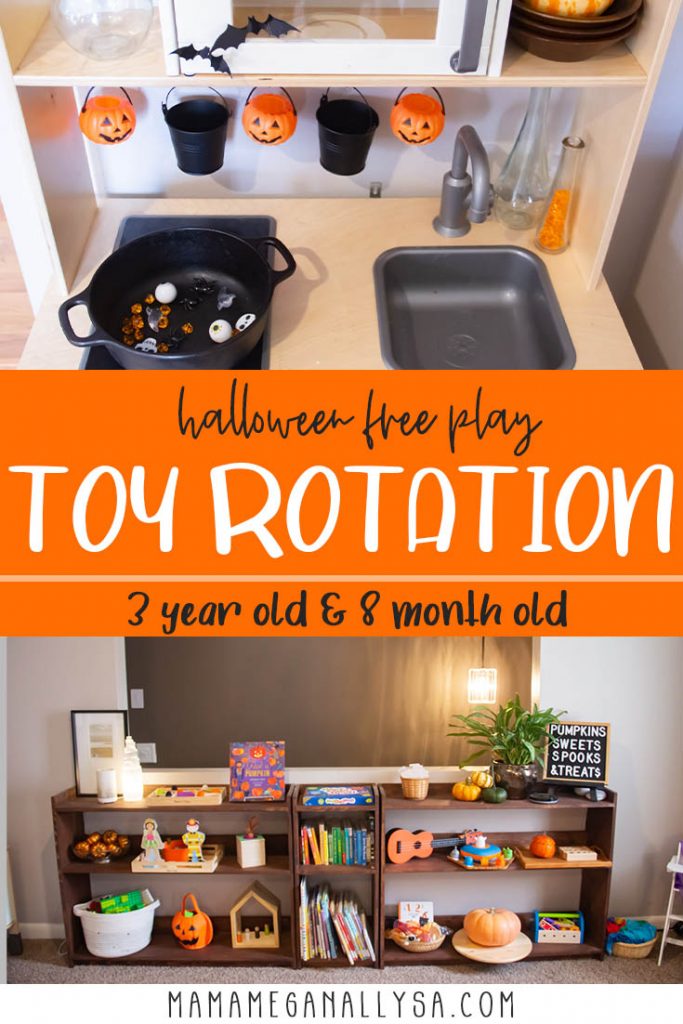 Do you do themed Toy Rotations?
If you have ever done a Halloween toy rotation I would love to see what you include! There are so many good ideas I've seen online and I am saving a couple of those for next year for sure!
Also If you want a behind-the-scenes tour of our toy rotations make sure and check out my Instagram where I add tours to my stories every couple of weeks (or I try my best to, I've missed a few lately…)
Other posts you may like