I recently shared how I created a custom set of Montessori Inspired Color Tablets and now I want to show you all how to actually USE them in activities with your preschooler!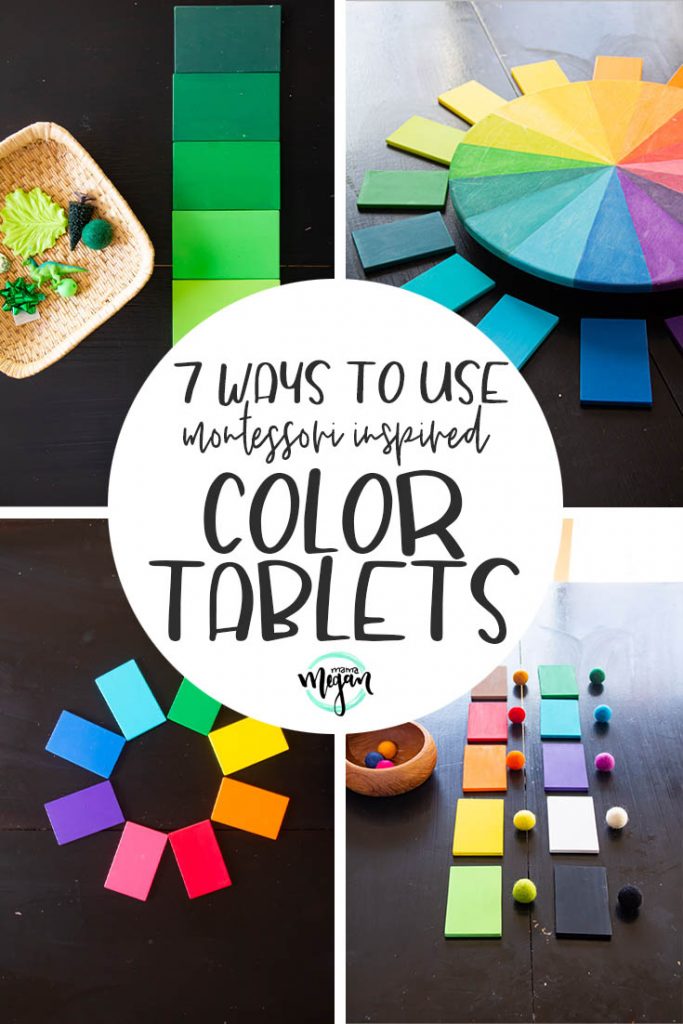 But wait…What ARE Montessori Color Tablets?
They are simple tiles that depict colors and in a true Montessori setting you would present the color tablets in a 3 box series.
Box 1 would have a pair of tiles for each of the primary colors
Box 2 would have two tiles that have a matching shade for each color of the rainbow plus the neutrals and pink
Box 3 would have 7 shades of 9 different colors (ROYGBV, Pink, Brown and Gray)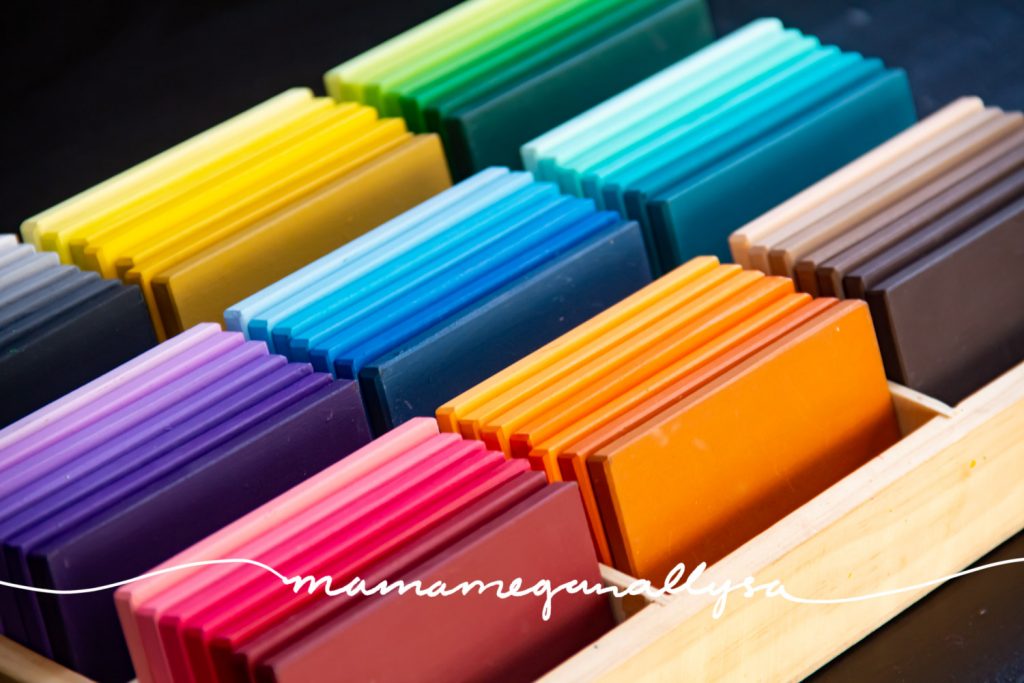 Okay now you know WHAT they are. What do you do with them?
Box 1 Is used for quite young toddlers and it's all about basic color recognition of the primary colors. So it's a lot of this is red that is red too and this is also red. 
Box 2 You would still do a lot of color matching and basic recognition. Only now you have more than three colors to work with. You could also start talking about the primary colors vs secondary colors, warm colors vs. cool colors, color mixing, and the color wheel.
Box 3 You would work one color at a time for quite a while, wanting to make sure that they are mastering the basic concept of gradation before you introduce multiple colors at once. Gradations would be the official activity that is supposed to be performed with Montessori color tablets from box 3, but you certainly don't have to stop there. There is a lot more flexibility in your activities and extensions with box 3.
The Montessori Primary guide can give a much more in-depth guide as to what color tablets are and how to use them "properly". 
Check out how to make your own Color Tablets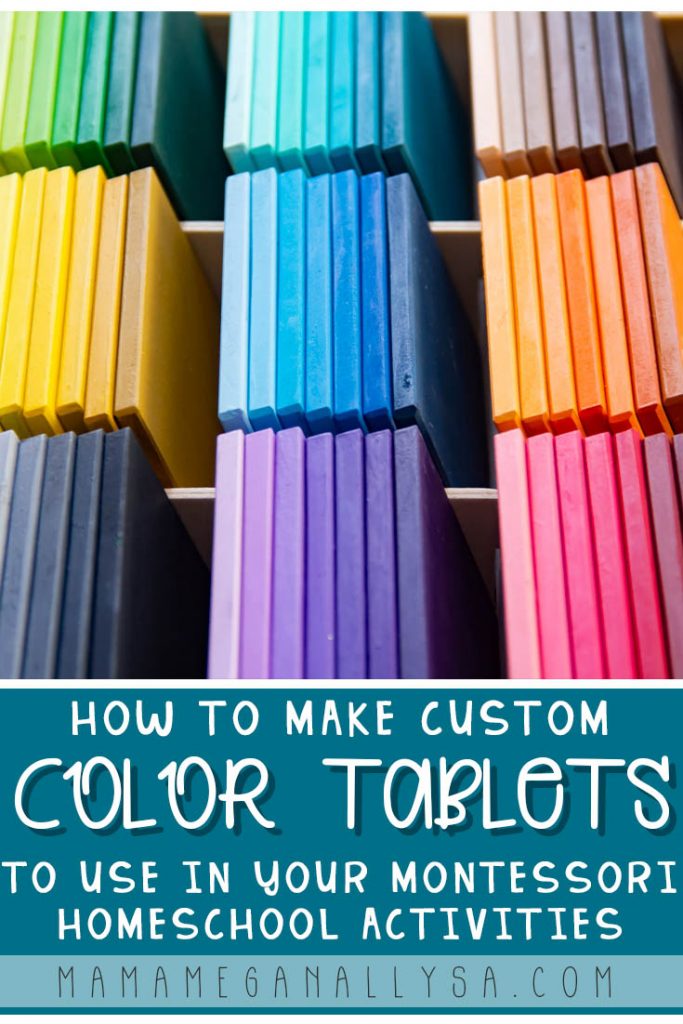 7 ways we use Montessori Color Tablets in our Homeschool Activities
Gradients
This is the most traditional sense of how the box 3 color tablets "should" be used. I've also found that at 3.5 Bitty is struggling with this. She understands that they are all blue or that one is light blue and one is dark blue but the small changes in shade frustrate her.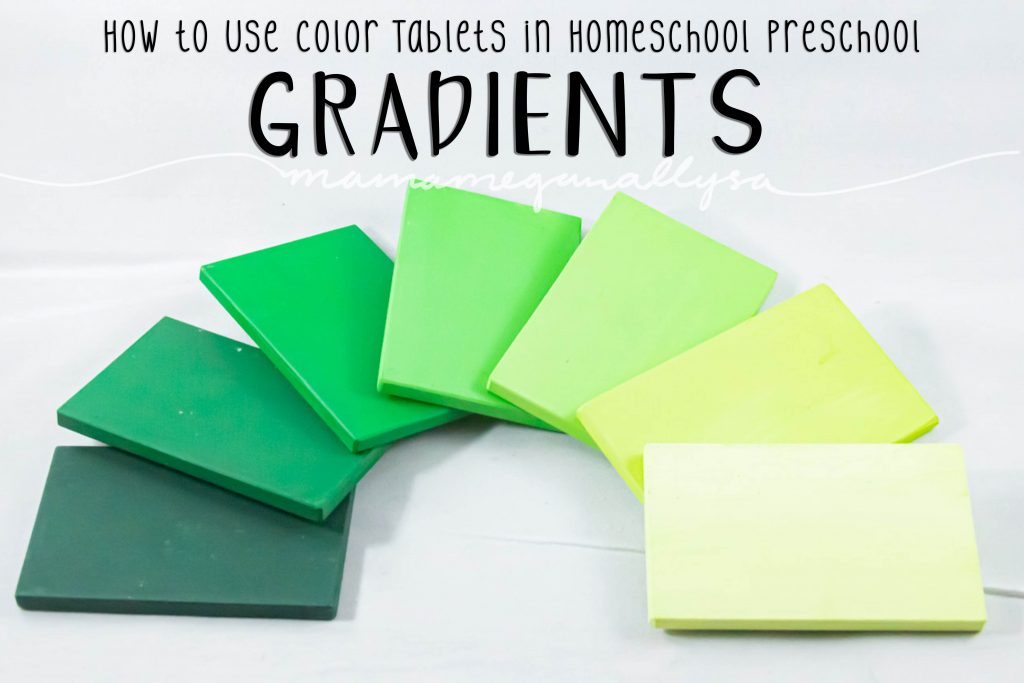 So an alteration that we are going to try, is presenting only 3-5 of the tiles from a color. The limited number and the more obvious jump in shade may make it easier for her to start to discern the differences.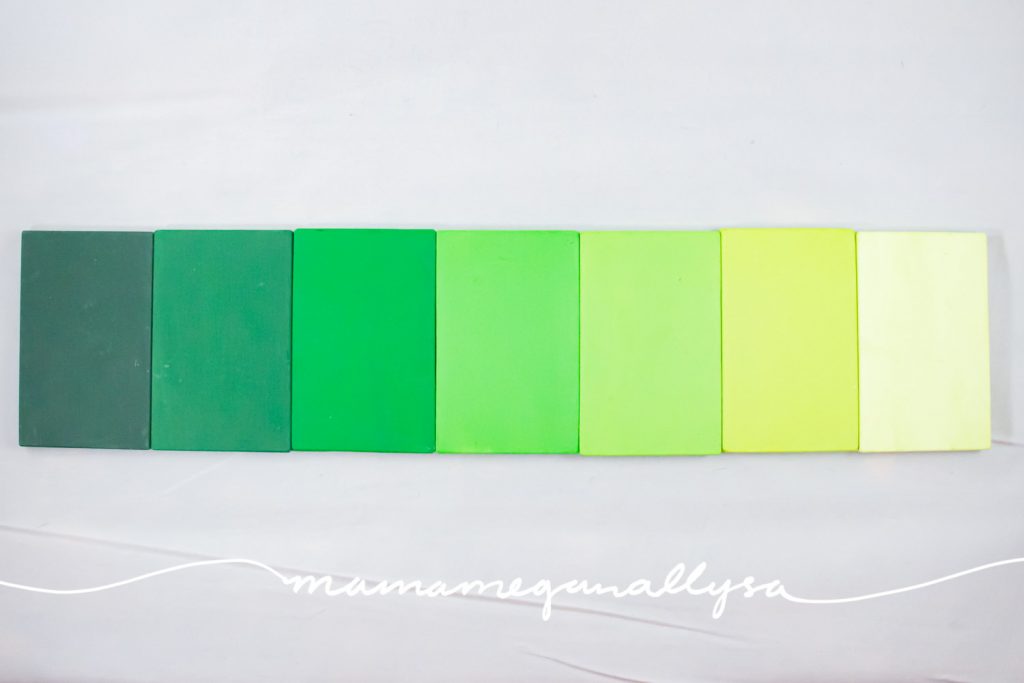 Shades of Objects
This is her favorite activity. Girl loves a tiny object. I present a small basket with 7 small objects. One for each shade in the color tablets. This can be surprisingly tricky to do, so give yourself and your preschooler some leeway in accuracy.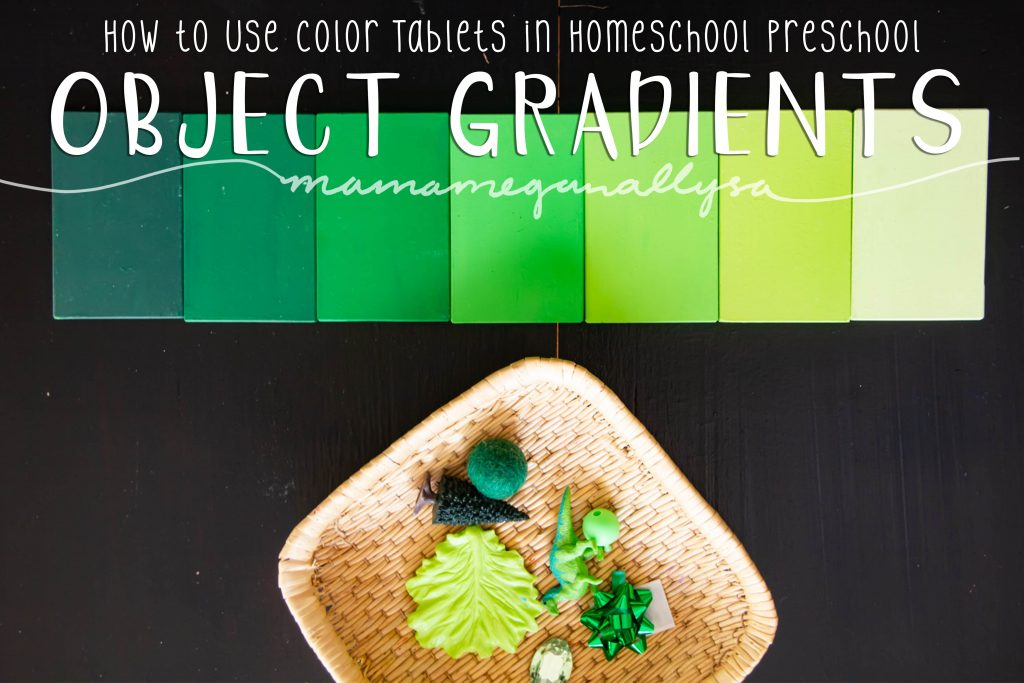 Arrange the tiles in order from lightest to darkest and have your preschooler match the object to the tile.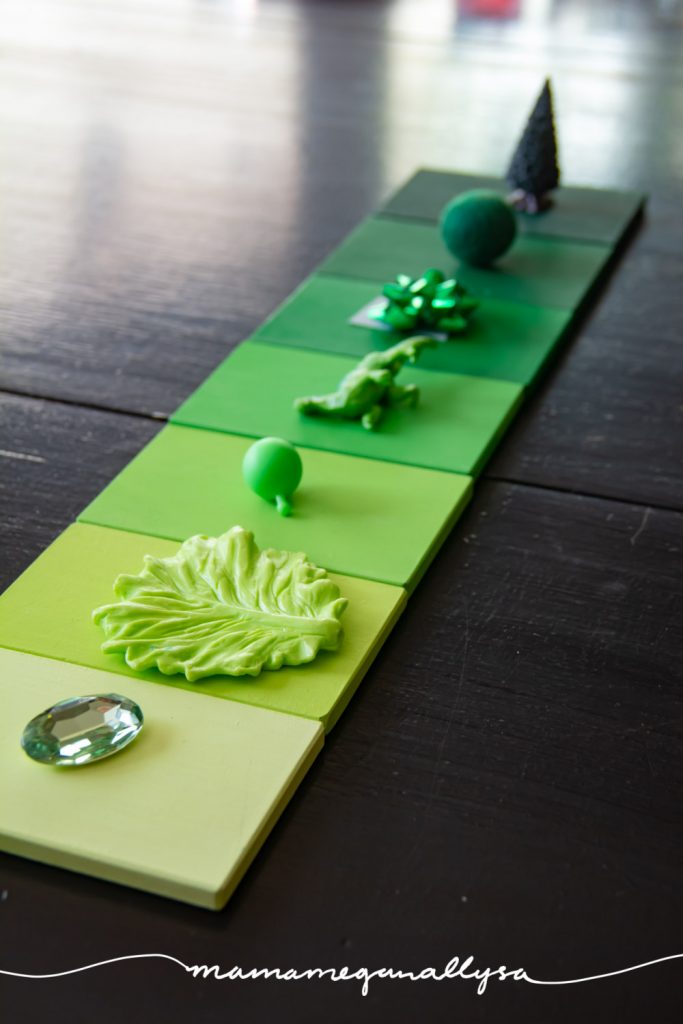 Color Scavenger Hunt
When you want to do a scavenger hunt limit the tiles to your more easily found shades, 3-5 color tablets would be a good place to start and again allow some flexibility in how accurate the color match is.
Send your toddler out with a single tile and have them find something that matches it as close as possible. You can A little basket to carry their finds would be great too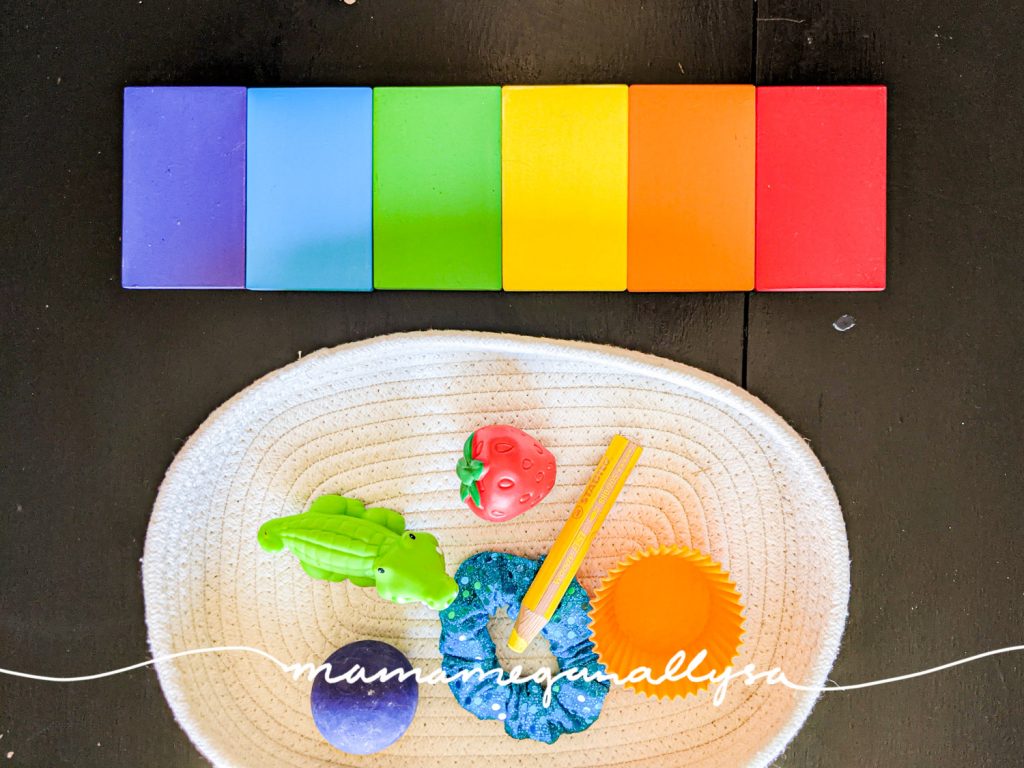 Color Matching
This is a classic that I imagine you have done in some capacity with your kids at some point. Montessori color tablets just make it easier to have a color swatch on hand for them to match with!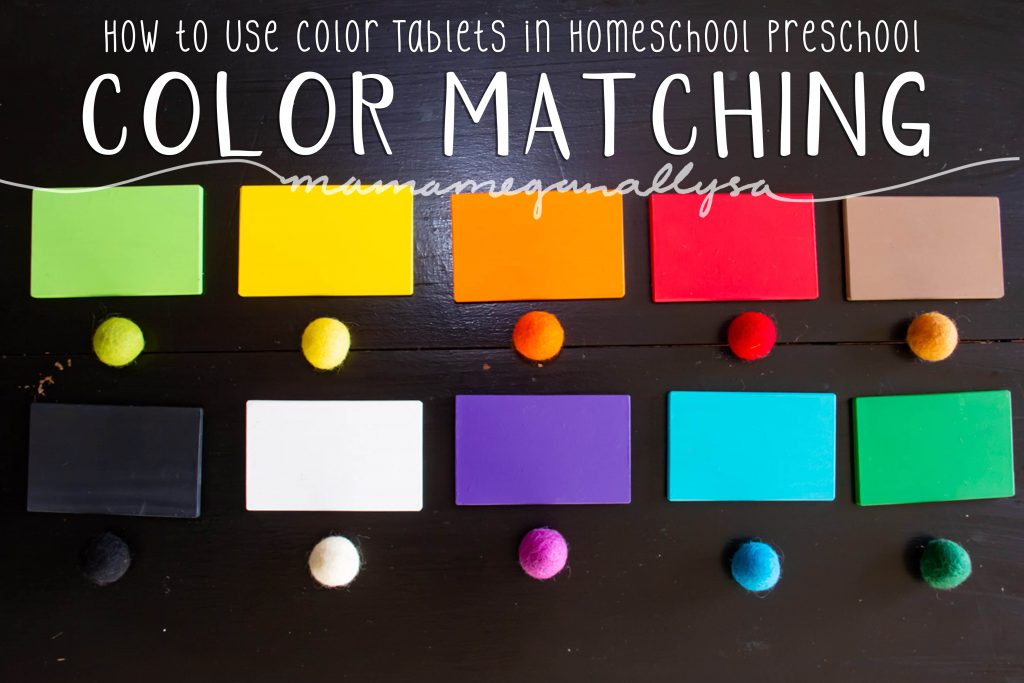 Preselect the tiles that match the best to your objects and make sure the number of objects and the number of tiles is the same. Then present a basket of objects, its best if the object only has one color on it. Wooden loose parts or pompoms are a perfect example.
Then have them match to the tiles. For an added bit of fun use tongs and take this a fine motor transferring activity as well if you want!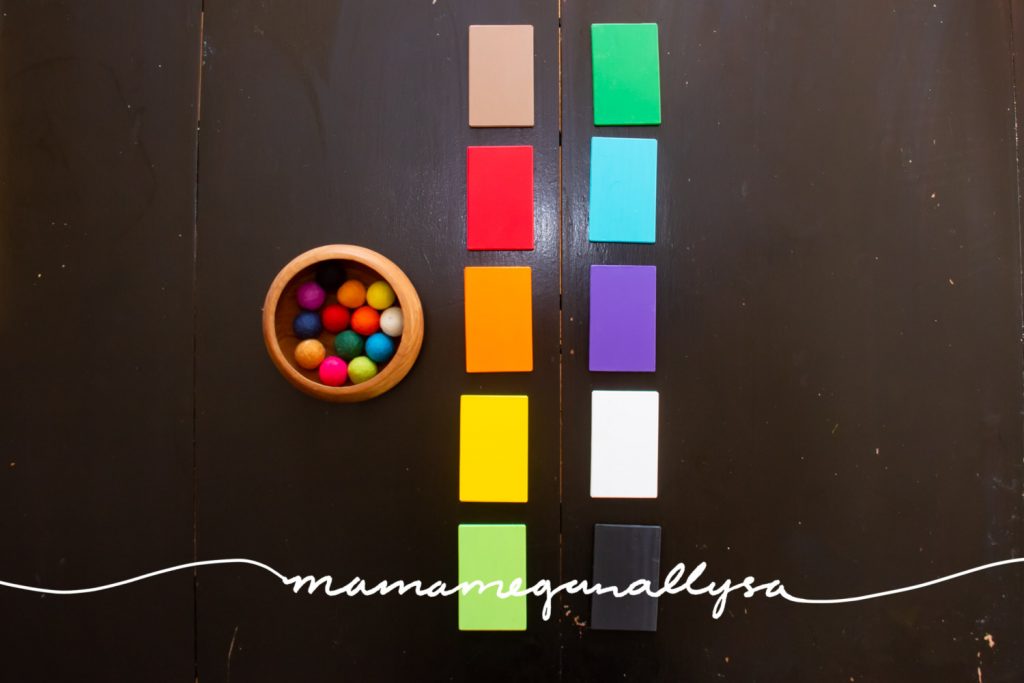 For an extra challenge you could present the full set of color tablets and let them try to match, admittedly that would be hard for some younger kids.
Object Color Palette
Find some toys that have a limited number of colors on them. Play food or small figures are great examples.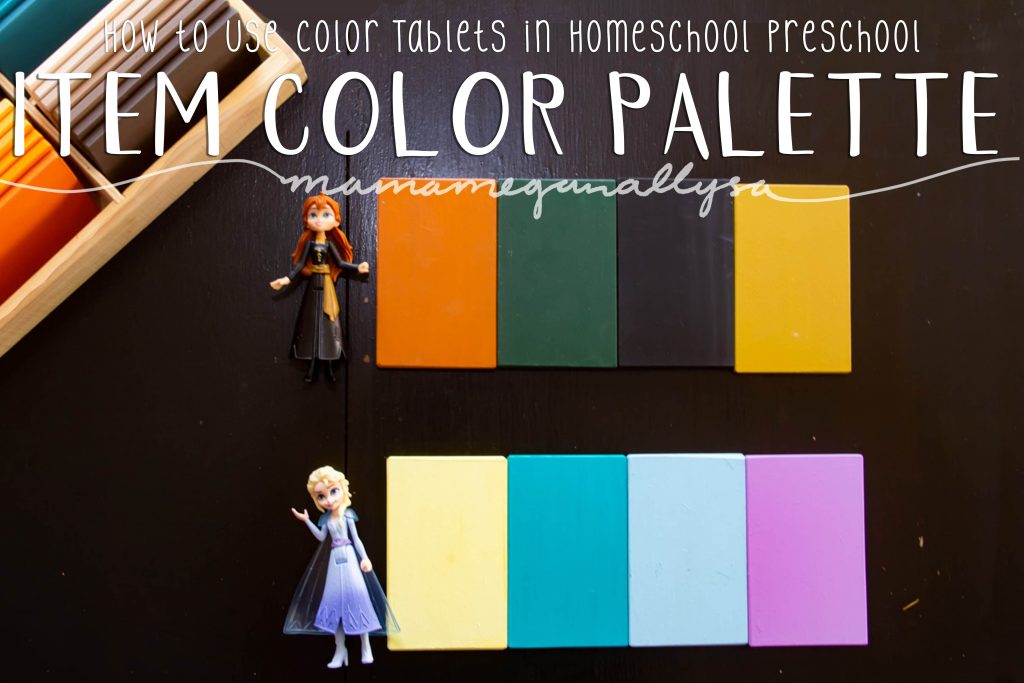 Have your preschooler talk about the colors they see and then let them select the colors from the full set of color tablets.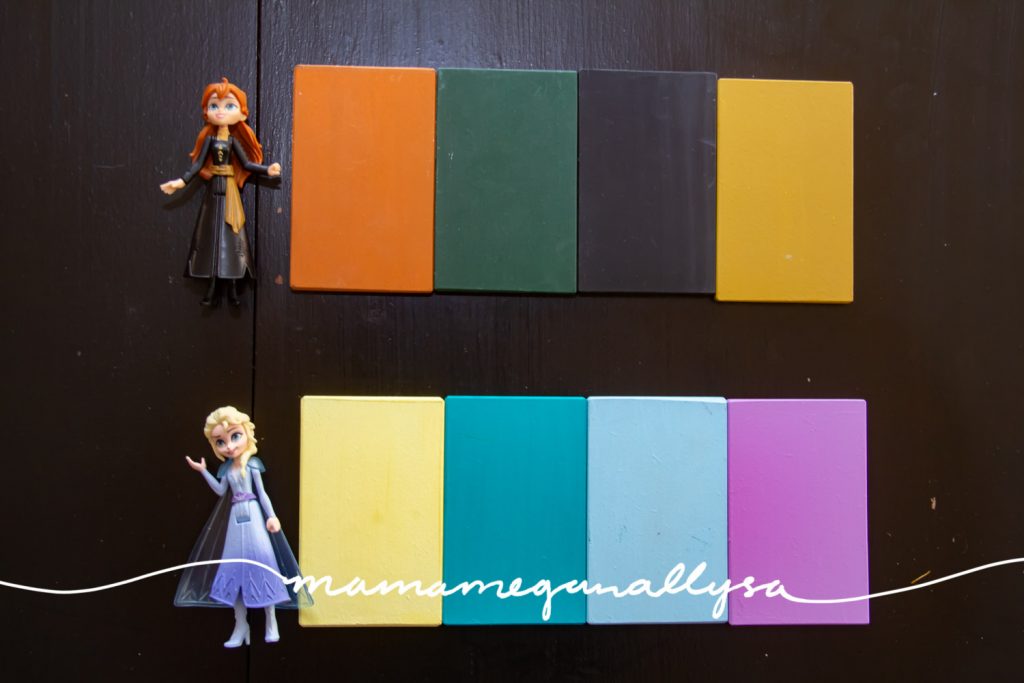 An alteration would be to reduce the number of color tablets available to choose from and again allow for some accuracy as some of the colors on your objects will most likely not match perfectly
Image Colors
This is very similar to the previous activity but instead of using a physical object, you are referencing a picture.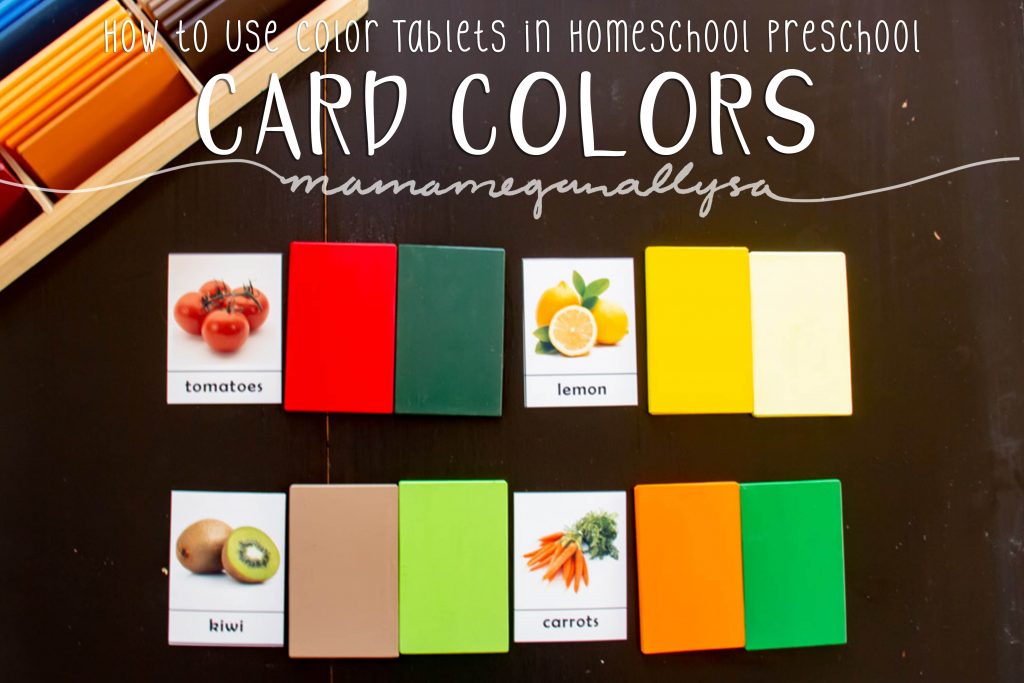 We tend to use our 3 part cards that I print for school but some simple flashcards or puzzle pieces would also do the trick.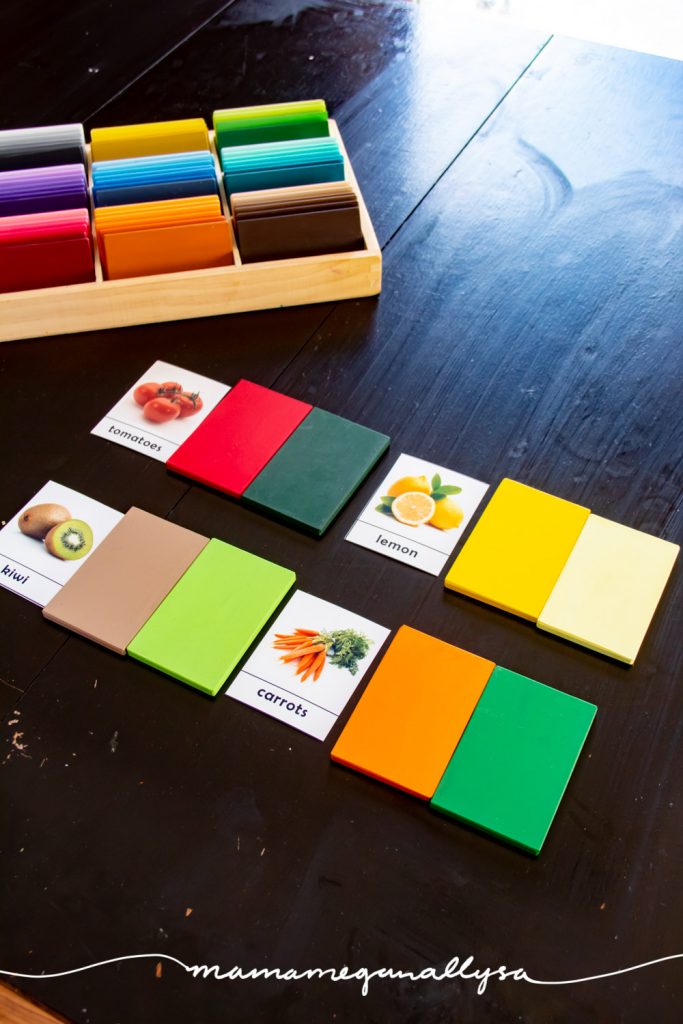 The first few times you do this pic simple images with limited colors, as the child becomes more confident then you can use images with more colors or shades in them.
Color Wheel
The first few times you would want to do this as a color matching activity with the wheel after your preschool grasps the concept of the color wheel and the order of colors then I would let them select and arrange the colors themselves without the wheel.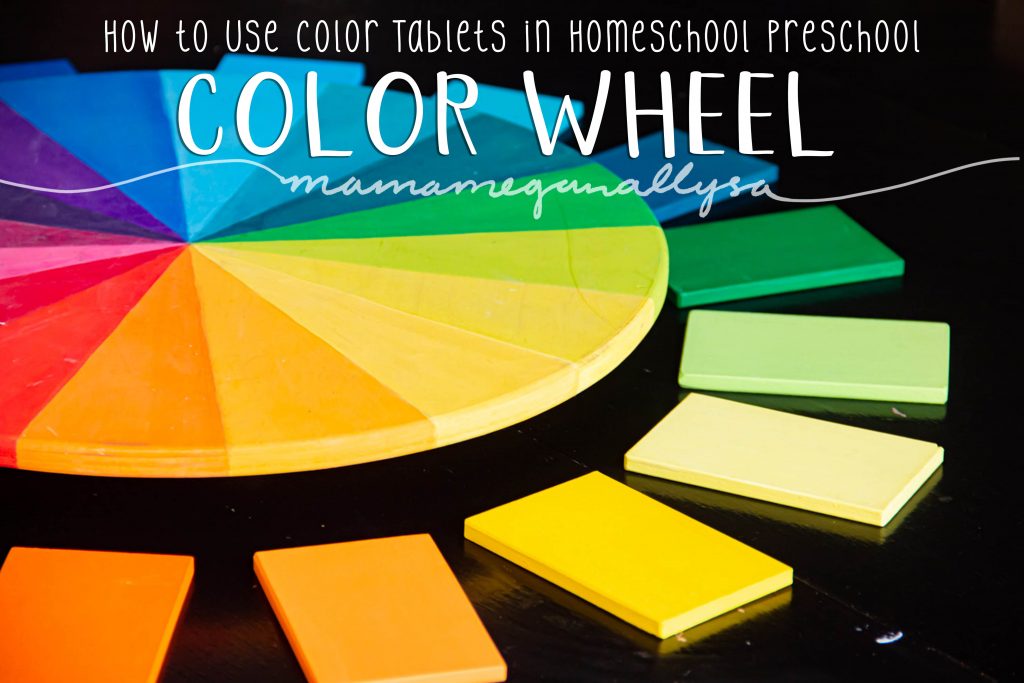 I painted a color wheel a while back we discovered that we could find ALMOST every color to match in our color tablets. (I'm just gonna have to make that red-orange color so we can finish our color wheel!)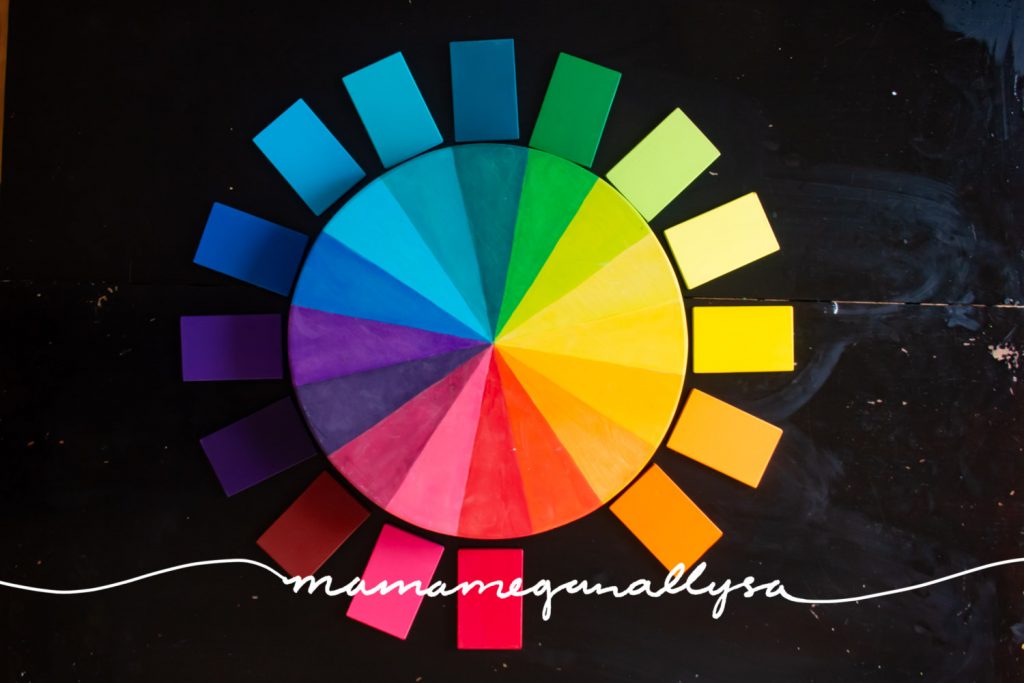 Discerning colors is a basic skill that color tablets help preschoolers to master!
Montessori Color Tablets are a physical representation of color. Color is an abstract concept. Color Tablets help make that concept more concrete.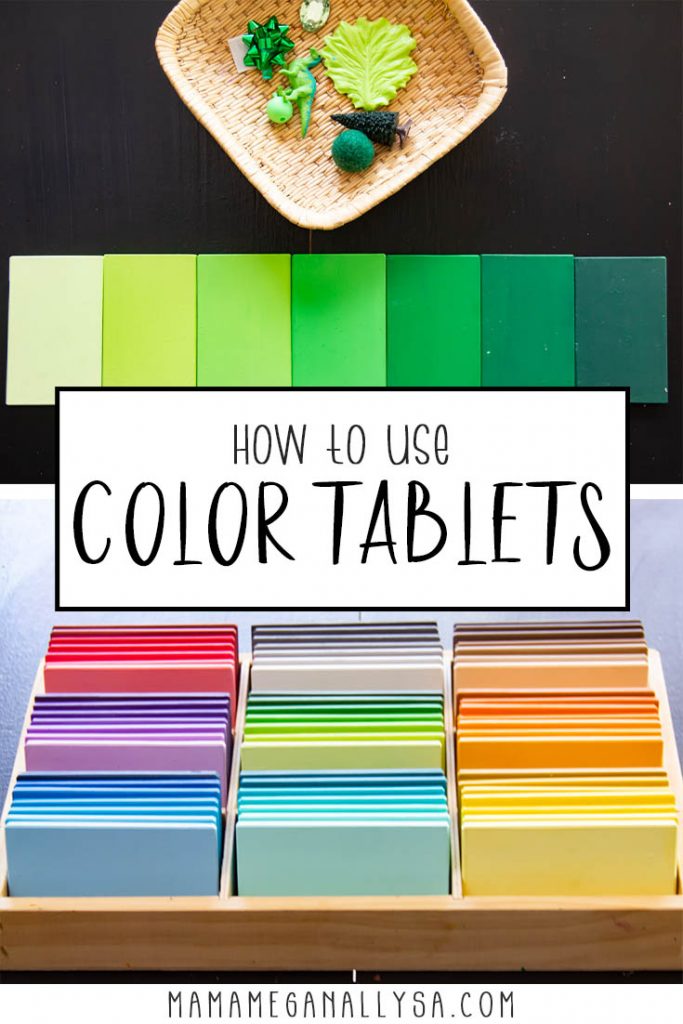 You probably noticed that most of the activities we do with our color tablets are basically just color matching. Being able to discern different shades and colors around you helps you to process and describe the world around you and the easier it is for your child to expresses themselves the easier it is for everyone!
Always Looking for Some New Ideas for our Color Tablets!
If you have a favorite way that you use Montessori color tablets in your home I would love some new ideas!  Tag me on Instagram so I can give them a try too!
OTHER POSTS YOU MAY LIKE