The holidays feel like they get here sooner every year, and with shipping delays and stock issues, this year it feels like I am already behind the game… My 4 year old gift guide for the Holiday 2021 season, has a little of everything! Some of these are our must-have items that get constant play and others are things we are considering adding to our own home.
My 4 year old gift guide takes longer than you would think to compile…
I always keep a running list of ideas that I add to as I think of things over the year, especially now that we are homeschooling. – you can check out our must-haves for homeschool preschool here if you're in a similar boat!

Inevitably end up searching the internet to see if there are any new gems I may be missing or things that I want to pick up for us to grow into. I try my hardest to make my 4 year old gift guide products that you may not have seen before but are still well-rated or well-loved in our home.
A little bit of everything to meet the needs of most anyone!
I created my 4 year old gift guide to cover all the basics I could think of for a young preschooler who spends the majority of their time at home. I am in no way suggesting you NEED all of the items I list below I am nearly listing our favorites or our wish list items. Hopefully, this sparks some ideas for your own 4 year old's wish list!
Looking for a different age?!
I list what I know, and I have only ever known shopping for a little girl…
My list may be slightly geared towards 'traditionally' girl items, but lots of the things on my 4-year-old gift guide are just open-ended, loved by all toys, or at the very least come in other colors and patterns if unicorns and glitter aren't your kid's thing! They are SO our thing around here
Disclamer
This post contains some affiliate links. As an Amazon Associate, I earn from qualifying purchases. I may receive a small commission from if you follow and decide to purchase. There would be no additional cost to you!
FREE PLAY TOYS
DRAMATIC PLAY
BUILDING
SPECILTY BUILDING BLOCKS
These babies are BEAUTIFUL. They are also spendy. It can be hard to justify spending so much on a toy, so I would only consider these if you already have a block lover or multiple kids that will use them.
I am NOT affiliated with the small shops linked below, but they carry some beautiful products if you are interested in supporting small businesses!
PUZZLES
GAMES
LEARNING TOOLS AND TOYS
GROSS MOTOR
STOCKING STUFFERS
CREATIVE
SENSORY PLAY
PRACTICAL LIFE
BOOKS
USBORNE BOOKS
I wanted to give our Usborne favorites a special section all to themselves for a couple of reasons.
1. they are without a doubt some of the most used books in the house and are well-loved by us all and without a doubt deserve a special shout out on the 4 year old gift guide! I tried really hard to pick our TOP 6, but I have soooooo many that we really love that this was really hard and I feel like I am leaving out some of our must-haves…I may have to do a separate post on that soon… 😉
2. I am an Usborne consultant and If you choose to purchase anything through one of my links below know that I will make a small commission at NO cost to you and I thank you from the bottom of my heart for choosing to help support my family!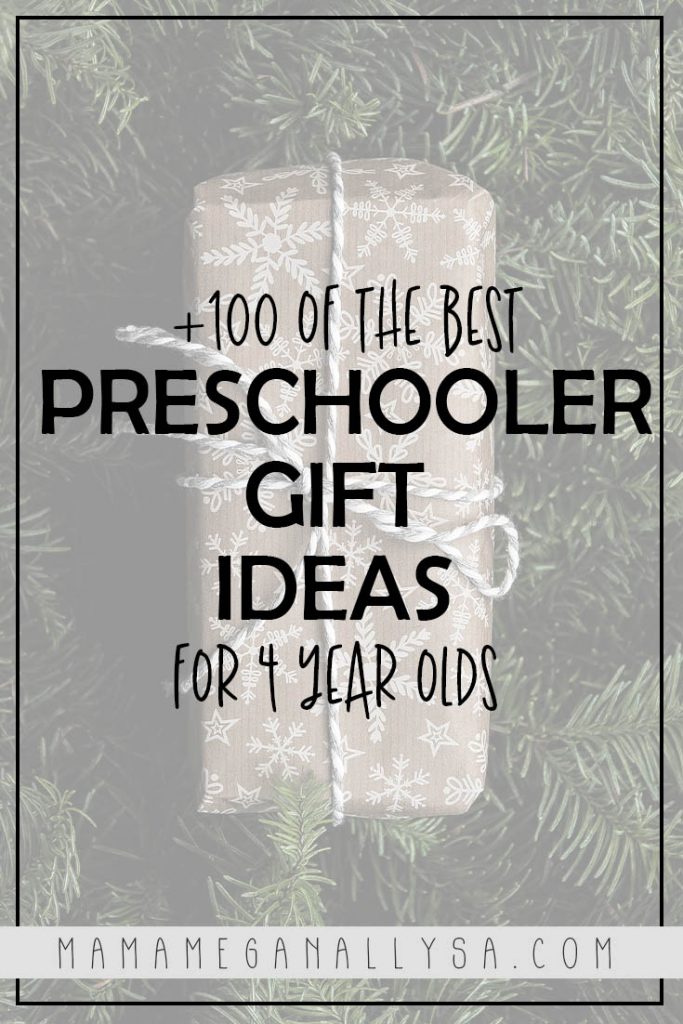 Did I forget any MUST HAVES in the 4 year old gift guide!?
I hope my 4 year old gift guide gave you a couple of fun new ideas for the preschooler in your life! Please share any other ideas for 4 year olds you have! I love knowing what the cream of the crop are when it comes to toys!
Other Posts you may like