Sandpaper letter games have made flashcard games a sensory impression and have provided lots of practice and repetition while still having fun! I spent ages finding games that my homeschooled preschooler and I actually wanted to play and I am going to share that list with you today!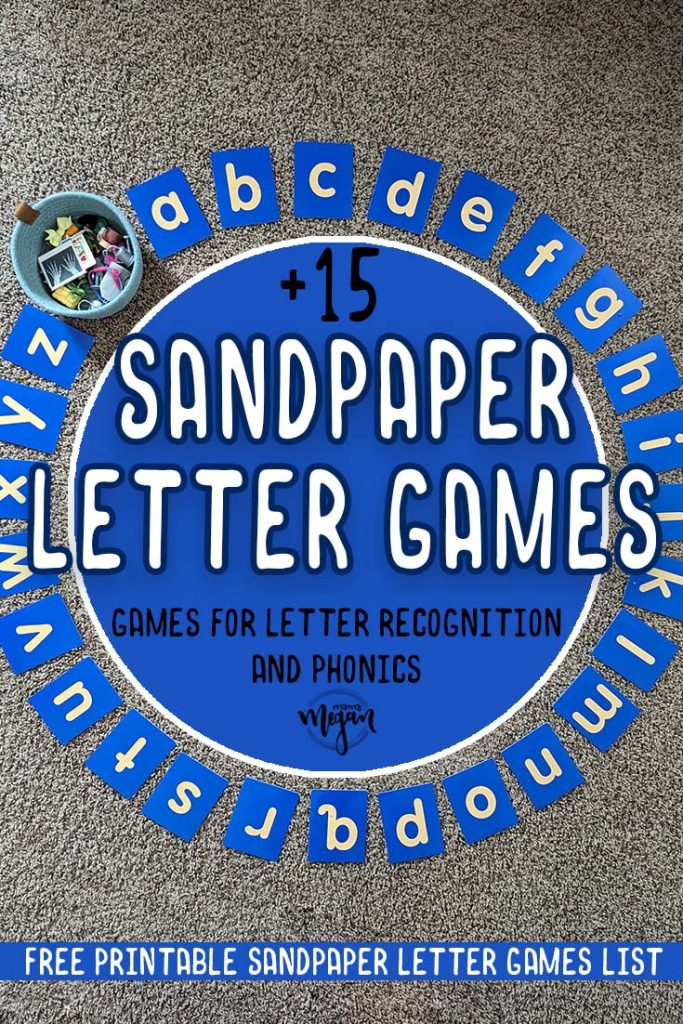 My Choice to Use Montessori to Homeschool
As of writing this post, I am homeschooling Bitty who is phasing out of most of the sandpaper letter games, and Bean, who is just starting her journey with the sandpaper letters.
We have been homeschooling and learning how we want to do things for three years now and one of my biggest complaints when I decided to do Montessori with my girls was the lack of clear actionable tips and tricks to really get kids interacting with the materials.
I have spent the better part of a year trying to find variations and extensions to the traditional Montessori sandpaper letter games and I'll be the first to admit. I am not an expert and I am not formally educated as a teacher or guide but I have spent a lot of time researching and compiling this list and trying to make notes so that fellow homeschool moms can find that information without all the work!
What are the sandpaper letters?
The sandpaper letters are classic Montessori material that uses the belief that tactile/sensorial action helps to cement a concept in your brain when you're learning. The tactile tracing of the sandpaper letters in conjunction with hearing the sound that the symbol represents will lead to a faster mastery of that skill.
Ultimately, the sandpaper letters are a hands-on flashcard. And while I highly recommend some sandpaper letters, can do any of these games with just flash cards.
Letter recognition games
For us, letter recognition is about the ability to see the letter symbol and know what phonetic sound it makes.
In our early literacy journey. We are teaching phonetically, so while my children do know what the names of the letters are, that is not the focus of my teaching. They will be absorbed through life or will be taught that later on.
We are also not spending a bunch of time on uppercase letters. I occasionally point them out but all of our sandpaper letter games focus on lowercase letters.
Be Careful with Corrections
When playing try not to correct or directly say 'No that's not right'. It can shake their confidence and make them not want to play at all. If they have gotten something incorrect. Narrate the problem. "I aksed for /b/, this is a /h/at. /h/. Let's look for /b/!" Emphasizing the sounds being used, keep it light, and have fun with them!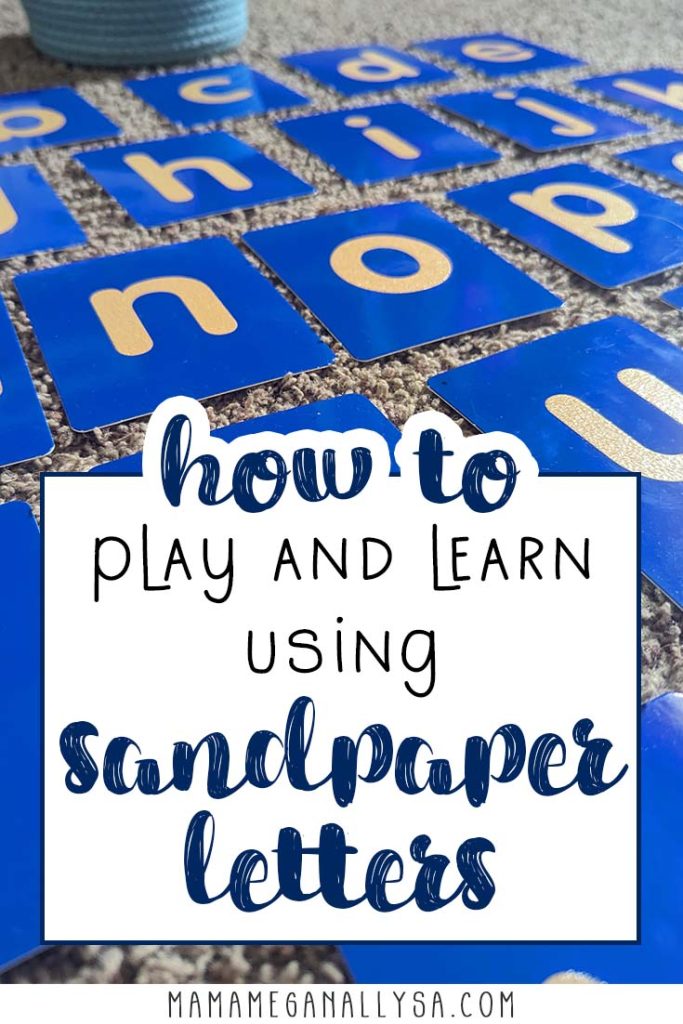 FREE Printable List of Montessori Inspired Sandpaper Letter Games
When I was first teaching Bitty the sandpaper letters I knew there had to be more to them than just the 3-period lesson. We needed a way to make it fun! I did some digging and trial and error and I have found a few games that we regularly use and that I have started using with Bean now! Below you will find a printable version of my sandpaper letter games!
I actually have a MASSIVE list of games for prereaders from sound games, to sandpaper letter games to moveable alphabet games. For the sake of my sanity with these posts, I had to split them up. You can check out the sounds games post here and the moveable alphabet games are coming soon!
Early literacy series
This is part 2 of my early literacy series where I will go into more detail on tips, tricks, and games to play with your preschooler and kindergartener to truly set you up for success in teaching reading and phonological awareness!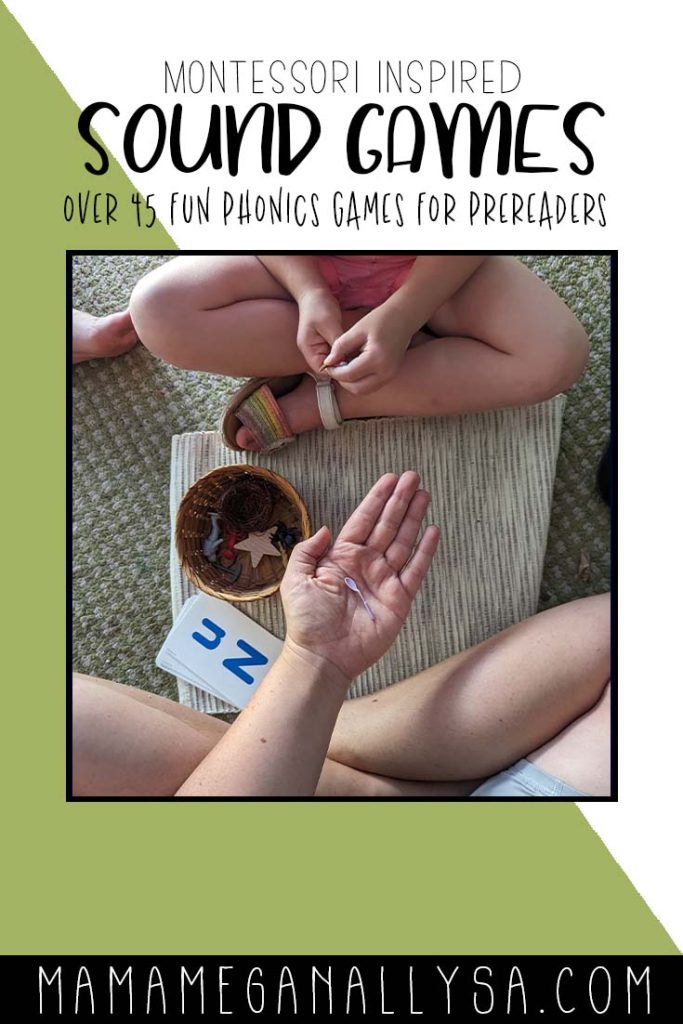 While we are homeschoolers and we are using them in school, anyone can play these sound games if your child needs and or wants more practice. These are all great options to make sure learning to read stays fun!
Supplies Needed for Sound Games
Disclaimer

This post contains some affiliate links. As an Amazon Associate, I earn from qualifying purchases. I may receive a small commission from your purchase if you follow my links and decide to purchase. There would be no additional cost to you!
Sandpaper Letters
These are called the sandpaper letter games, so sandpaper letters really are the best choice, but standard flash cards, moveable alphabet, or any alphabet shapes will work as long as they are lowercase letters and can help teach the shape of the letter symbol.
Phonics objects
Some of our favorite sandpaper letter games will use phonics objects to represent a sound. Phonics objects are simply a collection of small objects
A toy apple for /a/, a tiny button for /b/ a little figure of a cat for /c/
The more variety you have again, the more points of interest for your games. But you are going to want to have at least one phonics object for each beginning sound, you'll also want things that represent a variety of ending sounds. And phonics objects that represent simple CVC words are best for when you start to practice middle sounds.
I will go into more details about phonics objects in another post but one bit of advice I'll share now is you can create your own collection over time, with mostly things you already own! Take a deep dive into an old Barbie or Playmobile or Lego collection and you can find lots!
Manipulatives
A few of the sandpaper letter games need manipulatives or loose parts. All kids like gems. Mini erasers and wooden loose parts also work great!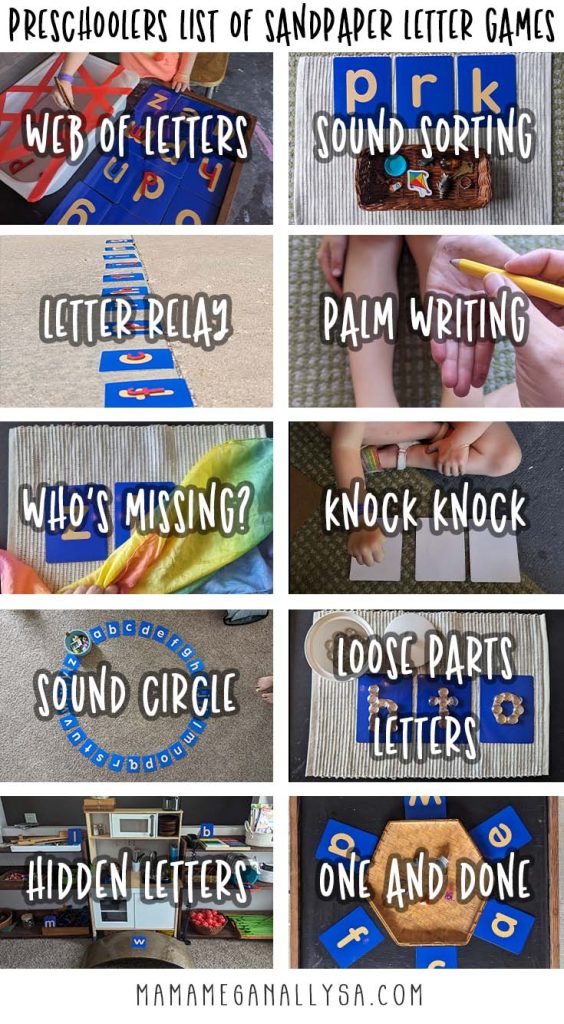 Fun and Games with the Sandpaper Letters!
Picture Flip Book – this is a great activity to play when your first introduce a letter sound – showing one picture card at a time either individually or in a flip book. Name the picture, Trace the sandpaper letter saying /m/. Point to the picture and say the name, Emphasizing the beginning sound /m/op
Loose Parts Letters – placing gems/mini erasers/loose parts along the sandpaper until the letter is covered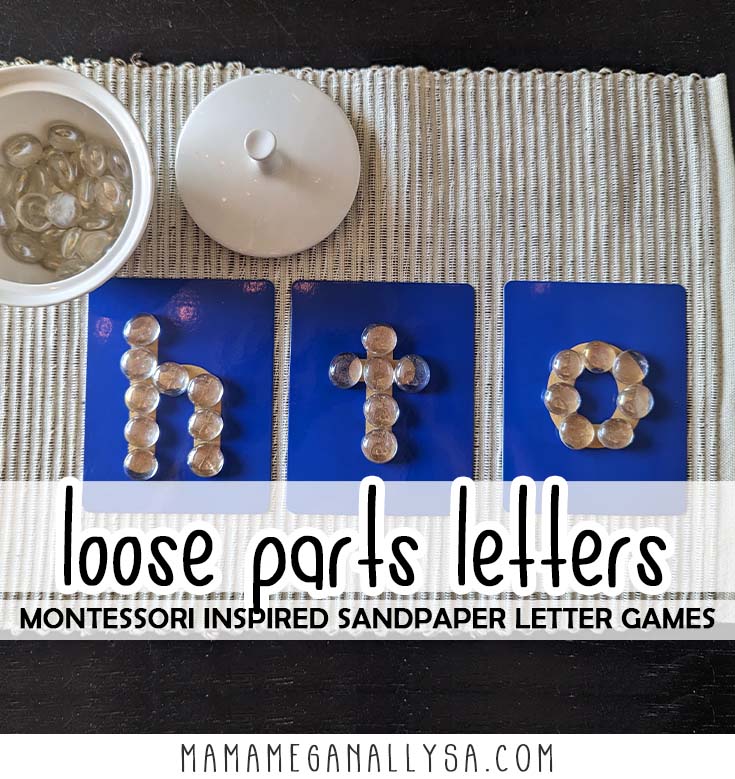 Crayon Rubbings – Place a piece of paper over the sandpaper letter and use a crayon rub on the paper to create the letter – A great name activity, this can be followed up by finding the matching moveable letters to write their name
Sound sorting– Give the child a bag/basket/box full of objects with 3 beginning sounds. Have your child pick them out one by one and name the item and say the beginning sound, then place the item with the matching letter symbol. As the child becomes more confident, you can practice more letters at a time and more objects. *I also shared this in my sound games post. It really is that good, it's our favorite way to work with BOTH the sound objects and the sandpaper letters. It practices the phonetic sound but reinforces the letter symbol at the same time!*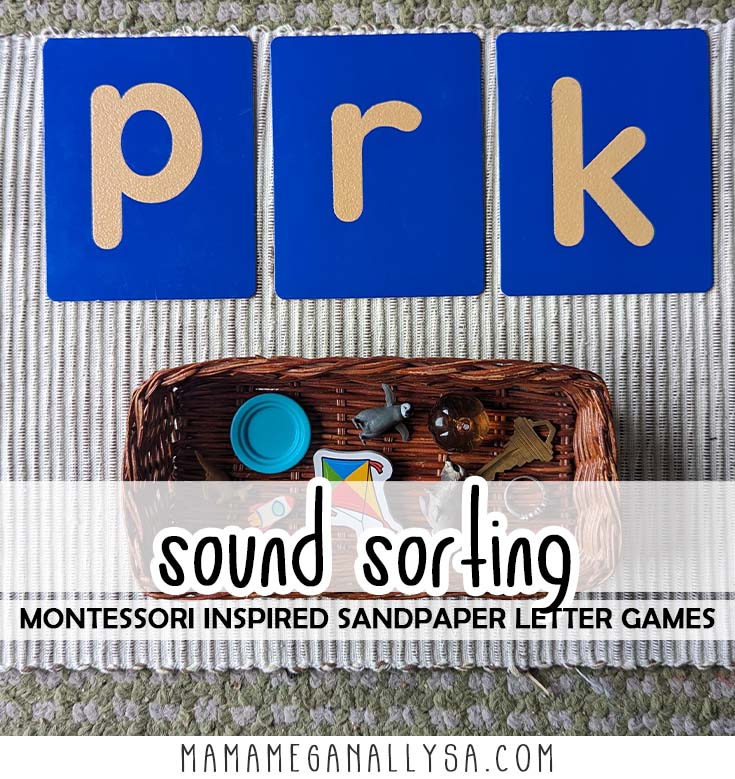 Simon Says -a selection of 3-5 sandpaper letters 'Simon says to place the /b/ under your toe' Can also be played with favorite toys 'Simon says place Barbie on the /b/'
One and Done – a selection of 4-6 sandpaper letters and one sound object for each letter. Have the child trace a letter and say the sound, then say "/f/ can only have one object today, let's find the object that starts with /f/" The child selects the feather and places it on the correct sandpaper letter proceed with the remaining letters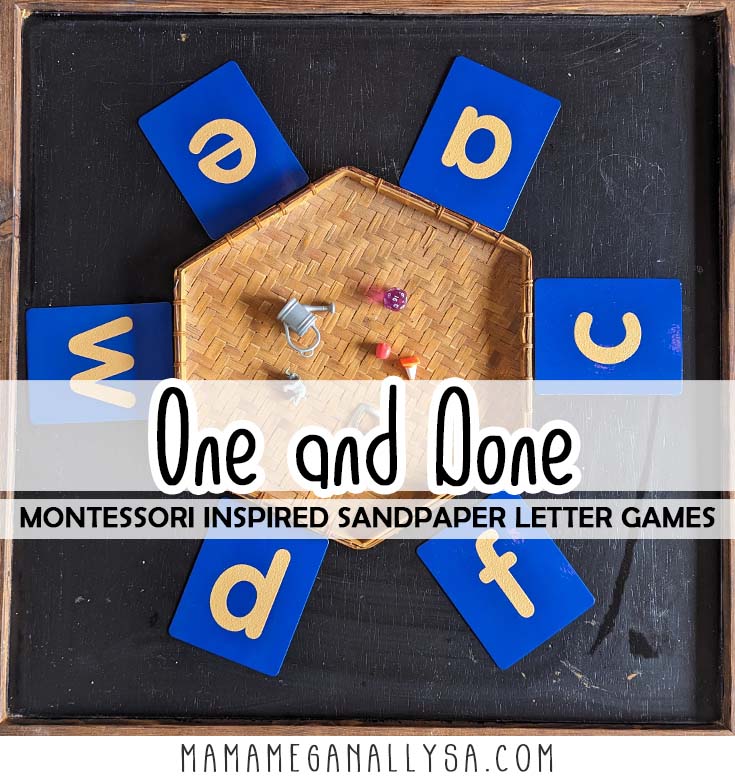 Mystery Match – selection of sandpaper letters and a bag/basket/box with matching moveable alphabet letters. Have the Child choose one small letter from the basket at a time and place them on the matching big letter
Level 1 – limited number of sandpaper letters 4-5 is a good start
Level 2 – increase the number of letters – can go all the way up to all the sandpaper letters
Level 3 – using 4- sandpaper letters have the child work directly from the moveable letters box instead of a curated selection in a bag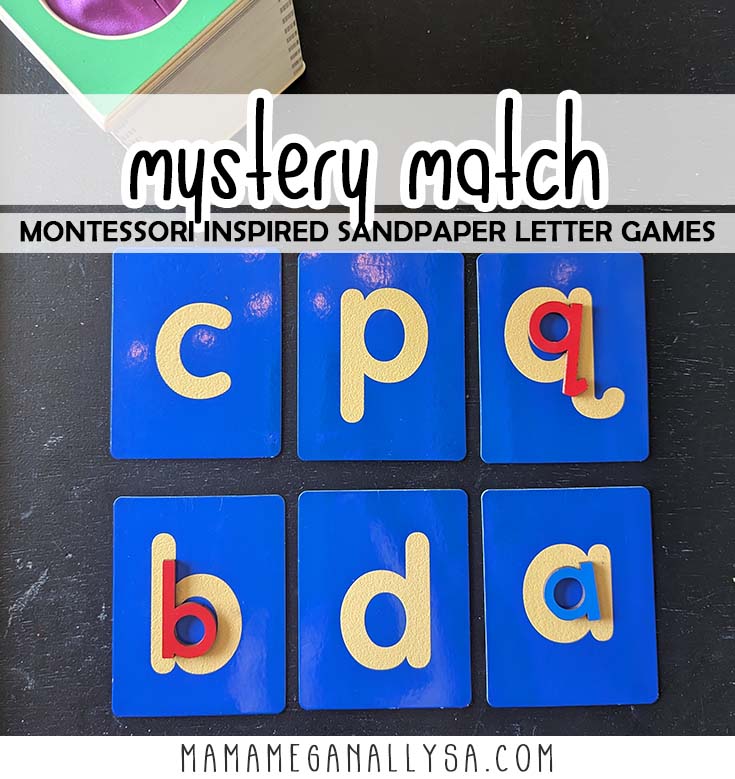 Palm writing – Have the Child trace 2-3 sandpaper letters describing the shapes of the letter symbols. Have them close their eyes, then you trace a letter in the child's palm. Some kids will be able to just shout out what letter it is, others may have to open their eyes and look at the initial set of sandpaper letters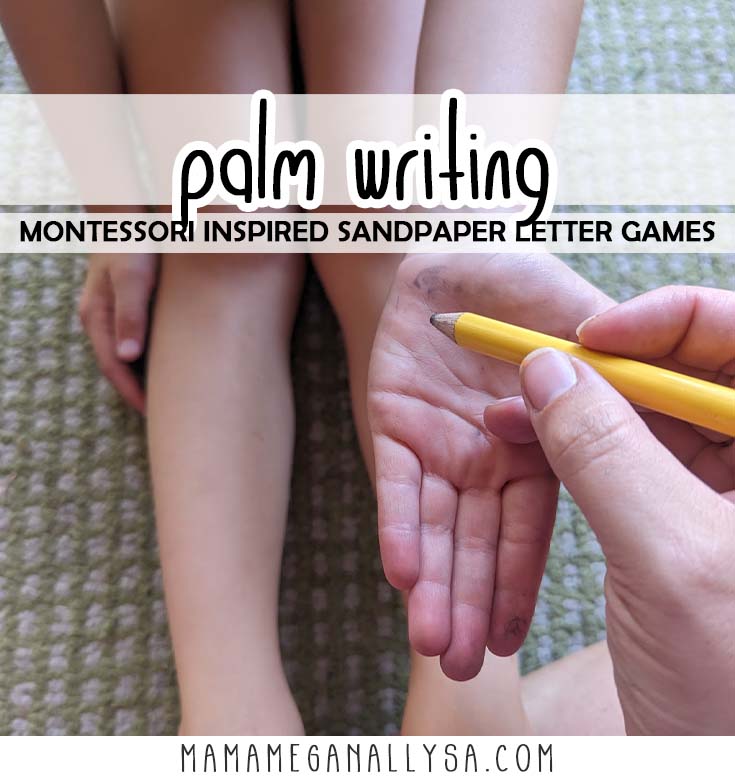 Back Rub– have the Child trace 2-3 sandpaper letters then you trace a letter on the child's back and have them say its sound.
Alternatively, you could have your child write the letter on your back for you to guess, this will give them a chance to really pay attention to the shapes of the letters
Knock knock – Review a set of 3 sandpaper letters, flip over the letters, and then knock on the back of them. "whos there?" Flip it over and announce who has come to play!
Level 1 – 3 letters at a time and announce the letter sound after flipping
Level 2 – 4 or more letters and ask "Who came to play today?" allowing the child a chance to answer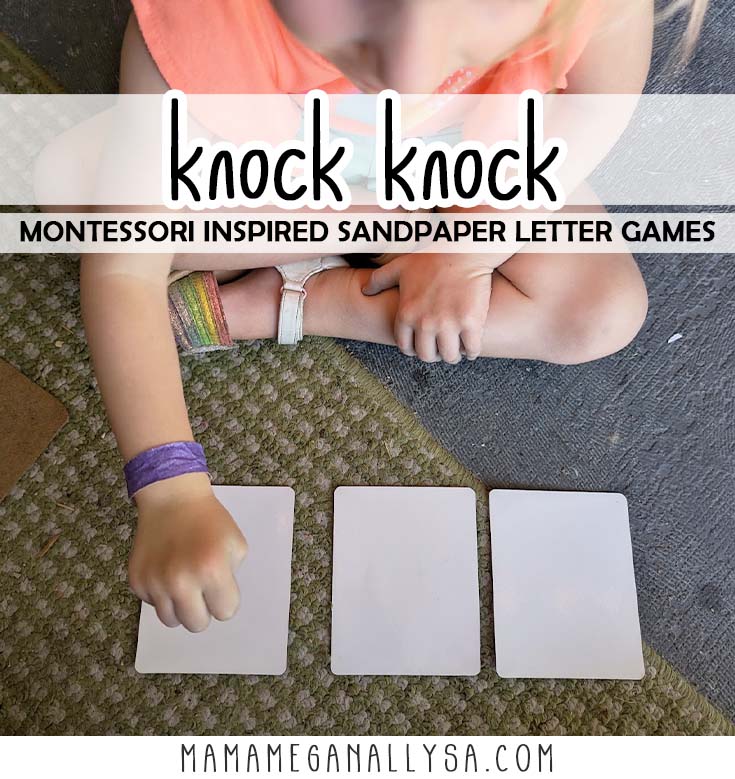 Who's missing? – place a group of letters out and review the sounds. Cover with a cloth and remove one letter. Dramatically wisk the cloth away and ask the child which sound is missing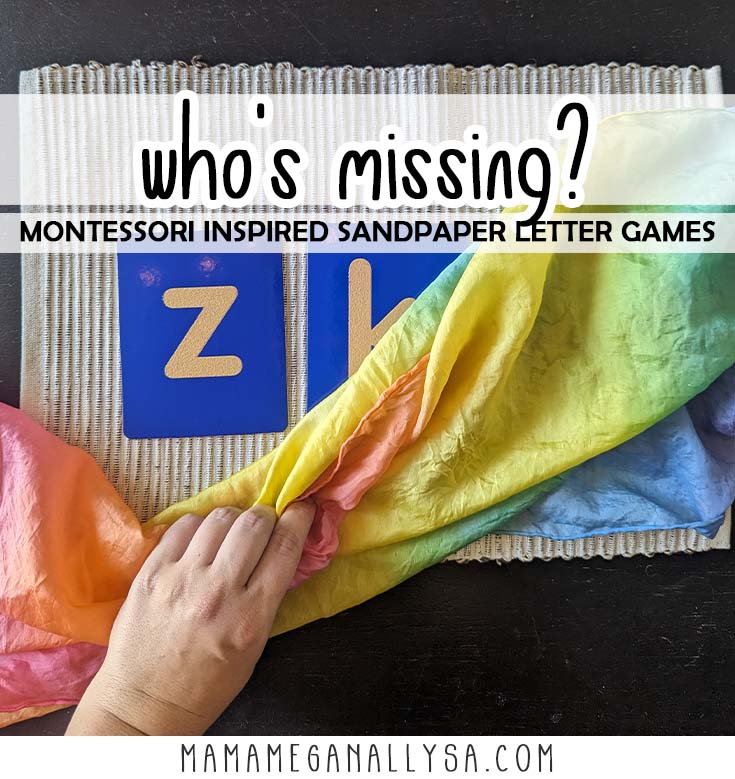 Letter Relay – 4-5 sandpaper letters and all the matching moveable letters – place the moveable letters across the room, place sandpaper letters on the opposite side of the room. Review the sandpaper letters one at a time and retrieve moveable letters, placing them with their match once found
level 1 – have a curated selection of moveable alphabet letters
level 2 – increase the number of letters
level 3 – 4-5 sandpaper letters but use the moveable alphabet box instead of a curated selection of letters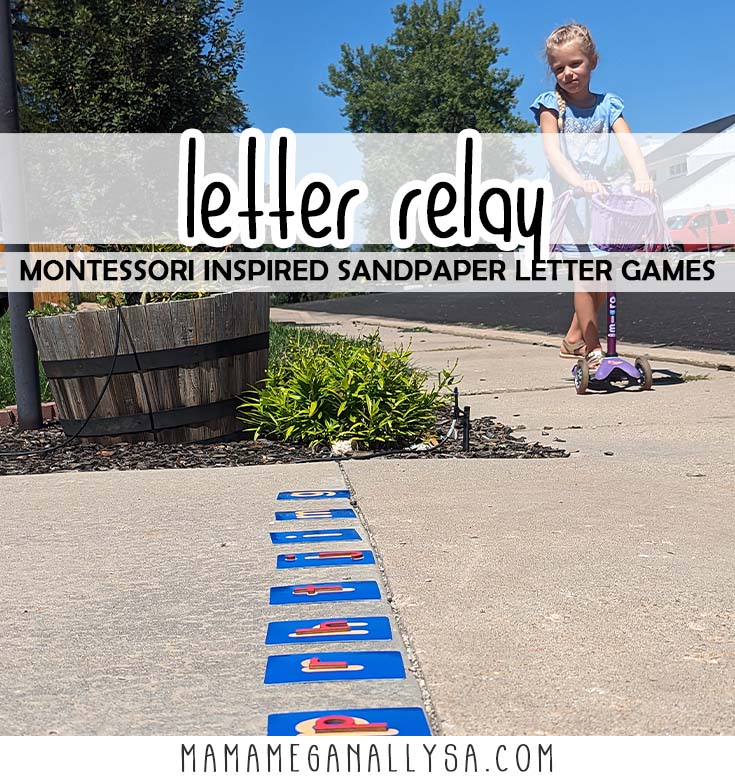 Hidden Letters – go around a room with 5-10 letters and place them on items that begin with that sound and have the child hunt for the sounds you can give hints based on the sound the letter makes and the objects that you selected
Level one – they have a free for all finding the letters in any order but have to trace and announce the letter sound after they found it
Level two – you give a sound and they have to retrieve the correct letter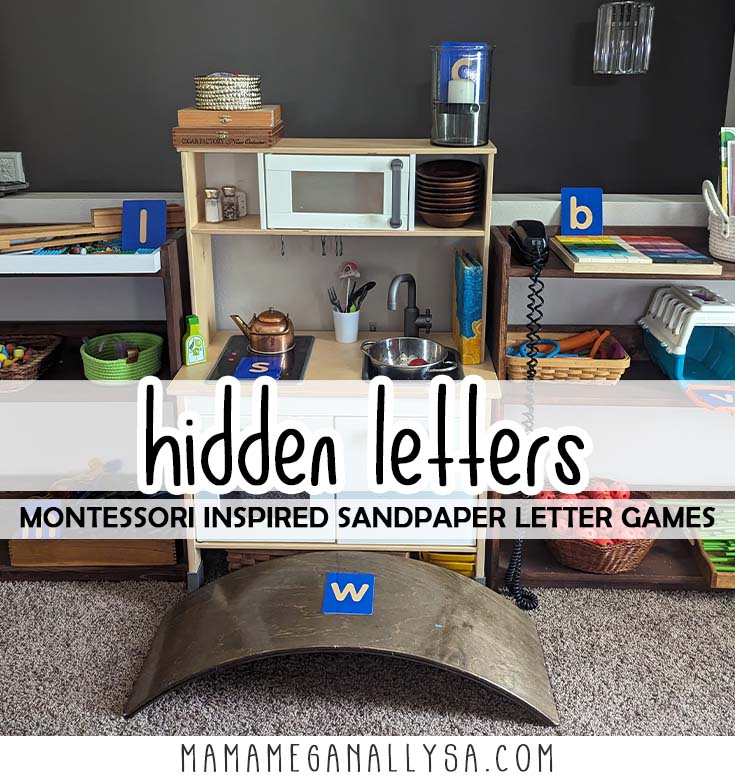 Sound Circle – layout a large circle of sandpaper letters, ABC order is not necessary and a basket of sound objects for all the letters. Have the child sit in the middle of the circle and place each sound object with its sandpaper letter. You could limit the number of letters to make the work easier, but as confidence and fluentcy grows add in more letters.
if you have a sit and spin or a bilibo this would be a really fun addition to this sandpaper letter game!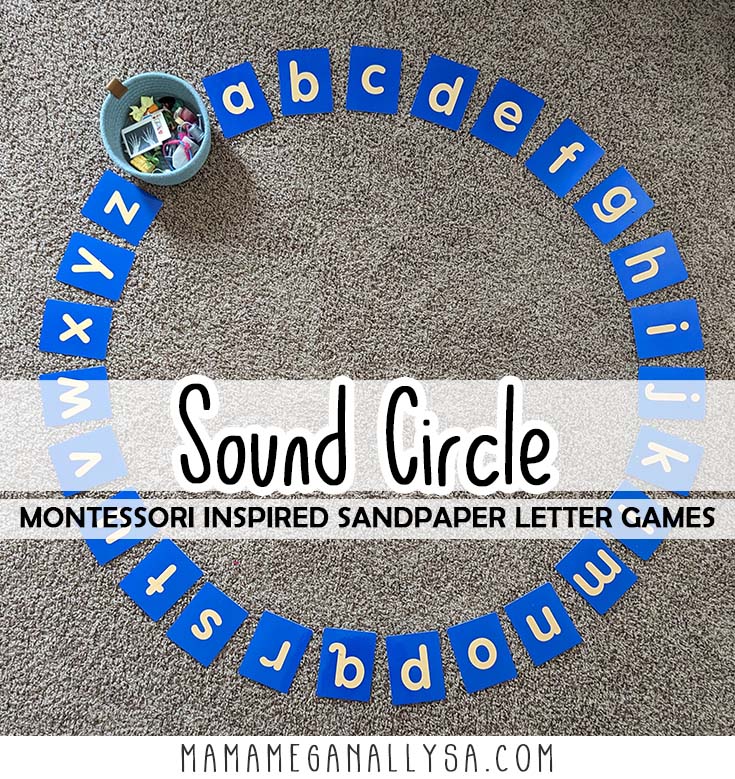 ABC Road – This is a BIG work and best for older students who have been working with all the letters for a while – Lay out all the sandpaper letters in a long line – ABC order is not necessary, could also be thematic to the season or unit study. Provide a sound object for all letters. Have the child select an object and state the name of it and isolate the starting sound. They then place each object on its letter symbol
This can be made more interesting/have variety if you set up along a train track or play road and have a car/train deliver the object to the letter.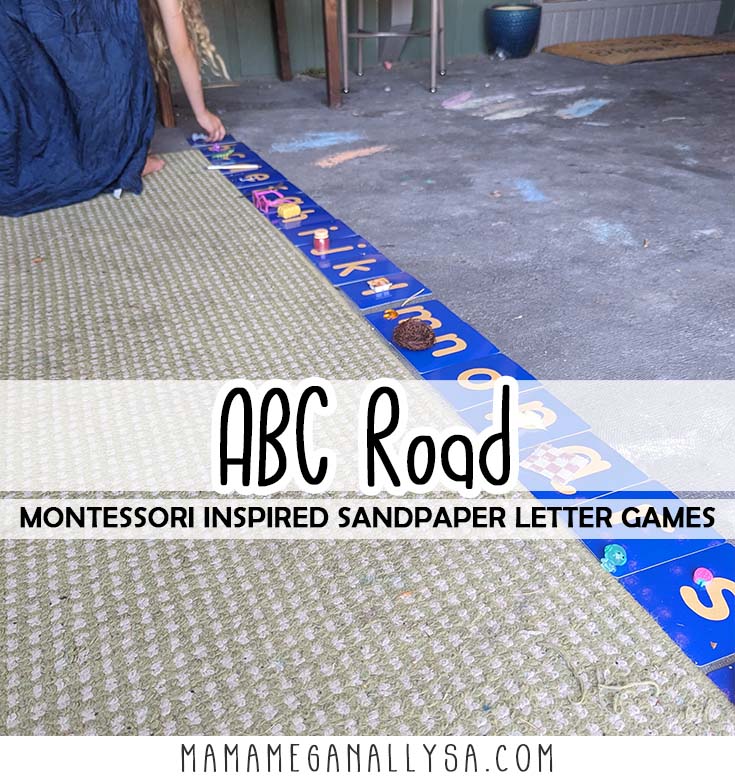 Have Fun and Learn Letters with Sandpaper Letter Games!
The more ways you can gamify learning the more engaged your learners will be!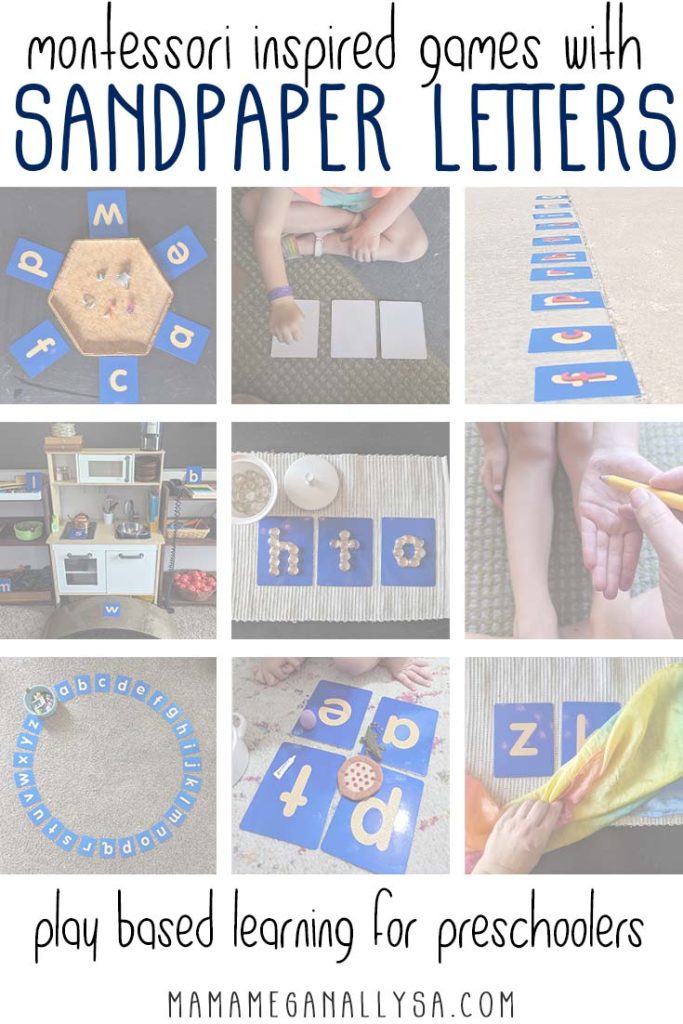 Don't Forget your Freebie!
Sandpaper letter games have been a lifesaver for teaching my preschoolers their letter sounds and symbols and I want the same for you, so don't forget o download your free copy of my Sandpaper Letter Games List!
Other Posts you MAy Like