I organize homeschool materials and four locations. Ideally, I would love to be able to keep them all together but you work with the space you have and I know I'm lucky to have even this much space!
Home base for our Homeschool Day
I have my main homeschool closet, which is also where we keep most of our arts and craft supplies (be on the lookout for an in-depth tour of how we store arts and crafts supplies later) The homeschool supplies in this closet are things that have really regular use and are kept drawers or baskets for ease of access!
This post contains some affiliate links. As an Amazon Associate, I earn from qualifying purchases. I may receive a small commission from if you follow and decide to purchase. There would be no additional cost to you!
On the top shelf, I keep a flashcard storage box where I keep general use cards and small printable activities. Things like emotions, seasons, opposites, rhyming, and so on. We also have a bunch of arts and crafts supplies in each of the big bins.
This closet is also where I keep my personal office/teacher supplies. In a little drawer unit, I keep pens, pencils, hole punch, basically a mini junk drawer so I'm not running all over the house when we are looking for something. This is also where I keep any morning meeting things that aren't used every day but need to be somewhere (think seasons and different month headers) This drawer unit is also where we keep the glue and scissors because while I trust Bitty to have free access to these, I do not trust Bean just yet.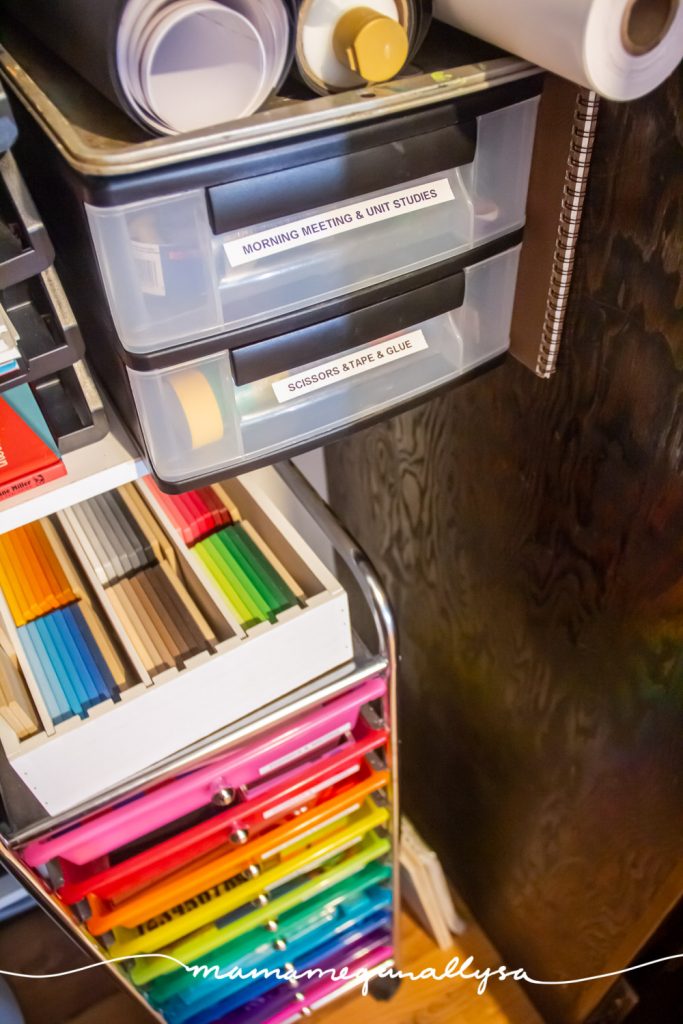 Below that, I have two drawer units, one standing and one on the shelf. The drawer unit on the shelf is where we have our phonics objects and flashcards. Each drawer has the objects for two letters of the alphabet, leaving me room for plenty of other drawers to hold our everyday flashcards for colors, shapes, numbers, letters, CVC words, and more.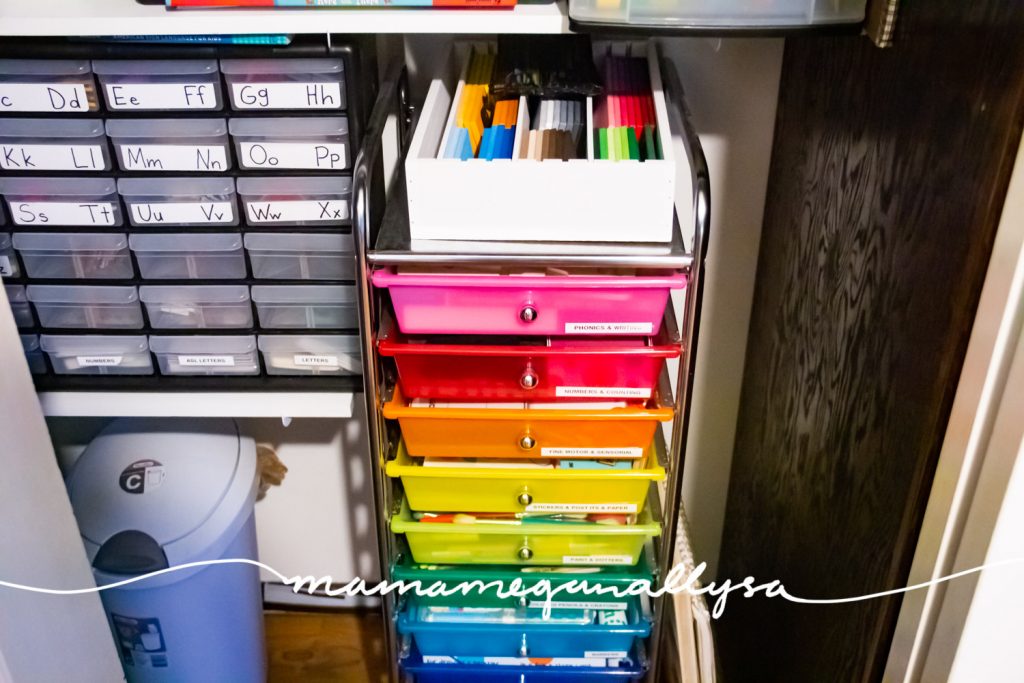 The Drawer Tower Pulls Double Duty
The tall rainbow drawer unit is about 50/50 homeschool and art supplies. For right now we will be focusing on the homeschool drawers. (My unit came from Micheals, I will link an Amazon option!)
The top drawer is sort of more phonics and letter-based supplies. Things like our sandpaper letter book, sand tray, a tracing board, a small selection of our moveable alphabet, and printable phonics activities
The second drawer is math and counting. It holds things like our tens frame and our bead pyramid and a small supply of beads that I want to just always have on hand. Other things in this drawer are the game tiny polka dot and my DIY mini number rods – these are what our rods are based on.
The next drawer is sort of a wild card and has a lot of smaller sensorial work supplies like geoboard bands, threading, and other fine motor stuff. This is also where things like our mystery bag and blindfold, pin poking supplies, and
The next drawer down is dot stickers, post-it notes, larger printable activities, and ………
But where do the bulky homeschool materials live?!
Preschoolers have some bulky toys and homeschool materials can be the same way. The best way to teach little kids is hands-on and when you start gathering all these hands-on tools together they can really start to take up space!
I have a sofa table with a couple of cabinets and this is where our bulkier homeschool materials live. Things like our 3D shapes, scale, number beads, moveable alphabet, DIY insets, learning boards, and CVC blocks. This is also where the sensorial materials like the pink tower and the brown stair will go when put away, which will be rare. The only larger sensorial material that isn't here are the knobbed cylinders and that's honestly because they don't fit. I would LOVE to have them up here, but alas it just won't work…
This cabinet is also where puzzles and more educational toys will live. I wish I could have room for our board games here as well, but they don't fit well so they live in the toy closet in the guest room.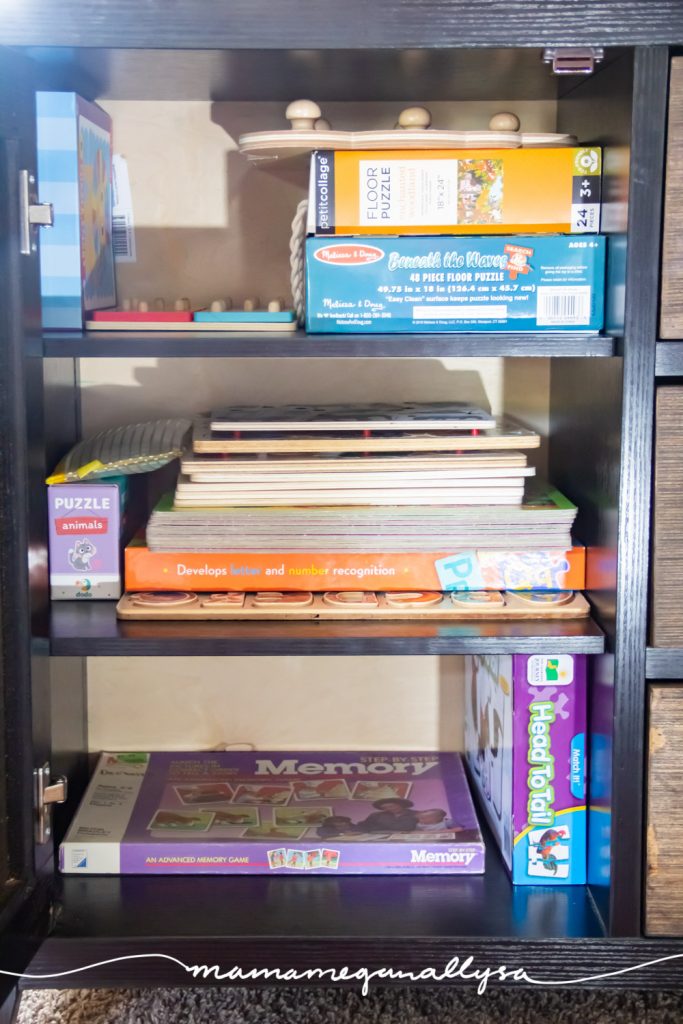 These homeschool materials are all things that I know we're going to use regularly and I can get to them easily. They're just not an everyday use item.
What about all these manipulatives you keep talking about!?!
So many little tiny pieces and little tiny pieces are often the bane of a mama's life…so it's a good thing I LIKE all the little tiny pieces and I make a point for them all to have a home so I'm not constantly stepping on them and losing them!
I keep our little loose parts manipulatives in a couple of different locations based on the kind of manipulative it is.
Wooden loose parts live in Maple+Lark acrylic jars on the shelf in the living room playroom. Easy to access and easy to see, but up out of little hands when I need them to be. Additional wooden loose parts like balls, coins, and rings live in the toy closet.
More thematic manipulatives I keep in these zip-top pouches (cannot rave enough about these babies, I have purchased them twice because I love organizing things in them that much! They are sturdy and colorful but see-through, so you know what's in the bag!) I keep all these pouches in a dresser drawer next to the toy closet. If a pouch matches our current unit study, it will get pulled out and either distributed across various works or stashed in my teacher drawers for one-on-one work.
And now we venture down into the basement
The last location that I keep homeschool materials, is where I keep all of my stuff for planning and prepping. I have a tall cabinet down in the laundry room. This cabinet also stores things like my laminator and my paper cutter and any materials that I happen to come across before we're ready for them.
The top shelf houses a drawer unit where I keep materials that we aren't quite ready for or are in progress, printed but not ready for use just yet, and another flashcard storage box, this box is for geography/biomes. Eventually, I would like to upgrade to continent boxes, but I'm not sure what size of box we are going to end up needing for that so, for now, this will do and it also has quite a few open boxes for future topics!
Under that is where I keep a Sterilite bin for each season/holiday and for specific unit studies. Think of this as long-term storage for most of this. I pull out a bin or two at a time and that goes upstairs while it is relevant. If you want an in-depth tour of the types of things I gather for a unit study let me know!
Under that is where I keep the knobbed cylinders and overflow homeschool materials that I just don't have room for upstairs. It is what it is and I have to make do with what I have.
The very bottom shelf of a different but very similar cabinet is holding thematic books for various unit studies. I have them sorted by the unit study they would work with and seasonal books are actually kept with seasonal decor unless they can pull double duty with a unit study. Eventually, I want to get all of these onto a big built-in bookshelf down here, as we are bursting at the seams with books upstairs, but one thing at a time!
Honestly our Homeschool Materials are all over the house…
Someday it would be nice to have all our homeschool materials in a homeschool room, even if we didn't do much schooling in said room! I don't foresee that happening for a very long time, so in the meantime, this system works for me and my girls. We have our everyday needs at hand and lesser-used homeschool materials close by but put away.
As you can see we have stored our homeschool materials all around us, and I didn't even talk to you about sensory supplies and arts and crafts storage!!! Let me know what you want a tour of next!
Other Posts You May Like