When you think of March besides maybe basketball you think of St. Patricks day. If you think of St. Patricks you often thing of rain bows as well. so to finish out March we made our own rainbow in our rainbow noodle sensory bin!
DIY colored noodles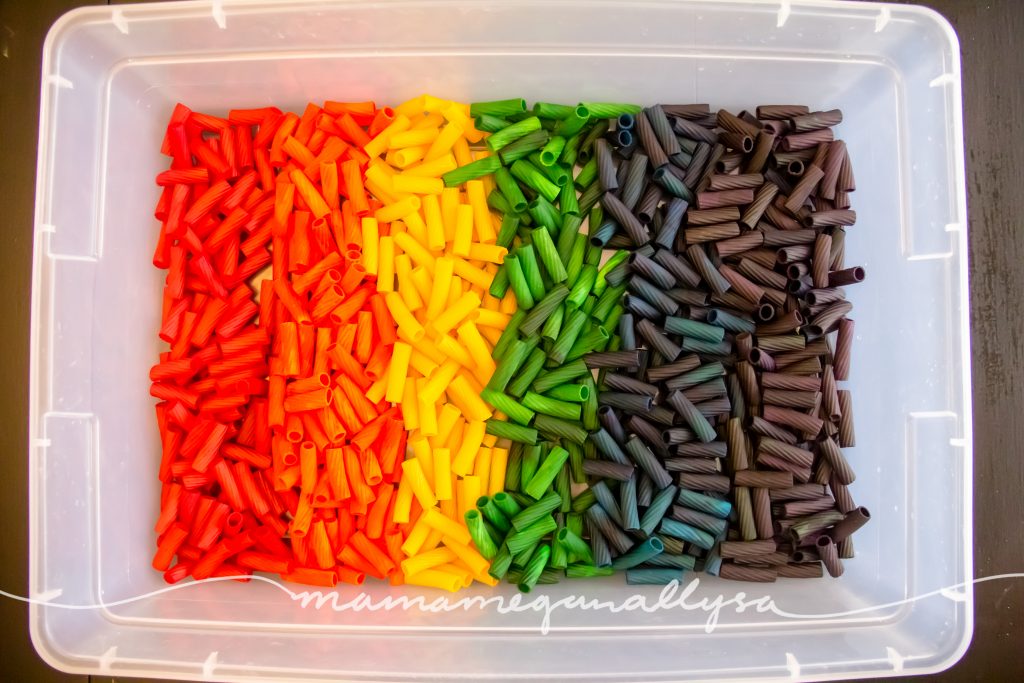 The first time I made rainbow noodles was years ago but I followed almost the same exact method. Food dye, zip lock bags, rubbing alcohol and time. The only real change this time was using some Everclear (don't judge. I only ever use it for crafts not drinking! Lol) that I had sitting in the back of the liquor cabinet. It has the same effect and if we ever REALLY wanted to, this recipe is technically taste-safe this way… I used elbow pasta the first time and they were great but I figured this time around if I used some penne we could use it for some threading practice.
My dye job turned out a little too dark for my taste. The purple is almost black and the blue is super navy. If I were to do it again I would hold back a little more on the dye. (notes for the future, what can you do?!)
Sensory Tools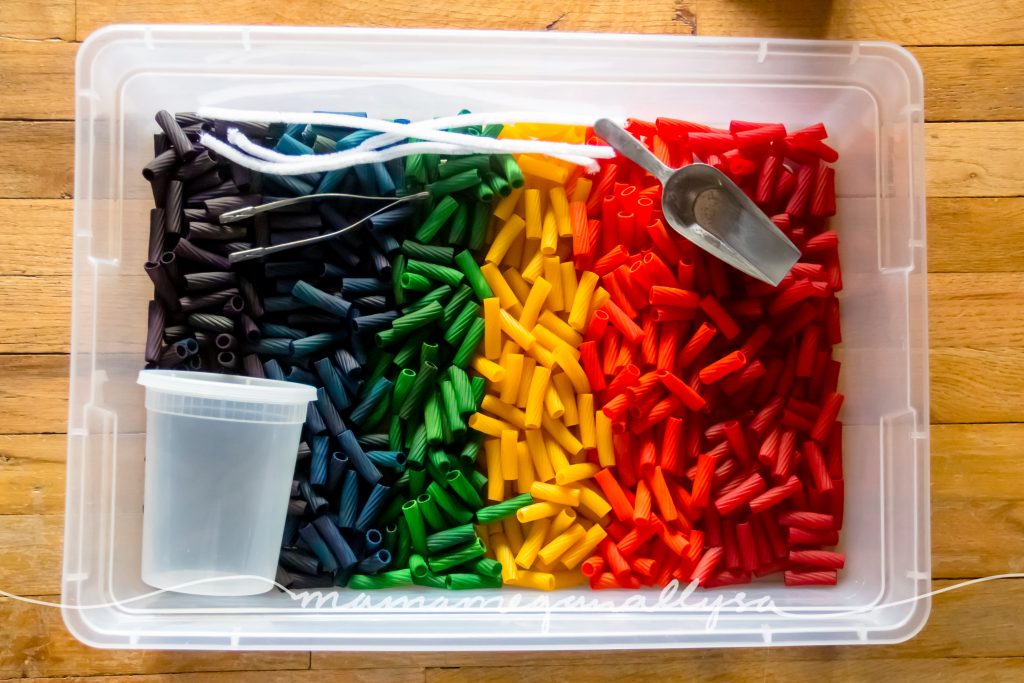 Our tool selection is a set of tongs and a scoop as well as a couple of recycled containers with lids. I started with pipe cleaners for threading and had more success with the skewers. (with lots of prompting from me…) These are all great tools for developing fine motor skills!
Exploring the bin
The first thing she did was sit down and try to thread but after that I haven't seen her try again…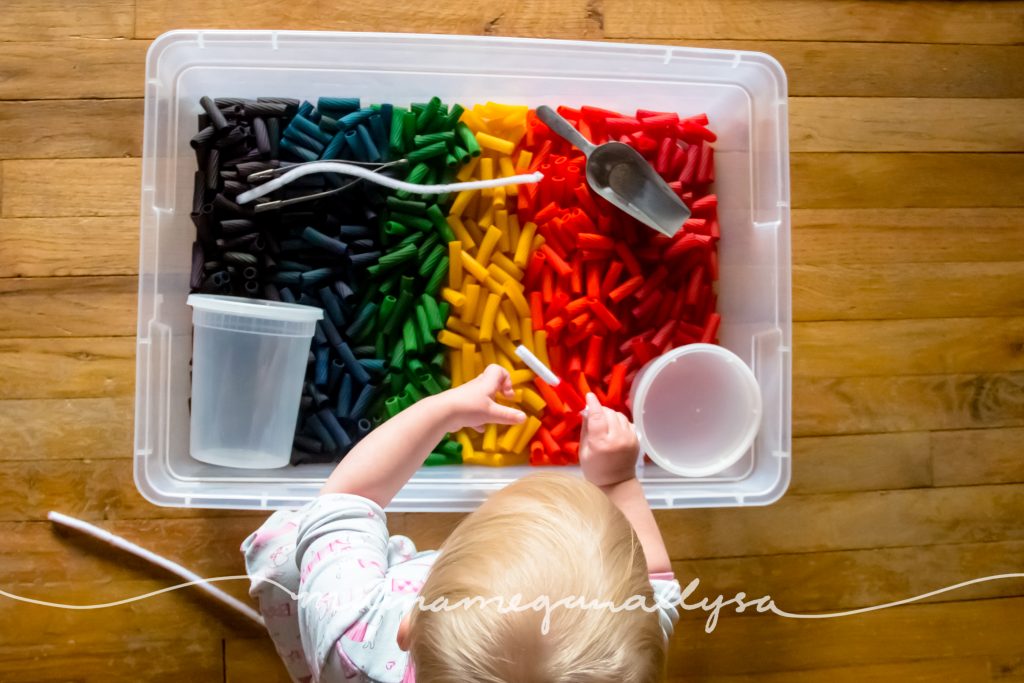 Her containers and lids have probably gotten the most use. She is still working on being able to work the lid on her own but that's the point of including them learning though play.
She seemed interested in the tongs I included but couldn't get them to work unless I was doing hand over hand with her. She tried more than once to use them like a fork and then would get confused when the noodle didn't come with.
SENSORY BIN Overview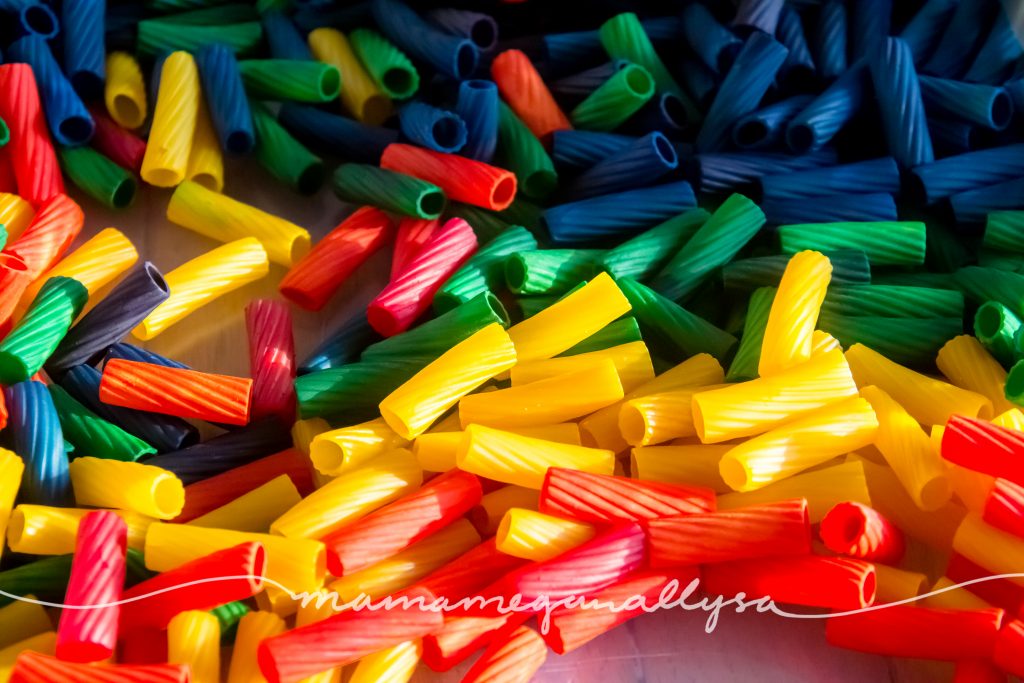 A rainbow noodle sensory bin takes a little bit of work beforehand but after the prep work, you have a beautiful sensory bin filler to use again and again! This bin also has less to worry about, as it's easy to clean up and there are no choking hazards in it!
Bitty always gets excited to get her bin out but shortly after she tends to lose interest unless I'm sitting right there with her. So if you have any great ideas on how to have it keep her independent interest I am all ears, share them in the comments below or shoot me a message on Facebook!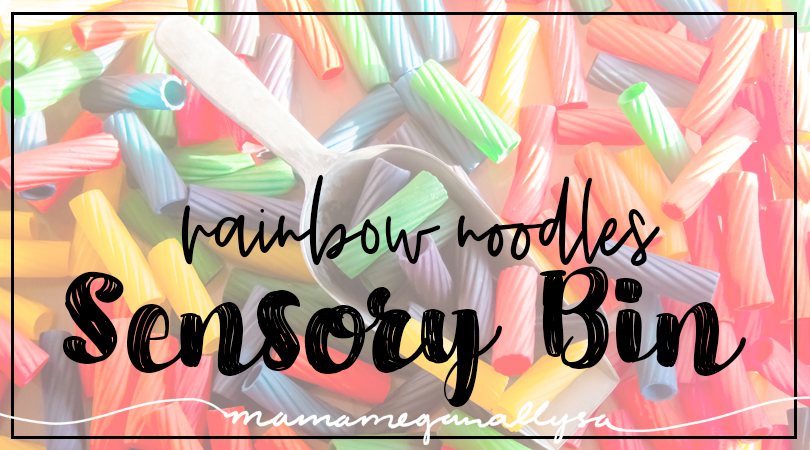 Other Posts you may like