With our Planet Earth Unit Study, we touched on a little of a lot of the earth sciences! Weather, rocks, water cycle, biomes, and continents were all just the surface level of all the things we talked about!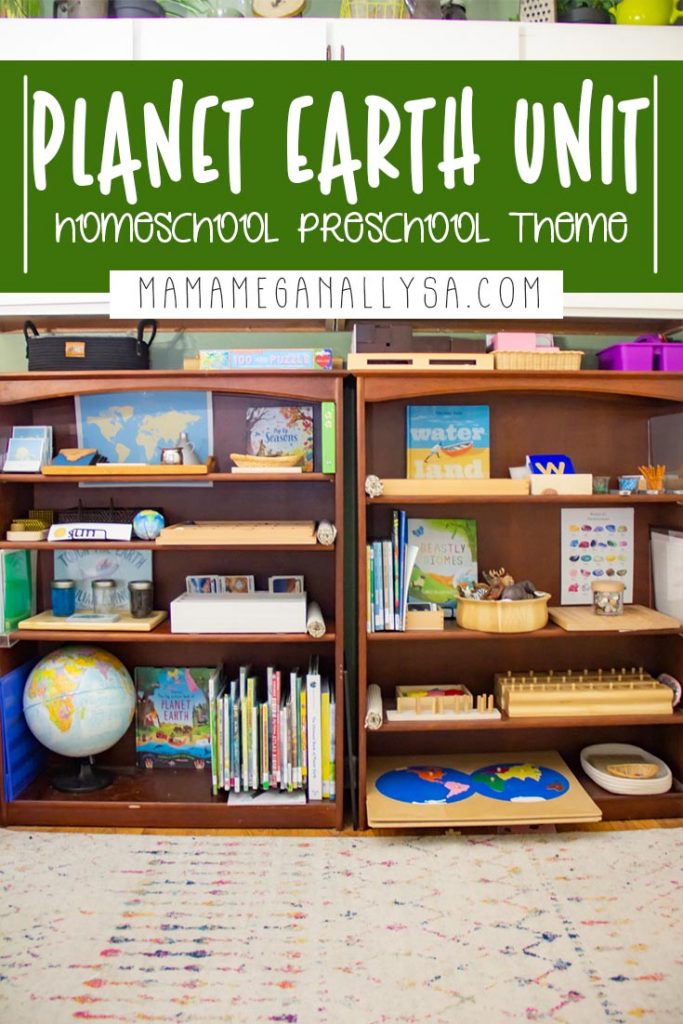 Hands-on was the way to go for our Earth Unit study!
Bitty wasn't as excited about our Earth unit study so I chose to treat it as more of a scratch-the-surface kind of unit. We didn't do any deep dives but covered a little about a lot. We did have a lot of fun with the art and sensory projects during the Earth unit study though!
Books will always be a huge part of our homeschool unit studies!
You can find all of the books we used for our earth unit study as well as a few others that we just couldn't get our hands in another post!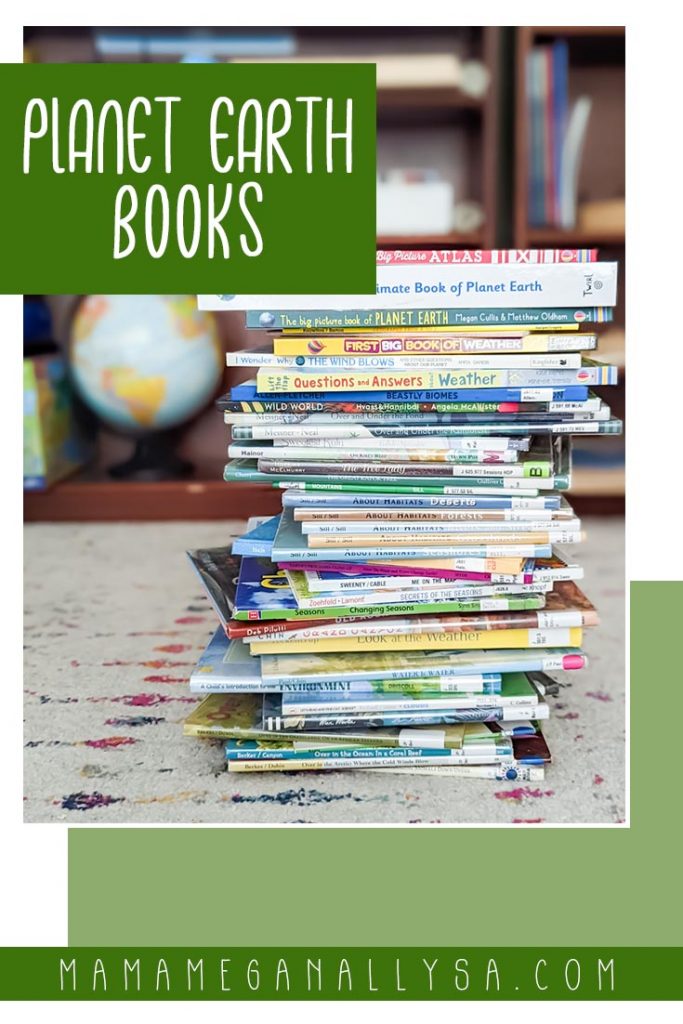 Planning Homeschool Preschool Work Shelves
When I'm planning a unit study, I tend to plan about 10-12 activities to have on our work shelf and I try to have two of each of five major categories. This lesson plan will last us 2-3 weeks of "school" time.
Language– this could be things like working with a movable alphabet or introducing new vocabulary with three-part cards or phonics games
Numbers – this could be working with our colored beads, our red and blue rods, bead hangers or math link cubes
Sensorial – this is where you'll see a lot of the traditional Montessori sensorial materials, things like the brown stair and the pink tower, knobbed cylinders, and knobless cylinders, but we'll also have things that will work on differentiating size or weight.
Fine motor – this is where you'll see things like beating lacing, sewing, cutting, and tracing
Other – this category sort of acts as an overflow for game schooling (bingo and memory), puzzles, and sorting activities. Really this is just where I plug in a couple more activities that I really want to add to the shelf even if they overlap with other categories.
Depending on how in-depth and how interested your little learner is could dictate if you need a rotation with further work on the topic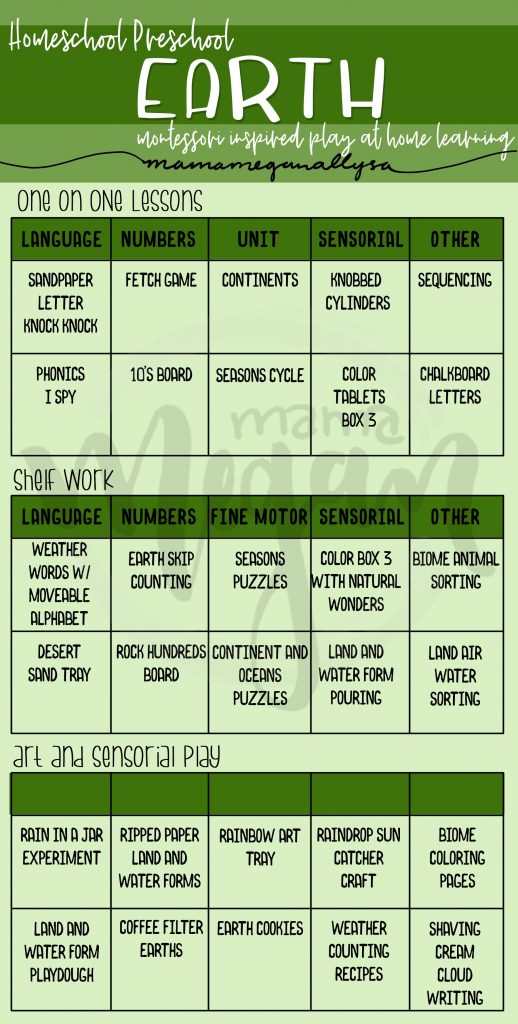 I only prepared one lesson plan for our Earth unit study, but I intentionally planned a 6-week unit knowing it would take us longer to get through everything and I honestly think this might be our new method for a while! It has worked really well for us to allow more time to cover topics but not so long that she gets bored.
Disclamer
This post contains some affiliate links. As an Amazon Associate, I earn from qualifying purchases. I may receive a small commission from if you follow and decide to purchase. There would be no additional cost to you!
Planet Earth Unit Study Works
as I mentioned above we covered a lot of different topics just a little bit so our shelf work feels a little all over the place, and then we would cover a topic more thoroughly with a one-on-one lesson or craft project.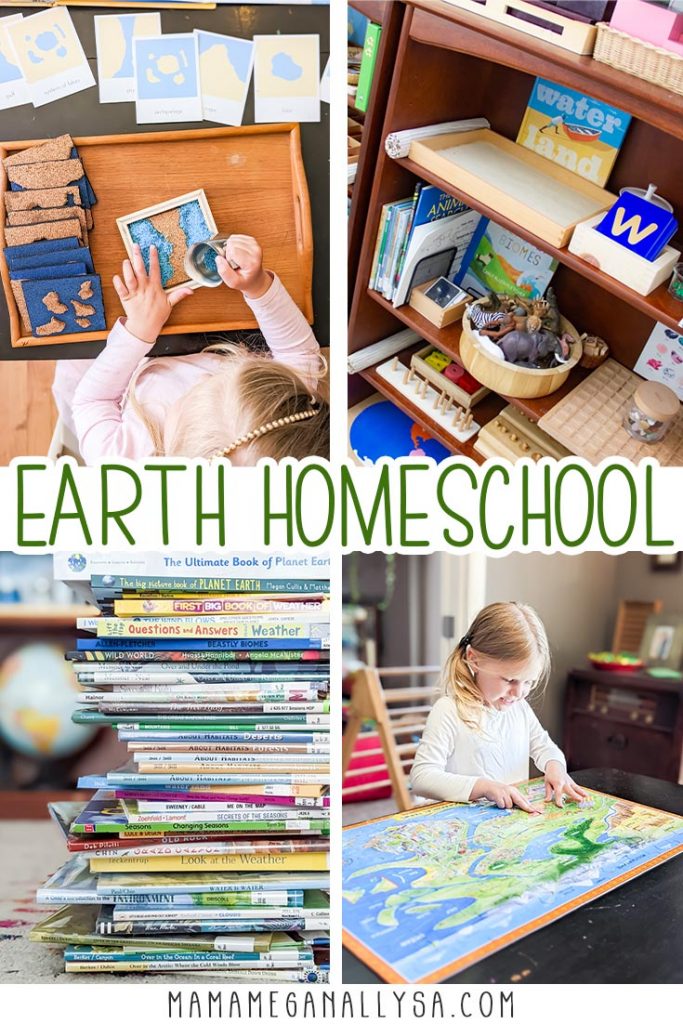 Language Works
Weather Words and Moveable Alphabet
A simple invitation with our Montessori moveable alphabet to do some writing using some simple weather word cards as prompts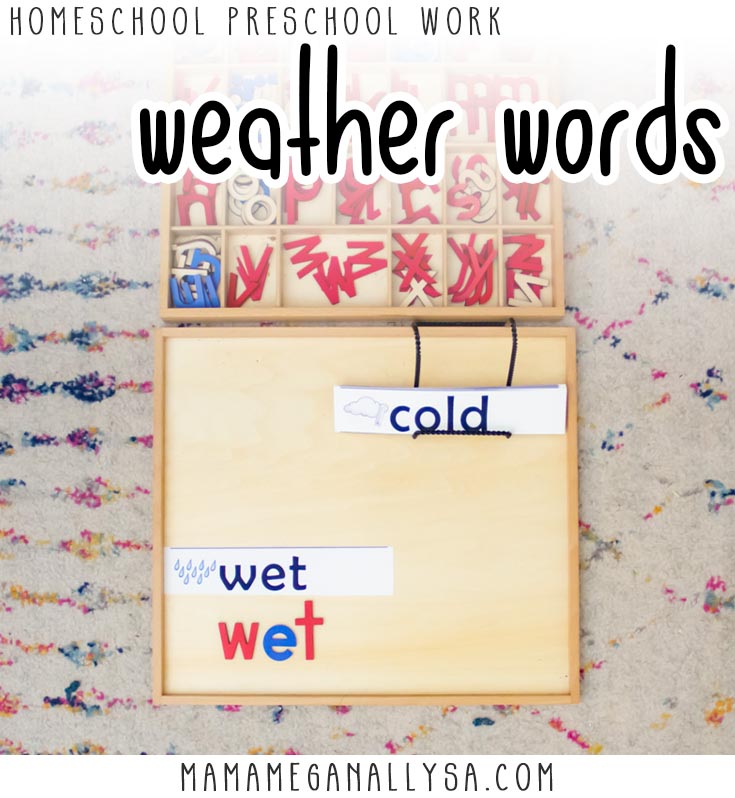 Desert Sand Tray Writing

I presented it with our sandpaper letters (amazon option) with the intent that she would trace a sandpaper letter and then make the same letter in the gel bag
Number Works
Rock 100's Board

I presented 100 small polished rocks to sort and fill our DIY hundreds tray(Amazon version). Sorting is a great early math skill, working with the small rocks is good for her fine motor and anytime we will in the 100's board it is building her stamina for when we tackle it with the number tiles!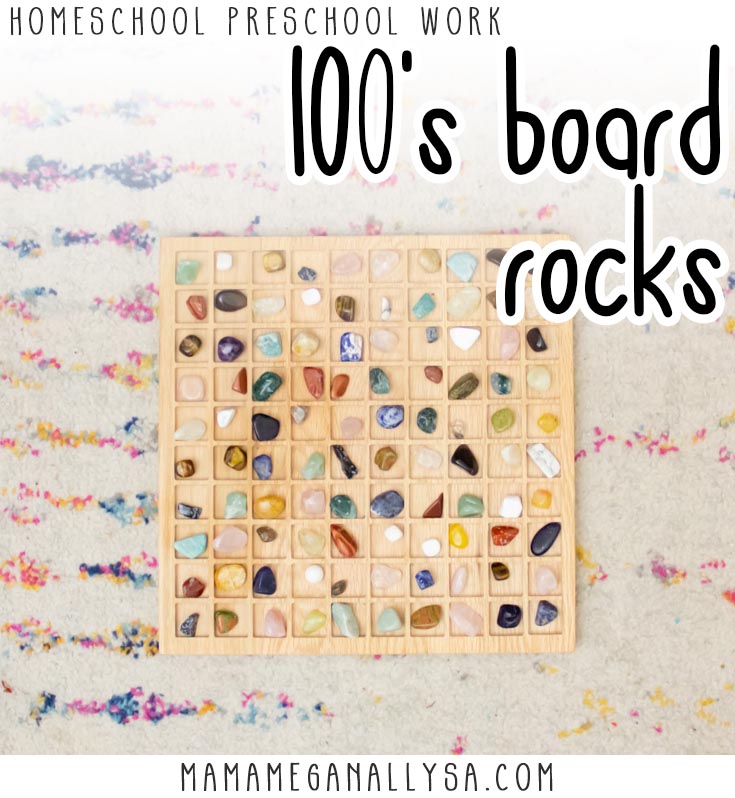 Nature Skip Counting Puzzles
I printed photos and cut them into strips and labeled each strip with the appropriate skip counting, I introduced 2, 5, and 10. When Bitty worked with this material she was really just completing the picture puzzle and then we would look at the patterns we noticed in the skip counting. She certainly didn't really grasp the concept at all this was just her first introduction to it!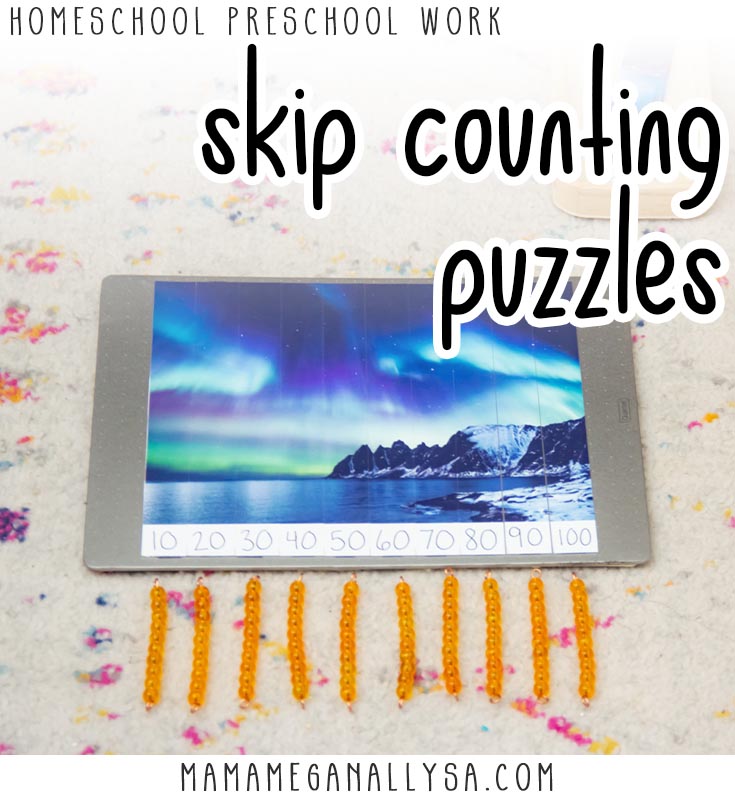 Sensorial Works
Natural Wonders with Color Box 3
I printed some natural wonders pictures and paired this with our DIY color box 3 (amazon option) The intent was to have her study a picture and find the main colors she saw.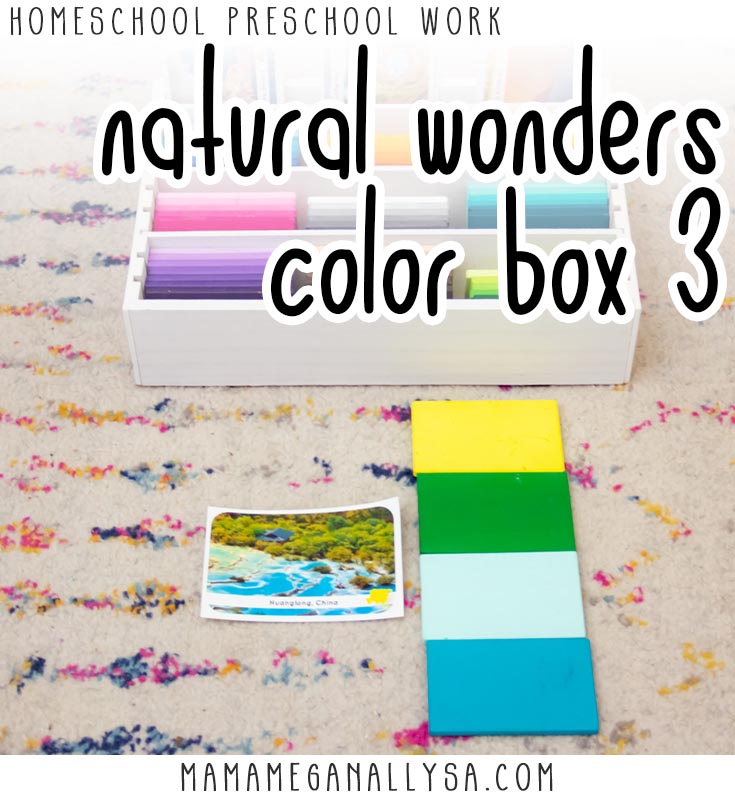 a classic Montessori sensorial material that works with the variations of width and length and the combination of those. I like to add the extension of the blindfold once they have begun to master this work.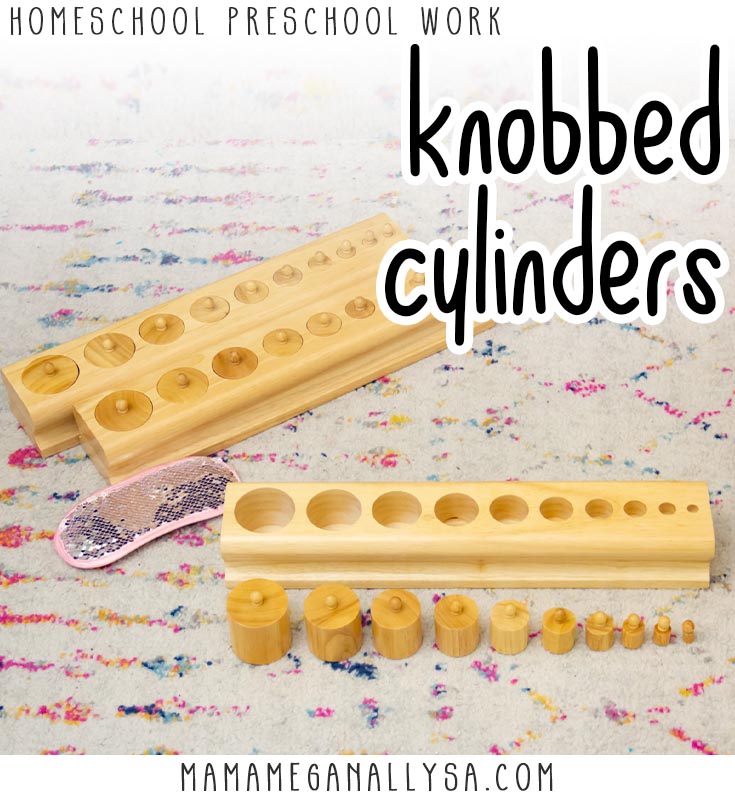 Fine Motor and Practical Life Works
Land and Water Forms Pouring
I DIY'd some land and water form cards out of cork, paint and hot glue with the hope they could be still 3D, but less cumbersome than the traditional material. Im not sure how successful I was but they served their purpose so I'll take it!
I added a small container of rice that I dyed blue to be the water (it was only slightly less messy…haha) Bitty picked a card, placed it in the tray poured the rice over to create the water, and then when done she placed the funnel in the cup and poured the rice back into the cup.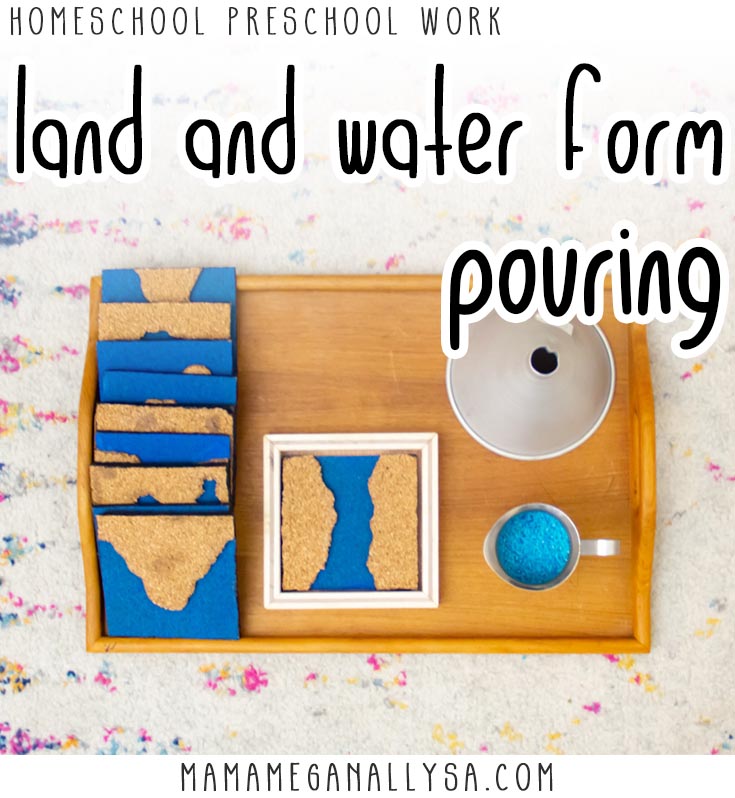 Seasons Puzzles
We had two different seasons puzzles for our Earth Unit Study. a smaller layered puzzle and a larger floor puzzle that included the months of the year as well.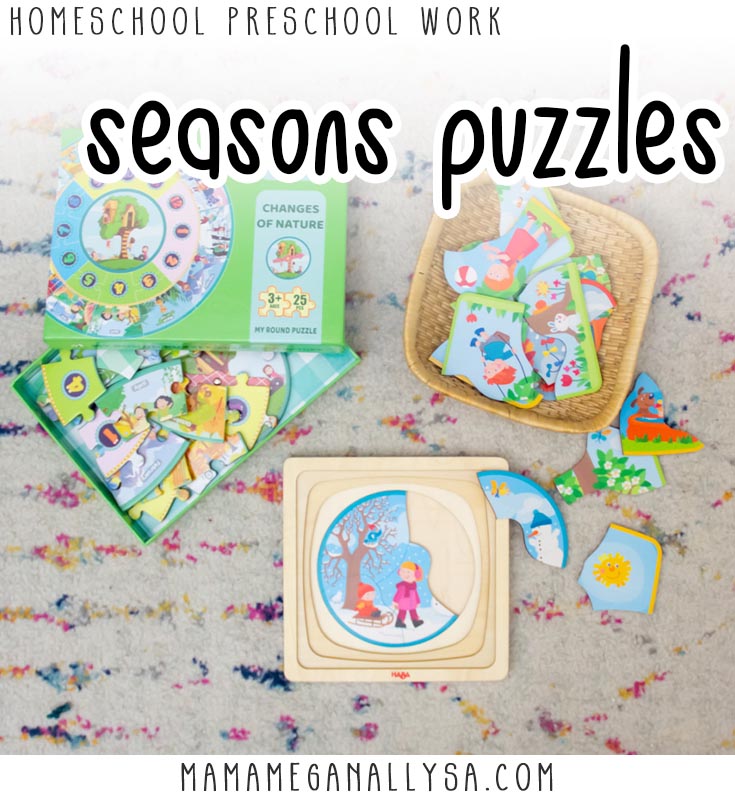 Layers of the Human Body
We had two different Montessori puzzles available this month one with the continents and the other with the oceans (DIY) of the world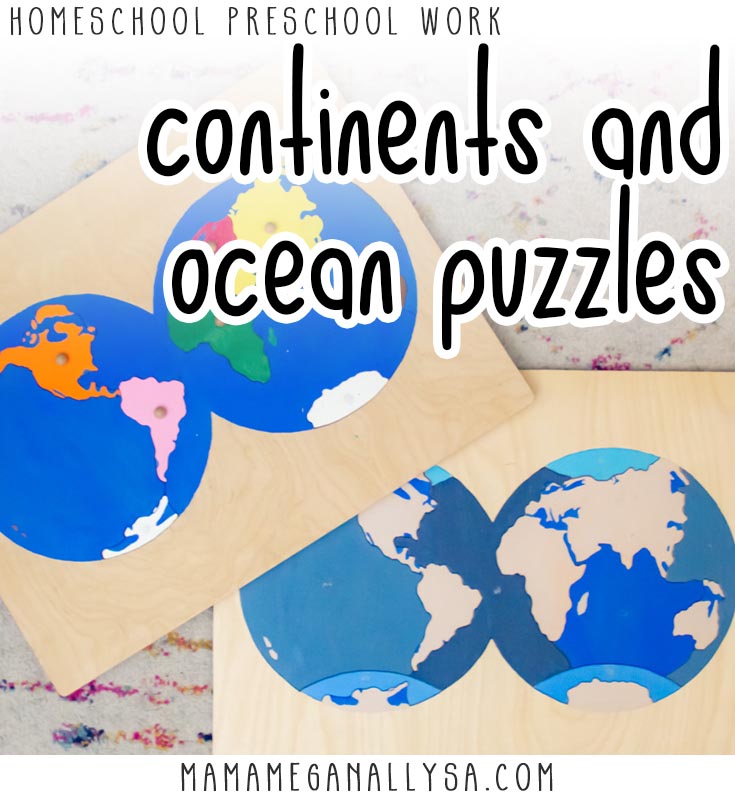 Other Works
Biome Sorting
We have been slowly collecting a wild variety of animal figures over the years and these were perfect for our sorting work. I printed out images of the different biomes and selected 3 animals from each biome for her to sort into their correct home. If I had had more time I would have made a control chart of some kind to help her self-correct!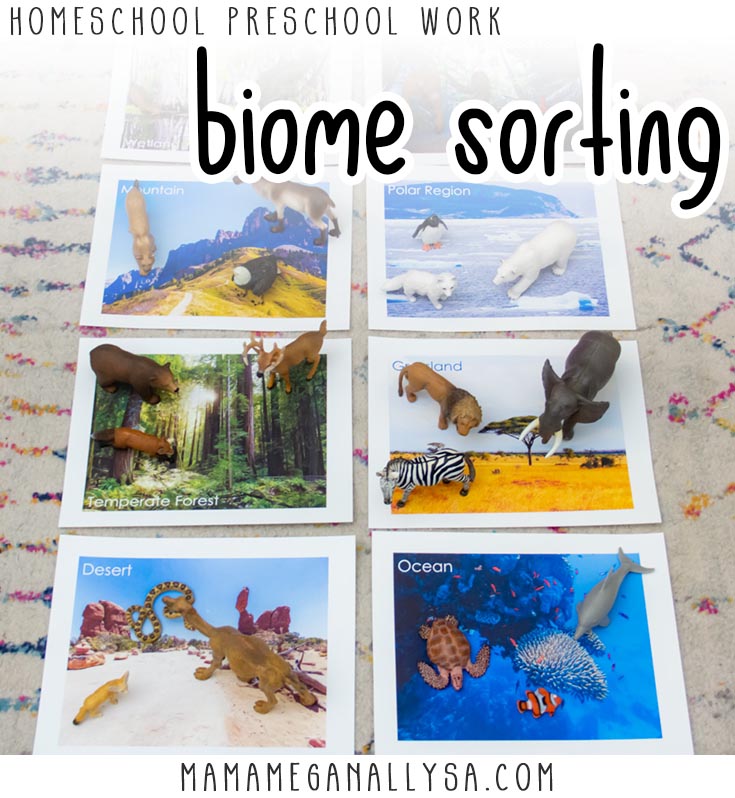 Land Air Water Sorting
another sorting work but a classic Montessori lesson for the primary age group when it comes to talking about the Earth! I filled three small mason jars; one with dirt from the backyard, one with water dyed light blue, and one with air. Then Bitty's job was to sort pictures of different things/activities that you would find in each medium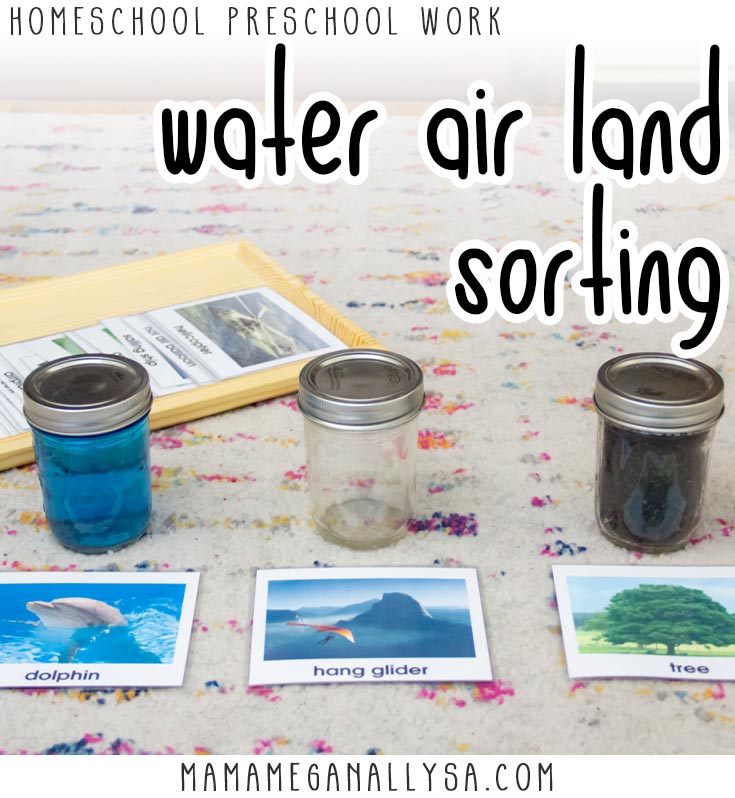 Land and Water form Matching Work
I already had the graphic land and water form card printed for some one-on-one lessons so I thought it might be fun to find some real-life examples of each and see what she can match! I will admit this is harder than it looks the real-world picture examples are rarely as obvious as the graphics but it was a fun challenge for us both!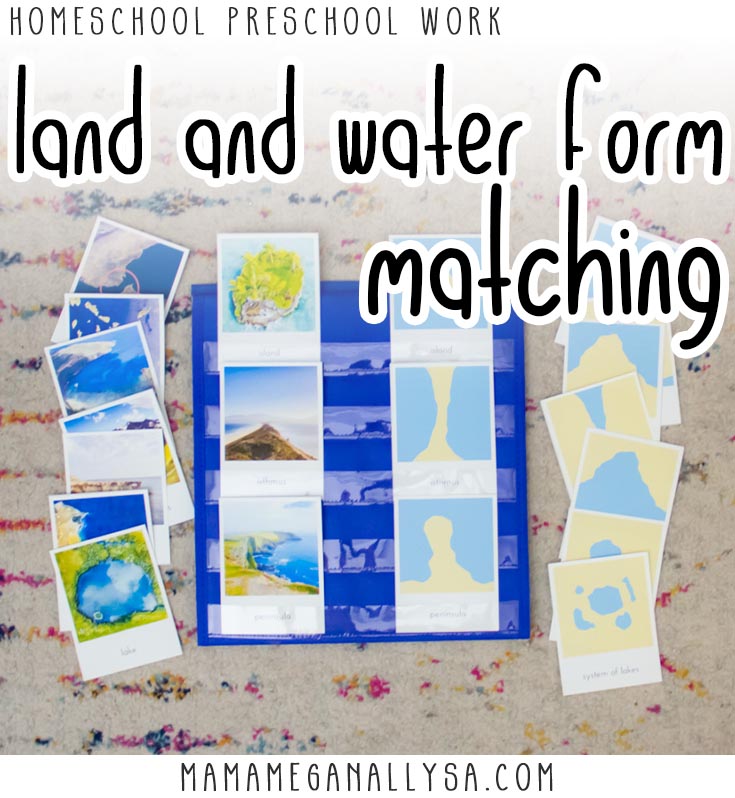 Human Body Unit Study Tot School Works
A few of the activities that I put out on the shelf are very geared towards my 2 year old, in case we are working at the shelves when she is awake. In total transparency, we aren't often over here in the mornings so these activities have been mostly ignored by Bean, but Bitty will occasionally go to them and that's fine too!
A simple peg stacking puzzle work for Bean to work on fine motor and matching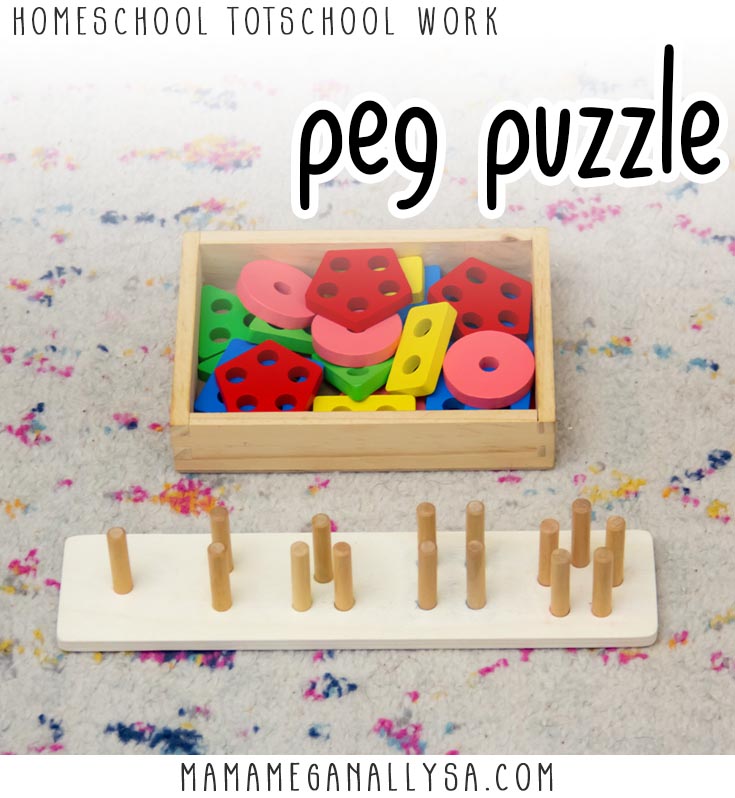 Animal figure to card matching
I already had a handful of animals out for the biome sorting work and decided that adding some cards would be easy enough and Bean did fabulous at it! (also I JUST now noticed that penguin is spelled wrong…)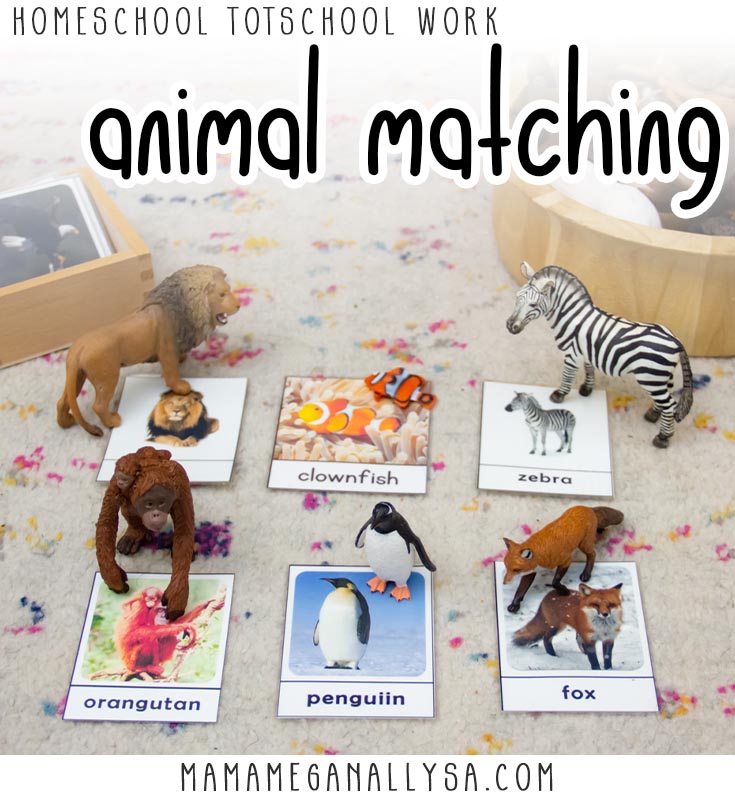 DIY Geoboard
Bitty definitely used our geoboard (amazon version) as well. She prefers it with smaller elastics, but I wanted something a little larger for Bean to practice with so we used small chunky hair ties.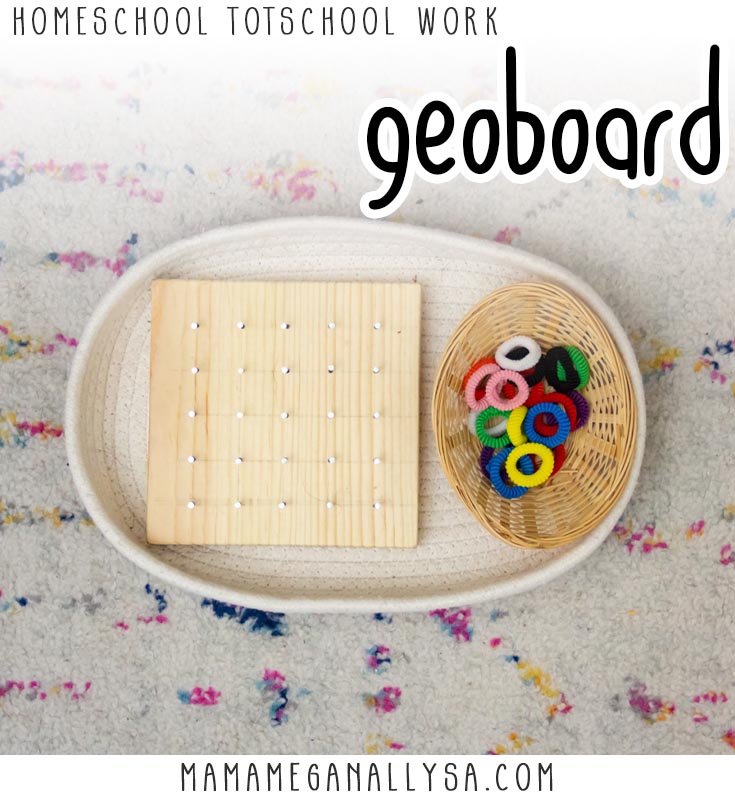 Earth Unit Study Crafts and Sensory Play
We had a lot of fun with arts and sensory for our Earth Unit Study! There are tons of ideas online, though most are marked as "Earth Day"Still good ideas though so here are some of the ones we loved!
Human Body Unit Study Craft Ideas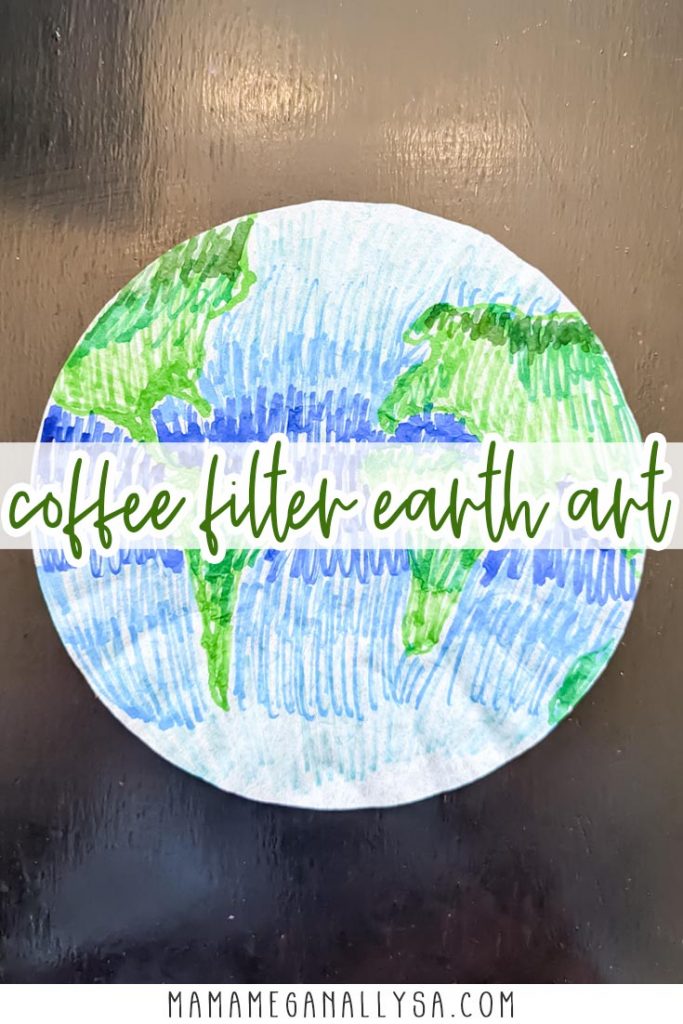 Human Body Unit Study Sensory Play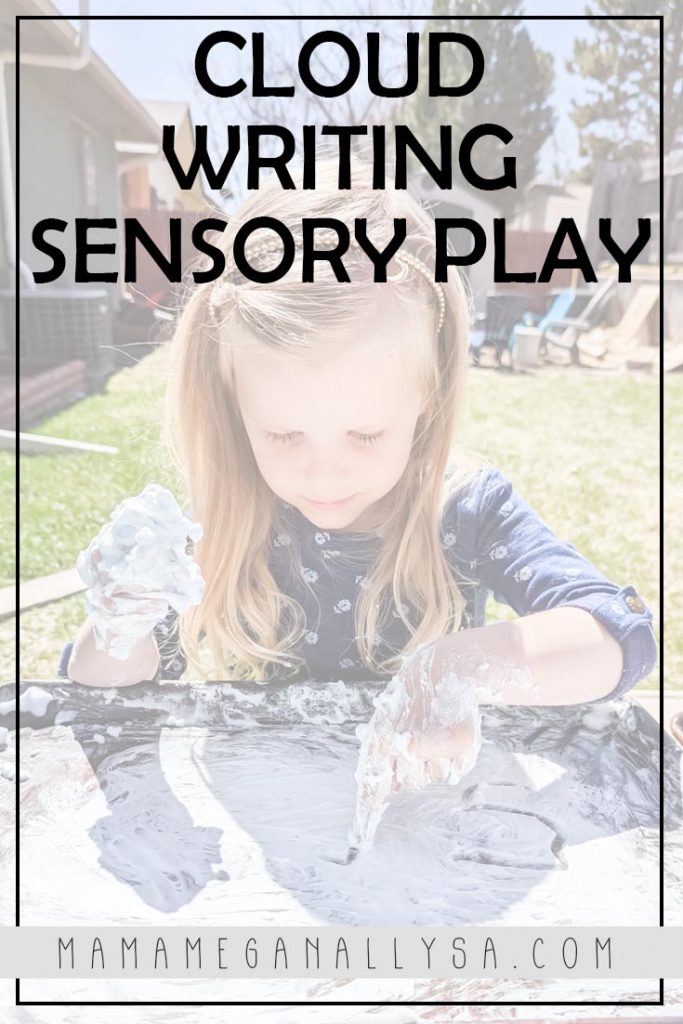 Need more ideas for a preschool Earth Unit Study?!
Then you should definitely check out my Homeschool Preschool Earth Unit Study on Pinterest! It's full of these ideas and so many more others that we just didn't have time for!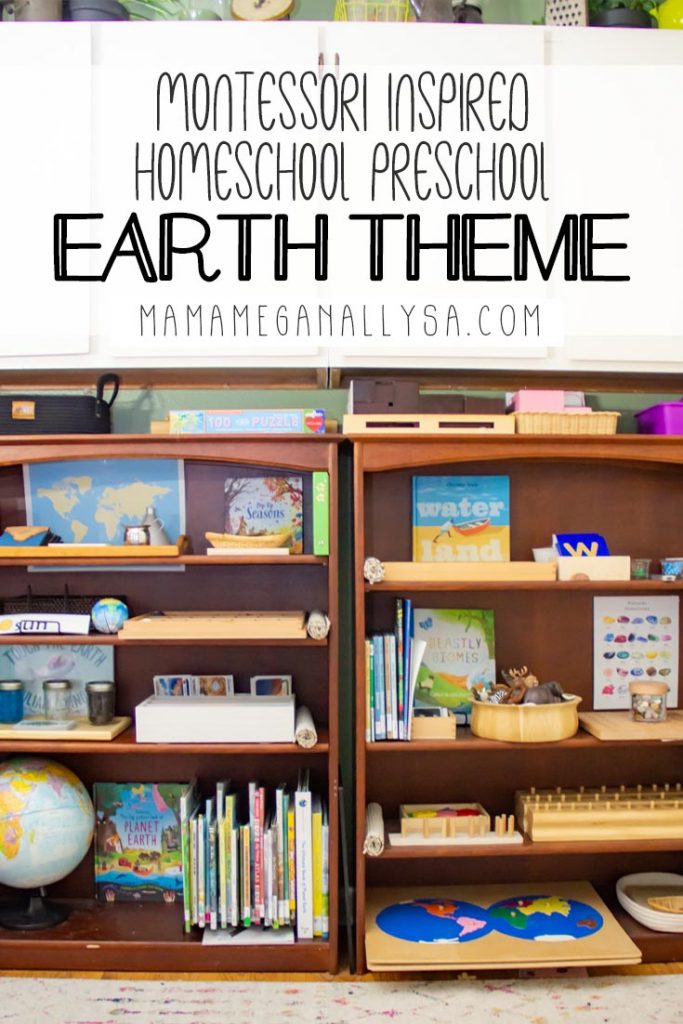 Learning not just about the Earth, but how to take care of it.
An Earth Unit study would be a great unit to also tie in Earth day, conservation, and all the work that we need to do to protect our earth and all its life forms. I chose not to do that this time as we were simply running out of time and I wanted to focus more deeply on some of our other topics! But we will definitely be doing another Earth Unit study where we talk a LOT about how we should be treating our home.
Other posts you might be interested in