I have two widely active kids running around my living room every day all day, it just makes more sense to have a living room playroom that suits all our needs!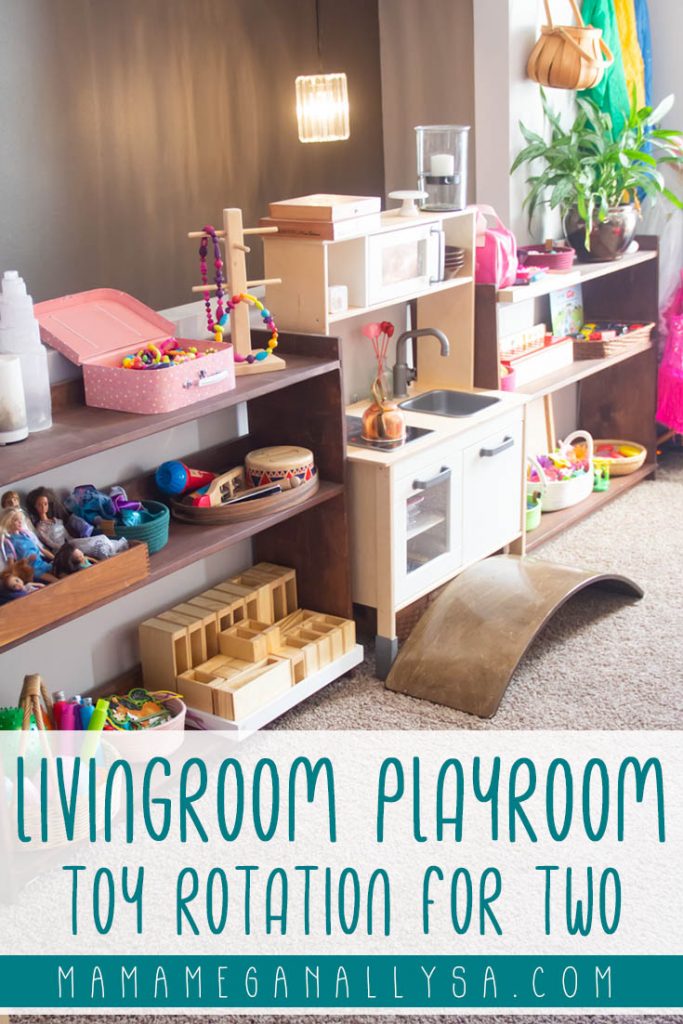 Living Room Playroom Toy Rotation for Two
Bitty is 4.5 and Bean is 2 years old exactly, and we spend 75% of our time at home. Our Living room playroom is probably the most used room in the house we are in and out of it all day. Playing, reading, dancing, running, tumbling, and cleaning…always picking up something in here.
As both my girls have aged, and they have really begun to play together more and more; open-ended play and dramatic play have become the main focus of our living room playroom.
We have homeschool shelves where we keep more of our skill focus activities. If you want to see what that looks like, you can check out our Space and Nutrition shelves to see what we are working on!
Living Room Playrooms are the Way To Go in my Opinion!
Our playroom is our main living room and the heart of the main floor. I make it a point to have the room feel like more than just a playroom, so it's a mix of kid aesthetic and adult decor, but if I'm honest it's mostly a kid space at this point.
We have the toy shelves and play kitchen along one wall of the room, with a bit of space in each corner for a little extra something.
we have a fireplace that we don't use so I have a large mirror mounted on the hearth. What kid doesn't like to watch themselves dance?! Then on either side of the hearth, we have a little space we currently keep our Lego basket and the bookshelf here.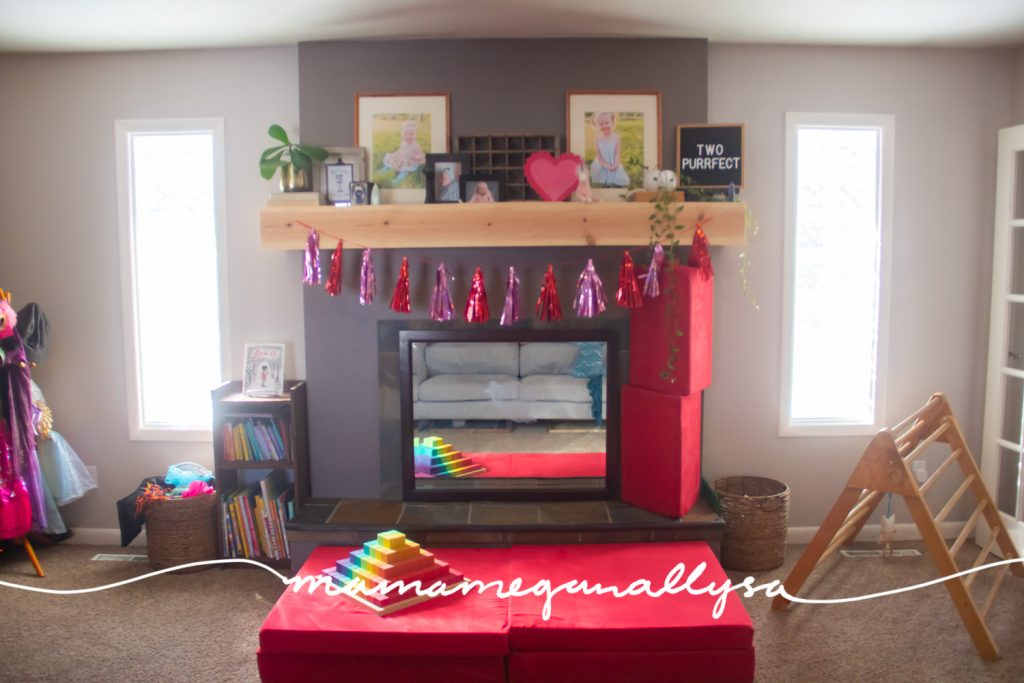 Keeping the playroom in the main portion of the house instead of shoved into a bedroom or hidden away in the basement keeps the mess under control as you can't forget about or just close the door. It also means it's more convenient with little ones in the house. You can leave them to play in the living room and go let the dog out or pop something in the microwave without being too far from the action.
I will say that other than the fact that I am "living" in our living room playroom for a major part of the day it doesn't much resemble a traditional living room anymore. One whole wall is dedicated to toys, we have gross motor toys scattered around the floor, and there is no TV in the room. The mantel, general decor, and furniture are the only things that are really "adult"
Other Little Zones in the our Livingroom Playroom for Two
Wall storage adds beauty and function!
We make use of all the space we can in our living room playroom by using wall space as storage. We have two wall shelves up high that are part decor put part function! Things that are always up there are…
Play Silks – The good part is they are easy to see, look nice, and the girls can get them down themselves. The only bad bit is they cant hang them up independently.
Loose Parts – a seasonal selection of loose parts manipulatives. Some of them are our DIY mandala pieces other are things I have collected from craft stores and such. I keep these in my Maple and Lark jars so they are beautiful to look at, baby-proof, and easy to get to!
Grimms Rainbow – this rotates between down on the main shelves to up on this shelf. I keep it out here to encourage us to use it more, but my girls are not SUPER into building with it just yet so sometimes it lives up on this shelf
We ALWAYS have books on hand
When we built our play shelves we did also build a smaller matching shelf for books. We keep a selection of our board books and our large format books on this shelf. I also tend to display a book of the week on the top. Usually, something seasonal or topical based on what we are learning in homeschool.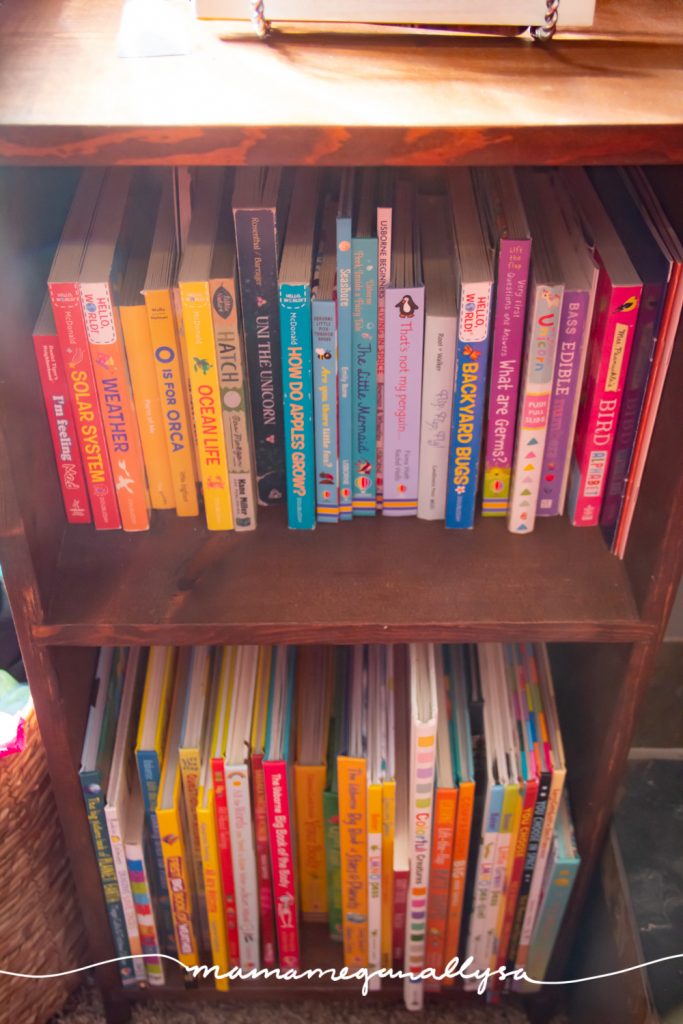 What Living Room Playroom would be Complete without Some Gross Motor Options?!
Then the gross motor toys just sorta move around the living room playroom as they see fit, though generally in the center of the room where there is the most room to move about.
Our wobble board (not this exact brand as I can't find ours, but very similar) that we have set up as a step stool of sorts in front of the play kitchen
Our Pikler triangle has been downstairs for the last couple of months due to the holidays, but we brought it back up and Bitty has been making good use of it
Then there is the holy grail of trendy kids' gross motor toys. The nugget couch.
Our current favorite configuration is set up like a wedge for "running" down, climbing up, and practicing summersaults!
We love this thing and will undoubtedly be getting another at some point. The girls are on it every day in some way. They are not currently rearranging it much on their own, but Bitty will ask for her favorite setups and I have found a few good ideas on Pinterest for when I need inspiration for set-ups!
If your attempting to create a more grown up living room play room doing be afraid to think outside the cube
We ended up DIYing our shelves because I wanted something that would accommodate taller toys, as well as feel open and a little homier. I will be honest I don't LOVE them…Im currently designing version two. I would like the shelves to be deeper as most of our trays hang over the edge. I also feel like they are just missing a little personality… but I can't quite figure out what I want to do to them.
How I present our toys on our shelves
I display almost all our toys in low-walled baskets and trays and most are from thrift stores. With the exception of the stunning Maple and Lark Promise rope baskets that are just the perfect size for playroom toy rotations and come in so many beautiful colors! Our living room play room wouldn't be complete with out them!
I am an affiliate of Maple and Lark so if you are interested in some baskets of your own I would greatly appreciate it if you would use my link and help out my own basket addiction! They also have a line of exclusive toys and learning tools as well!
Playroom Toy Rotation system for a four-and-a-half-year-old and a two-year-old
I custom rotate the girl's toys every three weeks. I have about 16 things out at a time, not including the gross motor toys, stuffed animals, and books.
Things that rarely rotate out of the living room playroom are…
Building toys – they rotate every other month or so between magnet tiles, wooden blocks, and Lego Duplos. We currently have our DIY stepped pyramid blocks and our Duplos out
Play kitchen – I do like to seasonally decorate or set up thematic play using the play kitchen but the basics are always there
Dress Up Clothes – we have a large basket with a variety of accessories and a kids' coat rack where we keep most of the dresses. Our favorites are these nightgowns, comfortable enough to wear for hours at a time, easy to wash, and hold up to some real playtime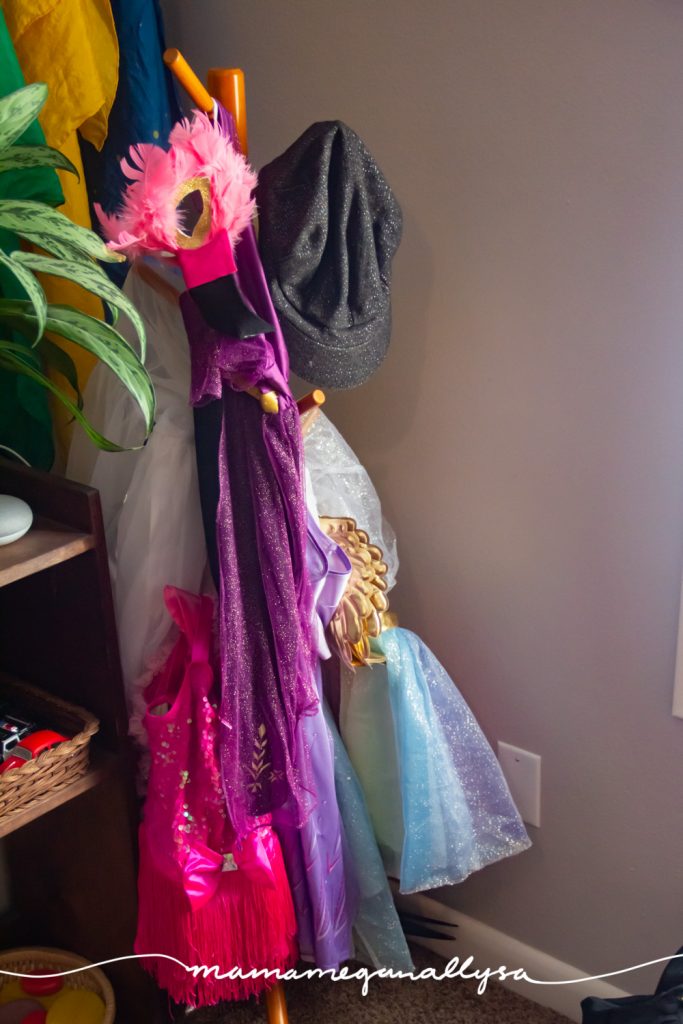 Babydolls – these are currently living in the girl's bedroom, but there is always a baby doll floating around this room so I still mention them. Our favorites are the miniland all vinal and the soft baby stella
Take a detailed look at our livingroom playroom for a four-and-a-half-year-old and a two-year-old
For our toy rotations, I try to always include a fine motor toy for each girl's level, some kind of musical instrument, a puzzle, and a loose parts invitation of some kind. We almost always have some small world play and some dramatic play. From there I will fill in with just some random toys that haven't been used in a while.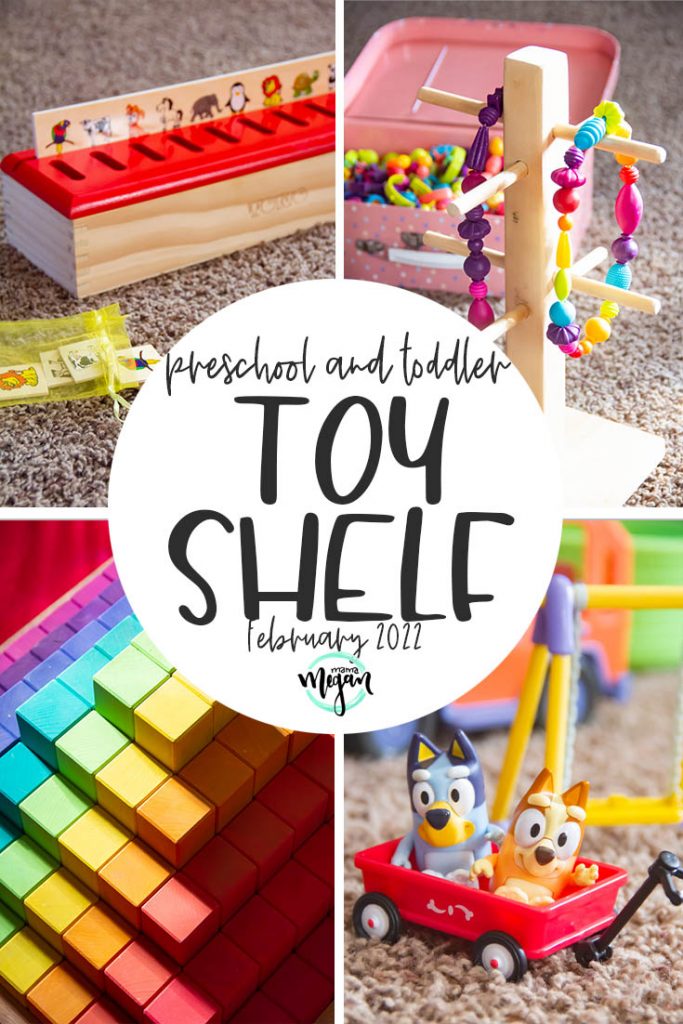 Wooden Ball Run – I obviously can't link this one, but I will find a couple of other options that we were considering before she received ours. A larger one and a smaller one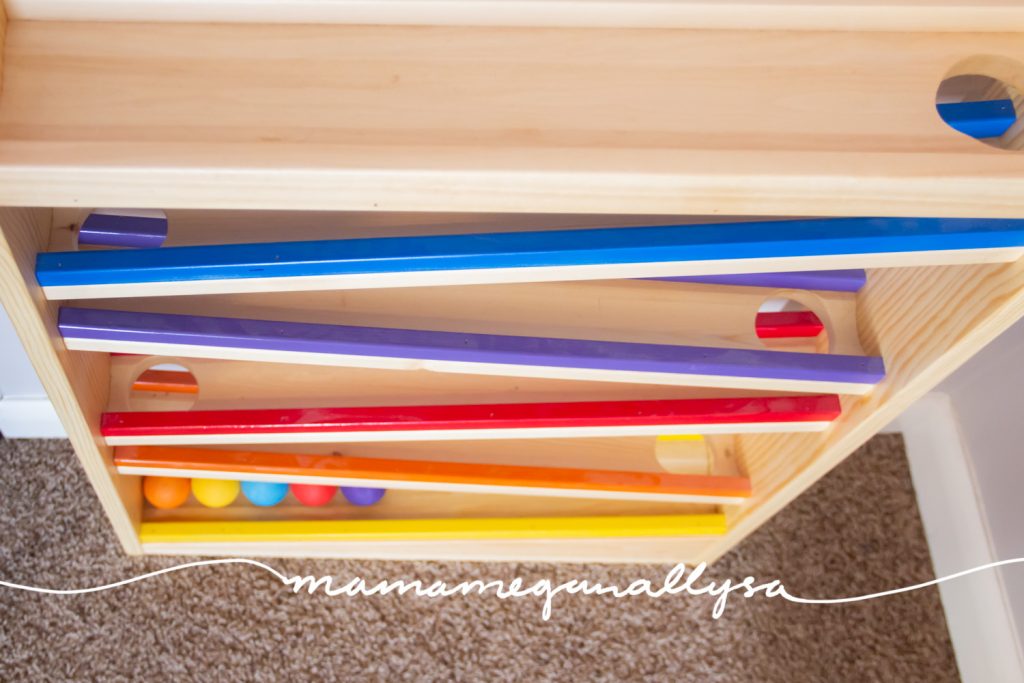 Snap Beads – These are wonderful for fine motor for a preschooler! Bitty has loved these consistently for over a year now and, I honestly enjoy playing with her as well! We add our DIY mud tree to hang finished pieces on! You can see that DIY here!
Barbie Dolls  – We have been bitten by the Barbie bug. I knew we couldn't last forever…lol we have a random selection of some vintage 90s dolls that I played with growing up, some newer Barbie, Ken, and a few Chelsea dolls, as well as some Frozen dolls. We have also recently added a Barbie Camper to replace our travel barbie house that fell apart.
Musical Instruments – Hape Microphone, PlanToys Drum, Melissa and Doug harmonica and cymbal shaker, plus a rain stick and a slide whistle
Fidgety Basket – icecream pop it, glow in the dark pop it, pop tubes, bouncy balls, pink needough, and giant squeeze ball, rattle balls, zipper bracelets, heart glasses, stretch bugs, wooden balls, sensory ball, and suction ball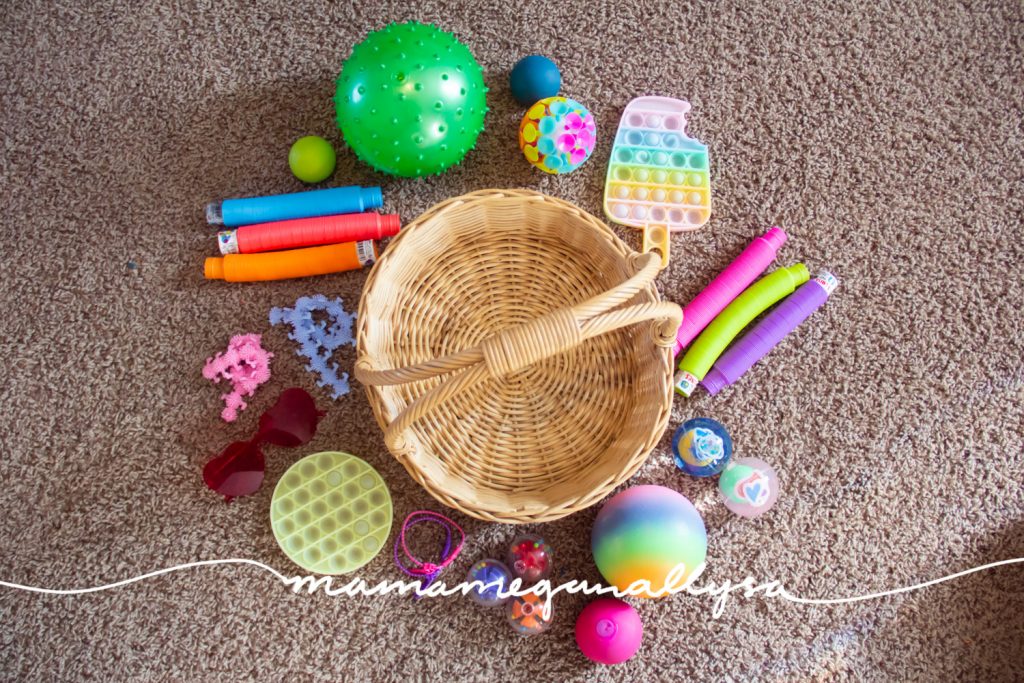 Farm lacing Cards – a fine motor work for Bitty, who has expressed interest in learning to sew
DIY Wooden Hollow Blocks – This is a set that was handcrafted by my dad for Bean for her birthday and they are super sturdy and definitely a fun addition to the shelf I will link a similar style of block, these are oversized compared to ours but otherwise the same!
Beauty Salon Set – Cannot comment enough on the details and quality of this dramatic play set!
Polly Pockets – Bitty absolutely adores her Polly Pockets', and if Im honest Bean really likes them too. I still have quite a few of my Polly Pockets from the '90s, so I was really excited to see them making a comeback, and they have not disappointed me!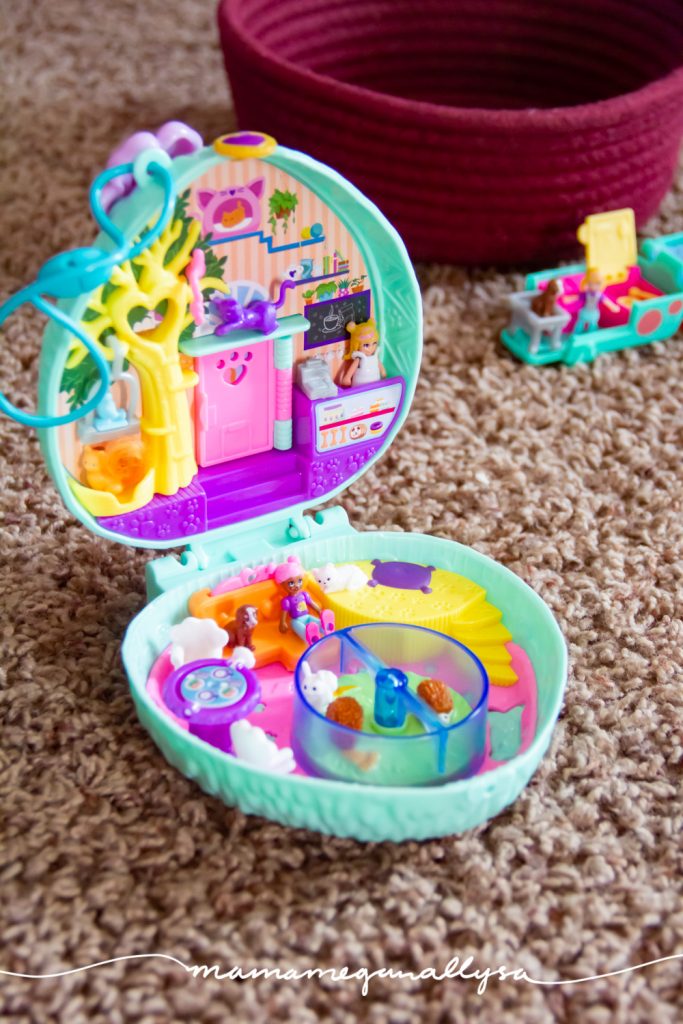 Matching Posting Box – Bean is really enjoying this work she brings me over a little bag of tiles and shakes it in my face until I get her set up with this box and then we work 2 or 3 tiles at a time matching and posting them. It's been great for her vocabulary and I'm excited to watch her grow with it!
Pull Back Diecast Cars  – Bean has shown a little interest in cars and vehicles and her collection of cars grew on her birthday, so we got out all of them with the book Busy Trucks on the Go
Bluey Car and Playground Set – Is anyone else obsessed with Bluey? Honestly, the entire family loves that show! We have the whole Healer family and the family car, as well as the playground set and Bean just adores them all. We also have most of the Bluey books, and when I say these are Bean's absolute favorite thing to read I'm not exaggerating in the slightest. She goes for these books every day multiple times a day, and I don't even have to do the reading. She will sit there and just babble her way through the pictures and it's absolutely adorable
Stacking Garden – We started this collection with the green toys set a couple of years ago, and it was an instant hit for Bitty, I knew, now that Bean was old enough to play with them that we would need more flowers to work with! This set has been great for adding some new colors and shapes as well as lots more pieces to work with!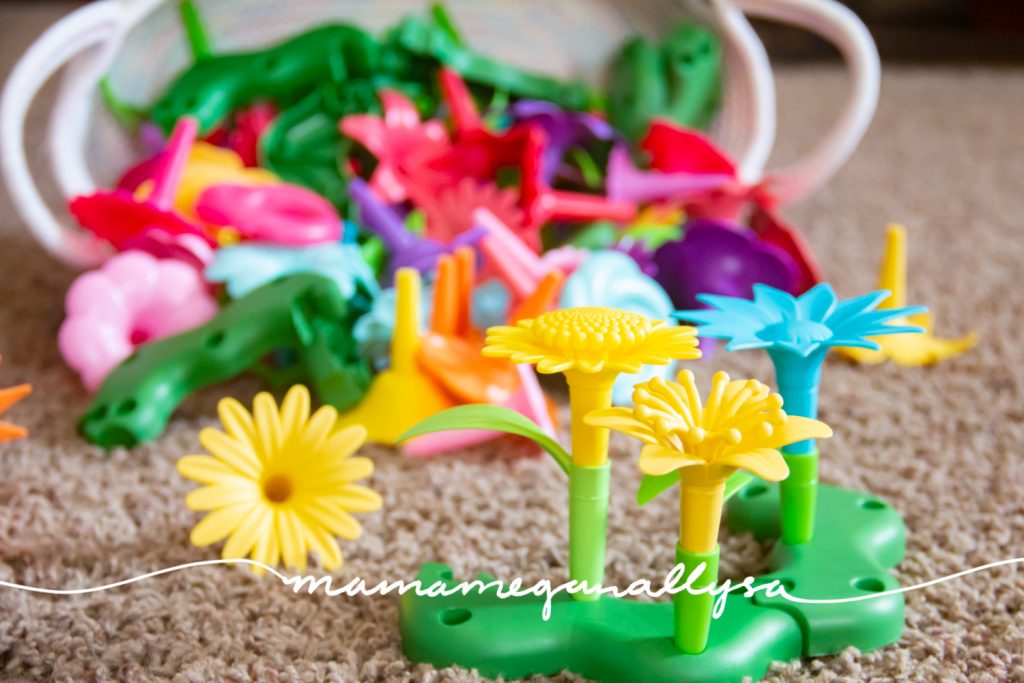 Stacking Pebbles – These have been on my DIY list for a while and I just never got around to them, then I found this set online for a great price and we just couldn't pass them up!
What playroom would be complete without a play kitchen?!
Our play kitchen is the most used item in our living room playroom. Every day someone is making something.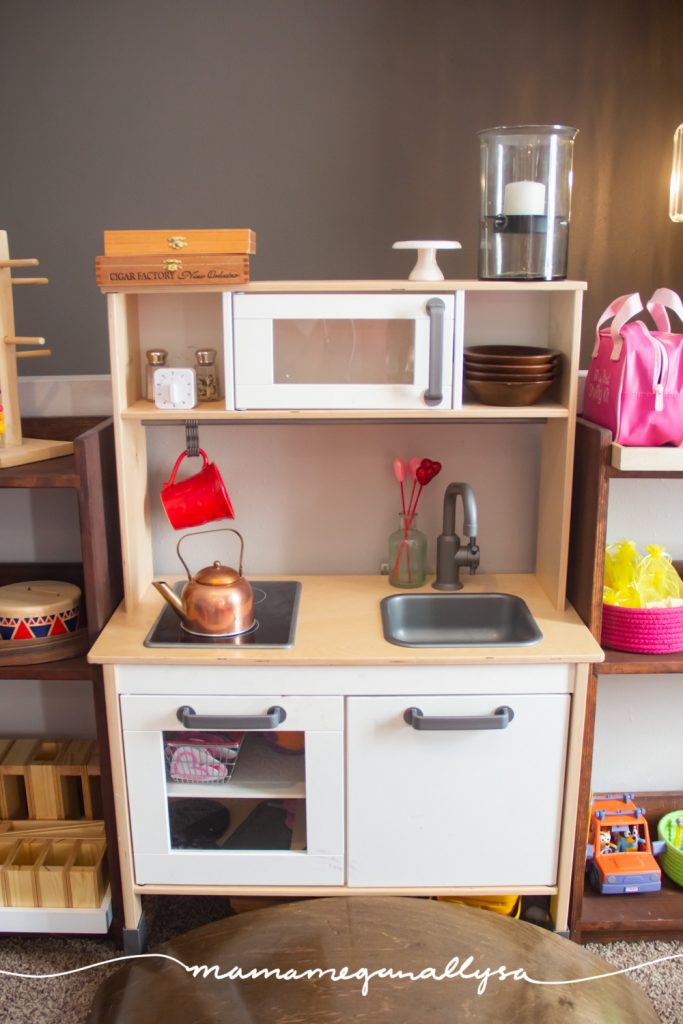 We keep most of the pots in the oven and the dishes in the cabinet. All the play food is in a larger low-walled basket under the kitchen.
We LOVE Learning Resources play-food. It's realistic, durable, and plastic. So that means it is easy to clean, can get dropped, and won't break or hurt when it gets swung in a baby fist at your face! Our coffee pot and mugs are our most used kitchen toys for sure. But the picnic set and ice cream cones are tied for a close second!
Our Living Room Playroom is different every month
When it comes to your playroom toy rotations, don't be afraid to rotate and rearrange the furniture too! A fresh layout in the room always brings a little life into the room, especially if you have a bit of cabin fever from being stuck at home all the time!
What do your toy rotations look like?
If you have a playroom in your living room or if your playroom is shared between a wide range of littles of different ages or if you need help figuring out how to get started with toy rotations, message me on Instagram I would love to chat about playrooms!
OTHER POSTS YOU MAY LIKE