Don't you wish you could figure out your routine for your toddlers once and for all?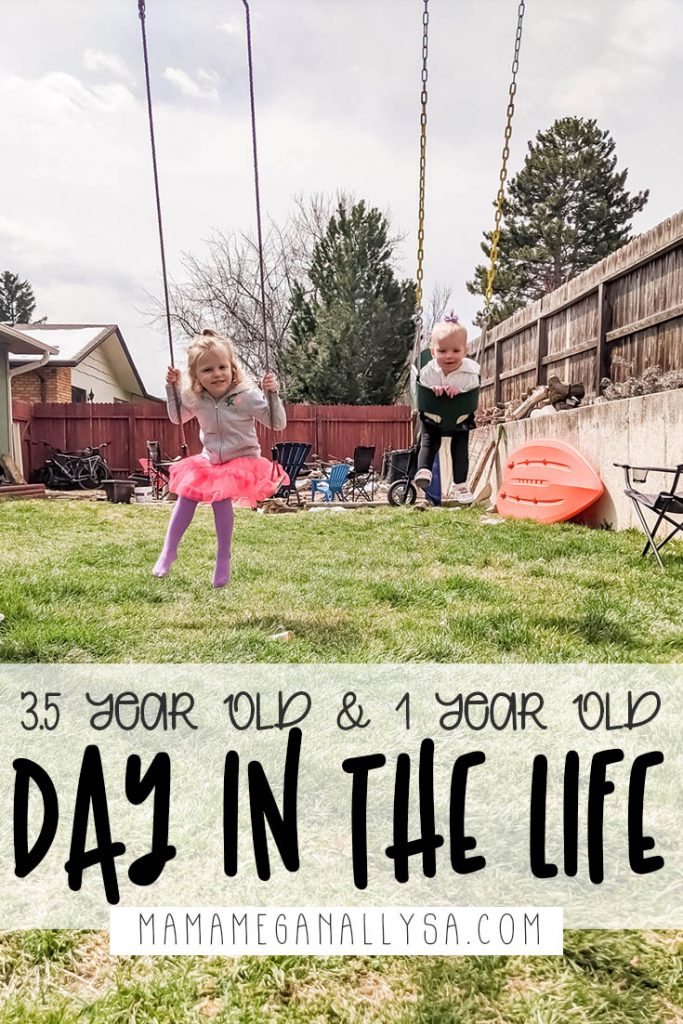 I'll let you in on the secret. The Key is flexibility!
Welcome to a day in the life of a 3.5 year old and a 1 year old. This is a highly specific day in my life, Thursday April 22nd to be exact, but does kind of show our general routine. Every day does not look like this in fact every day looks a little bit different but this is my general routine for toddlers.
Take a Peak into our real-life everyday routine for a 3.5 year old and a 1 year old
Below I have documented a perfectly normal Thursday at home. Know that the time of day has very little impact on when we do most things. It's just easier to make notes with time slots!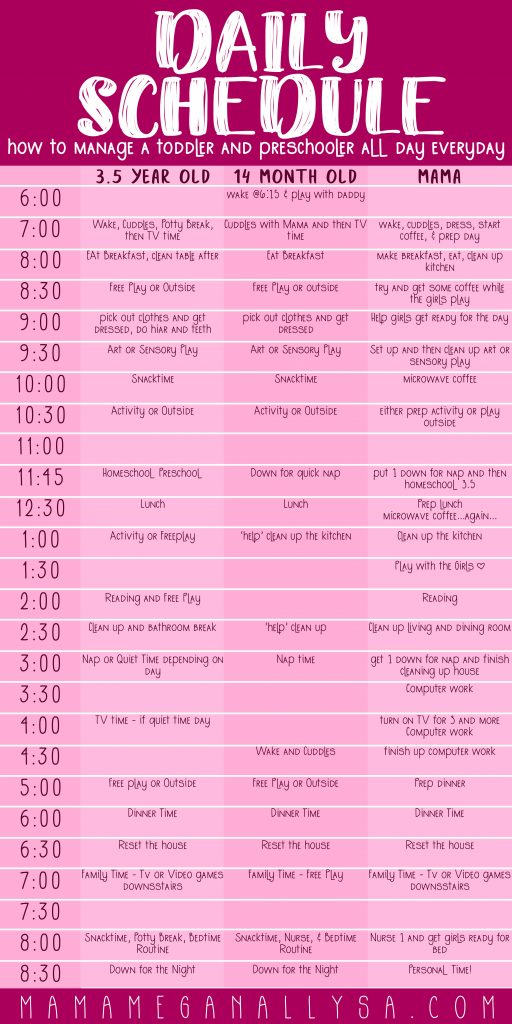 Rise and Shine or Wake and Snuggle Might be a More apt Description
7:00 MORNING CUDDLES
Miss Bean woke up at about 6:15 and hung out with Dad in the living room until he had to go to work about 7:00 then she joins me in bed. Today was one of those rare days that Bitty actually slept in a little bit, so she didn't come into me until about 7:10 or so.
This is honestly one of my favorite parts of the day.
7:30 TV TIME
I send Bitty in to go have a bathroom break before I turn on the Octonauts. Is anybody else's 3-year-old obsessed with the Octonauts?! We have been on this kick for months now and she still picks it. Always, every day, without fail.
Now she's got Bean hooked on it too, so the two of them will sit in the guest room and watch Octonauts in the morning and it's adorable. While they are distracted I take the few minutes to sort of get my day started. I fix my hair quick, get dressed, wash my face, that kind of stuff.
8:00 BREAKFAST
I get some coffee started and then we all have breakfast. Today it was a peanut butter waffle, cottage cheese with fruit, and some mandarin oranges.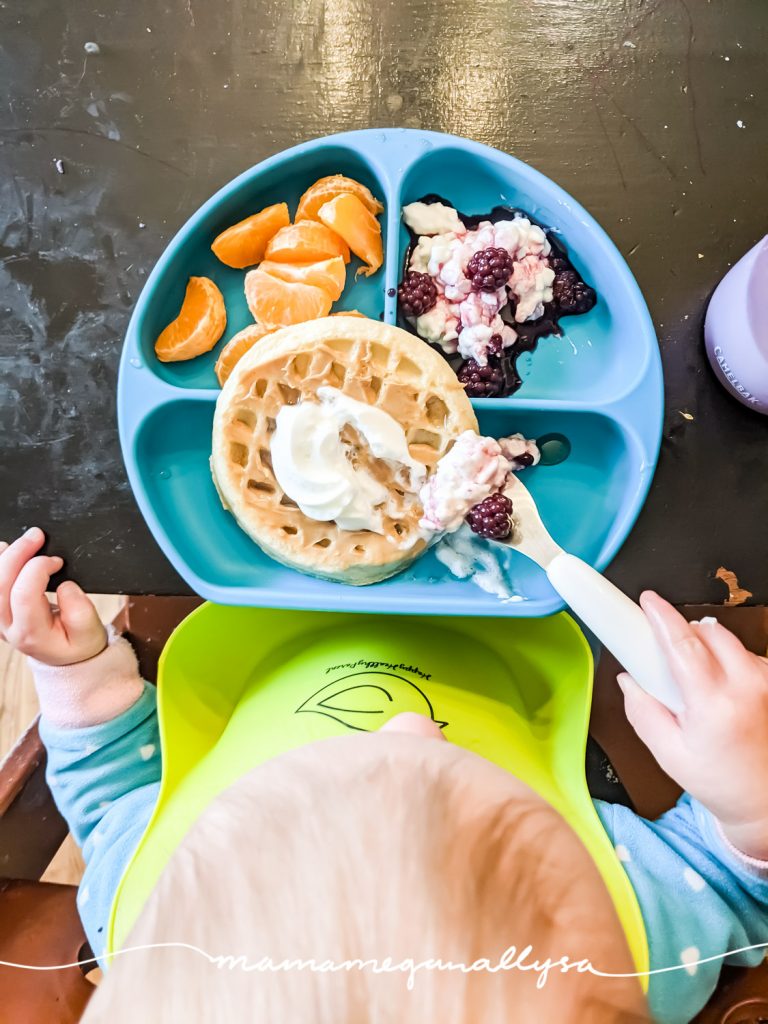 8:45 FREE PLAY
After the girls are done eating, we clean up the table. Bitty is in charge of taking all of her things to the kitchen and wiping up her spot. Bean has started wanting to carry her plate into the kitchen as well, so I'm not going to stop that!
Then they go and do some free play while I finish making the coffee and clean up a little bit from breakfast. Today they got engrossed with the little people house and I was actually able to DRINK some coffee before it went cold!
9:00 READING
In a weird turn of events, they both spontaneously decided it was time for reading in their own ways. Bean sat down at the bookshelf and started flipping through books and Bitty brought a book out to me from the back bookshelf. So we did some reading.
9:15 GET DRESSED
We take getting ready for the day fairly slowly. There's no need to rush it so we don't. We do try and get dressed before snack time at 10 so after our books, I decided we should go ahead and get dressed.
Bitty picks out her clothes on her own and can for the most part get herself dressed on her own as well. Then I help her with her hair and teeth and she's ready to go for the day. Bean needs a little more help but I would expect her to! Though she is starting to pick out her clothes though…with a little guidance…lol
By this point in my routine for toddlers, we are ready for an activity or two or three
9:45 TABLE ACTIVITY
This is the time of day that we usually do some sort of art or sensory activity, but today Bitty picked out something from the school shelf so more power to her! She chose a loose-parts activity working on symmetry! Bean is too young really for loose parts, I set her up with some water painting which lasted all of 2 minutes and she was not interested in at all. You win some you lose some!
10:00 SNACKTIME
I decided to try and distract miss Bean with a snack which ended up distracting Bitty as well so we took a snack break.

10:15 ACTIVITY
Ideally, we would go outside after snack, but today was really kind of blah out. So we opted instead for an learning activity and it is so happened to be Earth Day when I recorded our routine for toddlers, so we did a relay recycling sorting activity.
Biddy absolutely loved it and asked to do it like four more times, Bean mostly just enjoyed crinkling the cans as she toddled around the living room. I'll call that a win for sure!

10:45 FREEPLAY
After we had finished our activity I had the girls just go and play. I think it's really valuable for them to not be constantly entertained by me. They each got distracted with their own thing while I had a chance to drink some coffee and sit for a bit!
11:00 HIDE AND SEEK
Independent free play didn't last very long this morning…Bitty has recently discovered hide and seek and she asked to play. She's not terribly good at it but she's getting better! Now she needs to learn to just stay quiet and wait to be found but she is finding some good hiding spots.
11:15 OUTSIDE
The sun finally came out and while it was only 40 degrees I declared it time to get out back. So I got our jackets on and we went out to swing for a bit!
11:45 AM NAP
Bean is basically ready to drop this morning nap. It's really more MY own issues that have us keeping this nap, it just fits our schedule a little bit better to have her nap in the morning right now.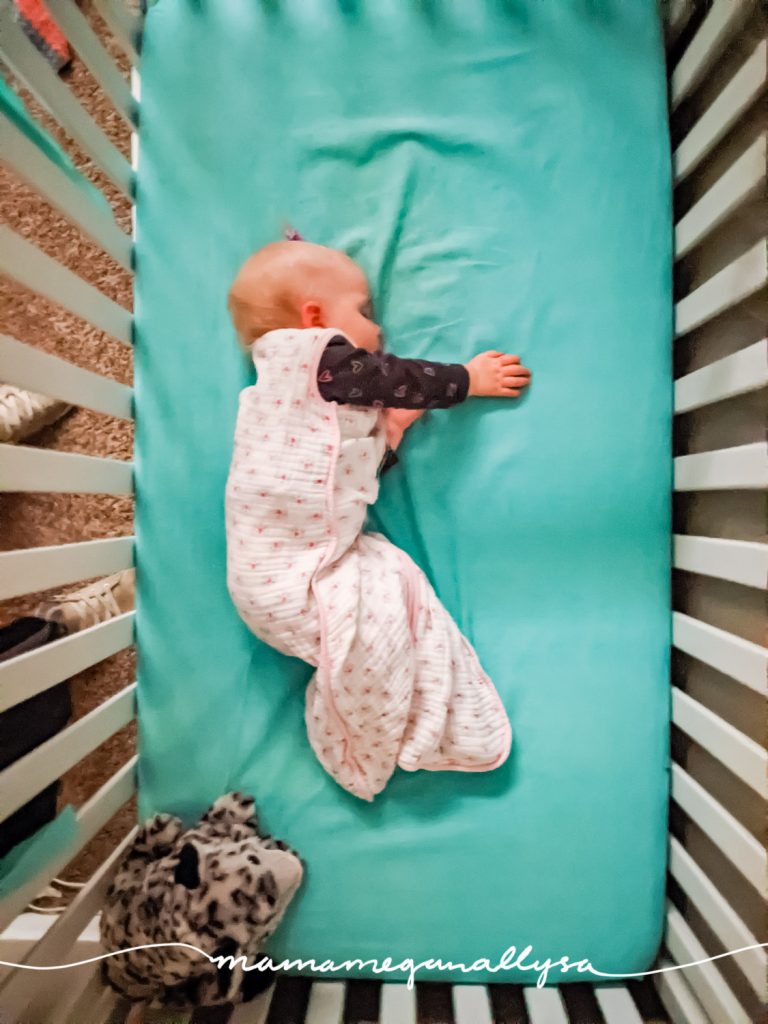 She doesn't fight the nap at all but only like a 30-minute nap if that.
11:45 HOMESCHOOL PRESCHOOL
We save homeschool preschool for a while Bean is napping because there are generally a lot of smaller parts and she is generally kind of destructive and distracting.
Today we worked on some phonics objects, we did a sort and count activity. She worked some more with her geoboard, and then a transferring counting activity.
okay we officially made it to midday
12:15 PREP LUNCH
Went to get Miss Bean up from her nap and we started prepping lunch. Biddy cut the pepper for us and Bean was no help at all but that's pretty standard. Lol

12:30 LUNCHTIME
Our lunches consist of either leftovers or snack-style lunches today was a combo of both.
1:00 CLEAN UP
This is my first big "clean" of the day. There is often still some chaos in the kitchen from breakfast. There is generally some chaos leftover from snack time. Then there's the lunchtime chaos and it's just time to reset the kitchen.
Today Bitty asked for Play-Doh after she cleaned up her spot and that was fine with me.
Bean helped me in the kitchen, most any excuse to get up in the learning tower and play in the sink and she is on board. She passed me dishes from the sink while I loaded them into the dishwasher and then played in the water while I finished wiping up counters and putting away odd things.
Afternoon Entertainment Options in my Routine for Toddlers
1:15 FREE PLAY
Bitty was still happily playing Play-Doh. If you want to see more details of our playdough trays make sure to follow my Instagram! I always make sure to share them over there!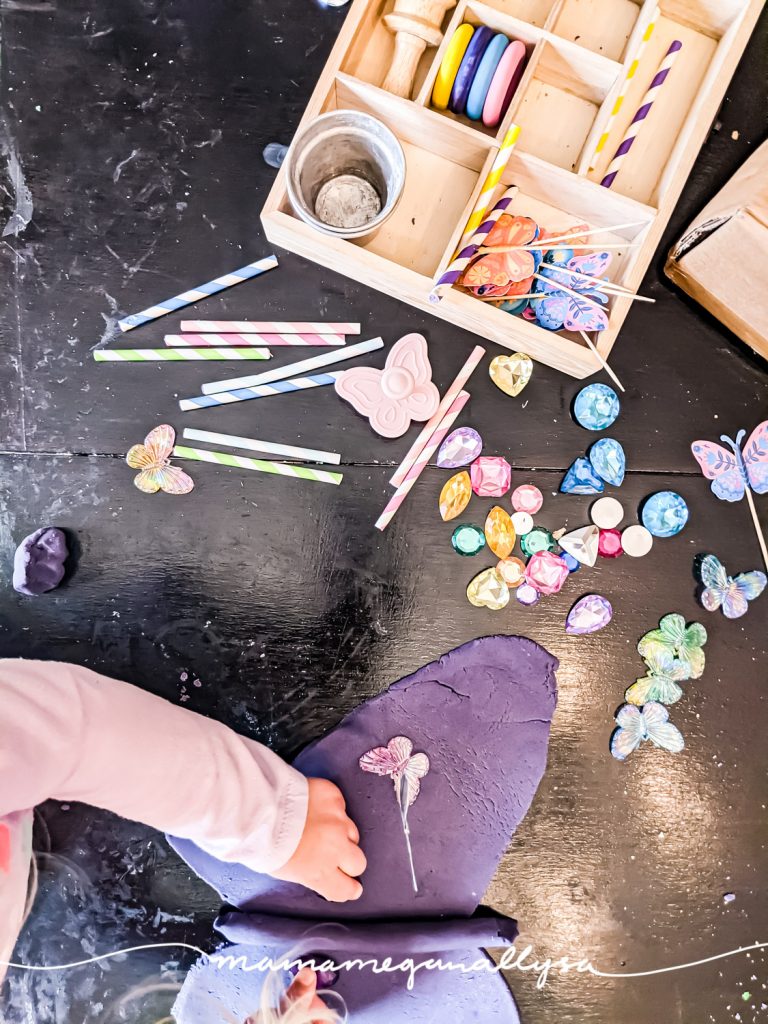 I ran off to use the restroom and get a couple of other household chores done like a load of laundry etc
Bean sort of just free-played and followed me around the house while I did that.

2:00 READING
We used to do reading right after school before we had lunch, but now that school has shifted a little later in the morning we really don't have time for it then. So today we caught up with our reading mid-afternoon, I'm really not picky as to when we read just so long as we spend a good little chunk of time reading!
Today, of all the books that we have on our school shelf she picked the encyclopedia… I mean you CAN read it but…okay I guess whatever! Lol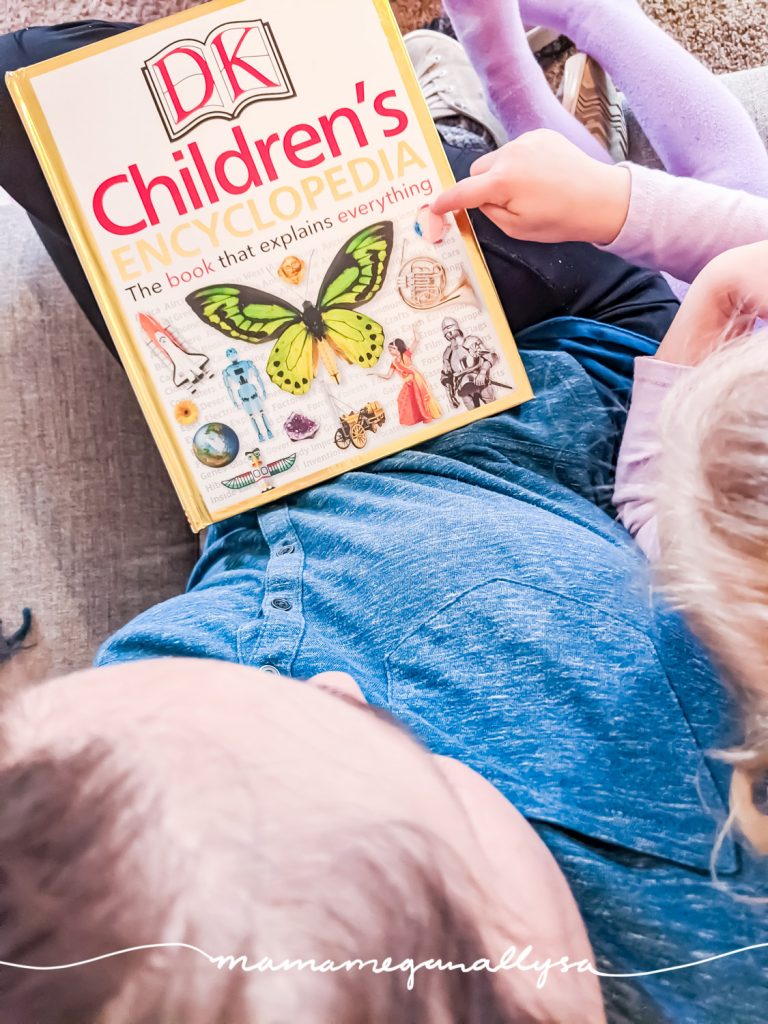 2:30 ACTIVITY
When the weather is nice we will go outside and play during this time but alas today was kinda miserable. Bean had been over digging in the arts and crafts cart and pulled out the quick sticks so we set up some coloring. I thought based on the fact that she brought them over to me she wanted to paint, boy was I wrong. She did not want to paint. So that lasted all of 5 mins before she got down, but Bitty and I painted for a minute!
2:45 RESET
Okay on to "clean" number two of the day. This is usually focused more on the living room and the dining room. These are the two rooms that tend to blow up as we are in them all day every day and things just get left on the table or played with and then left on the floor, books are scattered around the rooms that kind of thing. Both girls help in their own ways to reset the rooms before Naptime
Can you hear that?! It's the Peace and Quiet of NAPTIME!!!
3:00 QUIET TIME/NAPTIME
We are in the process of transitioning out of naps for Bitty. It has more to do with her bedtime than whether or not she would nap. Honestly, that child will nap almost every time I put her down, but she and Bean share a room so when it comes to bedtime we need Bitty to just go to bed not lay in there and sing to herself for an hour.
Every every other day or so Bitty gets to do a 'quiet time' She goes into the guest room, somewhere she is still completely on her own, otherwise, she would constantly be bugging me for things. She has a quiet time box filled with some calm activity and small toys to play with. We put on some ambient music. She's expected to stay in that room until I come and turn on a TV show for her and honestly it's gone great! She loves it, she's so excited for quiet time days and it helps her go to bed on time! I call that a win for sure!
Bean goes down for her afternoon nap at the same time and she takes 15 or so mins to actually get settled in for this nap.
3:30 MAMMA HUSTLE
Now that both girls are otherwise occupied sleeping and resting I get a chance to work on my own things. Whether that be some homeschool prep or some blog work or household work, this is my chance to get at least a little bit of it done without any distractions. It's also when I usually finally finish my cup of coffee.

4:00 AFTERNOON TV TIME
I will turn on a show for Bitty at this time, again it's usually Octonauts and she gets to just sort of chill for a bit. This also allows me a little bit more time to get work done.

4:45 BEAN WAKE UP
This is a harder wake up so she tends to cuddle with dad for a bit after this nap.
My routine for toddlers slows way down in the evening
5:00 DINNER PREP and FREE PLAY
The TV is off and Bitty finds something to entertain herself with, could be anything lately, it's been a lot of Legos. Bean likes to be a sous chef and will climb up in her learning tower and "help" cook dinner, by which I mean she steals ingredients off the cutting board! Lol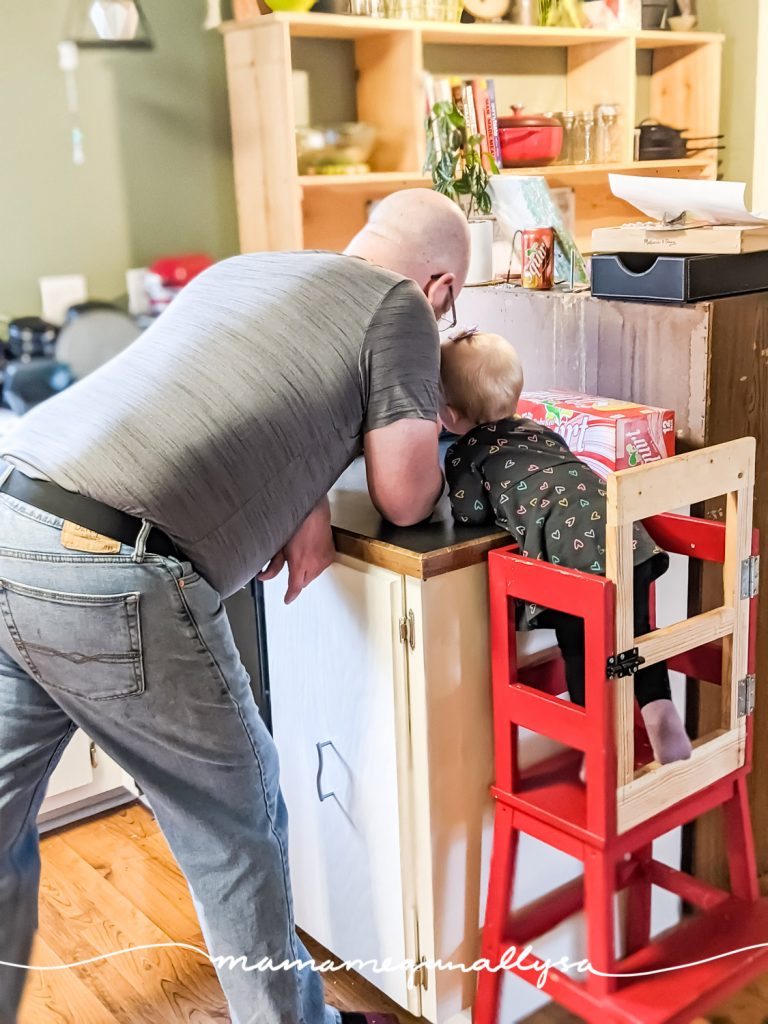 5:15 FREEPLAY
By this point in the evening, I consider myself sorta "off the clock" which really just means I'm less routined with the girls. We just sort of let them do whatever they want while we wait for dinner. If it's nice we go outside but more often than not it's usually just free play.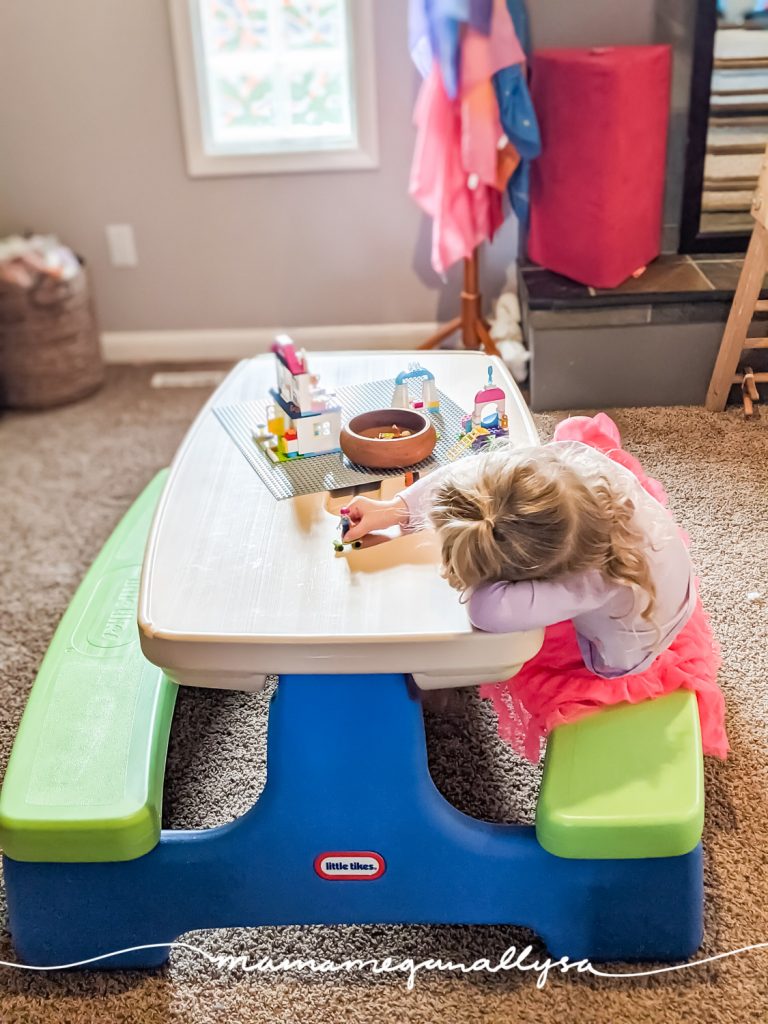 6:00 CLEAN UP
Normally we don't clean up the living room until after dinner but tonight dinner was running a little bit late and the living room was a disaster. The activity of cleaning up was able to kind of kill two birds with one stone. It got the living room clean and distracted them from that they were hungry, so win-win!

6:15 DINNER
We eat dinner as a family at the dining room table, then after dinner, we clean the dining room and clean up from dinner. Wash dishes, put away food, load the dishwasher, that kind of thing. I'm weird about wanting the kitchen to be as clean as possible by the end of the day, I don't like waking up to a mess in the kitchen.
7:00 FAMILY TIME
We go down to the basement which is where we have our computers and the TV and we just sort of all hangout.
Tonight, Bitty earned some tablet time, but honestly, that doesn't usually last very long with her, which I don't mind at all!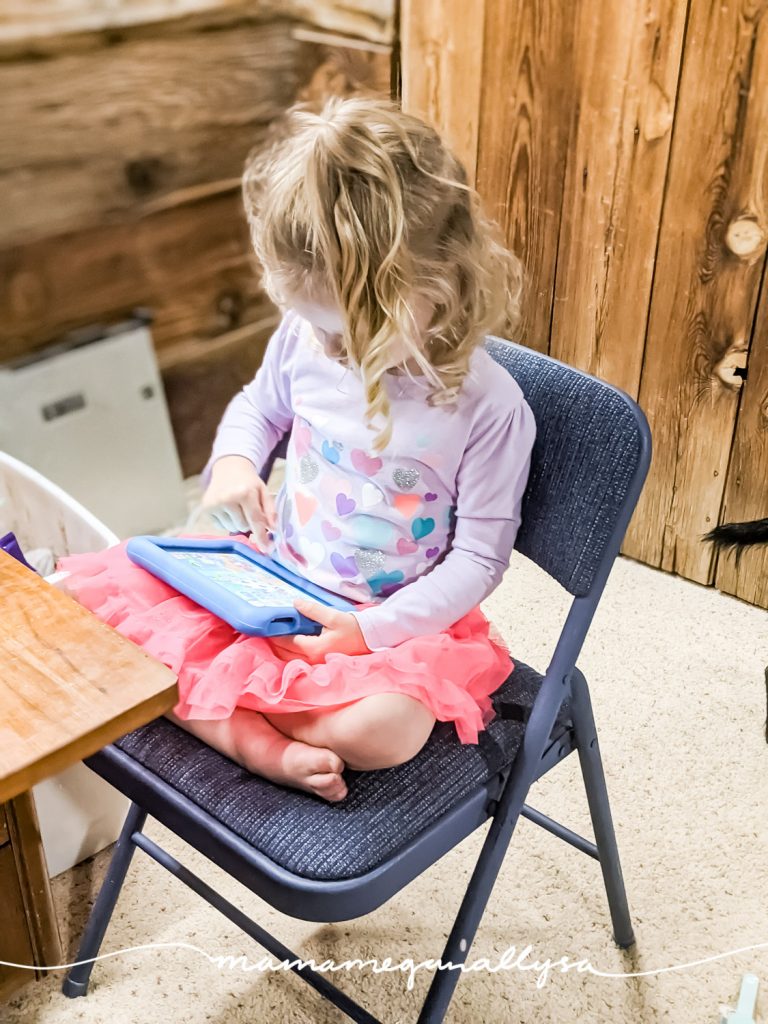 I had some towels that needed folding and Bitty actually loves folding towels, so she came over to help me with that. After that, we put on some Simple Songs for Bean, and inevitably that means also for Bitty. Something about Simple Songs just sucks her in. Most nights Bean just sort of toddlers around the basement seeing what kind of trouble she can get into!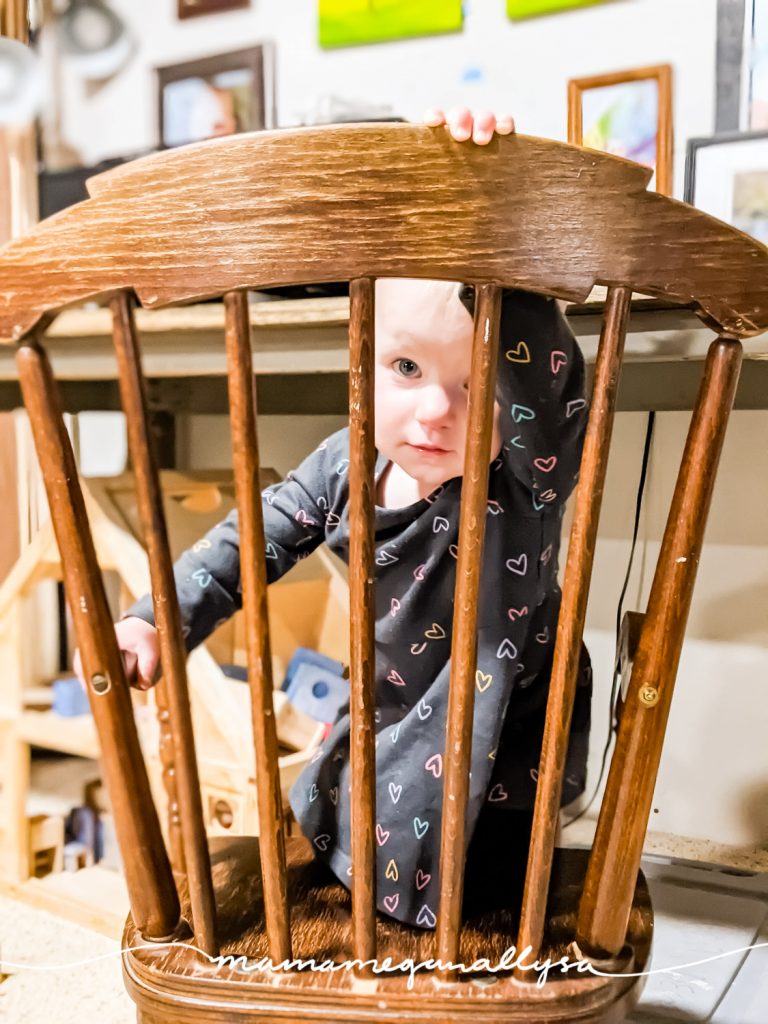 Okay, Lets get These kids to bed!
8:00 BEDTIME SNACK
We have a bedtime snack, usually based around what and how much they had for dinner. Not in a reward way, but more in an 'I know they didn't eat much for dinner, let's make sure that bedtime snack is something like a cheese stick or a banana'. Something that will help fill them up. I never actually explain this to them I just sort of say this is what we're having tonight.

8:15 BEDTIME ROUTINE
Finally time for our bedtime routine which is bathroom, brush teeth, jammies, read, snuggles, and bed. Bean adds in a quick nursing session at the beginning of her routine and she is rocked to sleep still.

8:30 LIGHTS OUT
The goal in our house is always to have it be 8:30 and both girls are in bed with the lights out. Most of the time we hit that goal!
From there I am officially off the clock and tend to go get computer work done again something between blog work homeschool prep and general household stuff.
My Routine for Toddlers covers a little bit of everything they might need in a day!
The key to the perfect routine for toddlers is simply to stop expecting a one size fits all routine! Some days they will be so engrossed in building blocks that they won't talk to you for hours. Other days they will never leave your side and you'll read a billion books! Learn to roll with the punches and just be prepared for anything! lol
What kind of routine do you follow with your toddlers? Share it down in the comments or connect with me on Instagram!
Other Posts you may like